Microsoft's Cortana digital assistant officially launches on Android and iPhone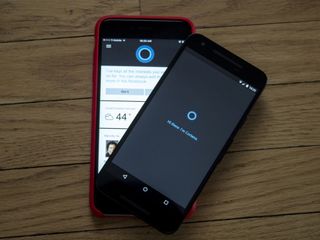 Microsoft has finally released its promised version of its Cortana digital assistant for Android device owners. The app has been in beta testing for some time after Microsoft announced its plans to expand Cortana beyond its Windows platforms earlier this year.
Here's what users can expect from Cortana on Android and the iPhone, according to Microsoft:
Set and get location and time reminders across your PC and phone.
Track packages, flights, scores, stocks, and other important info across your PC and phone.
Use Cortana's Notebook to view, edit and manage your interests
Get information and answers to all kinds of questions. If you're looking for it, Cortana can help find it.
Have a little fun in your down time — ask anything, get jokes, and much more.
You can download Cortana for Android right now in the Google Play Store (opens in new tab) while the iPhone version is available via the iOS App Store (opens in new tab).
Windows Central Newsletter
Get the best of Windows Central in your inbox, every day!
Apparently the missed call notifications also work when your phone is running Android. That's pretty cool. Hopefully Cortana on Android and iOS (and Windows, for that matter) will expand to more regions soon.

Yes, I just tried it a few minutes ago on my Nexus 5 and it worked flawlessy. You can send replies from your PC and it will show the text message in your messenger app as well.

You can send text messages through PC Cortana to phone?

Yes, it's been there since Windows 10 Version 1511. Works with Android and Windows 10 Mobile.

That explains it... I have WP 8.1

I played with this on iOS, and it needs some work. I hope they continue to improve it. The Bing app for iOS is way better at the moment. Hopefully Cortana will get some of that functionality. For example, I asked cortana where the nearest "target" was. SHe showed the locations, but when I tapped the navigate button, it opened a bing web page. The Bing app will actually launch the navigation app.

Here's what I discovered so far that needs to be fix on iOS: 1. Microphone input needs to be easier. The current button is too small. 2. I realize 'Hey Cortana' wont work for the OS as a whole, but it would be great if it worked while the app was open and active. Not sure if this is possible. 3. Navigation instructions needs to open the apple "Maps" app, instead of a web page. The Bing app for iOS already does this.

Its getting so easy day by day to switch to other platforms (without missing WP)

Yes. Reluctlanly got an iphone, and l'll of the stuff I really cared about with Windows Phone (other than the UI/Experinece) is now on iphone. Just tried Cortana, and it needs some work, but I'm sure it will improve over time.

Having Cortana on Android and iOS will help with Windows 10 on PCs. Microsoft can't just think about WP, they have other businesses where they actually make money to worry about

Sadly, I agree. Just got a Moto X Pure and upgraded to Marshmellow (ugh, these names...) anyways. Definitely missing some of the more detailed settings that WP offered, especially the live tiles. But, I just wasn't sold on the 950's and I wanted to check out the apps. Hopefully rumors of the Surface Phone are true and can bring me back over later this year. The moto is nice, but it's a little thick and heavy. And the battery life is so so.

I recently got a Nexus 5X after 4 years of WP7/WP8, and its really shocking how, once you install a good WP UI Launcher on your Android phone, it makes a better WP than WP does. Heck, Microsoft basically ensures this because their apps are so much better on Android compared to WP (with the exception of Cortana).

Microsoft should seriously think of making an Android phone.

Not sure why the downvote. If WM10 fails (which it might), where will we go? I'd trust a MS phone over a google phone, regardless of the OS. Upvoted back to 0.

I'm sure there's a team, in a lab somewhere doing that - just in case... They are testing the waters with their partnership with Cyanogen.

Have you used andriod? The whole world works on windows o/s why would they do something as silly as that?

Why? Because people want Android and not WP/W10M.

No, you want that. I don't personally care for Android or I would not have purchased WP in the first place. No one wants Android, just the apps.

Just to be clear, I was referring to absolutshame.

Not true. I do want WP and if it wasn't for the apps I wouldn't touch Android with a stick.

Who are these people? The less informed, yes. The well informed? Not really.

That's just wrong, sorry.

Except the most powerful computers in the world don't.

Why not just use SIRI it's integrated and better

That's a bad news for windows phone users

I use W10M and I find this good news. The wider the audience for Cortana the faster new features will come and the faster new regions will get it.

NO! it means MS everywhere!

not really I use Bing and I will use Cortana on my iPhone or Android and I am stuck with Windows 7 in the office with absolutely zero information of Windows 10 arriving anytime soon.

Yeah, we just went to 7 last year at work. We wont even begin thinking about 10 for at least a year, and then spend a year or more actually planning and deploying.

we have had 7 since it came out, finally deployed IE 11 to us and many of the lap tops are worse off than ever. The Army is testing, testing and more testing. Even with 7 we have Programs that work on Friday and won't work on Monday. Which is something I run into at home with Win 10 - especially with the Weather Channel App. . I can't get them to download it on our laptops so we can see what we need to work on to get the bugs out

To empower every iPhone and Android phone on the planet to achieve more.

No, every product. Which is a good thing. Nobody was/is coming to WP because of Cortana. But, folks using it on desktop and other OSs may help bring attention to the whole ecosystem.

Or the heighten their bing market share

Agreed, either way it helps us.

For Xsled, i disagree....
See Here apps they first said it was due to more sampling on android and ios, now....
Here has shown their true frace of a dishonest and fraudolent company.. They even removed the wp store logo from their website... I don't trust nadella
And we'll see the same from ms....

Hardly... Most Windows users haven't got access to Cortana, and that will be true for iOS and Android users as well, with Cortana only being available in select countries.

To be productive like a boss :)

A rising tide lifts all boats.

Apparently folks don't get it. It's good news for both a WP and a non-WP user because you as a customer can switch os without worrying if something exists on other platform or not. What if every app was that way, shuttling will be easy and there will less tying to an os due to a feature.

I personally don't care about switching

You should, switching goes both ways. People switching from AND TO WM10.

I've seen you on imore. (of course I was there too) :)

It means making it easier to switch OS and keep everything you have plus getting everything that wasn't available before!

You've just been Microsoft fanboyed!!!

No, you're wrong. Having Cortana on more platforms will ultimately improve the experience for everyone.

For everyone not on Windows phone

Not really. The more people use Cortana on other platforms, the better and it also benefits Windows phone users alot (as long as Microsoft kept updating for its own platform). I considered Cortana to be a digital assistant platform rather than just an OS feature. Making it as a platform makes Cortana a standalone Microsoft service and it just simply make sense. It's a digital assistant and it needs to be everywhere, whatever device the user have. Making it only Windows exclusive, a.k.a. a feature just limits its potential. Cortana should be everywhere.....she needs world domination!...um she will help save the galaxy. XD

Still not completely sure about this move. Do they think this would spark peoples' interest for WP?

It sparks interest (or has the potential to) for Microsoft's ecosystem.

They don't care about WP anymore. They only care about having more apps in android and ios.

Yeah, not like they just pushed out an update to WP yesterday for the OS. They don't care! (kicks dirt, sulks in corner)

Still their focus is the mobile experience on other devices. I support this stance, let them concentrate on software. I find the MS apps on Android to be efficient and unrivalled. Posted from my Note 5

Of course you do. Since you use a note 5

So? Posted via the Windows Central App for Android

Lol!
People gotta complain about something, anything!

* Gives Daniel a dead rat and a string to swing it with.

Dear Mr. Rubino, Windows Phones 8.1.1...didn't have any updates since long time ago. Maybe you are referring to Windows 10 mobiles updates.

Windows 10 mobile is the update for windows phone 8.1.1 you silly...

Cortana does not require an update to be pushed out, the way Android and iPhone versions will, probably. On WP, the updates are done on the back end. Unless MS decides to do some sort of major UI change to Cortana, I wouldn't expect that kind of update anyway. It would likely be done through a more OS update.

What else was said at the top secret board meeting you were at?

Yes, especially if when the user asks Cortana to do something not supported, she could say "I could help you with that if I was running on Windows."

guess the joke is on Cortana then - I asked her once when she was coming to Apple, her comment was no time soon. Her jokes are still corny but still good for a laugh.

It doesn't really matter if people get the phone or not. A growing windows ecosystem is likely to close that app gap, which will in turn will see more people getting the phones, as there will be no reason not to, other than hardware.

Their end goal is software everywhere, not forcing people to use Windows. Use it cause you like it.

Did you forget that Microsoft is a software company? They must develop their products everywhere!! Unlike Google which only develops to the companies their like to leak their assess

Google is more of a software company than MS...

Google is an advertising and search company that writes software to facilitate its data collection for marketing.

What world do you live in? Microsoft has produced Windows, Office, Windows Server, including all of thier Server products like Exchange, Sharepoint. They are a software company through and through who happens to make some hardware as well.

Actually Google is more like a cloud and service company that also makes software and some hardware. Microsoft is originally just a software company but now MS is software and services company that also makes hardware.

Yes, in a roundabout way. It makes Cortana on destop/laptop/tablet more valuable and an incentive to upgrade from Windows 7. It promotes Windows 10. Anything that adds Windows 10 users helps Windows Phone and it generates a greater pool of users for apps.

on Android at least Cortana works in any region as long as you're good using it in English, unlike the Windows version

No. My phone is set to English, but Cortana is not available in India. Posted via the Windows Central App for Android

I have a Moto G set to Brasil, Portuguese, and have Cortana beta working set to English within the app, even the hey Cortana works for me.

My phone is in British English and Cortana isn't available in Portugal. But since this isn't WP, I can simply sideload her and say a big "screw you" to Microsoft's US-only politics. Posted via the Windows Central App for Android

The US is amazing Posted via the Windows Central App for Android

Download Fake Location and Psiphon ;) Go into developer settings and enable mock location. Set the location in the apps to USA. Close any instance of Google store. Clear your device cache. Voila your phone can now download any app without restrictions. This all takes

Whining proclaiming the death of Windows phones in 3...2...1...

Windows phone is dead!! This is the final straw, the nail in the coffin if you will, I'm leaving this ship and heading to Ubuntu phone, at least the marketplace will be more full!!! :P

Firefox os is dead.. Now that it is dead.. Long live Firefox..

It was wayyy better than wp, because it was old, and used webapps./s

Firefox phone is dead :P lets retreat back to wp

It would have been even funnier to say switch to Fire phone. Amazon sold so many of those, lol

Seriously!!! Symbian is way better! Long live Symbian! XD

This is completely irrelevant to the success of failure of WP. It could eventually help if it promotes Windows 10.

Im moving to a landline phone fed up with this apps and services...just want to make and receive calls :)

Hahahah best move.. No software updates no competition.. Just tring tring :P

It's already dead, mate. On life support being kept alive by machines! :)

Technically, all OS are being kept alive by machines...

I just sent you a message regarding Cortana launch on iOS! LOL!

Hahahahajajajajajajajsjajahahahahahahahahhahahahahahahahahahahahahahahahahahahahhahahahahahahahahahahahahahahaha :|

reading this Article headline sucks, give them watered down version , why u do this , ugghhhh!

Because it's good for Microsoft. The more users the better Cortana will be.

Right now, the iOS version IS very watered down.

It only sucks for fanboys. Normal people understand it and have no problem with it.

Not supported in India yet. :(

Maybe all Indian MS fans should go complain to the MS office out there? There's a decent corporate presence in the country. You and other locals should start pounding on their social media doors. It could help speed things up or at least find out when things are coming.

I will try it on my Galaxy Tablet tonight. I'm curious.

I think it's only available for phones.

Kind of thought that might be the case. I'll try anyway just to see for myself.

When in india?
Oh God i haven't done this in a while, even though i'm no where near India. So, again, WHEN IN INDIA?

Buy a Lumia it is available

I swear, half the people on this site only post "WHEN IN INDIA??" I see this question every day in every article... when in India?? when in India?? Give it up

Who cares. Never in India Posted via the Windows Central App for Android

Waiting for non US-Only purposes from Microsoft... WHEN IN EUROPE ???

I would ask the same when In south America, Mexico just don't care because they likes to yell by every forum that I am and already don't realize that not only on Mexico we are expecting Cortana fully functional

In Android you can get Cortana today if you're good using it in English.


Why? Did they give Siri to anyone? No! Cant make it official WP property?!

You dint spend years making a software which will be used by couple of 1000 users.. You want to capture the big market

Well MS could've kept it exclusive to phones, PC, tablets, and Xbox. MS products only. That's a lot more than a few thousand. But no they have to kiss crapple and adroid assssss but get nothing in return!!

They're getting a boat load of data is what they're getting. Hardly nothing. Microsoft will do fine -- users may complain (I'm not) but don't say Microsoft is going to suffer because of this.

They could expand to all markets, so more then US's 1000 users could use it. Windows Phone is big in some countries, bigger than iPhone.

great but still the "ehy cortana" feature in not available on my Lumia 930 -.-

Its der in windows phone 10

What are the benefits of Cortana to native Siri or Google now. I assume the other assistants are going to be better integrated on their platforms. I only see someone using this if they use it heavily in windows 10. Otherwise I doubt there will be high adoption.

I agree. I've been using the Cortana beta on Android for months now and it's just not as good as on Windows 10. Especially with speed.

None. The others work in most languages, Cortana only in a few... It's the sole reason why two of my elderly family members splashed on an iPhone instead of a 640 at a quarter the price; they could voice activate key features with iOS, not with WP.

and Google now works in more than one language at the same time. and it's available everywhere.

I really don't see any. I have no interest in Cortana for Android. Posted from my Moto X Pure Edition via the Windows Central App for Android

But can't do all the things that on Windows can do is like an decaffeinated version, can't start calls can't send text messages can't turn on off things within the system so don't worry, also it's now in the other platform only for collect data of voice , otherwise wouldn't have sense move to other platforms

It can send text messages on Android, actually. Probably start calls, too but I'm not sure.

I tried on Android but can't search on your contact list unless you manually do that can do start calls and sends text but only can't look up by your contacts just you must do manually

I think Microsoft was wrong before, being a software company they should've developed all their products and services everywhere long time ago, but Balmer thought they should be like apple and only create everything for their own ecosystem, but at the same time their shouldn't neglect their own system and make everything equal for all ecosystems.

****** due to not being able to change my phones region I cannot download it. Shame really cos Cortaba is a lot better than Googles soulless offspring Posted via the Windows Central App for Android

Yeah Google now has no personality

Just sideload it ;) Posted via the Windows Central App for Android

That never occurred to me! Thanks for the heads up Posted via the Windows Central App for Android

YAY! I switched to iPhone 6s a couple weeks ago after 5 years on Windows Phone and serveral years on Windows Mobile before it. I really missed Cortana, haven't used Siri even once I don't think.

Use it then!! It has hey Siri thing in built!

Recently switched from WP to iPhone 6s+. Siri just isn't as good as Cortana on WP. I do use it, but half the time, Siri gets my instructions wrong. Here's an example: Me: Hey Siri, text <wife's name> Siri: Ok, I'll text the message <wife's name>. Who do you want to send it too? Me: Hey Siri, you're dumb.

I used an iPhone 6 for about a year. I've used Siri probably about a dozen times because it's pretty useless. Now that Cortana is available, it'll be easier for me to move back and forth, but since Apple likely didn't make some key APIs available for Cortana app, it'll also be pretty useless I think. Location based reminders is huge for me though.

I think Siri does geofencing now too, but like i mentioned above, it's not as good as Cortana. if you tell both "remind me to get light bulbs the next time I'm at target", Siri's geofencing is limited to a specific address. Cortana can be any Target.

Biggest ****** thing cortana to other platforms Now even cool voice assistant is available in all platforms Wat is MS thinking

It would help MS to making Bing smarter. And train Cortana with various voice utterances considering huge android and iOS platform will use the Bing through cortana

But if Bing is an disaster in elsewhere non united states

They were thinking something along the lines of this; They make Cortana an integral part of their universal, connected, multi-platform new OS. The aim is that billions will use Windows 10. They then have the choice of either A) giving a very small minority of those users (the WP marketshare) the full cross-device experience or B) giving every Windows 10 user the ability to have the full cross-device experience that Windows 10 is based entirely around. This is in the best interest of the OS as a whole.

But it's not "every Windows 10 user"... Far from it!

This. It helps W10 which in turn helps XB1 and maybe even Hololens adoption. WM10 is here to support the 3 screens concept. We don't know what else is in the future planning that may be a tipping point for iOS/Android users that have been consuming MS software and services. Continuum might be a part of that as it matures and is one of those things that makes WM10 unique.

You're going to hear from all the comment section MBA types that think this is great for Microsoft.

Cortana v Siri WWF slamdown....

Sweet! I've been waiting for this.

Okay so beta tag removed in android but still continues to exist at BETA in windows?

She's not in beta in WM10.

Region locked? At least the beta for Android worked in regions that WP Cortana is no show.

In the play store it's, region limitations for get it

But you can bypass the store right?

Meanwhile I am still not able to use it in my region with WP, yet Android and iOS users get it before me.
Well done, this is really ******* me off. Why is MS more interested in other platforms again or do they really want to make the switch to other platforms less painful when we find same MS apps portfolio there as well (sometimes even better - skype)?

Still not available on my App Store, and I'm in USA. Remember this is never as good as the baked-in digital assistant. This will not hurt Cortana on W10 Mobile.

Does "hey Cortana" work for either platform?

Nope, and it never will, at least not for iOS.

"Hey Cortana" certainly works on Android, but it takes over the microphone, at least the BETA version did. If you turned on the "Hey Cortana" feature, you couldn't use "OK Google". I haven't yet tried the updated cortana just released to see if that problem was fixed.

yes on Android, in my Moto G it works as long as the screen is on, same as the "ok google"

It says, not available in my country (India).
Any workarounds? Posted via the Windows Central App for Android

Change your phone's region, or move to live in the USA :-o

Android doesn't have a region setting, only the language matters, the region of the store is defined by your google account, maybe you could change it somewhere.
but you can always install the apk anyways.

Get the apk and sideload it. I'm sure XDA will have it soon.
If you don't know how to get the apk though, maybe you shouldn't sideload anything ;) Posted via the Windows Central App for Android

Oh No, I'm well equipped with the knowledge of side loading apps. I can do that. At least, this way, I'll keep my android Google free, and enjoy the same services that I do on my Lumia.

Cool I hope they use it and come to love it. Don't forget if they do it will likely boost Bing usage too :)

Just checked the iPhone and they have it buried in the search results.

You know they did that on purpose...

MICROSOFT first make stable,faster and smoother for windows 10 mobile Cortana version. Then you will make Cortana for other platforms.
i really fill bad when i use Cortana for windows 10 mobile. I miss Cortana on windows phone 8.1 version.

Dunno what you're saying. I'd say Cortana is working great on my 950XL.

Its show many problem. Ex- 1-when i say 'play a song' the Cortana directly open groove music and take a many time then play a song.( but in wp8.1 directly play the song without open music hub).
2- in slow network Cortana always show error 'something went wrong please try little bit.
3- voice recognise is very slow and give errors.

I'm sure most of the comments don't come from Lumias 950, I was starting to feel bad about Microsoft but I've been with my new Lumia 950 for 5 days and this is nothing like the old windows, so much better looking more responsive and best of all most unified than ever!!

I came to the comments section looking for 'they should be releasing it in my region first before going to rivals' moans. Gotta say, I've been left mostly disappointed - it's almost as if everyone has realised that this is a good move. :D Apparently it can work on iPad too, so I might try it out on the family iPad and give it a test. Move out of the way Siri, Cortana is the future.

Nice for iPHone and Android owners. When will I get it for my Windows Phone? (With Dutch regional settings)

The problem is Cortana is crippled on Android. It's best feature does not work: Sending and receiving text. Nothing compares to being informed that a new text from someone has been received and having Cortana ask me do I want to hear it or ignore it? That always gets a lot of people's attention. Unless they just add the feature since it's come out of beta, it's just not the same.

2010 videocalled, they want their SMSs back.

Oooookayyyy. What exactly does that mean? If you're trying to say that that feature has been around since that time frame, whoopdie do. Microsoft has perfected it. All apps on Android that i have tried, attempt to do so, but have come up short in some way.

I'm saying that most people don't use sms/texting anymore since it's very limited and usually costs money while instant messengers like Facebook's and Whatsapp are better and free. So as long as there is no integration of them with Cortana, I don't see much advantage.

Funny they need to fix cortana on windows phone 10 before releasing it to other platforms. My lumia 950 can only search the internet.cortana is so broke it cant even find contacts.

Does anyone know / has anyone tried using Cortana on iPhone with the original Microsoft Band? I see talk about it working with Android but does anyone know if you can initiate sending text messages / making phone calls on the iPhone with the original Band and Cortana installed? Thanks!

Amazing how fast this can officially launch for the other platforms when on Windows it's still a pathetic BETA after how long? Even our OS is still a Beta! And still no Cortana dark theme on W10. MSFAIL!!!!!!!

It's full in WM10, and you can get dark theme for W10 Cortana in settings.

Since when and on what build? My PC is up to date with the latest cumulative updates and phone is running W10M build 10586. Cortana newsfeed is not in dark theme. Shows results on a white page unlike 8.1 where you could set it to dark theme. I do not see this option anywhere in settings.

Not available in UK Posted via the Blackberry Priv

Fun.... Really fun! Here I sit whit my windows phone whit no Cortana because I live in "wrong country"...

I'm going to give it a shot, but...I'm sure that Apple isn't going to allow it to replace Siri as the default so I'm assuming it will be harder to kick it off as opposed to just holding down the button on the phone like you do for Siri. Anyone know for sure?

Why not? Lots of people prefer Windows on their Macs.

And this, kids, is how WP's exclusivity died in 2016

Sorry I meant 2015 :P
But it will be 2016 before the app launches in my region, so..

Say goodbye to Windows phones.

You say goodbye I say Hello.... Cortana

Cortana works flawlessly on my 950 in the UK.... Can Win central add a ***** filter to the forums?

So when exactly are we getting any services from ios or adroid? Oh never? That's what I thought. Good one MS. How's that W10 BETA coming along??

Err iCloud, Gmail iTunes blah blah blah

I was thinking the same thing. However,we will get android and apple app integration in 2016. Just wait n see.​

My guess is no, win 10 is taking the phone game to another level above and beyond the capabities of ios and android... What is seen as a major weakness now will pale into insignificance... I have had the win phone 5 days there must of been 10 meaningful universal apps released thus far...

I don't want or ever need any of their services but many WP users have complained about not having google hangouts, official youtube apps etc. MS just keeps giving and yet gets nothing in return!

Seriously, there are many 3rd party YouTube apps on WP that are 1000x better than the crap Google offers.

This is stupid!! Windows phone is a joke!! What sets me apart having a windows phone again? Is it Ms Office no!!!, Oh yes!! Cortana, No!!! What sets me apart is popularity, a lack off popuplar apps and phone that is that is chastised by many. Guess what!! Why should I buy another windows phone if android and iPhone can do the same and more? Where is the strategy what is windows phone core competency and competitive advabtage ? I am lost and being windows fan I think it is time to concede as my ecosystem has has jumped ship and so should l.

It's so all the whiners will move to Android/Apple and we can then have serious comments here from people who actually understand all that's been said in this matter thus far.....bye then.

Sure, iPhone and Android. Meh...

How is the integration of Cortana on iOS and the MS Band 2? Will this allow one to reply to a text through the Band if paired with an iPhone with Cortana installed?

Strongly doubt it. Apple is in a position where they can withhold those APIs like a jerk. Cortana is in their house and they don't have to be gracious hosts.

And there goes exclusivity from Microsoft... Instead of get a way for wp users get ALL APPS that we don't have, they give away one of ms wp bigger assets to the competitors! Keep up the good job on making a better market for WP...

Your not looking at the bigger picture...

This helps Windows 10 for PC's, as more users with a W10 PC can get to use the first truly-cross-device virtual assistant (which is being pushed as a big, integral part of W10 as a whole) on their devices and link it in to their desktop/tablet experience. The userbase for Windows 10 PC is - hopefully not too surprisingly - much much much much much bigger than the amount of people that use Windows Phone. It's a no-brainer to cater for such a large audience over a so much smaller one, because then they're chasing the majority of users. Windows Phone is now a small cog in a big machine.

That's nice. Maybe they will clean it up for Windows Phone now. As it is now it's just a hack!

In what way? Mine works flawlessly

It's ugly. Reminder options are a joke. Voice recognition is a joke. (Where using voice command input in various apps works flawlessly. Trying to wrap my head around that one.) Other than that not to bad. Was better on 8.1 but hey iOS and Android is more important.

And USA only or? Posted via the Windows Central App for Android

Apple have managed to mug 20-25% of the 'rest of the world' in the USA it is 60% that says alot about the American market. They will soon realise that all that glitters isn't gold now that Microsoft is upping the ante on what is possible to do on your phone

Sweet! I just got a Nexus 6P. After 1 week with this, and 2 weeks with a 950, I can honestly say 2 things: 1) The war is OVER, Microsoft lost. 2) If you don't agree with #1 you're deluded. Believe me, I used to be the same way. Glad to see Microsoft is moving on.

I think I will switch platform to. The 950 isn't enough. It's ugly as **** and I don't belive that Microsoft iris scanner will be near as good as a fingerprint scanner. And the camera and some apps have got alot more worse since Ms took over, like the Lumia Camera. But the biggest thing for me that will make me switch platform is the fact that as a Swede I don't have Cortana and other important Windows phone apps

The fingerprint scanner is so fast it is INSANE! I pick it up and it is unlocked before I even look at it. Plus you can program in 5 fingers. So I do my thumb and index on either hand, and my right middle finger. Its great. The iris scanner is like a novelty act next to the convenience of this. Camera is on par with the 950. No issue there. I always thought the 925 had the best Lumia camera (besides the 1020). After that, it was all just OK.

My camera in the 930 is a joke. I can't even record sound when filming. And when taking a picture the camera have some serious focus problem, and when it finally have a good focus the picture quality gets really poor.

All this messing about with fingers win hello was up and running in 1 min no fingers necessary..

yes 1 min look into the camera wait for it wait for it, done...

1 min is insanely slow you know that?

to set up you plum... 2 secs to activate

You're in denial. I am trying to help you. I was once there too!

I have been on android since the beginning i know where you are heading... You will be back on win phone soon trust me...

You will be wrong Windows hello is awesome... Fingers are for typing

By doing this MS is showing initiatives to expand its service and doesn't show any bad blood between the other platforms but to embrace it ios and Droid rules the mobile world anyway.. But I just hope this sort of mindstate is embraced by developers aswell to start porting their apps to win10m

This item is not available in your country.

So im trying to figure out why Microsoft is pushing folks away from the phone platform. Cortana was the biggest thing keeping me attached to WP. Dont get me wrong I love my 950 but with all of the MS ecosystem now on other devices its likw whats the point. Maybe its all the apps that WP has that the other platforms just dont have available.... oh wait... its the other way around. :(

Cortana does not work on MAC O/S!!! i,m on my laptop or workstation and tell cortana to remind me that i need something when i,m passing a shop, when i pass the shop my 950 reminds me. I dont need to get my phone out of my pocket where as on ios i would have to go over to where my iphone is plugged in charging the battery unplug it open cortana blah blah blah

Yay about time now hopefully they can gather enough data to release it to more countries on windows

Is it US only? It's not available on the Australian iOS App Store. :(

Just make the one on windows 10 mobile faster

Still not available in India.

Hope they bring Cortana to Mexico and Brasil this month like they promised too.

This is awesome, I downloaded it on my note 5. Im very impressed with how well Hey Cortana works on android. If only my 830 worked as well. This may finally be the nail in the coffin for windows phone for me. Sad as that is I've been a user since day 1 with the samsung focus, lumia 900, lumia 920, lumia 1020, Lumia 1520, Lumia 830 and countless other budget windows phones. I will still participate in the community as i love my surface 3 and I still use all Microsoft services.

Seems silly that you have a surface and all the intergration that brings to your windows phone that you choose a samsung after all them win phones...

News of December 2016- Microsoft changes names of its products to Windroid, iwindow phone, ibox, ioffice, Windoogle 10 for PCs as Microsoft has abandoned its faithful & Loyal customers and making apps, softwares, OS for Apple and Google.

I think the root of the problem is that Microsofts win 10 vision is a tad to advanced for the average american to understand... ;)

Not available in the UK. WTF.

Surprising, maybe its a case of the Market share is much tighter in the UK. They have nothing to lose in the USA...

Some of us (a lot of us) in english first countries are still waiting, almost two years later, for the **** thing to even arrive on our Windows Phones, without having to region change. So this feels like another little kick in the teeth. Wouldn't be so bad if they hadn't tied Quiet Hours to it.

I agree they should give each territory the option to use the english version.

Yes, this is good for Microsoft ecosystem overall, more people using cortana and bing services. On the other hand, Microsoft is kicking windows phone/mobile in the stomach again in the process(like always) , not even leaving a special feature like the call and sms via PC to its platform . It might give updates here and there to save its face and leave that life cord hanging like it was with Zune players, until the next big thing comes along. But obviously, the war is lost. Time to move on really at least until the next big thing, really, kinda funny that Windows phone turned from Microsoft services exclusive to Microsoft services excluded. Microsoft wanted Windows phone/mobile (a means to an end) make people jump to Microsoft services fully and it did funnily enough exactly that for me , with the exception of YouTube. I will keep it that way, Microsoft ecosystem is the best, shame, Microsoft couldn't complete it with Windows phone/mobile. Posted via the Windows Central App for Android

This is the reason I changed for iPhone. I tried to download the app and got response "not available in yr store". Happens most of the time with Microsoft products.

Typical Microsoft, ignoring the rest of the world and only delivering services in America. I don't understand why they limit themselves like this when cortana is already available in many parts off the world with recent updates. It sure as **** frustrates me.

Still nothing about Cortana Alpha for pt-br. :(

Why US only?! It should be available wherever Cortana works on Windows 10. Doesn't it use the same backend? With a region-locked Note 3 in Canada, I can't even try this. Posted via the Windows Central App for Android

Why is this not available in regions where Cortana is already available on Windows?

Sweet! Just installed on my iPhone 6S Plus!

This is good for the development of Cortana. the more users, the more data which leads to more accurate information. It is going to be much helpful in regions where bing database is not upto the mark.

It's been out for a day and it's already getting tons of 1 star reviews on android, most of them calling her a google now knockoff, but on ios people are giving it fair votes.

I was using Cortana this morning and it had an Aussie accent. When did that happen?

Oh no! Not available in the App Store (India)! Anybody know when Cortana will be avilable worldwide?

I hope they will finally start focusing on developing Cortana for different languages on WP now. I have a Windows Phone but Cortana is not available...