Microsoft's Facebook Beta goes gold; official Facebook app bumped to version 5.0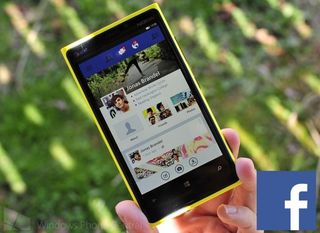 Microsoft has continued to run the Facebook beta program over the last two months. You know, that new Facebook Beta app that keeps getting updated. The company has now announced that Facebook 5.0 for Windows Phone 8 is now available as a public release. If you've not been using the beta, you're in for a treat as this upgrade sports numerous improvements and new features that testers have been utilising for the past few months.
From the overhauled interface and improved navigation to high-resolution photo support and post sharing, the new Facebook is an official app to be proud of. You can download Facebook from the Windows Phone Store. If you're interested in checking out features before they hit the official app, be sure to check out the beta version (right QR code), and for those of you who have taken part in the beta, the journey continues.
Source: Windows Phone Blog; thanks, Jason, for the heads up!
Rich Edmonds is Senior Editor of PC hardware at Windows Central, covering everything related to PC components and NAS. He's been involved in technology for more than a decade and knows a thing or two about the magic inside a PC chassis. You can follow him over on Twitter at @RichEdmonds.
nice! Any news on a Windows Phone 7 version? (would be awesome!)


Its in the works as MS has said.

It's taking tooooo long. :'(

Notification issue is still there. Beautiful app but this bugs the heck out of me (no pun intended).

I am getting an error message ("There was a problem changing/disabling your push subscription") when I try changing the notifications setting. Are you referring to the same?

No, I am actually referring to checking your notification, refreshing, then finding out that the notification still hasn't been "checked." There is still the number of notifications in the red circle.

agreed, this drives me nuts

I've already emailed microsoft about the notification issues on facebook and other apps too that has notifications. They replied to me. Saying that they are already working about that issues. Well until now i dont see an improvements.

It takes so damn long for them to fix this issue. If Daniel Gary or Rudy Huyn were developing this app, it would have been done in no time (not really but much faster).

Truthfully, the guys behind this app are some of the best developers I know, and they will be reading this :)

Who are the developers behind this app, Jay?

That I definitely cannot say sorry :(

Agreed. My online messaging doesn't work properly at all! Are you experiencing this too?

As developer I can tell you that some things that seem easy are very difficult to fix. Or sometimes things that seem difficult are fairly easy to fix. Do you think if it was an easy fix it would have taken this long?

As a CS graduate your statement is 100% correct. People should also realise that sometimes when you fix a easy problem, it may cause a major one down the line.

I could be wrong, but as this affects other apps and platforms, I think this is a bug in the backend services... Which would be a bit more involved to fix to say the least.

I have found out if you refresh while in the notification menu, it clears them.

Is this the same "Cannot retrieve data" error that's a mainstay in the WP7 version? I was hoping that'd be one of the things they fix.

So should I stick with beta or switch to 5.0?

I'm sticking to beta for now. If the 5.0 version get an update and beta doesn't, then I'll move

They state they are going to be continuing to test and add features on the beta before releasing any features to the Regular version.

Just DL'ed (been using FB Beta for a while).
WOW - Looks great, and the improvements definitely show!

Message notification is not working

I dont get it, why is this so hard to implement? :/ Should be first priority now when most things seem to work okay.

I'm not sure if it's my phone (8X), but the links are extremely touch sensitive for some reason. When I'm clearly scrolling I get launched into a link as if I tapped it. To clarify I mean links in the Facebook app are extremely sensitive.

I notice that too!! Bugs the crap put of me.

So I just relaunched the app and it looks like it's back to normal. Probably just on that initial start up but I'll keep a look out if it happens again.

This has been an issue for me with the Beta. One time, the links are super sensitive, the next time you have to tap your screen 3 times to initiate an action. Lumia 920.

Things I still can't stand about this app: pressing notifications or messages or new friend request at the top is still laggy and annoying. Also, still no photos attachment in messages bugs me a lot... Have to use imguruploader app, or SkyDrive as an alternative. Shouldn't have to though :/ other than that, amazing app tho lol

The official app is now WAY quicker to load and go through than the beta.

Shouldn't people on the beta be updated to the final though? Or are they keeping the beta going for now?

Yeah, the beta is still on as there are updates coming :)

They're keeping the beta channel.

Nice, good to know then, I'll stick with the beta till they end it. If they're smart though they'll keep this going on for a long time.

Said that an hour ago, get with the times lol,only buzzing!

I installed this by accident (want to keep the old version cos this thing heats my 920 to boiling point) Anyone any idea how i can get it back because this thing is useless. No live tile updates, no lock screen status update unless you allow it to run your lockscreem entirely and horrendous heating issues please he'll if you can. Thanks.

Try Uninstalling > phone restart > reinstall.

If that doesnt work, use the beta version directly.

I'm not after the beta I'm after the original app that proceeds this build. Thanks anyway.

and now all the wp7 users can cry about lack of support..because (you guessed it!) the new fb app is out as a public release for wp8 and wp7 version still isn't..

we need to wait long times to get it :(

The same procedure as every year, James

Twitter is the best app on wp8,as clicking it from homescreen takes you to where you left the app while switching to others (like ios/android) no startup screen etc..... Even the official fb app from microsoft themselves doesn't aport this,also where is the support for hashtage in the app

The share post dont work :|

Still carnt share posts on 5.0

I can share. Some pages block the ability too. That may be why.

They can block, but the issue is I cant share every post via this app, but can on website and droid app

Has never let me share any post 5.0 or beta but can share any post i want on another facebook app

It still has no notification for Group updates T_T

Oops sorry, I meant I want a push notif (like toast or tile count) for it .. I still don't have any :s

Excelent, but: When for Windows Phone 7.x?

As long as check-ins with friends tagged works, I don't mind.

But it's terrible still. Notifications take me to the wrong spot and it's slow as hell.

No emoticons !!! Come on MS...

I'm not surprised. Emoticons are broken all over wp8

Still can't tag people in comments... W.. T.. F..

The final version is higher than the beta one, so is the final not gonna be more advanced or am I missing something??

I noticed that too, the final release has a higher build # than the beta.
I don't know, I may try it.

Not quite sure what to do, download final version or stick with beta? This seems a little sloppy by MS not being clear which version is best.. You'd think the beta will have extra features sooner, but the final app is a higher version right now. I don't want to have 2 fb apps giving me notifications. Hmmmm

I torn as well. Might have them both and log out of the beta. That way I can see updates come through and decide each time

Am I the only one who prefered the way the old app looked?

I liked the look, not the function.

No. This new version is still sloppy. I can't stand that they display the status bar, but don't implement the integrated progress indicator. This is supposed to be a Microsoft first-party app. If they're not going to use their own tools and APIs properly, why should/would other third-party developers?

Still like the older version better, just need to add some of the features of the new one too that one, don't want an fb app that the same as iOS or Droids

The old look was very stylish and fresh, the new look is just a copycat.

I disagree - I prefer the Facebook standard look and feel. MSFT is on the right track with this app, they just need to resolve some of the pervasive bugs. I am beginning to suspect they are issues with the OS itself and we may not see fixes until next OS update.

This app reminds me of the BB10 OS, not sure when to swipe left or right and not sure what it will go to when I do. Don't like the iPhone-like meny at the top either. Will continue to use the People hub more anyway.

It's clean, got a great UI.., but that's just about it. Bugs I've emailed are still there: issues w/ shared articles/photos and liked/commented by your friends shows up diff. set of likes/comments and bugs on notifications. Private Messaging is ugly: No support for colorful emoji/emoticons, no view/send/download of images. No hashtags, no @mentions, no facebook mood/activities yet for Fb statuses and comments. Still unable to attach images on comments... Can't share from News Feed to private messaging/your pages/your groups. Still can't view Facebook-uploaded Instagram Photos on your Wall. Upload video clips.? I'm still hoping they're going to support stickers in Private Messaging. My friends Nokia E5 have these great grfx... Still a loooonnngggg way... Feels too basic and I wish I can remove my pinned touch.facebook.com on my start screen.

I'm with you on touch.facebook.com. I use the touch website more than the actual app. Sad really...

Come on 8.1 im missing a lot on all this goodness

Men slowly 7.8 is out of the news:-( sad face

App doesn't even open. The home page shows for a split second then quits out. Uninstalled.

I hate the look of the new UI, I want a metro design, not android or iphone on my lumia, why are they forcing this as an update, run it as an alternative app in the store, give us a choice of UI!

Totally agreed, this look ain't that I've chosen WP for. Metro UI is one of the things that take WP out of the crowd! I'd be happy to roll back, the previous style may now be called old, but it was truly modern.

it was pretty but not so functional!

So why not to add same functions to metro design? Wish I haven't updated.

Agreed! I hate this one, why do i need the same ui app with ios n android? Im using a wp!

No grumbles about the UI. I like it... but why can't we edit our own comments??? It's been years already. I don't want to run to the browser every time I need to do this. On browser mobile pages, there is a More > Edit option. We need that on the phone app. What is the big deal?

because this is an MS app, is not official as in coming from Facebook...

It very much is the official app

It's not. It's from Microsoft. It's a 3rd party Facebook app and as such has limited functionality because of the available (or lackthereof) APIs to Microsoft

It's "official" just because Facebook has granted some special data and API permissions to Microsoft, but that doesn't make it a pure-blood facebook app made by facebook devs (unlike iOS and Android). I'll stick to the touch HTML5 version (or 3rd party native wrappers such as 'JDB for Facebook')

Still crap when compared to the 'Official' Facebook app and I say 'Official' because is not comming from Facebook so it is treated like a 3rd party app by facebook.com. Glad I have my GS4, the lag is over...

The lag is over? What does that mean? Also at this point I think everyone knows this app is made by MS.

Good thing its not out for us wp7.x users or there will be like a billion complaints and nothing will get fixed due to the flooding of complaints

Still no option to share post to group. Really?????

Hello. We're really excited to announce the official Facebook app for Windows Phone 8 is getting a major update today. As you'll see it's been completely redesigned and now includes several frequently requested features. What's new? Everything • New global menu and search.
• Beautiful new News Feed including high-res photos.
• You can now share posts from your News Feed.
• Facebook Timeline
• Improved lock screen If you would like to send us any feedback please visit our uservoice page via Settings>Feedback in the app. An update for Windows Phone 7.5 is also on the way and we will continue to update the Facebook Beta app with new features

we want to be able to tag our friends in the comments.

Amazing...tons of reports regarding the notifications bug and they still release this without correcting it.
Belfiore better sit down if he's waiting for me to improve the rating of the App in the Store.

i like the shake your phone to refresh feature

I am still having performance issues on my 920. The battery is getting eaten up way to quickly and the phone itself is running very hot. Is there any debug files or logs I can send it to help with troubleshooting?

Your phone is having performance issues? Battery is finishing too early? Try Viagra-cell. You won't have to feel embarrased anymore.

Do push notifications work in the official release? I hope they do.

they have finally began posting on their facebook page again too.

https://www.facebook.com/pages/Facebook-for-Windows-Phone/332837726772540?fref=ts

Why two...do I need both?

Wow. What a great version.

this app is so smooth bit I never get notifications...plus the badges rarely update..

Slow to market on WP7 version

From what I've gathered its probably not ready for gold yet

What is this Facebook or ReactOS? Why is it still in beta and how long will it be in beta?

why would we need the beta one? We can always report the issues we encounter during using the official one to them, can't we?

So has the old app completely disappeared?

This is fantastic!!! Have been using the beta all this time. Hope I have helped this app in some way

The main thing that annoys me is that the news feed keeps going to the top.

Has anyone noticed that Foursquare doesn't appear in the news feed? Only on the website.

yep! When I update my Foursquare now I need to go directly into the Facebook app to check-in!

I prefer the older metro design. It was a better look. Why couldn't they add more features to the old app.

Exactly my point, old metro style was much better, just add new features. It may be FB requirement tho to make it more unified across platforms to deliver adds and pointless recommendations... time to give up on FB...

This is a push from Facebook to unify the look accross all platforms. They're even redoing the website to look more like the mobile apps.

i hope they release the wp7 soon. :(

+1M! *keep looking at the updates but hard for me to push the button to update!*

awesomee newwsss!!!!!!!!!!!!!!!!!!!! :) :)
Windows Central Newsletter
Get the best of Windows Central in in your inbox, every day!
Thank you for signing up to Windows Central. You will receive a verification email shortly.
There was a problem. Please refresh the page and try again.