Microsoft's facial recognition service How-Old is now available as a Windows Phone app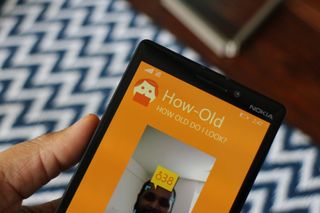 Microsoft announced a face detection API last month, rolling out a demo to showcase the new technology through a website called How-Old.net. The Azure-based website allowed users to upload their photos, with the API predicting their age and gender by scanning their faces. The website went viral, and Microsoft is now bringing the utility to Windows Phone with the launch of the How-Old app.
The app offers similar functionality as the desktop version of the site, with users having the option of uploading images to the service or taking one with the phone's cameras. The publisher behind the app is listed as Microsoft Online, which is the hardware giant's Chinese arm. Hence, the sharing functionality is a little bare as of now, with users only able to share results to social networks popular in the country, such as Weibo and WeChat.
Head on over to the link below to download the How-Old app. For what it's worth, Microsoft thinks that I'm 38, which is slightly exaggerated given that I'm 26 (I'm blaming the beard for that). It at least got the gender right, so that's something. Let us know if you fare any better in the comments.
Download Microsoft How-Old for Windows Phone (free)
Thanks Yahia!
Windows Central Newsletter
Get the best of Windows Central in your inbox, every day!
Harish Jonnalagadda is a Senior Editor overseeing Asia for Android Central, Windows Central's sister site. When not reviewing phones, he's testing PC hardware, including video cards, motherboards, gaming accessories, and keyboards.
Niceee :)yay Microsoft yay Windows

what is nice about this app. It's not like it is saying anything right.

It does not tell you how you are exactly. It rather tells you how old you look in accordance to your face.

Yup...
It tells show old you look in the pic.

So now apps tell us accurately how old you look.
Please.........

It tries to.
It nowhere claims that the result is "accurate" or "precise".

And that's what I am talking about.
It's far far from accurate.

Worked on the first pic I tried. Maybe you just look old :)

or it's apps shows 99% wrong result.

Are you going to use this as a productivity app? "The Facial Age Meter"?
It's just for fun and it does not require to be accurate. It's just there to have a few laughs with your friends while MS tells you that "you look freakishly old, dude."

But you can see the potential business application of such technology, right? You walk in to an aisle in a store, and promotions on a dynamic display could be based on an age demographic as you walk by... imagine it!

That would be awesome but to expect an app which specifically says what it does and does not claim to be accurate, to be accurate is just vague. This app would not become the "facial age meter", will it? And it would be unfair to base your conclusion of the usability of something bigger on such a small part of it, wouldn't it?

Imagined. We are screwed.

then it's just plain stupid thing to do to develop this shitty apps. Doesn't MS have better things to do than this?

Don't use it if you don't like it.

What is the point of an app telling you something you already know (your age). Instead, let it tell you how old you look - which is something quite different.

and quite wrong too. Showing 15 year old to 41 year old.

Face recognition is one of the biometrics they plan to use in Windows 10. In the last few days, they have processed millions of faces because of this website. Hard to believe this isn't some how connected. Perhaps they are trying to avoid this situation: http://m.youtube.com/watch?v=t4DT3tQqgRM

It's called a demo of an API. It gaining popularity will spread the word among devs that they can add facial recognition into their apps, for what ever reason they see fit. There are a ton of talented minds out there developing on their own so they have the freedom to build what they want. This is just another tool for them. That's what's nice about this app.

Exactly. But people look at things with a much shorter point of view.

I'm 19, the app says 32 lol

I am 20 it says 34......!!!

I'm 21, and it says I'm 19.
Haha.
My gf is 20, and it says she is 17.

Tried three times 36, 44, 46. I am 28 male. At least the gender is right.

It says I'm 36, but I'm 49. My girlfriend's 15 but it says she looks 17. With her cheap fur on, or maybe her plastic raincoat. And her plastic shoes, yeah they look good too.

My 12 year old son just tried it and it got him right first time.

36 vs 15??? Dude she's underage...

49 vs 15, even worse. Predator worse.

No no no, he must be European, the years are in metric. You have to do the conversion to get the years in imperial units.

Hahaha gave me a good giggle :P Posted via the Windows Central App for Android

The age of consent in most of continental Europe is 13 to 15, so please don't start accusing people of things. Also, clearly this is likely a typo.

Maan are you a pedophile?

As stated above, the age of consent in most of continental Europe is 13 to 15, so please don't start accusing people of things. Also, clearly this is likely a typo.

An almost-50 year old with a 15 year old is bloody sick, no matter what the age of consent is. Although in this case it seems he was joking

I guess the obscure reference to an Iggy Pop song was to just too out there. I always thought both 'Sweet Sixteen' and 'Fall in love with me' were both an indication of certain tendencies. I was making a comment on the ambiguity of juding someone's age purely based on their appearance. When you reach a certain age, anyone under thirty is still a child.

It says 6 when I was over 20!

I'm the same age as you, and I got 46 lmao

I'm 28 it says I'm 969 yrs .. Man I look like Methuselah!?

Time to start using sunscreen ;)

Don't worry. We have great users who even give 5 stars to spam apps and sh*tty apps. Because we keep supporting devs. So, don't forget to give 5 star this app.

U need to chill bro...
The technology is still under development its clearly mentioned.

So we WP users are lab rat ?

This app IS the development. I doubt they are wasting time just to make this dumb app. It's to gather data for something else, I'm sure.

Perhaps to gather data for the Windows hello facial recognition (device security etc) which is coming with Windows 10

NSA don't need that data. They already know what you look like and probably where you live too. But they only use that data when someone commit's a crime or something

I will try it after 19 days , will check whether it wishes me on my birthday or not

Not sure about the app, but i wish u a Very Happy B'day in advance.

I'm 24, tried like 6 photos, keep getting 36 & 38... It's probably the beard tho..

I thought the website was made to showcase Azure capabilities and not the API (which is horrible btw) . It kinda backfired when it went viral and everyone thinks Microsoft is stealing their data (ironic if you think that they themselves uploded the photos ) i really can't see a use for this app

I'm 23, it says 26
Edited 29(pixelated)

I'm a 16yo guy. Says I'm a 22yo female. Don't know how to feel about it lol

Are you Thai? That would explain it...

xaxxaa geia sou re patrioth

Until you realize how those ladyboys look.

Time to become a drag queen.

I could see such a comment coming.

lol..too bad if I would have got the gender wrong even with the beard ;)

It's kinda lame but I guess for fun only.

In myL730 many apps fail to open photos app to attach the photos Including this app after update 2.. Anyone have this problem?? I'm confused about this.. Pls help me..

You do realise that the Update 2 is unsupported on the 730 and is not even related to this article?

Brother.
You seem to be referring to some other update because I am running a 730 as well and there's no Update 2 here yet.

You get Update 2 before jumping to W10M.

I have reverted back from the previous build because it was just freakishly bug but thumbs up to MS for making the correct changes per se feature set.

Its actually Chinese Microsoft

No Android or ios? Lol :D
Like it

Can someone help me pls..

I like this app. It always tells me I am younger than my age :)

My picture 3 years off...3 others were correct

Needs alot of improvements. I'm 23, this app says 37 lol :D

You are lucky enough..... My sister who is 12 , app showing 36 .....

@Abhishek1320 lol, I think the purpose of this app is not to give you an accurate age but take the mickey, embarrass you and make people laugh at the same time lol. If it is the former, then the accuracy is beyond questionable as it is really way off.

Cool, I'd like to see I'm 21 again lol (actually 23)

My friend has got MI phone from flipkart.. It has this feature inbuilt ... N it's wayyy too accurate ..

I get 27-30 and I am 30 so it's all good :-D

It doesn't even work for me,,

After it somehow become accurate then Android and iOS Microsoft Strategy

It's same as Horoscope. Both of these are way too wrong.

On the website its more precise than the app I don't know why , the same picture showed

An example - WP suffering from apps quality maybe

Welcome ;) And I'm 17 it says 28 -_-

Give 5 star then may be it will decrease your age

I am 18 and it says 28 .... Probably its time to use ponds sge miracle.

Well, I'm 33 and got 33 as a result so at least on my case it was very accurate. :)

I'm 27, going by the comments the app would be probably put me at 100+... Lol.

You would be entitled to a letter from the queen of England :)

I'm 17 and it shows 30..i don't think so I look like of 30 :P

I am 59 and it said I died last year, wondered why no one was talking to me any more........

Take a pic with It and It will guess It accurate. It got mine right

Waste app...not at all accurate....an aged23..it showing as 48...fake or fault?

The app states it's still work in progress. Take a chill pill...

Maybe you just need to get more sleep and wear sunscreen haha :P

I am 30 it has show 50 lol

It guess my age and gender correctly.

Stupid app. It said I was 36. MS can't get nothing right! I'm only 35. I don't turn 36 until December. :-)

Sorry in advance, but this is a gimmick application⁉

You could say that, it's mainly for fun anyway

It is showing 10,years older for every pics ..mine and my frnds

Do you all smoke, by chance?

Launch it also for android

As useful as Microsoft Online face swap http://www.windowsphone.com/s?appid=a516f42b-2c71-42fe-93d9-7b2b6a1003db

Thank you.You just made my day with this app.Didnt even know this existed.Had lots of trolling fun with this.People should try this.Really good.

I'm 17... But It tells me I'm 48.... :'(

Im 23,but the app says you are 32!:D

How did your phone tell you that I was 32? I am freaking out here!

great Posted via the Windows Central App for Android

Sorry droider this won't work for you :(

Needs lots of work !! Lol

Besides doing these fun apps they should brings also new and exiting features like one that we could access in settings (and who knows action center?) and activating it would optimize how apps SO web... work on one handed use (I don't know if u understand what's my idea)

Knocked 5 years off me. Boom!

Well you almost look like a girl.

Did it say a girl or granny?

I am 22 but the app showing 34 which is weird may because of beard

Bam bam bam. Microsoft is on fire lately with apps and app announcements.
Oh, and I'm 2 but it says I look 30...i guess I should act more mature.

Said 37 (I'm 38). Got the gender right too. I was expecting it to think I am 50...

Now if I could only get my HTC 8X's front camera working again. Its been missing since 8.1... I think it could be a hardware issue though... Oh... Need a new flagship... Almost forgot to bitch and moan... phewww

Glad it works for you guys. So far tried three very clear, well lit pics and never got any answer.

Troubleshooting:
Are you dead and only appear as a ghost?
If "Yes", contact an exorcist to help in your removal from this world. If "No", proceed to next question. Are you only a figment or your own mind experimenting with yourself subjectivley?
If "Yes", contact a therapist (not the rapist) in helping you get off the 'acid'. If "No", proceed to the next question. I think your camera is broken and you need a new flagship. That will fix everything I have heard...

Im Black, and I confirm that it does not work on Black people......

This app is used to gather facial recognition data...they're watching you...and soon, they're coming for you...if you're too fat, have bad teeth, smoke, drink, use drugs, belong to a biker gang, look like a Republican, eat fast foods, own a gun or display any non-approved behaviors, put on your boots and start marching, the Dr will see you now...
Or not... downloading...

Pretty sure you sir (or madam) are a republican. MS, get this guy!

Some idiot child molester that's wanted might send his/her picture in, revealing their location..

Make that 5 pics now. Apparently I have no face...

Great am I the first one commenting here :P

I'm 20 and I'm gonna stay 20 because I'll install the app later sometime.

Upload Justin Beiber's pic and see what it tells. :D

I'm seeing a pattern here after viewing the comments.Most of the times it tells ages 30+. Why is that?!

I'm not too sure about this "Microsoft Online." Did anyone dig into whether they're legit? It seems the "Face Swap" app was also published under "Microsoft Online" and "Microsoft Corporation" Suspicious.

It's run by the NSA who in turn are run by aliens, very suspicious!

It loads, shows the picture, and goes no further on Win Phone 10. No age or gender shown. I did try the desktop version and it had me in my late 80's. I'm a senior citizen, but seriously people think I'm in my 50's.

Whoa, this took this long to release an app? Too bad its virality has already faded away. Too late

I tried Hulk's Photo, it shows 73 years....

Ever seen The Sixth Sense :)

Well the did not work on my 920 with Windows 10 preview, just kept loading.

I'm 40 and the app says i'm 36 lol.

Does anyone not feel at least a bit concerned over the huge privacy issues with this app?

NSA be like: We need a unreasonable huge amount of biometric data.
Microsoft: Say no more!​

But in all seriousness, this project is propbably research for MS to get their Face recognition algorythms right. We already saw that they want you to unlock your device with your face and recognizing a face correctly in the first place is obviously very important for this to work.

Isnt this the application that you give the right to use your face for promotion purposes in the small print?

I can't help but feel like this so is songs kind of practice for the Windows Hello and Passport programs. Seems like it could be related somehow.

It isn't accurate, but at least it guesses.

APP IS NOT WORKING PROPERLY...