Microsoft's InstaNote Windows Phone app makes fast work of note taking in meetings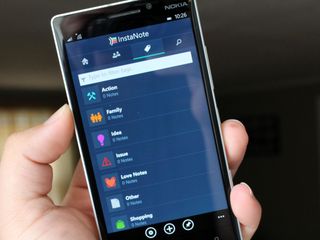 Microsoft continues to release new and interesting Windows Phone apps as part of its Microsoft Garage program. One of those new apps that launched today is InstaNote, which has been designed to help people who are taking notes during business meetings.
The app can capture the audio portion of the last 30 seconds of a meeting. Microsoft says:
Jie Liu, a program manager at Microsoft's Bing division, came up with the idea for InstaNote during the company's "oneweek" hackathon event in 2014. He later got a chance to take six months off to devote to InstaNote, with some other team members, as part of Microsoft's Bingcubator program
Download InstaNote from the Windows Phone Store
The people at MS garage will launch an app and then remove it later! Hahaha! It's become a joke..

Garage is a research group. What they work on ends up in other software and possibly OS builds.

Yeah I wouldn't be surprised to see this function fall into OneNote. The desktop version and index voice recordings for specific words already, abd can show you what you were writing down at the time

Yet, Dire Straits is right. We start using a Garage app till we try to install it on our next phone just to notice it has disappeared from the Store. It's nice to create apps. It's better to support them.

Pretty sure only ONE app has been removed, Tetra lockscreen. Am I missing something?

One app that everyone HATED.

Academic Research has been removed and, if I'm not mistaken, it was a Garage app too. Or was it from MS Research? And I don't think that was the only one.

Oh, I didn't even know about this one!

It wasn't from the Garage; I remember that app back from WP7.

Tetra was interesting but nothing I'm going to miss as a must have.

Interesting idea although a bit complicated

Basically "Xbox, record that" for voice recording

Neat way to explain it, I like that Posted via the Windows Central App for Android

A "Hey Cortana, record that" would be nice.

Totally agree with you. Nifty tool that should merge into OneNote. Makes alot more sense as part of OneNote.

It's supposed to send the notes it takes to OneNote, but it sends and then I cannot find it in OneNote. Has this worked for anyone else?

Hmmm why waste 6 months when all he needed to do is pitch this idea to the OneNote team??? I just don't understand the thought process at MS sometimes.

What's wrong with the thought process of rewarding and fostering creativity of developers? It's not OneNote, and while it may itegrate at some point the functionality of this app falls somewhat outside the scope of OneNote. This app has a specific purposes of functioning in meetings.

I doubt that the individual who's idea it was, didn't feel it was a waste to spend time nurturing a concept into a working viable application. Probably got a great sense of accomplishment out of it too.

Because OneNote is stuck. It needs a full revamp and new approach. It does a lot right - and I really enjoy it- but there is so much more it could do and do better

When you come up with a great idea at work, do you pass it onto another person to create it?

How is this different than OneNote, and why isn't it a part of OneNote?

Because it is developed by a research group. We may see it as a part of OneNote in future.

Microsoft Garage seems like a great plan for Microsoft to have other people to come up with ideas and develop them for Microsoft to incorporate into their own platform like OneNote.

The Microsoft Account login for this app is a significant improvement over the browser that is brought up when logging in on microsoft's other apps.

Except you can't choose which Microsoft account you want to use. It defaults to my personal account I set with the phone but I want to sync it to my business hotmail account. At least with the browser version you had the option.

Let me guess. This is another Microsoft Garage App which will only be for a few weeks and then be removed from the store as happened with Tetra Lockscreen. Very bad.

Nah, that app was useless.

1) that has appened ONLY to tetra, calm down, there have been many grage apps other than just tetra 2) its speculated that tetra was removed because it was decided that it would be merged with another project (most likely a new live lockscreen system)

Bing outside US is pretty bad but nice that they find time for these hobby projects.

This could be helpful for Sermons and religious studies as well.

I am still waiting to hear from Instagram about lawsuite against the use of "insta" in name.

So this is not for Windows 10 TP?
Windows Central Newsletter
Thank you for signing up to Windows Central. You will receive a verification email shortly.
There was a problem. Please refresh the page and try again.