Check out how quickly people are installing the Windows 10 update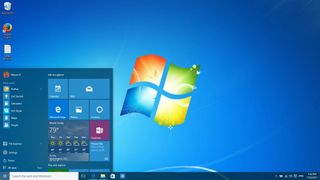 Want to know just how many Windows 10 installs have already happened in the last day or so since the global rollout began? A Microsoft employee has posted a quick video that offers a hint on the rate of Windows 10 upgrades so far.
Jonathan Sampson, who works on the Microsoft Edge browser team, posted the video above on his Twitter account, adding:
The 11-second video shows the counter's final three numbers beginning at 155 and ending at 335. With some simple math, that comes to about 16.3 installs of Windows 10 a second worldwide. Hopefully, Microsoft will reveal more info about just how many Windows 10 install happened on launch day in the near future.
Source: Jonathon Sampson (Twitter); Via: Neowin
Its great to hear this. Well done and keep it up Windows 10.

"This is the far-right side" So that means there's more numbers and possibly another comma or more to the left :)

Employees are probably not allowed to reveal hard numbers, so he settled for showing just how fast it was increasing.

I wouldn't be surprise if over 100 million by the end of the year

The 16.3 installs per second equals 1,408,320 per day. At that rate, there will be 218,289,600 PCs running Windows 10 by the end of the year. That would mean Microsoft would hit its 1.5 billion user goal in 3.4 years.

Would be very impressive.

This is just the initial hype, though. With the passing days, the rate will decrease.

True, but I'm also willing to bet the 16.3 per second is a lower rate than during the initial hours. Remember, only Windows Insiders were supposed to get this run. There are many more rollouts to go. The gen pop upgrade may tick that rate up. Plus, PC sales average around 800,000 globally per day. So add those to the number of upgrades.

Not to mention the fact it's going to take months before the enterprise even starts switching over and won't really pick up on that side of things until at least next summer. That should provide a nice boost in trying to reach those goals.

Holiday sales of PC and other Windows 10 devices (Xbox, tablets, phones...) will also help with that number.

Actualy, it's the initial roll-out. Remember that just a select group of people is getting the update right now, not everyone who signed up is already receiving the pop-up to upgrade. The rate will increase in the coming days/weeks.

It could be, but I'm not sure if its going to accelerate even further. Majority who upgrade to Windows 10 are like us who are tech-savvy enough. Some of my acquaintance didn't know the Windows 10 upgrade offer and most likely didn't see the tiny Windows icon in the Taskbar. Though here in my area, I'm seeing some Windows 10 advertistments from time to time, so it might help that. I think they need to release an advertisment on how to upgrade to Windows 10.
Also to add, some I know did see the update notifiaction, but probably didn't do anything about it like reserving the upgrade. So it will continue to sit there doing nothing.

That's only upgrades. 300 million PCs are sold every year

They'll be able to hit their target in a year. They're clocking 10TB/s at the moment. They've reserved a whopping 40TB/s! I'm pretty sure they're just being cautious and they'll probably kick things up a notch soon.

Lower case "b" not upper case "B"

All well and good, but will it help the "app" situation, and increase the phone + tablet market share? If it doesn't, it will still be successful, but we need mobile apps ported asap.

Wow at that rate there must have been 700k installs in the past 12 hours!

please let me be one of these numbers. i've been trying all day with no success till now :( But i must think positive :D

Forget about going through update -- grab an ISO or do the upgrade from Windows Insider page -- if you signed on for Win 10 TP.

Me too.. Update not even showing up

Use the Windows 10 update tool. Worked like a charm on my win 7.

Just click on the little windows 10 logo in the notification area of the taskbar. It will tell you your upgrade is ready, click to do it.......as always, backup before just in case, you never know. It was seamless upgrade on SP3, took about 1.5 hrs

This worked for me on two computers already, the Get Windows 10 update kept telling me that it will notify me when I can update, but I just couldn't wait so I downloaded microsoft's "Download Windows 10 tool" and updated to windows 10 with that.

Use the command prompt way. WC posted an article earlier on that.

ISO won't accept legit Win 7 or 8.1 key and DOS prompt command to "update now" does absolutely sweet FA. They told us it would be today, now they are telling me I am Ina queue and it could be September when I get my alert to upgrade.

Damn!!! Why does MSFT do this? I realized that ISO doesn't accept my legit key! Now I am stuck with a windows build that keeps asking me to activate my windows :'( and I am on a limited internet connection :(( 4 GB gone down the drain! I'm debating whether I should rollback to windows 7 and wait for the update to arrive in the Queue.

I don't get why that command prompt tool is supposed to work. wuauclt.exe ​is just the utility for controlling the standard Windows Update engine. /updatenow should do nothing different than going to the Winsows Update control panel and clicking the button. If that doesnt update you, this shouldn't either...

How does Microsoft justify one as an upgrade, when it's finished downloading or after installation is complete, this counter could be skewed ?

I would guess that once it does the activation process then that counts as a complete install.

Most likely complete installs

Most likely and guesses, don't cut it, unless you know for a fact which may or may not ever be revealed.

You need to look at it from the different prospective, for the sake of analytics they would have download, failed downloads, successful installs / activations and unsuccessful installs. Here it makes sense to look at the number of activations as that is the number that matters to devs not downloads. However it doesn't automagically mean all devs will support/release a UWA.

Probably when the version is activated.

Great. I still can't install it on my laptop which has passed the compatibility test and now just get an error message that helpfully says "Something happened".

Won't install on my computer.Ten failed attempts so far.

Use the command prompt trick.

Same Posted via the Windows Central App for Android

Then use "run" and enter those commands that u used in command prompt. My updates just failed because of ISP throttling.... Suck PLDT

I'd love to add another two to that count, but neither update is going through and it's starting to frustrate me. Getting an email, seemingly every hour, from a tech retailer announcing, "Windows 10 is here!!!!!1!" isn't helping, either.

I was having problems as well. I ended up using the tool to download an ISO and after it downloaded, just ran the resulting setup.exe to upgrade. Smooth and no problem.

Thanks for that. Checked it out, DLed it, ran it and now I'm up and running.

Meanwhile, no one is talking about many of us not able to start the f****** process...


Open command prompt as administrator by right clicking it in the accessories folder in all apps.
Then type wuauclt.exe/updatenow
And hit enter. Wait for around half an hour or hour at max and you will get the prompt to upgrade.

Start >> Run wuauclt.exe /updatenow mind the 'space' p.s. doesn't work for me though

You need to make sure you're running CMD in Administrator Mode. On Win8, right click the WINDOWS logo and select "Command Prompt (Admin)".

Give it about an hour to show up. Might be a few minutes or an hour.

Mission impossible here. Install files are corrupted. Windows Update log full of errors about failed update. Cleaning everything and canceling my update at all. I don't need this crap and I will saty on 8.1

Have you tried the ISO? I was able to update on my Surface but not my custom rig. I'm going to try ISO tonight.

Edit: Replied to wrong person......

I being one finally .... After two failed updates third time lucky .... Loving it .... Loving the new windows

Still the same error message after 4 attempt

Please do as I said two comments earlier.

i Installed windows 10 on my laptop through windows update. I am not able to open setting app.

Restart pc and try again.

Thank you for all the kind help, but I have tried all of those already. Multiple times.

Finally got it through command prompt after failing 5 times before.

Have you seen if is activated

Just updated it, saw version is 10240, the same as latest preview build, are you the same?

Mine seems to just stuck at preparing to install. Restarted the pc and now it just says your pc is ready for windows 10. What to do now :\

Type that command again. The one mentioned in earlier article.

Right click the get Windows 10 notification and check your upgrade status. It should now tell you to upgrade or do the command prompt trick most of the people are using. Open command prompt as administrator and type wuauclt.exe/updatenow and wait for sometime. That should do.

I will not be the part of this upgrade till November because I have vaio and sony will ready with drivers till November. What do you call this; Stupidity or recklessness?

It sounds like Sony's revenge, but since Sony sold the Vaio division to Japanese Industrial Partners (JIP?), it sounds like an orphan in the making. Since Sony is still providing some erstwhile support, they'll get those drivers out eventually. But that is way down their priority list because they're out of the PC business so it's not like you're going to buy another Vaio from them if they jump right on it. It's really a shame because the Vaio was the laptop I always wanted. Every model looked like a sleek race car compared to the fat black boxes others were offering.

This is a bullshit. I have one hp laptop and a another desktop pc. For the desktop pc i've buyed windows 8. I have reserved windows 10 for both. 1. In automatic I've installed windows 10 on my laptop. 2. Installed from the ISO file on my desktop PC. In both cases I need to activate windows... I cannot return to windows 8.1 on my PC so I have to reinstall a fresh windows 8, make 145 updates for windows 8.1 and the wait for the automatic update to 10 and finally download the ISO file for a clean install. So for me doesn't seem so easy plus the hole process will take around 2 days, but that is just the way that Microsoft function. Unfortunately my desktop PC has a good config and I don't want to put it in a box to switch to apple but when it will go old and I will have to change my comptuter i will think two times if I need apple or Microsoft.

i was in the same boat. no need to update to 8.1 with an activated 8.0, go to the windows insider page and run that tool. i did it this morning successfully, and am now in the process of making the usb key to do a clean install. again, do the upgrade first to "convert" your license key, then you can do a clean install.

so its microsofts fault you screwed up? it was made very clear that you need to let the systen update to windows 10 through the update process before you can start clean installs

I need 2 try on my surface (the Windows update hang one time), ans one for my PC. In both cases Windows was activate after upgrade.

Just finished up grading my wifes Toshiba laptop from Windows 7 home pro with no issues.

And while I'm watching this week on tv, QVC,HSN and other vendors are selling win10 with a very impressive rate...

They are going for a billion. They're off to a good start. But a long way to go still

I went to https://www.windowscentral.com/e?link=https%3A%2F%2Fclick.linksynergy.co... You can install now or create DVD or USB.

i have 2 machines updated already... but another 5 where looks like everything is download but the update just won't start :(

16.3 per second X 60 second (1 min) = 978 per minute
978 per min X 60 minutes (1 hr) = 58,680 per hour
58,680 per hour X 24 hours (one day) = 1,408,320 per day.
1,408,320 X 365 days (1 yr) = 514,036,800
514,036,800 X 2 years = 1,028,073,600 So at this rate MS could conceivably hit that 1 Billion PCs mark in 2 years, surpassing than their 2018 expectation. Yes, I know these are not "solid" numbers, so if that's our comment, just don't. I did say "conceivably."

The massive amounts of traffic they're getting seem to be hampering people's attempts to upgrade to 10. I'm so glad I was part of the insider preview. Loving the final build. Can't wait for all the new apps.

Anyone notice (i'm sure many did) that it pauses every couple seconds? Almost as if it's set on a 2s poller. Here are the numbers at those pauses. 160, 199, 240, 283, 324 That is roughly a 41 increase for each 2 second poll which equates to about 20.5 per second. That's certain to fluctuate but works out to 1,771,200 million per 24h (1230 per minute).

So it'll outpace Apple's OSX entire user base in a few days? Sorry had to. :)

Still waiting for my notifacation to come from Microsoft :(

Stop waiting, get your manual upgrade started. http://www.microsoft.com/en-us/software-download/windows10

I've already installed it on four of my machines!!!

I work for a local authority in the UK. We only upgraded to Windows 7 this year from XP. I reckon it will be about 5 years before we get Windows 10. Posted via the Windows Central App for Android

If your lucky, it will probably be 10 years.

Now, display the # of users who have been having issues afer said upgrade alongside that. Watch the 2 nubers grow in parralell.

Installed and done on my surface pro 2, two more systems to go....

Sucks Im not one of those.

That's great news. I upgraded 4 systems in my home to Windows 10 and plan on doing another two for family members.

I disabled the upgrade on 3 of the 4 computers in our house (4th has been running 10 for the past month). Broken OneDrive syncing is a deal breaker. I'll let 'er rip when they've fixed that. I know I'm in the minority (I was for liking 8.1), but the FrankenMenu doesn't impress me. So until the OneDrive is fixed, the Lumia 940XL is in my grabby hands, and Continuum is "here" not "soon," I'll have to pass.

Don't worry. If there's one thing we know about huge corporatins, is they will definitely announce official numbers if they are proud of them. So if we hear nothing, then the rollout is not as good as expected. I wonder what number they will feel comfortable and or when? It's basically been 24 hours so that's always a fun metric to know. Then there's the first 2 week metric. Once the buzz and free press goes away it will be interesting.
Windows Central Newsletter
Get the best of Windows Central in in your inbox, every day!
Thank you for signing up to Windows Central. You will receive a verification email shortly.
There was a problem. Please refresh the page and try again.