Microsoft's Live Lock Screen app now available for Windows Phone 8.1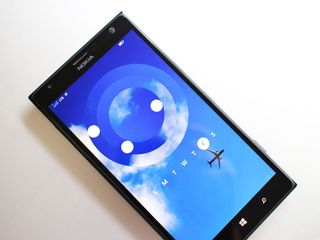 It was teased at Build 2014 and is now finally available. Windows Phone 8.1 users can now download the Live Lock Screen BETA app to spruce up their Lock screens.
From the app's description:
You'll need Windows Phone 8.1 to use this. If that's you, go ahead and check it out. Let us know in the comments below what you think of the Live Lock Screen app. And guess what? It does work with 512MB devices, which is a relief since Microsoft previously said it would require 1GB of RAM or more at launch. Enjoy!
Via: @joebelfiore
Thanks for the tips everyone!
Windows Central Newsletter
Get the best of Windows Central in your inbox, every day!
Yep the stripes is missing i liked dat a lot..!!! :/

That's the one I wanted too. Hope it comes in an update.

Hopes they add the weather to it soon, looking good so far! :)

Weather would be great for me too.

Weather ... With animated weather icons. Seems Nice :3

+1020 +1520!
Please a the current temp and this would be golden!

You can add the current temp with the LockTemp app.

Its a bit laggy on 512 devices.

I have a 8S, and I've seen no lag.

It's a bit laggy on my 925 as well.

+925. It is laggy, takes a second or two for the lockscreen to appear. So I uninstalled it. It is still shown as beta version.

Yes, I agree it takes between 2 - 5 seconds to sort itself out.. & for me, it didn't add anything significantly great on my +720 to keep it...

Laggy on my 920, too. Gonna wait before uninstalling to see if a fix is coming.

Well, it seems faster... The app use for me. Too bad I can't keep using it, since my kid use the kid's corner. The bounce doesnt feel natural, btw

They way the lock screen bounces has always been unnatural, even the normal one.

The original is way better for me, maybe I'm just used to it. It has weight and that tiny bounce in the end. Why not just make it the same?

And also makes a fake image of the app running under lock screen and when unlocked, resumes it.

now, to integrate Bing Weather.

Agreed. That's what I was using.

Thats the one thing that made me hold off from using it. After installing it I loved the image and nice effects it brings, but I love my weather updates more, I reverted back to the Amazing Weather lockscreen till something similar can be integrated into the app.

Well it looks awesome. But it takes some time to load and the start screen is blurred for a second. Edit: It's blurred (or something - like a picture in low quality) the whole time until you swipe it all up. Come on, isn't it enough to have this strange effect every time when clicking back to the app from the multitasking.. What do you think guys Edit2: It's an actual picture of the start screen under it. This should be in the OS update not an app :) I guess then it would work right.

It does then when setting a photo over the tiles too. Has anyone noticed that?

Hmmmm.......it is a BETA program

We know that, that's why the issues must be reported

It works with 512 MB suprise..!!!

I don't see anything of what you describe on my 1020.

Not even when switching from Multitasking to the app?

Yes, because is a screenshot of app's last appearance and low in resolution than screen. Not like windows task bar where everything is in realtime when you hover over an program.

I know, but it should be in real time, there is no such thing on Android, and no, There is no lag because of that :P

it loads fine on the 1520, no problems, like it was built in

Well good to hear, I was afraid that MS again managed to make something not work (xbox music) .. Maybe they only support Lumia :P

I hear ya, its good that its a stand alone app, so it will work better in the future, they just had to get it out to see what problems people are facing so they know what to fix

I see that too. Not cool. It will probably make me disable the app.

What device do you use? I had to uninstall it. Totally broke my phone.

most everything in wp8.1 is going to apps. the issue is with carriers here, ms is taking things out of the os so that they can be updated more regularly rather than waiting for carriers to approve it. if they can pull it off, it's a big win for them and us since we'll see updates quicker. windows is becoming more modular. i hope they pull it off and bypass the carriers for updates more often.

I like that too. But I hope they manage to make apps work at all then. Why don't they design an OS that can install system upgrades through an app :P

They did! It's called, "Preview for Developers."

Hahah actually it is yes :P I use it
Now OEMs need one ;) :)

Maybe it only does this on 512mb devices, and it is real time on 1gig devices? What phone you have?

Ativ S 1GB, anyways you can see what devices people use by clicking on the profile icon :)

Made me love my 1520 more, I wish this phone was 5" or 5.5".

Sell the 1520 and get a ICON or 930, same exact phone accept for smaller battery and smaller screen.

If this app is any indication or hint of any UI changes that's gonna happen in the future, then I'm pretty excited about what's to come!

Are APIs too released for developers...??? Or just an app has been... ???

Finally (was about time after we've heard so much about it)

I've just published a supposed fix for the lag issue for the app in the Forum for apps on the WPC app. Did you know that the great Rudy Huyn wrote the code for the lock screen beta app? Oh? You did...

Do I make you horny...... Do.....i !

I read this with the Austin's voice haha

I was expecting something a little groovier in all honesty. I like how my current lock screen shows the weather forecast

I was excited for this when it was previewed at Build. After trying all of them it is not what I expected/hoped for. Already back to using Awesome Lock. Will be interesting to see what devs can do with this - hoping for better than what MS and Rudy did...

Me too, I was expecting more from this, of course this is BETA so I hope it will be way better in future. P.S. I don't like the way it bounces when you pull it half a way.. Update: And I don't get any calendar appointments in lockscreen :/

Yeah definitely a beta...

I would love a lock wallpaper that requires to do an action before you can unlock it, like picture password.

I think a picture password would be cool, but how complicated could it be? If it's a simple pattern so you can quickly unlock your phone - and given that it locks every time it's idle for X number of minutes, you'll want to keep it simple - your friends are going to know that sequence within a day.

It's like on Windows 8 man, just like that, but ported to WP...

I understand that. But your laptop doesn't lock after 1 minute idle and you're probably around friends more frequently when you unlock your phone than when you unlock your laptop.

Fingerprints give away your picture password...

I was just going to ask when this app was coming out.

Awesome! This is the first time I saw something on twitter before WPCentral. :o

Me too! Twitter Notifications to the rescue ... I was in Download First, Read Later mode.

I'm surprised it is available for 512B RAM Windows Phone!

As was I considering even Microsoft said it was only for 1GB+

Maybe since its a public beta their not keeping it internal for those devices as their develop it?

Like the Nokia camera before it was like this

On my 620 it's slow, better after moving on internal memory but still... Nice to have it just to see though
Edit: Restarted phone and works nicely

Didn't see any notable differences, after using it on both 520 & 1520!

Oh that's a good idea, I didn't think of moving the app to the phone storage. Thank you! I've just published a supposed fix for the app I found earlier. It's on the Windows Phone app forum of the WPC app.

Surprise!!!! Working on 520...

Although I would love to see the digits on the the rotating clock :/ Too hard to tell time without it.

I agree it's really difficult to tel time just by looking at the rotating clock

Yessss. MICROSOFT IS BETTER THAN EVERYBODY ELSE!!

Nice move by Microsoft to release it as Beta so that 512MB users aren't disappointed as well as they will atleast stop criticizing about its lag...

Surprisingly enough, I'm using it on a Lumia 520

+520. Gracias, thanks!!!!!

Managed to install this on my 625.

I too didn't expected it to be arriving till months from its release to 1GB RAM devices...

Nice thing, even if it's taking sometime to load after pressing the unlock button. But it's really good looking.

why is it taking time to load, I do not see that on my 1520

I'm not sure why it does that either, but it does it on my 1520. Maybe it's because I have it stored on my SD card. I'll have to try moving it to phone memory and see if there's a difference. But I do love the app!

that is probably what it is since I have it stored on my phone

Its not actually taking time to unlock but taking time to resume apps... When unlocked...

What I meant was, after pressing the unlock/power button, the screen is black for 1-2 sec until the lock screen shows up. But maybe it is because I installed on SD and because of having a 512mb device.

Yes move app to Windows Phone storage, seems to help...

Yaaaaassss, more stuff to show off about WP to my friends :)

Just downloaded it! It's awesome! I'm so glad to finally start getting apps like this on Windows phone!

I like wish the circles on the one click were smaller and cleaner but besides that no complaints yet

I was actually thinking the opposite... Larger taking up more of the screen ;)

I don't know. it's neat for a few seconds but I'm not that impressed overall. More importantly, by switching to this, I lose my lockscreen weather info from Amazing Weather.

Yeah, quite underwhelming. And we had to wait all this time for this?

I'm sure other apps will be able to hook into it like before, just takes time, though admittedly taking a lot longer than I would have expected. If it can't hook in other apps, I won't continue to use it.

Yeah I never looked into this, but I assumed it meant we would be able to have live info (without interactions) on our lockscreen directly from MS. Like from the Bing News, Sports apps etc. A moving clock? That's it?

To say the least...its meh, where's my context based lock screen app? That ill be happy about.

This is only the beginning....

Absolutely. Kind of cheesy really. And the best way to see the animation is to scroll half way up and let it bounce down a few times.

It's fun to use once or twice but that's about it. Back to default for me.

Says that it's for 8.1 but will it work with 8.1 developer?

Of corse, most of the phones running 8.1 Developer Program are ahead of the official Windows Phone 8.1 builds that are rolling out.

Yes... Running now +720 on dev..

Why didn't you just try to download the app before asking this question?

Loving it! Makes the lock screen much better! :)

@@ what the -, I have lumia 520 and still can install it ???

it support both 512m and 1G ram

meh... not as great as i spected... but it's just a beta... hoping to see some improvements on the next version

There's probably one of two I'll actually use.I hope more themes are coming. A couple of them are pretty lame.

It works on lumia 520?! Anyone?

Uhm, I can install this on my Nokia Lumia 520. No 1GB limit.

It's amazing! I have downloaded it for my Lumia 720!

I downloaded it on my L720!

Awesome for being so simple!

Yeah, wondering about the 8.1 developer too?

Try it lol, it works for that to

wp app store has dead trigger 2:-)?

I wish. Posted via Windows Phone Central App

I downloaded the app on my Lumia 720 and everything is working fine..

Nokia Lumia 520, just downloaded!

It's available for Lumia 620, i think this is a error

Let's give it a spin shall we.

Now the only thing I need is Cyan (I don't want DP, ty).

It works on my 512 MB Ram lumia 520!!!

Now where's that '512mb ram' supported sticker.

Correction: It works with 512MB Windows Phones!!! :DDDDDDD

I hope to see weather conditions in the next update, otherwise it's neat.

So how do you go back to the default?

Go to settings - lock screen and chose another app/photo or whatever. Just like any other lock screen app.

It took me a moment to realize, but select a lock app, let's say, Bing. Lock your phone. Unlock it (the lock screen should be the integrated Bing now.). Then select whatever you had previously.

Just select another photo or Bing from lock screen settings and you'll revert back.

Go to Photo Hub > Open your desired picture > tap the 3 dots > set as locks screen picture. Done

Just change it in Settings.

It's cool, but unfortunately I can't use it. It disables kid's corner. Sad face :(

Probably something they will fix for the final release.

Hope so. I like some of the effects.

I didn't even bother reading the article I just went to the app download section. Sorry Sam.

It changed the little calendar icon for notifications on the lock screen to a star.

Pretty awesome so far! A couple of options are a bit laggy, and more options would be great, but it's a nice solid start.

I want more missed calls and SMS and emails looks so damn nice!!

Ehmmm good news but i haven't the 8,1.still waiting... (1520 Germany)

I couldn't wait so i flashed the british rom :) (1520 germany)

They have finally arrived and they're available for everyone! Excellent! Hopefully these live lock screens will be baked in the next GDR or in Threshold and they'll come to Windows too.
⚠ Bug alert (on 620): try opening the action center right after unlocking, it should show the unlocking animation a second time but with whatever you have displayed on your screen.

Correction... try doing ANY swipe gesture in the first 3-5 seconds after unlocking. Device won't respond... at least, that's my experience on Lumia 1020.

On my 620, I only have to wait for one second after unlocking.

+1020 Same issue. I didn't even notice until seeing your post and trying. Very annoying. Tbh so far the app is underwhelming, a nice little feat but not worth the hype unless I'm really missing something? Posted via Windows Phone Central App

its fine on the 1520, works smooth and fluid, like the regular screen before it

This is because when you lock your phone it takes a screen shot, what you see for a short period after swiping up is the screenshot

I agree but that doesn't explain the second unlocking animation.

The compression on the underlay screenshot is hideous. Not sure why they use JPG compression for the task switcher and the live lock screen underlay screenshot when PNG is much better suited to WP's extensive use of flat colors.

Agreed. If they're going to use jpeg at least have it to a point where you're not noticing artifacts.

I'm not sure I see the big deal.

Time a serious test drive

Kind of slow for now... I'll keep using Lockpic until the performance is better.

Works on my Nokia 521 just fine.

Yeah
•••akhirnya
Mantab
;)

Its alpha version not beta.. Many UI glitches.. Not scaled for the 1520 screen.. Slow..

Apparently you missed the large BETA tag attached to the app name.

Apparently you missed the first five words in his post.

Apparently you're as ignorant as he is. It's a Beta not Alpha and bitching and whining about it not being perfect is just plain ignorant on anyone's part that complains.

Relax man and be polite. In my opinion it doesn't deserve the beta tag. It should not be more than alpha. If you don't like or understand my comment at least ignore it or reply politely.

My apologies but, it does get a tad old every day reading the complaining over something that's in Beta not being perfect. As a developer, I've dealt with it for years and ask you want to do is band your head on a desk wondering wtf can you do to make EVERYONE happy.

Yes but Msft is a huge organization and should not beta test on the general public if they don't want complaints. But they aren't the ones complaining here. Of course the general public will complain when they are the the beta testers. You'll never make everyone happy. But you can make as many people happy as possible by releasing finished and polished products and not beta test your consumer base.

it works fast on my 1520, are you using the new cyan update

Yes i use cyan. It isn't very very slow but it is 2-3x slower than the official lockscreen.

Finally ..
Going to try it...

Nice, but still need performance improvement...

No...1GB is not necessary sam...!! :)

Looks great! Only complaint is that screen becomes unresponsive for a few seconds after lockscreen is swiped up.

Happens to me, too. It's alright, but not as great as I was hoping. But it's still a beta so it'll improve :)

I'm sure it will improve :) My phone is a Lumia 920 btw.

Too basic , but as a beta its nice

Which one is stripe??...and I feel a bit uncomfortable using with the home screen password protected!!

Excellent! And for low men devices too - my 625 is happy!!!

was 512 mb support intentional or a mistake during store submission? if its the latter, u better hurry coz it could get pulled down for resubmission... @wpcentral any leads??

It does not have more information that the standard lock screen... Only 1 calendar event, no weather conditions etc.. I prefer "awesome lock"

And it has 512MB RAM support!! YAY!!!

Meh. What a let down. Disables kids corner. The themes available are seriously lacking and it seems to also disable any third party app lock screen images. From what I saw at Build I expected a more dynamic and interactive experience.

Hince the word in bold BETA

DVELOPinc is the beta nazi!!!!

I'd appreciate never being referred to a piece of crap inbred racist such as Nazi.

Where is stripe? Maybe they cancelled. 3 are good others 3 waste since just simple. Sorry was expecting dynamic like that app but this is just too simple. All for nothing

So far, not impressed... Let's wait and see what future updates will bring after all it's BETA

ohjhhhhhhh......my god luv u Microsoft for 512

Just as I suspected, the music wallpaper will stop working when you use this app

I prefer the normal lock screen, but it's good.

I really like the clock one but it needs numbers in the hands sort of. I can read it but I will always have this nagging feeling I'm wrong by a minute.

Nic...bt not these all were showed im that video..

Bit laggy at times. Seems like just animation, doesnt really bring anything else functional to the table. Just a beta though Went back to lockmix, hopefully the had some features to this app like showing weather on the lock screen.

Bout time but I don't care for it that much. Switching back to Amazing Weather HD for lock screen so I can see the weather. Hope it improves though. Let's see how long it's a Beta. Lol.

Okay, if you turn on Kids corner you can turn it off (:

This is of the hook, I hope they keep adding to it. The weather would be awesome.

A load of rubbish, it still slides up

Needs weather implementations!

Awesome, but hangs a bit!

This could be the quickest I've deleted an app. Sorry Joe B and Rudy but this is pretty bad especially for how long you've been working on it.

I agree it's a bit underwhelming but I'm sure they're working hard at it and will update it soon

There must be some serious trickery involved in getting animation on the lockscreen for it to have taken this long for them to deliver something this basic.

Microsoft did Cortana, I suppose it's not a great effort to develop a live lock screen for them :D

Agree, the Preview from Ventasoft was better, dev said he did it in the weekend...Joe give him that API too, I definitively want that Stripe lock ;)

Yeah, preview was better. Lol.
Btw dev said he'll update the same app when the API is released.

wp os nice but wp app store crap..

Unless you develop an app.

Also not integrated with system correctly and it conflicts with the lockscreen settings.

Is anyone getting a bit of lag with there 512mb ram phones with the lockscreen ?

Yeah - a lot. Had it on my 625 and 1520. Have uninstalled and think I'll wait for the final - but that's just me

Not to bad on my 521 but then again, phones had lag anyways lately (Thinks it's a Tmo conspiracy to force people to upgrade, lol: j\k)

I haven't had any so far on the 635.

How silly that it does not show up under lock screen settings as an option. That's kind of a fail....i know I know...beta

Hmmm.... Bit laggy. But then it is a beta! I've uninstalled and will wait for the final.

I was looking forward to the "Stripe" theme... guess we don't get that one just yet... Other than that, I don't really know what to think about this... It's kind of a mess.

*continues conversation with self* Is this some sort of diversion Microsoft has thrown at us, in attempt to stall us while they scramble to fix the DP Cyan update debacle? lol naaaah...

Chill out Ed. You have a rapid imagination. Just stick with what you've got (DP8.1) on your 1020 for now. I'm sure they'll release a patch or update soon...

Beautiful, but slow some times

Actually I installed it on my lumia720 which only have 512mb of ram, and it seems its working good.

Looks good works well but needs future update to work with other apps lock screen info and not just replace it. As if I set weather to display on lock screen I should still be able to use it and it incorporates into these screens not replace it. As now I can't use it. No doubt more screens will come but also would like to see in app options to preview each one before picking which one to use.

Available also for 512 M.B RAM!! :D


None of them really works well for me when I'm using lock screen text app. :(

Looks great, but Its slow
Lacks themes
Changes default notifications icons to a generic star which makes them useless

SMS, email and phone shows the right icon. My Facebook Beta shows a star.

Third party apps show stars.

Yup, totally stupid that it's a star

Work on 520... Weird as they said it was only for 1gb or more..

Low quality of Bing Images.
But app is really good)

VERY LOW quality of Bing images, actually. ((((


Did they just release the 512mb one because it looks very simple.

Yeah I was excited but now that I have it... It's ok. I'm more interested in seeing what developers do with it. As in, will this enable a more interactive lock screen or just prettier ones?

So another catch up feature added to windows. Good job now if we had music and weather support that would be awesome

no its not catch up in anyway......its trying to make lockscreen more unique....which windows phone always has been......this time other OS are playing catch up by copying windows phone design language...

Got a few glitches I know it's beta the circular one doesn't display the time for me. Lumia 1020.

Amazing app. Although shows normal lockscrenn if the phones locks while on a Skype call, just saying.

It's really neat. Hope they find a way to integrate Bing Weather. On the question of Cyan Update x 8.1 Dev Prev, did anyone whit it got the Cyan update? Will we really have to downgrade to get it?

I'm too stuck being unable to upgrade my 625 to cyan, while everyone in my country without DP enrolment can. But no, I assume, they'll come out with a fix at some point.. So I'll just wait and wait, but I'll not downgrade. That app data loss and games progress loss is too much

BIG THANKS FOR ADDING 512MB RAM

Support for 512 MB of RAM it's really a nice surprise, thanks for that.

Yes, a bit laggy. This is not WP style :) I hope they improve a lot!

Sorry, but this version is just boring! I was expecting so much more! I hope someone will create something great based on the APIs!

This app is weak, huge letdown.

I like the actual rotating clock the best however I wish it had the current hour/minute/second on the white circles as the preview live lock screen app had

I m waiting for API announcement, hopefully in next hours...I have three new themes ready to go :)

Sounds great! Yours is much more smooth and I love the themes! Excited to see the 3 new ones! Will the app be an update to the preview or should I loom for a new app when you release it?

I was searching for you man. Waiting to see your amazing app. Your preview was better than this BETA :)

Is it me or when it unlocks, whatever screen you had before it becomes a degraded JPG until it loads to the actual screen?

Same here, moreover, the bing image for the app's background is a very poor resolution image.

It s in order to scroll more smoothly, heavy images are slower to move.

Not bad but I like Lockmix because of its features. I really hope that other developers will get to use the APIs to implement the animations in their app.

The clockface theme has got to be the best, so classy, and that puzzle-like effect!

It's a nice addition to WP, though it needs calendar and weather notifications.
Hope they come soon.

May be I've expected a lot more. Right now, it just slides up and the clock theme can use some numbers. Hope they keep adding more themes and transitions and also improve the performance.

I got it on my 625 too.. But the bing image is poorly stretched in the background and no weather info yet. Good app for a try, but I'll stick to Lockmix :)

itzzzz....wrkng owsum n my 630,grt hats off need to see much updates nd pattern till now its as smooth as butter fabulous it rxzz n 512 ram also.....smthng grt at beta stage luv to see weather forecast also

App may be fine but you're broken. It actually takes more effort to type like this on modern smartphones and makes you look like you're ten years old.

Why the heck do I have to look at some silly 'ferris wheel' when the phone reboots????? Pffff...

*sigh* I know there would have to be something wrong with it. Though it's admittedly minor, my lock temp now has a star icon and not a thermometer icon anymore. Other than that, no complaints.

Meeeh... Its the same they show months ago... Zero progress... It even doesn't run smoothly... Going back to wpcentral lockscreen immediatelly

I managed to install it on my Lumia 625 with 512 MB. Working but by unlocking it has lag everytime.

Which one is the stripe? :l

Absolute dreadful. I know it's in beta but it doesn't even work on my 1520. Only background that works is that ugly blue one with the plane on it even after numerous attempts to use a photo from my saved photos.This is just my opinion but the themes are extremely ugly as well. Makes it look like I have an Android phone. Stock WP8.1 lock screen is much better and professional looking. I'm 40 years old, not 13. This looks like something a teenager or tween would want on their phone. Uninstalled within 3 minutes of installing it. Hopefully they work on it and make some more professional looking lock screens themes in future updates. Until then, nope.

Hold down to the added photo and move to first, that should replace the default *ugly blue one with the plane*

Doesn't look good with a pin on your device. The whole wheel moves up when you slide

AANNNND uninstalling it, until it comes out of beta stage. I feel like the PREVIEW app for this was smoother and worked better than the released beta lmao.

Waiting for Belfiore call (kidding :)

Sweetness!!! Installing now!

Wow, so it works with 512MB devices?. I better try this out.

Keep the customization coming

The 4castr weather app works with this app. The temp icon becomes a star, but properly displays temperature

Starting to really question the future of Microsoft recently...

After I use the phone a little, some how classic lock screen comes back by itself and couldn't unlock the phone. Keypad doesn't come to enter ls password. L720

No notifications, no password request.. And: It's very,,very, very, very buggy

What if this lock screen replaced the glance feature? #just thinking# Great stuff by the way.

Does not require Cyan. Works on my HTC 8X, but it looks kinda unpolished. It takes a while to show the image and even more to show the clock after you press the power button. Meanwhile often flashes white (because I use light theme) and black, also some jumping (clock and icons) is noticable at the top. Probably all this is because it actually starts an app which requires a time to load the stuff. The default lock screen looks much smoother. The annoying part is that it actually requires much longer(or faster) swipe to unlock the screen. Default one reacts even with a gentle swipe.

Just installed it, was completely underwhelmed and deleted it. Couldn't see the point, or am I missing something?

Didn't really like any of the lock screens..

Nice but a bit disapointed by the variety of effects

Love you developers thanks for lock screen on 512 memory my Lumia 520 so cool more thanks :D

I have a problem, I can't unlock my phone! wen I swipe up I can't see the keyboard, only what is behind it!!

Disables kids corner, sucks.

Awesome. But a bit clumsy, I think because of low memory. I hope it would update it to improve the performance.

How I can add"text" like "pick up milk" bla,bla,bla ?

I do not know if it is to be poor and ungrateful if I was more than expected. Theme with yellow letters with lag with 1GB of ram in 925.'s 3rd Theme aside from yellow to for me is ridiculous, does anything good besides covering me almost the first digit of the clock The 4th theme and the first are the most beautiful but the rest does not tell me anything.
Notification of new things on facebook and 6TAG lockscreen, appears to me the epitomy of a star, getting a star symbols without my knowing it corresponds notification application .. Transactions are a bit slow, at least for what I was used
State Meteorological time, personal messages, other types of customization, nothing exists. Just now I discovered apps like weather hd. I expected more from them. I can not believe two or three indies desenvolveres have more customization in apps to lockscreen that this official app from Microsoft disappointed

Is this English from google translate?

Pls add the weather and more styles

Well it looks awesome. But it takes some time to load and the start screen is blurred for a second. Edit: It's blurred (or something - like a picture in low quality) the whole time until you swipe it all up. Come on, isn't it enough to have this strange effect every time when clicking back to the app from the multitasking.. What do you think guys

What the future may look like...

I don't know if I will use this app (at least for now), its good but lacks the originality to actual lock screen like that bump animation doesn't feel real.... The app is less responsive.
Ooh right I forgot its still in beta and that's a good thing since we can see a lot of improvement in coming days, still it would be great if they add weather and make that rotating analog clock with numbers in it.

Super lag on my lumia 920, caused restart already, dont know how to turn it off, so i just uninstalled it. Why everything become so laggy on wp8.1 pfd

Oh and one thing... It can't work alongside Kid's Corner. One has to give for the other to work

Kinda think the animations are too fast and where are the ticking numbers on the circle option? Nevertheless, very very happy to see exciting things come to WP.

Nice to have this even in beta form.

Im sticking with amazing weather HD until there are more options.

How do I get weather on it?

Really great innovation ! We just need some integrations such as the weather for example. But, there's maybe a bug... Notifications are all in a small star and I don't see details like a set up before... :/

LoL. Very slow. But I will wait till it cuts BETA name. Note I'd to early to act. But this is slow

Yeeey.... Work di lumia 520.... Manthaap (512 ram)

Meh!! Is this what took soooooo looong to release? I am not impressed with what i see here. I downloaded it onto my 920 and just kept thinking "is that it?" I'd prefer to see what our 3rd party devs can do. I literally played with this for 5 minutes and went back to lockbuster. This just goes back to the slow motion pace some people complain about with windows phone. But i guess its a first step forward. Should be a leap forward though...

Same here. So hangy it is in 920. I think we should wait till it releases final version. Is still in beta.

Works smooth on my 920.. But I think the clockface theme is the only really cool feature, pretty neat IMHO

Very smooth on my 920 DP. I like the hell out of it. I want to see what other themes they plan for this app. But it doesn't hang for me.

Installed and uninstalled...

Downloaded, set with Bing images

Super fast on 1520... Hope they improve it soon...

I feel like they need to make things smaller on the 1520 too

I'm honestly not too impressed, I expected more for some reason

Too much lag on my Lumia 925. Uninstalled for now, will give it a shot once more when it's out of beta. Hopefully, MS adds more themes in the future.

Haha....so we waited all that time for what exactly?!! There's nothing smart about this app...just some glitchy transitions and a rubbish bounce effect.
I was expecting to see something more dynamic - something that allowed us to scroll through the currently playing music etc...
Big let down. At least the normal lock screen works perfectly and looks good!

I hope awesomelock jumps on the new APIs as soon as possible.

It's a beta alright. I still see my original lockscreen AFTER i swipe up

Hmmmm.....it's just ok. It's only an initial release, and I'm sure it will get better, but there's not much to this right now.

Far better than the default lock screen IMO! If I were a better digital artist I'd totally go and create some designs for it...

Go check the forums.. Some awesome backgrounds are already coming from members..

Yuuuuuuuuuuuuusssssssssssss!!!!!!

The notifications doesn't work in 512mb devices :(

For those who haven't install it yet. Here is a short video of all the features. My YouTube channel. http://m.youtube.com/watch?v=8X5ICHjQ8Zk

Eh....just ok. It's a bit laggy on my 1520. Slows it down when opening lock screen. Not real smooth yet. Keep trying....

if only if you have 8.1 I am stuck until att releases 8.1 for my 920 kind of,lame

Running smooth on my 1020. Very nice lock screens.

This is shitty.
No interest.
Badly made with a huge screenshot of the frozen screen when unlocking.
This app looks like an amateur ...

After pressing the button, it shows white screen for like 0.3 second and then shows the lock screen. After unlocking the phone again during a very short moment the touch is not responsive.
I changed it to a normal lock screen immediately. (on Lumia 1520)

Who had their widget icons turning into stars? Is it just me?

I saw a star and 70, but I didn't know what it was.
I thought it might be battery, but my battery was at 68.

It based on the battery app that u set on default screen lock. I use INSIDER and it's very accurate.

Works with 512mb???? That's a nice surprise!!!

Seems totally useless for me. No any additional feature and huge lag to open start screen.

I'm happy about it being available for 512mb ram but arn't they going to say why they changed their mind?

It is a beta, they may need more data. You are the guinea pigs

Works flawlessly in my 920. I just wish I could use apps like Photostream to change my lock screen, but it's ok for now.

I still can't bring myself to betray my inner nerd and not use the nasa image of the day lockscreen app. Looks cool though.

What happened to all of us trashing MS? We get Cyan on the 1520, a lock screen, and we forget about complaining already?

Sometimes that's all it takes ;-)

from what everyone wrote it seems it have some problems on other phones, it works great on mines, no slow down, no loading problem, no nothing, as soon as i swipe up it works i have the 1520 by the way for AT&T

5 MB? Pretty awesome it isn't a WiFi connection kind of download.

BTW, was it really made by rudy??

Why in the world does it have to disable my kids corner?

Meh.....Lockmix wipes the floor with this app

It killed "kid's corner." Now I cannot just swipe over to all my games. That's weird.

What about battery usage?

it doesnt bounce the same as the normal one

I have to say i like this little app. Kinda clever

Any word if this will eventually allow is to have buttons on the lock screen? I really miss those media control buttons from WP7

Excellent and long overdue addition to the Windows phone ecosystem

The animation lock screen app concept in beta is good, pls keep improve.

Great! I'm using rotating clock, it would be great to have some numbers on the clock, 12, 3, 6 and 9 would be enough, giving it more functionality and not ruining the theme's design. Using lock temp with it and works great, however the idea someone gave about a weather theme with animated icons would be great. Nice doing MS!

Wow...this is...underwhelming...im not liking this

Good one but slow on my Lumia 520

slow but satisfy i just wait for update to make it smoother htc 8x user but overall its good :>

I thought that this app was for phones 1gb ram or more? My Lumia 521 downloaded it and it works fine.

Super cool but the preview version showed more animated lock screens. Good decision by the developer for making it available with 512 Mb ram

LOOOL waiting months for this sh*t, apart from live lockscreen animation and yes i know its beta BUT when you swipe to unlock it seems that the app utilize a feature that it takes a screenshot -the moment you lock the device- of the running background and when you swipe to unlock it shows that screenshot because it hides the loading that happens and the screen its unresponsive for a second or two and the background its blurred. MS you tards better embed this feature to core OS and let devs manipulate how things show with an api than this sh*t, but im not mad i knew this would happen , oh yeah and i know its BETA BUT...

Installed. Tried out. Lag. boom. uninstall. I'll wait for it to come out of beta.

I actually like it...BUT... I hate having to use MY images saved locally to the phone. Let me be clear, I used the option to pull a pic from my OneDrive... However, I have 100 lockscreen images and I'm not going to add 100 to the app. It defeats the purpose of having the images saved to Onedrive. I want the app to automatically choose a photo at random from a designated onedrive folder. Obviously this is a super-specific issue only applicable to me, but it means Im still using Photostream for now

I prefer the original, the screen get blurred for a while and the image takes time to load. Maybe they can fix with a update.

something needs to be improve

The app is hard to find. I had to type exactly "live lock screen beta" to find it

cool but sluggish and doesnt feel like natural. but it's in BETA, acceptable. :D

Don't get it and not that impressive.

Excellent app, especially for Beta release. Recommendations: * Integrate with existing Lock Screen app in Settings * Integrate with Bing Weather - backgrounds, temperature data, and/or hourly forecast data * Add compatibility with Kid's Corner * Add text "Choose your backgrounds... Press and hold for settings" to help users discover context menu * In Add screen, move Backgrounds and Accent Colors to separate screens * In Add screen, add swipe action to move between separate screens for Backgrounds, Photos, and Accent Colors (vs. current menu) * In Add screen, add Select All option in each of the Backgrounds, Photos, and Accent Colors screens

I love the concept, but they need to fix a few things before I start using it. The sliding and bouncing is unnatural; rather than dropping right away if I lift my figure before some point, it should have some momentum like the default lock screen. Unlocking the phone also seem a tad laggy at times, as well as doing things after unlocking. I also don't know why the app isn't on the list of locks screens; right now, switching between it and the standard lock screen, just as a comparison, is far too much work. Of course, this is still the beta, so I hope these things are addressed soon.

Yippikaiye...include 512mb

Where is the app's icon? I only see stars instead of them.
:|

Little bit laggy. Nice at all but for me it's better to use Lockmix.

You know those apps that you install, try out for a few minutes, and then uninstall because it offers nothing? This is one of those.

Where is the app's icon? I only see stars instead of the.
:|

I don't look at an app for what it is. I look for its potential, and this has plenty.

why do they say it does not work on 520 ram, when it does? works certainly not as good but it works!

bác ơi cho em link file .xap đi? thank bác

I know. Microsoft will release Live Lock screen for 512 MB RAM WP too. Bcoz 512 MB RAM windows phone 8/8.1 users are huge in no. So upsetting them is a big lose for Microsoft

Works great on the L635, love it!!! Thanks Microsoft for making this app available for the 512MB devices. Looking forward to updates. Will be definitely using this app daily!! This app is a great addition to WP 8.1... Good Job!!

Ah! Bing does it for me. Exactly what I wanted!

Far better than the default lock screen IMO! If I were a better digital artist I'd totally go and create some designs for it...

Why are my lock screen Notification icons now all stars ?

Bing image is not clear after applying live lockscreen

Not bad! Can't wait for future updates :D

Nice!!! But Graphics are Not so Clear In My L625.I think cause of 512mb ram.

I just uninstalled ..... Old lock screen is better.... Worst appp crap..... !!!

Nor working on Lumia 720 8.1

With WP 8.1, XBox Music, Cortana, and this new lock screen app, all this lag is getting real. It's funny because that was one of the main selling points about WP in the first place: less stutter and more smooth than the Android phones on the same specs. How the tables have turned... And before the obligatory "it's beta", can it. That was the same excuse people used for XBM and 8.1, but now they're out in full force with the same lag issues.

Wow its available for my Lumia 720.. Excited...

Yeeeeeeyyyyy... Love you MS,.

Yawn ! What is it for ? My awesome lock screen is much better than this

I'll wait till the really cool Zune-style lockscreen shows up.

Bug that I haven't seen mentioned anywhere yet but that is very annoying to me: tapping an incoming text message to unlock, responding to the message (presumably not necessary for the bug to happen, haven't tested this), and then double-tapping back to get the Threads page on the Messaging app instead causes Messaging to close. I don't *technically* know that it's caused by the app, but it hasn't happened once since I got my phone until I installed the app, and has happened every time since I installed it. HTC 8X, T-Mobile US. Anyone else get this bug?

This application is 512 megabytes supported :D

So happy to see it in Lumia 520

does not work on my 1020 .. same old lock screen .. uninstalled it

Bug spotted. While switching off the phone, the lock screen is the original one.

Did they release the APIs? I'm also excited about animated lock screen app.

Kind of cool...
Won't be using it without weather support.

nice work on my lumia 720

sometimes i cant open the lockscreen

Working fine with my 1520.
I really like it.

The battery app may not have updated. Just saying. Anyways, for me, me dayGlance, Wpcentral, and Battery performance app widgets turned into stars. Only my email didn't change.

It's really cool. But still in beta, when are we expecting the official app?

Please come official wp8.1 OTA with Lumia Cyan in India on Lumia 720 asap as all are wating for trying these new awesome apps like lockscreen, files, reading list, movie moments etc.

Please come official wp8.1 OTA with Lumia Cyan in India on Lumia 720 asap as all are wating for trying these new awesome apps like lockscreen, files, reading list, movie moments

Why this < 1 mb app requires 1Gb ram ???? :'(

Lags a bit. Pretty annoying. Needs an update

Now release the API please.. I believe we have many innovative developers.

Not good enough. Lag and after swipe up the lock screen, the tiles become blur for a while then only become normal back. Much improvement to be done though.

The gesture to unlock is too long. Otherwise nice app, should be better with weather informations.

They just changed the font on most themes

My 720 ended up being show at the lock screen than I would like. So I uninstalled the app. And now, after I press the lock button, it shows resuming for a good 5 seconds before I slide up to unlock the phone. Soft reset, still no help. 512MB WP owners, I strongly advise you stay away from this until it's a tad more optimized.

Need more update and improvement

i will stick to my Paper Phuffle for a while, it seems to be better than this, lots of features on it. i think they should have bought Paper shuffle, it does a better job.

Microsoft always lacking a bit. And that bit is always the essential one. In the lock screen the status of apps, it cannot show the apps icon. There is only star icon for all apps. Please update it.

Hmm, it just shows all my notification icons as stars - facebook, calendar 6snap etc.

Neat little app, a few bugs. Not a surprise since it's still in BETA. Played around for a couple of minutes and removed it. Just want to keep my lock screen clean and simple. One of the major reasons why I switched to Windows Phone in the first place.

Good to know that it works with 512mb ram devices. I tried it in my Lumia 620. It works. But it is not fast.
I think that is why Microsoft said it require 1gb ram.

If the APIs regarding live lock screen have been released, I just can't wait for other devs to implement these in their apps!!

Would like to see weather conditions and forecast, and the ability to add a custom notice (such as contact and ICE information) to the screens. I have both of these in Lockmix today, and would not switch to another app unless it offered them too. I know this is a beta - hoping these features will be added over time.

A bit slow and the WhatsApp icon looks like a star on lock screen notification bar... It seems only native apps looking properly...

Not impressed at all. The screen doesn't light up after pressing power button for around a second and even when you actually unlock the phone there is also a delay before you can use it. Zero responsiveness. Uninstalled until they release a better version of it.

Coming soon, Pattern lock, Gesture Lock, Lock Screen Analog clock, etc We can expect this as MS has opened API for developers

Customizations on a roll :)

Just lovely; laggy and now when uninstalled still have the lag on wakeup.

Found the workaround; shame such a basic as uninstall needs a workaround. It's the "IT Mafia" and their compartmentalized approach; even a beta should've uninstalled properly.

Well I hope they get a better looking and creative Lock as well. Instead of that boring Number Lock.

I uninstalled the Live Lock beta today. I like it, but it is such a drain on my battery. I was traveling quite a bit the past few days and usually I can get a full day on my Lumia 1020 without needing to charge. Since installing the live Lock beta I noticed I was having to either charge or swap to a back-up phone in 6 to 8 hours. I really like the app so I hope future versions address battery burn....if in fact it's an issue for others and not just my device.