Microsoft's Lumia 650 support page confirms phone is coming to Cricket Wireless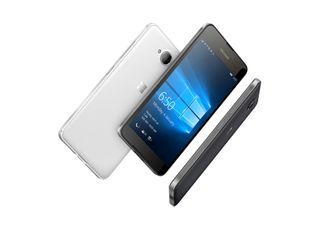 The just announced Lumia 650 smartphone will indeed be sold in the U.S. via AT&T's no-contract subsidiary Cricket Wireless. Microsoft's own support page for the Windows 10 Mobile phone has a link to a PDF user guide for the phone with "Cricket" in its title.
The support page confirms our previous report that the Lumia 650 will be available via Cricket Wireless. We expect the phone to go on sale from the carrier sometime in April. Pre-orders for the Lumia 650 are already live in parts of Europe for a launch on Feb. 18 for prices around £160/€230. There's no word yet on how much Cricket will charge for the Lumia 650 but Microsoft suggested it might be sold for under $200 in today's announcement.
Source: Microsoft (opens in new tab); Via: Phone Scoop
Yeah, with no promotion here in the US. Won't do any good without recognition outside of windows central

Cricket doesn't promote their phones at all. Only their service price and even that is rare.

thats weird they promote like crazy people here now, but its normally about android devices, the last phone promo i saw for windows was at christmas time.

I see TV commercials all the time for cricket and they often feature the Lumia 635 and 640.

Same here. I've seen a surprising amount of promotion for the Lumia phones they sell.

Any chance of a US unlocked or ATT version Daniel?

AT&T owns Cricket, so there is at least a decent chance the phone will work on AT&T without the need to unlock. Most of their phones will, but I've heard of a few that would not. No way to know until someone tries.

No it will not . AT&T phone works with cricket, but cricket phone does not work with at&t ! like att phone works with straighttalk but straighttalk phone (even though it uses att tower for some phone) will not work with att. I tried 3 cricekt phones, none worked with att

i live in Canada and also see their coms on us channels and always have a windows phone next to the android phones.

People still watch television? Posted via the Windows Central Beta App on my Lumia 950 XL

There are still people?
Posted via the Windows Central App on my Cyberdine Systems T-800

I see Cricket commercials showing the L630 alongside Android phones all the time.

Well, Microsoft should also sell the unlocked version in their stores and online

I see lots of of Cricket Lumia 640s out and about here in Philly. And it's been featured in ads as will.

Nice, I'm a proud cricket user. They always promote Windows by the way.

More like a slow drip. :P

Lol raining in the deserted Lumia line-up

Getting my dad to buy this :3 Previous choice was 640XL but this is obvio a better option. It's listed in microsoft India but no price or launch date yet..

When in India?? I want to buy this

I know its offtopic, but is Landscape start screen never coming to W10M? Because it is maybe feature I'm most excited about!!! :)

Anf ofc Landscape notification centre would be dope!!!

How much will the unlocked version sold directly from Microsoft cost? That's all I'd like to know.

This. I really hope that they wouldn't do it like they did with the 640, and not sell an unlocked version. Well, if they did, there's always B&H, lol.

Lol, they sell "unlocked" Lumia 640 in here Finland. We dont have that mess like you americans...

**** u MS... 1st off all create ur Wp 10 OS complete then make ur toys...We r waiting from past 1.5 years For ur 10 update bt in preview there is nothing to say WOW except Cortana Nd customised Screen...If u think this will complete the Os The Ur wrong.....And now these days am thinking that i have making a big mistake to purchase the WP...

But there is nothing to Say WOW na..I mean what is the diffrnce between 8.1 nd 10 we all get in wp10 is upgraded apps thats it boring lockscreen isnt changed...Led light activation on 730 is still pending...and in every update we just got bug fixes with new bugs so this is never end na. ...

Please learn how to use complete words and sentences, then maybe people will take you seriously.

Same old, same old! If nothing to say, using complete words, w10m isn't for you. Go join the iOS lemmings.....

Lol call you ******* man :D theres plenty to say! Settings menu! Universal apps! But I agree with you about lockscreen. Some freedom of customisation would be nice. But W10M is beautiful!!! :P

It seems with the level expectation you have, you did make a mistake buying a Windows phone. If you think the grass is greener on the other side of the hill, go for it. I can tell you that I won't miss your comments if they're like what you just wrote.

No wonder you are frustrated.

Cricket is a very good carrier to release the phone for because it has a much better chance of standing out from the rest of the crowd. I'm on Cricket and I've had nothing but a good experience with them. The only thing that sucks is the capped LTE and inability to tether on most devices. Price and coverage is excellent. I may get a 650 for myself in the off chance I ever break my 830.

So just to confirm the Lumia 650 offers nothing specs-wise over the 640 or am I wrong on that? One picture at a time -- LG V10

Better screen, more storage, slightly better processor, 5 MP FFC instead of 0.9 MP.

That's right better ffc but I thought the processor was actually a. downgrade from the 640. Also this is kinda off topic but which Lumia/Windows phones use nanoSIM? If I am to get a compliment to my V10 I need to be able to swap the SIMs between devices. One picture at a time -- LG V10

The 212 runs at 1.3 GHz while the 400 in the 640 is 1.2 GHz. There isn't that much difference and a 412 would have been better, but unless I'm mistaken I don't think it's a downgrade.

Cool beans. I really like the size of the 650 and I will probably get one if it accepts nanoSIM. Plus I don't need all the bells and whistles of a flagship device so this would be perfect for me. One picture at a time -- LG V10

It does accept nanosim according to the MS page.

Great. I'm in. Nice lightweight device with a refined Windows 10 Mobile experience. One picture at a time -- LG V10

The missing GPU is the major difference. Navigating the UI should offer a similar experience, fire up a game, and then you will see it.

The truth is that the SD400 vs SD212, The 212 out performs the 400 on every aspect, that's with Qualcomm & CPU Boss

Good to know. One picture at a time -- LG V10

Go here and compare:
https://www.windowscentral.com/e?link=https2F%2Fclick.linksynergy.co...

It's interesting how AT&T and their subsidies seem like their the only US carrier that cares for Lumias Posted via the Windows Central App for Android

Anxiously waiting to test that slim aluminum device

I think you can buy it and use it on ATT; just put your dim in. Is it an nano sim like my 1520?

Cricket phones are locked to cricket.

Cricket just sells phones. Their 620 and 1320 are still at amber and cyan. No support. I wouldn't go there

Since now MS could give even firmware independently from carriers (or at least, via the new insider ring, if not via Official updates), for the ones that still buy carrier's locked phones shouldn't be a problem

Yep, from my understanding MS will be the one in control but we will see.

MS has control of the OS, not the firmware. If the phone is carrier branded then they get a say in FW releases.

Bring it as an AT&T Go phone for $99 or less like the Lumia 640 amd I will buy it. I'll probably be buying several of these during the fall Black Friday sales for Christmas upgrades to friends and family.

Picked up a demo 830 for around $140 - nice device - running W10

A business-positioned phone positioned for a pre-paid carrier..... WuT? o_O Businesses use Cricket? I've only seen them use the big 4 post-paids.

For lazy people like me does have wireless charging?

If you could post that question here, you have access to the internet, don't be so lazy, look it up

Yeb, I went to MS webside and has noda zero informations! By the way ones I called MS I told why is so clasified to add one more line for wireless charging description. that is why I am lazy!

lol....once you are used to wirless charging...its tough to forget...got g2 verizon selling g2 att (my back up phone or apps phone, l640 is daily driver), for wireless charging only though i have problem with mms and no LTE

It does not have wireless charging.

I was still thinking about recently announced Snapdragon 425 with Lumia 650 and realized meh!! why 28nm fab process SoC again !! SD 212 makes sense.

It's a very good performing chip the 212

Yeah, All that MS has to do now is to make W10Mobile bug free. Bluetooth drop is still happening on my L640 with Preview .107. Does MS spend all time on upcoming Surface/Intel platform only? We are forced to think so.

That's great they are inserting the phone where they are visible

I like current MSFT strategy 550 (beginer), 650 (midrage, not quite though), 950 (high end). They should stop making 520 521 522....that just confusing even with fans let alone new users.....now they need to promote it...just use the amzn, walmart, bestbuy...review of few products (say 640 very highly rated and for good reason)....I bought several 640 during bf and sold some for extra bucks and even same people contacted me whether i have more since their friends like it..640 buit right...people are extremely happy with battery, fluidity...cameara....then why then downward in 650 (battery for sure, camera maybe, processor maybe)....but 650 is much better designed

When the 640 was announced it was Cricket only, we waited for months for a AT&T version. At least when it finally came it was cheap af.
Windows Central Newsletter
Get the best of Windows Central in in your inbox, every day!
Thank you for signing up to Windows Central. You will receive a verification email shortly.
There was a problem. Please refresh the page and try again.