Microsoft's 'tech intensity' is all about assimilating companies into its cloud
Microsoft's goal to make Azure the world's computer needs the support of everyone and every business everywhere. That's where the company's new buzzword 'tech intensity' comes in.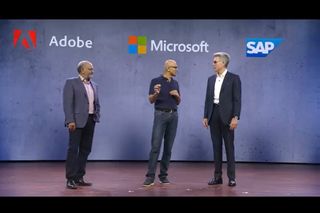 During its annual Build developer's conference, Microsoft's CEO Satya Nadella communicated the company's ambitious goal to make its Azure cloud platform the world's computer. Simply put, more devices are becoming connected, and the Internet of Things (IoT) is making billions of computers of all shapes and sizes part of our environment.
Microsoft's Intelligent Edge is the portion of the cloud that brings the power and intelligence of multi-sense cloud computing closest to users. These connected devices are expected to continue evolving in their abilities to perceive and respond to users. Microsoft's goal is for all connected devices and digital experiences to run on Azure – the world's computer.
For this "world computer" vision to work, our digital experiences must flow smoothly across contexts while optimally benefitting from all of our data with no barriers to our individual and shared digital experiences. This would make all of our digital experiences part of a vast platform from which Azure intelligence can extrapolate data to benefit each user individually and all users as a whole. For example, individual users' digital behavior carries with them across mobile, web, IoT social, advertising and other digital experiences. Currently, the data associated with these experiences is "siloed" and not comprehensively interconnected for the user nor (where relevant) available to other companies. Microsoft's "tech intensity" and Open Data Initiative aim to eradicate these barriers.
What is tech intensity?
Image 1 of 3
Beyond being a desperate buzzword, tech intensity is Microsoft's way of pushing companies to embrace the technology that will make them "compatible" with Azure's positioning. Nadella stressed companies adopting the latest and greatest tech and building their own digital capability are tech intensity's key components. Microsoft assists this process by supplying tools like Azure, Dynamics 365 and other platforms.
Thus, in a reality where computing is embedded throughout our world, all (even non-tech) industries are impacted. Microsoft believes that this makes every company a tech company, regardless of industry, as computing is about the entire world. Consequently, Microsoft needs all companies to embrace the latest tech and to advance their digital capabilities proactively. This, Microsoft hopes, will position users' digital experiences and data (that are part of other companies) for "compatibility" with Microsoft's goal of making every digital experience part of Azure's global computer.
Microsoft's encouraging companies to embrace the latest tech and to push digital capabilities is not altruistic. It is a self-serving initiative that helps to technologically align companies with Microsoft's agenda to ensure that their tech infrastructure can be seamlessly integrated with Microsoft's global cloud computing vision.
What is the Open Data Initiative?
Image 1 of 2
Accessing, aggregating and analyzing user data is key to Microsoft's global cloud computer plan. Thus, "knowing" users across all areas of engagement is critical. Microsoft's Nadella, Adobe's CEO Shantanu Narayen and SAP's CEO Bill McDermott debuted the Open Data Initiative. This open platform aims to remove barriers between the various digital experience engagement points users have across web, social, marketplace, transactions, and more.
Other companies were invited to join this shared platform that creates a single real-time, end-to-end view (from demand chain to supply chain) of customer data. It's also extensible, allowing further insights and collaboration. Additionally, Microsoft built infrastructure across the domains of gaming, modern workplace, business applications, applications and infrastructure, data and AI, that user experiences exist within.
I recently wrote Microsoft isn't trying to be cool but is making others cool. By creating these platforms and providing other tools, Microsoft pursues its goal of helping others achieve more, albeit in Microsoft's image. This is key to Microsoft's intent to assimilate everyone into its global cloud "computer." If companies are using Microsoft's tools and platforms potential friction associated with making their systems and data part of Azure's world computer is reduced.
Microsoft needs (to assimilate) you
Microsoft's goal to make Azure the world's computer needs broad industry support. If companies don't embrace the latest tech and don't push their digital capabilities, they will be "outdated components" incompatible with a system Microsoft is attempting to implement. This, of course, would hinder Microsoft's agenda.
So as encouraging as the buzzword "tech intensity" sounds, it is not about empowering others for the sake of its own advancement. Nor were the words of SAP's CEO regarding sharing and trust during Microsoft Ignite 2018 keynote solely about the unity of working together. Microsoft needs companies to advance technologically and become part of an open data platform for its Azure vision to work.
Of course, companies benefit from having the latest tech. And the insights of shared data give a comprehensive view of customers that help businesses make informed decisions that enhance customer engagement and save money. So perhaps, Microsoft's goal to make companies and individuals around the world part of its ubiquitous cloud computer is a win-win for everyone. Or for the more cynical, perhaps it's too ambitious.
Windows Central Newsletter
Get the best of Windows Central in in your inbox, every day!
Jason L Ward is a columnist at Windows Central. He provides unique big picture analysis of the complex world of Microsoft. Jason takes the small clues and gives you an insightful big picture perspective through storytelling that you won't find *anywhere* else. Seriously, this dude thinks outside the box. Follow him on Twitter at @JLTechWord. He's doing the "write" thing!
Interesting: web/mobile
No mention of PC (yes they have browsers) but for MS not to put the PC at the centre of their vision. Telling.

IOT and PC are different but very much alike. Arcade cabinet, cashier, drone, robotics, government's smart city project, surveillance, vending machine, ZPMC, etc.

For the average person who primarily consumes content and does not author it the PC is an outdated platform, yes. MS knows this, except Nadella before he killed off Win Mobile. Going cloud first is sort of a plan B after missing out in the mobile space. For 99% of people (gaming aside), a Continuum/Dex-like solution is totally fine for all their computing needs.

In my view, if Micorosft wants this agenda to work, the will have to invest comprehesively in supporting the infrastructure for cloud computing. For me this means cloud computing being tied closely to mobile computing. This means a strong consistently reliable infrastructure for mobile communication. The need to achieve closing the gaps of poor connectivity, which unfortanetely is still a problem, today in the real world, not only in developing countries, but in my experience also in the developed world. Nadella needs to think tesla like the supercharger and destination charger networks and smart adaptors to cross link third party support to complement their platform. It is not the exact analogy I'm looking for, but this idea does come to mind. I would currently say the connectivity globally is today like the third party fast chargers. They work most of the time, they're their, but no guarantees if it will work if you get there to charge your vehicle. And unfortunately to date they regularly don't work. Serviceability is sketchy between parties involved, and you are left with a suboptimal use of your product to use. And their are unfortunately not many redundancies to take over if it is the case.
Windows Central Newsletter
Thank you for signing up to Windows Central. You will receive a verification email shortly.
There was a problem. Please refresh the page and try again.