What Microsoft means when it says 'cloud is the world's computer'
Microsoft's CEO Satya Nadella called the cloud the world's biggest computer, during the company's 2018 Build developers conference; but what exactly does that mean.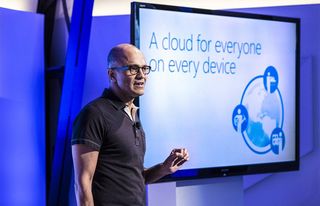 For the regular consumer the cloud is most often associated with that ephemeral "off device" place where pictures and other data are securely (or not securely) backed-up. Cloud computing, the direction computing has been moving for years, goes beyond mere storage, however.
Cloud computing is where a user's digital experiences, back-end app processes and more occur and reside in an intelligence-driven cloud environment. Microsoft's former cloud-first, mobile-first motto reflected the company's CEO Satya Nadella's commitment to this vision as he positioned Microsoft's cloud as the medium to facilitate the mobility of a user's experiences across devices and platforms.
Nadella's description of the cloud as the world's computer echoed my own description of the cloud as a super OS for cross-platform devices and ecosystems. In broad terms, this means digital activity, apps, data streaming, storage, computing, AI and more is being and will be relegated to the cloud and intelligent edge. In more specific terms a combination of cloud, intelligent edge, IoT and a range of connected devices and services are the means through which the cloud as the world's computer will be and is being manifest.
Microsoft Azure as the world's OS
Azure is Microsoft's cloud platform and is at the core of the company's cloud strategy. Microsoft's ubiquitous computing strategy, the concept where computing occurs on any device, from anywhere and in any format, is being built out via Azure.
To achieve ubiquity canvasing "everything" is important. Thus, Microsoft has cloud services from 50 regions from around the planet which it boasts exceeds other cloud providers. Additionally, many companies and brands (opens in new tab) have embraced Azure.
Microsoft's Azure strategy includes:
A hybrid cloud platform, using on-premise and cloud assets, via Azure Stacks.
A range of services that support Microsoft's Internet of Things (IoT) solution that is targeting billions of IoT devices, via Azure IoT.
Microsoft Azure Sphere provides the most comprehensive platform for partners to bring intelligent edge devices from servers to gateways to the nine billion microcontroller unit (MCU)-powered devices that are built and deployed every year.
If the cloud is the world's computer Microsoft's Azure represents the world's "OS."
Microsoft's cloud-focused reorg is about every user on every platform
Intelligent Edge as the world's user interface
Microsoft's intelligent edge is the portion of the cloud closest to where data is captured and where it is aggregated and analyzed. Edge computing allows tasks that would normally occur in the cloud to be moved to the devices closest to the user. This reduces latency and also relegates more processing power to the edge which improves the effectiveness of artificial intelligence on the edge.
Microsoft's Intellect Edge Partner Community is the company's initiative to facilitate partner collaboration on technology innovation and to identify common business goals. Community partners can also benefit from early-adopter programs which give them access to OS builds, documentation and specs an more. Trainings and community events also support community partners seeking to advance Microsoft's Intelligent Edge mission.
If the cloud is the world's computer and Microsoft Azure, the OS then the intelligent edge, would be the user interface for the world's computer.
IoT and AI
Microsoft's Windows 10 IoT Core services is a new service that supports the company's edge computing vision in that IoT devices are part of the edge. This service, backed by ten years of support give device makers the ability to manage OS updates, apps and more. It gives partners the ability to commercialize a secure IoT device.
Microsoft, via AI and cognitive services, is infusing intelligence into its intelligent cloud and throughout its core products, services and devices like Office, Bing, HoloLens and more.
Microsoft 365 and Devices
Microsoft 365 is Microsoft's collection of cloud-based, cross-platform products and services. They are interconnected by cloud intelligence and accessible via Microsoft Graph. Microsoft 365 combined with hardware innovations by Microsoft and its partners allows for fluid transition between input modalities like touch and ink and mouse and keyboard. AI provides support for voice and vision, giving users an even more natural human/computer interaction experience. Microsoft 365 and third-party apps supported by the cloud are the programs that run on Microsoft's "world-scale computer."
Microsoft is supporting multi-sense abilities in its device categories like it's Windows Collaboration Displays that connect to Azure Intelligence IoT spatial capabilities to make ubiquitous computing a more seamless experience.
Device innovations from immersive collaboration-focused, touch-centric computers like Surface Hub, a range of first- and third-party 2-in-1s, laptops and convertibles, innovative dual-screen devices, the rumored Project Andromeda Digital journal, and more are all part of Microsoft's intelligent edge. This diverse range of devices and any device categories to come are the UI to Microsoft's cloud as the world's computer vision.
Wrapping up
Nadella's "cloud as the world's computer" begins with Azure metaphorically as the OS, continued with cloud-based products and services as the programs and the intelligent edge and diversity of edge and IoT devices as the UI.
Windows Central Newsletter
Get the best of Windows Central in in your inbox, every day!
Jason L Ward is a columnist at Windows Central. He provides unique big picture analysis of the complex world of Microsoft. Jason takes the small clues and gives you an insightful big picture perspective through storytelling that you won't find *anywhere* else. Seriously, this dude thinks outside the box. Follow him on Twitter at @JLTechWord. He's doing the "write" thing!
Larry Ellison said it first "the network is the computer". We all thought he was a bit mad. Turns out, he was spot on. Ahead of his time. And SatNad 😃👍🏻

The video showing IoT being a "massive opportunity for developers" is misleading at best. Sure it's a massive opportunity for a very specialized small percentage of developers. The kind of developers that would be writing device drivers for one of the big OEMs or working in the field of robotics. IoT, and AI for that matter, I would venture to say have little appeal for "mere mortal" developers which is about 99% of the rest of us. It's equivalent to saying that jet propulsion is a massive opportunity for mechanics! Another apology for Nadella and his utopian vision speak... ugh!

IoT is a massive opportunity for developers.
It's not just about writing device drivers. You need to look into Azure Sphere and Windows 10 IoT
Those are full operating systems that will run workloads custom to that appliance.
We're only limited by our imaginations, which as I can see has you excluding yourself from this wonderful opportunity. A kid in my province created a (arduino based I believe) device to monitor temperature / moisture in grain bins which can then be connected to LTE. He now runs a company that sells bin monitoring services to farmers.
Windows Central Newsletter
Thank you for signing up to Windows Central. You will receive a verification email shortly.
There was a problem. Please refresh the page and try again.