Why Microsoft's 2018 reorg matters to everyone, on every platform
Microsoft's recent reorganization aligns its organizational structure with the future-focused cloud, AI and edge computing investments to which it has committed.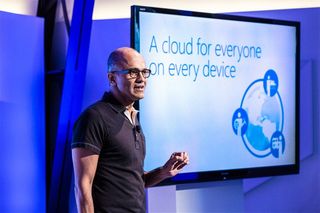 Microsoft's mission once revolved around Windows PCs used at work or home. PCs are no longer the most used computers and the static, isolated, desktop scenario no longer defines personal computing for the masses.
Digital experiences are now a connected and transient reality that moves between devices, operating systems, apps and physical space. At just 10 years into this new computing reality spawned by consumer smartphones and mobile broadband connectivity, companies like Microsoft are building cloud-based infrastructures to bring cohesion to what are now a user's disjointed digital experiences.
Microsoft's reorg brings cloud, AI and edge computing to the forefront of its organizational structure. It's meant to make managing a massive intelligent cloud as a cross-platform OS that engulfs, facilitates and enables a user's digital experiences, more efficient. It's also positioned to impact users on Microsoft's intelligent edge via the connected devices consumers use and the IoT devices that increasingly surround them.
The Cloud and AI-based reorg is about innovation for consumers
Microsoft demonstrates end-to-end experience that transcends devices.
Cloud and AI Platforms, led by Scott Guthrie, executive vice president of cloud and enterprise, and Experiences and Devices, directed by Rajesh Jha, executive vice president of product group, are Microsoft's new engineering groups. They join Microsoft's other core investment, AI and Research, led by Harry Shum.
Microsoft's Cloud and AI focus isn't new. At Build 2017 Microsoft CEO Satya Nadella notably changed the company's mobile-first, cloud-first mantra to a cloud-first, AI-first mission:
Though companies like Apple strive to lock users into single ecosystems the reality is that across work and life many users, who are consumers and professionals, move between devices and ecosystems every day throughout the day. Microsoft's cloud investments, Office 365, Microsoft Graph, Project Rome, edge computing and more are its attempts to facilitate, support and make more productive the mobility of a user's digital experiences.
This reorg's meant to remove boundaries to innovation for customers. Nadella said, "Microsoft must be aware of customers unmet and unarticulated needs. We can't let any organizational boundaries get in the way of innovation for our customers."
The intelligent cloud and you
Microsoft's Project Rome, Graph and Timeline engage users across devices.
Microsoft's intelligent cloud can be thought of as a "super OS" connecting ecosystems, apps and user experiences. The core of Microsoft's cloud mission is similar to its past Windows strategy, albeit on a much larger scale and tailored to a multi-device, multi-platform interconnected world.
Windows was once the OS and personal computing platform for users and developers. The internet, mobile platforms and apps and the rise of ambient computing devices like Amazon's Echo have dispersed personal computing and developing across a range of platforms and device types. As Microsoft's Windows' goal was to provide an OS that most personal computing and development took place on, its cloud ambitions do the same.
Sadly, competition has made Windows just another platform choice rather than the default. Thus, Microsoft's cloud is being positioned, via various solutions to be the backdrop upon which Windows, iOS and Android user's digital experiences, to varying degrees, are managed or run.
The ties that bind
Image 1 of 2
Office 365 is a cloud-based collection of cross-platform productivity tools with a single authentication eradicating the barrier between between work and personal productivity.
Microsoft Graph ties users cross-platform experiences and Office 365 tools together to provide continuity across devices.
Project Rome offers cloud-based cross-platform support for maintaining app experiences across devices, such as continuing music from an Android phone on Xbox.
Microsoft's Azure cloud platform can run the back-end of iOS, Windows and Android apps.
Microsoft's Mobile Device Management provides comprehensive support for iOS and Android devices.
Cortana, a cloud-based cross-platform digital assistant, gets to know users across devices and enterprise and personal scenarios.
These cloud-based efforts that manage user experiences are often invisible to device-centric consumers. Microsoft's edge computing investments (and Experiences and Devices team will) further manifest the power of cloud computing on users first- and third-party devices.
Living on the intelligent edge
Microsoft's reorg prioritizes AI and edge computing:, the process where data is analyzed and aggregated at a point close to where it is captured in a network (i.e. a users or IoT device).
The Experiences and Devices team, whose role is to "instill a unifying product ethos across Microsoft's end-user experiences and devices," will impact device development and software experiences for users on the edge of Microsofts cloud. This team will strive to bring Windows, Office and third-party applications and devices into a more cohesive Microsoft 365 experience.
Additionally, powerful processors like Qualcomm's Snapdragon 835 in conjunction with 4G LTE (later 5G) networks are the beginning of Microsoft's vision of AI that can perceive user's context and provide proactive support.
To this end, Harry Shum's AI and Research team advances AI across Microsoft's product range. The new AI Perception and Mixed Reality (MR) team led by HoloLens creator, Alex Kipman, brings speech, vision, MR and other perception capabilities and ambient intelligence to the table. The Cloud and AI team ties this together by driving "platform coherence across the cloud, edge and AI, including higher-level services around perception, knowledge and cognition."
Finally, Microsoft's IoT investment's, which supports billions of connected devices from intelligent camera's, vehicles, Always Connected PCs, smartphones and more is platform agnostic and positioned to manage user experiences in what is now an ambient computing world. The Experiences and Devices team harnesses the power of the cloud to impact users via devices and experiences on the clouds edge.
Going forward…
Windows is no longer at the core of Microsoft's personal computing mission. The cloud, AI and edge computing have that role. Though Windows is still critical to Microsoft's purpose, it exists alongside other OSes supported by Microsoft's "super OS and development platform" - the intelligent cloud.
Microsoft's recent reorg aligns the company with this modern cloud-first, AI-first vision.
Get the Windows Central Newsletter
All the latest news, reviews, and guides for Windows and Xbox diehards.
Jason L Ward is a columnist at Windows Central. He provides unique big picture analysis of the complex world of Microsoft. Jason takes the small clues and gives you an insightful big picture perspective through storytelling that you won't find *anywhere* else. Seriously, this dude thinks outside the box. Follow him on Twitter at @JLTechWord. He's doing the "write" thing!