'Project Rome' makes Microsoft Cloud the OS for everything
Windows is no longer the OS for personal computing. iOS and Android have replaced the desktop as the most frequently engaged OSes.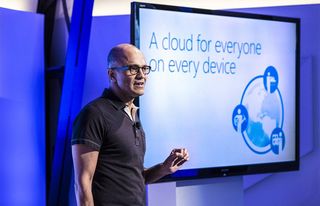 Consequently, mobile app experiences dominate everyday personal computing. Microsoft's failure in mobile leaves it without the needed developer support to build an app ecosystem comparable to Apple's and Google's.
Thus, Windows PCs remain Microsoft's forté in a personal computing space that now has a mobile component dominated by non-Windows platforms and devices. Microsoft is attempting to leverage "Windows as a platform" to embrace these rival OSes and devices. "Project Rome" is Microsoft's strategy to use Microsoft Cloud to create a personal platform- and device-agnostic OS that enables seamless user and app experiences across all devices and platforms.
Simply put, Microsoft is positioning the cloud as the OS for everything.
Future of PC is intelligent cloud connecting family of devices
What is Project Rome?
Windows Timeline is part of Project Rome.
Project Rome is Microsoft's acknowledgment that most personal computing is now app-driven and transcends devices. And that switching between devices and platforms often creates a disconnect since app experiences are not inherently continued on all devices. Project Rome's goal is to "drive deeper app engagement by bridging silos between devices, apps, people and cloud services."
Project Rome's people-centric model of mobility differs from the device- and platform-centric models currently at work. It creates a cloud-based infrastructure that unifies the components that make up what has become a ubiquitous, or multi-device, computing experience. It embraces Windows, cross-platform and IoT devices.
Project Rome APIs allow devices to discover other devices either proximally or via the cloud. Launching and controlling apps on other devices is also possible. For example, a user listening to music on an Android phone can launch that music app (and current song) on his Xbox and control it via the Android phone.
The Android and iPhone SDKs for this evolving project were just released earlier this year. Thus, integration with Windows and the cross-platform capabilities of Project Rome will improve with time. Microsoft hopes OSes will become transparent as app experiences are surfaced via the cloud.
Project Rome, Windows 10 and Microsoft Graph
Microsoft Graph is the interconnected, cloud-based synergy of Microsoft services including OneNote, OneDrive, SharePoint, Outlook, Office, Active Directory, Teams, Cortana and more. Microsoft's steadily adding more services to the Graph which provides a unified experience for what was once a collection of siloed services. Graph provides a single API developers can use to connect their apps to this unified data.
Microsoft is the platform for everything; does it really need a phone?
The Fall Creators Update adds two new entities, devices and activities, to the Graph API set. Microsoft's goal is to make Windows PCs a hub for all devices. With Windows Timeline and Cortana notifications, for instance, Project Rome enables experiences to continue across devices.
Additionally, Microsoft's Surface and Windows 10 have inspired a range of OEM laptops, 2-in-1s and gaming PCs that are helping to keep the desktop relevant and exciting. This component of Microsoft's strategy positions Windows 10 PCs in people's lives along with the evolving Project Rome and Cloud "connective tissue" linking the desktop to users cross-platform app experiences.
Project Rome and redefining apps
We think of apps as programs that exist within the confines of our mobile devices. That perception is consistent with how the device-, platform- and app-centric personal computing paradigm evolved. In a multi-device computing environment, Microsoft wants to change how we see apps.
That redefinition begins with a shift to a user-centric perspective. Thus, "app no longer necessarily means something ... tied to given device, instead it can be something that exists between your devices and is optimized for the right device at the right time." The existence and support of app data in the cloud are critical to this objective.
Microsoft's Cloud currently functions as the backend for many cross-platform apps. Combined with its goals to be a cross-platform dev box through Xamarin, support of Progressive Web Apps (PWA) and more, Microsoft's striving to enable app existence between devices.
The Cloud as the platform
Microsoft needs developers to embrace its cloud-as-the-OS-for-everything vision. Though the current app model isn't profitable for most, and app stores are massive warehouses with poor engagement, developers still cater to it.
As connected devices create the infrastructure for ambient computing there's a natural evolution toward the cloud-OS model Microsoft envisions. For instance, as AI and bots begin bartering our experiences their ability to do so will be supported by apps and personal data that reside in the cloud. Smart speakers like Amazon Echo and the Alexa Skills developers are building into it are evidence of a shift toward cloud-centric (rather than device-centric) transient app data.
Microsoft's rivals have developer support for AI-driven app engagement, the current app model and anything beyond. Microsoft is building the infrastructure for what will likely be computing's future, the cloud as the OS, but developer support is crucial to its success.
Developer support is also needed for UWP so that Windows devices maintain relevance alongside iOS and Android devices within Microsoft's cloud-based super OS.
Get the Windows Central Newsletter
All the latest news, reviews, and guides for Windows and Xbox diehards.
Jason L Ward is a columnist at Windows Central. He provides unique big picture analysis of the complex world of Microsoft. Jason takes the small clues and gives you an insightful big picture perspective through storytelling that you won't find *anywhere* else. Seriously, this dude thinks outside the box. Follow him on Twitter at @JLTechWord. He's doing the "write" thing!