Microsoft's consumer/professional strategy needs serious work
Microsoft has come under increased fire recently as consumers grapple with its seeming abandonment of them in the wake of a litany of canceled consumer products. What happened to Microsoft's dual user, or personal/professional mission?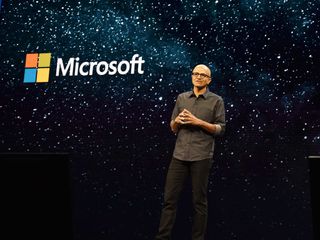 "In the next few years we will see many more new categories evolve and experiences emerge that span a variety of devices of all screen sizes. Microsoft will be on the forefront of this innovation with a particular focus on dual users and their needs across work and life", said Satya Nadella in a 2014 company-wide email shortly after becoming Microsoft's CEO.
Years of failed consumer-facing products suggest to some that Microsoft is not committed to consumers. However, Nadella's admission of wrong for abandoning consumers to "pursue the next shiny thing" was a rare show of transparency for a CEO. It also validated the feelings of consumers who felt betrayed by the company's seemingly enterprise-focused strategy.
Still, Nadella said, "We are a company that's centered around users who both have a professional role as well as happen to be consumers. That's where our strength lies."
If the consumer/professional approach is Microsoft's strength, its communication and implementation of that mission needs improvement. In fact, Microsoft's cloud, hardware, AI, bots, platform and Windows strategies arguably position it to serve the consumer/professional more comprehensively than its rivals can. Let's look closer at why that is and what's preventing Microsoft from capitalizing on its strengths in some areas.
Windows Mobile and the enterprise: Out of sight, out of mind
Cortana, bots and the consumer/professional
Microsoft, Apple, Google and Samsung are competing in the digital assistant space. Sadly, even though Cortana's on 600 million Windows 10 PCs her mindshare lags behind that of Siri and Google Assistant. Samsung's Bixby, which is headed to the 600 million consumer products Samsung ships every year, may eventually overshadow Cortana's mindshare as well.
Microsoft's Achilles heel is its lack of a smartphone, which puts competing assistants in consumers hands. Its strength, according to Nadella is that Cortana isn't bound to a device or software. Its cloud-based nature and integration with Office 365 and Microsoft Graph makes it "transient" and gives Cortana a comprehensive view of the professional side of a user when at work. Combined with Office 365's unified authentication which connects a user's personal and professional identities, it also gives Cortana a comprehensive view of a user's personal side when using Windows 10 at home.
Image 1 of 2
To date, rivals haven't replicated Cortana's position to get a "total" view of users. Additionally, Microsoft's deeper integration of Cortana into Windows 10 will expand her knowledge of a user's professional-personal activity. Furthermore, as she synthesizes this data in the cloud with information from mobile users her ability to serve the consumer/professional would seemingly be unmatched.
Microsoft's capacity to serve the consumer/professional is expanded by its platform approach with bots that communicate with canvases like Cortana supported by cloud-based conversational APIs. Still, despite all of these consumer/professional advantages, Microsoft consistently leaves consumers out of its digital assistant and bots marketing and messaging.
Surface and Windows 10 for the consumer/professional
Microsoft's Surface devices are inherently meant to serve the consumer/professional. First, as Windows devices, they, and Surface-inspired devices are powered by the most prolific desktop OS in homes and the enterprise. Windows, Office and hosts of other software have enabled a breadth of consumer/professional productivity and creativity for billions of people for decades.
Second, as context conforming hardware Surface, Surface Book, and even Surface Studio can transition from laptop/desktop workhorse configurations to leisure-enabling tablet or Studio mode configurations. Continuum, a methodology describing Windows' context-conforming abilities, supplements these physical transitions on PCs and pocketable devices.
Combined with cloud-based services context-forming Windows hardware and software offer a fluidity of digital experiences for the consumer/professional across devices, devices types and device states. OneCore, Windows Core OS and various shells Andromeda (mobile), Polaris (desktop), Aruba (Surface Hub) and Oasis (mixed reality) will further enable a fluid consumer/professional experience rivals conceivably can't yet match.
Still, iOS and Android on phones and tablets have claimed ground from Windows PCs for some light productivity and most leisure tasks. Thus, though Microsoft's professional-personal platform is more comprehensive than the competitions, rivals with rich app ecosystems have established a beachhead on the light personal/leisure computing front. Furthermore, Microsoft's marketing focuses primarily on the professional applications of Surface and Windows and does little to promote their personal uses.
Andromeda the epitome of a consumer/professional device
In April of 2016 Nadella referenced a new mobile category that, by 2019, consumers would come to recognize as capable of being a PC. Microsoft is on track in that the first-generation of this device category, via Andromeda, is expected later this year.
The category will initially be enterprise and prosumer focused. But as a Windows device with all of the aforementioned consumer/professional benefits and the ability to be a tablet, PC, and phone, the device category it introduces, more than any device category in the history of tech, embodies the consumer/professional vision. Why?
Succeed or fail, with support from Qualcomm this pocketable Windows 10 PC category, buttressed by evolving chipsets, 5G, progressive web apps and OEM partnerships, will conceivably, after several generations, support most consumer/professional computing scenarios from one device.
Microsoft has the tools to serve the consumer/professional better than its competitors. The question is, "will it do so before rivals catch up?"
Get the Windows Central Newsletter
All the latest news, reviews, and guides for Windows and Xbox diehards.
Jason L Ward is a columnist at Windows Central. He provides unique big picture analysis of the complex world of Microsoft. Jason takes the small clues and gives you an insightful big picture perspective through storytelling that you won't find *anywhere* else. Seriously, this dude thinks outside the box. Follow him on Twitter at @JLTechWord. He's doing the "write" thing!