Alexa, Assistant, Bixby, and Cortana will battle for the connected future
Unbound AI digital assistants are vying for a position on the coming wave of connected devices.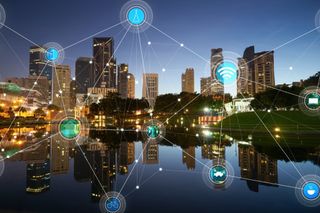 Technological innovations are pressing forward at break-neck speeds. When I was growing up, Michael Knight talking to his artificially intelligent car KITT in the popular 80's series Knight Rider was pure fantasy.
Though still socially awkward, speaking to digital assistants in our phones, homes, and automobiles is now a reality.
Mainstreaming digital assistants
Siri, which began as a standalone smartphone app made by Dag Kittlaus, Adam Cheyer, and Tom Gruber, was purchased by Apple, and via the iPhone 4s, became the pioneering assistant that mainstreamed this new voice-based UI paradigm. Google Now for Android and Cortana for Windows Phone soon followed.
Unlike Apple, Google and Microsoft envision their assistants permeating the tech space with a presence on competing platforms as well as on a plethora of other connected devices. AI that can cross platforms and into which developers can integrate third-party apps and OEMs can incorporate into a range of products are considered "unbound" AI's.
Amazon's Alexa, Google's Assistant, Microsoft's Cortana and Samsung's Viv-based Bixby are unbound AIs. Siri, though first to the party is still restricted to Apple devices.
Apple's got Siri all bound up
One of Apple's strengths is its ability to create a cohesive hardware and software ecosystem. True to its mantra if you're in Apple's ecosystem – experiences from the Mac, to the iPhone to Apple Watch – just work. Siri had a bumpy start, but with Apple's investments in neural networks (technology upon which Microsoft and Google have always based their digital assistants), Siri has seen improvements.
Those improvements are within the confines of Apple's walled garden, however. Still, if you're all in with Apple Siri is everywhere you are. Apple TV, Apple Watch, iPhone, Mac and the coming Home Pod all support the company's trusty digital assistant.
As strong a market presence as Apple has, however, its bounded AI approach severely limits its broader impact. iPhone has only 19 percent market share compared to Android's 73 percent. And the Mac is still dominated by Windows with just 12 percent share compared to Microsoft's 88 percent. Even with Apple Watch and Apple TV Siri's broader impact compared to the potential pervasive presence of its rivals as connected devices increase, is minimal.
SiriSDK gives third-party developers limited access to Siri, but under Apple's current strategy, those improved skills will be limited to being showcased on Apple devices.
Alexa's ascent
Amazon's Echo, featuring its Alexa digital assistant, set the bar for smart speakers. Based on Amazon's leading cloud service and vast market presence Alexa carved out a leading position in the home via the Echo, Echo Dot, and Echo Show.
Furthermore, Alexa Skills Kit, which allows third-party developers to create more personalized experiences into Alexa has been available since 2015. Today there are over 27,000 Alexa skills from company's like Starbucks, Capitol One, the WSJ and more.
Additionally, Alexa Voice Service (AVS) unshackles the assistant from the Echo. AVS gives OEMs the ability to build Alexa into a range of connected products that have a microphone and speaker. Popular Chinese OEMs Tongfang and Huawei, and U.S. automaker Ford are bringing Alexa to their TV's, phone and cars respectively.
Assistant abroad and Cortana cross-over
Microsoft's Cortana and Google Assistant are both unbound digital assistants with a presence on competing platforms. Both Cortana and Assistant SDKs are available allowing the integration of these assistants into a wide range of connected hardware. Third-party developers are also able to integrate their apps with these assistants.
Google Assistant has an advantage over Microsoft in that it is part of the world's most popular mobile platform, Android, and is based on the world's leading search engine, Google. Not to be outdone, Microsoft's Cortana Skills Kit aims to expand Cortana's abilities by allowing developers to use bots to expand its skills, integrate web services and even reuse Alexa skills to create skills for Cortana.
Still, Google Home beat Cortana to smart speakers. But 500 million Cortana-equipped Windows 10 PCs have positioned Cortana in homes and businesses ahead of the Cortana-equipped Harman/Kardon smart speaker. Cortana is also poised to emerge as the UI for Windows 10 IoT devices.
Supported by Microsoft Graph, Microsoft demonstrated Cortana as the cloud-based, voice-interactive UI for Microsoft's cross-platform efforts (See above video). As users transition between devices, Cortana is the constant UI mediating experiences.
This demonstrated how unbound AIs, such as Cortana or Assistant might mediate our experiences across a range of future connected devices.
Bixby, thou art loosed
Samsung purchased Viv a company co-founded by Dag Kittlaus, the co-creator of Siri. Viv is an unbound AI that Kittlaus envisioned would be part of millions of connected devices. He described Viv as the intelligent interface for everything. Kittlaus described Viv as knowing users even on new products. After purchasing a product and logging in Viv would know the user based on cloud-based information stored about the user.
Viv, unlike other assistants, was also demonstrated as capable of reprogramming itself via Dynamic Program Generation. Other assistants are more boxed into providing rigid responses based on specific domains.
Though many people may have seen Samsung's Bixby as simply a phone-based assistant, the company's goals are much broader. Samsung's purchase of Viv helps meet Kittlaus' goal of AI ubiquity. Unlike its competition, Samsung has a vast portfolio of first-party consumer electronics, home appliances and more into which it will eventually be able to integrate its digital assistant.
The company is merging its IoT cloud services SmartThings, Samsung Connect and Artik into a single service. This service, called SmartThings Cloud, will eventually make all of the company's devices SmartThings compatible. DJ Koh, Samsung president said:
Samsung gives Bixby an advantage
Samsung sells over 600 million TVs, refrigerators, washers, dryers and other products every year. Bixby 2.0 prepares the assistant for further integration with Viv technology, and subsequently other products beyond phone to make it the "intelligent interface for everything." Select developers will be given access to an SDK that will allow Bixby's integration into other products. Broader distribution will follow in 2018 per Kittlaus.
Bixby 2.0 will debut on Samsung Smart TV, Family Hub refrigerator and a host of other devices. Samsung promises that:
Samsung's Project Ambience which is a dongle containing a chip and microphone makes accessing Bixby possible from existing speakers and TVs into which Bixby is not integrated.
The AI battleground…
Our interaction with digital assistants originated on and is predominantly still on our smartphones. As demonstrated by smart speakers, and the goals for unbound AIs, it's clear that the AI battleground will ultimately be a host of connected or IoT devices.
Whichever company brings the best and most cohesive experience to the connected devices around us will likely win this war.
Related reading:
Hackers are looking forward to a future of always-connected devices
Windows Central Newsletter
Get the best of Windows Central in in your inbox, every day!
Jason L Ward is a columnist at Windows Central. He provides unique big picture analysis of the complex world of Microsoft. Jason takes the small clues and gives you an insightful big picture perspective through storytelling that you won't find *anywhere* else. Seriously, this dude thinks outside the box. Follow him on Twitter at @JLTechWord. He's doing the "write" thing!
Vote Bixby for most stupid name.... 😄

https://www.youtube.com/watch?v=zsZg7cN4Dwo

Well "hey sam" will be okay...😅

Any time I read an article about digital assistants outside of WC, they don't mention Cortana at all. That's a real shame. Also I haven't seen any real progress with Cortana in a year or more. I'm not sure what they are up to with it, if anything. (collections last thing I heard new) but I'm really taking about new features and improvements around better contextual understanding, etc.

Cortana made more sense when MS was in on WP.

The fact is, is that Satya id's going to cancel it! Think about it; he cancelled, band, connect, and like we all know WP where she was used the most. Average people don't use her on desktops, the use GOOGLE, chrome, Firefox, and belittle IE and Edge mostly. On cell phones consumers use the built in assistant except Bixby (at least I don't, I loaded Cortana, but how many others do?). With no advertisement and Satya and staff favorite word, "marketshare" or mindshare, how long do you think before he kills it? And for those in this forum who think the Harmon Kardon speaker will make a difference, I hope they don't say it because like everything else, Satya won't advertise or put effort into it because it's not Azure!

It's worse than that, Jim. Not only is there no progress, but things are going backwards fast. Unfortunately one of the things I used Cortana for the most was asking it to play music. A while back that suddenly stopped working for all but saved MP3 files, despite the service still being active. Just to rub it in, I suppose. We get sent over to Spotify, but it seems Cortana didn't get the memo? I hope a competing service gets on to Windows soon (NOT Google of course, I'm not giving that data miner a live link to record my home thanks) because at least the others have the basics covered.

Cortana? MS is gonna have to try much harder.. And, with no mobile presence.....

They are trying. They've already removed the functionality to play tracks from a music service (no Spotify for you, says Cortana) which is a major use for these things. This makes it clear that Cortana will not have a consumer focus going forward, so that the target audience (industry) will see it as a productive function and will be queuing up. I guess next, instead of your PC going to sleep after 10 mins Cortana will pop up and tell you to work faster. Good Times!

The problem with MS is that they are making rushed decisions. They have good intentions but they usually forget about tiny problems that can anger or make their customers unhappy. Cortana and music, recent patch to inking behavior - text selection with pen, Skype update that killed my people for me as it wants to send sms instead of Skype message. Etc etc. I am getting an impression that they decided to let go whole testing dept since they have feedback and reports from customers directly :-D

What competition? Cortana lost. She is going the way of WP unless they go all in. Unfortunately, she has lost all the edges she had in the competition and now usually lags behind, so even if they go all in, they only have n uphill battle.

I agree. Where Ms should have maintained Kinect. With continued improvements, Cortona would have had a better position than it does now. Yes, Cortona is on millions of PCs, but how many people actually use the voice assistant? If they had focused more on improving the Kinect, Cortona integration and better voice recognition, I think would have been a better move. Right now, it's like MS is afraid to go all in, because that would require true commitment on the consumer front.

I used it, to ask it to play music from my streaming service. It was excellent at that. Was... I asked Cortana what it thought of Windows Mobile. It said 'It suits me perfectly'. Oh dear...

Hahaha, that's a good response.

@Vincent McLaughlin, I agree about Kinect. I still use Kinect now on my new Xbox One X with my TV to turn it on and off, pause and resume play (DVR), turn the volume up or down, and to ask questions when we are curious about something. I don't use the Xbox One X or Cortana to select and watch shows, because I watch almost exclusively from the Dish Hopper DVR and Xbox doesn't integrate deeply enough to access recorded content, forcing me to still use the remote for show selection. But the voice control for everything we use it for is perfect. I also like how with Kinect, it knows who is who in the room and can respond appropriately.

Cortana is more than just consumer AI. Cortana Analytics is huge for MS. With that said, yes, I unfortunately agree that Cortana has probably lost in the consumer space. I use(d) Cortana daily and enjoyed it. Just picked up an Alexa device, and, well, Alexa is a much more mature experience than Cortana is. I hope the best for Cortana and hope the Alexa integration will be a strong partnership, but I guess we'll see.

Under Nutella, Microsoft has the attention span of a gnat. You're lucky products stick around as long as the Kinect did.

I actually have a Harmon Kardon Invoke powered by Cortana. I have friends with Alexa. While Alexa clearly has the lead in consumer usage I find the Cortana experience on the Invoke to be much more mature compared to it's Windows 10 and Windows 10 Mobile implementations. Additionally it continuously evolving(multiple updates over the past couple of months). Unfortunately I'm not sure the Invoke with get the props its due. Additionally the cross compatibility partnership between Jeff Bezos and Satya Nadella could lead to a great experience for a broader user base.

Do you find her to be more conversational than on Windows? That has been my main issue so far. The need to look at a display for information. That is ultimately what drove me to Alexa, I am not always around a display when I need to ask something.

Bixby and Cortana have already lost; get real.

Just going to say that. They are irrelevent to this discussion.

It's not lost at all.
Cortana has potential if the VR gets up. If the head sets will be even more affordable. Windows is her home so will be cliff house... I can see a lot of potential through VR. Bixby is late to the party, but as was stated in the article... Samsung got him covered by his devices. That's no small deal. Samsung could potentially get a lead in a short period of time, because everybody has tv, fridge... They will make Bixby a bridge to phone and there you have it... More features for it will come and it will get more smart... Siri can be good in apple environment, but she is nowhere else so she is basically out of the big game by design... Ok google has a strong position, but cortana and Bixby have the advantage that both can access android plus its own home (windows and Samsung devices). Both may fail indeed, but it's certainly too soon to decide their fate.

Bixby is learning fast n I find it better than cortana

I use Cortana to send sms from my pc and to get mobile notifications on my desktop. A few other things I find it useful for too. I don't think I even use Google assistant on my phone

Jason, any idea what happened to the Nissan partnership? Did they change their minds as others have?

To me, in the future all AIs will be connected to the same services, no crap like what Google does barring MS from their services. And each AI assistant will be just a different choice of how to access those services. Really, brands and conflicting OSs should be a thing of the past already. This is a crappy thing that Apple restarted and sustained way after the PC standard was created.

Truth. As consumers we should demand this!

This is one area where I reject technology. I'll let my fingers do my talking.

I've been trying Alexa lately and it's a joke compared to Cortana. Cortana is so much better for SMS messages, meetings, reminders, etc. Alexa basically exists to sell you stuff from Amazon.
Windows Central Newsletter
Thank you for signing up to Windows Central. You will receive a verification email shortly.
There was a problem. Please refresh the page and try again.