Alexa, Assistant, Bixby, and Cortana will battle for the connected future
Unbound AI digital assistants are vying for a position on the coming wave of connected devices.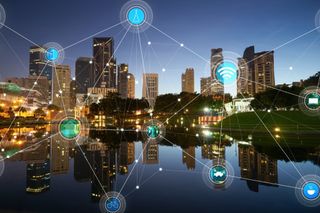 Technological innovations are pressing forward at break-neck speeds. When I was growing up, Michael Knight talking to his artificially intelligent car KITT in the popular 80's series Knight Rider was pure fantasy.
Though still socially awkward, speaking to digital assistants in our phones, homes, and automobiles is now a reality.
Mainstreaming digital assistants
Siri, which began as a standalone smartphone app made by Dag Kittlaus, Adam Cheyer, and Tom Gruber, was purchased by Apple, and via the iPhone 4s, became the pioneering assistant that mainstreamed this new voice-based UI paradigm. Google Now for Android and Cortana for Windows Phone soon followed.
Unlike Apple, Google and Microsoft envision their assistants permeating the tech space with a presence on competing platforms as well as on a plethora of other connected devices. AI that can cross platforms and into which developers can integrate third-party apps and OEMs can incorporate into a range of products are considered "unbound" AI's.
Amazon's Alexa, Google's Assistant, Microsoft's Cortana and Samsung's Viv-based Bixby are unbound AIs. Siri, though first to the party is still restricted to Apple devices.
Apple's got Siri all bound up
One of Apple's strengths is its ability to create a cohesive hardware and software ecosystem. True to its mantra if you're in Apple's ecosystem – experiences from the Mac, to the iPhone to Apple Watch – just work. Siri had a bumpy start, but with Apple's investments in neural networks (technology upon which Microsoft and Google have always based their digital assistants), Siri has seen improvements.
Those improvements are within the confines of Apple's walled garden, however. Still, if you're all in with Apple Siri is everywhere you are. Apple TV, Apple Watch, iPhone, Mac and the coming Home Pod all support the company's trusty digital assistant.
As strong a market presence as Apple has, however, its bounded AI approach severely limits its broader impact. iPhone has only 19 percent market share compared to Android's 73 percent. And the Mac is still dominated by Windows with just 12 percent share compared to Microsoft's 88 percent. Even with Apple Watch and Apple TV Siri's broader impact compared to the potential pervasive presence of its rivals as connected devices increase, is minimal.
SiriSDK gives third-party developers limited access to Siri, but under Apple's current strategy, those improved skills will be limited to being showcased on Apple devices.
Alexa's ascent
Amazon's Echo, featuring its Alexa digital assistant, set the bar for smart speakers. Based on Amazon's leading cloud service and vast market presence Alexa carved out a leading position in the home via the Echo, Echo Dot, and Echo Show.
Furthermore, Alexa Skills Kit, which allows third-party developers to create more personalized experiences into Alexa has been available since 2015. Today there are over 27,000 Alexa skills from company's like Starbucks, Capitol One, the WSJ and more.
Additionally, Alexa Voice Service (AVS) unshackles the assistant from the Echo. AVS gives OEMs the ability to build Alexa into a range of connected products that have a microphone and speaker. Popular Chinese OEMs Tongfang and Huawei, and U.S. automaker Ford are bringing Alexa to their TV's, phone and cars respectively.
Assistant abroad and Cortana cross-over
Microsoft's Cortana and Google Assistant are both unbound digital assistants with a presence on competing platforms. Both Cortana and Assistant SDKs are available allowing the integration of these assistants into a wide range of connected hardware. Third-party developers are also able to integrate their apps with these assistants.
Google Assistant has an advantage over Microsoft in that it is part of the world's most popular mobile platform, Android, and is based on the world's leading search engine, Google. Not to be outdone, Microsoft's Cortana Skills Kit aims to expand Cortana's abilities by allowing developers to use bots to expand its skills, integrate web services and even reuse Alexa skills to create skills for Cortana.
Still, Google Home beat Cortana to smart speakers. But 500 million Cortana-equipped Windows 10 PCs have positioned Cortana in homes and businesses ahead of the Cortana-equipped Harman/Kardon smart speaker. Cortana is also poised to emerge as the UI for Windows 10 IoT devices.
Supported by Microsoft Graph, Microsoft demonstrated Cortana as the cloud-based, voice-interactive UI for Microsoft's cross-platform efforts (See above video). As users transition between devices, Cortana is the constant UI mediating experiences.
This demonstrated how unbound AIs, such as Cortana or Assistant might mediate our experiences across a range of future connected devices.
Bixby, thou art loosed
Samsung purchased Viv a company co-founded by Dag Kittlaus, the co-creator of Siri. Viv is an unbound AI that Kittlaus envisioned would be part of millions of connected devices. He described Viv as the intelligent interface for everything. Kittlaus described Viv as knowing users even on new products. After purchasing a product and logging in Viv would know the user based on cloud-based information stored about the user.
Viv, unlike other assistants, was also demonstrated as capable of reprogramming itself via Dynamic Program Generation. Other assistants are more boxed into providing rigid responses based on specific domains.
Though many people may have seen Samsung's Bixby as simply a phone-based assistant, the company's goals are much broader. Samsung's purchase of Viv helps meet Kittlaus' goal of AI ubiquity. Unlike its competition, Samsung has a vast portfolio of first-party consumer electronics, home appliances and more into which it will eventually be able to integrate its digital assistant.
The company is merging its IoT cloud services SmartThings, Samsung Connect and Artik into a single service. This service, called SmartThings Cloud, will eventually make all of the company's devices SmartThings compatible. DJ Koh, Samsung president said:
Samsung gives Bixby an advantage
Samsung sells over 600 million TVs, refrigerators, washers, dryers and other products every year. Bixby 2.0 prepares the assistant for further integration with Viv technology, and subsequently other products beyond phone to make it the "intelligent interface for everything." Select developers will be given access to an SDK that will allow Bixby's integration into other products. Broader distribution will follow in 2018 per Kittlaus.
Bixby 2.0 will debut on Samsung Smart TV, Family Hub refrigerator and a host of other devices. Samsung promises that:
Samsung's Project Ambience which is a dongle containing a chip and microphone makes accessing Bixby possible from existing speakers and TVs into which Bixby is not integrated.
The AI battleground…
Our interaction with digital assistants originated on and is predominantly still on our smartphones. As demonstrated by smart speakers, and the goals for unbound AIs, it's clear that the AI battleground will ultimately be a host of connected or IoT devices.
Whichever company brings the best and most cohesive experience to the connected devices around us will likely win this war.
Related reading:
Hackers are looking forward to a future of always-connected devices
Get the Windows Central Newsletter
All the latest news, reviews, and guides for Windows and Xbox diehards.
Jason L Ward is a columnist at Windows Central. He provides unique big picture analysis of the complex world of Microsoft. Jason takes the small clues and gives you an insightful big picture perspective through storytelling that you won't find *anywhere* else. Seriously, this dude thinks outside the box. Follow him on Twitter at @JLTechWord. He's doing the "write" thing!