Microsoft 'Surface Andromeda:' Everything we know about the rumored foldable device
Microsoft's rumored "Surface Andromeda" device has got everyone talking. This is everything we know so far about the as yet unannounced foldable handset.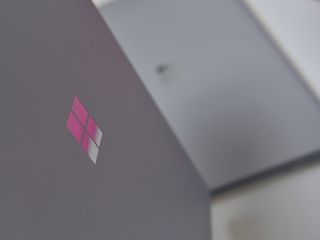 (Image credit: Windows Central)
Andromeda is here! Now known as the Surface Duo, and runs Android instead of Windows
Back in October, I wrote an article detailing Microsoft's foldable tablet codenamed Andromeda, and talked about it featuring digital ink and telephony capabilities as well as running a new version of Windows 10 built on Windows Core OS. More information from various sources all over the web has since popped up, so here's a consolidated list of everything we know so far, updated August 2018.
Andromeda: What is it?
Microsoft's Surface Andromeda project is both a software and hardware effort. On the software side, Microsoft is building a new version of Windows 10 that's designed to bring the OS to a new category of mobile devices. This version of Windows 10 is codenamed Andromeda OS, and is part of Microsoft's Windows Core OS effort internally. On the hardware side, Microsoft is building its own Andromeda-based device too.
This is widely expected to be Microsoft "re-entry" into the mobile market. However, rumors suggest Microsoft will not be positioning this device as a smartphone. Instead, Microsoft is going to try and carve out a new, low-volume market for the enterprise, schools, and prosumers/creators. Microsoft did a similar thing with the Surface Studio and original Surface Pro, where it built new device categories for markets that were, at the time, low-volume or non-existent.
Andromeda: Hardware
According to my sources, Microsoft's own Andromeda device is an ARM-based foldable tablet that features two displays joined together by a hinge mechanism in the center of the device. Its primary input method is touch but will feature pen support for note-taking and inking experiences. I'm told the device will resemble that of a pocket journal, with its foldable form-factor allowing it to be opened and closed like a real notebook and fit in a pocket.
The handset will feature telephony capabilities, meaning you will be able to make calls and send texts using the device. Sources say the device will feature a Snapdragon processor and likely come in the usual 64GB or 128GB configurations. Because this device is ARM powered, sources say the Andromeda device should last a full day at least on a single charge. That, along with the fact that this device will be running Windows Core OS, means battery life should be very good.
A leaked internal email described the device as a "new and disruptive" device category that "blurs the lines between mobile and stationary computing ... bring(ing) together innovative new hardware and software experiences to create a truly personal and versatile computing experience."
It is likely that Andromeda will end up being released under the Surface moniker, Microsoft's premium line of devices that are designed to showcase the best of Windows 10. Latest rumors have suggested that Microsoft is pushing Andromeda's release date back to give itself more time to improve the software and hardware.
Andromeda: Software
Andromeda OS is the first iteration of Windows 10 that will ship under Microsoft's Windows Core OS effort. It will feature CShell, Microsoft's upcoming adaptable UI that will allow the shell to adjust itself depending on the folded position or scenario the device is being used in. This new shell is being designed specifically for dual-screened experiences and is unlike any Windows Shell on the market currently. It's gesture-based and is designed in a way that allows the shell to get out of your way when within an app.
Microsoft is also building a dedicated Journal experience that spans across both displays when in use that features OneNote and Windows Ink integration. My sources tell me that Microsoft is also looking at implementing the same collaborative tech found in the Microsoft Whiteboard app, allowing multiple people to ink within the same Journal together. Other apps may also be able to share snippets and other things directly to the Journal for safekeeping or annotating on.
The device will also feature multitasking that allows the user to snap apps side by side just like you would expect to be able to do on a dual-screen device.
Microsoft is also working on a Continuum mode for Andromeda that will provide a familiar desktop experience when extended to a large screen or connected to a dock. Powered by CShell, this Continuum will allow apps from the Microsoft Store to run in a windowed mode, along with other enhancements that make sense in a desktop environment. We have already showcased an early build of the new CShell Continuum environment, so make sure you check that out.
Internally, Microsoft refers to this improved Continuum mode as "Productivity Mode," and is being positioned as a feature that turns your pocket-device into a full PC when docked up to a large screen. Microsoft really wants to bring back the "pocket-PC" idea, but do it properly this time.
Andromeda: Pricing and release date
Our sources suggest that Andromeda will be a premium device, with pricing to reflect this. No specific price is known at this time, but it is believed the device would cost around or even upwards of $1000.
In regards to a release date, the original plan involved it being announced October of this year. Our sources now suggest that Microsoft has delayed its launch into 2019 due to not being able to complete the OS to a good standard in time. So, the delay allows Microsoft more time to finish up the OS and fine-tune the hardware.
Still more the come
We will continue to update this article with new information as it becomes available, so check back periodically! What are you most looking forward to with this rumored Andromeda device? Let us know in the comments.
Updated August 3rd 2018: We updated this post with the latest infomation we have about Microsoft's Andromeda project.
Get the Windows Central Newsletter
All the latest news, reviews, and guides for Windows and Xbox diehards.
Zac Bowden is a Senior Editor at Windows Central. Bringing you exclusive coverage into the world of Windows on PCs, tablets, phones, and more. Also an avid collector of rare Microsoft prototype devices! Keep in touch on Twitter: @zacbowden.