Hands-on with Microsoft's Whiteboard digital-ink collaboration app
Microsoft's new Whiteboard app allows for multi-person inking with friends and colleagues across Surface devices. This is our exclusive hands on.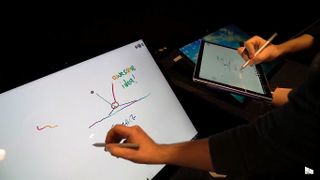 (Image credit: Windows Central)
Digital collaboration is everywhere these days. Whether you use Microsoft Office, Google Docs, or something else entirely, you've probably tried out virtual collaboration with others in a single document at the same time. Virtual collaboration with several others via keyboards is one thing, but imagine being able to do it with digital pens?
Well, with Microsoft's new app called Whiteboard, you can do exactly that. Announced alongside the new Surface Pro, Microsoft Whiteboard is an app coming later this year for Surface (and eventually third-party, pen-enabled devices) that allows multiple users to collaborate virtually on a digital canvas with a pen.
Microsoft invited us to its headquarters during the Build conference to go hands on with the new Surface Pro and an early, pre-release version of the Whiteboard app. Keep in mind that considering this is a prerelease build of the Whiteboard app, there are likely bugs that will be fixed and things that will change before launch later this year.
Hands-on with Microsoft Whiteboard
In short, the new Whiteboard app is a simple, clean app that makes it easy to collaborate with multiple other people virtually using the digital pen. The app works across all Surface devices, including the Surface Studio, Surface Book, Surface Laptop and of course Surface Pro. You launch the app, invite the people you wish to collaborate with, and away you go.
Microsoft has done a lot of work in making the virtual collaboration feel almost seamless, as if collaborators are actually there with you in the room. The digital ink flows smoothly from all participants and shows up almost instantly after the virtual collaborator has started drawing or writing on their screen. You can see in our hands-on video just how quickly the digital ink shows up virtually on other people's displays.
The app provides useful tooltips and pop-ups to let you know who's writing what, too, so you can track progress without getting confused. In the top right, you can see everyone in the current inking session, and you will see colors pulsate behind their profile picture whenever they're interacting with the digital canvas.
As this is an Ink-based app, it features all the same bells and whistles or Microsoft's other Ink-based apps, including the virtual ruler, and several different pen types and sizes. You can even use your finger for ink if you don't have a digital pen with you, which is great in that inevitable scenario where you've forgotten your pen at home.
One way to describe the is "online multiplayer inking," just like in a video game. You can now join your friends or colleagues in a digital inking session, where you can all draw simultaneously on the same canvas and see each other's work in real time.
Microsoft tells us the Whiteboard app will be available later this year, so we're guessing it'll launch alongside the Fall Creators Update. The app is designed for Surface, and although Microsoft isn't guaranteeing the app will work on third party devices, there's technically no reason why it couldn't.
Get the Windows Central Newsletter
All the latest news, reviews, and guides for Windows and Xbox diehards.