Hands-on with Microsoft's Whiteboard digital-ink collaboration app
Microsoft's new Whiteboard app allows for multi-person inking with friends and colleagues across Surface devices. This is our exclusive hands on.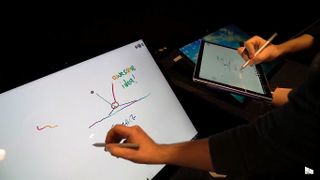 (Image credit: Windows Central)
Digital collaboration is everywhere these days. Whether you use Microsoft Office, Google Docs, or something else entirely, you've probably tried out virtual collaboration with others in a single document at the same time. Virtual collaboration with several others via keyboards is one thing, but imagine being able to do it with digital pens?
Well, with Microsoft's new app called Whiteboard, you can do exactly that. Announced alongside the new Surface Pro, Microsoft Whiteboard is an app coming later this year for Surface (and eventually third-party, pen-enabled devices) that allows multiple users to collaborate virtually on a digital canvas with a pen.
Microsoft invited us to its headquarters during the Build conference to go hands on with the new Surface Pro and an early, pre-release version of the Whiteboard app. Keep in mind that considering this is a prerelease build of the Whiteboard app, there are likely bugs that will be fixed and things that will change before launch later this year.
Hands-on with Microsoft Whiteboard
In short, the new Whiteboard app is a simple, clean app that makes it easy to collaborate with multiple other people virtually using the digital pen. The app works across all Surface devices, including the Surface Studio, Surface Book, Surface Laptop and of course Surface Pro. You launch the app, invite the people you wish to collaborate with, and away you go.
Microsoft has done a lot of work in making the virtual collaboration feel almost seamless, as if collaborators are actually there with you in the room. The digital ink flows smoothly from all participants and shows up almost instantly after the virtual collaborator has started drawing or writing on their screen. You can see in our hands-on video just how quickly the digital ink shows up virtually on other people's displays.
The app provides useful tooltips and pop-ups to let you know who's writing what, too, so you can track progress without getting confused. In the top right, you can see everyone in the current inking session, and you will see colors pulsate behind their profile picture whenever they're interacting with the digital canvas.
As this is an Ink-based app, it features all the same bells and whistles or Microsoft's other Ink-based apps, including the virtual ruler, and several different pen types and sizes. You can even use your finger for ink if you don't have a digital pen with you, which is great in that inevitable scenario where you've forgotten your pen at home.
One way to describe the is "online multiplayer inking," just like in a video game. You can now join your friends or colleagues in a digital inking session, where you can all draw simultaneously on the same canvas and see each other's work in real time.
Microsoft tells us the Whiteboard app will be available later this year, so we're guessing it'll launch alongside the Fall Creators Update. The app is designed for Surface, and although Microsoft isn't guaranteeing the app will work on third party devices, there's technically no reason why it couldn't.
Windows Central Newsletter
Get the best of Windows Central in your inbox, every day!
Zac Bowden is a Senior Editor at Windows Central. Bringing you exclusive coverage into the world of Windows on PCs, tablets, phones, and more. Also an avid collector of rare Microsoft prototype devices! Keep in touch on Twitter: @zacbowden.
I need this like right now for my research project.

I really like the Whiteboard and that it will come to Office as part of the suite. I'm hoping they integrate it into Teams as that makes the most sense for this type of collaboration.

This looks great for those who need it. Office collaboration is what I really love (because that's what's relevant to me). But Microsoft seems to be working really hard at making inking great for the creative crowd and that's good to see. No man left behind.

I hope this would not be tied to Office 365 for business only, because on my work we have it, but there are different domains and we can't collaborate if we have different administrators. Sadly that's why I cannot use Teams.

Nice! This is going to go a long way to replace actual whiteboards for collaboration. Definitely a need for this.

Looks like the ink back feature from the surface hub. Nice

I hope they will make this app free. Using OneNote as a digital whiteboard across devices is unsatisfactory in terms of sync time - typically at least 5 seconds and sometimes takes more than 1 minute. Hope this Whiteboard app performs well in terms of sync speed, which is the most important consideration of users.

"Hands On with..." I'd actually like to see someone using this literally with their "hands on" it. Writing on it without resting your palm on it seems to be a pain. How well (or bad) does palm rejection work in these apps/devices? The video only shows people hovering their hand over while writing. That doesn't seem very comfortable...

Not a problem... it's a proper pen not capacitive. It knows what's skin and what's pen

have you used the the pens on surface pros or surface book in something like one note? it would be the same. I write with pen in onenote all the time and never have issues with my palm on the screen while writing.

Nice to see Microsoft bring back whiteboard and will come in handy for engineers. Really missed it when they dropped Windows Live Messenger.

It should be included in OneNote !

Here we are past Creators update part 2. Almost to 2018. Where is it? I have a copy shoe-horned in back when it was first 'discovered'. Great app. Too bad I just saw the capability available on the iPad, right now. https://www.imore.com/app-lets-you-collaborate-virtual-whiteboard-real-time Maybe MS could release something they have shown before others copy and release it, for once.