New Microsoft Surface Pen: Everything you need to know
Microsoft just lifted the lid on the brand new Surface Pro, and it comes with some nifty accessories, including a new Surface Pen.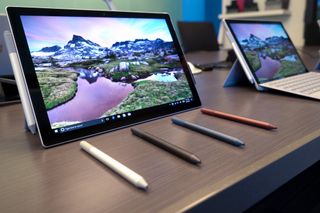 The Surface Pen is practically synonymous with Surface at this point. Surface Pro is all about inking, and Microsoft showed off how its latest 2 in 1 does inking with the all-new Surface Pen.
Here's everything we learned about this next-gen inking tool.
New Surface Pen
The new Surface Pen is designed to compliment the 2017 Surface Pro's next-generation screen, which takes advantage of unprecedentedly low latency inking thanks to new tech. Custom silicon in both the pen and the Surface Pro screen reduce the latency between your ink strokes and the display to levels "virtually imperceptible" to the human eye, according to Microsoft. The company also says the new Surface Pen is much more responsive than the Apple Pencil designed for the iPad Pro, and it benefits from a boost in pressure sensitivity at 4,096 levels, up from 1,024 in the previous version.
The Surface Pen also now supports tilting for the first time, making shading much easier. The Surface Pen is backward compatible with the Surface 3, Surface Pro 3, Surface Pro 4, Surface Book, and Surface Studio, so its new features work with those older devices.
The Surface Pen comes in the new Surface color range of platinum, black, burgundy, and cobalt blue, matching the new Surface Pro Type Covers and the new Surface Arc Mouse.
New Surface Pen technical specifications
Weight — 0.04 lbs (20 g).
Compatibility — Surface Studio, Surface Laptop, Surface Book, Surface Pro, Surface Pro 4, Surface Pro 3 and Surface 3.
Dimensions — Length: 145 mm; Width: 9.5 mm; Height: 10.1 mm.
Available colors — Platinum, black, burgundy, cobalt blue.
Connection — Bluetooth low energy-compatible 4.0/4.1.
Buttons — Right click; Tail button: Erase, configurable functionality.
Battery — 1 AAAA, up to one-year battery life.
In the box — Surface Pen with HB tip, battery.
Warranty — One-year limited hardware warranty.
Are you going to pick up the new Surface Pro? Or a new Surface Pen for a previous-gen Surface maybe? Let us know in the comments.
Related Surface Pro stories
Windows Central Newsletter
Get the best of Windows Central in your inbox, every day!
Jez Corden a Managing Editor at Windows Central, focusing primarily on all things Xbox and gaming. Jez is known for breaking exclusive news and analysis as relates to the Microsoft ecosystem while being powered by caffeine. Follow on Twitter @JezCorden and listen to his Xbox Two podcast, all about, you guessed it, Xbox!
"The Surface Pen is backward compatible with the Surface 3, Surface Pro 3, Surface Pro 4, Surface Book, and Surface Studio, so its new features work with those older devices."
Including tilting but not the 4096 levels of pressure, right, at least on the Surface Pro 3? The Surface Pro 4 pen didn't support all 1024 levels on a Surface Pro 3 either.

You're correct Gatanui. That's hardware thing. Surface 3 that I am using, for example, support 256 levels even when I use 1024 levels pen.

Yup, that's definitely one drawback...I have the SP4 pen with my SP3 and not all the features are supported. I don't doubt the same will be true with this new gen of the pen.

Microsoft Store specs sheet: Surface Studio
Surface Laptop (no tilt functionality)
Surface Book
Surface Pro
Surface Pro 4
Surface Pro 3
Surface 3

I'm actually hoping the new pen works with the specter x360 15. Since they didn't update the surface pro to have thunderbolt 3, I'm seriously looking at the HP.

Tough call on that. I believe the X360 pen is made by Elan. Not sure what tech they're using, but since MS has to release a firmware to make this (tilt) work with older Surfaces, my guess is that it won't work with the X360.

Please please please tell me tilting at least works on SP3. I don't mind the 4096 pressure levels because that's hardware. But the tilting is software, right??

Yes and No, I would assume that software has to support it but it will be hardware. More specifically the Pen that has the tilt detection built-in.

So, wait, the pressure hardware is in the screen, but tilting hardware is in the pen, so if I understand correctly, as long as I have the pen, my older SP3 should be able to support tilt, right?
...
RIGHT?? QwQ
I seriously hope your assumption is right. I don't even mind latency as I'm used to it. But tilt is something I'd really want. At least until I can afford a Surface Pro.

Microsoft Store spec sheet and there's a new firmware update to let previous devices support it :) Surface Studio
Surface Laptop (no tilt functionality)
Surface Book
Surface Pro
Surface Pro 4
Surface Pro 3
Surface 3

Sounds like tilt support will be added with an update to older Surface devices, per Peter Bright: "Initially, the tilt feature will only be available on the new Pro, but Microsoft has told us that it plans to release updates for certain older systems to enable tilt." But the pressure levels and lower latency won't I guess. The 4096 pressure levels are just a stat sheet thing anyway, not perceptable in use. Same with the latency from my experience - already thought there was 0 perceptable latency anyway.

Compatibility — Surface Studio, Surface Laptop, Surface Book, Surface Pro, Surface Pro 4, Surface Pro 3 and Surface 3. Surface Pro is listed there... like the original Surface Pro? Also does it mean everything is compatible including the tilt and pressure for the older devices???

I think as in the new Surface Pro.

Surface Pro 1 and Pro 2 cannot support this pen, as it is using Wacom technology, while the other newer Surface devices uses N-Trig. The way the technology works is very different. Here they means the New Surface Pro. In the case of a change where a universal pen is made, look if the Surface Pro 2 is supported. If it is, then your Pro 1 will be supported.

The universal pen is here already (http://surfaceproartist.com/blog/2017/5/14/unicorn-sighting-wacom-univer...). However, don't count on it working with either the Pro 1 or 2 as I believe those use Wacom EMR technology. The current protocol that Wacom is pushing hard to compete with N-Trig is called AES. The Universal pen is for N-Trig/AES devices, not EMR which is much older.

Sure, it supports the OG Surface pro, but specifically skipped Surface Pro 2. /s : P

I am very excited about this pen. MS has just push the Surface pen to the Max. This is what I called future-proof. I'll be recommending everyone to buy one if they get the New Surface Pro.

Of course I will be buying one of these new pens, BECAUSE SOMEONE **** HEAD STOLE MY SURFACE 3, AND THE PEN WITH IT....... But, we got his lazy @$$ on camera. Fired he will be soon.

You cra cra...... I'm an angel.

Damn, Rodney - you're so upset you just went Yoda on his ass... "Fired he will be soon. Bent over and his dark side exposed in prison, he will have"

😂😂😂😂😂😂
Exactly... And, his wife, and kids, can go with him.. Lol

Does anyone know if the surface studio's dial will work on screen with the new Surface Pro? Just curious.

Yes, it does according to MS.

yes they show it in the promo video prominently. But, what i've been literally obsessed over is if it will work with the surface book. It was supposed to, and the screen tech is there, so we'll see...

I wish they would go back to the Surface Pro3 pen setup with 2 buttons on the side. It's much more convenient to have the eraser as a button. The eraser on the back is less desirable because you'd have to flip your pen over..

Agreed. When I'm trying to erase part of a word -- I want precision. It is also a pain to have to flip my pen around. I'm still nursing my surface pro 3 pen along. Since I only write, I don't need the tilting, shading, or even for the most part the pressure sensitivity.

Nah, it's more natural for an artist to flip their pencil over, in my opinion they made the right choice.

What is the available date?

no clip at the top of the pen anymore?

Yeah, a real shame. I use the clip everyday.

Did they get rid of the jidder when making slow straight lines? That's the dealbreaker for my wife who is an illustrator. If they can fix that it could replace her cintiq.

So the pen no longer comes included with a new surface purchase!... SMDH

no clip, but it still has a flat side?

Well, i'll wait and see if they've fixed the age old Surface Pen problem that most artists talk about in their reviews, and that's the slow line jitter issue, and line tapering. I'd certainly hope after all this time they've done something about it.

> Custom silicon in both the pen and the Surface Pro screen ... OK -- I assume this means that although the new pen is backwards compatible with olders Surface Pros, they may not give the same number of levels of pressure sensitivity (?), and/or not the same reduction in latency time!!??

I understand that to mean for older Surface using the pen, you will get the improvement in pressure (as I believe this is hardware within the pen) but not benefit in the latency reduction entirely as part of the benefit comes from the SP5... but I could be wrong ;)

I'm so glad they are still sticking with an AAAA battery for power instead of going for a chargeable option.

Any word on whether other N-Trig laptops like the latest Spectre X360 will receive an update? Or will this only be limited to Microsoft devices?

Most importantly, the new pens are not yet available for pre-order. They have a page in Microsoft's online store, but the pre-order option is greyed out on all colors. I'm not ordering a Surface Pro and typecover until I can get a pen at the same time.

They are now. https://twitter.com/marknoble/status/896008175832502272