Microsoft's new Surface Pro with optional LTE gets official
Microsoft today announced the all-new Surface Pro for 2017. Here is what's new, and why the new device is very much the sum of all of its parts.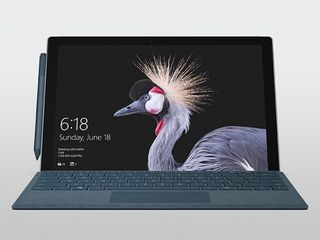 Microsoft announced the brand-new Surface Pro, the fifth iteration of its Surface tablet series, today in Shanghai, China. The device is due to launch globally on June 15, and Microsoft is shunning its previous numbering system for the Surface Pro name this time and will not use "5," as anticipated. In other words, the "Surface Pro 5" is simply called Surface Pro.
On the outside, the new Surface Pro looks very much like the Surface Pro 4. But looks can be deceiving. With more than 800 new customized parts, a redesigned thermal system, an improved Surface Pen, and optional 4G LTE, the "most versatile laptop" is a testament to Microsoft's need for perfection.
What's changed with the new Surface Pro?
Here are the main changes and new features with Surface Pro for 2017. Many improvements come in the form of hardware changes and refinements, but there are some minor stylistic changes as well. Here's a list of modifications:
Intel Core i5 version is now completely fanless.
50 percent improved battery life with an estimated 13.5 hours of usage.
Restructured chassis with smoother, rounded edges.
Thinner radial vents and new "whisper quiet" thermal system.
Optional 4G LTE with nano SIM and eSIM support; no visible antenna lines.
Redesigned kickstand opens to 165 degrees.
New Surface Pen with 4,096 levels of pressure and just 21 milliseconds of latency.
Front-facing camera is now "blacked out" to fade into bezel.
Brand-new Alcantara Type Cover in platinum, burgundy and cobalt blue.
Intel Iris Plus Graphics 640 for Core i7 model.
Support for on-screen Surface Dial usage.
While many of those advances may seem incremental, when you add them all together they make for an impressive refresh. It is clear Microsoft is not messing with a winning formula. Ever since the Surface Pro 3, the company figured out what the ultimate 2-in-1 PC should look like. Surface Pro 4 improved upon it further and now the fifth-generation Surface Pro takes the design to the next level.
Image 1 of 5
Surface Pro (fifth gen) technical specifications
Swipe to scroll horizontally
Category
Specification
Display
12.3-inch Pixel Sense display
10 point multi-touch
Display Resolution
2736 x 1824 (267 PPI)
Aspect Ratio: 3:2
Software
Windows 10
Processor
Seventh Gen Intel Core m3 7Y30
Seventh Gen Intel Core i5-7300U
Seventh Gen Intel Core i7-7660U
Storage
128GB, 256GB, 512GB, or 1TB Solid State Drive (SSD)
Memory
4GB, 8GB or 16GB RAM
1866Mhz LPDDR3
Graphics
Core m3 and Core i5: Intel HD graphics 620
Core i7: Intel Iris Plus Graphics 640
Rear Camera
8.0MP autofocus camera with 1080p HD video
Front Camera
5.0MP camera with 1080p HD video
Windows Hello face-authentication
Speakers
Stereo speakers with Dolby Audio Premium
Ports
One full-size USB 3.0
Mini DisplayPort
Headset jack
Surface Connect
microSDXC card reader
Sensors
Ambient light sensor
Accelerometer
Gyroscope
Network
Wi-Fi: IEEE 802.11 a/b/g/n/ac compatible
Bluetooth Wireless 4.1 technology
Security
TPM chip for enterprise security
Battery Life
13.5 hours of use
Pen
Surface Pen
Weight
1.69 lbs to 1.73 lbs (768 g to 784 g)
Dimensions
11.50 inches x 7.9 inches x 0.33 inches (292 mm x 201 mm x 8.5 mm)
Optional 4G LTE for the first time
Due later this year, an option for 4G LTE will be available for the first time in the Surface Pro series. There are no physical differences between the LTE and non-LTE variants, and there are no antenna lines or thicker display bezels where modem components typically reside.
The same can be said for the battery and 4G radio. The system takes a traditional nano SIM card, but the new Surface Pro will also support upcoming electronic SIMs (eSIM), as well.
Refined design for 2017
The corners of the Surface Pro are now less angular, with softer edges. It's a subtle change, but those rounded corners make holding the device supremely enjoyable.
The radial vent for heat dissipation is also reduced compared to the previous generation, which is more impressive for the Core i5 version. That model is now completely fanless, joining the lower Core M3 variant. The Core i7, though, still maintains a fan because Microsoft wants you to push that processor as hard as you can.
The Surface kickstand is improved, as well. You can now push it nearly all the way back so that Surface Pro can be used at a 165-degree angle. The Surface Dial also works directly on the display, too, due to popular request.
The Surface Pen with new inking co-processor
Nothing is more essential to the Surface Pro than its pen, and there too Microsoft made advances. With 4,096 levels of pressure, the new Surface Pen doubles the previous generation's sensitivity, which was at 1,024 levels.
Latency also drops from 45 milliseconds to just 21 milliseconds, thanks to an all new co-processor that connects the Surface Pro's GPU to the digitizer. Digital ink feels like it pours out from the Surface Pen with almost no discernable delay. It's an astonishing accomplishment, and for the first time, it genuinely blurs the analog and digital inking worlds.
For those who complained that the Surface Pen didn't have good tilt and rotation support, Microsoft solved that, too. Even the magnets feel stronger when you attach the pen to the side.
These advancements were accomplished without major effects on Pen battery life, which is still estimated at one year.
Instant-on and double the battery life
Another advancement with the new Surface Pro is power management. Part of that is due to the new seventh Generation Intel "Kaby Lake" processors, but a lot of it is also tied to Windows 10 itself.
Hitting the power button results in the Surface Pro coming to life just like a true tablet. Microsoft claims that this ability makes the Surface Pro truly a tablet-killer, because the experience is now on par with competitor offerings and experiences.
For battery life, Microsoft claims 13.5 hours, doubling the Surface Pro 4 battery, while also being 2.5 times more powerful than that version.
Still the same I/O ports and no Type-C
One area of potential controversy is the similar port offerings for the new Surface Pro. The latest version forgoes a modern USB Type-C port and instead relies on USB Type-A, mini Display, microSD card, and the SurfaceConnect power port.
That's not to say Microsoft did not prototype USB Type-C – it did – but legacy support for the Surface Dock and market confusion over USB Type-C led the company to stick with the current Type-A version only, Microsoft says.
Price and availability
In another first, Microsoft will launch the new Surface Pro and new Type Cover globally on June 15 in the following countries:
Australia.
Austria.
Belgium.
Canada.
China.
Denmark.
Finland.
France.
Germany.
Hong Kong.
Ireland.
Italy.
Japan.
Korea.
Luxembourg.
Netherland.
New Zealand.
Norway.
Poland.
Portugal.
Spain.
Sweden.
Switzerland.
Taiwan.
U.K.
US.
Preorders begin today, and the new Surface Pen – compatible with older Surfaces – should be available in the coming weeks.
Pricing starts at $799 for the new Surface Pro.
Preorder the Surface Pro on the Windows Store (opens in new tab)
Related Surface Pro stories
Windows Central Newsletter
Get the best of Windows Central in your inbox, every day!
Daniel Rubino is the Editor-in-chief of Windows Central, head reviewer, podcast co-host, and analyst. He has been covering Microsoft since 2007 when this site was called WMExperts (and later Windows Phone Central). His interests include Windows, laptops, next-gen computing, and for some reason, watches. Before all this tech stuff, he worked on a Ph.D. in linguistics, watched people sleep (for medical purposes!), and ran the projectors at movie theaters because it was fun.
Totally is hot. But why drop the number? Now what are they gonna do when they refresh this one? Call it the surface pro 2... again? Or do the old Microsoft thing and call it the Surface Pro 2019 edition second release with Windows 10 as a Service.

(2017, 2018, etc) Surface Pro

It will probably be like the MacBook Pro. Each iteration won't change much so it will still just be the Surface Pro (2017). Works fine for Apple.

They probably did this so that consumers don't fixate on the number designations. I'm not sure how I feel about it. I mean, Surface Pro is cleaner. But specifying a subdesignation would have been helpful to some - even if just for Keeping up with the Jones' reasons. I'm glad we have a refresh, however. Damn glad. I am disappointed though that it wasn't future proofed with at least a USB-C connector. I mean, the Lumia 950 had one, for God's sake! It's not a deal breaker. Just a little surprising. I will likely upgrade my SP3 for one of these. My hubby will keep their SP4.

By cutting off triangles of two different sizes from edges of the stand plate, Surface would stand on the table also in vertical, portrait position (in two positions). I'm now using a clumsy wire stand to read newspapers with my otherwise lovely Surface Pro 4. ☹

that is an interesting thought - would work better probably with the old version of the kickstand that had multiple 'clicks' instead of the fluid positioning of the current stands. I'd otherwise not be confident enough (as a manufacturer, not a user) that people wouldn't have the kickstand just slightly off-center leading to easy knockovers.

Notice no fingerprint reader in the Alcantara keyboard now. Is there Windows Hello in this?

The finger print reader wasn't for the Sp4, it was for SP3's that wanted to use windows hello. The SP4 already had Hello with the factial recognition.

Is their a chance Carriers could offer the LTE versions?

For me the softer more rounded edges of the hardware is really disaponinting. One of the things I've always loved about the Surface line is the tapered edge and sharper corners. It set it apart, gave it a distinctive look, from all the other products that just copied the iPads super soft rounded edges.

It is very very subtle, no where near iPad and clones roundness..

The pen makes it easy :D But yes...they should work on removing those huge bezels or at least making them smaller.

What should be noted is this has LTE making this is the ultramobile device Jason Ward has been speaking about. /s.

No, this is not the "ultramobile" device. That purports to blur the line between a cell phone and a small pc. Would you carry this around as a substitute for your phone? And will it make and receive calls at all? Don't think so.

I make and receive calls on my Surface Pro all day. It rarely leaves my desk, but I can bring it home and send and receive calls there too.

How do you receive calls on your surface and can you receive texts also?

Skype for Business/Lync or whatever. I use a Bluetooth headset.

Did you not see the /s at the end of my sentence?

Omg, first time I see that /s at the end means sarcasm. Please use `sarcasm` tag from HTML5 standard to make it more clear next time.

Ultramobile device has to be something one can carry all day long with them. LTE support here only means that you don't need to search for wifi to get going with it. It is still pretty much a PC, very portable,with more than decent battery life and all the goodies that you can expect. To be a surface phone (or surface mobile whatever) it needs to shrink drastically. Screen size should not be more than 6 inches and it should have at least a 2 day battery life for 'normal' users. There is still some way to go with that. but with Windows 10 S I am more and more hopeful that it will see the light of the day.It is already too late for it, and going by news reports it will take another year. Iamnot hoping much about that anytime soon.

Sharper corners is what made the surface ugly. Glad its round now.

while i love the upgrade.. i'm unhappy at the fact that it isn't launching in India right now.. the surface pro 4 is available.. but i'm waiting off for this one

Yes, as always India is last.

They did launch surface pro4 here, but the sales response was pretty lukewarm to put it mildly. Clearly we Indians don't see value in a 'tablet' that costs nearly a lakh!

So next year taxes will be spent on this hahahahaha

I'm not sure about the type c, panos mentioned it. Maybe he just mixed up with the normal port.

More on that coming later today.

Very nice, is the keyboard backwards compatible to the pro 3 & 4?

Everything is compatible as always

Lost opportunities here....... Lack of thunderbolt USB-C means no external GPU, which is the logical progression for the surface pro form factor. I understand the confusion in the market with so many different Chinese brands on Amazon selling USB-C docks and dongles, but if your that concerned, make your own dongle connector. You already have to use an adapter to go from mini dp to HDMI, so why not just make it USB-C. Thunderbolt would have made it a game changer, again, instead, ill be sticking with my i7 SP3

For the same reasons I won't be buying this or any other surface products until they come with thunderbolt.

It already has thunderbolt - has since the SP3. It's the power port. It's just not in your desired form factor.

It costs so much money to add an external GPU (I want to say it was "mobile tech review" that suggested a cost close to $1000) ... *and* ... it's no longer really so portable if you're carrying around an external bunch of crap. Therefore, is Surface Pro really the right machine for what you want to do? - Gamely Lounges

These machines aren't _always_ on the go. That';s why the docking station exists. eGPU for when docked, internal graphics for when mobile. That's what I'm looking for.

Wouldn't say an external GPU is at all suited to this form factor - the Pro is a device for on the go, it should be highly portable, take up minimal space, and be hassle-free to get out and use. Anything you plug in immediately lessens that. Not that an external GPU wouldn't be useful for some - of course it would, it's why it exists. But the kind of audience that would use those external GPU's doesn't seem to be the one MS is targeting with the Pro - that's more the Surface Book's area.

No love for Mexico, Surface Pro import costs are too much, I'll never be able to afford an imported version. Looking for Lenovo or Asus clone which support N Trig Pen

"Storage : 128GB, 256GB or 512GB Solid State Drive (SSD)"
US Store annonces a 1TB model as well : https://www.microsoft.com/en-us/store/d/surface-laptop/8NKT9WTTRBJK/HJZX...

Also, "With 4,096 levels of pressure, the new Surface Pen doubles the previous generation's sensitivity, which was at 1,024 levels." I believe 4096 is 4x1024, not 2x.

The maths are not strong with this review... https://www.youtube.com/watch?v=KdxEAt91D7k

Hey, it's the Surface Phone!

ya lol exciting new hardware lol......

Indeed, it now has optional LTE. Jason was correct!

Again, you miss the sarcasm. Please log off and promptly forget your password.

Apparently the need for perfection doesn't include using ports that literally every other OEM uses.

They have reasons for it that I'll explain later on

I'm interested in hearing their reasons, but still skeptical.

I thought there was going to be an event today to show it? Guess not...

As I read elsewhere, Microsoft felt that cables for USB-C are not standardized, so issues of power versus signal type/quality could result in bad performance, at best, or actual damage to devices, at worst. I understand that concern, but they kind of blew that as an argument when they went all-in with USB-C on their Lumia 950/XL devices and the dock. Personally, I think there probably is a way they could have included information on what specific types of USB cabling would be appropriate and what partners to get them from, but that's just me.

I can attest to that. I have had a google 5x phone for a year and finding reliable external batteries and chargers is still a challenge.

The reason going all in on phones is easier is because most people only use it for charging. But microsoft also wanted to push Continuum with the dock. With computers people also tend to plug in thumb drives and other periperals.

Is Type C so important? I don't know many peoples who use a Type C port or cables. Not everybody has a device that less than 2 or 3 years old. I will change my Macbook Pro for a Surface Pro probably this year, my Macbook is already 5 years old, but frankly i don't care if it has a Type C or not, as long as i can charge my device...

Finally they added 4G LTE support! Yes!

"Market confusion over USB Type-C" Really Microsoft? That's what you come up with? Gimme USB-C already, dammit! Sigh..

Hold on people, the video says the pen is NOT included. What is MS thinking????

Yeah I noticed too. Now instead of $999, add in pen and keyboard. $1,299

Many people already own Surface pen. To have the new one forced on them is bad, that's the feedback MS has got. If you want to stick with your current pen from SP4, now you can do.

If you like your current pen you can keep your current pen... Where have I heard that before?

Lies, hahaha, thanks for the laughs

True, but I think most SP4 users won't be upgrading, it's more the users with older models with less capable pens that will be eyeing up this new model as a decent step up from what they already have.

I have a SP3 which is on its last legs with right now. And my SP3 pen's tip is broken. I have looked at the alternatives from other manufacturers and found that nothing comes close to the SP line. I am not so rich to not to care about the extra 100 bucks for the pen. As a student, I found myself taking notes using the pen all the time and also that the pen means no mouse for me. I guess I am not in the "many people" category you said. And hey, if MS sold the SP for 50 to 100 bucks cheaper than the SP3 or SP4, nobody would bat an eye but they are selling it at the same price without the pen, and marketing it as a laptop (without the keyboard), that's where the problem lies.

I had my SP4 for a little over a year and can honestly tell you that i've used the pen less than 10 times.

the hinge in the promo video when pulled down is almost cringe

Great video Dan. What are your first impressions of the kickstand in the different positions?

Surface is amazing family of products by Microsoft. You can choose what you want, from the best mobile pc/tablet until the best all-in-one avaliable. Everytime that I read about it I be impressed by quality, performance and design. My complains is just about Microsoft announcing their products just in few countries. Worst this time, announcing release the new product 'globally', but not includes any latin america country. I'm brazilian and our market is super hard for new products and companies, but we want all this amazing products here, so we can choose buy or not. For that reason Apple is one step foward than Microsoft. She offers his products here in Brazil and give us a chance to buy their 'amazing' devices legaly here (I'm not talking about price). I hope some day Microsoft realise the latin america is part of world too.

When I heard "globally" I thought it would be available in my country too, but alas, not in Argentina again. They're losing sales by not reaching for more countries.

Why would they call it Surface Pro? There already is a Surface Pro and now I get to be confused as to what they're talking about for the next year. I still have my original Surface Pro (the thing is a beast) and a Surface Pro 4.

Best news: "For battery life, Microsoft claims 13.5 hours" This is Chromebook battery life.

That must be with it turned off. I haver the base SP4 and i'm lucky if I get 6 hours, usually 5, and I'm cheap with my power usage. I find it hard to believe 13.5.

What they've claimed and what we get is never the same. Although, it's still good if they've made improvements.

The hands on video is error-ing out for me.

OK, I promised to called PP troll when he said "there is no such thing as the Pro 5". Now, it's real, so bear with me guys here I come. PANOS, YOU ARE THE F*****G WORST TROLL IN THE MICROSOFT HISTORY!!! 😂😂😂 OK, that's out of the way. It looks like a very nice upgrade. Look at the fanless core i5. Look at the battery life! Look at that awesome pen! Loot at the fabxulious type cover! I am overheated from excitement.... off to bed >>>

Will you be able to use the Typecover and Pen from SP4 as I don't fancy buying them again for I were to get a new machine. Will be interested to see the actual real work battery performance. See if it will actually beat my Chromebook

Yes you can. It's not bundled, which is great.

Danny said a separate plug in dongle will give this Surface Pro tablet and probably the rest of the Surface line of products USB "C" capability which is good. in 2 years it will proably get a USB "C" connector. over all with LTE and the improved battery life the Surface pro tablets are truly a mobile power house

I love their choice too. Right now, if I can only choose 1 port on the device, I'll choose USB-A anytime. Without the 'A', you cannot connect your things (phones, flash drives, external HDD, etc.) to the device, and that happens NOW! If you are ahead of the curve, go with the new dock.
This way, like you said, MS has just announced compatibility of SP4, SL with USB-C. It's another paradigm to Apple: you use dongle with USB-C as it is less popular for the moment, but all your things can connect to USB-A as usual. No dongle life hell for all, I like it!

Thank you for listening, Microsoft! I'm going to buy this. I tried to live with a Surface Pro 4 recently, but couldn't. The battery life was just way too short. Microsoft clearly heard consumer complaints about battery life and *tried* to fix that #1 problem. Doing some math: SP4 battery life was rated at around 9 hours? I was lucky to get 5 hours. So a little bit better than 1/2 of the promised battery life. Since the new claim is 13.5 hours, I can probably hope for around 7 hours of real world usage. If that's true, then I will be satisfied. If I get less, then I will probably need to return the device. Regarding USB-C. I guess it would have been nice but I truly have no use for it and don't care. It would not bring me any immediate benefits. Those benefits might show up when ... in several years ... I acquire ... a ... what?!? A new monitor? Not happening anytime soon, but if it does I'm sure my SP dock will push the video just fine to the monitor. Or ... a new power cable? Or ... a new network cable? I'm mostly going to be wireless. But at my desk I use plain old CAT5. I really don't see how this is matters in any near-term way. I prefer the backward compatibility at this point. Nonetheless, my apologies to the USB-C crowd. - Gamely Lounges

Very good refinement indeed. Only wish there ould've been a USB-C port under the USB-A port : (

Ermmmm, side note: somebody help explain why 4096 means doubles sensitivity from 1024? It's like that both on video and the article. Am I missing something?

Still feel they should've put one USB C on this and laptop. Missed opportunity imo. Instead of trying to cater for today's needs, a little future proofing is always appreciated. Especially for the price it is asking.

I wonder if the fan-less version will make the i5 throttle... And also, the "50% better battery life" thing. Will have to wait for your review guys

why 7th Gen intel Core CPU without DDR4? only LP DDR3?

Because "LP" means low powered, and it requires less juice than DDR4. There's no LP DDR4 yet, so to save battery they use LP DDR3.

There you have it. The long awaited Surface Phone.

Then, when one comes out, you will look like💩

Looking forward for iFixit teardown....

Hey Daniel, is the USB port on the new Surface Pro a full power one or is it still low power?

Surface Pen not included!? That's a shame.

I wish it had a better/quicker docking system. My Venue 11 Pro is just drop and go with my dock.

So basically in 2018, we will have surface pro 2, surface laptop 2, surface book 2 and surface studio 2, all with USb C. Now I see why they didn't want to mess up the flow :)

This looks like a very good refresh. I was hoping for a larger display with a thinner bezel, but I guess that just was not in the cards. However, the doubled battery life is a big winner. It would have been good to include the type cover since they dropped the pen. It is hard to imagine the Surface Pro to be a credible laptop replacement without including the type cover. As tempting as this refresh is, I will still wait for the fall to see what is in store for the new Surface Book. I am loving mine, but I would not mind upgrading to a faster beefier model next year.

I think one of the biggest upsides of the Surface Pro without a keyboard that I wasn't seeing previously, is using you're keyboard from an older device and saving yourself some money. Or buying a used/older keyboard for cheaper. The main concern for me is, if I attempt to preorder it, I can't find anywhere to include the keyboard.

1024 "doubles" to 4096? :D

For me the two best changes there are battery life and the camera being blacked out, don't know why but camera "holes" always annoy me on any device.

Question with e-sim, doesn't that make an LTE version redundant?

THANK YOU! for keeping the USB-A. I still use desktop workstations at home and work along with everyone else at my company. Nobody wants windows to turn in to mac users who have to carry around a case full of DONGLES to interface machines with different ports.

So the pen doesn't charge on the device wirelessly? I thought they issued a patent for that.

Thankfully not. It just lasts a long time instead.

A fanless i5...that's pretty awesome. Good Job Microsoft!

The new Surface Pro look awfully similar to the Surface Pro 4
I found a funny poll with a picture of the two side by side: goo.gl /KMSFCL
Can you guess which one is which? LOL

The hardware is close to perfect as is. Not sure how they could make it better.

With 4,096 levels of pressure, the new Surface Pen doubles the previous generation's sensitivity, which was at 1,024 levels 1024 * 2 = 4096?

yeah, I didn't understand that either

Now the hardwares are announced. Will there be any Microsoft event in October?
From book to studio, October is what I wait for the whole year. What will be next???

Surface (non-Pro) 5, with a Qualcomm Snapdragon SOC, running full desktop Windows 10... :-)

A lot to like here, but a point of reservation for me is no USB-C with Thunderbolt 3. If this could be hooked up to a docking station with external GPU, it would hit all my use cases.

And still no phone. Fail.

Darn Microsoft for making me want this so bad. The new inking capabilities are seriously impressive. Even compared to my Pro 4.

It looks like Mexico is never getting a new Surface, only RT, 2 and Pro1 were released here :'(

Won't be getting one asy SP4 is only two months old (unless I can sell it for at least 80% of what it cost me. Interested to see if there are any advantages of using the new pen on an SP4?

A Surface, pen, and covers. Boring. Sigh... No Surface Phone, no excitement.

No Fingerprint reader in the type cover?

real power management and instant on and no power drain. finally x86 kaby catches up to arm. I remember having this in Surface RT. Surface Book hasn't been very good at power management.

let me tell you, if they really managed to make it last "double" than SP4 and have a "significant" (even if its not quite 2.5times) power increase......coupled with that (at least almost) instant wake up....thats enough for an update to the line so SP 2017 is welcomed to the market. the rest of additions are just gifts...
only if i could afford one lol

Mobile broadband at last. What took M$ so long? I know accessing the Internet is expensive over MBB (in the UK anyway) but at least it gives you the option of doing so if you've got no WiFi connection. Quite an important function for a mobile device, IMHO. A question, and apologies if I've missed this in the article or reader comments. These MBB cards usually have GPS receivers on board. Does this mean this Surface Pro is GPS enabled? Anyone any idea? It can be tricky to tell. The GPS function, if present, is not always advertised. The Dell Latitude 7440 laptop that I'm writing this on has built-in MBB. The card has a GPS receiver. I've used it. However, there was no mention of it in the specification for the laptop. Maybe we might need to wait and see what card the new Pro will have and checkout the manufacturer's data sheet.

Why did Microsoft get rid of the Power Cover? that was one of my favorite things about the Surface Pro 2.

I think the battery life on the newer ones is sufficient. It I recall, the originals were battery hogs.

What camera was this video recorded on? It is HD but almost looks phone quality in way it focuses.

I think it is time for a new surface. C
Glad they dropped the numbering as well.

Do you think the new Surface Pro Signature Type Cover (Platinum) is the same as previously sold two-tone "Surface Pro 4 Signature Type Cover"?
I wanted to buy that one in US next time I go there, but cannot find it now in the Store... According to pictures, it is different :(

Interesting machine. Some comments/questions: * 13.5 hours of usage? I think that is based on very low power video playback settings. I "burned down" the battery of my "9 hours of usage" SP4 from 100% to 20% in 45 minutes last week, running a sequence of Python scripts with numerical computations. I *strongly* doubt that 13.5 hours is to be expected with normal use, at least *my* normal use... * Are the new Alcantara Type Covers *better* than the "old" Signature Model (with Alcantara)? Improved key travel, better touch pad? Or the same? * New pen with 4096 levels of pressure level -- will this pen work with, and give 4096 levels of pressure level/21 ms latency also on the SP4? * The Dial/puck -- works with the SP4 also, but can not be laid on the screen (while this is possible on the SP 2017)? * The LTE version seems interesting. What would be the possible speed?

who do companies insist on calling their devices the same as apple. the number on a device like ipad 1 or ipad 2 or surface 3 or surface 5 help distinguish the illiteration. Just calling IT PRO MAKES IT HARDER FOR PEOPLE TO WORK OUT THAT THATS SAY THE 2017 VERSION COMPARED TO THE 2018 VERSION. ITS A SUCK MOVE BY APPLE AND AND THEIR IPAD NAMEING CHANGE AND IT SUCKS THAT MICROSFT IS FOLLOWING SUIT. HELL I WONDER IF SAMSUNGS NEXT TAQBLET WILL BE THE GALAXY TAB PRO OR GALAXY TAB S4.

Gal I know working for MS wouldn't tell me what the announcement was today. I jokingly said Surface Phone confirmed and she said that Surface is in the mix. Now that I've find out - really want this new Surface Pro to upgrade from my 3.

Time for my SP3 to go to that great Ebay Listing In The Sky. This is definitely worth the upgrade.

Still not bundling the keyboard and pen with the starting price? Probably won't buy another Surface until they start doing this.

I don't understand you short-sighted people. There are 4 different pens and 4 different keyboard options. Combined with the 3 processor options and 3 memory options, plus LTE or no-LTE would make over 100 different combinations. There is no way Microsoft is gonna create 100 SKUs. It's completely impractical. So, they's had to seriously limit the choices (only 1 keyboard color etc) to get the number of SKU below 15. Why you would want that? Don't you like choices? By unbundling it, Microsoft allows you to choose any combination you like. This is a much better choice.

is this the new Surface Pro laptop that can replace the "tablet that can replace the laptop" ?? What? no Windows 10 S ? Doesn't the $799 entry point (no keyboard, no pen) make more sense for Education (hence Windows 10 S) than the $999 Surface Laptop entry price ?

It's nice, but..... still too small and the pen REALLY needs two buttons ( right now it's like an old mac mouse) so , I'll pass for another turn. Maybe they make a surface 'folio' or something bring on the 17 inch version.

Oh but Bravo on tilt and rotation... that's good, now add another button to make it actually usable. Who flips a pen around to erase? What a pain!

Why does MS insist on pretending Surface Pro is a laptop? If Surface Laptop is a laptop and Surface Book is a laptop, and Surface Pro is a laptop then the word "laptop" has no meaning different than computer. Surface Pro is a tablet; it ships with pen, no keyboard, and the optional keyboard is flimsy compared to an actual laptop. Any device that uses a kickstand to stay upright is not a laptop. Surface Pro is either a tablet or a 2-in-1 if you buy the keyboard. Suface Pro is thankfully not a laptop.

The fanless i5 is such a big thing for me. My Surface Pro 3 (i5 version) became much louder for everyday tasks from Windows 8 to 10.

Awesome device, and that they improved on so many things of an already near perfect machine??? WTF. Fantastic MS, you guys rock.

the I5. with 8 gigs of ram and a 256 hard drive I think is the jack of all trade's model of the New Surface Pro Tablet . folks you can get a USB "C" hookup with a coming new connect dongle. most people who buy a Surface pro buy a dongle with it to hook up to ethernet, DSL lines modems and ect. if this new USB dongle fits on the Previous surface products then they all have USB "C" too. that's good for the whole line of Surface products. I still view this device as a tabket/laptop hybrid even if people use it more like a laptop Computer.

Perfect! Lack of LTE connectivity was the only thing stopping me from getting a Surface Pro. That was a deal-breaker for me.

Still can't get one with LTE...

Will wait and see how Costco bundles and prices a Surface Pro (not 5) package. But seriously though, are tech companies opting for the car naming model? "Surface Pro (2017)" for retailer listings? Just seems like added hassle easily saved by continuing the numbering.

any idea when the 4G LTE is coming out.... I dreadfully need to get a new portable work solution of some kind... and that option would make taking an SP4.5 a no brainer... But I can't wait 2018... Any indication of it's for this year still???

Thanks for the contest Windows Central! Best of luck to all who enter !