Microsoft Surface Studio review: you'll want one, even if you don't need one
By Daniel Rubino last updated
The Surface Studio may be too successful for its own good. It's not designed — or priced — for everybody, but it's still great.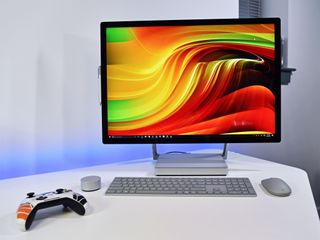 Microsoft's Surface Studio is perhaps its most ambitious – yet odd – addition to the Surface line yet. In many ways, it is the most inspiring desktop computer to launch at a time when PC sales are struggling for the fifth straight year.
Starting at $3,000 and going all the way up to $4,200, the Studio is a significant investment. What did Microsoft get right and what did they get wrong? There are plenty of pros and cons with the unique creation inspired PC that I found in my few weeks of using it.
For years now, PC manufacturers have been struggling with a way to get consumers interested again in desktop computers. The issue is not so much the hardware – or even the cost – but rather our time being divided between increasingly powerful phones, tablets, laptops, and even our TVs. Why sit in front of a clunky PC when you can do the same task on your phone?
To that question of what a desktop PC is for in the year 2017 Microsoft has at least one answer: artistry. Combined with the forthcoming Windows 10 Creator's Update in the spring and Microsoft is packing a double punch of inspiration for artists, engineers, architects and anyone that needs to use a digital pen for 2D and 3D creations.
Redefining what we use a desktop PC for, or perhaps, enabling a new ability is a smart move. In fact, it's the only move that can save desktop computers from complete obsolescence. The problem with that strategy and one that clearly faces the Surface Studio is perhaps too niche.
See at Microsoft Store (opens in new tab)
Big and beautiful
Microsoft Surface Studio Display
The Surface Studio is hands-down the most gorgeous, visually appealing desktop PC I have ever seen. That conclusion extends beyond a tech reviewer's experience — "normal" people who have seen my Studio also react viscerally upon seeing it for the first time. It all comes down to one reason: that display.
A 28-inch PixelSense display with a 4500x3000 resolution is the main attraction of the Surface Studio. I have no issue with claiming it's the best display I have seen on a PC. Part of that is due to the taller-than-normal 3:2 aspect ratio, which is a departure from the wider and more traditional 16:9 found on most desktop displays. I enjoy that layout for work, browsing the web and even gaming. The 3:2 choice mirrors the Surface Pro and Surface Book series and approximates what a pair of legal-sized sheets of paper would be like in an all-digital world. It's thin, it's bright, incredibly intense and supports sRGB, Vivid, and DCI-P3 color profiles. It's also a 10-point touch screen that supports inking using Microsoft's Surface Pen.
Within the display sit four speakers – two on the left and two on the right – plus a subwoofer within in the base PC, making it a Dolby Audio Premium set up. The speakers point down, are completely hidden, and they sound much better than you would expect. While it's no Dolby ATMOS, it's quite impressive considering the engineering design constraints that faced Microsoft.
The entire display is supported by a feat of engineering that Microsoft refers to as the Zero Gravity Hinge. Made from polished chrome that reflects light at angles away from your eye helps to diminish their visual presence. All the wiring for the display and everything up there — the speakers, touch panel, the camera — runs through the hinges, along with the finely-tuned springs that keep the display firmly in place but yet allow for nearly effortless repositioning from an upright panel to a nearly-flat worktop. The result is a seamless, clean aesthetic that you will surely take for granted despite the years of work it took Microsoft to achieve such a design.
A tale of two extremes
Microsoft Surface Studio Hardware
That jaw-dropping screen and futuristic hinge all sit atop what is likely the biggest disappointment with the Studio: the actual computer. Microsoft suggests that even without the PC guts the Studio's display would push it well beyond $2,000. A touch display of this size isn't cheap, and while I thoroughly approve of Microsoft's choice to use a 3:2 display, it's a panel they had to have custom produced as no other monitors use that unique size and resolution.
All of that makes the innards of the Surface Studio underwhelming. Granted, this is nearly always the case with all-in-ones but rarely do such computers start at $3,000.
With three different configuration options to choose from, the person buying the Studio must make some difficult choices. For one, all the storage options rely on an Intel Rapid Hybrid system that is a mishmash of a relatively fast SSD for the OS, and a slower, mechanical hard disk drive for mass storage. Your choices? 64GB SSD with 1TB HDD, 128GB SSD with 1TB HDD, or a 128GB SSD with 2TB HDD.
For as much as the Surface Studio costs, it's frustrating that there's no an all-SSD option, as you'll find on lesser-priced gaming rigs and high-end laptops. I don't see the issue with price if you're already getting me to consider a $4,000 desktop PC – why haggle over a few hundred more? These are not even the best components; the SSD is only SATA (and not the faster NVMe variant), and the hard disk is SATA 2 as opposed to the faster SATA 3. And while you technically can replace the Rapid Hybrid setup with a pure SSD after-market solution, it's far from easy and not for the faint of heart.
Next up are the processors. There are two options with a 6th generation Intel Core i5 (6440HQ) for the lowest configuration or a higher-end Core i7 (6820HQ) for the top two choices. I don't begrudge the lack of Kaby Lake (7th generation) Intel chipsets, as the benefit for desktop users is almost non-existent. But keep in mind these are 45W chips found in larger laptops and not a more powerful 65W desktop components like the preferred i7-6700. That's a significant drop in performance from 3.4- to 2.7GHz, with Turbo dropping from 4 to 3.6GHz.
RAM starts also comes in three configurations at 8, 16, and 32GB DDR4. There is also built in Wi-Fi 802.11ac (a/b/g/n compatible), a dedicated Ethernet port, and Bluetooth 4.0 for connectivity.
Finally, there are the GPU choices. Again, the options are outdated and skewed oddly. The options include an NVIDIA GTX 965M (with 2GB GPU GDDR5) for the two lower configurations with a higher-end NVIDIA GTX 980M (with 4GB GPU GDDR5) for the most expensive one. Neither of these is ideal for a top-tier desktop system in 2017 — they are laptop-class GPUs — but why force the user to choose at all even between the two Core i7 CPU configurations? Timing is blamed on the omission of NVIDIA's latest 10-series of Pascal GPUs, which is extremely unfortunate for such an expensive computer.
Microsoft claims that thermal considerations, the size of the base, overall cost, and keeping the fan noise to a minimum were driving factors behind these hardware choices. I get that, especially if hunched over the Studio while in draft mode as you want to avoid the experience of a working over a hair dryer. Nonetheless, dropping $4,200 for a PC that is made from outdated mid-range laptop parts does lead to disappointment. If for no other reason than it's self-limiting the Studio's appeal to a larger audience. Combined with the inability to upgrade most of the components yourself and the Studio is a very non-future-proofed investment.
If keeping noise low was a goal, Microsoft accomplished that task. In my tests, the Studio never went above 80db under a heavy load and usually hovered in the low to mid 70db range when measured inches from the base. When sitting with the Studio on a normal desk things drop to 60db range. While you can hear some general airflow from the Studio during normal operation, it's not distracting or annoying and in most office environments you won't even notice.
To recap, here are your three configuration options for the Surface Studio:
| CPU | 6th-gen Intel Core i5 | 6th-gen Intel Core i7 | 6th-gen Intel Core i7 |
| --- | --- | --- | --- |
| RAM | 8GB | 16GB | 32GB |
| GPU | NVIDIA GTX 965M 2GB | NVIDIA GTX 965M 2GB | NVIDIA GTX 980M 4GB |
| Storage | 64GB SSD + 1TB HDD | 128GB SSD + 1TB HDD | 256GB SSD + 2TB HD |
| Price | $2,999 | $3,499 | $4,199 |
See at Microsoft Store (opens in new tab)
And that's it. Unlike many other PCs, there are no customization options here. I'm assuming that's due to Microsoft's drive to reduce production costs and delays, but there's no way to mix and match RAM, storage, CPU, or GPU choices. Want more storage? You'll have to pony up for the top-end system.
The Studio comes with the matching and minimalist Surface Keyboard and Surface Mouse combo in the box. Both are better than average, but full-time typists will want to use something a bit larger and more robust like the Surface Ergonomic Keyboard. Luckily, you can use any USB wired or Bluetooth-enabled peripherals you want with the Studio so feel free to pair and match various accessories. For those who preordered the Studio Microsoft tossed in a free $99 Surface Dial, which can be used on the display in conjunction with the included Surface Pen.
In the base of the Studio, you will find no less than four USB 3.0 ports, Ethernet, an SD Card reader, Mini DisplayPort, and a 3.5mm headset jack. These are in the rear of the Studio, which gives the computer an immaculate look from the front but makes inserting an SD card a blind adventure unless you physically move the darn thing.
What's missing, of course, is a USB Type-C port with Thunderbolt 3 support. USB Type-C is still an emerging technology, but there is little doubt over its usefulness, ease of use, and ability to handle many video and media tasks — especially the even-faster (40Gbps) Thunderbolt 3 variant. While not crucial yet for many people in a year or two the port is likely to be ubiquitous in our cadre of technological devices. The Studio has no answer for this and is just omitted.
The Mini DisplayPort lets you daisy-chain external monitors from the Studio, but there is no video input to the PC. That means you cannot use the Studio as just a 'dumb monitor' for some higher-end hardware, or even a Surface Book.
For a camera, Microsoft opts for a great 5MP front-facing one built with dual IR cameras for Windows Hello facial recognition. It's one of the best web cameras I have used, and the Windows Hello auto-login is such a fantastic addition that it makes using the Studio a joy.
As a traditional PC…
Putting aside the main raison d'être for the Studio — drawing and creation, which I'm not qualified to evaluate — how is it as just a PC? The only reason why the question is worth asking is that the appeal of the Studio goes beyond its intended audience, which Microsoft may not have anticipated.
Frankly, the experience of using the Studio for everyday web browsing, productivity (Office, Adobe Photoshop), and even light gaming is mostly fantastic. That opinion comes down to the display experience, which is so overwhelming as to overshadow the Studio's other hardware flaws.
Nonetheless, those flaws do exist. My main PC is a custom-built desktop tower with a speedy Samsung 850 Pro SSD. While not the fastest storage solution in 2017, it handles most app and game loading with ease akin to many high-end Ultrabooks. In comparison, the Surface Studio feels sluggish because of its Rapid Hybrid system. Sure, the OS and few apps that are in SSD seem fast, but as soon as something loads from the hard disk the slowness becomes apparent and disappointing.
The same doubly applies for any advanced gaming. Again, Microsoft makes almost zero claims when it comes to high-end gaming and the Surface Studio. But when eyeing that eye-popping display, it's hard not to want to do more with, it including running some quality FPS titles. Gears of War 4 does play on it, as expected, but those downgraded graphics are more noticeable on a 28-inch PixelSense display than a more forgiving 14-inch Surface Book.
Lighter titles like Pinball FX2 handle much better. The other oddity is the inclusion of Xbox wireless controller support. While it's great that Microsoft added that, and it works very well for casual gaming, it's a weird mixed message they're sending to gamers who may want a Studio.
All in all, for the average person the Surface Studio is a beautiful solution, so long as you can swallow the massive price tag. It goes without saying if budget and performance are considerations, then there are more suitable solutions you should consider, even if they're nowhere near as awe-inspiring as the Studio.
Above average, but not exceptional
Surface Studio Benchmarks
When it comes down to benchmarks, the Surface Studio is above average when compared to most PCs, but falls short of gaming PCs, VR-capable devices, or high-end 4K systems. None of that is too surprising, but for comparison here is some data collected from Futuremark's PCMark 8 and 3DMark (Time Spy) along with Geekbench 4.0 and CrystalDiskMark.
PCMark 8
| Device | Score | Comparison |
| --- | --- | --- |
| Surface Studio 1TB | 3260 | Better than 67% of all results |
3DMark (Time Spy)
| Device | Score | Comparison |
| --- | --- | --- |
| Surface Studio 1TB | 1531 | Better than 7% of all results |
Overall, the Studio does decently on PCMark 8 and 3DMark. Nonetheless, you can see how when it comes to high-end graphics the Studio struggles. One knock against the Studio is it's clearly not ready for VR gaming although it should be okay for some light holographic work.
Geekbench 4.0 Benchmarks (Higher is better)
| Device | Single Core | Dual Core |
| --- | --- | --- |
| Surface Studio | 4200 | 13323 |
| Razer Blade 14 | 3774 | 12638 |
| XPS 13 (9360) Core i7 | 4120 | 7829 |
| Spectre x360 Core i7 | 4100 | 7469 |
| Apple MBP 13 (2016; 28W) | 4027 | 7802 |
| Surface Book Core i7 | 3948 | 7415 |
Regarding raw CPU, the Surface Studio fares better than a high-end gaming laptop like the quad-core Razer Blade 14 (late-2016). Considering the Studio's CPU and GPU are laptop-class components this result is expected. Still, those numbers are far below a "true" desktop PC setup with 65W Intel processor and a non-mobile GPU.
Geekbench 4.0 CUDA (Higher is better)
| Device | Score |
| --- | --- |
| Razer Blade 14 GTX 1060 | 139603 |
| Surface Book GTX 965M | 63029 |
| Surface Studio GTX 965M | 53685 |
It's not entirely clear why the Surface Studio's GTX 965M underperforms when compared to the same GTX 965M found in the Surface Book with Performance Base, but the results were consistent across multiple tests.
CrystalDiskMark (Higher is better)
| Device | Read | Write |
| --- | --- | --- |
| Razer Blade (960 EVO) | 2079 MB/s | 1809 MB/s |
| MacBook Pro 13 (2016) | 1549 MB/s | 1621 MB/s |
| Spectre x360 512 | 1332 MB/s | 589 MB/s |
| Surface Studio 1TB | 1327 MB/s | 512 MB/s |
| XPS 13 (9360) 256 | 1287 MB/s | 794 MB/s |
| Surface Book 1TB | 1018 MB/s | 967 MB/s |
The Surface Studio's Intel Rapid Hybrid drive (SSD + HDD) combo is not the best performer. Read speeds – what most people will experience when using the Studio – are akin to a quality PC Ultrabook in 2017. Write speeds, however, are dismal at 512 MB/s.
Clearly, upgrading the Hybrid drive to a pure SSD system based on something like the Samsung 960 EVO or even 960 PRO will yield double the reads and more than triple the write speeds. Unfortunately, while possible, the upgrade is very technical.
A victim of its success?
Microsoft Surface Studio: The Bottom Line
Microsoft's Surface Studio is an ambitious yet purposefully niche answer to a small demographic: creative professionals. That was likely the right decision to make too. In doing so, Microsoft does not need to sell this PC to the masses – both literally and figuratively. Nor would they want to as that would hurt their PC partners like Dell, Lenovo, and HP who all have unique, well-built all-in-ones for the average consumer.
Still, in creating the Surface Studio Microsoft may have made it too good in its overall appeal. There is not a single person who I spoke with or showed the Studio too who did not want one. That yearning, however, always comes with the caveat "…even though I don't need it." Most consumers don't draw, at least in a professional manner, to warrant such an expensive purchase.
Microsoft created a computer that many people want, but don't necessarily need. Putting aside the money issue some people will drop $4,200 on a nice PC. That's where those hardware choices by Microsoft become more apparent as missed opportunities. Spending $4K on a high-end computer is one thing, but spending that much for one with already outdated and underperforming laptop internals is another. Even still, I'm not convinced that creatives would shun a simple SSD option or better GPU. Faster is faster, no matter what you are doing.
Are those fair criticisms? Yes and no. Microsoft targeted a particular demographic, and for them, I think the Surface Studio is a success. Sure, artists may have a few requests here and there, but I think Microsoft's goal was achieved for this product.
The question is could Microsoft sell the Studio to even more people if their ambition let them? I think they could. The problem is Microsoft's hardware so far has been synonymous with consumers (Surface Hub, notwithstanding), whereas the Studio competes against long-standing drawing tablet maker Wacom. That's unexpected and a tougher message to deliver. Still, that's a good problem to have, right? I'm accusing Microsoft of creating a product that people want even if they can't justify it. That's the first step to creating a successful product line and opens the door for improvements with the next iteration. It's also a far better position than creating a product that has no direction or reason to exist.
For now, however, the Surface Studio should only be considered by and in the context of its intended audience – artists and creatives – while those without artistic abilities should aim for something more affordable and with better features. That's a tough pill for to swallow when you've seen it and you just want one. I totally get it. But odds are that the Surface Studio isn't for you. Maybe next time.
With the Studio, Microsoft again proved that they can create drool-worthy hardware and invent a new device category even as the desktop PC is well past its glory days. That's a resounding achievement and demonstrates that desktop computing still has a significant role to play in an increasingly mobile world.
See at Microsoft Store (opens in new tab)
Pros:
Amazing display
Beautiful, flawless design
Rethinks the concept of the PC
Fun to use
Cons:
Very expensive
Hybrid storage was a poor choice
GPU is for laptops, and is outdated
Odd configuration choices
Some confusing messaging
Daniel Rubino is the Executive Editor of Windows Central, head reviewer, podcast co-host, and analyst. He has been covering Microsoft here since 2007, back when this site was called WMExperts (and later Windows Phone Central). His interests include Windows, Microsoft Surface, laptops, next-gen computing, and arguing with people on the internet.
I realize some of this may seem harsher than expected. Nonetheless, I think the Studio - as a concept and in its design - is a winning idea from Microsoft. I think it's clear they spent a lot of time in agonizing over details of form, function, and that display so that that the internal hardware became less important. Now that the design is out there they can concentrate on improving internal hardware, etc. Microsoft has proven adept at quickly learning from mistakes and improving where they can and I know they will do that here.

Just looking forward for the phone really.

I pre-ordered a $3,500 model but cancelled later when I found out that the 6th generation processor wouldn't support Ntflix 4K in Edge. But I would definitely order one when the 7th generation processor version comes out or if MS would release the Studio display as a stand alone unit. This gorgeous machine is one of those tech toys you must own whether you need it or not.

A stand alone display would be amazing. I would strongly consider purchasing one if it still included Windows Hello and touch / Surface Pen support.

I'm sure they have their reasons, but selling the display alone would probably move many more. I'd never pay that price for an underpowered system. Buying the display alone is something I would consider though. Dell's new screen is interesting but not highend enough.

They aren't in the hardware market to directly compete que their OEMs, though, their devices exist to a) create new categories and b) set a bar to device quality for their OEMs to follow.

Its awesome. case closed. Too bad they never used Full SSD like you said. BUT it mops the floor with imacs for usefulness!

Yeah, I agree with that. To be honest, iMac isn't anything revolutionary anymore, and they're getting older and older each day. Microsoft, on the other hand, really brings their (superb) innovation unto the market like Surface Book, Surface Studio, etc. But what then I concerned is, on a video I watched on YouTube, someone explains why Microsoft has been doing this... he then said that Microsoft is doing this because they're in a desperate position, etc., which is the conterpart of what I thought. But basically, Microsoft is now doing some great jobs. If they can bring this into a broader market, then they (hopefully) can bring PC sales up again.

Mandatory question: Wallpaper source? :)

Licensed from Shutterstock so cannot share, sorry. You can find the artist's creations here if you would like to purchase.

The slow SSD and HDD makes Surface Studio very unattractive unfortunately since the bottleneck of communication bus speed in a pc is in fact ssd and hdd...

i seen step by step upgrade video upgade ssd and hdd on it

Not the video. It's soldered to motherboard...

Yes I was saying ssd and hdd can be upgraded

I confirm too that ifixit says the hdd can be upgraded.

But first, what interface is the SSD using in, M.2 or SATA3?

PCIe NVMe Surface Studio with Intel Core i7 models use PCIe NVMe SSD.

I thought the mouse was really cheap for this system. It felt very out of place compared to the other components.

sure it has a few flaws but for photographers (like me) its a dream come true.....no more wacom tablet on the desk...super ease of manipulation of images...i can hardly wait to get one.....if u want a list of flaws on my fully loaded m iMac this page is not long enough so i will get me a surface Studio very soon.....

"but for photographers (like me) its a dream come true"

Yes and no. I'm an avid shooter myself with a Nikon D750, shoots in RAW, etc. The Studio can handle it, but compared to my current desktop (Core i7 6700K, 850 PRO SSD, + GTX 960) this is slower and more sluggish for photo editing. You can feel it bottleneck, which is a shame. I get what you're saying, which is what I mention here: the display is so good it almost overshadows the PC flaws. But had they gone with better internals this would be an even better machine for photography. Right now, it's like mostly there, but that hybrid drive and GPU really throw some water on my enthusiasm.

It sure seems like a longish list of compromises for that nice display. Slow hardware and Apple-esc port placement sure don't make it seem like the professional workstation that it wants to be. I also wonder about the dual-nature use in the real world that Peter at Ars mentioned. I have a 22" monitor that I often feel is too close to my face, but I can't move back due to limited desk space. SS seems like it would be too close in desktop mode if you also wanted to use it in drafting table mode. Any comments on that from your time with the device?

Yeah, I read that from Peter but can't say I agree. I had the SS relatively close...or closer than most desktops...and it didn't bother at all. I really, really, enjoyed using it as just a normal PC (mostly cause I didn't foot the bill on it lol).

This is how I feel about it. It feels like an amazing screen which is wasted on all the mediocre parts. If it was upgradable then sure. The screen will remain good and relevant for much longer than the parts that drive it. Which is a shame because there is no external input on the machine, so even if the machine becomes outdated you can't use it as a monitor.

That's a good thought. I forget that with AIOs, that display can stay competitive for much longer than the parts driving it. I get that MS had a timetable limiting some factors (R&D has to stop and costs recovered), but unfortunately that left it compromised in some critical areas. NVMe storage and desktop-level internals would have given it more longevity. Instead you end up with a very expensive device that is already slower than SurfacePro or SurfaceBook in some areas. SS2 will likely be the refined product creatives we're looking for.

Doesn't matter how powerful phones, tablets, or laptops become, there is no replacement for a desktop. I'll admit I use my desktop less and less, haven't needed to upgrade it in years, but sitting at a desk with multiple monitors is FAR more productive than a single small display will ever be. Or in this case, one huge gorgeous display, laptops just can't compare.

Why is it a mixed message to gamers that Xbox controller support is included?

Because while you can game on it it chokes when you push some high-end titles, or rather the downgraded graphics you will need to get a decent FPS become more apparent on a 4.5K 28-inch display. That and it's not VR capable. Had they used a GTX 1050, 1060, or even an older "desktop" class GTX 960 things would be different. I'm getting the 980m variant in today and will test and compare it to the 965m version.

Xbox streaming, if that every works properly...

I don't think the Xbox controller support was intended for gamers. But for game _creators_ and anyone else who would find that kind of controller useful for controlling a 3d viewpoint or something like that. So you can have pen, dial and joysticks.

It's called Surface Studio for a reason. Not Surface Gamer.

That's like saying it's confusing to add a headphone jack because it's not designed to listen to music, I didn't realise it required additional work to add controller support though

it will likely work well remoting via xbox app to the surface, then the controller support co es in handy

I suppose so, guess I didn't realise it required additional work to support the controller. And the way you worded it made me think the gamers were interested in the system already and the controller support put them off a bit. I get it now thanks!

Thank you for such a realistic review Daniel. Given the truly gorgeous realisation of the form factor and that amazing screen it must have been a very hard job to be that objective. Much appreciated and respected.

Cheers! Glad you enjoyed it.

Important note about Microsoft's CPU choices: Both the Surface Studio's i5-6440HQ and i7-6820HQ processors feature 4 physical cores. Neither the mobile nor desktop quad-core Kaby Lake CPU's were available in 2016. They are only just starting to be sold in Q1 2017. Microsoft would have had to delay the announcement and/or sales of the Studio by 3-6 months if they wanted to use quad-core Kaby Lake CPUs, or rely on the much less powerfull dual-core ones (no thanks).

First, I mention that skipping Kaby is not that big of deal. The second bigger issue is that they could have (or should have) used a 65W desktop Skylake CPU instead of a 45W laptop one, which are readily available and have been for a year now. So your criticism rings hollow for me. No matter how you cut it you are spending $4K for a desktop PC that has laptop parts. For some people that's fine, but I'd be remiss in my review to not highlight that especially for this audience who is more tech savvy. I leave it to the reader if that choice is justified for the cost and whether the Studio will hold its value in 2 years. Again, putting aside the CPU complaints I think the much bigger offender is the hybrid drive setup instead of a pure SSD. Next, would be the choice of an older laptop GPU versus something desktop-class.

Not sure why you are being so defensive with the "criticism rings hollow for me" statement, as I'm merely stating additional facts for readers. If I wanted to go on the attack then I could easily say that MS decided to go with a mobile form factor base, and you can't just shove a FCLGA1151 socket i7-6700 CPU into a mobile FCBGA1440 socket. Yeah, they could mix and match form factors, but pretty much no manufacturers do that. Further, the TDPs are 35-45 W vs 65, so they'd have to introduce a much larger cooling solution, and pour more heat out of the base.

I'm aware of all that as I spoke with the engineers who built it and asked those questions. I point those reasons out in the review too and in the videos. While I get all of that it still doesn't address the fact you are paying a lot of money for a moderately performing PC. Most of that cost is for the display, but it's still important to point out for those considering it. It's not the ultimate PC despite its price tag. Given a choice between a slightly larger base, or even higher cost but better components, I think even creatives would opt for it. After all, this device is limited even for video professionals, or 3D artists. Again, my bigger issue though is with the storage choice where size is not the limiting factor. In fact, it's the opposite as a hybrid drive system takes much more room than a single NVMe SSD.

Yes, but consider that Apple can give you two workstation-class GPUs AND up to 12 Xeon cores in a tiny trash can with one cooling fan. Granted, a Mac Pro costs an arm and a leg, but there has to be more middle ground for SS than 45W CPUs and mobile GPUs. There may even be a cost savings by sourcing desktop parts. I think SS2 will fix this, as the R&D can now go fully into improving the base and building a good cooling setup, just like they did with SP4.

Yeah, how this sits between an iMac and Mac Pro is an odd thing.

What's so dumb is the reviewer acting like some hardware design genius second guessing really smart people who do design for a living. Second guessing a device that is a breakthrough that is aspirational is hubris.

Nah, just calling a $4k desktop PC not really worth it with some boneheaded decisions like no USB Type C for an external GPU. Or how shitty a hybrid drive system is for performance. You may be confusing this with some fanboy site. I'm not here to give you the review you want, I'm here to tell you what I think about this device.

"Second guessing a device that is a breakthrough that is aspirational is hubris."

This sounds like fanboyism, sorry.

Professionals don't respond like that. I remember your fanboy stories about Windows Mobile/Phone. Try to engage readers without picking a fight. As for the review, it completely misses the point since you're admittedly not a CAD, drawing or design person. It's not a game of the highest performing hardware or nothing. MS has designed a device that works beautifully for its market. It exceeded their market acceptance expectations. No doubt the second rev, if any, will up the hardware specs but not as a general desktop or gaming box.

That's silly; not liking the review is one thing but it's his job to do reviews on Windows-centric products, it's not second guessing.

Product design is not as simple as you make it sound. Not every building a famous architect designs is one of brilliance or practicality. Really smart people that design for a living can still get it wrong. Usually that happens when they run out of budget or run out of time, or when a boss from above or a client gets involved. We already know they didn't get unlimited time and money. SS2 should get it right.

I thought it was a really well balanced review that managed to articulate the need to cut through the hype and beauty of the Studio (especially the display) to point out that underneath the glossy exterior are laptop class innards. If I was spending that amount of money on a piece of kit, I'd expect high end hardware throughout. Very valid points I'd say. I still want one!! ;-)

It's a great all in one and an important first step in recouping the R&D cost. If they came out with a version that was just a monitor, I'd be sorely tempted to pick one up.

It seems like it's targeted at graphics professionals - artists, graphic designers, even CAD engineers. Many SAN storage systems like Dell Compellent or NetApps have tiered storage. Hot data, or data accessed frequently, is stored in SSD RAID 10, and cold data, data rarely accessed, in HDD RAID 6 or 5. This is is a budget decision because of the price of SSD. As SSD prices continue to drop some companies have opted to go with all flash arrays. But don't be fooled it is STILL way more expensive to go all flash/SSD. I think this is what MS was thinking here. Install applications and keep hot files in the SSD, but allow designers and engineers plenty of cold storage for their large archives of data. At the same time help keep the price from getting more inflated then it already is. A 2Tb all flash option would increase the price almost by another grand. But I suppose at least giving consumers that option would have been nice.

Cost was definitely a driving factor. My issue is at $475 (SRP) for a 1TB 960 EVO versus 128GB SSD + 1TB HDD would the price differential really be massive? It def is for a 2TB SSD, which is crazy expensive as you point out. It just seems very un-Surface to me as Microsoft typically goes all-out on these products.

Firstly before the negative points ... I love this concept, it is a stunning head turner, clearly designed to cause a shift in paradigms.
So I think its shortcomings are actually interesting.
Clearly Microsoft had to compromise, but, in doing so they make a great conversation piece, and I think it's a conversation that is preferable to the one we would be having if this thing was compromised in form merely to add more speed to this design concept.
I can imagine MS being slain if the box that the monitor sat on was cumbersome and ugly.... ' but that box!' ;)
It was probably much wiser to make it a little undercooked but have us gushing over it's form and concept. So its price is high and its availability is a little low, this is all good, we can just keep drooling and saving up for SS 2 with all its ports and chips and SSDs. Meanwhile we'll see what its competitors look and smell like .
Maybe even Apple will wake up and smell something.
SS1 is merely a showboat and not really for any serious work.... yet. So.... I am a graphics professional, this is where it gets interesting, because, I actually don't think 'this' iteration is for 'us' lot at all, in practicality, that will also be SS2.
Everything Daniel says I think is pertinent to artists as well as anybody else.
We don't just need a pretty screen with pen pressure and pleasing design, artist are perhaps the most power hungry pc users of the lot.
We need high end video, so it's GPU up the wazoo and the fastest processor we can get. You start animating in 2d or 3d or you start painting with a big brush, using lots of layers or massive resolution and any artist will get in trouble very quickly with an underpowered machine.
Artists can use a lot of software and need it on the SSD. Maybe they might be musical too so then there's that.
All the SS's shortcomings are the first thing artists looked for after the intial 'oooh aahhh' of that beautiful screen and clean lines.
Not to mention that the pen actually lacks tilt and only has one side button.... really?
The Surface Studio illustrates perfectly like a concept painting, an image like our dream machine, but it's not ready just yet. Right now another machine that delivers the wow and actually delivers performance is the Wacom Studio Pro 16.
Another head turner with unusual specs ' a 16 inch pen and touch tablet ' with some serious firepower, this is another paradigm shifter which I would love to see more OEMs emulate... now that this really is for artists ...wealthy ones anyway.... sob.

Great comment and thanks for articulating that viewpoint.

Love the review except.... Up front, Daniel should have stated this device wasn't made for him and hewill provide a review from the perspectivce of the role the device was made for. He states this later in the review, but up front would have been a better disclaimer. Aside from that, as usual, Daniel provides a great nonbiased review and makes fantastic points. I too believe MS will shore up the shortcomings in v1 of the Studio in v2.... including the unusual choices for video and storage. Frankly, I believe they were made to keep the cost down some on an already very high priced system.

Daniel how does that new Dell monitor compare with the studio for functionality? IS it comparable? pen and totem? thanks!

Will have to take a look. I think you mean the Dell Canvas?

Yes, That's the one. I was looking at the new xps 27 but I don't think that has pen support so I guess the Canvas would be better. Plug my Laptop in, and go to work. I design custom motorcycles, ATVs, UTVs and snowmobiles. I also create custom parts on CNC machine and 3D printer. So one of these systems would be extremely valuable to me. Thanks for the information!

I am going on a dell buying spree this coming year....I am really liking their new stuff. I think I'm going to get an xps 15 touch and get either the canvas or xps 27" if it indeed has pen/totem support. I am anxiously awaiting your reviews on both of these new products! keep it up Daniel.

It's so over priced, people compalin about Apple but this is much worse. The specs are crap, I could build a PC more powerful for half the price and have a seperate monitor that I could use with other devices... I don't understand who this appeals to other than some niche business.

You don't get it... I could also build a faster car than Aston Martin, but wouldn't cone close to being as sexy.

Honestly? I'd say that a well built and cable managed custom build will be far sexier than a silver box with a monitor attached. Some of the offerings from InWin are epic. Pair that with custom cables and hardline water cooling, and you have pure art. Also over 4 grand for last gen laptop parts pushes even the artistic excuse a bit much.

Your more powerful PC would not have the amazing monitor, plus the creativity inputs the studio has. That's the draw (pun intended) of the Studio....Its for creating and image design.

The high end version does have NVMe for the disk.

Good find. The iFixit teardown shows it. You have to remove a few layers to access it, but it doesn't appear to be that far burried in the base.

Definitely don't want it. Too expensive, bad for maintenance, and the peripherals are incredibly limited and unattractive to me. $3,000+, and I would still need to buy a moose and keyboard I actually like, and it still wouldn't be a great option for my preferred uses: multi-screen data entry and gaming.

Keith, I can get ya a moose for free man! just come on up! In all seriousness...it's not for you.

You can thank the fantastic swipe keyboard of Windows Phone for that! 2017, and we still don't even have a moose emoji...

I just can't see consumers justifying the cost. I'm not a fan at all of all-in-ones for the desktop. I'd much rather marry up a screen like that to my powerful tower. But, again, that COST. I see something like the Studio being more for the SOHO market or larger.

No hardware product (Mac, Windows, or otherwise) has any business being non-upgradeable by users after the hardware has been purchased. Microsoft is getting into the "planned obsolescence as a service" segment that Apple has been surreptitiously championing at every hardware point and should be shunned accordingly. The Studio, despite its merits for being pretty, has no merits as a desktop-class computer - it isn't a desktop. It is nothing more than an un-portable laptop.

By definition, a laptop is portable. As in sits on your lap. What the hell is an un-portable laptop. Don't talk nonsense man.

SammyD97:
"By definition, a laptop is portable. As in sits on your lap. What the hell is an un-portable laptop. Don't talk nonsense man."

There are dozens of examples of "un"-portable laptops. Who stares at the "laptop" definition and ignores how it's being misused in the industry? "Laptop", as a defined type of computer form factor, is losing it's identity in the products that are using it e.g. Acer Predator 21X, Alienware 18, etc.; there are some "laptop" products that simply aren't lap-able. I used the "un-portable laptop" label to point out that Microsoft is using weak LAPTOP parts in a stationary desktop computer form factor (that can't be upgraded) while offering no desktop-class benefits outside of current usage that will require future upgrades that are impossible in the Surface Studio. Hopefully, you'll upgrade sooner rather than later in life to be able to encounter an

opinion

without taking umbrage.

It's called an all-in-one. That's basically what you get with some of those things, the same mobile-market CPU and CPU of laptops. The difference is you get a big screen that kills the portability. For years, all-in-ones have failed to carry desktop-grade guts, though the shrinking and improved cooling of hardware has started to change that. You weren't getting your K-series i7 and a big GPU in an all-in-one, you were getting some U-class CPU and M-class video chip.

More traditional 16:9. Thanks for making me feel really old. That's still new in the grand scheme lol

Ha ha for sure....half the people here probably never jones'ed out to a new 17" Viewsonic CRT!

Yeah. I want this, 100%. When I can afford it I will get one because for me, just like the Surface Pro and the cool things I can do on that with the pen and design etc., this is remarkably better. I don't need super powers with a processor or gaming. I use the Xbox for that. I can understand why people would want all SSD and faster processor though, but they'll have to wait until Studio 2. Some people are never happy with Microsoft - take ages to put something cool on the market or get it on slightly (very) prematurely and not be 'perfect'. Definitely this has a lot to do with inspiring OEM's. The screen itself is worth getting it, and bonus - it's a P.C! I think it is definitely bringing back love to the desktop and opening the window on such a stale room. Well done MS. As usual you rock.

By the way, I think that keyboard is great! I use it with my Pro 4 and it's beautiful to use. 🎈

Each time I watch your reviews Dan, each successive review is better than the last. This one did not disappoint. For me, I like this mainly because its a big Microsoft device. It looks good and would look great on any desk, including mine. But I have to settle for the OK look of my AOC and Acer I5.

Thanks! Appreciate the feedback.

Artists who draw 2D comic strips or other 2D art for display on a computer will love it. Their hardware power requirements aren't too high and the beautiful monitor by itself almost makes the purchase price worth it. It's just that good. Unfortunately, for many other artists that that do heavy Photoshop work, video production, or 3D, the Surface Studio would be adequate, but not ideal. And quite frankly, for that amount of money, it really should be ideal. If the monitor was sold separately at the full $3000 price, I think it could still make the case for being a decent value professionally. But as part of an all-in-one it actually becomes less valuable for many. It's a strange case of more being less. I do love how the resolutiom of the Studio makes the Wacom Cintiq 27" QHD now looks old, antiquated, and overpriced now though. Especially now that Dell has announced a Cintiq clone at only $1799. Thank you Microsoft for pushing the boundaries. I'm sure the next version of the Surface Studio will be even more awesome.

Microsoft Surface Studio Review: You'll want one, even if you don't have enough money to buy. Uhh

All I wanted was for Microsoft to listen to what most people have been asking and just released the monitor separately. I'd buy one in an instance.

The wireless Xbox controller support is so that you can stream your XBONE to the device. I do that to my Surface 3 Pro using a dongle. Having that dongle built in is a no brainer. Once the next XBONE comes out in Nov gaming on PC will not be a requirement. Clearly, they expect you to stream it to the device in 4k.

I've wanted this sort of big write-on screen ever since I got my first tablet. Photo editing using an external digitiser pad would be replaced with a natural touch where I want to edit.

I pre-ordered the top of the line Surface Studio the day it was announced and have zero regrets. I use it for programming and marking up documents and it has been perfect for both. In fact, prior to this system I much preferred reviewing printed documents to reviewing them on a computer. Now, I would rather review and mark-up documents on the Surface Studio over a printed document any day of the week. Aside from work, my family uses it for drawing, video editing, etc. and it has easily handled everything we have thrown at it. As I no longer play a lot of games on a desktop (that is what my xbox one is for) I have not noticed any performance issues. I do agree, it would have been nice to have a full ssd drive and I really would have liked to have seen a usb-C port, however, those would have simply added more reasons to buy this system and the lack of those do not take away from its game-changing usefulness. One stroke of that pen on the screen and all of the fret over specifications fades away. Given the opportunity to make this purchase again, I would do so in a heartbeat. Cheers.

If I get one of these instead of the dell, I would bite the bullet and install the full ssd in it. Such a sweet design.

Daniel Rubino, You got the details about the SSD wrong. Surface Studio with Intel Core i7 models use PCIe NVMe SSD instead of SATA III SSD.

If only microsoft would make a surface desktop to take advantage of the new gaming mode on windows 10.
Windows Central Newsletter
Get the best of Windows Central in in your inbox, every day!
Thank you for signing up to Windows Central. You will receive a verification email shortly.
There was a problem. Please refresh the page and try again.