Microsoft Surface Studio review: you'll want one, even if you don't need one
The Surface Studio may be too successful for its own good. It's not designed — or priced — for everybody, but it's still great.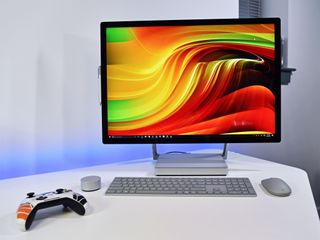 Microsoft's Surface Studio is perhaps its most ambitious – yet odd – addition to the Surface line yet. In many ways, it is the most inspiring desktop computer to launch at a time when PC sales are struggling for the fifth straight year.
Starting at $3,000 and going all the way up to $4,200, the Studio is a significant investment. What did Microsoft get right and what did they get wrong? There are plenty of pros and cons with the unique creation inspired PC that I found in my few weeks of using it.
For years now, PC manufacturers have been struggling with a way to get consumers interested again in desktop computers. The issue is not so much the hardware – or even the cost – but rather our time being divided between increasingly powerful phones, tablets, laptops, and even our TVs. Why sit in front of a clunky PC when you can do the same task on your phone?
To that question of what a desktop PC is for in the year 2017 Microsoft has at least one answer: artistry. Combined with the forthcoming Windows 10 Creator's Update in the spring and Microsoft is packing a double punch of inspiration for artists, engineers, architects and anyone that needs to use a digital pen for 2D and 3D creations.
Redefining what we use a desktop PC for, or perhaps, enabling a new ability is a smart move. In fact, it's the only move that can save desktop computers from complete obsolescence. The problem with that strategy and one that clearly faces the Surface Studio is perhaps too niche.
Big and beautiful
Microsoft Surface Studio Display
The Surface Studio is hands-down the most gorgeous, visually appealing desktop PC I have ever seen. That conclusion extends beyond a tech reviewer's experience — "normal" people who have seen my Studio also react viscerally upon seeing it for the first time. It all comes down to one reason: that display.
A 28-inch PixelSense display with a 4500x3000 resolution is the main attraction of the Surface Studio. I have no issue with claiming it's the best display I have seen on a PC. Part of that is due to the taller-than-normal 3:2 aspect ratio, which is a departure from the wider and more traditional 16:9 found on most desktop displays. I enjoy that layout for work, browsing the web and even gaming. The 3:2 choice mirrors the Surface Pro and Surface Book series and approximates what a pair of legal-sized sheets of paper would be like in an all-digital world. It's thin, it's bright, incredibly intense and supports sRGB, Vivid, and DCI-P3 color profiles. It's also a 10-point touch screen that supports inking using Microsoft's Surface Pen.
Within the display sit four speakers – two on the left and two on the right – plus a subwoofer within in the base PC, making it a Dolby Audio Premium set up. The speakers point down, are completely hidden, and they sound much better than you would expect. While it's no Dolby ATMOS, it's quite impressive considering the engineering design constraints that faced Microsoft.
The entire display is supported by a feat of engineering that Microsoft refers to as the Zero Gravity Hinge. Made from polished chrome that reflects light at angles away from your eye helps to diminish their visual presence. All the wiring for the display and everything up there — the speakers, touch panel, the camera — runs through the hinges, along with the finely-tuned springs that keep the display firmly in place but yet allow for nearly effortless repositioning from an upright panel to a nearly-flat worktop. The result is a seamless, clean aesthetic that you will surely take for granted despite the years of work it took Microsoft to achieve such a design.
A tale of two extremes
Microsoft Surface Studio Hardware
That jaw-dropping screen and futuristic hinge all sit atop what is likely the biggest disappointment with the Studio: the actual computer. Microsoft suggests that even without the PC guts the Studio's display would push it well beyond $2,000. A touch display of this size isn't cheap, and while I thoroughly approve of Microsoft's choice to use a 3:2 display, it's a panel they had to have custom produced as no other monitors use that unique size and resolution.
All of that makes the innards of the Surface Studio underwhelming. Granted, this is nearly always the case with all-in-ones but rarely do such computers start at $3,000.
With three different configuration options to choose from, the person buying the Studio must make some difficult choices. For one, all the storage options rely on an Intel Rapid Hybrid system that is a mishmash of a relatively fast SSD for the OS, and a slower, mechanical hard disk drive for mass storage. Your choices? 64GB SSD with 1TB HDD, 128GB SSD with 1TB HDD, or a 128GB SSD with 2TB HDD.
For as much as the Surface Studio costs, it's frustrating that there's no an all-SSD option, as you'll find on lesser-priced gaming rigs and high-end laptops. I don't see the issue with price if you're already getting me to consider a $4,000 desktop PC – why haggle over a few hundred more? These are not even the best components; the SSD is only SATA (and not the faster NVMe variant), and the hard disk is SATA 2 as opposed to the faster SATA 3. And while you technically can replace the Rapid Hybrid setup with a pure SSD after-market solution, it's far from easy and not for the faint of heart.
Next up are the processors. There are two options with a 6th generation Intel Core i5 (6440HQ) for the lowest configuration or a higher-end Core i7 (6820HQ) for the top two choices. I don't begrudge the lack of Kaby Lake (7th generation) Intel chipsets, as the benefit for desktop users is almost non-existent. But keep in mind these are 45W chips found in larger laptops and not a more powerful 65W desktop components like the preferred i7-6700. That's a significant drop in performance from 3.4- to 2.7GHz, with Turbo dropping from 4 to 3.6GHz.
RAM starts also comes in three configurations at 8, 16, and 32GB DDR4. There is also built in Wi-Fi 802.11ac (a/b/g/n compatible), a dedicated Ethernet port, and Bluetooth 4.0 for connectivity.
Finally, there are the GPU choices. Again, the options are outdated and skewed oddly. The options include an NVIDIA GTX 965M (with 2GB GPU GDDR5) for the two lower configurations with a higher-end NVIDIA GTX 980M (with 4GB GPU GDDR5) for the most expensive one. Neither of these is ideal for a top-tier desktop system in 2017 — they are laptop-class GPUs — but why force the user to choose at all even between the two Core i7 CPU configurations? Timing is blamed on the omission of NVIDIA's latest 10-series of Pascal GPUs, which is extremely unfortunate for such an expensive computer.
Microsoft claims that thermal considerations, the size of the base, overall cost, and keeping the fan noise to a minimum were driving factors behind these hardware choices. I get that, especially if hunched over the Studio while in draft mode as you want to avoid the experience of a working over a hair dryer. Nonetheless, dropping $4,200 for a PC that is made from outdated mid-range laptop parts does lead to disappointment. If for no other reason than it's self-limiting the Studio's appeal to a larger audience. Combined with the inability to upgrade most of the components yourself and the Studio is a very non-future-proofed investment.
If keeping noise low was a goal, Microsoft accomplished that task. In my tests, the Studio never went above 80db under a heavy load and usually hovered in the low to mid 70db range when measured inches from the base. When sitting with the Studio on a normal desk things drop to 60db range. While you can hear some general airflow from the Studio during normal operation, it's not distracting or annoying and in most office environments you won't even notice.
To recap, here are your three configuration options for the Surface Studio:
Swipe to scroll horizontally
| CPU | 6th-gen Intel Core i5 | 6th-gen Intel Core i7 | 6th-gen Intel Core i7 |
| --- | --- | --- | --- |
| RAM | 8GB | 16GB | 32GB |
| GPU | NVIDIA GTX 965M 2GB | NVIDIA GTX 965M 2GB | NVIDIA GTX 980M 4GB |
| Storage | 64GB SSD + 1TB HDD | 128GB SSD + 1TB HDD | 256GB SSD + 2TB HD |
| Price | $2,999 | $3,499 | $4,199 |
And that's it. Unlike many other PCs, there are no customization options here. I'm assuming that's due to Microsoft's drive to reduce production costs and delays, but there's no way to mix and match RAM, storage, CPU, or GPU choices. Want more storage? You'll have to pony up for the top-end system.
The Studio comes with the matching and minimalist Surface Keyboard and Surface Mouse combo in the box. Both are better than average, but full-time typists will want to use something a bit larger and more robust like the Surface Ergonomic Keyboard. Luckily, you can use any USB wired or Bluetooth-enabled peripherals you want with the Studio so feel free to pair and match various accessories. For those who preordered the Studio Microsoft tossed in a free $99 Surface Dial, which can be used on the display in conjunction with the included Surface Pen.
In the base of the Studio, you will find no less than four USB 3.0 ports, Ethernet, an SD Card reader, Mini DisplayPort, and a 3.5mm headset jack. These are in the rear of the Studio, which gives the computer an immaculate look from the front but makes inserting an SD card a blind adventure unless you physically move the darn thing.
What's missing, of course, is a USB Type-C port with Thunderbolt 3 support. USB Type-C is still an emerging technology, but there is little doubt over its usefulness, ease of use, and ability to handle many video and media tasks — especially the even-faster (40Gbps) Thunderbolt 3 variant. While not crucial yet for many people in a year or two the port is likely to be ubiquitous in our cadre of technological devices. The Studio has no answer for this and is just omitted.
The Mini DisplayPort lets you daisy-chain external monitors from the Studio, but there is no video input to the PC. That means you cannot use the Studio as just a 'dumb monitor' for some higher-end hardware, or even a Surface Book.
For a camera, Microsoft opts for a great 5MP front-facing one built with dual IR cameras for Windows Hello facial recognition. It's one of the best web cameras I have used, and the Windows Hello auto-login is such a fantastic addition that it makes using the Studio a joy.
As a traditional PC…
Putting aside the main raison d'être for the Studio — drawing and creation, which I'm not qualified to evaluate — how is it as just a PC? The only reason why the question is worth asking is that the appeal of the Studio goes beyond its intended audience, which Microsoft may not have anticipated.
Frankly, the experience of using the Studio for everyday web browsing, productivity (Office, Adobe Photoshop), and even light gaming is mostly fantastic. That opinion comes down to the display experience, which is so overwhelming as to overshadow the Studio's other hardware flaws.
Nonetheless, those flaws do exist. My main PC is a custom-built desktop tower with a speedy Samsung 850 Pro SSD. While not the fastest storage solution in 2017, it handles most app and game loading with ease akin to many high-end Ultrabooks. In comparison, the Surface Studio feels sluggish because of its Rapid Hybrid system. Sure, the OS and few apps that are in SSD seem fast, but as soon as something loads from the hard disk the slowness becomes apparent and disappointing.
The same doubly applies for any advanced gaming. Again, Microsoft makes almost zero claims when it comes to high-end gaming and the Surface Studio. But when eyeing that eye-popping display, it's hard not to want to do more with, it including running some quality FPS titles. Gears of War 4 does play on it, as expected, but those downgraded graphics are more noticeable on a 28-inch PixelSense display than a more forgiving 14-inch Surface Book.
Lighter titles like Pinball FX2 handle much better. The other oddity is the inclusion of Xbox wireless controller support. While it's great that Microsoft added that, and it works very well for casual gaming, it's a weird mixed message they're sending to gamers who may want a Studio.
All in all, for the average person the Surface Studio is a beautiful solution, so long as you can swallow the massive price tag. It goes without saying if budget and performance are considerations, then there are more suitable solutions you should consider, even if they're nowhere near as awe-inspiring as the Studio.
Above average, but not exceptional
Surface Studio Benchmarks
When it comes down to benchmarks, the Surface Studio is above average when compared to most PCs, but falls short of gaming PCs, VR-capable devices, or high-end 4K systems. None of that is too surprising, but for comparison here is some data collected from Futuremark's PCMark 8 and 3DMark (Time Spy) along with Geekbench 4.0 and CrystalDiskMark.
PCMark 8
Swipe to scroll horizontally
| Device | Score | Comparison |
| --- | --- | --- |
| Surface Studio 1TB | 3260 | Better than 67% of all results |
3DMark (Time Spy)
Swipe to scroll horizontally
| Device | Score | Comparison |
| --- | --- | --- |
| Surface Studio 1TB | 1531 | Better than 7% of all results |
Overall, the Studio does decently on PCMark 8 and 3DMark. Nonetheless, you can see how when it comes to high-end graphics the Studio struggles. One knock against the Studio is it's clearly not ready for VR gaming although it should be okay for some light holographic work.
Geekbench 4.0 Benchmarks (Higher is better)
Swipe to scroll horizontally
| Device | Single Core | Dual Core |
| --- | --- | --- |
| Surface Studio | 4200 | 13323 |
| Razer Blade 14 | 3774 | 12638 |
| XPS 13 (9360) Core i7 | 4120 | 7829 |
| Spectre x360 Core i7 | 4100 | 7469 |
| Apple MBP 13 (2016; 28W) | 4027 | 7802 |
| Surface Book Core i7 | 3948 | 7415 |
Regarding raw CPU, the Surface Studio fares better than a high-end gaming laptop like the quad-core Razer Blade 14 (late-2016). Considering the Studio's CPU and GPU are laptop-class components this result is expected. Still, those numbers are far below a "true" desktop PC setup with 65W Intel processor and a non-mobile GPU.
Geekbench 4.0 CUDA (Higher is better)
Swipe to scroll horizontally
| Device | Score |
| --- | --- |
| Razer Blade 14 GTX 1060 | 139603 |
| Surface Book GTX 965M | 63029 |
| Surface Studio GTX 965M | 53685 |
It's not entirely clear why the Surface Studio's GTX 965M underperforms when compared to the same GTX 965M found in the Surface Book with Performance Base, but the results were consistent across multiple tests.
CrystalDiskMark (Higher is better)
Swipe to scroll horizontally
| Device | Read | Write |
| --- | --- | --- |
| Razer Blade (960 EVO) | 2079 MB/s | 1809 MB/s |
| MacBook Pro 13 (2016) | 1549 MB/s | 1621 MB/s |
| Spectre x360 512 | 1332 MB/s | 589 MB/s |
| Surface Studio 1TB | 1327 MB/s | 512 MB/s |
| XPS 13 (9360) 256 | 1287 MB/s | 794 MB/s |
| Surface Book 1TB | 1018 MB/s | 967 MB/s |
The Surface Studio's Intel Rapid Hybrid drive (SSD + HDD) combo is not the best performer. Read speeds – what most people will experience when using the Studio – are akin to a quality PC Ultrabook in 2017. Write speeds, however, are dismal at 512 MB/s.
Clearly, upgrading the Hybrid drive to a pure SSD system based on something like the Samsung 960 EVO or even 960 PRO will yield double the reads and more than triple the write speeds. Unfortunately, while possible, the upgrade is very technical.
A victim of its success?
Microsoft Surface Studio: The Bottom Line
Microsoft's Surface Studio is an ambitious yet purposefully niche answer to a small demographic: creative professionals. That was likely the right decision to make too. In doing so, Microsoft does not need to sell this PC to the masses – both literally and figuratively. Nor would they want to as that would hurt their PC partners like Dell, Lenovo, and HP who all have unique, well-built all-in-ones for the average consumer.
Still, in creating the Surface Studio Microsoft may have made it too good in its overall appeal. There is not a single person who I spoke with or showed the Studio too who did not want one. That yearning, however, always comes with the caveat "…even though I don't need it." Most consumers don't draw, at least in a professional manner, to warrant such an expensive purchase.
Microsoft created a computer that many people want, but don't necessarily need. Putting aside the money issue some people will drop $4,200 on a nice PC. That's where those hardware choices by Microsoft become more apparent as missed opportunities. Spending $4K on a high-end computer is one thing, but spending that much for one with already outdated and underperforming laptop internals is another. Even still, I'm not convinced that creatives would shun a simple SSD option or better GPU. Faster is faster, no matter what you are doing.
Are those fair criticisms? Yes and no. Microsoft targeted a particular demographic, and for them, I think the Surface Studio is a success. Sure, artists may have a few requests here and there, but I think Microsoft's goal was achieved for this product.
The question is could Microsoft sell the Studio to even more people if their ambition let them? I think they could. The problem is Microsoft's hardware so far has been synonymous with consumers (Surface Hub, notwithstanding), whereas the Studio competes against long-standing drawing tablet maker Wacom. That's unexpected and a tougher message to deliver. Still, that's a good problem to have, right? I'm accusing Microsoft of creating a product that people want even if they can't justify it. That's the first step to creating a successful product line and opens the door for improvements with the next iteration. It's also a far better position than creating a product that has no direction or reason to exist.
For now, however, the Surface Studio should only be considered by and in the context of its intended audience – artists and creatives – while those without artistic abilities should aim for something more affordable and with better features. That's a tough pill for to swallow when you've seen it and you just want one. I totally get it. But odds are that the Surface Studio isn't for you. Maybe next time.
With the Studio, Microsoft again proved that they can create drool-worthy hardware and invent a new device category even as the desktop PC is well past its glory days. That's a resounding achievement and demonstrates that desktop computing still has a significant role to play in an increasingly mobile world.
Pros:
Amazing display
Beautiful, flawless design
Rethinks the concept of the PC
Fun to use
Cons:
Very expensive
Hybrid storage was a poor choice
GPU is for laptops, and is outdated
Odd configuration choices
Some confusing messaging
Get the Windows Central Newsletter
All the latest news, reviews, and guides for Windows and Xbox diehards.
Daniel Rubino is the Editor-in-chief of Windows Central, head reviewer, podcast co-host, and analyst. He has been covering Microsoft since 2007 when this site was called WMExperts (and later Windows Phone Central). His interests include Windows, laptops, next-gen computing, and for some reason, watches. Before all this tech stuff, he worked on a Ph.D. in linguistics, watched people sleep (for medical purposes!), and ran the projectors at movie theaters because it was fun.