The Samsung 960 EVO is a fast SSD for a lot of money, but is it worth it?
It's no surprise that Samsung's new top-end SSD is fast, but does it matter?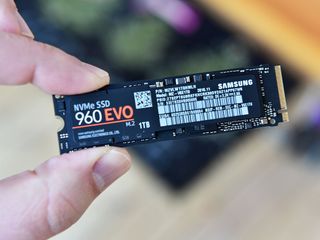 (Image credit: Windows Central)
Your PC has storage inside it. Most desktops, all older laptops, and cheaper newer laptops have cheap but spacious spinning hard disk drives (HDD), while newer laptops have speedy, durable, and expensive solid-state drives (SSD).
Samsung's new 960 EVO SSD is only bested by the even more expensive 960 PRO. Does it make a difference though and is it worth that premium cost? I put the SSD drive to the test in my Razer Blade laptop.
High demand, high prices
The Samsung 960 EVO started hitting shelves within the last two months, but it is only becoming regularly available on sites like Amazon in the last few weeks. Inventory is tight, and you may have to wait for one if you ordered it today (as of this review there is a 1 to 2 month wait for the drive).
Featuring PCIe Gen. 3.0 via the NVMe 1.2 protocol, this is Samsung's 3rd generation of V-NAND. The 960 EVO and 960 PRO also utilizes Samsung's new Polaris controller, and reports suggest it doubles the protection against performance degradation when compared to the 950 PRO.
Swipe to scroll horizontally
960 PRO
960 EVO
850 EVO
250GB
N/A
$140 ($0.56)
$100 ($0.40)
500GB
$406 ($0.81)
$268 ($0.54)
$170 ($0.34)
1TB
$630 ($0.63)
$480 ($0.48)
$316 ($0.32)
2TB
$1300 ($0.65)
N/A
N/A
Breaking down by size and price per gigabyte it becomes obvious how quickly pricing ramps up for premium SSDs. Granted, you can save more per GB by getting a larger size, but at $630 for the 1TB 960 PRO, you are essentially adding the cost of a cheap laptop to your computer.
Or you can go crazy with the highest-end 960 PRO: a massive 2TB configuration priced at $1300.
Performance on SSDs is broken down into read and write speeds. Here is how that looks across the spectrum:
Swipe to scroll horizontally
960 PRO
960 EVO
PM951
850 EVO
Read
3500 MB/s
3200 MB/s
1820 MB/s
540 MB/s
Write
2100 MB/s
1900 MB/s
600 MB/s
520 MB/s
There is a substantial difference between the Samsung 850 EVO, which came out exactly two years ago, versus the brand new 960 series.
In between those SSDs are Samsung's 950 line (also EVO and PRO) and their PM951, which is commonly used in high-end laptops and Ultrabooks like the Dell XPS 15 and Razer Blade. The PM951 is also a solid performer with 1820 MB/s read and 600 MB/s write speeds. I recently upgraded my XPS 15 (9550) with a similar Samsung 950 PRO SSD with excellent results.
How fast an SSD reads information is what most consumers experience with a tablet or Ultrabook. It is a measure of how quickly information is pulled from storage to be handed off to the processor. Read speeds affect everything from how fast the OS boots and loads system apps to starting your favorite 80GB video game.
Write speeds for storage refers to how fast something is committed to the SSD. Consumers see this performance when installing apps, games, and copying files. Windows laptops, compared to Apple MacBook Pros, typically lag in write speeds. Nonetheless, while having fast writing ability is nice, it is only those working with large files — video editing, enormous databases, and the like — that will truly see its benefits.
Benchmarks - Samsung 960 EVO at 1TB
For this review, I installed a 1TB 960 EVO into a late-2016 Razer Blade (14-inch) laptop. The SSD replaces the performant Samsung PM951 at 512GB.
Samsung's new NVMe Driver 2.0 (opens in new tab) was installed for final testing with no effect noticeable in the results.
CystalDiskMark (Higher is better)
Swipe to scroll horizontally
960 EVO
PM951
Read
2079 MB/s
1187 MB/s
Write
1809 MB/s
576 MB/s
AS SSD (Higher is better)
Swipe to scroll horizontally
960 EVO
PM951
Read
2345 MB/s
1455 MB/s
Write
1799 MB/s
153 MB/s
Comparing results of the new SSD to current high-end laptops yields the following results:
CrystalDiskMark (Higher is better)
Swipe to scroll horizontally
| Device | Read | Write |
| --- | --- | --- |
| Razer Blade (960 EVO) | 2079 MB/s | 1809 MB/s |
| MacBook Pro 13 (2016) | 1549 MB/s | 1621 MB/s |
| Spectre x360 512 | 1332 MB/s | 589 MB/s |
| XPS 13 (9360) 256 | 1287 MB/s | 794 MB/s |
| XPS 13 (9350) 512 | 1207 MB/s | 309 MB/s |
| Surface Book 1TB | 1018 MB/s | 967 MB/s |
| Surface Book 512 | 782 MB/s | 573 MB/s |
There is little doubt that Samsung's new 960 EVO stands apart from the competition. Compared to the manufacturer-based PM951 the 960 EVO doubles its read speed and triples the write performance.
Considering that the PM951 is already deemed to be a reliable performer for SSDs the 960 EVO is a very impressive piece of technology. But does it matter?
Real-world testing
While benchmarks are one thing, what about differences in using the Razer Blade? I picked the Blade specifically because it is a premium gaming laptop where top tier performance is expected. For this review, I loaded numerous games like DOOM (2016), Gears of War 4, Call of Duty: Infinite Warfare, Rocket League, and even Witcher 3.
My methodology included starting the clock from the moment I clicked a game to launch up to where I could hit 'A' on the controller to navigate a menu. All the games were loaded in 45 seconds or less with the default Samsung PM951.
Loading off the 960 EVO… was no different. There was simply no discernable difference between the PM951 and 960 EVO for loading games. If DOOM took ~40 seconds to load using the PM951 it also took ~40 seconds to load using the 960 EVO.
Such results reveal that a device like the Razer Blade with a quad-core Core i7 processor and GTX 1060 video card is already pushing the limits. The PM951 SSD is not the bottleneck on that laptop — it's the processor, which is already a class above most Ultrabooks that are only dual-core and running at a lower wattage.
Nonetheless, the above testing was about read speed. What about write performance for video rendering? Here there is a massive difference for people who need to render larger files and write to disk. In this test, we rendered a video file in Adobe Premiere Pro at 1920 x 1920 resolution. Output was at high bitrate H.264 with maximum render quality enabled. The resulting file was a 103MB MP4 video.
Adobe Premiere Pro 2017 (manually timed)
Swipe to scroll horizontally
960 EVO
PM951
Write
0:52s
4:00s
Here there is a world of difference. These results demonstrate a four-fold improvement in write performance, which is remarkable. If this were a 4K file, the time difference would be even more dramatic.
Conclusion: Speed isn't everything
In benchmarks, Samsung's new 960 EVO is jaw dropping. One could only imagine what the 960 PRO would be like (and we'll find out eventually when we put it into the Surface Studio).
Nonetheless, the 960 EVO is a tough sell to consumers looking to upgrade an already high-end laptop. That rule applies even for gamers loading triple-A titles that span 70GB or more. Sure, I can say my Razer Blade felt a little zippier in loading everything from MSN News to jumping between menus in games. But with no discernable difference in anything else, it is tough to justify the high cost.
Assuming you are trading your 500GB PM951 for a 500GB 960 EVO, the $268 won't result in any significant improvements. Price wise, the extra $460 for a 1TB drive is far from cheap, but at least it performs exceptionally well. All of this makes a case for the 960 PRO even more challenging to make for gamers or regular consumers.
For some Razer fans the choice for upgrading is now harder. New reports suggest that recent batches of the Razer Blade (late-2016) are now shipping with the PM961 SSD, which is a substantial increase in performance over the older PM951:
CystalDiskMark (Higher is better)
Swipe to scroll horizontally
960 EVO
PM961
PM951
Read
2079 MB/s
1478 MB/s
1187 MB/s
Write
1809 MB/s
1002 MB/s
576 MB/s
If your laptop has a PM961, I see no practical reason to upgrade to 960 EVO or higher.
For video and media professionals, however, the 960 EVO is outstanding. My results for rendering a video in Adobe Premiere Pro were so dramatic that we re-ran them a few times. Shaving minutes off processing a small video file only becomes more exciting for larger projects. That is where the 960 EVO and its more expensive sibling the 960 PRO truly shine.
See at Amazon (opens in new tab)
Of course, if money is no problem, then putting in a 960 EVO into any machine should yield a fantastic experience. Just keep in mind my real-world results and what you will be using the computer for so you can keep your expectations in check.
Windows Central Newsletter
Get the best of Windows Central in in your inbox, every day!
Daniel Rubino is the Editor-in-chief of Windows Central, head reviewer, podcast co-host, and analyst. He has been covering Microsoft since 2007 when this site was called WMExperts (and later Windows Phone Central). His interests include Windows, laptops, next-gen computing, and for some reason, watches. Before all this tech stuff, he worked on a Ph.D. in linguistics, watched people sleep (for medical purposes!), and ran the projectors at movie theaters because it was fun.
The 512gb pro version was going for £270 on Amazon UK a couple of days ago. I resisted.

I felt sad reading this. "Windows laptops, compared to Apple MacBook Pros, typically lag in write speeds.". I wouldn't have believed this if I read it a week ago but now I have to.
.
Had to copy 241GB of old home made videos into my Windows laptop and had to do the same for a relative who has a MacBook Air. One video of 15GB took 2-3 minutes in my PC. It took 23 seconds in the Mac.
.
My jaw literally dropped at the speed the files transferred from the USB 3.0 powered ext HDD into the MB.
.
Why is the default copying software of Windows so slow? (it capped at about 130MB/sec)
.
Also, a question for Daniel. You said this twice. You changed the SSD of your laptops. Did you have any issue in ACTIVATING the OS? Did you use some cloning software or was it a clean install?

Is your Windows laptop and MacBook Air using the same brand of SSD?? I would not expect such a huge difference in time for exactly the same SSD in both machines. The only way to fairly compare the two is with comparable hardware on both machines, then we know the true limitation of the OS.

Yeah I know. The hardware isn't the "exact" but the MB Air is around 2-3 years old. I don't know much about MacBooks but I think it had 8GB RAM and an i5 processor and probably a 512GB storage. Didn't have the time to check all the specs.
.
The Windows machine is an HP ENVY 15t with 256GB NVMe SSD, 7th gen Core i7 CPU, 8GB RAM.

It's just because Apple uses higher-quality SSDs that also cost much more (part of the 'Apple premium'). Thing is, most consumers don't notice as read speeds are what matters most of the time for consumption. We image the drives (clone) and have had literally zero issues. In fact, we just did Mark's SSD yesterday and he couldn't believe how easy/flawless it was. Just takes like an hour to backup/restore the image depending on size (400GB of data for us).

My laptop has a Samsung made 256GB NVMe SSD. That's what puzzles me. Also, mine is just 2 weeks old.
.
Is this cloning software free? Which one do you prefer?
.
And I agree, read speeds really matter. It's what makes the experience great.
.
Thanks!! :)

I use Macrium Reflect Free. O&O also have some free software for imaging. Samsung are good SSDs, but as the charts show performance varies greatly between models. As you can also see, putting a 960 EVO in your laptop will crush anything from Apple. Nonetheless, that price tag for most people won't really be worth it. It is for our videographer who outputs larger files in Premiere, but most gamers would never notice the difference.

Thanks for the quick reply, Daniel ! You people are awesome.

What do you mean YOU PEOPLE?! hahaha

They all run a great website, that's what !

with certain games you can certainly notice, try GTA V, btw as you have mentioned, using your desk pc would let the faster ssd be noticed

The cloning software is technically free; it's included in the price of the SSD.

Samsung's Magic Clone (I think it's called...) software is one of the big draws of buying their SSDs.

Right only issue is with a laptop SSD you need an external USB housing to actually clone the drive; using Macrium or O&O you can image your disk to a thumb drive, boot to it, and copy to the new SSD. Just different options.

Was about to ask this. How do you "copy" from the thumb drive to the new SSD? It's not like any other file, is it?
.
This might be asking too much, but is it possible to do a special video on this? :) Covering all possible scenarios.

We shot the video for this yesterday; being edited now and will be posted in a few days with a how-to article.

Did you already post the video/article ? I don't see it anywhere :(

This is why Apple is still the go to for video professionals and the like, they handle those kind of tasks quicker.

And out of the box. Most people won't be curious or tech-inclined enough to think of changing any parts of a new Windows laptop.

naaah, thats not an easy question. CPU/RAM has minimal impact on writing speeds. Its all about the HDD/SSD you are using + windows settings and rarely (outdated) drivers/fimware.. but sometimes a bad choice in the BIOS can cause seriuse slow downs too

I know.. I mentioned the CPU, RAM just for the sake of information. And all of my drivers/firmwares are up to date. Also, BIOS is up to date.

My BIOS had an option for older HDDs for quiet running (lower performance). That affects SSD as well. I didn't expect that to happen because I thought it was only to control the motor in HDD, but that wasn't true. My W10 boot time lowered from 4 seconds to 8 seconds with that option enabled. Once disabled, my Good old Dimension 9200 with 850 EVO went back to 3-4 sec boot time.

Then get a better SSD or USB3 controller. I just did a test on an EVO 850 and got 300MB/s copying to itself. I can do ~110MB/s onto mechanical drives which is being limited by gigabit Ethernet and not the mechanical drives.

I have the 950 Pro. Honking Fast. <10 second boot from the BIOS screen. Games and Microsoft Word load super fast ;)

received my razer blade (gtx 1060) from bestbuy yesterday.. came with pm951 .. bought a pm961 from amazon for just $145 (same size 250gb) benchmarks went from 300mpbs white to 1500mpbs..
passmark score is 15300pts which is higher than the 960 EVO according to their website.. so far I'm happy. also read somewhere its suppose to improve with battery life.

Great choice. Pm961 is a big bump in performance and a good value; no reason to go to anything faster unless you just have the cash to burn or need it for video output/rendering. It can improve battery life in the sense it's active less frequently because it's just faster; it's hard to gauge but I did notice about a 30 min gain in battery life in casual usage (with gaming, it doesn't matter).

I have a 1 TB Samsung Evo 960 in my Core i7 Surface Studio and it's a total screamer! I'm getitng nearly 3000 MB/s read and 2000 MB/s write speeds out of it now. Really makes the Surface Studio fly. Performing a storage upgrade in the Surface Studio isn't easy, but it's definitly doable. For those wanting to upgrade the storage in their Surface Studio, just be aware that in order for it to be done properly, it takes quite a bit more work than just swapping out the stock SSD and HDD drives for larger/faster SSDs. You need to make sure that you disable accelleration and split the "rapid hybrid drive" (which cannot be undone!) before starting the upgrade, and it's a bit tricky to get the OS properly installed (and activated) on the faster PCIe 3.0 X4 M.2 2280 SSD (instead of on the slower 2.5" SATA III HDD/SSD). The end result is well worth the extra effort though. Great article!

hah, thanks! Yeah, doing the Studio upgrade is on my to-do list, but as you pointed out there's a lot more going on there. We'll do a how-to and video for that upgrade though as soon as we figure it all out. I may ping you for some direct questions if they arise if that's alright.

Sure thing. I actually have a complete step-by-step detailed writeup on how I did the upgrade (it took me many days to figure everything out). I'd be happy to give a copy to you if you'd like. I had it posted over on the iFixit Answer Forum, but it has since been taken down because folks were getitng themselves into real trouble when releasing the SSD from the stock "rapid hybrid drive" caching setup. On the Core i7 models (only), there's no way to reconfigure the cache back to its default 128 GB configuration (119 GB actual), and so I didn't feel comfortable leaving the steps posted and causing Microsoft support grief (well, that and the fact that someone reported the post as "inappropriate" and tagged me as a spammer). Anyway, just PM me if you'd like the details. I'm happy to help. The Surface Studio really is a stunning machine.

sure, would love to take a look. you can either email me (Daniel at windowscentral DOT com) or even post it in our own forums. Cheers.

Okay, I've just set it to you via email. Enjoy!

One thing you guys missed to mention is that upgrading your Studio SSD may void your warranty...

Are we talking the m.2 connection in all these examples? Trying to figure out how this can relate to my 850pro on my Sata iii connection. if I can upgrade and if it's worth it. I don't have m.2. 4 yo mobo.

Any SATA Ⅲ drive won't make it past 600 MB/s due to the limitation of the bus. Though, if your board has SATA Express port(s), that jumps to nearly 2 GB/s.

Ok. Don't think so rampage I've extreme but will check the specs again. Thanks

I love articles like this. Its something I look forward to deep diving over the coming months. As a video editor upgrading from a HDD to a 850 PRO SSD delivered night and day results to the point I can now manager to work in a pinch with 4k footage on my 3 year old laptop. As I build my video editing rig I am going ahead with getting the 960 PRO as these files tend to be huge. Yes for 99% of consumers they don't need anything higher than the 950 EVO. Yeah I don't think people understand why Mac scores so well on tests. They know professionals tend to buy their macbooks so they put in higher spec'd SSDs so when they run apps it shows up being faster than PCs. Now higher end PCs are adding in pretty good SSDs and the performance differences have all but disappeared.

Gotcha ! Thanks for this bit. Makes sense.

You should be a candidate for one of those new Intel 3D-XPoint drives (Intel Optane)
once the become available and affordable ... Guess you'll by then might be tempted to invest in new computing hardware as well.

Holy crap!, and I thought my Evo 840 is fast !.

When I can afford to get a motherboard that supports NVMe I'll get one of these for sure

Well, I am doing a fresh desktop PC build so, a 256GB 960 EVO is likely to be used :)

I've had the 960 Pro 512GB in my desktop for a month when my 850 Pro died (need to RMA it still). I don't really think I notice any real difference in game load times since it's kind of throttled by the rest of the parts. I got it because it came with Watch Dogs 2 which was 60 at the time, which was enough for me to rationalize the price ($290). It does making copying large files around pretty much instant.

Dan thank for this write up. Much appreciated!
Very complete and well laid out making this easy for me to read and understand.

The reason I'm chomping at the bits for the 960 evo or pro is because I have started editing 4K and higher footage for film productions. Right now using a Samsung 850 PRO just doesn't cut it. Real world normal usage the 850 Pro does remain a great performer as my laptop speeds through the tasks i'm using when not editing. I always wondered what the secret sauce to Macbook Pros were and realized in addition to being able to optimize software and hardware Apple was simply using faster drives which helped a ton.

Surely, is there any crazy guy swapping MacBook pro SSD to HDD to see how the performance deteriorate? I would love to know.

FYI the 960 evo 250GB does have issues. Noted in tomsguide review of 250GB 960 evo.

Just built a new system and the motherboard has two M.2 slots, so I am now the proud owner of a 512 GB 960 Pro and a 1 TB 960 EVO. Why not, right?

What may be also important to consider is the price curve of FLASH memory. It will come down substancially, respectively the capacity you buy for one Dollar will go up.
Every manufacturer currently is quoted of stating that they will increase fab capacity for FLASH, hoping to take a piece of the market that is still held by mechanical drives.

4 minutes for 120 mb file? A typo or...?

Dan, in the bit where you talk about rendering from premiere pro, did you mean to say a video resolution of 1920 x 1080?

How does testing in the Surface Studio matter? It doesn't have amazing hardware to let the SSD fly either. In fact, the Blade might have better processors. Also, why no testing boot times or game install times?

Very tempting.
But unemployed.

I like this kind of original content from Windows central. You've grown strong. Keep them coming.

Gotta say, "$630...the cost of a cheap laptop." To me, $630 is a midrange price. A cheap laptop is around $200-$300. I guess you guys are spoiled at Windows Central. ;)

Honestly, as long as my PC boots within 20 seconds, I am happy. But for my phone or Surface-this would be wonderful

This is cool. I was thinking of getting an SSD for my Toshiba quad-core AMD L855D. wouldoneof the Samsung SSDs work for me or doI have to find something more compatible with my machine?

Which would you recommend for Dell XPS 15 (9550) with the 54wh battery?
1. Upgrade - PM951 256GB M.2 to Samsung 960 EVO 1TB PCIe NVMe - M.2 or
2. Add - Samsung 850 EVO 1TB 2.5-Inch SATA III Internal SSD
Windows Central Newsletter
Thank you for signing up to Windows Central. You will receive a verification email shortly.
There was a problem. Please refresh the page and try again.