Microsoft's Andromeda device described as 'new and disruptive' in leaked internal email
Microsoft's Andromeda device is now at the final stretch, and a newly leaked email gives us our first hint at how Microsoft is thinking about its next mobile device.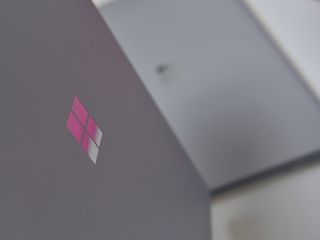 (Image credit: Windows Central)
Over the weekend, Microsoft's rumored 'Andromeda' device hit mainstream news when an internal email from Microsoft leaked describing its plans for a new "pocketable Surface device form factor." In the email, Microsoft describes its Andromeda device as a "new and disruptive" device category that "blurs the lines between mobile and stationary computing." This is the closest we're going to get to confirmation from Microsoft that Andromeda exists until its announced later this year.
The email also positions Andromeda as "bring[ing] together innovative new hardware and software experiences to create a truly personal and versatile computing experience." We first reported on Microsoft's Andromeda device back in October 2017, and the leaked email finally confirms a few things in our original article, including its pocketable nature and unique form-factor. Andromeda features two-screens in a chassis that can fold over, just like a journal. It also has pen support for inking and telephony capabilities for phone calls.
Andromeda is a big deal for more than just being a new device category however. It's the coming together of lots of projects that have been in the works internally at Microsoft for a long time, on both hardware and software sides. The software is very interesting, as it's Microsoft first port of call for its new Windows Core OS and CShell efforts, which attempt to bring Windows 10 into a more modern era by leaving behind legacy code and focusing on UWP as well as bringing new Windows experiences to device form factors that don't yet exist.
Windows Central understands that Andromeda runs a new version of Windows 10 built on Windows Core OS. It doesn't run full Windows 10, because that would be terrible. Microsoft refers to full Windows 10 as "Windows Classic OS" alongside its new "Windows Core OS." Windows Core OS is what Andromeda runs, with an Andromeda specific experience on top of it. The new Andromeda OS experience is yet to be seen by the public, but we'll hopefully have more to share on this front soon.
Andromeda also has a Continuum mode, which is alive and kicking and has improved two-fold since we last saw it on Windows 10 Mobile. The Continuum desktop is now almost exactly like the desktop you know today, including windowed apps, context menus, a system tray, and even the ability to pin icons to your desktop.
The leaked email is an interesting insight into how Microsoft is pitching this device. Many critics are unsure of why this device needs to exist, frequently asking who this device is going to be for. These are good questions, of which Microsoft are surely even asking themselves. But, this is par for the course for any new device form factor. Who needs something that doesn't exist yet? Andromeda's biggest uphill battle will be with ecosystem. For any mobile device to be successful, it needs apps.
Whether those apps are PWAs or native UWPs it doesn't matter. It just needs apps. Microsoft has already began combating this problem by automatically adding PWAs to the Microsoft Store, and hopefully the company is working secretly with major app makers to bring their apps to Andromeda too.
I first started learning about Andromeda back in 2016, and the project has come a long way since then. However, the project isn't safe from being canceled or delayed. The Surface Mini was killed just weeks before it was supposed to be announced. Mary Jo Foley is also hearing that a delay or even cancelation is possible for Andromeda, but this is pretty normal for any product in development. I worry the fallout of killing Andromeda would be bigger than just another canceled device.
Get the Windows Central Newsletter
All the latest news, reviews, and guides for Windows and Xbox diehards.