Update, December 2020: Surface Duo, 3 months later
To suggest Microsoft's Surface Duo is audacious would be an understatement. The costly $1,400 device delivers a new vision in mobile computing, now six years in the making. It is as much scientific experiment as science fiction — a radical rethinking of what phones could be in a technophilic world focused on data instead of voice calls.
This first-gen release is an important milestone for Microsoft, and the theory behind Surface Duo is mostly solid; that's the good news. But most people should also hold off on getting one until its software can mature.
What is Surface Duo good for, and why should anyone consider this form factor? There are some answers here that become clearer after spending a few weeks unfolding the future. Our Surface Duo review has all the details.
Bottom line: Microsoft's Surface Duo delivers a unique dual-screen experience with Android that holds up (at least conceptually). With ground-breaking hardware design and the right apps, it's game-changing. But some early jankiness with the OS, performance issues, and the lack of modern hardware holds it back.
For
Hardware design is fantastic
Hinge is flawless
Better than expected battery
Dual screens increase productivity (and fun)
Against
OS is buggy
RAM and CPU may be slowing down the experience
Expensive
Lacks Qi, NFC, more cameras, water resistance
Years of engineering (and it shows)
Surface Duo review: Hardware is nearly everything
In this Surface Duo review, evaluating the hardware was the easy part. Surface Duo is a screen and hinges that also happen to be a handheld computer.
Putting aside the notable hardware omissions (more on that below), Surface Duo is a technological marvel. The outrageously thin 4.8mm chassis (unfolded), Gorilla Glass 5 internal and external panels, and the dual hinges fine-tuned with NASA-level precision impart awe.
Each 5.6-inch AMOLED display has an 1800 x 1350 resolution giving a pleasing 401 pixel-per-inch (PPI) density. Each display's aspect is 4:3, but that changes when you combine the two screens, resulting in a 3:2 aspect found on all Microsoft Surface devices. The screens support wide-color gamut (WCG) with 100 percent sRGB and 100 percent DCI-P3, making them highly accurate for editing and viewing content.
Surface Duo FAQ: Everything you need to know about Microsoft's first dual-screen Surface
Display brightness is below that of Samsung's flagship Galaxy phones, but good enough to be used outdoors, even in the sun. The text is sharp, clear, and overall pleasing. On occasion, Surface Duo's display ramps to extreme brightness when powered on, only to slowly adjust down. It is one of the many bugs that are part of Duo's early days.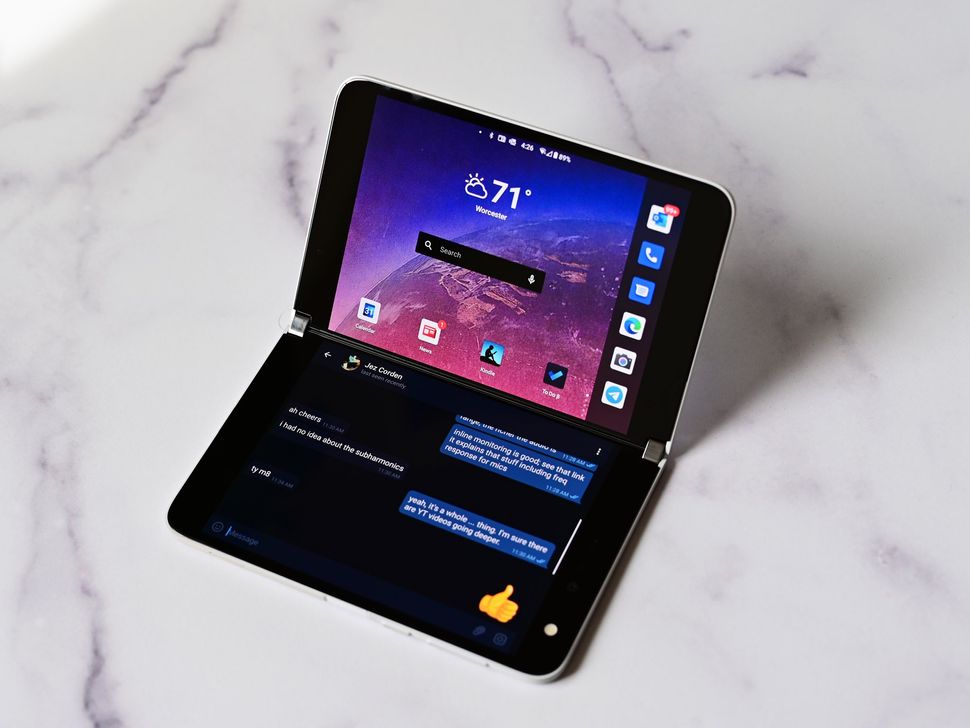 Swipe to scroll horizontally
Category
Specification
OS
Android 10
Display
Single: 5.6 inch (1800x1350), 401 PPI, 4:3 aspect ratio
Opened: 8.1 inch (2700x1800), 401 ppi, 3:2 aspect ratio
Type: AMOLED
Processor
Qualcomm Snapdragon 855
Network
WiFi-5 802.11ac (2.4/5GHz)
Bluetooth 5.0
LTE: 4x4 MIMO, Cat.18 DL / Cat 5 UL
SIM
Nano SIM + eSIM (no eSIM on AT&T model)
Network bands
FDD-LTE: 1,2,3,4,5,7,8,12,13,14,19 20,25,26,28,29,30,66
TD-LTE: 38,39,40,41,46
WCDMA: 1,2,5,8
GSM/GPRS: GSM-850, E-GSM-900, DCS-1800, PCS-1900
Memory
6GB RAM
Storage
128GB or 256GB UFS 3.0
Expandable storage
None
Camera
11MP, ƒ/2.0 1.0um, PDAF, 84.0° diagonal FOV
Audio
Mono speaker
Security
Fingerprint
Ports
1x USB-C 3.1
Battery
3,577mAh
Fast Charging using 18W in-box power supply
Pen
Surface Pen (not included)
Dimensions
Open: 145.2mm (H) x 186.9mm (W) x 4.8mm (T)
Closed: 145.2mm (H) x 93.3mm (W) x 9.9mm (T at hinge)
Weight
250 grams
Touch sensitivity is on the low-end, with some reports from other reviewers of typing errors and general inaccuracies. Some of this may tie into software, but it could also be a tradeoff with the digitizer and Microsoft's insistence on being thin. I had no issues typing, however.
There is a lot of angst regarding the bezels of Surface Duo. Behind them is where all the antennas and sensor logic lay, so it is not squandered space. Such bezels are necessary for rotating Surface Duo between its many positions without touching the display itself. While Microsoft could make these bezels a hair thinner, their functionality is apparent after spending a few minutes with the device.
Image 1 of 2
Between using Gorilla Glass 5 on the outside and going with a white chassis, Surface Duo is good at hiding any scratches or marring. For those worried about breaking the glass in a drop, Microsoft reportedly will have a program for fixing a cracked Surface Duo, though at the user's expense. You could, of course, purchase one of our picks for the best Surface Duo cases, as well.
To help avoid such damage, Microsoft includes a bumper case in the box. It attaches via tape due to the device's unique folding design and is not meant to be removed and reused. The bumper is excellent, not interfering with folding, and it adds some security and grip. However, for most of this review, I did not bother with the bumper because I found Surface Duo pocketable and easy to handle without it. The bumper rubber is a bit tacky, making it harder to pull out of your pocket while also picking up dust and lint.
While the displays and chassis are covered in glass, the hinge is polished metal. It seems resilient, although it could pick up minor scuffs. The hinge is terrific for opening and closing with consistency at every degree. It is essentially perfect, letting you open the displays with ease, but it also holds its place wherever you stop. There is no wobble, and because Surface Duo is so well balanced, it feels great to hold, especially in book mode.
Surface Duo's edges are a composite material meant to allow the cellular and Wi-Fi reception to pass through. That design also means there are no visible antenna lines. The composite is off-white and precisely cut for each Surface Duo, but it can also acquire unsightly discoloration, especially near the power and volume buttons. Using the bumper will prevent this, but this is one area where Microsoft can improve.
The power button and volume rockers are placed on the right side of the display and have an enjoyable click. Below them is the fingerprint reader, which is superb. I had no misreads during my usage, and it blows away the one Samsung uses in the similarly priced Galaxy Z Flip. The fingerprint reader is inactive when both displays are closed, but when left in "phone mode" or with the screens exposed, users can touch the reader to wake the device up and log in with ease.
On the bottom is a Type-C connector for charging. Here is where you can appreciate how thin Surface Duo is; if it were any skinnier, Microsoft could not even use a Type-C port. Included is an 18-watt fast charger with folding prongs. Of course, any Type-C charger, including higher wattage ones, can be used.
Surface Duo weighs 250 grams, nearly 25 grams heavier than an iPhone 11 Pro Max (226 grams). But because of Duo's design, most people think it is lighter. It's a subtle illusion created by having wide but thin displays.
Regarding pocket-ability, I wrote a whole article on that question. Surface Duo is a smidge wider than a standard U.S. Passport, a bit taller and thicker. Compared to an iPhone 11, Surface Duo is wider, but also a lot shorter. Carrying Surface Duo in a front jeans pocket, rear pocket, or even inner blazer pocket is very doable. Even female fashion, which is notoriously skimpy on pocket space, is acceptable.
There are plenty of clear drawbacks to the hardware. Surface Duo lacks Qi wireless charging, NFC, IP-resistance for water, a headphone jack, and support for dual SIM (though it has eSIM and nano-SIM, just not simultaneously). It misses the 5G hype train. At least for the lack of NFC for payments, if you have a Fitbit, you're good to go, or maybe it is an excellent opportunity to pick up a Galaxy Watch, as these wearables support tap-to-pay.
Image 1 of 2
While Surface Duo is missing many of the high-end features commonly found in smartphones today, the company was laser-focused on dual-screen functionality. Even adding NFC would be tricky on this form-factor. Putting the sensor on the back of Surface Duo seems obvious, but then your displays are closed. That means you may need a sensor on the front display too to work when rotated around. These are the challenges that Microsoft needs to solve.
So-so power
Surface Duo review: Performance and battery
Microsoft uses the 2019-era Qualcomm Snapdragon 855 – a flagship CPU of its time, now usurped by the Snapdragon 865 and 865+. The Snapdragon 855, however, is comparable in many ways to the 865 minus the mandatory support for 5G. That's a good thing as 5G right now is a lot of hype, with not a clear advantage for smartphones. 5G support drives up costs of the hardware while often reducing the battery life – both of which Surface Duo can't afford.
Using Geekbench 5.0, Surface Duo hit 737 on a single-core score and 2,815 for multi-core. The single-core score is similar to other phones, such as Samsung Galaxy S10 and S10+, while the multi-core does even better, beating out the Samsung Galaxy Note 20 Ultra with Exynos 990 (2,695 on Geekbench).
Benchmarks are one thing, and real world-usage, especially when powering two displays, is another. Surface Duo is, at best, OK for performance. When combined with the so-so 6GB of RAM, no one will accuse Surface Duo of being fast. Instead, it is acceptable, and some would accuse me of being too generous there. Sometimes, Surface Duo is slow to wake up; other times, Microsoft Edge can take up to seven seconds to resume. Minimizing window animation can be janky as well.
It is not uncommon with 6GB of RAM to have just 700MB left to spare after a few hours of usage. When devices like Samsung's Note 20 Ultra are shipping with 12GB of RAM, you have to wonder if Surface Duo would have fewer performance slowdowns with a similar configuration. It is also unclear if the lack of software optimization may be a culprit or a combo of both.
In specific scenarios like heavy web browsing or video streaming, the back of Surface Duo could get noticeably warm to the touch, but never hot.
Image 1 of 2
Surface Duo battery life is an unexpected bright spot. While many have written off the comparatively small 3,577mAh battery — especially when powering dual displays — it's good enough. The lowest I ever achieved for the remaining battery life is 25 percent. Most days, I was closer to 45 percent. While you need to charge Surface Duo every night for most people, it should last the whole day with moderate usage. Screen-on time was close to five hours. Standby battery is also excellent as Surface Duo barely uses any juice when its displays are closed.
Better than expected
Surface Duo review: Camera and images
Prospects were low for Surface Duo's meager 11MP front-facing camera. Back in January, we tempered expectations, knowing that Microsoft's focus was more about productivity than pixel-peeping.
Our Surface Duo review proved us right and wrong. The f2.0 lens and Phase Detection Autofocus (PDAF) pale compared to any 2019 or 2020 flagship phone from Google, Samsung, or Apple. Considering many of those phones have multiple lenses for ultra-wide and telephoto and larger sensors and advanced software, it seemed unlikely Microsoft could compete.
But Surface Duo's camera is, dare I say, competent. In outdoor and even indoor scenes with adequate lighting, it's decent for social media. I've been quietly sharing photos on Twitter, and no one said a thing. Microsoft's color science, contrast, and overall balance are quite pleasing. While 11MP limits details, it seems doubtful you will be embarrassed sharing your weekend vistas to Instagram or Facebook. Images are a little soft and washed out, but those are easy post-fixes too. Upping saturation and adding some sharpening is easy compared to the alternative.
Image 1 of 15
Low-light shots, especially at night, are just foul. There is no "night mode" sadly, so results are muddied with lack of detail and high levels of noise. There is a flash to help, which is not awful, but flashes on phones these days are more about being a flashlight than to assist in photos.
As far as front-facing images, these too are satisfactory and even quite good. Microsoft tuned the software for either world-facing or self-facing scenarios, and it gets the job done for use with Microsoft Teams. The camera overall seems on par with Samsung's front-facing camera in the Note 20 Ultra.
The software to handle the camera is curious. When Surface Duo is opened and the camera launches, it defaults to a front-facing orientation on the right display. Going into "phone mode," with the left screen folded behind the right and rotating, it switches the camera to a rear-mode with camera controls on the left screen. It's all awkward.
I recently reviewed Samsung Galaxy Note 20 Ultra and have an iPhone 11, so I'm thoroughly familiar with the best-of-the-best, but Surface Duo has been good enough for what I need. Of course, cameras can always be better, and hopefully Microsoft can continue to refine things.
VoLTE and Wi-Fi calling
Surface Duo as a phone
Surface Duo call audio quality is fantastic. In one instance, the person I was speaking with thought I sounded like I was using Wi-Fi calling – "You sound like you're next to me," is what I was told. While Surface Duo does support Wi-Fi calling natively, I was not using it at the time. The earpiece is crisp and loud.
Answering calls is also effortless. When one comes in, you open Surface Duo to see who it is with onscreen buttons for hanging up or answering. Instead of pressing a button, however, you can just rotate the display back onto itself, a.k.a "phone mode," which automatically picks up the call. Closing Surface Duo hangs up the call.
Image 1 of 2
Voice over LTE (VoLTE) is also natively supported, as are nano and eSIM profiles (though not simultaneously, so it is not genuinely dual SIM). The unlocked model supports T-Mobile, Verizon, and AT&T, plus world bands for GSM and LTE. All those U.S. carriers were tested for this review, and all worked without a hitch. Sprint users need to pick up a T-Mobile SIM due to the merger.
For AT&T users, things get tricky. If you want VoLTE, Wi-Fi calling, and other carrier-specific functions like native visual voicemail, you need to get the AT&T model. AT&T has stricter rules about such things.
Holding Surface Duo up to your head during a call is weird, but nothing too strange if you have used a Lumia 1520 in the past. It never bothered me.
A bit green
Surface Duo review: Software experience
Microsoft is shipping Surface Duo with Android 10, and it has the September 5 Google security update as I write this review on September 6. The Note 20 Ultra is still on August's update by comparison. With three years of committed Android updates, including Android 11 as soon as it is ready, there is a lot of room for Microsoft to improve the experience. That's terrific as this device needs it.
Microsoft is working with Google on all the changes and modifications to make Duo happen. The uptick to that partnership is monthly security, and fixes should be very timely as there are extraordinarily little "forked" OS modifications here. That differs from Samsung, who notoriously bends Android to its will with customizations and overlays, often resulting in delayed updates. The downside, however, is Surface Duo is barren right now with only core functions and features.
Because this is nearly a vanilla version of Android 10, things like Android Auto work just fine. The same applies with casting and other Google features.
Image 1 of 2
Stability for Surface Duo is a moving target. More than half of this review was conducted with build 2020.723.130, but Microsoft pushed out 2020.812.86 on September 4 as a day-one update. That update improves "device stability, the stability, performance and image quality of the camera, calling features and stability, and in application gestures- especially when dismissing or moving apps to full screen."
These updates make a big difference, but there are still lingering issues. One is the delay for Edge to resume and the overall slow responsiveness of the OS. The version of SwiftKey that ships cannot move the cursor via the spacebar (the beta version has this). Peek mode (whereby you can view the time and date by cracking open the display slight) does not show notifications. There is no double-tap-to-wake or always-on-display (which would be amazing to use Surface Duo in tent mode as an alarm clock and calendar). You cannot change icons with Microsoft Launcher, and there is no Timeline support or advanced abilities like blurring the background.
To be fair, this initial release's focus is to get the core experience of dual screen functionality right. For the most part, Microsoft has succeeded. But the company seems to be aware that Surface Duo needs some time to grow and evolve. Microsoft's Chief Product Officer Panos Panay in a recent interview said the following regarding Surface Duo:
Some of the work done by Microsoft is very creative. When Surface Duo has both screens on, and an app is opened on the right side, the keyboard shifts to the right, letting you type (or swipe) with your right thumb. The same happens on the left side. Going into "compose mode," where the phone resembles a laptop, users can put SwiftKey into thumb-layout, letting you type quickly. Switching apps between screens or spanning them across both works very well.
Microsoft apps included with Surface Duo
Microsoft Office: Word, Excel, PowerPoint, Office Lens, PDF reader, and More
Microsoft Outlook
Microsoft Teams
Microsoft OneDrive
Microsoft Edge
Microsoft OneNote
Microsoft To Do
Microsoft News
Microsoft Authenticator
Microsoft Bing Search
Intune Company Portal
LinkedIn
Microsoft Solitaire Collection
Surface Audio
Microsoft SwiftKey
Google apps preinstalled on Surface Duo
Google Search
Google Assistant
Google Calendar
Google Drive
Google Duo
Google Photos
Google Play Movies & TV
Google Play Store
Google Maps
Chrome
Gmail
YouTube
YouTube Music
Contacts
Messages
Phone
Files
Clock
Calculator
Sound recorder
I think many of these initial concerns are expected with a new form factor and an early Surface Duo review — this is firmly in the early-adopter territory. Refinement is something that can take months and years. None of these bugs completely ruin the experience, there were no OS crashes or loss of data, and the 2020.812.86 update does a lot to make the ride smoother.
The good news is while Surface Duo is buggier than I would like, the solution is software tweaks and optimizations — not a fundamental issue with the device itself. That said, it may be best to let Surface Duo bake a bit before taking a bite.
Multimedia time
Surface Duo pen, gaming, and media
Microsoft did not send a Surface Pen for reviewers, although my Slim Pen with Surface Pro X worked fine and it's one of the best Surface Duo accessories available right now. Any in-market Surface Pen works, but let's just say inking support is barely here right now.
Inking and note-taking
Microsoft Surface Slim Pen
Inking on the go

With a focus on pocketable productivity, the Surface Duo (soft of) embraces digital inking. The form factor mirrors a notepad, making it ideal for quick note-taking, annotations, and sketches. The device supports most Surface-branded pens, but the newest Surface Slim Pen fits best with an ultra-portable design.

The Microsoft Surface Slim Pen trims the fat of its alternatives, measuring 136.8mm long, and 11.3mm by 6.3mm thick. It's also the only rechargeable Surface Pen, using an included wireless cradle to top up the 15-hour battery life. When eyeing a new stylus, this is the one to buy.
Since Microsoft is working within the Android system, there are no advanced Samsung S Pen-like enhancements. The Surface Pen simply works wherever app developers have put it, like Microsoft OneNote, Sticky Notes, Office, Adobe Acrobat … and probably not much else.
Image 1 of 2
There is no need to pair Surface Pen with Surface Duo as the top button has no function, and there is no optimization or features enabled. Inking is OK, but far behind Samsung and its Note 20 series. However, Surface Duo's form factor and screen size make it more enjoyable to write with due to space considerations.
Microsoft's Your Phone is here instead of any type of Samsung DeX-like big-screen experience. Your Phone is a wireless connection that works on any Windows 10 PC, letting you receive and respond to text messages, take calls through your computer, manage phone notifications, and even mirror your Android phone's display. But Your Phone here is behind where Samsung's high-end phones are currently, with no support yet for the new "Apps" feature — instead, it is mirroring via "Phone screen."
Gaming on Surface Duo is fun. You can run games on either display or even two at a time, kind of. Cloud gaming via Microsoft's Project xCloud, or GeForce NOW, Project Stadia, all work as expected. Simply pair up an Xbox controller via Bluetooth, and you are good to go. Playing Destiny 2 as part of my Surface Duo review, via streaming over Wi-Fi, was an impressive experience. Unfortunately, Microsoft has not implemented any onscreen controller support teased in the original Surface Duo sizzler. Seeing as Duo is not being positioned as a gaming machine, that seems rational, albeit still disappointing.
Video and television, such as YouTube TV, are good too. The display aspect leads to some odd black bars, but because you can position Surface Duo in tent mode or compose mode, it makes up for that experience. While you can span a video across both displays, most will disfavor the gap.
There is no headphone jack, so make sure you have a pair of Bluetooth headphones. Surface Earbuds paired with no fuss and worked as well as you would hope.
If you want to use a speaker, there is just one on the left display near the top. Surface Duo is a far cry from the dual-speaker setups with Dolby enhancements of modern high-end phones, but the speaker and audio are better than expected. It's not great for music, but it works well for spoken words, making it best for video meetings and voice collaborations.
But how IS IT?
Surface Duo and the theory of dual displays
At the crux of Surface Duo is the question of dual displays and their efficacy. These are early days for Microsoft's vision, so many of these dual-screen experiences are limited to Microsoft's inbox apps like Outlook, To Do, Office, Microsoft News, and some third party ones like Adobe, Spotify, Amazon Kindle, and Mylio (photo editor). Of course, even without dual-screen optimization, any Android app can run on Surface Duo.
App experiences like Microsoft News, Amazon Kindle, Microsoft Teams, Adobe Acrobat, and Outlook do light up Microsoft's "spanning" vision on Surface Duo. For example, Microsoft News lets you browse articles on the left side while reading the selected story on the right. That is clever, but what is ingenious is the ability to go into "reading mode," which formats the news article to span Surface Duo like a book.
Amazon's Kindle is also stunning. It, too, lets you read a book with each page on each of Surface Duo's displays. The page-turning animation is lovely, allowing you to see the flipped page with reverse print. It's very Apple-like.
Microsoft Outlook is more familiar, browsing your email inbox on the left side, while reading specific emails on the right. It may seem obvious, but this method of triaging your inbox is game-changing for email fanatics. Photo-organizer Mylio also lets you browse photos on the left while editing a specific picture on the right. While I find Mylio's toolset a bit baffling, it shows the power of this concept. Adobe's Acrobat Reader lets you read a PDF on the left side while inking, highlighting, or signing the document on the right.
Another ingenious feature is app pairing, where you can link two apps together to launch at the same time. Pair up Microsoft Teams and Outlook to launch as your out-of-bed app experience. I use FedEx and UPS apps to track packages, or Ring and Eufy, for security. You can pair any Android app with another – Instagram + Twitter, Facebook + OneNote, New York Times + Washington Post. It takes multitasking to a new level. The same applies to "drag and drop," where you can drag a news article into OneNote, or something into To Do. It is also paradoxically like using Windows.
Image 1 of 2
And that is the sum of where Surface Duo excels: immersion. While some just want a pocket phone to check a message, view Instagram, and take a call, Surface Duo is better for sitting down and going in deep to your email, reading, taking notes, document creation, or collaboration on Microsoft Teams.
Surface Duo is a powerful concept. It's also one that many people likely do not need. Some do, however, and they will appreciate what Microsoft has enabled with Surface Duo.
What about answering calls or hearing notifications come in, and did I ever tire of opening Surface Duo for the basics? No. I love how closing Surface Duo kind of shuts that world off to let me focus on another task. While my Samsung Galaxy Active 2 watch worked great with Surface Duo, I never felt I needed to have it (I unpaired after a day to go back to a regular watch). I also never dropped Surface Duo, had problems carrying it, or using it daily. While one-handedness is non-existent, the ability to dive deep into my work is a notable tradeoff.
Only for the bold
Should you buy Surface Duo?
Who it's for
Those who want to be more productive while mobile
Fans of Microsoft 365, Surface, and Android
Early adopters
Those who aren't worried about the price or who have a modern phone to trade-in
Who it isn't for
Those on a budget
Those who prioritize familiarity and are OK with current phones
Those who want the best camera experience
The conclusions of this review are simple. Premature software, the lack of optimized dual-screen apps, missing hardware, and the high price are good reasons to stick with your current phone. This advice is also accurate for iPhone users, who will find switching to Android and a new form factor particularly unsettling.
Those who know Android, love Microsoft 365 and Office, and continuously consume information would benefit most from Surface Duo, so long as you know what you are getting into this early, you shouldn't be disappointed with it.
Pricing starts at $1,400 for the 128GB model, and for $1,500, you can knab 256GB — both with 6GB of RAM. Microsoft is making it easier on your wallet if you're upgrading from an iPhone 11 Pro or Samsung Galaxy Note 10+, as you can get up to $700 back, halving the price. The Microsoft Store also offers a generous 60-day return policy, along with matching prices, should it drop in 60 days.
If you are interested in buying Surface Duo, my advice is straightforward: Maybe wait a few months to see how the software improves. Utilize Microsoft's 60-day return policy to try Surface Duo yourself. Reading a review of Surface Duo is hugely different than living with it. The same is true or trying it in a store for five minutes. Do not buy Surface Duo as a secondary gadget — you need to go all-in; otherwise, it is too bizarre. Drop-in that SIM and embrace dual screens.
I can't wait to see what Microsoft does with Surface Duo in the next year. Do software updates ameliorate early jankiness and bugs? Do apps like Twitter, Edge, websites, and media apps follow Microsoft and Google with dual-screen optimized apps, or does it stay isolated to only a few? These questions will seal the fate of Microsoft's dual-screen mobile dreams.
Microsoft gets points for a radically new mobile idea that has genuine merit. Microsoft loses points simply because the software is halfbaked, and it needs more dual-screen apps; but nothing is fundamentally wrong with the underlying concept. With a few updates, Surface Duo could absolutely be life-changing, opening new doors for working on the go or the couch. But if you're going to buy Surface Duo, but it for what it is, not what it may be.
I am going to continue using Surface Duo as my primary mobile phone. I legitimately want to. Surface Duo represents a shift in mobile technology, and I'm here for it today.
Now available (in the U.S.)
Two screens are better than one.

Microsoft delves into the future of foldables with an ambitious dual-screen device, featuring two ultra-thin 5.6-inch AMOLED displays bound by a 360-degree hinge. This pocketable inking-enabled Android smartphone marks the latest in the Surface lineup, geared for mobile productivity.
Main
Surface Duo, 3 months later update