Surface Duo specs: 11MP camera, Snapdragon 855, 6GB RAM and more
Here's the official specs list for Microsoft's Android phone.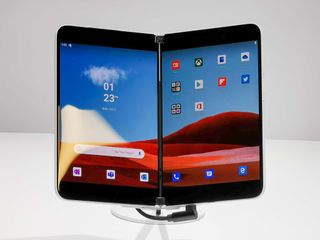 (Image credit: Windows Central)
The Surface Duo is now official! Microsoft has unveiled everything you need to know about its first dual-screen Android smartphone, including specs, price, and release date. It's coming September 10 for $1,400, and features a Snapdragon 855, 6GB RAM, and 128GB and 256GB storage configurations. Here's the full specs list:
Surface Duo specs
Swipe to scroll horizontally
Category
Surface Duo
Operating System
Android 10
Display
Single: 5.6 inch (1800x1350), 401 ppi, 4:3 aspect ratio
Opened: 8.1 inch (2700x1800), 401 ppi, 3:2 aspect ratio
Type: AMOLED
Wide color gamut: 100% SRGB and 100% DCI-P3
Corning Gorilla Glass
Processor
Qualcomm Snapdragon 855
Network
WiFi-5 802.11ac (2.4/5GHz)
Bluetooth 5.0
LTE: 4x4 MIMO, Cat.18 DL / Cat 5 UL
SIM
Nano SIM + eSIM (no eSIM on AT&T model)
Network Bands
FDD-LTE: 1,2,3,4,5,7,8,12,13,14,19 20,25,26,28,29,30,66
TD-LTE: 38,39,40,41,46
WCDMA: 1,2,5,8
GSM/GPRS: GSM-850, E-GSM-900, DCS-1800, PCS-1900
Memory
6GB RAM
Storage
128GB or 256GB UFS 3.0
Expandable Storage
None
Camera
11MP, ƒ/2.0 1.0um, PDAF, 84.0° diagonal FOV
Optimized with AI for front and rear
Audio
Mono speaker
Dual mic with noise suppression and echo cancellation
Qualcomm aptX Adaptive
Security
Fingerprint
Ports
1x USB-C 3.1
Battery
3,577mAh
Up to 15.5 hours of Local Video Playback
Up to 10 days of Standby Time
Up to 27 hours of Talk Time
Fast Charging using 18W in-box power supply
Pen
Surface Pen (not included)
Dimensions
Open: 145.2mm (H) x 186.9mm (W) x 4.8mm (T)
Closed: 145.2mm (H) x 93.3mm (W) x 9.9mm (T at hinge)
Weight
250 grams
Snapdragon 855 vs Snapdragon 865
I'm sure many of you are wondering why Microsoft isn't using the latest Snapdragon processor from Qualcomm inside the Surface Duo, and the reason seems to be rooted in the fact that Qualcomm requires all smartphone makers to include a separate 5G chip with the Snapdragon 865. Surface Duo's internal design was finalized way before that requirement was known about, and therefore doesn't have room for the additional 5G chip that's required when using the Snapdragon 865.
If Microsoft were to use the Snapdragon 865 inside the Surface Duo, it would have to significantly redesign the hardware inside and out to accomodate the required chip, throwing out most of the work that Microsoft has put into Surface Duo V1. Critics have touted the Snapdragon 865 as a step backwards in smartphone design for this very reason, as it also uses more battery and increases the price of smartphones. This should change when Qualcomm builds a 5G modem into the System on a Chip (SoC.)
Either way, the use of last year's flagship processor shouldn't degrade the experience in any way. The Snapdragon 855 is still an excellent chip with great performance and efficiency.
It's important to remember that Surface Duo isn't about raw specs; it's about form factor. Most of the innovation coming out of Surface Duo is in the 360-degree hinge and dual-display setup. That said, for $1399, there's a lot of old tech in here that many people won't be able to justify.
If you are able to justify it, make sure you kit out your new Surface Duo with some accessories. Need some inspiration? Check out our best Surface Duo accessories roundup.
Preorders today!
(opens in new tab)
Two screens are better than one.

Microsoft delves into the future of foldables with an ambitious dual-screen device, featuring two ultra-thin 5.6-inch AMOLED displays bound by a 360-degree hinge. This pocketable inking-enabled Android smartphone marks the latest in the Surface lineup, geared for mobile productivity.
Windows Central Newsletter
Get the best of Windows Central in in your inbox, every day!
Zac Bowden is a Senior Editor at Windows Central. Bringing you exclusive coverage into the world of Windows on PCs, tablets, phones, and more. Also an avid collector of rare Microsoft prototype devices! Keep in touch on Twitter: @zacbowden.
Hopefully the price won't be in the stratosphere (looking at you Samsung), and hopefully the camera is at least decent. The camera doesn't have to be mind blowing, or even great, but it does need to be decent. Can they cram A Surface camera in a phone? The SD 855 is almost a plus in my mind, as there won't be any 5G in my area for some time. Don't need that extra battery drain for something I'll never use.

It also keeps the price down compared to the 865 and 5G modem that's required with the 865

Looking at other Surface products, it will be cheaper to go to the moon and back!

Other Surface products compete with Windows oems, Duo won't. (maybe this is wishful thinking on my part :) )

you know how we know Microsoft is making the better decisions on the design? Look at the rumors of the new Samsung Galaxy Fold 2. They're removing the front display. they're cutting down the number of cameras. and they're still trying to figure out how to get real glass. the rumors for the Galaxy Fold Lite is 4G only. no outer display or the mini display of the Samsung Z Flip.

Just have to get this. It's in a way the Surface Pro 1 and 2 of dual screen phones. If they stick to it, the next iteration will be the Surface Pro 3 equivalent, that defines the new normal for dual screen phones. Can't be bothered about NFC, wireless charging (never really use any of those), 5G is not a topic for next 2 years imho, and camera just needs to be acceptable, I don't take photos seriously anyways. The 855 is sufficient for a phone. Only disappointing thing is ironically the Android OS, although I completely understand the mobile app situation. Maybe sometime in the not too distant future we get a W10X version? No matter how long I use Android, it just doesn't ever feel coherent, even up to Android 10, it's hard to explain. In any case, this is a must have, just to feel what everyone has been hinting about them hinges haha!!

Sir, I agree with & echo every line of your comment. Especially the hope that a 10x version comes out

I love my Samsung S10+ (which also uses the 855). However, I'm excited to get the Surface Duo. I am a bit bummed about lack of NFC. I love using Samsung Pay to make payments. It's even better than Apple Pay because it's more compatible with more stores. Maybe I'll keep my S10+ around for photos and digital payments (run the hotspot on the Duo). the rest of the 865 benefits won't make a difference to me. I know 5G won't really be here for years in the US. Let all those other suckers pay higher for 5G that doesn't work in enough locations. I'll wait until 5G is reasonable and has real reach.

No NFC indicates that this will be a North American only device. Europe, Asia & Australia are heavy users of NFC. Perhaps they are going the HoloLens 1 route?

Yes, I find it interesting that outside of US, NFC is actually a big deal. Here, it's practically non-existent, I don't even know how to get the NFC connection started on my phone (or even if it has one!)

If you're worried about NFC, just pair the phone with a smartwatch (like a Fitbit) that has the feature. its more convenient anyway.

I do indeed mostly use my smartwatch for payments, but I want the choice, and a phone without NFC wouldn't get on my long list, let alone shortlist. And yes I live in Europe (in the UK).

But how do you manage your IDs like driver's license, school/work IDs, hotel room cards and stuff? Wallet is hardly for credit/debit cards alone right?

If I'm not driving, I don't need anything but my phone. However, tap to pay does not work for transactions over $100 anyway. NFC would be important to me. Hopefully, the future will allow us make all IDs digital.

Actually IDs and licenses are moving to digital wallets as well in places, not that those require NFC connections. Also, where does this 100 dollar limit come In? Maybe that's the card you use, I do purchases over that all the time.

In NSW Australia our licence is digital, as are all bank cards, public transport and membership cards (majority anyway). NFC has become commonplace. There are limits on the financial transactions, however they have increased due to Covid-19 constraints. When last in London the above was the same, so yeah no NFC is a huge limitation for the Duo if this comes to fruition.
Essentially this is further evidence of the fundamental issue that MS has regarding their perspective being US centric thinking. Honestly, they need to change the make-up of their teams to have better representation or global voice if they want to genuinely challenge Apple, Google and PlayStation on the global stage. It is my opinion this is a significant blind spot for them throughout their business which limits their ability to succeed. Shall we play the game of listing a product for which the global capabilities are sub-standard or not present vs. the US version?

My Visa, MasterCard and bank card all force me to do chip on purchases over $100, so my tap won't work. It drives me crazy.

I live in Texas, and I use NFC all the time to pay at the pump, and in drive-throughs. It's the easiest way to pay, especially when I'm riding my motorcycle.

things like Samsung Pay only works if you have NFC. it's the best way to make a payment. and Samsung Pay works practically everywhere that has a credit card swipe. you put the phone near where you would swipe a card and it emits a signal to trigger the swipe.

I never considered NFC important until COVID-19. Now I do.

11MP single camera, no Qi, no 5G... It is kind of disappointing. For a company that pushed for Qi on cheapest Lumias, have supported phones with great cameras for their time like 920, 950, 2010, I would expect a more feature-rich product. People are holding on to their phones for more than a few years now, many people still have 2-3 year-old phones, not having 5G is a bad idea. 855+6GB is a good combination, but for this to stand out they need more than the Surface brand. Of course, I will buy it, but I also bought 5+ Lumias. I am not the person who needs to be convinced to buy this phone. Important thing is if the average consumer chooses this over a Galaxy.

5G is not an issue at all for this phone. The thing with telecom services is that, you need both the transmitter and receiver to make a useful link. Yes cell phone makers are jumping on the 5G receiver designs, but how many carriers are providing 5G transmission? And how many years will it take to rollout for even moderate coverage? And there are still many challenges faced with 5G links due to increased susceptibility to physical obstacles etc. Frankly, for now, it really is more hype than substance in practical terms. Good call not unduly burdening the device with 5G comm chips, it will only be a marketing gimmick imho.

4G rollout took 2 years. Major cities like NYC, DC, LA, Dallas, Chicago, Atlanta all have 5G already. Considering all major US careers (AT&T, Sprint, T-Mobile, Verizon) have already started to lay down their infrastructure nationally it's not logical to avoid something that will be available to most of the country in a year. If you really want you can turn off certain frequencies on any phone anyway, have the ability for 5G and if you are concerned with your battery life just turn it off.

If Microsoft weren't so slow to iterate on hardware, the decision would make more sense. If they are planning to have the first-gen Duo be their only device for 2 years, while giving it a year-old SoC, that's a tough decision to get behind. If they are willing to refresh the Duo after one year and give it an upgraded set of internals as 5G becomes more popular and less costly then skipping it for this device is fine. 5G isn't something super special that they need to win on early. They can afford to wait on adopting it, if they're willing to join before they end up completely late to the party (read: selling the Duo at a premium price when mid-range devices are putting our 5G on a budget), then this isn't a big sticking point.

but 5G is not like 4G. to get the same kind of coverage as 4G, you would need to have millions of antennas. can you imagine blanketing the country with millions of unsightly antennas. that will never happen. watch this video to see a technical explanation: https://www.youtube.com/watch?v=g-gGeAe-PJA

I have a 5G phone and haven't even seen it fall back on 4G. I live in a city, but even traveling into the mountains I still get 5G.

@bleached To be honest with you, US telecoms have a tendency to "fudge" the signal classification. You may not be getting actual 5g but a amalgamation of hardware that is classed as 4G LTE everywhere else. Primarily because the amount of equipment required and power required to cover a massive area especially in the mountains. 5G or rather mmwaves are short range, high bandwidth it doesn't handle distance let alone structural "interference" (attenuation / signal absorption) i.e. buildings, people, foliage) very well.

Depends on the carrier and the phone, but they might be calling both Sub-6 and mmWave 5G. Some phones, like some S20s, can switch between them for speed in mmWave and reliability in Sub-6.

@ygtgngr. It's possible, what's the range limitation on Sub-6? But you still run into logistical issues for equipment and what not. Sub-6 in the mountains where there is bound to ne vast distance between nodes? Don't see it being possible in 2020, maybe in a few years but right now... Unless bleached is being fanciful with adjectives and classing hills has mountains 😋😂. Joking aside, this has brought up an interesting item to look into haha - range limitations of sub-6.

I live in the Rockies. Haven't done much travel in the mountains since I bought the OP8, but the bit I have was on 5G.

there are 3 sets of bands for 5G. the low-band spectrum is practically the same speed as 4G but its reach is pretty good. the unfortunate part is it's still labeled 5G even though it's really not what a person will imagine 5G to be like. The midband 5G is like the sub6 5G and it's faster than 4G but not significantly faster, especially the newer forms of 4G. the true 5G speeds is mmWave at the high bands but the range is awful. like line of sight and only 1 mile. even leaves can block this signal. but the speed is what people expect when they think of 5G. real 5G won't be out for quite a few years. we're entering the 2.5G period before the true 3G came out.

Correct. I know for a fact my Note 8 does not have 5G, but it has LTE-U which can use the 5 GHz band to speed up connections. So, a phone may show 5G, but in reality, it's LTE-U using the 5G band, but not true 5G.

@Vince McLaughlin Yup, my point exactly. Thank you.

Same with my note9. No 5G reciever, but At&t keeps telling me I am on 5G, lol.

Just saw my friends iPhone 8 show 5G on AT&T.

I also live in the Colorado Rockies. Right in the middle of ski country. There's no 5g up here. Maybe your friend's ATT phone is showing 5Ge which is just a boost of LTE (according to reports not much of a boost) and marketing bravo sierra. I've not seen any 5G antennas up here either. T-Mobile shows the town where I live with 5G coverage. Not too sure about that. It is hard to distinguish what is fact and what is just marketing BS hype. I am happy with my Note 10+. I could have got the 5G variant, but I opted for the 512 gigs of storage.

I haven't traveled much since getting the phone for obvious reasons, but have been surprised at the coverage where I have been.

AT&T is always doing that BS. They've done it for many years. They labeled 2.5G as 3G. they even bragged that they were proud to call their 4G network 5G. https://www.cnet.com/news/at-t-is-proud-it-referred-to-its-upgraded-4g-l... "That little space caused a big stir after AT&T decided to add a new symbol, called 5G E. The change on Monday ignited a critical backlash from critics who argue that 5G E is really just an upgraded version of the 4G LTE network, and is more a marketing change than a technology change. Both Verizon and T-Mobile bashed AT&T, calling it a way to mislead consumers into thinking they already have 5G. The company has already run commercials touting 5G E across 100 markets. But the company has attracted criticism for the decision to rebrand some of its upgraded 4G networks as 5G E, which some see as misleading."

AT&T did the same thing during the migration from 3G to 4G and from 4G to LTE, so it is no surprise they are doing this again.

This is what I keep trying to explain. 5G is highly susceptible to physical interference. Without line-of-sight in most instances, the signals cannot penetrate most physical objects because of the much shorter wavelengths. There are a lot of practical issues still unsolved with 5G rollout. It's really not a decisive factor in practical terms right now, it's more of marketing hype than any real substance today. Maybe in 3 years, but not anytime 'soon'.

Which is why they are putting up 5G antennas in so many places, to include neighborhoods where many do not want them. Many have a false since of fear, because they do not understand how the radiation they are afraid of actually works.

Perhaps, but I'm guessing you're on T-Mobile? I would highly doubt you're on the millimeter wave stuff up there, but rather on the bands with greater reach, but speeds that aren't significantly faster than LTE.

They wanted all of this, but obviously had to make sacrifices for this first generation device.. Don't worry, they have a second generation device in their lab, and on their screens.

We have to hope for that because I believe that Microsoft missed the window of opportunity when they failed to get it out in Q1 or earlier this year. they first stumbled on the OS issue and had to change OS just before there first launch opportunity more than a year ago and now because of that and that they where not fast enough in the transition to Android they sit on old hardware and have to launch in the worst of times for new product launch. Even if they can get the production up and running, no-one (outside a small numbers of fans) will be interested. Wait for after summer and then they will have to compete with Android launches that are two generation ahead in the autumn. I think Microsoft will take the deep plunge and cancel version one and try to accelerate the version 2 development so they are more in line with the competition when it comes to hardware. Even if they have a unique form factor that will not compensate for an old and lackluster first version.

I've been looking forward to Andromeda/Duo for years. It has been delayed time and time again. If it's as bad as people are saying, Panos may get "Sinofskyed" soon after launch. Just the name, "Surface Duo," is a non-starter for me.

I don't mind 11MP camera. If you look at my Instagram profile, you will not find any spectacular picture, since I am not into those kind of stuff.
For at least next 2 years I don't care about 5G, but...Qi is important feature for me, cause I hate cables. And about NFC, I really don't mind if it doesn't have NFC.
It all comes to one single feature for me. I have waiting long time for a phone like Surface Duo and if they intend to miss that feature, I would be really depressed.
I am massive Surface fan, but I will skip this phone if they don't put Qi into it.

Only thing that makes me uncomfortable with the lack of NFC is mobile payment. I am so used to not carrying a wallet anymore, it will be very inconvenient to give up tap-to-pay.

What business user will ever give up mobile payments? if this device is targeted to productivity...What drunken rat in that team decided to ditch the NFC, I'm quite curious.

yeah, that's the thing. our phones can take beautiful pics. our dslrs. our mirrorless cams. but then we put the pics on FB or Ig which seriously crush photo quality. because people don't care about quality. they care more about the moment.

I can guarantee you that Panos, and his team, are already working on the next Surface Duo, a version 2, and the specifications are strictly in line with Holiday 2021 high end devices from Samsung and Apple. Version 1 is fine in small numbers, but versions 2 & 3 are where it's at... This is exactly what's going on, and is fact.

They might be working on it, but Microsoft hasn't really shown a willingness to be aggressive in hardware progression...ever? Early Surface Pro releases were in the 18-mknth time frame. The Book and Go and Studio were 2 years or more? Their Windows phones were terribly slow, once Microsoft took over the mobile division. Even if they're working on a second-Gen device, I would worry it's for a 2022 release. The Duo could be canceled before a second-Gen device releases, if they take that route. If they're going to be as conservative as these rumors suggest (year-old internals, substandard camera, missing several basic features like NFC and Qi), they will be in a lot of trouble if they put this out and leave it as the only release for 18-30 months.

That was the past, and it's true, but it's not a curse.. Surface Pro releases have been consistent, and there is no reason why this device can't follow the same path. I bet they are already far along in the development process for V2, there is now way V2 isn't coming out in 2021.. Duo isn't getting canceled before V2 hits. That's guaranteed.

But Surface Pro hasn't changed in 4 generations. They haven't been aggressive with it at all.

There is truth to that Surface Pro hasn't change its hardware substantially for 4 years, until Surface Pro X which likely the new template for Surface Pro. I think Microsoft is not alone with this. Other OEM's tend to stick with the same hardware template for few years before they substantially change it. Some models do, some don't. I guess it has to do with lower volume manufacturing of Surface devices not to directly compete too much to its OEM partners who should fill the gaps and make it better. But also because maybe they spent alot on prototyping for newer form factors and their resources is more into that than trying to always change existing form factor and manufacture en masse. Not sure how the Surface division works, but they sit between making products and sell then while not trying to be too competitive or might alienate their own OEM partners. Still some are rather odd not to include certain features. NFC and Qi on Surface Duo even for the fact this has been a common thing years ago. Only seem to US not taking advantage of mobile NFC payments. These features don't require substantial thickness of the device especially NFC. Surface Book 3 not having larger trackpad despite newest Surface Laptop now has it. Hard to say what makes their decision. My guess is that they still don't have the big team and certain resources they have are focused on certain things.

That isn't a Pro Windows machine. Sorry, that is just terrible marketing on Microsoft's behalf. That machine should be 10X, but Microsoft has no idea what it is doing.

Surface Pro used to be super aggressive but they were burned by that too. When the Surface Pro was almost the first machine out there with Skylake, we had to deal with all of Skylake's problems with sleep and battery life. There was a reason why all the other OEMs like Apple and Dell were slow to adopt Skylake. I think Microsoft learned from then that being first has its problems too.

Yeah pro 4 was a nightmare lol. I prefer stability over aggressiveness though I do think MS needs to be aggressive in the beginning with the Duo line (at least a 1-1.5 year later release for Duo 2).

Pro 2 was aggressive iirc and maybe 4 too (with the cpu).
WP was not slow, Lumia quickly had goodies like usb-c and wireless charging etc.

What I would love to know if these are the specs and missing out on a lot of features. Will this device dock in and do more? Like will it have continuum or something like it where it can do a lot more work docked in. I think that would be a game changer and would be amazing. A phone, a tablet, and could be used as a PC. It would make up for not having wireless charging or NFC. I hope they have thought about this for the software side since this is a Surface and also they have other RAM options to be available like they do with the storage size.

Yes, android does have these capabilities and features

That's sort of a broad statement. Samsung did some work with docked functionality with Dex, but that is theirs. It is not Continuum. MS could do whatever they want on top of Android, but they didn't seem committed to such a feature with their own system. Doing much beyond just mirroring the screen(s), which is pretty much available now, takes effort.

It has been built into Android for years now. Samsung was just the first to leverage it.

It is probably more complicated than this though, otherwise there would be more Continuum / DEX clones with all these highend phones.

There are apps to enable it. You can get a desktop UI fairly easily in Android.

Broad statement? Did my statement not provide the info they were curious about?? I don't understand your intent. Please explain

I wish they would make a single-screened device. :|

There's already a lot of great single screen Android devices on the market.

I don't think it would be a bad thing, but I think it would be a bit pointless. The closest thing you would maybe see is something to go against the Note series and the like, focusing on inking. Microsoft seems to want to market towards multi-functional devices. If the Duo is successful, then you might get your wish as they try to branch out in mobile. It would be similar to the previous efforts of the Surface team, when they started with unique form factors of the Pro and Book before circling back to the basic Laptop (which I really don't like). Theh want to stand out to make a dent in the market before trying to succeed in the generic, mainstream categories.

Yeah, considering how saturated the smartphone market currently is, releasing a normal candybar smartphone can be a tough sell when there are already other phones you can buy out there that is likely better unless Surface manage to release a single-screen device that ticks all the boxes for flagship device. Even then they need marketing to let people know it even exist and it is actually good, then there's price. So yeah if we want a candybar Surface smartphone, Duo needs to be at least successful in the market, doesn't necessarily it will surpass sales of the big boys, but enough to noticed.

I'd take a single screen device if it ran Windows 10x.

When Windows 10x comes out, hope someone will work to put it on Lumia phones.

Old ones or new ones? You wouldn't want to run this on 5 yr old hardware, regardless of how wonderful it WAS.

Microsoft already showed us a single screen Surface device running W10X.. Lol

The battery doesn't seem big enough to power the two screens for a whole day?! Maybe it has two batterys?! Or is there a way you can turn one screen off?

When you fold it back, probably the left screen closes and just becomes a glass back. But even to get to that stage you have to turn on both screens in the first place.

My main disappointment is the lack of NFC. I've been using touch-less payments much more often lately, especially with C-19 going around...

Don't mind the lack of a mmwave receiver as due to the amount of equipment that will be required to be installed is practically impossible for fast a rollout with the lock downs due to the current pandemic. The lack of NFC and Wireless charging... makes it abit of a pain tho... the dilemma I have right now is will the second generation be a mmwave device only - meaning no "5G" less variant. I sure as hell hope there is mmwave less variant as knowing what I know about attentuation I wouldn't want a milimeterwave device in my pocket. As it will have transmit alot of waves at extremely high pulses to maintain a decent signal. Coupled with the amount of equipment that will be required externally to provide that signal. Nope, not for me too much of a massive battery drain and the risk of electron scattering is waaaay too high for my liking. No, 5G does not give people covid-19. I'm talking about what happens when any form energy passes through your body, it's why you feel warm in the sunlight and feel heat next to a radiator etc. But in the case of mmwave its the high frequency, long duration and area required all combined with high transmit power that is a cause of concern (in small durations, mmwaves a relatively harmless). Because if it doesn't do that mmwaves can't travel any meaningful distance. You only have to look at a video by Linus showing this in action when they tried out 5G - watch how much the signal drops when he faces the mmwave emitter and shields the phone with his body. All that aside, will I be buying a Surface Duo first gen at launch most probably. I just hope the retail units have at least a msd slot and NFC. Because if it launches at a premium price point it better have the basics, not to mention with NFC they can hopefully bring back Microsoft pay and get some cash per transaction from merchants at either a fixed few of a few cents or a small percentage.

Addenda:
Watching JerryRigEverything's tear down of the 5G red magic... which has a fan and a headphone jack. Well if Nubia can squeeze in both a headphone jack and a fan, Microsoft better have a headphone jack on the Surface Duo. Otherwise that's another thing people will use the bash the product with... and personally, I'd prefer the option of the headphone jack as a)currently using a handsfree kit for work otherwise I'll need a chiropractor by the end the lock down is lifted LOL. b)a nice option to have when you're running low on battery.

You are comparing two different devices. One is a gaming phone and the other is a dual screen phone that folds together, effectively doubling the thickness. They need to make each half super thin and symmetrical so it doesn't feel like a brick in your hand or your pocket. A gaming phone doesn't have that requirement.

You do realise that the headphone jack is an extremely tiny component? With two screens there is plenty of space.

A headphone jack is 6mm or more. You can Google the width of each half.

We get it you want a headphone jack, which is no longer industry standard. Sounds like this device may be a pass for you

As much as I want one, I may just wait to see how Microsoft proceeds from the point of release of this device. I'm actually more curious to see what a Surface Duo 2 might look like and what specs it will have. Depending on how I feel, I may wait a bit longer with my Note 8, assuming it lasts that long. Right now, my biggest issue with my Note 8 is the battery is starting to go south. I definitely cannot get a whole day of use from it. Standby... maybe.

Check your app battery use. My Note9 started losing battery quickly. I started monitoring the battery usage, and was bewildered by how many apps start draining battery after an update. Edge was one of the biggest cuplrits.

I was super looking forward to this phone. I had multiple Lumia's, ending with a 950, and loved the OS. Android is just a mess, but I can stand the limitations of Apple. I also miss the easy integration with the Microsoft ecosystem. These are all things I was hoping Microsoft would be addressing with their phone, and they might, but no Qi is a deal-breaker for me. :(

With no 5G or wireless charging, I fear this thing is DoA unless it does something amazing - you know, like make you breakfast.

5G should not be much of a concern these days, very few cities has it and even so, very limited coverage and not as reliable as current 4G infrastructure. It will take years before 5G catch up and surpass 4G coverage. Wireless though can be deal breaker to some people who already taking advantage of this, as well as NFC for mobile payments.

No SD Card slot? WTF. That is just freaking stupid.

Indeed. I ignore all phones that lack it.

Soooo, you ar obviously an Android person. lol

Phones start at 64GB at least, most are now 128 or 256. SD cards have been pointless for years, these days even more so.

Completely disagree. I have nearly 200gb of music on my SD card and and about 30gb of photos/videos. The lack of an SD card is my biggest issue with this device as well.

If you stuck in 2005, why don't you buy an iPod classic? Why would you need to carry around 200GB of music in 2020? The streaming services have made that a silly thing to do.

Because there might be times that 4G can be unreliable, maybe on some countries higher data allowance is expensive, higher bitrate audio which is mostly not present on most streaming services (there is Tidal, assuming the music you like is available in there), certain artist/albums/songs may not be available on certain music streaming service (remember people have all different taste in music), also if you decided to store music from Spotify offline, that still take space + cache for streamed tracks. Considering storage has been become even cheaper these days per GB, it is far more accessible to buy higher capacity storage especially for Flash media. Most people may not need it, heck some can survive with 16GB or lower as long as they can install their Facebook and few social apps and casual games. But there are people who do take advantage of storage and store files on their smartphones and prefer that way since it is always available, reliable, and quicker, also not requiring to consume data cap which in some countries its expensive or unreliable.

@bleached, not point less at all.
Here is some common use cases for Android.
1) Android rooting.
2) Backing up on device i.e whatsapp.
3) Expanding storage - high res photos and videos requires more storage so you need to expand storage.

Why would you need an SD card to do any of that?!

Cause reasons. I am already annoyed at the tech iliterite folks in this thread. It doesn't have this or that or the newest everything. It must be worthless. One of the hottest tech items the Oculus Quest has a SD835 and thus is a pointless peice of crap (obvs not really). I'm not saying Surface Duo is for everyone, but I'm very curious about what it does well and less concerned about the malingering techheads b******g about specs, specs, specs.

Really Really sad about the battery size. I was hoping for at least 4400 MAH. 2200 on each side or something but greater than 4000. My Current phone has 5200 MAH and I am spoiled with being able to watch youtube,netflix, and hulu all day and not have to worry about plugging it in until bedtime or even in the morning if I forget. I was hoping for at least 10 hour all day battery with heavy use which isn't asking for a lot but I expect this to only get 6 hours of heavy use and all day on stand by .

Only 6GBs of ram for a device marketed as multitasking master? 3460mah battery for two screens?? No NFC? What on earth is MS thinking? ?I can accept last year's CPU, the 855 is still great. I can go without wireless charging...but seriously the ram, small battery and lack of nfc is quite bad in Android world no matter what kind of phone-ish device you come up with. The battle in the android world is fierce, it won't matter one bit that this device is somehow different! At all it won't matter, if the specs remain the same and the price will be anything above 700-800 EUR.

It's actually not much different from having two apps open on an Android phone. It's not going to have 10 apps displayed at a time. I can't remember anyone complaining that the split screen functions totally suck other than minimal real estate on a phone screen. If using not screens then you have only one app open. Coming from the guy typing this on a Pixel 3XL with only 4 gigs. And no issues either I might add

I had a 3xl, it did have issues with ram management, a later software update helped with that but the 6 gigabyte ram on the pixel 4 xl helped with that it's a much better experience overall on the Pixel 4 xl, I've moved on to the Fold now however, I still keep the pixel as a beta king lol 🤪 to see what I'm missing on Samsung's devices, I tweaked the fold to be a Pixel fold lmao 🤣, nova launcher and a few tweaks here are there I don't miss much, from the pixel to be honest, other than the new assistant stuff I've got pretty much everything else, even the Marvelous Mable live home screen that I love as a home screen

How do you find watching movies on the fold, doesn't the aspect ratio mean you are losing a chunk of screen estate?

You do lose a little bit watching Netflix, Disney, as the screen is sort of zoomed, but it's still very good and YouTube doesn't take full advantage of the folds screen, but overall I'm happy with the fold, I use it as a daily my device, it's a fantastic device, would recommend it to any tech head, it's only the beginning, with folding screen smartphones, I'm still excited to see Microsoft back in the Mobile game, just was hoping they would think through the devices, features properly, not having NFC is just plain stupid.🤬

I'll wait for the announcement to decide for sure, but the lack of wireless charging, the small battery (for two screens), and what appears to be a form factor that requires you to open the phone just to see notifications (i.e. no 3rd screen) all may mean I skip this. Which is a bummer, because I'm not convinced it will sell well enough for MS to actually make a Duo 2.

For me battery is the ONLY concern here. Everything else should be fine

Very disappointing device considering it is Android where competition is fierce. Last years CPU which will be closer to 2 years old by the time this comes out. No NFC, no wireless charging, no 5G, small battery, questionable camera. This is a device that had to be loaded. This is Android and the competition will devour this alive. If Microsoft is going to charge Surface type of prices for this, it is DOA.

No NFC is tragic. I cannot buy a phone with no NFC. It can't work with my daily life. With the small battery, lack of features and outdated components, I wouldn't pay more than CAD$500 for it. Greatly disappointed by Microsoft. I am still looking forward for the Neo if it comes out someday...

I have been waiting for this for so long but I'm disappointed in lack of wireless charging... I'll stick with my Galaxy Note for another year and wait till version 2 of Duo.

I'm still excited for the Surface Duo. Not having NFC is a bummer but not a deal breaker. Hopefully the price difference between the 64GB and 256GB is minimal. I have 128GB on my Pixel 2 XL so going down to 64GB will not work. Since they are still working on the pre-packaged software, I'm estimating a late July/early August release.

I already have a temp Android Phone while waiting for Surface Phone. Don't need another Android phone. (Especially when this Android 'burner' has NFC and expandable storage) Ping me when Microsoft decides to put Windows 10X on it or if there is an easy way to flash Surface Duo with Windows 10X.

If this phone is priced right, I will more than likely get it. I know the specs seems a little disappointing to some but I also understand this phone has been ready for a while for the most part. The main takeaway is the form factor that MS is trying to bring to the table. I for one am with it. I just hope MS has finally decided to try and do this right and not give up half way through it and then let everyone down with their phones.

What?! Pen support!? That's cool. I'm in!

You know what they say... never buy a first-generation product.

I'm very disappointed ... No 5G, no wireless charging, no NFC, small battery and a crappy camera. 64gb internal ROM? Microsoft .. are you kidding ? I paid less than 250 euros on my nokia 7.2 and I have 6 gb ram, 128 gb Rom, NFC, 3500mah battery , Dual-SIM, Storage expandable, and 4 ZEISS Cameras. These specs doesn't make any sense even at this summer.

855 is fine option of 256 gb must cost 150$ more than 64 gb version like apple's pricing. Battery size is average . Camera looks like most disappointing thing about it. If it was single screen phone with this specs it would never cost more than 500$ . but since this is dual screen product imo it should start at 599 or 649$ for 64 gb & 749 or 799$ for 256gb version. hopefully it turns out cheaper than that.

Expandable Storage - None
Ugh, how I hate this idiotic trend.
Also no NFC, outdated spec and a tiny battery. So much hype for nothing. If these specs do not change, I'll get a Note 10.

Another Surface device without any commercial impact. Why Microsoft Surface isn't growing after seven years of trying https://appleinsider.com/articles/19/10/24/editorial-why-microsoft-surfa...

There are a few reasons in my opinion. - Microsoft hasn't been able to get developers aboard in a way to make the Microsoft Store relevant, compared to Android or iOS. This has turned many people off who thought they could use it as a tablet. When people want to access many of their favorite/most used apps, sadly, they find that they will have to use the browser or their phone to access what they want. - Touch-screen experience hasn't been great, when it comes to Windows 10 and using it as a tablet. When you compare app use on Android or Apple devices, Windows 10 has few that actually leverage advantages of using touch screen over keyboard and mouse/track pad. This adds to the frustration of trying to use the Surface device as your one-stop-shop type of device. - Other manufacturers have done a pretty good job of making equivalent or better (perspective) devices for cheaper prices. Many of the popular manufactures have one or two devices with similar form factors, run Windows 10 and you may actually get more for your money to do the same thing, compared to the Surface 2-in-1 devices. - Consumers aren't tethered to the Microsoft ecosystem. Microsoft has been extremely accommodating to allow many other devices and services to connect or run on Windows devices. - Consumers, despite Microsoft's half hearted efforts in the past has never been their real focus. This is pretty disappointing, becasue Microsoft had plenty of great ideas, but never pushed and supported them in a way it needed to be to leverage their tech. Instead, the consumer market seemed more like a Beta testing ground for products and services for business or just to see if they could, with the hope of getting other manufacturers to adopt the tech, in my opinion. Apple isn't about making sure their services can work across devices. unless it's their devices. That's the main reason their sells are what they are, in addition to making pretty good hardware. If you are invested in Apple TV, Apple watch, FaceTime, iCloud and whatever else you will have little incentive to by a Windows device, if you don't really need one. This is even more the case with many Microsoft services now available on iPad and iPhone. With that said, the Surface 2-in-1 will likely only remain in that financial position compared to Apple. The agenda is slightly, if not significantly different from Apple. Unless Microsoft changes course to actually compete against Apple, which was never the case, (at least, not publicly) the Surface will not likely ever see iPad type revenue. However, considering Microsoft's position, their sales are actually pretty good.

Surface does seem to have some effect though (besides the brand itself is more popular now than a few years ago); there are way more Windows touchscreen devices and 2-1's than before (and much higher quality) and there are more 16;10 laptops of oems (instead of only 16;9). Same goes for Windows Hello and pen docks (pro x, inspiron 2-1 and yoga pen cradle docks etc). So in that regard Surface is a success. The only thing that is somewhat lacking is touch & pen support by 3rd party devs, but I feel this is slowly getting better as a 2-1 laptop user.
Hopefully 10X will make UWP more popular, than we finally can have better pen (& touch) support in more creator programs too.

So you're going to base your entire impression on an article written by a company who emphasizes the Apple ecosystem? I'm not discounting any of the information as it's well written and implies some logic. However to say the Surface line of products has "no" commercial impact is short sighted. MSFT hasn't hesitated to pull the plug on anything that isn't going to provide a return in investment, yet Surface continues to exist and to build. I hope the writer of that article was using an Ipad Pro, because if they wanted to see the impact that the Surface had on the consumer, they'd be looking right at it.

If this crap was running 10X and had 2020 bezels with audio jack, I would have pre-purchased that instantly, regardless of the internals. Now it'a s no.

You would just be waiting for the cancelation notice with such a device. That would go nowhere, there is a reason Microsoft isn't making it.

@bleached, 10X is coming to laptops so your argument falls flat on its face lol.

So? That is exactly why Microsoft will cancel it. It has no chance competing with full Windows. If I am buying a laptop, why would I buy half-Windows?

The utility of 10x is questionable for now. I can say as a Pro X owner that a Chromebook like browser based experience with a moderate store should have some appeal. That's basically all ChromeOS is anyway. I would also love a better update system. But yes it remains to be seen if 10x will be viable

That's why they making a foldable tablet first. when they get enough uwp and pwa apps into the Microsoft store they it will come to surface Duo.

You missed the news. It is coming to single screens first. Foldables may come later. Maybe.

This is perfect for me. I have 11, never used wireless charging or or complained about 5G. The only question i have is, how will the case fit to such form factors? With kids around I really need a case for my smartphone.

I have a feeling cases will be impossible in this form factor. Can't fold flat 360° without the case interfering.

I am sure there will be cases made for it, people also said that about the Pro with the kickstand etc.

Doesn't really solve any problem I have. I'm fine with a single screen on my phone. If I need something a bit bigger but not a Surface (Go or Pro7) I'll grab an iPad Mini. With MS apps and the cloud it fulfills all those needs as well as a 'similar' sized MS skinned Android device probably will. Seems this is going to be awkward as a phone. If the primary use case is open, might as well get a little tablet and avoid the center line.

My biggest issue with Duo is the giant crack down the middle, covering up content, when running apps in "spanned" mode. Of course Microsoft provides a Surface Duo SDK to work around this. But will developers? Probably not consumer focused devs with an existing app on the Play Store. Why would they when there are so few dual screen devices in the wild? That leaves enterprises IT shops specifically targeting the device for new custom built in house apps. The problem with that is convincing employees to carry around two devices, their company issued Duo and their personal phone. Now add to all this somewhat dated specs? And perhaps poor battery life? A person would probably be better off buying a 6.1 to 6.9 inch One Plus, Huawei, or Xiaomi (at the low end) or a truly foldable single screen Galaxy Fold, Mate X, or Oppo (at the high end).

Got the Surface Earbuds two days ago, sending them back tomorrow (fitment issue). Now I'm finding out the Duo won't have NFC. Two out of three of my devices for 2020 are down and out. Hope the Xbox Series X doesn't have any last-minute exclusions/changes.

I got my Surface Earbuds 2 days ago also. They fit very nicely, so I guess your mileage may vary. (Three size eye pieces included though) They sound geeat too!

I was excited but now now NFC and wireless charging. Come on Microsoft you can doo better, people panned Apple for years that Microsoft Windows phones and Samsung and Google had wireless charging and Apple finally figured it out and now Microsoft is sliding backwards. I was absolutely going to get this and now I hate to say it, missing just those 2 things makes me say I am headed back to Samsung or Google.

I'm looking for a replacement for my aging first generation Pixel, but I've gone down the road of unconventional form factors before. There is always a tradeoff. A key feature, performance, etc. I'm big on Google Pay for mobile payment and the lack of NFC is a deal breaker. Kind of silly omission, but I understand it.

Too bad it's raining Android Vista lol can't wait to the Windows 10 x version.

It will be surprising if 10X ever even gets released. It doesn't seem to have any benefit over full Windows, which will be it's biggest competitor.

Ouch on the battery. The rest of the specs are pretty much what I expected and decent enough. Except actually the no NFC, that's just bizarre, considering I can leave the house for a full day without my wallet simply because my phone has NFC it's omission in 2020 on a flagship device is ludicrous.

It would be neat if Microsoft released a companion wearable to Surface Duo with NFC.

The battery is good enough tbh, the reso is not sky high so ~3500 mAh will do. My current phone also has that (a 6xx cpu though) and at the end of the i still have 60-70% battery life.

Oh man :( no nfc and no wireless charging are huge blows to the device for me. I'm so excited about this phone and love my surface gear (X, Pro 7, Surface Headphones) but wow what a let down if true. I hope that this report is wrong on the nfc and wireless charging. But I can honestly see it being true since the surface earbuds don't have wireless charging either.

I dont understand why Microsoft compromises on specs. It's not like they're some start-up company that has to go with less expensive options on their first run. And it's not like they havent worked with phone cameras before. Seems like they enjoy shooting themselves in the foot.

It's called the limits of our current technology unless you want to keep a thick brick heavy device in your pocket.

Besides certain technical limits I would guess the price. I have a hunch this will be quite a bit cheaper than the Fold 2 (at least that would make the most sense since even it is priced that same it can never compete, but if it is priced cheaper than this is much more interesting for many people that don't need overkill specs on their phone).

The 11MP camera is actually a good sign, it means that it isn't using off the shelf cameras, if they aren't using of the shelf cameras it means that they must be putting some effort in it.

Awful specifications, this will fail... Just like Windows 10x... But at least that won't affect the bottom line... For now... Microsoft used to innovate... What a boring company they have become...

No Windows Hello facial recognition?

Yeah it seems fingerprint scanner on the side only, seems silly when I think of surface I think of windows hello to!🤣.

These specs are really disappointing to say the least. The 855 is acceptable for a 1st gen Duo. Android software isn't going to do much to take advantage of a dual screen with only 6GB RAM. Panos Panay promised a good camera. 11MP is not good!! That is one item of hardware that could be changed before release. No matter how well the software is developed, 11MP cannot be overcome an ancient camera. That's an embarrassment. During the Oct 3rd presentation, Panay made a point of a dual screen user not having to go to a second device. Going for your other "phone" or digital camera defeats the purpose of one device. Microsoft has also really underestimated the importance of an NFC chip. Let's hope that there is an option to pay for items by the time this device hits the market. Right now this device has limited appeal and a small market. In order for a 2nd gen Duo to come about, this 1st gen must succeed. It's a great concept and kudos for the Surface Pen. To Microsoft: Fix the things which must be fixed for market success.

More than megapixel it is physical size limitation. Camera engineers have 4.8mm thickness of Surface duo to work with & that too without camera bump. So keep expectations super low. I am expecting 1/3.4" inch size camera sensor (same as lumia 830) . expect serviceable modest camera at best.

Surely it'll at least have an SD 855+ ?!!

Disappointing...Samsung Galaxy Fold 2 here I come! We will have to wait for the 2nd Gen Duo!

Why? Fold 2 is expensive as f*ck for practically not so much better specs (except for the camera). Of course if the Duo will be similarly priced than it will be another story but I don't think that will happen.

Hmmm...Snap Dragon 865 > 855; 5G; NFC; Wireless Charging; Reverse Wireless Charging; Better Cameras; Fold 2 will have a Stylus....Do I need to go on?

The Duo supports a stylus/pen too. The performance upgrade of the 865 will be barely noticeable for phone users, actually the 855 will give a better battery life which is actually noticeable so 855 > 865. Better cam I already mentioned, but note that this is not important for most people as long as the primary camera is good enough (decent lightning in photos etc) since most will just watch and share it only on their phones. If you want a top camera on a phone that obviously the Duo is not for you, but a Fold 2 would probably also make less sense than just going for eg a Note+. Reverse Wireless Charging wireless charging is mostly a gimmick. It is there for marketing as a reason to let people buy a new phone faster. "NFC; Wireless Charging:" this I agree with. I personally don't need it but if you do, that indeed don't buy the Duo. Anyway at the end price will be the determining factor for most people to buy this or not. If this is a good chunk cheaper than the Fold series it will make a good chance, otherwise it won't.

you will regret that, wait and see.
it's a piece of trash No one should buy.

I was looking forward so much for the Duo, I was hoping, and thinking seen how the Duo isn't really a first generation product, it's been in development for years, the devicd would have been thought out properly, Microsoft has limited it's user base with the lack of wireless charging, and especially the emission of NFC!, my thoughts are the Duo is a US! Only device, as most other counties in the EU, and Australia use tap to go for payments in most shopping centres, petrol stations, pretty much every retail store in Australia has tap to go facilities, many many people use their smartphone to store Myki public transportation card, also and just tap to go with your smartphone, I really don't understand why and how Microsoft has not thought about this, as someone who is currently using the Galaxy Fold, which I generally love, even with its first generation faults, it spec's are the full house with a folding screen taking up most of the price I would say, i use the wireless charging, I use the NFC pretty much everyday, I know Panos has said the Duo, isn't a smartphone, but surely they would like and want people coming from a recent smartphone, with those features already to want a Duo!, With all this said, the design, construction, the usability, durability of the Duo will be superior, to the Fold, I hope the second generation of the Duo will fix these omissions.

"I know Panos has said the Duo isn't a smartphone" Did he really say that? I didn't know that. I have been saying that for months. It's a tablet, not a phone. It is not going to replace - indeed, not even meant to replace - your current phone, because it can't do all the things your current phone does. It is - as they say - a "companion device". I don't see this being viable as your ONLY phone or ONLY tablet. Way too many compromises. Personally, this thing would only interest me if I (1) already had an Android phone and (2) needed/wanted an Android tablet. The folding screen makes no difference to me. It is still an Android tablet. But I have lots of Windows things, and I have lots of iOS things. I have no need for Android anything.

Then why even comment, lol as you state, you have no need for Android anything....

when Qualcomm gets its act together and integrates the modem into the SoC, the 865 will be laughed at. it was a bad design. The 865 really hampered the new Samsung phones. They had to make the phones bigger and the batteries bigger to compensate.

My OP8 has been fine. Battery life is great and performance is seamless. Samsung's issues might be their own.

NFC should have been there. Camera was expected to be below average due to thinness of the device. So no surprise there. Battery is decent imo. If you use both screens continuously it will not survive full day. bit single screen use with using second screen occasionally it should survive a day imo. considering phones like
xperia 5, galaxy s10 had decent battery life with similar battery size & processor. 6 gb ram should be fine as well imo.

Agree, NFC is probably the most feasible to put on current Surface Duo hardware, considering how tiny and slim the NFC chips are the fact we can even by cheap NFC stickers pretty easily. NFC on phones would be slightly more complex having to interface with the motherboard since it needs to communicate with the OS for more functionality like Tap-to-Pay systems. Not having NFC means the first-gen hardware would be a deal breaker for those who use tap-to-pay alot if not all the time. So looking at this, Surface Duo is pretty much catered only for US since it is the known developed nation that NFC-based payments not being a commonplace. Heck even for developers, the lack of NFC hardware means a limitation of developing apps that will use NFC on Surface Duo hardware. Camera is understandable not to surpass iPhone, Google Pixel, Huawei P-series and even Samsung Galaxy flagships. But at least if its decent enough to be more than usable, hopefully at least usable low-light photos even not great. Hopefully everything will be addressed for the 2nd-gen device, even the camera through software enhancements.

I agree 100% with what you have said, ill also add that Microsoft could have had a couple of skus, for the Duo, a barebones, with no wireless charging, and nfc, and another with a fully specked out Duo, with one of its backs made out of glass for that wireless charging, and nfc payments, like a Surface Duo Pro or something, how cool would it look for one of the backs of the Duo, to be made from glass, lol like the Windows! symbol!. Microsoft should give consumers choice, we all know this is a new design and new ways of usage, for a mobile device, that is fantastic, and a lot of people are excited about it, including myself, seems silly to limit possible sales by not having two skus, let the market state what they want by sales, have two and see what people want, and then build future generations of Duos of what those sales state.

I don't have a problem with the processor, the memory, the lack of SD card slot, I am unsure how NFC would work on a device such as this, it would need to be unlocked in order to use, so if it folded back (single screen mode) you can't use the NFC coils, if it is folded open you have quite a sizable device that you are tapping to a payment terminal so not very practical (and laughable). The lack of SD card support is not really an issue, having tried shared storage on my razer phone 2 I can say it isn't all it's cracked up to be, developers have to make apps work on shared storage, so I have 50gb used on the phone storage and virtually none on the 128 GB SD card, as such I consider a 256gb storage option a plus, I can download all my Netflix shows for my next transatlantic trip. As for wireless charging, I have said previously that it must support some kind of wireless charging protocol as the pen needs to be charged, therefore I would not discount wireless charging on the final product just yet. As for memory, my previous phone was a key one (3gb) and i managed, the razor has 8gb that has never been in danger of being taxed, I don't think that 6gb will be an issue. These specs allow the cost to be kept low and proves that Microsoft is not interested in irrational and laughable device specifications, Panos told the verge we will be very happy with the price point of the device, and I for one am looking forward to seeing the final product.

It's possible to implement NFC with the Surface Do if they wanted. That's the only thing really missing from the Duo for me.

I have no doubt, but seeing as traditionally it is on the back of the device, and the device needs to be unlocked to use tap to pay, I am wondering how it would work for the duo, the coils would need to be in the bezels or the hinge, if it were on the back of one of the screens you would need to have it in book posture to use tap to pay, just picture it. I'm thinking something along the lines of Dom Jolly using a huge phone in a library.

I didn't understand yet how to answer a phone call. I hope we won't have to open the phone to answer the call.

Search about " peek feature surface duo " . maybe that way they will allow to pick up & reject calls.

Thank you for the tip, I saw it before but I didn't remember. Microsoft could use the Microsoft's logo to answer the call. It will be a bad experience if we have to open the phone. And after that? We keep the phone opened in our ear?

Place the phone 360 degree unfolded in your pockets, possibly with screen protectors on the screens and it will be robust.

MS keeps trying, maybe someday they will make it happen.
doa

The 4:3 screens + pen support will be great for note taking.

I might be the minority here but all of this sounds fine to me. I have a Pixel 3 right now. Yeah I like it. But I didn't get it for its camera or nfc or 5g or any of that. I just wanted something that would work. And Microsoft told me they weren't supporting my old phone anymore. 4gLTE is still fast. I'm on wifi 95‰ of the time anyway. USB c has fast charging. (that's how I currently charge my phone) And not once have I ever used NFC for anything. No real reason why I haven't used it. I just haven't. I'm sure it's great. But pulling a card out of my wallet isn't all that tough for me either. So the Duo is still just as exciting (to me) as it's always been. I just need to know how much.. And hope Verizon carries it.

I completely agree. On all points. I would like to see wireless charging but it's not a no-go without it. It's all about the user experience for me.

I can relate and feel the same

Sounds like Microsoft needs to release a Surface UNO as well...

I never expected to be getting a gen 1 Duo and, apart from anything else, the lack of wireless charging and particularly NFC makes that even less likely. I'll be interested to see what changes we see in gen 2 or 3 because I like the form factor and would like to own a later iteration if they can include some of those missing features. Foldable screen tech may have advanced enough that they are using that by then but I wonder they would still have a dual-screen option that was a bit cheaper than a single folding screen. Having a foldable screen with a 360 degree hinge would be an extra challenge too.

Another MS device that will be shelved and going to MS Hall of Fame...!

Is anyone interested on having Surface Duo be a Dual SIM device (maybe nanoSIM + eSIM support)?
I would like to continue carrying only one device (specially if this one has two screens...

Here's the thing, the past phones from Microsoft have been excellent. Yes, I will concede the 850 (xl) had less than a stellar build quality, but the device was really good. I could plug it in to a doc and use it like a computer...way cool! Microsoft always had leading innovation. A lot of which is being implement in todays top devices which makes 5 year old phones still really good in todays market. Of course I cannot rave about them without mentioning the app market. It sucked. But I also think there was a bit of sabotage involved by the industry all the way down to the store clerk (personal experience)

Microsoft was leading innovation in phones? When?! They were always years behind, similar to the specs of this device!

There were features I had from the beginning of my Windows phone experience, that still weren't implemented when I jumped back to Android 3 years later. Android caught up with most of them within a year or so. Mind you this was when Microsoft had abandoned all development of their own system. That being said, Microsoft killed off the best features in windows mobile 10. Windows Mobile 8.1 was way ahead of the other two....except for apps....which sucked.

Uhhh, they were the first ones to bring to the market low light photography with their lumia phones. Wireless charging was way ahead of their times when they brought it and now everyone's wants it. Apple copy the face recognition tech by buying the same company that Microsoft used to bring out their improved windows hello tech. Should I keep going?? Ohh and live tiles are still more advance than anything out now. That's all for now!

Live Times were low function widgets and Microsoft didn't pioneer photography or wireless charging. These are Apple level invention claims.

Integrated flashlight(no third pary app necessary). 41 mp camera when everyone was still at 8mp. Continuum, later copied by Samsung. The people app to aggregate all communication in one app. The best app drawer. There were many reasons why windows phone failed, but pushing boundaries and innovating wasn't one of them.

The specs look respectable for a first generation experiment. You wouldn't want bleeding edge tech in there driving up cost and problems (think 1st Gen Surface Book issues at launch). I am one of those weirdos that doesn't think 5G is a huge issue yet, nor a stellar camera. I am looking at this as a driver of a new productivity paradigm and am willing to jump on board.

Agreed it doesn't need bleeding edge tech as the two screen, 360 hinge covers that aspect. But tech that Microsoft tried to make industry mainstream in their devices 5+ years ago? Like wireless charging and NFC? That's not bleeding edge tech. I agree that lack of 5G won't fail this device. But no NFC or wireless charging? The low end Lumia's had that years ago. Not having NFC and to a lesser extent wireless charging is like Tesla selling cars with crank windows and no keyless entry. This will be considered a flagship phone. It doesn't need bleeding edge tech because the form factor covers that, but I believe it does need all the basic flagship standard features to be a run away success.

Depends on the price. If this is $1,200 + the lack of bleeding edge specs will be a tough sell.

Let's be clear about this: the ONLY reason you're not getting some of those bleeding edge specs is because they designed this package years ago, and they are choosing to get it out to market as is rather than updating it -- not due to the difference in cost of those specs. There's no other rational reason for why they wouldn't use the latest components standard in all premium phones.

The "Surface Disappointment" is not for me. I'll be waiting for the "Surface Disappointment v2."

The trick for Microsoft? They need to convert people who are coming from one or two year old flagships. They won't convert many mid to low-level users. The dual screen is definitely a take notice feature, and it will convert some consumers solely on that point. But what about those who live and die by contactless payment and wireless charging? Each missing feature that is standard on other phones creates a bigger hurdle for people who would otherwise jump from other brands. Version 1 has to be a moderate success and I feel leaving out common standard features hampers getting enough sales of version 1 to convince the bean counters to do version 2 and 3 where most people will buy. Already people are saying they will wait until version 2 or 3 of this device. That isn't encouraging. I hope this phone doesn't suffer the same fate as Microsoft Band 3. It's a surface this time so hopefully it will make it to version 3 where it will likely have roaring success.

Not sure. I'm on P30 Pro and I have never used NFC or Wireless charging. And, compared to the galaxy fold one could argue who did the right compromises, I would not carry that **** in my pocket just to get NFC and Wireless charging, even at its thinnest. And sure, they got 5G, but oh, you need to choose between 5G and battery. Why choose 5G? It's not like you're going to notice much of a difference between a good 4G and a good 5G connection. Not enough to sacrifice battery. I'm not saying this is things they should not have, I'm saying I think this has a larger impact on paper and in marketing than in real life, even if there are a lot of users that are using these features today.

In this pandemic, NFC is a must for me. And, not having that could be a deal breaker for me. 😟🤔 While I miss WP, I'm not expecting W10X in mobile,. Sadly that shop has sailed.

Windows will appear in mobile eventually. MS is just doing the slow approach. First they need developers to deliver apps, and continue doing so as the device form factors shrinks. And then the need the right apps. To do this, the first need devices not compared to phones, then they need users on these, and then developers will make native apps for them.

Way too soon to be judgmental, but I feel my device can compete with this Duo: QHD amoled screen, 20 Mpx f/1.9 camera with dedicated button, always on display, 4G+, NFC, wireless charging, SD slot and Iris scanner. Moreover all the common stuff from MS (onedrive photo upload, office mobile, office lens , remote, onenote, To-do, news, xbox companion). I even got the live tiles. Can you guess what it is? :)

Could it be the 950XL...?

Yes! 950 precisely, still working great, except for the consumption of the processor. If I could implant a 855 cpu I'd keep on another 5 years.

Like usual, Microsoft stumbles around like a Roomba in the device sector, losing it's leadership...and now with Chrome OS hot on the heels of Windows, perhaps losing everything besides that magical cloud/teams/office office suite. Can anyone say "Word Perfect" and "Visicalc"? When Microsoft withdrew from the mobile computing segment with the cancellation of the Windows phone, the eventual demise of Windows itself was ensured.

Yes, they went through several contradictory choices since 2015 indeed. I don't actually think chrome OS will get out of its niche position anytime soon, but it's a good example of how a company should keep such a strategical niche. They should have buyed bluestacks or whatever to emulate the missing apps inside a windows on ARM based phone.

Chrome OS is for the most part big in the US, and mainly in EDU, and mostly because the package is cheap. We did initial testing where I work, and we're still using W10 devices, because we can afford it.

Hi, I heared of it, though not in so big terms. Well, in Europe I think it's nearly zero, less than linux I guess, while google is really moving up in the education as you said, with the software for the collaboration and the remote lecturing. Microsoft should be bolder about education, it's one of their missions isn't it? The monopoly in mobile devices is such a strong base for
every tech "assault". We shall see how this "monopoly" game will evolve :)

I've been waiting/hoping for a Surface Phone for a long time. But that's because to me, Surface is supposed to mean Premium. As cool as the dual screens are, this device has a last-generation processor, no NFC, no wireless charging, a mediocre camera, etc., etc. It would have been difficult for them to make a Surface phone that I wouldn't have jumped on, but they may have accomplished that here.

Maybe you'd better wait for official reviews. Probably, the first rumors are full of downsides but lack some Premium features you'd enjoy. The point is we all expect something more on the software side, something that makes it truly deserve the Surface name. Otherwise it's best to go with Samsung Note or whatever, way more settled in the field.

Look at premium computers and their specs...

Why make the devise so weak? All over specs is bad and most phones is going away from this and windows enter? Sry windows but I will not downgrade.

I'm not sure how closely you follow MSFT's endeavors, but I've followed them quite closely for the past seven years. Being prior military and a stock holder, I've been positioned to observe many perspectives of the ecosystem and vision. I can tell you that you don't go from your stock being valued at $32 a share to $187 per share, during a pandemic mind you, if you're not doing something right. MSFT has been very active in the corporate space, especially the federal space. Just look at how MSFT Teams has expanded. As an IT, and Cyber Analysis instructor, I can tell you that with the convenience that NFC and other system connecting applications, there's also a degree of risk. I see the government interested in the DUO for its lack of such features while providing a form factor beneficial for information notation. I get being disappointed with personal aspirations that haven't been answered, but MSFT's vision has always been beyond personal aspiration. This is why they have restored themselves as a top tier Tech company and why they will remain there.

There is a great deal more to a company than it's stock price.

Hear, hear. I am fine with the specs... it is just the price that is hard for me to swallow during this new era of uncertainty. If it were $999, I may have been inclined to pull the trigger, and even that would warrant trepidation. Nevertheless, I certainly understand Microsoft's decision on the specs.

Yeah I'll wait for the 2nd or 3rd Gen. I need my device to actually compete with other devices today. Unless they pull a fast one on us and make different versions that are better.

Compete? In what way? You get something different, not the same only slightly faster etc. Unless you want to pay waaaaay more, you'll need to accept some compromises.

Why does Microsoft spec batteries in units of mAh instead of the more useful mWh? Is it assumed that we all know battery voltage? But won't battery voltage drop a bit as the battery becomes more discharged?

Can someone tell me why my Lumia (8 phones ago) had wireless charging but a $1500 after tax phone in 2020 does not? I sometimes wish I didn't like MS. They certainly don't treat their customer base right for essentially being beta testers on old tech.

Tell that to the Surface Pro X purchasers.

Hey Zac! I noticed when I pre-ordered it broke down the features and connections, USB 3.1 said video output? So like continuum?

The 855 will be more than enough, but the price should reflect this...!!!

Yeah, right, the 855 is 'adequate'. Until it isn't, and then you're screwed. I'll wait for the Neo and whatever Samsung Note is available when the current workhorse is no longer usable.

The linked Ars Technica article is very informative, especially with the comparison of the 865 to the 810 (one notorious issue in the Lumia 950XL).

Yup, it's extremely informative and it confirms the concerns many of us have had... 5G will also be a massive power drain across the board. To boost the signals you're looking at alot more equipment which in turn draws more power from the national grid, which in turn means more draw on power generation sources renewable or fossil fuels. Plus with lower charge to charge times, you have an additional power draw from the grid at higher rates than with 4g etc. Therefore adding more strain on power generation and so on. As well as increasing e-waste... Not to mention the mmwave attenuation health concerns as well. To quote the article: "If you want mmWave, that takes more work, and it will be something you have to design the entire phone around. MmWave penetration is so poor that your hand can block the signal. Qualcomm's solution to this problem is to buy more chips from Qualcomm, in the form of multiple QTM525 mmWave antenna modules, which can be placed all around the phone. By putting these mmWave antennas into the phone, allowing for reception at the top, bottom, and sides of the device, you can hopefully prevent the "you're holding it wrong" scenario, allowing for 5G reception in any orientation. Again, though, this just contributes to 5G's big problems: these antenna modules are sizable chips, and you'll have an even bigger, more expensive, more complicated phone."

Did something change? Or is it just re-run season.

Not sure. My device info app says the camera sensor is Sony. Hopefully that is room for software improvements.

Why no E-Sim on the AT&T Version.... makes zero sense to remove that functionality....
Windows Central Newsletter
Thank you for signing up to Windows Central. You will receive a verification email shortly.
There was a problem. Please refresh the page and try again.