Surface Duo FAQ: Everything you need to know about Microsoft's first dual-screen Surface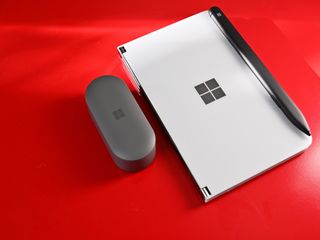 (Image credit: Daniel Rubino / Windows Central)
Microsoft's Surface Duo is now officially available. While we know a lot about Microsoft's dual-screen Android device, there are also many questions.
Here is our compiled list of the most frequently asked questions (FAQ) about Surface Duo, including all we know (so far).
Preorder today
(opens in new tab)
Two screens are better than one

Microsoft delves into the future of foldables with an ambitious dual-screen device, featuring two ultra-thin 5.6-inch AMOLED displays bound by a 360-degree hinge. This pocketable inking-enabled Android smartphone marks the latest in the Surface lineup, geared for mobile productivity.
When do Surface Duo preorders begin?
Pre-orders begin August 12, 2020, in the US.
What is Surface Duo release date?
Shipping is expected for September 10, 2020.
What is the Surface Duo price?
The price for Surface Duo is $1,399 for the 128GB model.
The 256GB edition costs $1,499.
Where can you buy Surface Duo?
Surface Duo will be available both online and physical stores (where applicable) from:
Microsoft Store
Best Buy
AT&T
Will Surface Duo be on display in stores?
Yes.
Both AT&T and Best Buy stores will have Surface Duo on display for users to interact with beginning Friday, August 28th. Presumably, users can hold the device and play with the software just like other smartphones on display.
Can I trade in my old phone for a discount?
Yes.
Microsoft is accepting trade-ins of old tablets, phones, and laptops. Users can use the Microsoft Store Trade-in Program online and get up to $700 off the Surface Duo cost. Microsoft accepts old Apple iPhones, BlackBerry, Google, Nokia, Samsung, Razer phones, and more. Trade-in value depends on the year of the device and condition.
More info about the program can be found here.
What is Microsoft Store return policy on Surface Duo?
60 days.
No questions asked, no restocking fee. Item must be in its original packaging and "like new" condition.
Microsoft outlines its "Surface promise" (opens in new tab), where it details its Microsoft Store policies on Surace purchases.
It includes:
Fast, free shipping (2-3 days)
60-day return policy: Must be returned as "like new" in its original packaging
60-day low price promise: If Microsoft drops the price of the Surface you purchased within 60 days, it will refund the difference
90 days free support: Free technical phone assistance for your device
Is there education or military discounts for Surface Duo?
No.
Typically, Microsoft offers a 10% discount for eligible students, parents, teachers, and the military. However, as of right now, no such deduction is being provided with Surface Duo.
Will Surface Duo be available via Surface All Access?
No.
Microsoft is not making Surface Duo available through its Surface All Access program (opens in new tab). However, Microsoft offers financing options, including 0% interest payments over 24 months, through the company directly and other options via third-party retail and reseller partners.
What countries is Surface Duo available in?
United States only (for now).
In a statement to Windows Central, Microsoft said, "Initially, Surface Duo will be available in the US. We'll share more information about market expansion at a later date." That sounds like Microsoft is testing the market with the US first, and may expand later if Surface Duo is well received, and sales meet expectations.
Can Surface Duo be ordered overseas?
Yes, (unofficially).
Microsoft is not selling Surface Duo direct to customers outside of the US. However, there are third-party sites like Big Apple Buddy, who can facilitate the transaction. The process is simple: You order from Big Apple Buddy, they order from a US retailer, they ship you Surface Duo. Of course, such a service requires a $50 fee, plus FedEx shipping, and any import fees or taxes adding close to an extra $200 to Surface Duo's retail price.
Is Surface Duo a phone?
Yes and no.
Yes, Surface Duo can make phone calls just like a regular smartphone. Users rotate the 360-degree hinge back on itself and operate Surface Duo like any single-screen device. It uses the default Google phone app and supports global LTE for voice and data.
It can also send and receive SMS text messages.
However, Microsoft refers to Surface Duo as a "new dual-screen device, purpose-built for mobile productivity." According to press materials, "Microsoft saw an opportunity to create something new with Surface Duo - not to reinvent the phone, but to inspire people to rethink how they want to use the device in their pocket."
In that sense, Surface Duo is more than a phone, as it is a new form of productivity. But, pragmatically speaking, it is still technically a phone.
Who is Surface Duo for?
Surface Duo is for anyone who wants to be more productive while mobile. Specifically, those who find they can't get enough work done on just a smartphone and don't always have a laptop with them. With dual screens, Microsoft believes, like, with dual-screen PC desktop setups, people will be able to get more work done.
On a more fundamental level, Microsoft says Surface Duo is for Surface and Microsoft fans, and those who live in the Microsoft ecosystem. Microsoft's chief product officer Panos Panay has stated that Surface Duo is "the Microsoft you love and the Android you know."
Long term, Microsoft hopes to see dual-screen usage grow with subsequent Surface Duo releases, or even from Android OEMs, who may make similar devices.
Can Surface Duo fit in your pocket?
Yes, it should!
While everyone has different size pockets and pants, Surface Duo is only slightly taller than a standard US Passport and nearly the same width. While it is a wide phone, it is shorter than most modern smartphones and relatively thin.
You can see size comparisons between Surface Duo and the iPhone 11, jeans front pocket, and whether it fits into a blazer's inner pocket here.
Will there be a Surface Duo 2?
Microsoft has not publicly announced any plans for Surface Duo 2.
However, our reporting from sources familiar with the project have told us that work on Surface Duo 2 is well underway. Like every other smartphone OEM, Microsoft is like to follow a yearly-upgrade cadence, making a late 2021 release for Surface Duo 2 a possibility.
In July 2020, Microsoft bought Movial. Movial was contracted to help Microsoft build the customized Android experience for Surface Duo. Microsoft is now bringing those employees in-house to Microsoft to streamline development for the next-gen of Surface Duo.
Surface Duo 2 is likely to fix many of Surface Duo's initial shortcomings, including the lack of NFC, Qi, and just one camera. However, nothing is yet finalized.
What version of Android does Surface Duo run?
Android 10.
Surface Duo is expected to get Android 11 later on after validation.
Will Surface Duo get regular Android OS updates?
Yes. For 3 years.
Microsoft is committed to updating Surface Duo with regular Android and security updates. Specifically, the Surface Duo will receive both OS and security updates for three years, according to Microsoft.
Will Surface Duo have an unlockable bootloader?
Yes.
Microsoft has confirmed with XDA that Surface Duo has an unlockable bootloader.
Such a move opens the door for users to mod, root, or install a custom ROM to Surface Duo. It is unclear if this action voids the warranty, but typically it does not. It is also unclear if one could force Windows 10 or Windows 10X on it, though surely someone in the XDA community may try after its release.
Does Surface Duo have any unique security features?
Yes.
As Microsoft has built Surface Duo with professionals and businesses in mind, the device "utilizes Android security features at the OS level and at the Google services layer."
Specifically, Surface Duo has:
Custom engineered UEFI
Verified Boot
App separation
Google Play Protect
Microsoft Defender ATP (InTune only)
More information and details about Duo's security can be found in Microsoft's documentation (opens in new tab).
List of Microsoft Surface Duo specs
Swipe to scroll horizontally
Category
Surface Duo
OS
Android 10
Display
Single: 5.6 inch (1800x1350), 401 ppi, 4:3 aspect ratio
Opened: 8.1 inch (2700x1800), 401 ppi, 3:2 aspect ratio
Type: AMOLED
Wide color gamut: 100% SRGB and 100% DCI-P3
Corning Gorilla Glass
Processor
Qualcomm Snapdragon 855
Network
WiFi-5 802.11ac (2.4/5GHz)
Bluetooth 5.0
LTE: 4x4 MIMO, Cat.18 DL / Cat 5 UL
SIM
Nano SIM + eSIM (no eSIM on AT&T model)
Network bands
FDD-LTE: 1,2,3,4,5,7,8,12,13,14,19 20,25,26,28,29,30,66
TD-LTE: 38,39,40,41,46
WCDMA: 1,2,5,8
GSM/GPRS: GSM-850, E-GSM-900, DCS-1800, PCS-1900
Memory
6GB RAM
Storage
128GB or 256GB UFS 3.0
Expandable storage
None
Camera
11MP, ƒ/2.0 1.0um, PDAF, 84.0° diagonal FOV
Optimized with AI for front and rear
Audio
Mono speaker
Dual mic with noise suppression and echo cancellation
Qualcomm aptX Adaptive
Security
Fingerprint
Ports
1x USB-C 3.1
Battery
3,577mAh
Up to 15.5 hours of Local Video Playback
Up to 10 days of Standby Time
Up to 27 hours of Talk Time
Fast Charging using 18W in-box power supply
Pen
Surface Pen (not included)
Dimensions
Open: 145.2mm (H) x 186.9mm (W) x 4.8mm (T)
Closed: 145.2mm (H) x 93.3mm (W) x 9.9mm (T at hinge)
Weight
250 grams
What is included with Surface Duo?
Surface Duo ships with the following in the box:
Surface Duo
Surface Duo Bumper (Color: Glacier)
Surface Duo USB-C Power Supply (18w) + Cable
Quick Start Guide Warranty and Compliance Guide
SIM Ejector tool
Can the protective bumper be removed and reused?
Microsoft includes a matching glacier-white bumper in the box with Surface Duo. The bumper allows Surface Duo to be opened in both directions without interference, but also offers protection to its edges and corners.
The bumper is held on by two-way tape. Users can remove the case, but multiple reapplications will eventually wear out the stickiness. Presumably, using some third-party two-way tape can be used if this were to occur.
Are there more colors for case bumpers?
As of August 25th, Microsoft only has a white bumper, which is included with every Surface Duo. However, our sources have said three more colors will be offered after launch, including:
Ember (bright red)
Ice Blue
Graphite (dark grey/black)
These colors exactly match current Surface Pro Signature Type Covers (opens in new tab). Pricing is expected to be $40 per bumper.
Is Surface Duo metal or glass?
Glass.
Surface Duo's dual displays and exterior shell are all Corning Gorilla Glass. The outer frame is ceramic.
Microsoft likely uses glass on the exterior to help with processor and chip thermal regulation (glass does not transfer heat like metal) and longevity (metal cases can scratch or dent). Glass also feels very premium.
Does Surface Duo have an AMOLED display?
Yes.
Surface Duo has two AMOLED 5.6 inch (1800x1350) displays with 441 pixel-per-inch (ppi) and Corning Gorilla Glass for protection. Each display has a 4:3 aspect, but when the two screens are combined, it results in an 8.1 inch (2700x1800) screen with a 3:2 aspect ratio and 441ppi.
The displays support wide color gamut and are calibrated for 100 percent sRGB and 100 percent DCI-P3. The 360-degree hinge lets the displays fold back on each other, allowing users to make phone calls or use the Surface Duo like a traditional smartphone.
The tech behind the screens is proprietary and unique to Surface Duo. Microsoft goes into some detail about what makes the Duo's screen special:
Does Surface Duo have an always-on-display (AOD)?
No.
Currently, Surface Duo does not have an always-on-display (AOD). However, there is consideration to add one later on through an OS software update as there is, reportedly, no technical limitation preventing it.
What LTE bands does Surface Duo support?
The Surface Duo supports the following global bands:
FDD-LTE: 1,2,3,4,5,7,8,12,13,14,19, 20,25,26,28, 29,30,66
TD-LTE: 38,39,40,41,46
WCDMA: 1,2,5,8
GSM/GPRS: GSM-850, E-GSM-900, DCS-1800, PCS-1900
Does Surface Duo support GPS?
Yes.
Surface Duo supports the following GPS modes:
GPS
Galileo
GLONASS
BeiDou
QZSS
Is Surface Duo carrier and SIM unlocked?
Yes.
The version sold directly by Microsoft, and Best Buy is carrier and SIM unlocked. That version supports a Nano-SIM and eSIM.
The AT&T model, however, is carrier locked and lacks eSIM.
Can eSIM and physical SIM be active at the same time (dual-SIM)?
No.
While the unlocked version of Surface Duo supports eSIM (electronic) and nanoSIM (physical), only one SIM for calls, texts, and data can be active at one time.
Which U.S. carriers does Duo work on?
The Surface Duo is confirmed to work on all major carriers, including:
AT&T (unlocked, or AT&T-locked model)
Verizon
T-Mobile/Sprint
If customers buy the unlocked model, it should also work on any mobile virtual network operator (MVNO) e.g., Mint Mobile, Boost Mobile, etc.
Can Sprint customers use Surface Duo?
Yes.
However, since the companies have merged, customers will need to acquire a T-Mobile SIM to function.
Does Surface Duo support Wi-Fi calling?
Yes.
Surface Duo supports native Wi-Fi calling allowing it to work on all networks that support the feature. The setting is off by default, but it is part of the native Android experience where users can enable it and prioritize using Wi-Fi over cellular and vice versa.
Does the Surface Duo support 5G?
No.
The Surface Duo does not support 5G. It runs on a Snapdragon 855 rather than the newer Snapdragon 865 or other processors that support 5G. That means if you're trying to decide which carrier to use the Surface Duo on, 5G isn't a factor.
The Surface Duo supports the 4G bands required to work on all major networks in the U.S., but it doesn't have any 5G capabilities.
Does Surface Duo support Microsoft Your Phone?
Yes.
Surface Duo can connect wirelessly to any Windows 10 PC for phone calls, messages, notifications, and streaming of apps like Samsung phones and "Link to Windows."
Does Surface Duo support Android Auto?
Yes.
Like all modern Android phones, Surface Duo supports Android Auto so long as the connecting car supports the feature. Users can plugin and/or use Bluetooth to pair Surface Duo to the car for phone calls, maps, music, etc.
Which Surface Pen works with Surface Duo?
Surface Duo supports all in market generations of Surface Slim Pen, Surface Pen and Surface Hub 2 Pen.
Simultaneous Pen and touch are supported
The pen is not included with purchase.
Does Surface Pen Slim attach magnetically to Surface Duo?
No.
While earlier prototypes did have a way to let the Surface Slim Pen attach magnetically to the exterior of Surface Duo, the production model does not have any such method, according to Microsoft.
There are magnets in Surface Duo to turn the device on when opened, and Surface Pen can, clumsily, stick to these magnets. However, it is not by design nor intended for that purpose.
How many cameras does Surface Duo have?
There is just one camera above the right display. It's 11MP with an ƒ/2.0 aperture and a 1.0um sensor.
Its autofocus system uses the well-received and standard Phase Detection Autofocus (PDAF) tech, which is useful in brighter environments but is not as good as Laser Auto Focus for low-light situations.
The camera can be used for conference calls (Skype, Microsoft Teams, Google Duo, etc.), or users can flip the display around and use it has a regular camera. Since one camera is being used for selfies and regular photos. Microsoft is including some artificial intelligence (AI) to assist with scene detection and optimization.
Which Microsoft apps are included with Surface Duo?
The following apps from Microsoft are preinstalled with Surface Duo:
Microsoft Office: Word, Excel, PowerPoint, Office Lens, PDF reader, and More
Microsoft Outlook
Microsoft Teams
Microsoft OneDrive
Microsoft Edge
Microsoft OneNote
Microsoft To Do
Microsoft News
Microsoft Authenticator
Microsoft Bing Search
Intune Company Portal
LinkedIn
Microsoft Solitaire Collection
Surface Audio
Microsoft SwiftKey
Which Google apps are preinstalled on Surface Duo?
To comply with Google's policies, Microsoft has preloaded the following Google apps on Surface Duo:
Google Search
Google Assistant
Google Calendar
Google Drive
Google Duo
Google Photos
Google Play Movies & TV
Google Play Store
Google Maps
Chrome
Gmail
YouTube
YouTube Music
Contacts
Messages
Phone
Files
Clock
Calculator
Sound recorder
What Android launcher does Surface Duo use?
The Surface Duo ships with a version of Microsoft Launcher optimized for dual screens.
Customers should be able to switch to any other Android launcher freely, however, they likely will not be as optimized for dual screens as Microsoft Launcher.
What unique features can Surface Duo do?
Microsoft and Google have optimized surface Duo and the Android OS for dual screens. The result is the following unique functions to Surface Duo:
Dual screen windowing
Adaptive modes
App Groups
Microsoft 365 Feed
Dynamic dock
Universal Search
Adaptive Camera
Microsoft SwiftKey Adaptive Keyboard
Your Phone Companion - Link to Windows
Do all Android apps work with Surface Duo?
Yes.
Any app on Android and the Google Play store will just work on Surface Duo. Opening links in one app will open the app on the other display, so long as there is nothing already present.
There is no app incompatibility, and there are no limitations on what can be installed to Surface Duo.
Developers optionally can optimize apps for Surface Duo to take advantage of the dual-screen functionality by utilizing the official Microsoft Surface Duo SDK (opens in new tab). Examples of optimized apps (so far) include Spotify, Amazon Kindle, and Mylio (opens in new tab) (photo editor).
Is Amazon Kindle optimized for Surface Duo?
Yes.
Amazon has an updated version of its Kindle app for Android, whereby the app can "span" to both display and function just like a book. Each screen will feature a page, and users can simply swipe to turn the page.
Because Surface Duo has dual 4:3 displays and can pivot just like a book, the reading experience on Surface Duo should be exceptionally good.
What colors does Surface Duo come in?
Just one color so far: glacier (white). Earlier prototypes reveal that Microsoft was considering all-black/graphite as a color too, but that version is not shipping right now.
Does Surface Duo support NFC and contactless payments?
No.
Surface Duo does not have NFC. Therefore it lacks the ability for contactless payments. Microsoft has commented about the lack of NFC on Surface Duo:
Can you use a smartwatch for tap-to-pay/NFC?
Yes.
Surface Duo, like other Android phones, supports third-party smartwatches like Samsung Galaxy Watch Active 2, Galaxy Watch 3, various Fitbits like Versa 2/Charge 4, or anything with Android Wear e.g., Fossil 5.
When paired up with Surface Duo, these devices can be used to track health, steps, receive and respond to notifications, and use various tap-to-pay services like Samsung Pay, Google Wallet, and Fitbit Pay.
Can Surface Duo charge wirelessly via Qi?
No.
Surface Duo does not have Qi wireless charging. It does support 18-watt Fast Charging through its Type-C 3.1 port with included charger.
Does Surface Duo have a 3.5mm headphone jack?
No.
Surface Duo handles audio through the USB Type-C 3.1 port on the bottom (wired) or via Bluetooth 5.0 headphones like Surface Headphones, Surface Earbuds, or any other Bluetooth headset.
Is there expandable storage on Surface Duo or microSD card?
No.
There is no microSD card slot or expandable storage on Surface Duo.
Does Surface Duo support Continuum or docking?
No.
Although Surface Duo's Type-C 3.1 port supports video out, this does not mean it has a "docking mode" or support for Microsoft Continuum. In other words, plugging into an external display will not give you something similar to Samsung DeX.
Is there water resistance or an IP rating?
No.
Surface Duo does not have any IP rating for drops or water resistance, including the rain.
Where is your review of Surface Duo?
Our review of Surface Duo was posted on September 10th. You can find it here.
Preorder today
(opens in new tab)
Two screens are better than one

Microsoft delves into the future of foldables with an ambitious dual-screen device, featuring two ultra-thin 5.6-inch AMOLED displays bound by a 360-degree hinge. This pocketable inking-enabled Android smartphone marks the latest in the Surface lineup, geared for mobile productivity.
Main
Windows Central Newsletter
Get the best of Windows Central in your inbox, every day!
Daniel Rubino is the Editor-in-chief of Windows Central, head reviewer, podcast co-host, and analyst. He has been covering Microsoft since 2007 when this site was called WMExperts (and later Windows Phone Central). His interests include Windows, laptops, next-gen computing, and for some reason, watches. Before all this tech stuff, he worked on a Ph.D. in linguistics, watched people sleep (for medical purposes!), and ran the projectors at movie theaters because it was fun.
Under Will it work with all Android apps, it says no. Don't know if that was on purpose. If it was, I can imagine a few people being confused or asking about this. You may want to put yes but caveat or something

Nvm me. Don't want to sound like I'm telling you how to do your job.

Fixed! Thanks for the heads up.

Pretty excited to see the reviews of this product, even though with this first gen product I can't personally commit on buying it due to lack of NFC which is pretty much used often. Yet to see its camera capability, but likely no where near as good as my current Galaxy Note. Will see. Kinda sad Surface Pen isn't included with the box nor its been offered with the package considering its price tag (1399 USD, which is bit higher than what I hoped for 1000 USD but understandable). Personally I already have Surface Pen anyways, though it seems that there is no magnetic pen storage with Surface Duo? This makes me miss having pen clip that was featured on earlier Surface Pens. The lack of MicroSD is kinda bummer. I already almost filled my 128GB storage on my current phone. This makes me think I have to go with 256GB at a minimum.

I can't believe they put ot the statement around no NFC due to first Gen device. This does not look good. They are making excuses about their compromises before the device is even out. They should have listened to the feedback after they showed it last year. It was obvious no NFC, wireless charging and huge bezels were concerns. They should have brought their a game with initial launch. Not a half ass attempt with excuses. MS continues their fumble in the mobile space. That said I will buy one when it goes on sale during the holidays.

People will talk about it regardless, so it doesn't matter when they say something

Well it is disappointing that NFC were not at least included. Though TBF considering that it is pretty much US first release and somebody said that NFC based payment system isn't as much as popular as the other countries like in Europe and Asia, then I can see why it is easier for them to skip this for now. I'm still curious about this though and will consider on Gen 2 or 3. I'm happy with my Galaxy Note for now. Hopefully this product will sell enough for Microsoft to continue the product line.

I think you need to hold it to see why no NFC or wireless charging, they wanted a thin device and that was the compromise. Not perfect but I would say its better than any dual screen device out there.

Super excited.... skim, blah, blah
skim, blah, blah No NFC, no Qi charging? Going to have to wait for v2. I was REALLY looking forward to this,
but I use NFC/Samsung Pay often, especially during these times. I haven't possessed a non Qi phone in years.

No Qi or expandable memory = hard pass for me as well. I haven't plugged in a phone since the first pre and have Qi charges all over my house and office so I can just sit my phone down to charge where ever I am.

Wireless charging and NFC are luxuries, not necessities and we've known about them for some time. The new limitation that I find a little surprising is the lack of removable storage media. No microSD? I'm wondering if that is a security measure. I think Microsoft overshot a little with the pricing and we'll have to see if they change that or bundle something to sweeten the deal. Then again, I've purchased the Surface Earbuds which I will say are slightly priced, so it's pretty much a done deal that I'm going to purchase this as well..lol.

This is reportedly the thinnest device ever. That's probably the main reason it doesn't support expandable storage.

The whole idea behind the Surface Duo is a luxury. No one "needs" two screens on a phone and if you're going to pay $1400 for one it's pretty reasonable to expect the things that have been default on luxury phones for years... One of the example's they showed of having Spotify on one screen while writing notes on another screen is pretty useless. Who needs to "watch" their music while it's playing? Spending $400 on a Surface Go seems like a far better option.

I actually find that feature rather interesting. It's more of combining two applications to launch simultaneously together. I think Spotify and One Note is an example that doesn't really demonstrate the real benefit of that feature. Skype and Outlook was another example the showed that I think better showcased what that feature could provide.

> I actually find that feature rather interesting. This feature was around on Android for a while and on Samsung devices well before that (definitely Android 7, possibly Android 6). Did you make much use of it?

A question I do have Daniel that hopefully you can provide some insight on is how does the pen attach itself to the device, or does it attach at all? The newer Surface Pro devices allow the Surface Pen to attach magnetically. Can we expect the same characteristic from the Surface Duo?

The new flat pen attaches Magnetically to the back of the right screen

I wonder if they will make a magnetic keyboard like the one for the Neo.

Seems unlikely for a device of this size. No one would be touch-typing on such a small keyboard and two-finger typing or swiping on a virtual keyboard would be a s efficient I think.

Yeah, magnetic as far as we know.

Glad to hear that. I was worried there were no magnetic attachment for the pen.

I wonder if that bumper case with the extra wide part on the back screen is made for making the device more secure when flat when a pen is docked on the back. Otherwise the device may wobble on the "mini laptop" posture.

Not attachable. You need to keep the pen in your pocket

Because US only launches have worked out so well for Microsoft products in the past, looking at you zune. I wouldn't mind too much but my phone is on its way out, the backlight is dodgy, the speakers are crackling, and the battery life is border line atrocious. I feel I will never get this device

I really don't see the point of this Microsoft phone. It's just sort of a clunky Android phone. This phone doesn't appear to run UWP apps of which there are more and more lately since Windows 10 (which runs UWP apps) has 60% market share of ALL PC's (including Macs) and 70% of Windows PCs. UWP apps are capable of running on ARM processors. Without this capability I see no synergies with the Microsoft ecosystem....

"UWP apps are capable of running on ARM processors." Only if they are compiled for it. Which means that very few actually run on ARM.

Not to mention that UWP would first need to be ported to Android. IOW, there is no way the few current UWP apps will run on the Duo. Just like the bazillion current Win32 apps can't run on Android. Nor is there any incentive for people to port UWP apps - or Win32 apps - to Android. Android does not need them.

So, does eSIM and a nano SIM mean dual SIM capability? I could use eSIM for T-Mobile and set a Verizon SIM to CDMA-less for my work phone. Please? Probably not. Hopeful.

From where? I couldn't find a working link...

Why wouldn't they make the default search engine Bing on the ad? ¯\_ (ツ)_/¯

False advertising and creating a disparity of what's expected and what will be experienced out of the box. Plus if you're on this site, you're the audience for changing to Bing. But for most people, Google is where they're at. This assures them, this could be a device for them and they wouldn't be losing anything or essentially switch platforms. The apps and experiences you have are all there. Plus some new ones

As has been previously said, it's required by Android that Google is the default. Users can then update to Bing if they'd like.

Hum... That's monopoly behaviour, and illegal.

No, it isn't. If that were true, then Edge being the default on Windows is illegal. Windows does not ship with Chrome. It's only illegal when you can't change it.

That is not why it is not illegal. The reason it is not illegal is because aosp exists

And Microsoft has been severely punished for bundling their own browser in the past; they HAVE to ask you upon activating a new device. Why is Google not required to do the same?

I'm on AT&T, would there be an advantage to buying the locked to AT&T version?

Advantages are usually less bloatware and faster updates.

I would buy the unlocked version. Why lock yourself to AT&T? I see no advantage to doing that unless they offer you a substantial discount of the purchase price or if you need to finance the purchase through your carrier.

"I'm on AT&T, would there be an advantage to buying the locked to AT&T version?"

I can think of three reasons: Visual Voicemail. AT&T needs to approve devices for VVM. Unlocked Android devices do not qualify for that, just Pixels and iPhones. By buying through AT&T you should get VVM. Financing: Because you're buying through AT&T you'll likely get to use your "upgrade" to get a lower price, or spread it out. Same with opening a new line as there are usually discounts. Easier to service/warranty.

Will I be able to use VVM on Verizon?

I can't get over the mono speaker. It's kind of sad to release a $1400 phone in 2020 and have sub-$150 budget Amazon Fire HD tablets beat you so thoroughly in *any* category. Sure, an amazing audio experience was surely never a key component of the Surface Duo story, but at $1400... what happened? The dual screen experience seems like a neat idea and I hope they nail it down in a Surface Duo 2 (if they don't go and prematurely wind this consumer product down, too), but this phone is just a bad deal. At best, you have a user experience with many needless compromises and a year of varying degrees of adoption of these Surface Duo specific features within apps (assuming large scale interest among both users and developers, something contemporary Microsoft has virtually no experience in). At worst, you have a first gen user experience that's never fully realized and substandard specs and price point bundled in. I've had a growing suspicion for some time that a large and growing cabal within Microsoft don't actually use Microsoft products in their day to day activities and these specs do nothing but sustain that suspicion.

"I've had a growing suspicion for some time that a large and growing cabal within Microsoft don't actually use Microsoft products in their day to day activities and these specs do nothing but sustain that suspicion."

Did you not see all the Microsoft executive using Surface Duo online/photos on Twitter over the last few weeks? Even a SVP at Google/Android snapped a photo of using Duo at his home. We've talked extensively about how Microsoft "dogfooded" Duo for the last few months. It's well documented.

I saw them. Call me cynical, but they seemed very forced to me as if a marketing team asked all executives to open a package, turn on a Duo, and take a clever picture of it. There's nothing wrong with that, but it didn't influence me at all. I'd be curious if in this supposed dogfooding the Duo was the only phone these executives used for any length of time and how not one Microsoft executive seemed to have mentioned the fact that it only had one speaker. If they did actually dogfood them, IMO they did a poor job enough to the point where this phone would rightly be considered a downgrade from virtually any mid tier phone or tablet, let alone one in this price range. Maybe I'm wrong and seeing two apps at once is worth the trade off to early 2010s era specs, but I doubt it.

I think you're making a lot of assumptions from a few photos, tbh.

Actually, YOU'RE the one making a lot of assumptions from a few photos...

Staged photos are hardly proof...! 😄

I know for a fact that "dogfooding" products is an essential ethos of developing products at Microsoft. For a product as significant as Surface Duo this goes up by a factor of 10, maybe more. And then there is the matter of all those hot dog egos at Microsoft - getting your mitts on this thing while it is still in development says a lot about your earned status. Making bald statements that Microsoft employees don't use these products, or only does so as part of a staged virial marketing campaign is, being generous, wildly ill informed. The only thing missing from this perspective is spelling Microsoft as "Micro$oft," and going off on tangents about how clueless Micro$oft is about anything other than releasing bug infested garbage. Microsoft is chock full a brilliant people that do some brilliant work though I must admit certain moves during the Ballmer years were and still are difficult to appreciate. Time moves on and it is time to let go of all that; the current version of Microsoft has moved beyond all that and has reinvented itself, brilliantly from my point of view, as a company that is not only building products for today but will gain in value over the next decade. That the Surface Duo was released with certain feature compromises was, "duo", if you will allow me, to a hard headed understanding of what is possible from multiple perspectives such as engineering resources, component availability, manufacturing availability, market timing, and what other competitors are doing. This product was fully vetted, warts and all, before it was released. Will it be perfect? No. More to the point I would bet every key player in its development would be able to articulate for a few hours why it isn't and why it still made sense to release it. Microsoft is a fantastic company that does fantastic work. It has solid corporate ethics and so do its employees and I say that with a full understanding of the anti-trust period. To this day I still feel that prosecution was more politically driven than a legal matter. Mr. Gates without a doubt was a ruthless competitor who always stuck the tip of his nose of the far edge of the white line of what was permissible. Nothing wrong with that and in fact similar behaviors are occurring right this minute at every other major technology company. Time will tell if the current competitors have both feet beyond that white line or not. Back to the Surface Duo. This device is defining a new category. In the personal computing hardware stack, I find myself often looking for something that can fill in the gap between a smart phone and a laptop with iPad or Surface Go's sort of filling in that space. My sense is the Surface Duo fills in that space by giving one at least 80% of what a phone and PC provide for common tasks in a box that can fit in your pocket. My cost/benefit structure finds the Surface Duo beyond what I need. I will pass at this time and wait for the technology to push down the hardware cost stack. There will come a point when this form factor will match up with my needs analysis. I will be a buyer at that time as the functionality provided by the folding devices eliminate the need to carry a phone and allows me to accomplish much of what I use a PC for on a daily basis. So in conclusion – I am open to having one donated to me for a very long term evaluation period. Any offers? Mr. Panay, are you listening?

This was a really good reply. Enjoyed the thought on Microsoft as a business, and agree with you on purchasing the Duo now. And if you get in touch with Panos, let him know I'd like one as well ;-)

'I know for a fact...' Oh my, NOW I'm convinced that no photos of MS execs using a Duo are staged, but OBVIOUSLY impromptu shots... 🙄

I saw them wearing Apple Watches. You know their iPhone was sitting nearby.

I'm sure I could pull up an article from the time of the first Surface launch that shares the same glass have empty sediment as this one. I wonder how the originator of that post feels now? There are definitely questionable factors regarding this device. This just isn't an expansion of an existing device. This is a completely new form factor with a vision of expanding mobile functionality. People laughed at the first Surface device, and now everyone (to include Apple) are modeling devices after it. To have reasonable doubt is understandable, but to not acknowledge that Microsoft can't replicate what they did with the original Surface device is being oblivious to not only the success of the Surface brand, but that almost all big tech companies have followed suit.

I wasn't one of them. I'm a very happy Surface device owner (SP3, SB, then SB2). But I immediately saw the usefulness of those form factors when I was looking for device upgrades. Easy to bring into a datacenter, a good intermediate between cheaper wacoms and expensive wacoms screens, more apropos screen ratios for 4:3-centric emulators, visual maps for D&D, powerful enough to run Ableton and also having native touch input, the list goes on. It's immediately useful for any number of people. This device however seemed needlessly cut off at its knees. For every Surface, contemporary Microsoft has a long and storied history of odd missteps, blunders, and own goals. I certainly wouldn't gauge the success probability of a Microsoft product based on the Surface. It didn't even lead the market to what Microsoft was after in the first place: a radical positive adoption of Windows 8 and touch first apps at a time where touch screens simply weren't a part of the PC design ethos from OEMs. If anything the success of Surface PCs inadvertently highlighted just how badly Microsoft failed at that aspect of execution. Here's to hoping they find the same luck in the Duo 2, really, I just don't see how they're going to convince people to aid them in this when part of the deal comes with such horrendous compromises with this release.

A lot of people saw the usefulness of the Surface Pro 3. It was the groundbreaking variant of the Surface brand that showed the culmination of the first two Surface devices. There wouldn't have been a Surface Pro 3 if there wasn't a Surface. That's my point. Maybe the Surface Duo third generation variant will capture the hearts and minds of the consumer like the Surface Por 3 did, but without the initial Surface Duo, we'd probably never know.

I was at many of the events. The only thing I remember people laughing at was RT once people go a hold of the devices. I don't remember anyone laughing at the original surface pro. My remembrance is that most of the comments were about how they could get one. Some disappointments about only having an I5 and low memory but most were excited about the form factor and the pen support.

Personally, I almost never use the speakers on my phone for music or video. I'm not sure how other people use them but I don't see that using a phone screen for video would be a good idea where using speakers for audio would be appropriate. To be frank, more people should use headphones more often. Having to listen to other people's phones is annoying.

This is a first gen, dual screen device, why are you comparing it to a Fire HD tablet? I don't compare my Fire HD to my desktop computer or surface pro. If anything compare it to the galaxy fold or something.

During a pandemic is a really bad time to come out with a smartphone without NFC

Maybe? I live in the US. I live near a major metropolitan area. I can count on one hand the amount of tap-to-pay systems in effect. I have tap to pay in my watch, Fitbit, and phone. I never use it. I get in Europe, or even big cities it's the "norm", nor am I denying its usefulness. I'm just saying, for some of us it's NBD.

I disable NFC to save battery. Never use it in US.

> I live in the US. I live near a major metropolitan area. I can count on one hand the amount of tap-to-pay systems in effect. Can you name one major US grocery chain that *does not* support tap-to-pay?

Walmart, Target, Publix, at least in Florida.

Thank you for the list -- further north neither Walmart nor Target are the grocery chains, but it is good to know that they don't accept contactless payments nonetheless. Publix seems to be non-existent north of Mason-Dixon line, but it definitely is a major grocery chain, so it is a great example.

Walmart has their own contact less payment system through their app. Pain in the butt, but i love having Samsung Pay to just use the magnetic strip reader.

Publix and Target both accept NFC mobile payments now. Target has since before all this began, and Publix started to in response to the pandemic.

Really, I wonder where you live in the US. Most stores I go into support tap-to-pay. All of our grocery stores and fast food restaurants support it.

It is hit or miss in Louisiana. Most grocery stores and drug stores do, but walmart doesn't. I hope one day Microsoft's partnership with Samsung allows them to put their tech into the phone and work on any card reader. After having this, I don't think I can go back to normal tap to pay.

In my personal experience I do use nfc payment and have increased its usage since the pandemic.

In the last year, tap to pay has grown quite a bit in my experience. Bummer they couldn't fit NFC in the device.

As a cyber analyst I'll always say the biggest issue with NFC is security. Like with most technological advancements, it's about convenience. However with convenience, there is always compromise. I don't enable NFC the same way minimize usage of Geo-location. I guess my question ultimately would be what are you losing by not having NFC other than convenience?

I can't speak for you but in Australia we use tap to pay everywhere and have for a long time. We can also use NFC for a variety of other things such as security access and on public transport. To not have it in the DUO is a massive oversight and a huge deal in some countries.

I think you're missing my point. I'm not saying NFC isn't used a lot. It's used all over the US. I'm saying there is a security risk associated with it, and if you had to put it in the category of luxury or necessity where would you place it? Meaning, if you didn't have it, would it prevent you from doing what you're doing now?

> As a cyber analyst I'll always say the biggest issue with NFC is security. As a cyber analyst (not sure what that is), would you care to contrast NFC security with that of magnetic strip, which AFAIK is still widely used in US? It would be also interesting to hear what you think about major US banks tripping over themselves to build contactless circuitry into their plastic.

100% agree. I live in a downtown Metropolitan area and literally never use my physical cards for anything (except purchases over $100). And if I could use my phone for those purchases I would. Literally 95% of businesses offer and prefer tap payments currently.

This device looks like a solution in search of a problem

Groan. Tip: Don't use this expression. I know it sounds clever, it's a cocktail party cliche to mumble while swirling a drink in your hand, but it really express how you don't quite understand technology, or how progress works. Technology is not always about "solving problems." Tech, especially consumer tech, is about creating new experiences, new opportunities, letting people do things they could not do before. Some of it is intentional, a lot of it is not (see where people take it). A good designer doesn't ask "What do you want?" They make something that you did not know you wanted (or needed). Almost all new tech has detractors who say the same thing: "This device looks like a solution in search of a problem" whether it's smartphones (Treos, BBs, WM), LED displays, the Internet, computers on your wrist. It is only later do these things become "obviously necessary." This is such a fundamental about all technology that I implore to read up on some designers and engineers, the creators, who make this stuff.

Whatever, I neither want nor need one of these, even if it was 50% cheaper. Oh and actually avaialble in the UK

Which is my point. In a few years, when you have a dual-screen and/or foldable device (maybe even an iPhone!) because it is the norm, you may look back on this moment and be like "oh yeah, I remember when this trend was just starting ... I concluded 'I don't want or need it' and yet, here I am with one, like e everyone else." That's how all this works. People who buy this now are early adopters, the tip of the spear, the ones who take a financial risk (and make compromises). Most people aren't cut out for that, which is fine. Gen 1 tech is generally full of compromises. See Apple Watch, and how quite a few people bought one $20,000 anyway.

😂 I doubt anyone thought the internet was a solution waiting for a problem. That's a bad example Daniel. Anyone who used a computer purposeful before 1990 could see it. It was progression waiting for implementation, not an inventor. I can't see the problem here, maybe i'll wait for an apple version with notification LED light.

Hiswona, people (whether consumer or business) are good at identifying their wants and pains, IF there is already a solution to them in some fashion (e.g., we don't think that we need help smelling stuff, because there is nothing that helps with that, but if there were, then people would think about limited sense of smell as a something to be solved; yeah, I'm sure that's a terrible example, but hard to think of an example of something that doesn't exist). Even then, customers/users are rarely any good at defining the solution. Daniel is absolutely correct that the history of technology innovation is about putting something out that addresses the interests of a very niche market (maybe just the inventor), but then observing how it's used and iterating. In this case, a "problem" the DUO addresses is inability to have a functional experience with productivity apps and multiple functional panes (dual screens) that is absolutely portable to the point of fitting in a pocket, something even the Surface Go can't do, because it's too big. I'm often away from my desk (whether sitting on my couch or in a meeting) and want to look something up or shoot off an email. Sometimes, I'm willing to do that on my phone, but many other times, I figure it's not worth the effort of using a tiny phone and I'll just wait until I'm back at a real computer. Then, sometimes I forget and never do whatever it was. The DUO might solve that problem for me (depends how the typing and Outlook experience is).

I do take exception to "A good designer doesn't ask "What do you want?" They make something that you did not know you wanted (or needed)." I have gotten used to using a phone without a keyboard so I no longer desire one, but I would not say it is better. I used to be able to type on my phone without looking. I love my Sonim XP8 phone because it is thick and has a removable battery. I am supposed to hate it because it is not slick and has huge bezels, but that seems like form over function

A little embarrassing to be so excited about a product years in advance and to not be buying this. Much better value out there from Google and Samsung at this time. Sacrificed with WP in the past and I will not do that again because of the logo.

To clarify, "Surface" as a brand has never been about value. People here think Surface Go 2 is too expensive.

I suppose but I got my Surface Laptop for around $700. Had no problem shelling out for the Surface Earphones and Earbuds as they're close to what other competitors sell those for. But I think this phone for what they're offering is too much $. If it had top of the line specs, fine, I'd bite the bullet and shell out $1500, but this doesn't really come close to top of the line specs.

> To clarify, "Surface" as a brand has never been about value. As someone who uses (non-pro) Surface 3 for the past several years for multiple hours a day and who knows quite a few happy Surface Pro 4 owners, I would respectfully disagree. I guess "value" is in the eye of beholder.

"Value" as in budget-friendly, not subjectively what you get out of it over time. Comparatively speaking, if you have $1,300 for a laptop your dollar goes further with HP than a Surface e.g. "moar specs!". That doesn't necessarily mean you'll enjoy it more than a Surface, however.

Too expensive, no nfc, only available in the USA... Fail... Will stick with my Nokia 9, it fits in my pocket...

Security: "Fingerprint" No Windows Hello facial recognition? It'll be interesting to see what features get prioritized for various v2

No facial, just fingerprint. TBF, to get actually secure facial recognition on a phone you need an IR camera/array of sensors, or what Apple uses. Using a simple camera/facial recognition without proper biometrics is not secure. Since space/thinness (and price) was a factor here, that tech was just too big/much for gen 1. WIll be interesting to see if they can manage it for v2 or v3.

Yeah, how odd that "Windows" Hello is not on this Android device.

What about water resistance rating? No expandable storage? WTF? That's an expensive device for last year's internals....

"What about water resistance rating?"

I'll add that, but no.

"That's an expensive device for last year's internals...."

Same can be said for my $1,400 Galaxy Z Flip ;) New device categories aren't for the masses.

The biggest miss here imho is no expandable storage. They are advertising this as a production device, which can eat storage quite quickly. I have a 512GB card in my Note with over 300GB of space taken - all for business related materials.

Come to the future and store your items in the cloud. I've not relied on local storage or SD cards for years now.

The year before last year, actually...

Is the fingerprint reader under screen? It seems like it from the x-ray of the device, but I didn't see it explicitly mentioned, thought possible to have missed it. Are the forced Google bloatware apps in ROM or can they actually be uninstalled? Google isn't the only one bad at this, Samsung gives me a bunch of crap I don't want on my phone and can't get rid of as well. Can OneDrive be used instead of Google Drive to back-up the Duo? Excited to see where this goes, but sadly, without NFC and Qi this generation is a no go for me. Hopefully with their partnership with Samsung full support for Samsung Pay and all it's features will be added in future generations.

"Is the fingerprint reader under screen?"

Nope, side of the device.

"Are the forced Google bloatware apps in ROM or can they actually be uninstalled? "

Don't know yet, but historically, they (or most) are always in ROM.

"Can OneDrive be used instead of Google Drive to back-up the Duo?"

Yeah, the camera upload feature should still work.

Thanks for the info Dan, it is appreciated.

The only Google thing I want on the Duo is Android Play. I am super disappointed that Microsoft couldn't take the time to develop their own people, messaging and dialler for the Duo. Most of the issues I have with Android are attempting to integrate it with everything I have that's within Microsoft. It's a dog's breakfast, they had a chance to fix that issue with this release and make Android usable. Also super bummed that Cortana is a shadow of her former self.

I am so bummed, I wanted this device so bad, but with NFC omitted it would be like living in the Flintstones.

Would an unlocked Duo on T-Mobile have access to Wifi-Calling and Visual Voicemail? I know unlocked Android devices on AT&T are usually out in the cold in this regard.

Yes, it should. T-Mobile is a lot more flexible than AT&T on that feature. For example, I have an unlocked Samsung Note 20 Ultra. I just installed the T-Mobile VV app from the Play Store, and it worked.

It's only missing one key T-mobile Extended range band, 71 (which is a very strong band to miss), but thankfully it covers band 12 which is an extended range band for T-mobile.

Yeah was noticing the same thing, that's a weird miss that is making me reconsider for T-Mobile

In the carrier compatibility list here, it shows AT&T, T-Mobile and Verizon Wireless. On the Microsoft Store, it shows... Locked: AT&T
Unlocked: AT&T, T-Mobile I can't find any mention of Verizon Wireless in Microsoft's technical specs for the Duo.... https://www.windowscentral.com/e?link=https2F%2Fclick.linksynergy.co...

Beat me to it. But Exactly what I saw.

All our documentation says it supports Verizon. Best Buy even lists: 'Compatible with all major U.S. carriers, including Verizon, AT&T, and T-Mobile." It's an error on the MS Store.

As soon as you click the Pre-order link, on the page where you select your storage option, this message is highlighted in a gray-box "Surface Duo will work on AT&T, T-Mobile and Verizon networks including subsidiary and international partner networks." It was there when I pre-ordered Wednesday morning after 9 AM CST.

A single-camera from 2012
Horrible 3550mAh battery
Missing any external screen
SD 855
Thick bezels
Single mono speaker
Only 6g of RAM
No NFC,
No Wireless charging
No 5G With these outdated specs, it shouldn't be priced over $800.

So, as I tell others, go buy the cheaper dual-AMOLED screen device that is <10mm thin, supporting inking, and has an OS/Launcher made for dual screens usage/optimization. Easy problem, really. And if you don't think dual screens aren't worth it, there are TONS of me-too single screen "flagship" phones on the market right now.

I wonder if it supports any kind of desktop mode like Samsung DeX or the simpler desktop mode on the newest LG phones.

Same question, on the page for it under USB 3.1 it says video output. I'm wondering the same thing.

I honestly love the design and what it can do, but this is definitely one hard pill to swallow for all the features it lacks for 2020. Especially after how long it has been in development and how long they've been waving the form-factor in front of fans. I'd get one, but I can't justify the price for something this large with no SD slot, a headphone jack, or at least some kind of water-resistance. It's a shame, they will sell quite a few of these, and after the price drops I may get one, but this is totally a guinea pig affair.

According to Microsoft's own page no Verizon. Anyway to check that? countries, carriers, and compatibility4
Countries: U.S.
Unlocked device: AT&T, T-Mobile***
Locked device: AT&T

It supports Verizon. All our documentation shows it and Best Buy states: "Compatible with all major U.S. carriers, including Verizon, AT&T, and T-Mobile."

If you attempt to purchase the Surface Duo now (September 20, 2020), the Microsoft Store now offers a Verizon SIM as an option. If you were an early adopter like me, you only had 2 options: 1) unlocked and 2) an AT&T SIM. It's still unlocked if you choose the Verizon SIM as far as I know.

I understand that it supports Verizon. Does this mean it will be compatible with (supported by) Xfinity Mobile?

Yes, as I wrote above, it should work on all MVNOs. But, since we don't have one, we can't try. It's SIM unlocked and we listed all the LTE bands.

Hey when I pre-ordered it went over the specs and features on the main page, under USB 3.1 it said video output. Does that mean there will be a docking mode?

"Does that mean there will be a docking mode?"

Nope.

Whoa, 1400$...! 😳 Pretty much twice the actual worth of what you're getting, not counting special needs for dual displays. It'll be exciting to see how many they sell... I haven't seen a single Flip or Fold in the wild yet; I'm betting I'll see even less of these!

Does anyone know if there are any differences at all between the consumer and business versions of Surface Duo? One the spec sheets I cannot see a difference, but perhaps there are minor differences?

Has anyone seen any accessories, like cases or anything?

In 128GB variant, 8-10GB (at least) space will acquired by pre-installed apps.

I'll pull the lever in early September, when I'm home from my business trip either unlocked or with AT&T, depending what the deals look like.
Can't wait to use it as my daily diver on my next trip.
This device will make my life a lot easier.
Glad it's finally here.

Where I'm still on the fence about these dual screen, folding phones is whether it will be physically slower to interact with the phone. Given people interact with their phone hundreds of times a day, often for very quick check of something, will you be folding and unfolding this thing hundreds of times a day. Or, can you just leave it folded backwards (which exposes both screens) all the time for quick access? Will it work in typical phone holders like when used for navigation? Can it take a photo with it folded backwards, or do you have to open it up just to take a picture? Hopefully the upcoming reviews will try to express the ergonomics of a folding phone.

I also am interested to know how the one-handed ergonomics work from the upcoming reviews. I do think the success of dual screen phones will come down to ergonomics. If they are too awkward to use 80% of the time, that will not out weight the benefit of having two screens 20% of the time.

Google is missing an opportunity to optimize this phone for Google Fi and offering it as an ultra tier device slotted above its flagship Pixels. The eSIM begs for it.

I am trying to find out if it supports wifi calling, I see that it supports VV, but not specifically wifi calling, does it?

There's another article on WC where Daniel stated 3 upsides to buying the AT&T variant. One he didn't mention and perhaps this has changed is that, at least on AT&T, I'm pretty sure you need an AT&T device for WiFi calling. Again, they may have changed this, but it was definitely this way at one point.

Yeah, I believe that is the case for AT&T. They require special drivers/certification for VVM and Wi-Fi calling. T-Mobile is more flexible on this.

Just get the Samsung Galaxy Fold... It has NFC and you can see who's calling you without having to open it... It also fits in your pocket... And one very important point... You can buy it outside the USA... :-)

Right. I'll also expect you to subsidize the extra $600 for everyone who takes you up on that recommendation.

Something pretty cool mentioned in the CNET video (they have a unit with no display, so you get a really good look at the internals) was that BOTH displays have a full compliment of typical smartphone sensors. I point this out because it kinda of exposes the flaw in the narrative that MS just "bolted another screen onto a smartphone." I'm looking forward to giving the device a go.

With a trade-in the price isn't so bad IMO. I have an iPhone 8 plus - $400 and a Galaxy Note 9 - $550 that knock the price down considerably. Those seem to be similar to what I could get on Ebay. The only downside is that unlike Samsung's trade-in program you only get refunded after purchase (Samsung gives a credit before the purchase).

This thing is insanely thin for a foldable two screen device! Open: 145.2mm (H) x 186.9mm (W) x 4.8mm (T)
Closed: 145.2mm (H) x 93.3mm (W) x 9.9mm (T at hinge)

It's crazy thin. It's what I've been saying since October - when you hold it, it blows you away. It's like anything that's out there. Hard to convey in static photos.

Wasted opportunity again from MS. This should have been top.drawer, its specs are average yet price tag is anything but. I was really looking forward to think and held off upgrading after my current contract expired. Think I'll pass and wait for V2 or V3. Samsung it is again then.

I hate to say it but NFC IS a fundamental feature! This is a phone many of us have waited years for in some form. Microsoft's US centric mentality and not finding a way to include NFC is a disaster. Many markets outside the US showed more interest in Windows Phone and those markets pretty much all must have a device that includes NFC, we are not living in the stone age, some of us NFC daily to pay bills and catch public transport. This is a basic feature that's been well used for over two years. To wait this long for a device that's not being released worldwide, without NFC and just after the killing of Cortana on Invoke and everywhere else, beggars belief. Who is making these decisions? It's death to consumers by 1000 cuts.

Soooo you're saying you didn't start living until there was NFC?

I live in the US. Major metro area. I never use NFC. I get how for some people it's key and deal killer here. Not trying to argue that. I am arguing that not everyone cares or uses NFC, including myself. There's no "death to consumers." It just means wait for version 2. That's it, it's that simple.

I was worried about NFC as well at first. I don't use it much, but on occasion it was a life saver if I forgot my wallet. Then I remembered that my Garmin watch does NFC payments so there is a work around for those that still need it.

Most Americans can't enjoy NFC because unlike the rest of North America, Europe and Asia, American technology in public transit and commerce could be at least 10 years behind the rest of the developed world. If people don't leave America they may not even know NFC exists. Don't worry though the technology will catch up to you guys eventually.

Lack of NFC will be a huge issue here in the UK... I bought my daughter a Huawei P30 Lite and had to return it as she used it to pay her bus fare to college and said she could not own a phone without NFC...

I am disappointed about NFC, no headphone jack, and camera. However I do have a watch that has NFC for payments so I guess I would wear that more.

Sounds like many of us are in the same boat: eager for this device, love the core design, but not sure it's worth the money with some of the missing features. I'm fine with the CPU and no 5G. I would miss, but could live without the NFC for payments, stereo speakers, and a headphone jack. However, I really don't know that I could get past the lack of water proofing or Qi charging. Neither of those are absolutely essential, but I have Qi chargers in every room, at work, and in my car, and I appreciate not worrying about taking my phone with me when it's raining or where I might get splashed (at least in the summer). For the price, missing so many of the features I value, not sure if I can justify it... I think the bottom line for me will be to wait for the reviews. If the camera comes back at least decent and everything else is great, I might still go for it, but not willing to preorder at that price with those specs.

On a positive spec note, the battery size and projected life look great!

What a dumb move not to include NFC, Qi charging, expandable storage, and no IP rating. Didn't the learn from their past failures? For the price you would think all the above was included. I see the price dropping on these quickly. If I'm going spend 1400.. it will be on the Note 20 Ultra. It has pretty much everything that MS left off the DUO.

Just sit this one out and wait to see how v2 fixes/improves things. This wasn't about jamming as much stuff as they could into a two-screen phone. That's LG. This was about creating the thinnest mobile device on the planet with an OS that can handle the new features. That's not LG (or Samsung).

they're not used for the same purposes. the Note 20 Ultra is a brick of a phone. all Note phones are thick heavy monsters. and no matter how big the screen gets, it's still one screen that you constantly have to flip back and forth between apps.

But does it do dual SIM cards?

I am curious if the unlocked model with esim means I can add that to T-Mobile and use a regular sim from At&t for dual sim.

The unlocked version is dual sim (eSim + Nano) and only one sim can be active at one time. My question is, while it does not support dual active, but does it support dual-sim-dual-standby? anyone can confirm?

Where is the silent switch/button?

I believe only OnePlus, Apple, and Black Berry (RIP) do that anymore.

I am coming from oneplus. I'm going to miss that silent button.

BlackBerry is back! Looking forward to next year now that is a phone I will buy... For one reason only... The physical keyboard...

eGad. This device baffles.

Okay, I watched Panos' video and on second thought this is a pretty sweet form factor. Wish it came with a pen, but oh well. MS launcher built in. App Pairs. Full Your Phone integration, including app mirroring, and screen rotation when you rotate the phone! Lots of things to love. But $1400? $1000 maybe one could take a chance and splurge. $799 (the price of Surface Pro) I'm in for sure. But $1400?

Waiting for Canadian Release. Can't wait

Im sold on the Duo, no first generation product is perfect, just like the Surface pro range I am sure Microsoft will fix the omissions, with the successor.

I bought the very first Surface back in 2012. Sure it was lacking but I loved it! Expecting the same here. The Duo is just going to be a fun experience.

Just make sure you get the accidental damage protection plan since it will die the first time it gets splashed with water....

While I did get the plan (more in case the hinge snaps), I am going to say that from what I have seen in tech support, no "fashion" phone should *EVER* go near water. Ever. Regardless of any IP rating. Most expensive phones may have some sort of coating over the electronics in a pinch, and they may survive a drop or splash or two, but so will most devices. They are never going to be the same as one of those brick-like cat phones or Sonims. Sorry, I have seen one too many top-of-the-line iPhones taken into the public pool. LOL

I do love the concept, but there are too many hang-ups with the hardware. No 5G, only one camera, older processor, no IP rating, no wireless charging or NFC all need to be rectified before I'll be willing to buy one, but I strongly suspect there won't be a second generation, which is a shame.

If it supports all Android apps, then it should be able to support Android Auto just fine, correct?

Does the surface duo support different wallpapers for each screen? So excited! Have the 256 GB model preordered.

If it's not yet supported by the launcher, surely a third-party app will eventually fill in the gap.

it doesn't. :( I ended up making my own wallpapers so that something fits on the left half and something for the right half.

Do we know if that includes support for Wireless Android Auto?

From what I understand the wireless auto is a feature within Android 11. The Surface Duo launches with Android 10.

Does the Duo support Minecraft Earth?

Is there any haptic feedback? Or did they leave that out like NFC?
(Pre-ordered Duo and Pen - Woot!)
TIA.

If only it were running Windows 10x and had a metro tile interface.

I see a "Surface Duo for Business" listed on the Microsoft Store for the same price. Anyone know what the difference from the everyday Surface Duo is? The store page is not helpful in that regard.

I think it's the same product SKU. Just different support.

If they actually manage to port Win10(X) onto this, then my interest would most likely skyrocket... I can't stand iOS but if there's something I can't stand even less then it's Android OS so MS going with that OS for a "Phone" is a huge turnoff for me I can't overlook - I really miss my HP Elite X3 and the W10M OS 😭 Besides the obvious issue with the OS there's also the issue with the lack of Qi charging and the no existing IP Rating... The former is frankly something I'd call a given for any flagship+ priced device like this and a little bit of IP Rating would go a long way to still allow me to holster it to my belt ( I do not fancy the concept of putting phones into my pockets ) using a custom 3D Printed fixture like how I did for my iPhone XS Max.

I am inline with your thoughts... The negatives are a lot more than positives for this device...! Good Luck MS...!

Qi charging a given for metallic chassis? Which flagship phones use alloy chassis and have Qi charging? Even Apple couldn't do it.

Android is so much better than iOS, can run Windows Launcher and integrates well with the Windows 10 via the 'your phone companion app'... We can also stream Xbox games... Can't understand why any Windows/Xbox users/fans would use iOS... Enjoy your walled garden...

I'm in for Gen 1, shortcomings and all.
256GB in fact, and I'm hardly made of money. Sep 10 can't come fast enough as I've been basically counting the days since Oct 2, 2019! The wait for Neo is gonna kill me, I'm afraid. But make no mistake, I'll be one of the first in line for one of those too.

I think we'll form a club here at Windows Central. Only Duo owners allowed.

Assuming I will be able to get the device, what are the chances that it will work as a phone here in Sweden? I have checked the table of supported bands but I'm not sure it translates well to the details I have about my carrier. I'm not interested in getting a new device that only works using wifi, at least not for that price. Since this is clearly a business device, it would be strange if it doesn't work well for international users.

I'd be shocked if it didn't work there. It's a world-unlocked global phone, AFAIK.

Which most of the world can't buy...

Dan - This FAQ is remarkably helpful. Thank you!

Thanks, glad you enjoyed it! Been fun putting it together.

One question remains: To what extend could MS fix Android?

Dan - Can it run two games simultaneously on each screen or does one become paused when switching to the other screen?

Believe it or not, it can run 2 games at once.

Lol WTH why? but also cool

Does anyone have word of peek, the main pic on this article, this feature has not ben mentioned at all or seen in videos recently. Did it make it to the device?

Seriously? Isn't Skype even installed? I guess it's because it sucks on Android...

Microsoft has stated numerous times Teams, which is powered by Skype, is its future. Right now, the climate of the global workforce is about tele-meetings, not one on ones (which you can also do in Teams). Think about it.

With everything that's lacking on this device it should be priced at $1000 or less. Not sure why anyone would buy this for $1400 when you can literally have every feature for a few hundred more. Pretty disappointed with how the specs turned out on this. They had me pretty excited 2 yrs ago.

Actually, you can't buy another device with this form factor and software at any price. If what makes this device unique is not important to you, then I guess you're not part of the target audience. Choices are good.

It is the thinnest foldable device out there actually. The Fold etc is thick compared to this.

Does it have windows hello

It isn't a Windows device.

I read it has a fingerprint reader.

"Microsoft offers financing options, including 0% interest payments over 24 months, through the company directly" I can't find anything regarding financing on Microsoft's store site, nor anywhere else online...except this article. Is this actually true?

This first iteration has a lot of caveats, or maybe not caveats but a lot of things that might make me pause on this device. These missing things really make me think twice at this price point and for an Android device:
No microSD.
No Continuum/ dock like feature(s). These features, while understandable in their omission are a little bit of a bummer:
No Qi charging - I expected this due to chassis design/material.
No NFC - seems odd omission only if I wanted to REPLACE my phone.
No water resistance. Just a bummer for simple quick accidents. I'd like to know more about Remote Desktop. I'll be looking for reviews on its functionality as this would be a no brainer for me if it supported that capability well. Finally, this is Windows Central after all!, I really wish Windows flavor on the Surface Pro X was ported to this device. :D LOL Still, friends, one thing I feel is clear is that Microsoft is being aggressive in trying to advance its ecosystem and provide options to work and play as we please. Granted, they admit this will be a niche device, but let's face it, what has Apple innovated lately? I am an Apple user since Microsoft abandoned Windows 10 Mobile, but it's just because it's easier for me to support my family (I provision all my family with similar devices). It doesn't hurt that Microsoft core selection of software and APPs spans other ecosystems. Moving my family was a breeze as their data follows them. I would buy a Surface Phone (even an Android powered one) if they had a phone form factor. Though I lament the loss of Windows 10 Mobile, I am still quite a Microsoft fan and will probably end up owning a Surface Duo.

Will clicking the top of the surface pen open apps like OneNote? Similar to Surface Pro functionality?

The one thing I just can't figure out... is the color of the Surface Duo platinum like other Surface devices or is it white? Sometimes it looks platinum, sometimes it looks white. Anyone know?

The device is white (glacier).

Thanks. That's unfortunate, though. I was terribly eager to get one, then I saw the price and had second thoughts. Now that I'm coming back around to the idea of getting one, with the color being white, not platinum (or black). I'm out. Perhaps version 2 will get me on board again.

The crazy part is that the surface duo 2 is already being used since last year when they showed the first. its all metal like a real surface with an outside camera and inside camera. the speaker is more like the speakers like the surface book instead of in the middle of the bezel. Not sure why they would release this version when it seems the updated one is already working and ready. Obviously I dont know why they are doing this buy it sucks that it looks ready and is not shipping since its already been a year.

That's not accurate. You're confusing an early v1 prototype that has an outside camera and was black. The camera was removed due to cracking issues with the back and an inelegant design. That was not "Surface Duo 2" though. Surface Duo 2 may bring back the rear camera, and it may or may not look similar to the Duo pre-final prototype.

Middle bezel speaker is probably better since there seems more room for it that in the body itself (which is filled with the mobo and battery etc).

Are the "Jump To" links not working for anyone else?

Yeah they work for me (Firefox)

I'm thinking to import one, Australia Network Providers, like Optus? Work? Any Aussie's here! Lmao 🤣

Not that I'm a 'specs over experience' person but the surface duo just benchmarked higher than the galaxy z flip. Let me remind you... With an 855 plus chip.
I'll continue to argue you'll see no noticeable difference in performance with the 865 and 855; just LESS battery life with ymmv 5g support.

That is good to hear. People are so susceptible to marketing/specs these days, like their life will depend on 5g... ps: do not have the link here but battery life was also decent according to one of the leaks/testers. It seems like MS has optimized the SD855 well for the Duo, which could be the reason why the also not went for a newer chip.

"I'll continue to argue you'll see no noticeable difference in performance with the 865 and 855; just LESS battery life with ymmv 5g support."

I agree with this. I'd also toss in having to pay the 5G tax, driving up costs overall.

Will it work with our country's Smart or Globe network? Let us see...

Why does it have too thick bezels in 2020?

Because its very thin compared to other foldables see this video https://www.windowscentral.com/still-mulling-surface-duo-check-out-dave-... Than you will see the Fold and Fold Z are bricks.

The only thing that is stopping me from buying the duo is $1400 without 5G. If I buy, would be using for the next 3 years and 5G is a must? May be they reduce the price by couple of $100 in the holiday season. I would rather wait.

As a total tech nerd can I just say 5G is a bust right now, and I don't see anything groundbreaking happening in the next 2 years around it for use cases. Maybe game streaming if that's your thing? I have a 5G phone now and besides being more expensive (there is a "5G tax") and likely reduced battery life, it's been useless. There's barely any coverage, and when I do find it's a whole bucket of 'meh.' 5G is way more interesting in a laptop/computer imo. Things will get better, no doubt, but I also think people who will buy Duo (and like it) will get Duo v2 late next year. But, if 5G is really a thing you need, by all means, wait until late 2021 and my bet is Duo v2 with 5G will be here.

It will be years before we get 5G up here in the mountains. I am not going down to Denver to just use 5G. So instead of ******** about the lack of features I will wait for the second or third generation. I really like the form factor of this device. But, I am content now with my Note 10+. I wish MS much success with this device. And if you're listening MS, I live in America and use NFC and Samsung MST every day. So, bring on the NFC, please. Maybe, Samsung can learn something from this design...

Does the answer for Surface All Access also apply to Surface All Access for Business? I'm guessing it does, but I'm interest to see if it may be available for business.

Just bought a Duo on Big Apple Buddy......... just cannot wait for it to arrive in Australia!.

Never heard of that site, but super interesting. We'll get a post up for others, thanks.

All everyone needs to know is, "I ordered mine"! As commenters used to say in the throwback WP days, "My body is ready"! ; )

curious do all versions come with the headphones? I thought they said they did in the original announcement but when I read what comes with it I am not seeing the headphones.

As far as I know, no version comes with headphones as there's not a headphone jack from what I know. I personally have the surface earbuds which I'll use when my Duo arrives.

I saw a couple pics where it appeared to come with the new surfaces earbuds

only for the youtuber/influencer boxes

I'm wondering if the Duo is slippery and prone to dropping, for example if it's held in book mode? Conversely, if it has a skin on both sides, does that make it difficult to get into and out of a pocket?

The surface duo is not available via the Microsoft store with financing. They are not accepting their Dell Preferred Account for the Surface Duo. I called store support and they said they may offer it in the future but it's not available through Microsoft other than full payment.

I have one nagging question: What problem does Duo solve? Without one, I'm afraid this product will go to gadget heaven in no time.

You completely miss what innovation is about, mistaking it for a pedestrian concept of "solving problems". While some technology does solve problems e.g. modern plumbing, medical advancements, or environmentally conscious inventions. most consumer and computing technologies are about creating new opportunities, not solving problems directly e.g. tap to pay doesn't solve problems so much as make life easier. Same with a 108MP camera on a phone, wireless charging, or curved displays that reduce bezel sizes. That said, Surface Duo could be thought of "solving the problem" of mobile productivity where customers increasingly do more work on a device meant for a different world. The iPhone circa 2007 was designed for a time where making actual phone calls was the primary function (the iPhone famously did not run third-party apps in 2007, the vision of Jobs focused on the web to get things done). In 2020, smartphones making a phone call is a tertiary priority at best. Instead, the display is everything as consuming, producing, and manipulating data is the primary task. This function is so strong that people can reach for a laptop less often. Knowing that, how does one rethink of what a mobile computing device looks like, ergo Surface Duo. It's not much different than asking why so many offices have computers with dual displays instead of one 24-inch one. It is easier to work with data, and more efficient, with dual (or even triple) screens compared to one. Take that metaphor and apply it to a mobile device that resemble a digital book for notetaking or reading, a universally known form factor. That's Surace Duo.

Two problems immediately come to mind -- CHILDREN. Kids so small they MUST have a phone but they don't need a laptop and they'd find carry a tablet around 'too big'. So when a kid needs a 'phone' you just fold it in half. When a kids needs a 'Gameboy' they unfold it and use one side for the controls. When they're bored in a restaurant it's opened widescreen and used as a TV. One product, all three uses, and it has service built in. ELDERLY (BAD EYES). It's simply easier to see and type anything on a larger device. Also if could double as a 'PC' for bills or Amazon. Instead of having home Wifi and a modem and a network and BLAH BLAH BLAH they simply use this service in this device and they're done. (The problem in both scenarios is the ridiculous price. Once someone like LG or Asus or Lenovo or Xiaomi sell something similar... watch out!)

The suspense is KILLING me! I want my Duo NOW!

I still love the old Windows phone tile setup. It remains the easiest to use and provides a unique clarity to your homes screen. I've run the app "Launcher 10" on my Note 8 for several years now since the demise of the Windows phone. Is there anything known about the ability of "Launcher 10" to operate on Duo? I have the duel screen wonder on order but hate giving up tiles. Thanks!

I truly believe a second review is warranted. I have had my Duo for nearly a week now and find the software highly responsive and effective. I don't play games, I am productive. But it appears the software updates corrected initial issues. The Duo is the biggest advancement to productivity and mobility since the first iPhone! These poor reviews that aren't covering the relevant software may keep people who may benefit from this incredible device from trying it.

Microsoft's Surface Duo, a dual-screen Android phone from the maker of Windows, is now available for order and delivery to consumers. It is the first smartphone launched by Microsoft since the end of support for the Windows Phone platform five years ago.
As our own Ron Amadeo noted when the phone's delivery date was officially announced, it's a little big to be considered a phone in some people's book, given that it doesn't fit into any real world. many pockets Adobe Premiere rush crack apk at keyslog. And at this point, Microsoft isn't exactly calling it one.
So if it's not a phone, is it a tablet? Sort of, but it comes with phone-like features, running a smartphone version of Android and including voice calls on the same cellular networks as AT&T, which is the operator that sells the phone in addition to the version. unlocked sold directly by Microsoft.

is the use of Android splitscreen possible on Surface Duo? so could I display 3 or even 4 apps at the same time?
Or did Microsoft block this Android feature?