Hands-on with the new 'Apps' feature in Your Phone for Windows 10
Take a closer look at the latest Your Phone feature.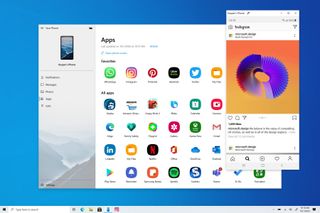 (Image credit: Microsoft)
Yesterday, Microsoft unveiled a new feature for the Your Phone app on Windows 10 that brings your phones Android apps to your PC via streaming and places them in their own app windows as if they were native. It's a step up from the Phone Screen feature that was introduced last year, and much more integrated with the Windows experience.
For example, with the new Apps feature, you can see a list of your installed phone apps, mark some of them as favorites, and even pin them to the Start menu and Taskbar. Clicking on an apps' icon will launch it in its own window that can be moved around like any other app.
You can't really resize the windows, however, and it's still a little buggy here and there. That's fine, as it's still in preview with Insiders right now and will be rolling out more broadly in the next few weeks and months. In the meantime, check out our hands-on showcasing the feature in all its glory, and let us know in the comments your thoughts on this new feature.
Zac Bowden is a Senior Editor at Windows Central. Bringing you exclusive coverage into the world of Windows 10 on PCs, tablets, phones, and more. Also an avid collector of rare Microsoft prototype devices! Keep in touch on Twitter: @zacbowden.
looks good, it'll be nice not having to pick up my phone for much while I'm on the PC

Did we get confirmation as to whether or not this is limited to Samsung devices? Any word on system requirements, if any, for the Android hardware? I assume it's a WiFi connection, not Bluetooth right?

Microsoft has a list of supported devices, and they're all Samsung. That may change at some point, but that's the way it is now.

Your phone needs OEM level permission to access this feature.

I'm pretty sure we will see support for the Duo. :)

The beloved Galaxy S8 is not on the list, so I'm guessing Android 9 is a minimum requirement—even for Samsung phones.

The S8 does have Android 9. The thing is that Samsung did not want to build "Link to Windows" into Android for the S8 as they deemed it too old by then.

I don't understand why they keep limiting to certain devices and mainly Samsung devices. I somewhat remember the screen mirroring feature that was supposed to support oneplus 6t and samsung devices but for some reason not my onelpus 7 pro. Doesnt make any sense. And now I'm pretty sure that feature is dead, or at least its not visible in the app for me anyway.

They removed the OnePlus support after they dropped Bluetooth support and added the special Link to Windows app which appears to be deeply integrated to Samsung's OneUI 2.0 interface. In fact, sideloading the APK reportedly bricks non-Samsung phones. https://www.androidpolice.com/2019/10/30/microsofts-your-phone-screen-mi...

From what I understand it's because the system drivers needed to make this happen are not given access on non-compliant phones. Basically, Samsung builds into its ROMs "low undiscernible latency" connectivity akin to Wi-Fi Direct to make this happen (under the brand "Link to Windows"). I demoed on my Twitter last night how using Apps on Your Phone you can even stream video to your PC in high quality with an excellent frame rate. This isn't just BT, far from it, which is why it's so fast/nice to use. If other companies want to use this on their phones, they must install the driver to make it happen. It's not something consumers can install themselves.

Which system drivers are these? This explanation seems very vague Daniel. I can't think of a scenario where drivers are required for external receiving device to communicate. It's like saying a receiving device requires drivers to receive a Skype. It's a network resource, it will receive the call even in the absence of a camera or camera drivers. If the api and protocols exist at system level, it will work.

You are right. It can be done without going too deep but performance won't be same as this. Also running multiple apps at the same time is not normal for phones.

When an phone app is running in Windows, are all the same actions visible on your phone screen? In other words, is it basically just screen + input mirroring?

Yes, although there is an optional feature to black-out your phone's display to save battery power and not have 2 screens going at the same time. It's a bit more than mirroring, however. That's what Your Screen was, this takes it further.

This would be an excellent selling point for the Surface Duo, too. Hopefully they've already thought of that.

Did you notice the aspect ratio of the "Samsung Phone" in Zac's video?

So, when is Windows Phone coming back?

Next week. Elop is back, Duo is cancelled, and Windows Phone 11 hits India for $50 a phone. But all original and true WP fans get a free device with an unlimited Zune account for life. I was going to write this as an exclusive news story, but since you, and you alone asked, I'll share it now in comments.

If only this was true. All would be right in the world. I love sarcasm. But still wish it were true. LOL!

Thank goodness for the Zune, I have been waiting forever for it's reboot.
You crack me up D

I also wanted to know this too but I was going to ask 'when in india'. I see you answered both in your reply.

Rubino, always tone-deaf and inapt.

Google's trying to do this with Windows applications in Chrome, so turnabout's fair play.

Although it is pretty cool, some of the apps are better used in landscape. I haven't found a way to make that happen yet.

Video apps can switch to landscape when viewed in full screen. Works awesome.

Great feature. As others have said I hope this also comes to Duo as I just can't quite get onboard with Samsung phones. The UI has improved as have the updates, bit I still can't quite make the leap. So hopefully more Android OEMs a.k.a. Google(pixel) in my case add the deep integration needed to make this work

I've been playing around with this all morning long and I have to say that I really love it. Like waynejk said, it really makes a dual screen folding phone much more compelling while you are at work with a laptop or tablet. I think the progress MSFT and SAMSUNG are making here is really compelling and I'm fascinated at the evolving storyline surrounding Apple's App Store and the gaming companies. I'd really like to see other Android phone makers bake in whatever technology is required to empower Your Phone's more advanced feature set. What I'm also interested in learning more about is the Samsung Play Store on Android. To date, I've largely dismissed it as a bloatware play... but could it possibly be a pathway for greater competition to come to the mobile app ecosystems?

This could convince me to ditch my beloved iPhone. I do so want my PC to flawlessly integrate with my other devices. That said, I'm waiting to see if Apple nails ARM. If Apple nails ARM my next laptop will be an ARM based Macbook Pro, I'll hold onto my existing beloved iPhone, and my next tablet will be an iPad. If Apple fumbles the ball my next laptop will be a Windows based Galaxy Book Flex, my next phone a Galaxy Note 20, and my next tablet a Galaxy Tab S7.

Microsoft...... If we cannot beat em, might as well join em! lol.... Microsoft is truly a changed company and its all for the best, especially for us comsumers.

Is it just me or did anyone else lose drag & drop support after this update?

It works great with my Note 9

So if i start the pinned app from the start menu, Does it open the app as well as Your phone app? I hope that is not the case. This just add an extra step to close the your phone app window.
Windows Central Newsletter
Get the best of Windows Central in in your inbox, every day!
Thank you for signing up to Windows Central. You will receive a verification email shortly.
There was a problem. Please refresh the page and try again.