Microsoft Interns transformed the News app for the Surface Duo
Microsoft Garage interns spent months optimizing the Microsoft News app for the Surface Duo.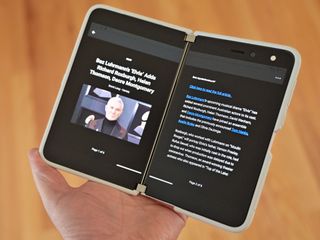 (Image credit: Daniel Rubino / Windows Central)
What you need to know
A team of Microsoft Garage interns redesigned the Microsoft News app for the Surface Duo.
The team figured out several ways to utilize the two screens of the Surface Duo.
The team also had to figure out ways to change the app to fit the unique aspect ratio of the Surface Duo.
A team of Microsoft interns helped redesign the Microsoft News app and to optimize it for the Surface Duo. A new blog post (opens in new tab) from the team summarizes how they identified the core functionality of the app and expanded upon it to utilize the Surface Duo's unique form factor.
The team consisted of Eric Sun – Western University, Judy Zhong – University of Waterloo, Sara Li – University of Calgary, Eishan Lawrence – University of British Columbia, Rithvik Alluri – University of British Columbia, Kate Vlaar – University of Alberta, and Natalia Maximo – University of Ottawa.
Redesigning the news app wasn't just about making the app span across two screens or simply extending an article across displays. The team also made changes to how the app functions on a single display of the Surface Duo.
During testing, they discovered that you can't easily reach a thumb across one of the Surface Duo's displays due to its width. Because each of the Surface Duo's individual displays is wider than that of most standard smartphones, the team swapped the menu from a horizontal orientation to a vertical orientation.
Regarding taking advantage of both screens of the Surface Duo, the team had to evolve the app to expand functionality on two displays without hampering it for people using devices with one display. One way the app does this is by keeping a news feed on one screen while showing articles on the other.
Further testing provided insights to the team the helped them decide on how to handle embedded links. When you read an article on the Surface Duo and click a link, it now opens on the opposite display. This allows people to read relevant content from the linked article without losing their spot within the article.
The team also showed flexibility when optimizing the app. The app now has a Book Mode that you can easily enable for any article. Doing so spans an article across both displays like a book.
While millions of people read content on a single screen, people seem keen to read on a device with two displays. There was quite a bit of excitement on the web when people saw that Amazon's Kindle app spans across both of the Surface Duo's displays. Book Mode within the News app appears to deliver a similar feel to that of Kindle's optimized app.
The list of Surface Duo optimized apps is still relatively short. This team of Microsoft Garage interns shows that taking advantage of the Surface Duo's form factor can be worth the effort.
News Writer and apps editor
Sean Endicott brings nearly a decade of experience covering Microsoft and Windows news to Windows Central. He joined our team in 2017 as an app reviewer and now heads up our day-to-day news coverage. If you have a news tip or an app to review, hit him up at sean.endicott@futurenet.com (opens in new tab).
I'm very glad the individual interns got credit!

Is this why the Microsoft News app for PC is broken?

In what way is it broken? Seems to work fine for me. Not sure how updating the interface on the Android app would affect the Windows app anyway.

Nah, it's just your computer.

You probably need to repair the app in Settings (rmb app in search -> app settings -> repair/reset).

Looks like we could use these brilliant interns' help in optimizing this windows central app for the Duo too :)

could we get someone to fix WC so that it can successfully start twice in a row without a hang?

I have a Duo now, and I will say that if other app developers followed the model of the News app, it would be great! It is very well thought out and intuitive. They did a great job on this one!

Great. A better way to display Democrat propaganda.

"gReAt. A betTeR wAy to diSplSy DeMoCRat prOpagAndA"

I live in a nation filled with grown, spoiled man babies. You don't even know that you can hide/control the news sources in MS News because you're busy being clever in comments on a website. Good job.

"man babies [...] being clever" That's ironic coming from an [deleted by a different mod - arguments agree fine but don't make crude personal insults]. Words are hard for you, Kumon, so I'll make this easier: The point was not about any application's settings but about Microsoft's biases. Which you share, apparently.

Then say/explain that rather than write a snide comment that has no relevance to this article

That's ironic. What does Kumon give you in return for your servility? Illiteracy on your part does not constitute snideness on mine.

I'm sure Breitbart has a great app filled with all the QAnon and Plandemic information you crave. Ingest the Lysol!

"Ingest" Somebody's been sipping the Marxist Kool-Aid.

Fascists and Communists are birds of a feather.

I love the work they've done but I wish it felt a little less finicky in switching between the two modes: 1) one half is the list of articles, the other half is the article that you scroll up and down to read and 2) where it's like kindle where one page is on one half and the other page is on the other half and you read the article by flipping pages.

Great works from the interns!
Windows Central Newsletter
Thank you for signing up to Windows Central. You will receive a verification email shortly.
There was a problem. Please refresh the page and try again.