Will Windows phone fans finally get the device of their dreams?
An encouraging flow of Microsoft device patents and sourced information are filling in the lines of a mobile strategy we've laid out over the years.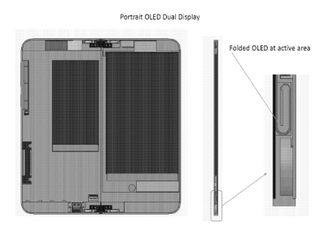 The device taking shape as more information surfaces is what we've been faithfully describing while most outlets declared Microsoft's mobile efforts dead. Analysis of Microsoft's technological investments, its mission, vision statements and other information has helped us build a narrative consistent with what appears to be Microsoft's next mobile device and ongoing strategy.
Still, it's been a long journey. And despite reliable sources and patents that indicate Microsoft's working on a next-generation device, things can still go south. The Surface Mini and McLaren are proof of that.
Yet if the device surfaces Windows phone fans who believed all along will rejoice. And contrary to the critics, our confidence that Microsoft's been working on a mobile device has rested on more than blind hope. In fact, the patents and other information that have since convinced doubters of the existence of Microsoft's inking-focused folding device reflects the narrative we've weaved over time. Now, since 2018 may be the year Microsoft brings this device to market, I'll share a brief look back into my thoughts and analytical process that has convinced me (and others) to stay the course.
Windows 10 and a pen-focused device
Windows 10 finally positioned Microsoft to bring the full power of Windows to a mobile device. The promise of a unified core inspired my January 2015 analysis that Microsoft might bring a seven-inch inking-focused device to market running full Windows.
This early analysis didn't benefit from what we now know of Core OS, CShell and Project Andromeda. But it's founded on OneCore and Microsoft's long-time vision of bringing the full power of Windows to a mobile form factor. Most important is that it reflects what's being borne out today.
Panos Panay's moleskine and redefining mobile
Surface creator Panos Panay's attention to detail and perseverance inspired my analysis that begged the question, "Will the Surface phone be a reimagined Surface Mini?" in November 2015. Panay still uses a Surface Mini (which was canceled in 2014) as a digital journal or Moleskine.
Also despite the poor performance of the first two iterations of Surface and a billion dollar loss he kept the ideas that worked and persisted until Surface Pro 3's success.
I added his commitment to an idea, his continued use of inking via the Mini (which was intended as a digital notepad) to my previous analysis to advance the narrative that Microsoft's mobile device would have an inking focus. This device via UWP and Continuum would also be a phone, PC and replace a tablet.
Changing the game
Image 1 of 2
In November 2015, consistent with the established narrative, I explained Microsoft's shift away from the smartphone space to the creation of a new mobile PC category in my analysis, Microsoft's mobile offensive is about changing the game.
Early in 2016, I expanded that analysis with a controversial statement, "smartphones are dead", as the backdrop for an exposition on Microsoft's pursuit of an ultramobile PC category with full Windows, context-conforming hardware and software, Continuum and an inking focus.
In a November 2016 analysis of a Microsoft future vision video we delved into Microsoft's foreshadowing a folding mobile device. The Windows 10 on ARM announcement in December 2016 made the path to such a device even clearer.
Windows 10 on ARM brings Microsoft ultimate mobile device into focus
Making PCs mobile and killing Windows 10 Mobile
The evolving Windows-on-mobile ideology, rather than a focus on particular OS iterations (that come and go), framed my understanding of Microsoft's strategy. In February 2017, I highlighted Microsoft's strategy to move telephony-enabled PCs into the mobile space rather than making smartphones more like a PC. This complemented the ongoing analysis that Microsoft's mobile device would not be a phone but a new PC category.
The always-connected, all-day battery and instant-on capabilities of cellular PCs, as predecessors to this new device category, is making this analysis clearer to those who couldn't see it a year ago.
Since this device will run Windows Core OS, this summer I shared my thoughts on why the death of Windows 10 Mobile is a good thing. Core OS finally achieves the power of Windows on all devices. Microsoft's one OS strategy differs from its competitions multi-OS approach.
Even if Windows Mobile succeeded Microsoft would have pursued a post-smartphone device
Preponderance of evidence…
Though we didn't have concrete proof of Microsoft's plans over the years, we had enough evidence to paint an accurate picture. I even shared my analytical process with readers this year hoping they'd apply a discerning eye to Microsoft's investments and see the emerging strategy.
Now, here on the cusp of 2018, we're wondering if this will be the year Microsoft finally puts a mobile-friendly PC in our pockets. Perhaps. Though what I've shared reflects my process (though not comprehensively) and why I'm convinced of Microsoft's plans, the evidence does seem to point in that direction.
How Microsoft is prepping the enterprise for its folding mobile Surface
Get the Windows Central Newsletter
All the latest news, reviews, and guides for Windows and Xbox diehards.
Jason L Ward is a columnist at Windows Central. He provides unique big picture analysis of the complex world of Microsoft. Jason takes the small clues and gives you an insightful big picture perspective through storytelling that you won't find *anywhere* else. Seriously, this dude thinks outside the box. Follow him on Twitter at @JLTechWord. He's doing the "write" thing!