How Microsoft is prepping the enterprise for its folding mobile Surface
Pieces seem to be coming together for Microsoft's inking-focused folding mobile device.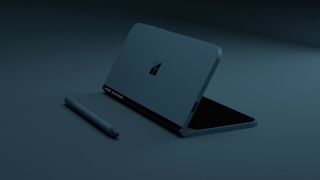 As I've stressed as far back as 2015, this device will not be a phone but will have telephony capabilities. It will run Windows Core OS, a modular version of Windows that can be tailored to device types but isn't compromised in power like Windows 10 Mobile.
Will Windows phone fans finally get the device of their dreams?
We've stressed that this device will not compete with smartphones (though many consistently miss this point). It will also be enterprise focused. Consequently, it won't be marketed to or positioned to appeal to consumers. Though you'll likely be able to get one.
Before launching this device I believe Microsoft would prime its target audience and the industry for the computing scenarios in which it would fit. In fact, if you listen closely to how Microsoft's positioning Surface, Windows Ink, and Whiteboard it seems that's exactly what it's doing.
Seeing Microsoft's mobile future requires big picture perspective
What it is and who it's for
The intended market is enterprise customers, who of course, work in teams often with remote members. Thus, this device will likely be a pocketable inking-focused Window PC designed for collaboration and communication (that exists alongside smartphones). Microsoft's positioning of Surface, Windows Ink and real-time collaboration tools like Whiteboard are, therefore, setting the foundation for this new Surface. Let's break it down.
During Surface creator Panos Panay's presentation of the Surface Pro LTE, he referred to Surface as a journey. This is an important point. He stressed how Surface "evolved" over time. Each Surface device is an aggregation of ideas, manifest in various form factors, highlighting specific features to serve particular needs.
Panay said Surface Laptop is the most personal and luxurious laptop, Surface Book is the most powerful, Surface Pro is the most versatile and Surface Studio is designed for you to immerse yourself in your creations. He shared his excitement for what the audience would create on whatever Surface they chose. Since creating tools for the creation of content and technologies is Microsoft's mission, how it positions this potential new mobile device in the Surface family is important.
Evolution of Ink
Panay said of the Surface journey after the Pro two:
The Surface brand's positioned to remove conflict by positioning devices that conform to context and serve multiple needs. Each generation of Surface brought meaningful change, creating unique experiences to serve particular needs. Windows 10 strategically brought Windows Ink which complemented the already pen and ink-focused Surface.
Panay shared that Microsoft is seeing an increase in customer use of inking with each generation of Surface. This is no accident. It is the deliberate evolution of Surface and Windows to optimize on a natural means of communication and recording information — writing.
Panay stressed the evolution of the Surface pen and the devices inking capabilities. He claimed that it is the fastest digital pen in the world. And emphasized its low latency, tilt capabilities, and its abilities to render digitally precisely what an artist or writer intended. He stated the importance of these attributes not only from a technical perspective but communicated the pens ability to capture emotion — especially in Chinese (calligraphy). Of course, writing is deeply personal and natural in any form. Thus, the pen's front and center in Microsoft's vision of computing. Panay continues:
Collaboration with ink
Panay demonstrated how, via the cloud, pen settings such as a highlighter option he chose in one application are available in another. The consistency of inking capabilities throughout Windows and collaboration via inking are foundations Microsoft is laying. Panay stressed the pen, Windows, Office, and cloud would change the way people collaborate and interact via Whiteboard.
Program Manager for Microsoft Hardware, Robin Seiler shared the challenges of visual collaboration for remote and local teams. Whiteboard as a cloud-connected, infinite canvas that isn't bound by location and uses intelligent ink that can be created by anyone with a pen was presented as a solution. OneNote Team Leader Eran Meggido demonstrated how team members could ink simultaneously on the canvas from different devices. He showcased the canvases intelligence as it recognized shapes he drew, created a table based on his rough sketches and more.
Interestingly, Seiler added, "when you combine the new Whiteboard with voice, you have real-time interaction with both sound and sight." In addition to collaborative inking, both connectivity and voice will be important features for Microsoft's initially enterprise-focused mobile device.
Why a pen-focused cellular mini tablet PC would be awesome
Connectivity and voice
Consistent with Seiler's emphasis on voice communication Panay stressed the Surface Pro LTE's cameras and microphones as important for Skype calls. Clearly, this always-connected device which he called the most mobile Surface (for now) is positioned to showcase voice communication as a meaningful, though secondary, feature. Microsoft highlighting the voice capabilities of the Surface Pro LTE, via collaborative tools and hardware features indicate it's positioning the brand and the platform for a device that will take advantage of these features on an even more mobile device.
Panay said customers want more connectivity so that they can collaborate from anywhere. LTE capabilities in the Surface Pro take that connectivity and mobility only so far. Panay's point hearkens to Window Chief's Terry Myerson's statement that Microsoft's continued investments in Windows 10 Mobile were for the development of ARM and cellular connectivity.
When we couple those investments with the company's evident efforts to build a more mobile Surface in the Pro LTE, connectivity between teams for real-time visual inking and voice (per Seiler) collaboration and the power of Windows 10 on ARM we see a clear picture forming.
Windows 10 on ARM brings Microsoft's ultimate mobile device into focus
The Surface journey continues...
When we add the context of always-connected cellular PCs which have smartphone-like battery life and instant-on capabilities it's clear a foundation for the initially enterprise- and inking-focused folding mobile device running Windows 10 is being laid.
As Panay said in his Surface Pro LTE presentation, Surface is a journey. And as the immersive inking experience of the Surface Studio was incorporated in Surface Pro LTE (Studio Mode), various elements Microsoft has gleaned from the Surface journey, I believe, are being forged for this new ultramobile Surface.
Finally, Microsoft is challenged with making a case for this device. With collaboration tools such as Teams, Windows Ink and Whiteboard, Microsoft's striving to change the way individuals and teams work. It's evolving a natural form of communication, writing, and merging a boundless digital experience with the modern collaborative work environment. It hopes to change how we see the power and role of writing in the modern workplace.
It's for this evolving context that I believe Microsoft's crafting its inkng-focused, pocketable Windows PC. If so, it may be a uniquely positioned Surface, the most mobile Surface, optimized for the foundation that's being laid.
So...
Will Windows phone fans finally get the device of their dreams?
Get the Windows Central Newsletter
All the latest news, reviews, and guides for Windows and Xbox diehards.
Jason L Ward is a columnist at Windows Central. He provides unique big picture analysis of the complex world of Microsoft. Jason takes the small clues and gives you an insightful big picture perspective through storytelling that you won't find *anywhere* else. Seriously, this dude thinks outside the box. Follow him on Twitter at @JLTechWord. He's doing the "write" thing!