Windows 10 on ARM: Microsoft's ultimate mobile device vision comes into focus
By Jason Ward last updated
Microsoft has admitted to losing the nearly decade-old consumer-focused smartphone war. But with Windows 10 on ARM they just rewrote the rules for the next phase of the mobile war.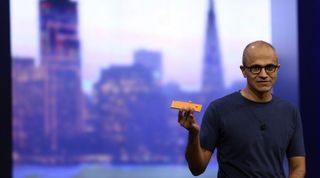 An objective observation of the current smartphone paradigm reveals a saturated market, iteration- versus innovation-focused hardware advances and an inefficient warehouse of apps ecosystem model. That war, though lost to Redmond according to those aging rules, is arguably merely going through the motions in 2016.
Ten years is an eternity in tech. We've seen incredible advances in intelligent cloud computing, mobility of digital experiences, AI, bots, mixed-reality, digital inking and more since the iPhone's debut in 2007.
These advances have broadened the mobile computing experience significantly beyond the "iPod, internet device and phone" merger that so excited the world who watched the late Steve Jobs introduce the first iPhone. We have yet to see a similar cohesion of the breadth of current technologies on a mobile device. But we may see it sooner than we think.
Microsoft's announcement of full Windows 10 on ARM will eventually bring the full power of Microsoft's unique universal OS to a pocketable form factor. A Continnum-powered Surface ultra-mobile PC (3-in-1) running Windows 10 with x86 apps, would bring together the diverse and modern benefits of the unified platform and would be an ultimate mobile device indeed.
It's about Window 10, not the device
There are barriers Microsoft must work through before we see full Windows 10 with x86 apps on a "phone." Still, as hardware partners bring Windows 10 to more affordable, power-efficient and streamlined ARM-based tablets and 2-in-1s, rest assured, we will see the same on "phone" in time.
Microsoft's hardware strategy is intricately intertwined with its Universal Windows Platform vision. As the UWP is positioned as a ubiquitous platform to facilitate users' digital experiences, a diverse Windows 10 device family is designed to provide context relevant portals to those same personal and professional experiences. Former Microsoft CEO Steve Ballmer explained:
Microsoft reimagined the desktop PC with the Surface Studio, the tablet with the Surface and the laptop with the Surface Book. Phone is an integral part of Redmond's Windows 10 device family vision and, per Nadella, will be reimagined as a clear deviation from market leaders definition of a phone. Since Microsoft's device family is focused on a cohesive Windows 10 experience, where the device fades into the background, Redmond's "phone" vision (unlike rivals') is platform- rather than device-focused.
Thus, this full Windows 10 ultra-mobile PC running x86 apps will be positioned among the Windows 10 hardware family as a device capable of the full range of the Windows OS. Of course, Continuum will be key to allowing a docked or wirelessly connected device to project x86 apps to a larger display as it currently does with Store apps.
Microsoft's hardware vision of empowering users with the full power of Windows regardless of device is becoming a reality.
Window's Creators Update; a platform for everyone
Microsoft strategically made Windows relevant to more users, via the Creators Update, broadening the appeal of a platform that powers a device family to which Redmond hopes to win consumers and enterprise users.
The Update pairs a forward-looking vision of how the current generation of young users embrace sophisticated interactive 3D tools with the legacy productivity strengths of the platform. Windows Chief Terry Myerson articulated the updates inspiration this way:
The 3D tools built into Windows, along with the ability to share 3D creations across other Microsoft products like PowerPoint and HoloLens exemplify the breadth and unity of the platform. A mobile device with full Windows would share these abilities as well as the additional enterprise-focused IT benefits the update brings.
Advanced threat protection and device management tools that allow users to keep devices personal are among these benefits.
Microsoft's push of the personal and productivity benefits of Windows 10 can potentially win users to a mobile device powered by the same platform they have come to love on a 2-in-1, laptop or Surface Studio.
Furthermore, "cellular-PCs," which will precursor this "phone" to market on popular 2-in-1 and tablet form factors, will prepare users for this "phone" that does everything their PC's do.
Surface "phone", everything you can do…
Like Apple famously brought the iPod, internet and phone to a pocketable form factor in 2007, Microsoft's ultra-mobile Surface will bring today's cutting edge technology together to our pockets in the near future.
With Windows 10, Microsoft has become a leader and platform for exciting innovative technology like Windows Holographic, mixed reality, gaming, 3D content creation, digital inking and more. The Continuum-powered ultra-mobile Surface will put these technologies that have excited the industry in the pockets of consumer and enterprise users alike.
Finally, though Store apps are still vitally important, with 16 million x86 apps available to Windows, the app gap has been flipped on its head.
Yes, Microsoft lost the smartphone war, but with full Windows on ARM they've changed the rules of engagement. A new war has just begun.
Jason L Ward is a columnist at Windows Central. He provides unique big picture analysis of the complex world of Microsoft. Jason takes the small clues and gives you an insightful big picture perspective through storytelling that you won't find *anywhere* else. Seriously, this dude thinks outside the box. Follow him on Twitter at @JLTechWord. He's doing the "write" thing!
Apparently the UWP had a much bigger role in Nadella's master plan than any of us could imagine.

"Microsoft hasn't just been waiting for the next bend in the curve, they've been creating it" -AkiraX

They are gonna create some hairpin bends my friend. Just wait and watch. iOS and Android users will want to switch in 2018.

Our time has finally come! I've been telling everyone, 2017 is the year of Windows Mobile!

The good stuff comes to us in 2017 though.

And in every year since 2010...believe it when I see it.

I said 2018 on purpose. Because obviously, however cool this news sounds (btw, it's frikkin COOL), it'll take a good amount of time to actually disrupt android and iOS. 2017 is the start and 2018 will only take it further with RS3 on the majority of devices and probably RS4 on quite a lot of devices too.
.
Cheers ! :)

YEAH !!!! *evil grin* while thinking about future sulking iPhone and android users. LOL.

No one will remember us as soon as windows becomes the standard. And then we'll move to the next niche platform because windows will be the standard :D (not me I actually love .NET programming so I'll stick with win10 and try to make some money!).

Haha, you may be right. I still have my Maemo device from years past.

Me a Troll? You are probably not a long timer @ "Windows Phone Central"? Microsoft just don't get it, and I will believe it when I see it. At least they have realized they have to give Windows a better and more polished design.

It's going to take some convincing as they're still going to need all of the popular smartphone apps to come to the platform. Running desktop apps doesn't fix this for the mass amount of people who use a phone as their primary device.

Yup, that's the only issue.
.
Probably, Android and iOS for the kids and Windows 10 for adults to do real work.

Apple was the first to come with bending tech on their iPhones :D ;)

Sure. Steve Jobs was a genius and the industry respected him. They definitely brought something new to the market but now its Microsoft's turn.
.
Surface Pro, Surface Book Surface Studio, Surface Phone/Ink/One.

I guess you did not get it, sir... Let me help here: I guess he is reffering to the Bendgate :D

They still had apps and worked however.

I still have all the apps I need on my 950XL

Me too! Don't know why ppl whine about not having Snapchat of all things.
.
And now they might say facebook isn't that great too which is true but a more powerful OS might finally solve this issue.

good for you....NOT everyone has the apps they want and NO I am not talking about snap chat or pokemon like all the fanboys think everyone is talking about.

I know some people are missing 1 or 2 apps if I look in my immediate environment where quite some people are happy Windows 10 Mobile users. They can live with the lack of that 1 or those 2 apps because the Windows 10 ecosystem is really working out for them (as for me too). I admit that I'm a bit a fanboy (Surface Pro 3, Lumia 950XL, Xbox One, Band 2) but not too fanboy to declare all is perfect. Then again, I had my share of experience on Android & iOS and with all the apps they have, they weren't perfect either. For me, Windows 10 works best and in the end that's what matters most :)

As I said in another area here, I have 30 apps on my iPhone that are not available on windows 10m that I use pretty well every day! so that's not 1 or 2......

Where did I mention you missed only 1 or 2? I was talking about myself and the people I know. Apps one uses is very personal so there's actually no discussing about that, just like you don't argue about taste of food or colour.

Ahh. Didn't catch that before. But I'll let that one pass. Lol.
.
There are many 'gates' in the iPhone world.

Yeah the best one is work gate. You know....where the phone works as intended! 99.99999 % of phone users outside of MS have this "gate". hence the market share of windows phone/mobile.

Steve Addams, your a bum and an iPhone deepthroater! Enjoy sir!

wow...so mature! "shady" ha ha ha. wow, nice burn you child! The truth hurts sometimes. and this magical phone is NOT going to fix the windows mobile problem for consumers. Just so ya know.

You just keep indulging yourself in the thought that you're phone is the perfect uberphone and all the others are crap. I know plenty of people who switched between all platforms but then again everyone who left iOS is probably ignorant or wrong in your narrow vision so I'll now let trolls be trolls and let them mins their own vision.

You just keep indulging yourself in the thought that you're phone is the perfect uberphone and all the others are crap. I know plenty of people who switched between all platforms but then again everyone who left iOS is probably ignorant or wrong in your narrow vision so I'll now let trolls be trolls and let them mind their own vision.

Well we all now why Steve Adams got banned on the Windows Central forums. Too bad you can't get banned from leaving comments...or can you? :)

It's possible for Daniel to ban him from comments too.

Wow I cannot believe the number of deluded windows phone users here

Go back to your own delulded bubble and let us delude in peace.

I use Windows Mobile 10. There was a time Microsoft brought finished product to the market. Now, everything Windows seems like Alpha/beta. I miss the versatility of the WinMobile 6.0/6.5 design language. Not this black and white nonsense, and limited selectable predefined accent colours.

Akira, Yes they have. :-)

Nadella is slowly gonna be liked by W10M fans again. Microsoft is gonna be king in the mobile field again. Bring it on !!

C'mon, were all fans here but please, kings of mobile!?
I'd be happy with a sustainable 10-20%

Why not? Btw, I'll be happy with a constant 20% share too!

If windows can get to 10-20% it probably means it can be king. What I'm saying is that a platform that never succeeded would have so much momentum that it wouldn't stop at just 20% if it reaches it.

Dude, you need to lay off what ever great drugs you are on. Microsoft was NEVER the king of the mobile field. Sorry to massive explode your fanboy bubble.

You know I love the TRUTH downvotes.

Back in the Windows Mobile era (WM6 and down) they were doing great, and revolutionary things compared to the competition. But Microsoft's no stranger to be far too far ahead for people to accept the new tech... That's why competitors have done so well, because they've taken what Microsoft started and redeployed it at a more mature time. If you don't know this part of history, then, I'm sorry, but you were born too late.

You need to go back to 2000 and start over again. Go till like 2008, that'll give you an idea. By the time, your mind would probably grow up too - Bonus !

I was in the phone business from 1998 until 2003 abhi....sorry!

Well then you should have known better before commenting here.

But with this they are losing a trusted partner in intel going for snapdragon.

Intel will remain as the only option for high end PCs. I could see these being a replacement for say, the base core M3 Surface Pro line, but nothing higher

Hope so! Intel has been very good with PCs and qualcomm has been good with mobile. MS has a tough task to create balance between the two partners which is actually outside of technical world.

For a while that thought came to my mind as well. But just think a little more. Do you really think ppl are gonna stop using Desktop PC's and Laptops and Tablets and 2-in1's in 2017-18 ? Of course not!
.
Intel is king with the Core i series of processors and that won't change anytime soon.
.
They withdrew from the Mobile Chip market themselves. They could have easily improved the ATOM line of chips but didn't. That's not MSFT's fault and it shouldn't spoil the WIN-TEL relation :)

Definitely they are not going to stop using PCs but there is no denying that they may shift towards Mac OS. One cannot deny the vulnerability. Just hoping, this will not happen.

Wait, I'm confused. Who will shift to MacOS ? Intel?
.
They don't have to 'shift' bro. Intel already supports MacOS. And just think - Intel's profits is really due to Windows 10 ! That's what runs the company. They won't 'shift' to Mac.

That would be a joke. Majority of the population have no clue how to use MacOS. It's more complex for many people and also just downright expensive !
.
Windows 10 is easy to use.

If this is hard to happen then it holds true for mobile as well. People will not shift to Windows untill the apps are available I.e. Availability of services and ease of using them and they are cheap as well.

Valid point but Mobile is easier to get used to.

Nah. Intel was supposed to have an intel chip for an intel powered phone. But they screwed up so its their own fault.

Yeah, the DELL phone shown recently.

Intel bailed on them...not the other way around. Plus, they are still using intel in all their desktop devices, the stuff that sells.

MS has already tried ARM on surface RT in 2012, It was a failure. Although, MS didn't try it on phones and after that on intel chips surface has been a huge hit. Generally, an emulator slows down the performance of a PC but the progress has been made since 2012 when Surface RT was first launched. I am being optimistic here but do not want success of mobile comes at the cost of PC.

Success of mobile won't be bad for PC man.

It has been a concern if not bad. Actually, Surface came to the rescue.

You beat Jason Ward to the "first" comment?

Fresh dose of awesomeness

Far from it. When you take "Universal" to mean "everywhere," it's what we expected. The problem isn't that we don't get the plan. It's that the plan has been horribly executed for years now, under Nadella and his predecessors. We've had people suggest that W10, in full, could be on a Surface Phone and more for a long time. We have seen HoloLens and Cortana and Kinect and everything else promise these "paradigm shifts" for too long, with nothing shifting but mobile sales to competitors. So, as always, we have a rose-tinted view of a plan from a company whose problem continued to be the action, bit the idea. HoloLens is still too expensive. Band has been axed after MS let the second one hang around with detective core parts. Kinect was shoved down the throat of those who didn't want it, then ripped away from those who did. W10M is still slow to progress on the software AND hardware sides. IoT has given us little in the way of a goal for MS and a new market. We didn't fail to get the goal, MS has just failed to reach it.

MJF: "I realize this year was a year when Microsoft planned not to release any new Windows Phones itself. But the question I keep getting is why is Microsoft wasting time updating Windows Mobile when the market share is one percent? You don't have that many phone OEMs. Why not just say, you know, maybe we'll come back some day, but for now, let's just stop playing around with mobile."
.
.
MYERSON: "Technically, there are really two things that are unique about Windows Mobile. One is cellular connectivity and the other one is the ARM processors that are there. And I think both cellular connectivity and ARM processors have a role in the technical landscape of the future.
So we're going to continue to invest in ARM and cellular. And while I'm not saying what type of device, I think we'll see devices there, Windows devices, that use ARM chips. I think we'll see devices that have cellular connectivity.
When you stop investing in these things, it's super hard, super, super hard to restart. And at Microsoft we have a few of those examples where we stopped. Sometimes, when you're investing into growth. it's easier, but when you're investing for technical strategy or things like that, sometimes people can question it -- like you're doing right now. But especially among your readers, I don't think there's much debate that ARM processors have a role in the future. And cellular connectivity does as well."
.
.
. He wasn't kidding when he said that ARM and cellular have a role in the future.

I know right, I noticed it too... who knew the iPhone has been here for 19 years, almost 20.

Yep, i just exchanged my old iPhone 16s for new iPhone 17 XXL. Haven't you? What are you waiting for?

"Like Apple famously brought the iPod, internet and phone to a pocketable form factor in 1997​ [...]". It might just be a reference to the iPod and its capabilities, but I dunno. :p

Good stuff. I wonder if this means Cerulean will change gears.

Cerulean is the name of the consumer focused Windows line Connecticut based WhartonBrooks plans to.bring to market.

There is no Cerulean and you know it. It vanished as many of us has guessed.
Please, stop promoting this scam.

Totally missed that joke/dig there Jason. But yes, please stop promoting until there is an actual product. Then.....have at it.

Dope. Can't wait to come back to Windows phone. Although my nexus 6p has been running like a champ I still prefer Microsoft services over google any day.

Thanks for reading folks!!!! You guys beat me to comments, but you know the drill, this is huge news...Let it RIP!!! :-)

Being X86 compatible, Will this bring the virus and malware scurge with it??

Considering I haven't had a virus or malware in over a decade, I think most of us will be OK.

My kids get smashed on their machines, depends where you go on the net but is still a massive problem.

You need to keep an eye on your kids then :)

Microsoft will have to emulate the virus to get it to work.

Lol, nice one @DickSORosary.

No.....i don't get it, Android is just as susceptible to this as Windows, and now MacOS even has it's issues with malware. I've been using Windows since 95, Android from DroidX to Galaxy Nexus, and now WP with Lumia Icon and 950....... I've never had a virus (knock on wood).

No.....i don't get it, Android is just as susceptible to this as Windows, and now MacOS even has it's issues with malware. I've been using Windows since 95, Android from DroidX to Galaxy Nexus, and now WP with Lumia Icon and 950....... I've never had a virus (knock on wood).

Not sure why people downvoted you. It stands within reason that since these apps won't be sandboxed any virus affecting the PC will affect the emulation. So sadly the answer is YES. In addition, without sandboxing i suspect we will see the familiar windows slowdown the longer we own the device. Still, it's a great achievement by msft!

Ask a serious question and get a juvenile response. Thanks.

I always thought that your FIRST "BIG" comment was already prepared in advance so that it's at the top. Lol.

@Abhi Yes it usually is. :-) With all that's been going today I just missed it before this published. Lol

No probs man !! Your articles are great! I love reading them. :)

So, in theory, this is to drive stronger consumer/business interest in mobile-friendly Windows 10 hardware, which brings users, which brings money, which brings developers, which brings new UWP apps, which closes the app gap, no?

Yet....with 16 Million X86 applications...people will still say "But.....can it run Snapchat (replacing "Crysis"). :) I have been telling to corporations that this day was coming...for the last 2 years and all I got was mockery for using Windows powered phones and speaking of things to come. I hope the Snapdragon 820 stays the baseline for Windows 10 on ARM, that way, the Elite X3 and Alcaltel Idol 4S with Windows will be amazingly cheap come Fall 2017!

Here's the thing though, the vast majority of the consumer market does not care for x86 apps on their phone and with BYOD being as big as it is (Android or iPhone only), people in the enterprise are going to continue to want to use the phones that also offer the apps which they have always been using on a regular basis and windows 10 will never offer that

Ah but with the ability to run x86 apps, you can run programs like BlueStacks which in turn can run all your favorite Android apps, like snap chat. That's the advantage of full windows.

But Bluestacks is really very slow even on my Desktop PC with Core i5, 8GB RAM and a 256GB SSD. Programs like BlueStacks will not help.
.
Microsoft will definitely create something of their own for this. Probably they'll bring back Project Astoria.

Something wrong there. Or an old Bluestacks version.
I have Bluestacks on our Galaxy TabPro S and the Android games my son plays run very well.
And that's some fast pace action he does. Genius device by the way. Full Windows + Bluestacks Android apps/games in a great package.

I'll try reinstalling it. Everything else runs flawlessly though.

Using ARM to emulate x86, to run [edit: an ARM emulator which runs] a virtual machine, which compiles bytecode into ARM instructions. Makes sense...


Well until BlueStacks makes a native ARM port, it's still the best option. And I'm not sure if BlueStacks actually emulates ARM. It might be an x86 version of Android which can still run most Android apps natively.

The vast majority (ALL) consumers have never seen x86 apps on their phone, so I'm not sure we can surmise that they don't care for them. Also, in technology what they "have always been using" can be changed with a big paradigm shift. This seems to be what we are witnessing. Don't assume that what is true today will be true tomorrow.

BYOD also includes Windows machines. Windows 10 was designed for it.

The upcoming Snapdragon 835 system-on-chip is a 10nm FinFET part so that means Qualcomm will have beefy 10nm SoCs – either the 835 or something similar – ready to roll soon for mobile PCs and handhelds. Snapdragon-powered Windows 10 gear is due to arrive in the later half of 2017.

They have the upper hand, now move it and give us a flagship device within the next 12 months or nobody will care what you do after. Remember Android and iOS bridges? Don't make the same mistake.

Pretty wow. Intel better hope they got something up their sleeves. Pc's are already slipping in sales, imagine if half+ of computers are sold with Qualcomm chips. I wouldn't be holding shares.

No more app gap if we could get these apps on phone then no more excuses but at the same time the uwp strategy is dead lol

Win32 is going legacy, UWP is the future. If all the announcement/news doesn't convince you, give it a few months and how UWP fits into this will be easier to understand.

Yes, with all the innovation from msft it's not very wise to leave out a pocket-able consumer device.

And Snapchat/Pokemon Go/anything consumers actually care about?

It's past their bedtime, so they're not reading this now. The adults are having a discussion.

Laughed very hard at this! xD

Get off his lawn! Microsoft will miss it again. Legacy programs are not the future and will only slow development of UWP. They are legacy for a reason. Not many are relevant now, except for in specific, niche use cases. These cases will continue to shrink. "Adults" are not interested in under-powered ARM chips. They need real power to get their work done. Microsoft is blowing it. Even the hardware in the Surface Studio is massively under-powered. Imagine how bad an ARM chip would be! This will be another laughing stock. Windows RT 2.0...

Not all kids are sleeping I guess.

This is already better than my wildest dreams: full office, full browser, ability to play old games from my childhood! I'm throwing out that old chromebox I used to do work on and I'll use the peripherals for my phone.

so true... Photoshop CC, Office 2016 are all legacy programs that nobody cares to use anymore... together with all those other gazillion jewels of software available for Windows.

Photoshop CC is niche, professional software. It isn't going to drive consumer sales and anyone doing heavy Photoshop work isn't going to be interested in an ARM machine. They will stick with their workstations and MacBook Pros. Office is widely available on any platform. It isn't a differentiator. Those are the best examples you could come up with? Don't worry, I also cannot think of any legacy applications that are truly mainstream and only available on Windows.

It might slow the development of UWP a bit, but it could also expand the market, making UWP a viable option for developers. Or not, who knows.

Because "real professionals" never take a break, do they?

The original vision they tried with Windows RT/Surface RT? I think they only reason they had problems with it was the locked-down bootloader/OS paired with an infant Windows 8.0 store. Eventually 8.1 came, but as soon as 10 hit, developers developed for 10, not 8.0/8.1 which supported Desktop Windows on ARM. So the already struggling OS and devices, Surface and Surface 2 RT, got hurt even more. The users couldn't/can't download any desktop apps developed for ARM since the OS is locked down and won't run non-Microsoft binary files. So I'm glad they're coming back to it, but I'd love to buy 5 Surface 2 RT tablets, update them to 10 and have them laying around my house for super quick access to all my data

So? What will happen to W10M?

The W10M skin shall live on, only the backend changes. W10M is so close to W10 that nobody is going to notice.

Looking good.i hope they bring out something new very soon gooooo Microsoft

Lovely....now give a kickass tablet that will fit in my pocket and which will have all my mobile needs met! (don't call it a phone.....how about a Travel Surface)

Them: Is that the new Surface Phone? Me: No, this is a Surface PC that also makes phone calls.

It's a PC.... Personal Communicator

"Microsoft's announcement of full Windows 10 on ARM will.."
Link?
Or is this Trumping promises?

They have a video link on Engadget. https://www.engadget.com/2016/12/07/windows-10-snapdragon-arm/

The whole industry just took a dump in its shorts. That is particularly true for Intel. WinQual just became a thing.

Wintel is still strong. Also Intel have licenced ARM technology from Qualcomm and will produce its own line of ARM based chips since they recently dumped Atom

Seeing is believing. For now MS its efforts and commitment in mobile have been disappointing, to say the least. I have a beautiful piece of hw and miss out on 99% of all apps due to MS communicating that they are retrenching. By the time the new phone is released the number of unavailable apps will have increased to 99,9%. I don't think any new app-less phone will win over new happy customers.

But they can hook it up to their TV and run apps from 2005!

Boy, are they teasing us!

Yep, and when you buy this new "magical" device you get the full shaft.....when the cancel everything 6 months later.

you are the most bitter human on the planet there snowflake.. love the salty tears though...

wonder when you would show with you drivel. Love the personal attacks instead of adding to the conversation.....AS USUAL!

I just don't know what more they have to do to incentivize developers to develop more for Windows 10, with consumers also in mind. I work in the morning but use my device as a regular person at night.

At least they have a solid plan for future of mobile, and it's just starting to leak out to the public. Baby steps, but when it's ready, the next mobile device by MS will be better than anything out there.

An this is how windows 10 mobile will be put to sleep :))) The surface phone, if indeed coming, will rung standard windows 10, not mobile, and so, again, another kill set for Microsoft, another bunch of lies.

Poate ai dreptate, dar e pentru binele platformei. Chill. :D

I don't get why anyone outside of this site will care about this news (assuming it even leads to anything, strong possibility it won't). It would perhaps have made an impact 5 years ago but today noone is watching. If you drop the ball 27 times, you can't be trusted with a ball.

True. This is all about the business market. There's still a need for this sort of thing there. Most consumers won't even notice let alone care.

It's awesome and all. But I'm still worried on what the battery life on such a 3-in-1 "cellular-PC" will be like. In my opinion, battery tech is the only hardware thing that is kinda...well, stuck in evolving it's tech. We need some kind of breakthrough battery tech! I know they say "the device itself isn't important, it's about the software". To some point I agree, but if my device runs out of juice in 6 hours, I for one am not going to be happy. For a cellular device, that will be unacceptable. So what I'm trying to say, hardware does indeed still matters! Oh and I want a bezel-less cellular-PC. Yeah as a consumer I want a beautiful device too. If it has iPhone-like bezels, I'm not buying it. Yeah I like my devices how I like my women: beautiful and thin.

I've always maintained ARM is the way to go and that a x86 based phone is... not well.. "appropriate" in laymen terms.

I've always maintained ARM is the way to go and that a x86 based phone is... not well.. "appropriate" in laymen terms. Also that Lumia looks pretty close a L920 0.0... but it appears to be somewhat wider..

There are masses of people growing up now that never use (or need) a Window's OS. How does this change that?

Most have. Started when going to school and even more so when they start having a job. That's the masses. Not the minority that never uses any Windows device. So very little I guess.

Current mobile arm chips are <4w. I wonder what a higher clocked 15-35w Qualcomm/Nvidia processor would be capable of performance wise in a Laptop where heat is not as much of a concern. Samsung could now use their own Exynos arm chips on the Windows side which would significantly increase their margins rather than having to pay Intel, so you might see more device support from Samsung in the future. Intel can't be happy about this! Microsoft doing this would open up the market for Samsung, TSMC, Nvidia, Qualcomm & AMD (they still have their arm license) to compete with Intel.

So you could in theory put both android and win 10 on the same phone and dual boot?

It's curious that no one sees the truth behind all this :)) By launching a Surface Phone running full windows 10, what will happen with the rest of the phones such as 950/xl, X3,idol 4S etc?? Do you really think that MS will simply upgrade them to a new firmware having windows 10 instead of windows 10 mobile?? I would be a complete idiot to believe so when MS has a record of dumping users and killing Oses with no upgrade path.
What would make devs build UWP apps either? just because the phone will run full windows 10? lol, PC's run full windows 10, do you see any major devs having apps in the Store??
Conclusion: this surface device will be again targeted for business users only, as that dumb CEO thinks is gonna work. The majority of users won't switch to this device just because it runs full windows 10 if it still does not have apps! Apps that can run on the phone, not on continuum mode!
Yes, I agree, the idea is great, but unfortunately it won't bring users from other platforms and for sure it won't bring devs. Every fanboy here said the same before windows 10 mobile was launched, the same before the x50 lumias were launched, that every time, the platform will be finally saved and it did not happen! Haven't you gotten tired to dream?

To answer you simply, no we haven't got tired, those who have can go 'iterate' with iOS and android, I for one am happy to stay here and 'innovate'. Regarding the device support, really, I for one for my 950XL with the understanding that it is a filler until the real beast arrives(and its doing a bloody good job too) and the x3, don't be silly to think HP invested so much without the possibility to utilize the tech announced today(the other oems I'm not certain). Finally all I can say is: Watch this space!!

Where is this innovation you speak of?

That's all fine, but thinking about a full windows 10 on a mobile device, what will ARM give that intell atom cant do? At which point does atom fail where ARM can fill the gaps? And can ARM really provide real world smooth performance and prevent loss of degradation of performance while multitasking without losing laginess and causing overheating? chips are getting ever smaller sub 14 nm architecture for improved power effeiciency, yet demand for power and performance is still increasing. Overheating and durability and performance sounds like an ever increasing paradox. 800, 810 and to some degree 820s still get warm and sometimes overheat. What makes the 835 so special it that eliminate these issues overnight? Exciting times yes to see a pull pc OS on a mobile device, but have the underlying issues really been adressed that it will matter for businesses and consumers in real world use. I guess that's the price for innovation and first adoption. It's exciting on the onehand but similarly concerning with a pinch of apprehension. I would similarly be just as excited if microsoft could pull off some more sofware magic to make windows 10 pc and continuum run on older devices. I think a big portion of the global market would be all ears too.

I think it's quite awesome indeed seeing such a preview, i'm just concerned about if many of consumers will go for it , i'm sure it's great for enterprises and enthusiasts but many consumers just need more uwp apps in our store, I hope we get more apps within time this releases

Less talking. More showing / demoing please. Consumers don't need the chatter. They need a product they can buy and be 'hip' with. That's the rule of the tech these days.

Microsoft have to wait for the Qualcomm 835 chip to materialise

I love my new dell. But I do not think this device will replace either iPhone or android with the masses.

This is literally all I have been imagining and begging for (and taking alot of weirdly negative comments for). I do hope however that Microsoft realises that if the camera is not one of the best, if it is not Innovative looking and swift, if it is not dual SIMM PLUS expandable memory, stutter less navigation, with an amazing screen and does not run flawlessly on a polished and complete OS the reviewers will slaughter it, and naturally it will just sit there. So, please Microsoft, check ALL the boxes.

I see the business/enthusiast appeal of this but I don't see how this changes anything for consumers. They won't ditch the ecosystem they have bought into to run legacy apps - apps that won't even be usable on the phone's small screen.

It doesn't. They were clear they would aiming towards enterprise from here on.

True about enterprise focus during the mobile retrenchment, but they were clear in stating that consumer focus would be back once they had something new and compelling to offer. This development is just one of the awesome things they will be bringing with their reimagining of mobile. Time will tell but Microsoft has been absolutely hitting it out of the park lately.

Think about it bluesky, What does running legacy programs offer consumers. When you take of the blinders and look for what it is, which is an enterprise device, You see that it offers NOTHING new for consumers. Apps are what drives the consumer market and will for years......Because they are fast, easy to use to get the information you need, and are lightweight in their size. Using browser on mobile devices sucks, Just as using apps on desktop devices that you can use the browser for is silly. MS has everything backwards in that regard. I do have to say that windows 10 on desktop/notebook, is miles ahead of both chromeOS and OSX, however, the current and this future version of windows for mobile is TOTALLY missing the mark. Besides for Enterprise cubical dwellers....

These are very interesting times for Windows now......... But if people don't get any version of the new functionalities in the existing devices, normal buyers will not be able to take them up....... Everyone cannot buy a new device every time a new piece of technology comes out.......

No, its about Microsoft brand and the young generation who is used to spend a lot of time on two OS's android and ios smartphones and tablets more than spending time on windows desktop, laptop, they want the young generation to remember their brand name in the future they want to be part of the future not the past or the present only, they want to break the wall between windows on desktop or tablet or smartphone or gaming console

This is exciting news (not just speculation) and I can't wait. Just disappointed that apple always get credit for the iPhone bringing the Smart to phones - Motorola A92x and A1xxx devices were ahead of the curve back then - doing this years before!

Hey AbstractKiller, thanks for adding to the discussion. This is indeed great news. In regard to your iPhone comment, please not the acknowledgement I make is that that off the "consumer-focused" smartphone war, that began with the iPhone on 2007. I had a pre-Windows Phone 7 Windows Mobile 5.0 smartphone that could surf the web, play movies, use apps etc, in 2006, in 2006. The thing about smartphones before the iPhone is that they were focused on business users and techies. They weren't very user friendly and weren't targeted for easy use, with a app marketplace infrastructure for a consumer market. You can check out this piece where I talk about there a bit: Why are we so obsessed with our smartphones? http://windowscentral.com/why-are-we-so-obsessed-our-smartphones

Thanks, this is somewhat my point - ergo apple Inc have effectively monopolised all innovation in tech... an interesting concept when almost everything (if not all) that they have done is taken others work, repackaged it and claimed it as a break-through innovation - and the (general) tech press lap it up like its going out of fashion. Anyway, they are on the way out and I think this win32 emulation being actual proof of concept gives MS a serious leg-up in the interesting 12-18 months to come. Apple, I predict, will be no. 3 in the market, but who it is that moves up to no. 2 is down to Microsoft to play their ball (WELL, this time... hopefully).

Haha yeah, I can't remember the last time I had a virus or malware on my Windows 10 devices, or Windows 8 for that matter.... Oh wait, never :)

So I wonder will they added the x32 apps to the store now

Any chance they will provide an upgrade path from Windows RT tablets like older Surface devices and the Nokia 2520?

No, the upcoming tech requires a minimum Qualcomm 835 chip

So we will have UWP X86 apps on Store?

Skeptical at best, I'm a long time Microsoft user and supporter, but knowing how the Dweebs at Microsoft work, I have been disappointed more than once, yet I still see a shimmer of hope. Microsoft abandon just about everything the attempt in hopes of finding something better, even if it means supporting products from its competitors, I know this is a money driven industry as most things in the world, but be honest Microsoft has disappointed more of their customers than any three companies combined. I will continue to use Microsoft products, and I reserve the right to tell those morons just how stupid they appear to the world. They need to work on something and get it right, than just throw something out to the public as the next, best thing, then within the year abandon it. They should have let Nokia continue to built and support their phones until they do come up with the Phone to beat all phones and tie it all together, the Phone, the PC the Tablet, the Laptop, and even Xbox, for now believe it when you are actually holding it in your hand. The best move the industry ever made was to STOP calling handheld phones, "CELLPHONES" and started using the term "SMART" so who knows, maybe "SURFACE" is the next big buzz word for Phones.

The only way to make win mobile succeed once again. Provide downloads of apk in win10. That's it.

Satya is a genius. He will go down in history as the man who pit MS in pole position in the mobile computing space. This is even better than x86 cup coming to mobiles. Just wow. We are witnessing a change In mobile computing bigger than the original iPhone.

Another great article Jason. Wonder what kind of road blocks might lay ahead now?

Who use business apps on a mobile phone in the office? A Core i7 PC is much more powerful and cheaper than a ARM64 mobile phone with a keyboard and a mouse and an external display. Windows PC functionaries are useless for a mobile phone. The only method to push Windows phones is Android phone apps emulator. Not Windows PC apps emulator.

Windows 10 Mobile is the new Windows, as was obvious for long.
Hence, Office Mobile is the new Office.
;-)

16 million apps that nobody of the general sheep public wants. They want Snapchat, tinder, etc. Not another desktop variation of winamp, bulk rename, WinZip or whatever... This won't win the mobile market.. It's not enough.

Whether this works or not even the critics should be excited about something "new" coming to the market. Even if it is not your cup of tea be excited with the fact that they are trying to push the market forward. There is very little now that is actually moving the mobile market forward and that includes the new iphone. I liked the zoom feature on the camera but other than that it is much of the same thing this year as it was last...with a little bit better specs. I at least give credit to Samsung for the Gear VR and trying to do something different with mobile virtual reality.

Please STOP citing Apple as they were good examples. Apple is just outdated hardware sold to (very) stupid people at double the price. Steve Jobs was a total *******.
Period.

And Microsoft on Mobile segment is selling outdated hardware with outdated software with outdated content at double the price. What makes you different from Apple's customers ?

"Finally, though Store apps are still vitally important, with 16 million x86 apps available to Windows, the app gap has been flipped on its head." No, this is not true at all. You continue to ignore what it is that makes today's smarthpones so popular: it's the fact that you have it with you and at your finger tips at all times. Wherever and whenever you want. Continuum and x86 apps are the exact opposite of this: it requires that your mobile device is tethered to one or more other devices (screen, keyboard, ...). Unless the devices that we have seen in Westworld (a phone that can instantly transform into a tablet) would to become reality, continuum and x86 apps will forever a solution looking for a problem instead of the other way around.
Windows Central Newsletter
Get the best of Windows Central in in your inbox, every day!
Thank you for signing up to Windows Central. You will receive a verification email shortly.
There was a problem. Please refresh the page and try again.