Microsoft's reimagining of the PC for creators heralds a new generation of computer
Microsoft, during its Oct 26th event, made known its venture into a space traditionally acknowledged as Apple's forte: creative professionals.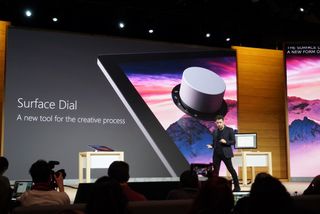 If you ask any creative professional, such as an artist or musician Apple's iMac is the preferred tool for most, hands down. For artists of varying disciplines, Apple's high-end and expensive hardware have been the industry standard for anyone serious about their craft. That is not to say the non-artistic consumer will not find value with a Mac. Apple's desktop computer has simply set itself head and shoulders above other PCs for the artistic professional.
Conversely, Microsoft's productivity focus has made it the go-to tool in the enterprise. Furthermore, Redmond's allegiance with hardware partners helped push the PC to bargain basement price points and thus into 90% of homes in the market.
The contrast between the Mac and the PC has seen the two placed at opposite ends of the spectrum at times. Apple's high pricing and the Macs appeal to professionals has given it an elite and luxury branding. Microsoft's reliance on manufacturing partners who have represented Windows on both high end, but more visibly for the masses on low-end, hardware has positioned Redmond to contend with a "generic" perception of PCs. Windows dominance in the market on 90% of PCs and the familiarity of the Office productivity suite has reinforced the polarization between the Mac and PC.
With the introduction of the Windows Creators update and the Surface Studio, Microsoft is looking to make its platform more appealing to all creators. The company is also aiming to make its hardware the ideal tool for content creation. Moreover, in line with the first-party Surface line, Redmond is positioning the Studio to "rebrand" Windows desktop PCs. As a high-end, high-priced $3000 aspirational device the Studio (and other Surfaces) combat the low-end legacy perception associated with PCs when compared to the iMac (and MacBook).
Ideologically Different
Apple's business model positions the iMac, and its other hardware at the high end of the market. Furthermore, the company's marketing has imbued its products with the intangible value that an elite luxury position imparts. The high price many customers have willingly paid for the iMac has not only been justified by the quality of the hardware but by the immaterial quality of the Mac as "the tool for creative professionals."
Though the iMac is a PC that can be used by anyone, Apple sees creative professionals as a distinct group that benefits from the Macs position as a creator's tool.
Microsoft, however, is indirectly targeting everyone as creators with the Surface Studio.
Before you quip over the $3000 price tag, let me explain. Actually, allow me to pass the mic to Microsoft's Executive Vice President of Windows and Devices Terry Myerson:
In a recent interview, Mary Jo Foley mused to Myerson that Microsoft's appeal to creatives was to go after Apple's core base. Myerson gave the following enlightening response:
Let's take a look at how that statement translates to Microsoft's indirectly aiming of the Surface Studio at everyone as creators.
Positioning for a cultural and generational shift in content creation
The first point we glean from Myerson's response is that the Creators Update, which brings innovations like 3D Paint to Windows, targets everyone as creators. Of note is the inspiration Microsoft drew from the younger generation for this strategy.
Microsoft sees a generational shift where young people today are well-acquainted with creative tools that previous generations were not exposed to until they took part in formal education or professional environments. There is, therefore, an ideological difference in how Microsoft and Apple see the creator.
Microsoft may be strategically positioning the reimagined desktop and Windows as a creator's platform on the cusp of a cultural, technological shift where the tools previously restricted to an elite segment are the providence of children and the average consumer. Conversely, Apple' view of creators remains focused on professionals.
It is worth acknowledging that Redmond is not forsaking its productivity legacy. The company is just pairing a creator's vision with its productivity forte to help all users do more. For example, Microsoft Paint, the creator's tool for every Windows user has been updated to 3D Paint to help herald this new vision.
This evolution of the app adds a range of creative tools that allows users to build creations that more accurately reflect the real world. It also allows these creations to be shared and incorporated into other Microsoft products such as PowerPoint (and HoloLens) allowing a broader range of expression. This and other aspects of the Creators Update, like an app that lets users take 3D pictures, put creativity tools in the hands of every Windows user.
Partner power, a Surface Studio-like convertible PC for everyone
So how is Surface Studio targeted at everyone? As an aspirational device, Microsoft is looking to manufacturing partners to build similar devices to spur a rebirth of the desktop that is both the traditional productivity tool as well as a tool for the creator in each of us.
As a category-defining desktop computer that converts into an immersive 4K drafting table, Microsoft has reimagined the stalling desktop PC. Combined with the Surface dial and pen, Microsoft's vision enables a user to directly interact with digital content in a deeply immersive touch environment on a 28-inch display. TrueScale is a powerful feature that makes the digital content an accurate representation of its real-world counterparts. An inch on screen is an inch in life.
Just as the Surface inspired an industry of 2-in-1s, Surface Studio is meant to inspire an industry of convertible PC's that turn our desks into studios.
Myerson envisions partners helping to replicate the Studios form-factor and deeply interactive touch experience with devices more accessible to consumers:
Thus, the Surface Studio as a north star represents visually and tangibly Microsoft's bold leap as the leader in the provisioning of the tools and the platform for a new vision of the PC for creativity and productivity alike.
Winning a generation of creators to Windows
The Minecraft generation that has so impacted Terry Meyerson's and Microsoft's realization of the apparent shift in how young people are creating and sharing content positions Redmond and Studio-like devices to usurp Apple as "the creator's platform." It won't happen overnight, however.
Though Microsoft has been clear that the Surface Studio is not targeted directly at the masses; Redmond is looking for partnerships to, over time, bring Studio-like convertible desktops into homes to replace traditional desktops. The Studio's innovative design and accessories (and creator's tools on Windows), if successfully replicated by partners, may provide an incentive for consumers to replace their aging desktops as 2-in-1s have replaced many laptops.
If this occurs the next generation of children will likely grow up accustomed to creating on convertible PCs, just as traditional Windows PC's are the familiar go-to productivity tool for the older generation. Microsoft is counting on retaining this productivity heritage while gaining the advantages of the Creators Update on a Surface Studio-like form-factor as the reimagining of the PC going forward.
Of course, per Microsoft's broad vision the Surface Studio, and high-end OEM devices will serve professionals at the high-end, potentially rivaling Apples domain. Other partners, per Myerson, will fill the space at varying price points. And though not a direct assault to the iMac it is a long play that may, in time, perhaps a generation, see Microsoft undo what has long been the forte of the iMac.
Windows and Microsoft's reimagined desktop may become the tool for creative professionals and creators of every type.
What are your thoughts? Sound off in comments and on Twitter!
Get the Windows Central Newsletter
All the latest news, reviews, and guides for Windows and Xbox diehards.
Jason L Ward is a columnist at Windows Central. He provides unique big picture analysis of the complex world of Microsoft. Jason takes the small clues and gives you an insightful big picture perspective through storytelling that you won't find *anywhere* else. Seriously, this dude thinks outside the box. Follow him on Twitter at @JLTechWord. He's doing the "write" thing!