Microsoft is serious about hardware, but not for the reasons you think
Microsoft is a hardware company but not in the way you think.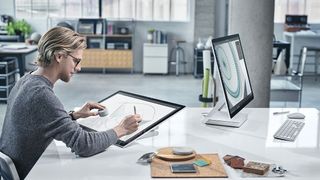 Allow me to clarify. Microsoft isn't strictly, nor even primarily a hardware company. Redmond is a software and services company, but they are dead serious about hardware. And this sincerity is not simply a means to demonstrate to potential partners how their software and services are supposed to work on Window 10 hardware.
I know that contradicts the prevailing wisdom regarding the purpose of Redmond's first-party hardware. We live and learn. Mary Jo Foley recently posed a question to Microsoft's Windows Chief Terry Myerson regarding Microsoft's continued involvement in hardware:
Myerson's responses ultimately culminated with:
His statement takes us back to Microsoft's core mission, Satya Nadella's vision, a commitment to a family of devices that began under Steve Ballmer and a cultural shift toward customer obsession. Hardware is integral to Microsoft's mission, not a complementary peripheral strategy.
Microsoft's "do more" vision
Myerson's assertion that Microsoft's hardware efforts are part of a mission to help people achieve their potential echo's words Nadella shared shortly after he became CEO:
Nadella's "do more" vision includes software platforms, services and the devices that are the portal to those digital tools. Nadella continued:
Nadella sees a software-powered world where the delivery of devices and services is critical. He contends that Microsoft, in line with its "do more" strategy, has the best platform to change the world.
A family of devices; passing the baton
Nadella has continued the vision of his predecessor, Steve Ballmer. Their shared strategic vision is uniquely positioning Microsoft as the provider of a family of devices powered by a common shell.
In conjunction with its platform of software and services, Microsoft's first-party hardware is integral to their vision for helping users do more. Ballmer articulated this Windows-powered device strategy three years ago:
Almost two years after Ballmer's statements and one year into Nadella's tenure as CEO, Microsoft launched its family of Windows 10 devices.
The hardware innovation Redmond demonstrated, from Continuum on phone to the Surface Book, and later Surface Studio and Dial, reflects Microsoft's goal to create categories unique to their platform and software strengths. Take note, Redmond is not making hardware for hardware's sake. Hailing back to Nadella's statement shortly after becoming CEO, customers are at the core of Microsoft's innovation.
Customer obsession
In a statement about Microsoft's commitment to hardware Myerson said:
This hardware commitment is inextricably linked to customer satisfaction. A device must solve a problem, or (in line with Redmond's mission) help users "do more." Myerson explains how developing hardware begins with customers:
In an interview with Microsoft's Chris Yu, Mike Tholfsen and Chris Pratley I explored Microsoft's culture shift under Nadella. These men revealed a culture that moved from one of fear of failing to learning from mistakes and to customer obsession rather than chasing competitors. Some of the most profound insights came from Pratley as he candidly expounded on the shifts effects on Redmond's industry position:
Ironically, Redmond's current enterprise- versus consumer-focus of Windows Mobile seems to be an unfortunate -unavoidable?- return to a failed strategy in relation to the difficult phone category.
In it to win it
Microsoft's first-party Windows 10 devices are an integral part of the company's mission to help users do more. From the vision communicated by Ballmer, continued by Nadella and articulated by Myerson — "This is us pursuing our mission to help people achieve their potential." — it's clear that hardware is core to Microsoft's long-term business strategy. It's more than an investment to demonstrate optimal hardware and software synergy to partners.
Microsoft is indeed a hardware company, though not in the way that many thought.
Get the Windows Central Newsletter
All the latest news, reviews, and guides for Windows and Xbox diehards.
Jason L Ward is a columnist at Windows Central. He provides unique big picture analysis of the complex world of Microsoft. Jason takes the small clues and gives you an insightful big picture perspective through storytelling that you won't find *anywhere* else. Seriously, this dude thinks outside the box. Follow him on Twitter at @JLTechWord. He's doing the "write" thing!