Why a pen-focused cellular Surface Mini tablet would be awesome
Writing is a skill many of us begin learning even before we learn the alphabet.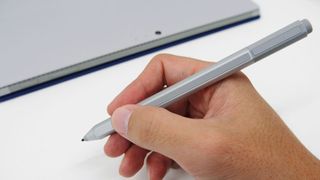 We write, almost daily, throughout our professional and personal lives. Thus, it makes sense for the familiar pen and paper scenario to be replicated by the technology that is increasingly integrated into our lives.
Millions of people, including business professionals, writers, police officers, students, salespeople, doctors and regular Joes, carry a pen and paper. We often need to scribble some idea, epiphany or other valuable information onto a medium more enduring than our memories. Scrap paper, however, is often lost. And notepads are organized, effective, but finite in their capacity.
Though in our technology-driven world much of what we record with pen and paper is destined for the same "eternal" digital format as our typed data, writing is often more efficient, comfortable and socially acceptable in certain contexts. So writing is both more natural than typing and considered more polite in a social setting.
Microsoft, with its Windows Ink and cellular PC strategy, should launch an inking-focused, always-connected Surface mini tablet. Not a phone or ultramobile PC, just a simple seven-inch, pen-equipped slate running Core OS. This device would serve a multitude of note-taking scenarios and overcome the shortcomings of etching notes on traditional notepads.
What is Windows Ink?
Windows Ink is the evolution of inking capabilities that have been part of Windows since Vista. It allows users to use a pen to write on a touchscreen Windows 10 PC as naturally as they would on paper.
Touch and pen became prominent in Windows with Surface. The pen's integration with OneNote showcased Microsoft's hardware and software integration chops. Windows 10 introduced writing on web pages. And with the Windows 10 Anniversary Update, which addressed the creator in everyone, Microsoft made inking front and center.
Windows Ink Workspace is an easily accessed and evolving section of Windows 10 that showcases various inking tool, including:
Sticky Notes now has pen support and Cortana insights. Cortana scans a note's content and can add reminders as it recognizes actionable data like day or time.
Sketch Pad provides users with a dedicated inking environment for doodling and notetaking. It's equipped with virtual rulers, pen types and more.
Screen Sketch allows users to write directly on a screenshot of their displays.
These capabilities can also be accessed from the lock screen, enabling the quick access often needed when people take notes. Microsoft also supports third-party, ink-focused apps like Ink Calendar. It's not hard to envision the usefulness of these tools on a seven-inch, pen-enabled, Core OS digital notepad.
What is Microsoft's Whiteboard app?
Whiteboard is a collaboration-focused, first-party inking app. It digitally replicates the physical whiteboard experience and allows remote users to work in the same digital environment in real time.
Whiteboard also incorporates intelligence. The "Ink to Shape" feature automatically creates a perfect shape out of a user's sloppy attempts. Additionally, after users enter an equation, Whiteboard provides the associated graph illustrating it.
With Bing integration, users can search for and insert images from within the app.
Windows Ink and Whiteboard on a mini cellular tablet
Surface Creator Panos Panay refers to his Surface Mini as a Moleskin (a type of notebook) and keeps it by his bedside for late night notetaking. In 2014, the pen-focused Mini was reportedly scrapped because it lacked a competitive advantage. Things are different now.
With cellular PCs coming to market this year, an eSIM-equipped, pen-focused mini-tablet from Microsoft would have the always-connected advantage the original Mini lacked. Furthermore, with Core OS Microsoft could ensure the full power of Windows while cutting features that may not be needed for the device's form factor and digital notepad positioning. Since inking would be the focus, Sticky Notes, Sketch Pad, Screen Sketch and upcoming inking capabilities would be highlighted features.
Whiteboard is initially targeted at the education sector, but it has broader potential applications on a digital notepad. Imagine business executives collaboratively strategizing from remote locations. Or students remotely working on group projects, artists collaborating, or engineers brainstorming. Field sales reps following up on leads could update the central office with "live" notes. Doctor-patient interactions would be more personal as the doctor faces the patient while writing on a digital notepad, rather than typing into a laptop with his back to them.
The time is right ...
Digital notepads would eliminate scrap paper and with cloud support enable virtually "infinite" note storage. The implications for personal and collaborative uses of an inking-focused mini tablet with Windows Ink and Whiteboard are far greater than what Surface Mini would have brought to market in 2014. With Continuum, Microsoft could even enable full desktop scenarios.
Is Microsoft's rumored 'Surface phone' a reimagined Surface Mini
If Microsoft threw in cellular voice, we'd really be talking (poor pun intended). But that's a topic for another day.
Get the Windows Central Newsletter
All the latest news, reviews, and guides for Windows and Xbox diehards.
Jason L Ward is a columnist at Windows Central. He provides unique big picture analysis of the complex world of Microsoft. Jason takes the small clues and gives you an insightful big picture perspective through storytelling that you won't find *anywhere* else. Seriously, this dude thinks outside the box. Follow him on Twitter at @JLTechWord. He's doing the "write" thing!