How the Surface changed Microsoft forever
Microsoft, though known as a software company, created a concept, idea and an aspirational hardware brand with Surface.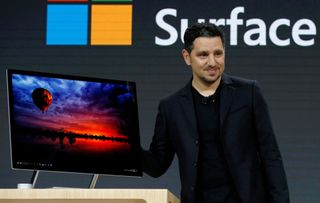 And it wasn't an accident. On June 18, 2012, Microsoft surprised the world with the launch of the tablet/laptop hybrid known as Surface.
Early impressions were hopeful. Would this be the iPad killer that a host of Android tablets before it had failed to be? Its unique design that crammed a full PC into the frame of a tablet (Pro version), and accommodated removable keyboard/type covers and a pen, suggested, "Maybe."
This tablet, which conveniently hid the familiar desktop behind its Modern (and controversial) Live Tile-based face was described as "the tablet that can replace your laptop." Then CEO Steve Ballmer framed the "Surface" category this way as "a whole new family of computing devices from Microsoft."
Its' interesting that even then Ballmer referred to "Surface" as a family of devices. He may have envisioned the broader context the Surface brand would later incorporate beyond what was introduced that day. This was, after all, the beginning of a journey of hardware-software synergy that would change Microsoft forever?
Hard way to go
The road to success was rough. The advent of the iPhone in 2007 and Android phones in 2008 established a UI and app ecosystem that translated easily to the widely-accepted iPad in 2010 and a host of Android tablets that followed. Microsoft's revised mobile OS, Windows Phone 7 in 2010, was late to the consumer-focused world of smartphones.
Still, the unique Live Tile-based UI which many "static icon trained" consumers rejected on the phone was later employed by Redmond in an attempt at a "tablet-friendly" UI in Windows 8 in 2012.
The goal of the original Surface was designed to be the PC Microsoft already "knew how to be" and the tablet "it needed it to be" in a mobile-first world.
The Surface's 2012 debut (two years after iPad) addressed a dearth of Windows tablets in the market. Unfortunately Microsoft's Continuum-powered, context-sensitive vision for 2-in-1s was initially hampered by Windows 8's negative reception and other issues surrounding the early Surface's and the Windows app ecosystem.
By 2014 Microsoft had two strikes against it, and a $1 billion loss as the first two iterations of the Surface failed in the market.
Microsoft's Financial Officer, Amy Hood stated:
Unyielding commitment to a hardware and software synergy vision finally paid off with the Surface Pro 3.
Branded
With the Surface Pro 3, Microsoft proved its vision for the category-defining 2-in-1. This success was a shift in Microsoft's position and perception in the industry. Redmond had been striving to position itself as capable of designing a device that fit its vision of how Windows should work with a tablet/laptop hybrid form factor.
The company's continued R&D and financial commitment in the face of failure weren't just about the Surface, but rather the as yet unrealized family of Windows 10 hardware that Microsoft envisioned. Surface designer Panos Panay's and his team's persistence ultimately resulted in a brand that communicates innovative, meticulously designed, high-end, context-conforming hardware.
In the four years since its inception, the Surface brand has earned Microsoft, a software company, a position as a respected hardware company. This position is fundamental to Microsoft's vision of delivering a comprehensive personal computing experience where the mobility of experiences is key.
In addition to Redmond's first-party device vision, the Surface (as it did with 2-in-1s), is positioned to help manufacturing partners bring similar devices to market at various price points.
Rising to the Surface
The Surface's success initiated the evolving realization of Microsoft's family of devices vision. Ballmer expressed:
Since the Surface tablet's success, Microsoft has proudly and confidently introduced other first-party hardware under the brand's umbrella, leading to the current line-up: Surface Pro 4, Surface Book, and the brand-new Surface Studio.
Image 1 of 3
These devices and the Surface Hub are high-end devices that have changed the industry's perception of Windows-based hardware.
Windows devices once perceived as low-end bargain basement devices are now seen as expensive cutting-edge hardware that rivals or exceeds Apple's long-standing high-end market position. More than that, the Surface brand has had a halo effect on high-end hardware from Microsoft partners.
Microsoft has leveraged its deep-reaching relationships to create Surface as a Service:
Great expectations
The Surface brand has caused many people to view Microsoft in a new light. For Window's phone fans the brand represents hope. Every Surface device to date has defined a new category, and changed how we see computing. The Studio, for instance, reimagines the desktop.
How might the brand's mission to create categories and change how we see computing be represented on a form factor that fits into our pockets and makes phone calls but is not a phone?
Must Read:
Get the Windows Central Newsletter
All the latest news, reviews, and guides for Windows and Xbox diehards.
Jason L Ward is a columnist at Windows Central. He provides unique big picture analysis of the complex world of Microsoft. Jason takes the small clues and gives you an insightful big picture perspective through storytelling that you won't find *anywhere* else. Seriously, this dude thinks outside the box. Follow him on Twitter at @JLTechWord. He's doing the "write" thing!