Seeing Microsoft's mobile future requires big-picture perspective
Does Microsoft have a mobile strategy? Yes, but to see it you must look beyond the yearly cycle governing the smartphone industry.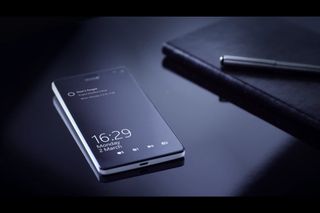 I've often contemplated how artists who create large works, like the 60-foot sculptures of Mount Rushmore, maintain perspective. As they work on the details of the piece, they're far too close to (essentially engulfed by) the enormous "canvas" to see how each detail relates to the larger whole. It's a very different perspective than a sketchpad drawing where the entire picture is always in view.
In the case of Mount Rushmore, the artist rigged a flat-panel projector on the heads of each president. A model of the sculpture had a similar rig. Thousands of measurements were taken from the model, multiplied by twelve, taken to the mountain by the sculptor's crew, and facial expressions and carving points and depths were marked off in red paint. Thus, workers could confidently give composite parts of the whole the required attention, knowing their work would ultimately culminate in what was modeled.
Microsoft's "ultimate mobile device," as CEO Satya Nadella calls it, began as a mental model. The work going into building the actual device, like Mount Rushmore, requires a "crew" or different teams within Microsoft to confidently work on composite parts of the whole. It took fourteen years to complete Mount Rushmore. Though I don't anticipate nearly as long for a "Surface phone" to, well, surface, perfecting and bringing all the parts together will take time. Any analysis we present on Microsoft's mobile strategy and Surface phone is, therefore, a long-term view.
A change of perspective
As a fellow Windows phone loyalist (eleven years) I empathize with the disappointed and frustrated fans who are weary of Microsoft's mobile woes.
Like many, I championed Windows phone among family and friends. Most of the approximately fifteen people I converted have since moved on to Android or the iPhone, however. I can't blame them.
Furthermore, I've refrained from actively recommending Windows phone for over a year now and will only recommend it (in its current state) to someone with simple needs and little reliance on apps. Despite this reality, I believe Microsoft has a mobile strategy, the success or failure of which is not the focus here, simply its existence.
I know it's frustrating for news-hungry fans not to get Surface phone or mobile strategy news nicely packed and delivered in a complete package. Given Nadella's assertions that Microsoft's next phones will not be like anything currently on the market, the company is committed to Surface- and HoloLens-like silence until its category-defining device is ready. Consequently, perhaps loyalists would find it empowering to change their perspective on the matter.
Maybe we should stop engaging in the frustrating exercise of eagerly awaiting news that isn't coming (until Microsoft is ready). Perhaps we should step back, gain perspective and patiently observe how the teams at Microsoft are confidently working on parts of the platform and ecosystem that will make the Surface phone into an ultimate mobile device. Like Mount Rushmore, if Nadella's words bear fruit, it will all eventually come together.
Microsoft's mobile strategy in context
Of course, observing disparate pieces alone won't satisfy our desire for mobile news, and we need context.
The Mount Rushmore crew had the image of the model in mind when they were on the mountain surrounded by hundreds of feet and thousands of tons of shapeless granite. As they focused on their individual tasks, their collective work shaped the broader project. Someone observing from a distance could see how the work was coming together even more clearly than the teams themselves because distance gave a big-picture perspective.
The teams at Microsoft have brought new devices to the ecosystem. They're also introducing new capabilities within Windows in the coming Fall Update, and recent Creators Update that enhance Windows across form factors. A model of an ultimate mobile device — a Windows 10 on ARM ultramobile PC with telephony and an inking focus perhaps — should be in our minds as Microsoft builds its ecosystem. Loyalists might find a contemplative observance of Microsoft's investments and the collective contributions of its various teams more helpful toward revealing Microsoft's mobile strategy, than the hopeful desire for news that remains unfulfilled.
Candidly speaking, anyone curious about Microsoft's mobile strategy may be best served by divorcing the notion that Microsoft will divulge comprehensive details of that strategy anytime soon. I know not everyone is inclined to apply a discerning eye to a multitude of details and to what appear to be unrelated variables, and that's OK. But for those of you who are so disposed, read on.
The Lumia 950 that should (not) have been
The smartphones we carry are more than the plastic, glass, and metal that comprise them. The value they impart and the feelings they invoke are founded more on the experiences derived from the platforms that power them and the ecosystems in which they exist. If the OSes were removed and the phones were plucked from their encompassing ecosystems, we'd be left with an attractive but useless slab.
I'm convinced Microsoft is honing Windows and its ecosystem so that the Surface phone, supported by a unique OS and mature ecosystem, will be an ultimate mobile device and not an attractive but "useless" slab. To clarify, uselessness here isn't characterized by an absolute state of inefficacy but by a lack of a meaningful competitive edge in the mobile personal computing space.
To that point, Windows Central recently exclusively reported on Microsoft's original plans for the Lumia 950 series. "Active Sides," a 3D Touch feature, and a Surface Pen-supported inking focus were some of its highlights, as seen in the video below:
This pre-retrenchment early 2015 concept video and accompanying marketing material (pictured below) represents what Microsoft envisions for a personal computing experience on a pocketable device. Ranging from an inking-focused digital notepad to a Continuum-powered PC replacement, as suggested by the marketing tagline "Leave your laptop behind," it shows where the company was and, I believe, is still headed in mobile.
Image 1 of 2
In 2015, Microsoft realized its immature ecosystem and developing platform features like inking, Continuum and others were not ready to make a meaningful impact (like the canceled Surface Mini and MacLaren). Thus, features were cut from the 950 family. What we see now is Microsoft maturing its ecosystem and Windows 10 features to help bring that delayed mobile vision to fruition.
What to watch
Watching the big picture helps you see Microsoft's mobile strategy come together:
Inking — Windows Ink makes inking a far more integral and expansive part of Windows than was available in 2015 and better reflects its role in Microsoft's mobile and collaboration vision.
Cloud, AI and Whiteboard — Microsoft's intelligent cloud supports user experiences across Windows (and other) devices. The real-time collaboration Whiteboard tool would be a powerful application on an ultramobile Surface.
Univeral Windows Platform (UWP) — Window 10 S is part of Microsoft's strategy to bring Win32 apps (and other apps) to UWP.
Hardware — Surface reveals Microsoft's commitment to category-defining, context-sensitive hardware as is expected of a ultramobile Surface.
CShell — This allows the UI of a Windows device to conform to the user's context.
Mixed Reality — This may be personal computing's future. HoloLens Creator Alex Kipman sees it as the future of mobility.
Gaming — Mixer (formerly Beam) and game streaming are areas Microsoft may optimize for full Windows on mobile.
Wrapping up
Microsoft is unlikely to directly divulge Windows phone news in the near future. We can, however, change our perspective by stepping back and looking at the big picture. I've identified some elements that would go into Nadella's promised ultimate mobile device.
What other areas should those curious about Microsoft's mobile strategy include in their views of the big picture, as the company's ultimate mobile device comes together?
Get the Windows Central Newsletter
All the latest news, reviews, and guides for Windows and Xbox diehards.
Jason L Ward is a columnist at Windows Central. He provides unique big picture analysis of the complex world of Microsoft. Jason takes the small clues and gives you an insightful big picture perspective through storytelling that you won't find *anywhere* else. Seriously, this dude thinks outside the box. Follow him on Twitter at @JLTechWord. He's doing the "write" thing!