Seeing Microsoft's mobile future requires big-picture perspective
By Jason Ward last updated
Does Microsoft have a mobile strategy? Yes, but to see it you must look beyond the yearly cycle governing the smartphone industry.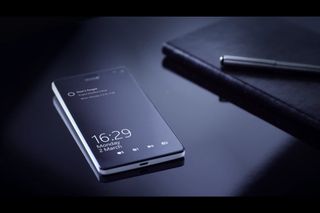 I've often contemplated how artists who create large works, like the 60-foot sculptures of Mount Rushmore, maintain perspective. As they work on the details of the piece, they're far too close to (essentially engulfed by) the enormous "canvas" to see how each detail relates to the larger whole. It's a very different perspective than a sketchpad drawing where the entire picture is always in view.
In the case of Mount Rushmore, the artist rigged a flat-panel projector on the heads of each president. A model of the sculpture had a similar rig. Thousands of measurements were taken from the model, multiplied by twelve, taken to the mountain by the sculptor's crew, and facial expressions and carving points and depths were marked off in red paint. Thus, workers could confidently give composite parts of the whole the required attention, knowing their work would ultimately culminate in what was modeled.
Microsoft's "ultimate mobile device," as CEO Satya Nadella calls it, began as a mental model. The work going into building the actual device, like Mount Rushmore, requires a "crew" or different teams within Microsoft to confidently work on composite parts of the whole. It took fourteen years to complete Mount Rushmore. Though I don't anticipate nearly as long for a "Surface phone" to, well, surface, perfecting and bringing all the parts together will take time. Any analysis we present on Microsoft's mobile strategy and Surface phone is, therefore, a long-term view.
A change of perspective
As a fellow Windows phone loyalist (eleven years) I empathize with the disappointed and frustrated fans who are weary of Microsoft's mobile woes.
Like many, I championed Windows phone among family and friends. Most of the approximately fifteen people I converted have since moved on to Android or the iPhone, however. I can't blame them.
Furthermore, I've refrained from actively recommending Windows phone for over a year now and will only recommend it (in its current state) to someone with simple needs and little reliance on apps. Despite this reality, I believe Microsoft has a mobile strategy, the success or failure of which is not the focus here, simply its existence.
I know it's frustrating for news-hungry fans not to get Surface phone or mobile strategy news nicely packed and delivered in a complete package. Given Nadella's assertions that Microsoft's next phones will not be like anything currently on the market, the company is committed to Surface- and HoloLens-like silence until its category-defining device is ready. Consequently, perhaps loyalists would find it empowering to change their perspective on the matter.
Maybe we should stop engaging in the frustrating exercise of eagerly awaiting news that isn't coming (until Microsoft is ready). Perhaps we should step back, gain perspective and patiently observe how the teams at Microsoft are confidently working on parts of the platform and ecosystem that will make the Surface phone into an ultimate mobile device. Like Mount Rushmore, if Nadella's words bear fruit, it will all eventually come together.
Microsoft's mobile strategy in context
Of course, observing disparate pieces alone won't satisfy our desire for mobile news, and we need context.
The Mount Rushmore crew had the image of the model in mind when they were on the mountain surrounded by hundreds of feet and thousands of tons of shapeless granite. As they focused on their individual tasks, their collective work shaped the broader project. Someone observing from a distance could see how the work was coming together even more clearly than the teams themselves because distance gave a big-picture perspective.
The teams at Microsoft have brought new devices to the ecosystem. They're also introducing new capabilities within Windows in the coming Fall Update, and recent Creators Update that enhance Windows across form factors. A model of an ultimate mobile device — a Windows 10 on ARM ultramobile PC with telephony and an inking focus perhaps — should be in our minds as Microsoft builds its ecosystem. Loyalists might find a contemplative observance of Microsoft's investments and the collective contributions of its various teams more helpful toward revealing Microsoft's mobile strategy, than the hopeful desire for news that remains unfulfilled.
Candidly speaking, anyone curious about Microsoft's mobile strategy may be best served by divorcing the notion that Microsoft will divulge comprehensive details of that strategy anytime soon. I know not everyone is inclined to apply a discerning eye to a multitude of details and to what appear to be unrelated variables, and that's OK. But for those of you who are so disposed, read on.
The Lumia 950 that should (not) have been
The smartphones we carry are more than the plastic, glass, and metal that comprise them. The value they impart and the feelings they invoke are founded more on the experiences derived from the platforms that power them and the ecosystems in which they exist. If the OSes were removed and the phones were plucked from their encompassing ecosystems, we'd be left with an attractive but useless slab.
I'm convinced Microsoft is honing Windows and its ecosystem so that the Surface phone, supported by a unique OS and mature ecosystem, will be an ultimate mobile device and not an attractive but "useless" slab. To clarify, uselessness here isn't characterized by an absolute state of inefficacy but by a lack of a meaningful competitive edge in the mobile personal computing space.
To that point, Windows Central recently exclusively reported on Microsoft's original plans for the Lumia 950 series. "Active Sides," a 3D Touch feature, and a Surface Pen-supported inking focus were some of its highlights, as seen in the video below:
This pre-retrenchment early 2015 concept video and accompanying marketing material (pictured below) represents what Microsoft envisions for a personal computing experience on a pocketable device. Ranging from an inking-focused digital notepad to a Continuum-powered PC replacement, as suggested by the marketing tagline "Leave your laptop behind," it shows where the company was and, I believe, is still headed in mobile.
Image 1 of 2
Image 2 of 2
In 2015, Microsoft realized its immature ecosystem and developing platform features like inking, Continuum and others were not ready to make a meaningful impact (like the canceled Surface Mini and MacLaren). Thus, features were cut from the 950 family. What we see now is Microsoft maturing its ecosystem and Windows 10 features to help bring that delayed mobile vision to fruition.
What to watch
Watching the big picture helps you see Microsoft's mobile strategy come together:
Inking — Windows Ink makes inking a far more integral and expansive part of Windows than was available in 2015 and better reflects its role in Microsoft's mobile and collaboration vision.
Cloud, AI and Whiteboard — Microsoft's intelligent cloud supports user experiences across Windows (and other) devices. The real-time collaboration Whiteboard tool would be a powerful application on an ultramobile Surface.
Univeral Windows Platform (UWP) — Window 10 S is part of Microsoft's strategy to bring Win32 apps (and other apps) to UWP.
Hardware — Surface reveals Microsoft's commitment to category-defining, context-sensitive hardware as is expected of a ultramobile Surface.
CShell — This allows the UI of a Windows device to conform to the user's context.
Mixed Reality — This may be personal computing's future. HoloLens Creator Alex Kipman sees it as the future of mobility.
Gaming — Mixer (formerly Beam) and game streaming are areas Microsoft may optimize for full Windows on mobile.
Wrapping up
Microsoft is unlikely to directly divulge Windows phone news in the near future. We can, however, change our perspective by stepping back and looking at the big picture. I've identified some elements that would go into Nadella's promised ultimate mobile device.
What other areas should those curious about Microsoft's mobile strategy include in their views of the big picture, as the company's ultimate mobile device comes together?
Jason L Ward is a columnist at Windows Central. He provides unique big picture analysis of the complex world of Microsoft. Jason takes the small clues and gives you an insightful big picture perspective through storytelling that you won't find *anywhere* else. Seriously, this dude thinks outside the box. Follow him on Twitter at @JLTechWord. He's doing the "write" thing!
Thanks for reading folks!!! There's precious little official comprehensive information (for now) regarding what Microsoft is planning for mobile. What little tidbits we do get whets our appetites but leaves us hungry for more. I think however, that as a group of critical thinkers
we are not at the complete mercy of awaiting full disclosure from Microsoft to learn about its mobile strategy. The method I employ and have shared with you is to look at the various investments Microsoft is making, combined with it's professed commitment to mobile and Nadella's assertion of an ultimate device that can also be a PC via Continuum. Employing this particular analysis strategy has convinced me that Microsoft does have a mobile strategy and emboldened me to assert that point consistently while many others, focused on the short-term and lack of direct news from Microsoft, have surmised Microsoft had no strategy. Though I completed this piece Monday 5/29 for publication Wed 5/31 recent news tidbits, confirming Microsoft's is working on mobile further corroborate my ongoing analysis. I encourage readers to step back, and take a big picture view and see what else you might see. 😉 Well LET'S TALK!!!!

Wow! Every article I read from you is well thought out and extremely long :) Happy to see your work at Windows Central.

I'd love to see your workflow and how much time you research these kind of stuff. As an avid MS fan, sometimes I know that it's just continuos effort that makes us put things together but even though, would be awesome to see the inner workings.

Hey Windows Phone Guy, I'm not sure how helpful I can be but DM me on Twitter. I may have a few tips i can share.👍🏿

Thanks for solidifying my thoughts, once again.

Hahahah....you're welcome rodney😃👍🏿

Still waiting for the Cerulean moment.

Their kickstarter is at 3% of their target after how long now? :)

Their kick starter is closed with 28,000 dollars out of one million wanted. A runaway success. Just like I said it would be.

Oh you're just so wonderful Steve.

Supporting mobile phone OEM's is not in Satya or Terry's, "Big Picture Mobile Vision" ; )

"Seeing Microsoft's mobile future requires big-picture perspective" OK, its a nice idea BUT as a consumer who has to work very hard to earn money... Iam not interested in supporting future ideas which will or wont exist. This is the downside of Microsoft. Iam not interested in the future, hack.. who knows, maybe I will die today so why shouuld I care about their future plans? Or why should I want to see the "big picture"?? If they want my money, they need to put something on the table.. not words, not ideas, not studies... I need a working device... thats all what a regular consumer needs

Well said. Maybe Apple could get away with a long delay between releases and people may wait. Windows Phone/Mobile? Not a chance

If they come back with a big bang and the product delivers on all fronts with great marketing...it wont look like a long delay but instead a new type of product. Its no longer Windows Mobile OS but the "better" Windows 10 S ..it will no longer carry the Lumia branding but Surface instead ..so technically speaking, it woukd be an entirely new product launch not a delayed product.

Whatever the UI looks like it will be an evolution of what WP7's, 7.5, 8.0, 8.1, and WM10's basic design is...... So, I don't even see what it matters.... Windows on Phone is an ever evolving system. It doesn't die.

For me I think continuum is the next step for ms. With arm now supporting Windows I don't think it will be long until we see some windows 10 mobiles like the hp with a dock that turns your phone into a pc. If you look at the specs of some of the arm pcs running Windows 10 it could be put into a mobile device without any issues and then adding 32x apps to it in continuum mode could be a real deal breaker for business. Do I see that working in the home side I'm not sure but the next step from the surface has to be this type of device. I could be wrong but I do think it will be something like that.

@james oh most definitely! Continuum will be playing a big role through Windows 10 S. Windows 10 S in my opinion will ultimately be the replacement to Windows Mobile. Windows 10 S will be the Continuum form (when connected to a screen) while the mobile "transformation" will be more or less like the current start screen (on mobile) etc. with some advancements. My opinion derives from the fact that Windows 10 S is made for lower budget devices while using just the Windows Store for apps, which essentially is just like Windows Mobile ...more powerful devices (such as Surface Laptop) will be able to unlock Windows 10 S to pro. -Surface (phone) - The mobile ultra portable showpiece of Windows 10 S with continuum
-Surface Laptop - The full Windows 10 S showpiece can be unlocked to Windows Pro
-Surface pro - The portable Windows 10 pro all-rounder whether for artists (inking), business or students

No, it's not well said.... Asking for something now is preposterous... This article admits that you will get nothing now, and is talking about what will most likely happen in the future... If you don't care about WP's future then why are you commenting on a WP article, on a Windows site? See iDroid..... But, some WP fans care about WP's future, so gaining perspective is interesting.... You guys comments are akin to me going over to Android Central and talking about what I don't care about... And, I care nothing about iDroid, so why would I even waste data?.... Going into a Nike outlet to complain about how you don't care about Nike.🤔🤔🤔🤔🤔🤔🤔🤔🤔🤔🤔🤔🤔🤔

Apple is the one that started this whole, coming out with a new phone thing. People are getting tired of it. Apple makes little improvements that are still years behind most other phones and every year for sure "it's the best iPhone we ever made"

Apple users are stupid, don't care.

I wouldn't say "little improvements", and "years behind".... There devices are consistently good, and are a worth upgrade for any Apple fan that upgrades every other generation.... Also, not sure about them starting upgrade cycles, either.. Back then people always had to have the ne Motorola Razr, and similar popular flip phones. That's been going on since the beginning.

And that's why we don't have a Surface Phone. What they would release today isn't what they want for the future. Wouldn't you rather them get the Surface Phone right and deliver on that future than release a half baked product that's just another me too that gets them nowhere? There are plenty of working mobile devices that live up to today's standard of a smartphone. When the Surface Phone comes out I'd like it to really raise the bar. I'll wait for that and be content (if not thrilled) with my iPhone.

How many of us will be alive when they finally get it right?

I don't think Microsoft really cares if you are alive or not when the Surface Phone comes out.

Well, that seems to be MS's reality, and their plan.....

It's a reality of life. Microsoft will still be long after you are gone.

Don't think so if Satya remains here.
Look at Nokia, or IBM. A giant can die too, VERY fast...

It takes 5 business days to process the refunds.

Microsoft does have a mobile strategy and it's a simple one. That strategy is to have all it's services available where the users are. Which means iOS and Android. How long are you going to keep writing about this magical strategy that most of us can't see but you? There is a saying that a broken clock is right twice a day. I am sure microsoft will eventually ship a mobile device for the enterprise one day. And I am sure you will use that as proof that you were right all along.

Your emoji says enough.... that's the simplest, yet most direct, message we could watch for....

If you're saying you can't see that's your bad, not Jason's.

Stop waving the pom poms Rodney, you ain't got the looks or the curves.

So, you're saying their will never be Windows on a mobile device again?

He's right and it's clear what they are doing just by watching build and computex. Their vision for mobile is an always connected, pen enabled device that maintains your state through the cloud. Add in a sprinkle of mixed reality for the truly ambitious and you have their vision in a nutshell. It's unfortunate that you feel burned by them abandoning your windows phone but they have to focus on a strategy that has a chance.

Don't get how the device you describe is abandoning WP... It's all WP. It's always been WP, and always will be WP.... Windows on Phone has been ever evolving for over 20 years. I has had hiatus before, and this time is no different.... It'll never die, ESPECIALLY now that mobile is the future. ANDROID AND IOS iOS HAVE INADVERTENTLY SEALED WP'S FATE INTO THE FUTURE... This perspective, I assume, Jason may touch on one day, but it's not been addressed yet..I don't think a lot of you understand what WP is.

Don't you mean in a Cshell?

Android, iOS is a niche for stupids and idiots.

Andromeda is currently in progress. There will be a new device next year, but it won't be a slab, may not even be called a phone.

Here is the biggest problem with their mobile strategy. They aren't thinking about cars. That is why I will likely never have another Windows device again. Having had 7 different Windows Phones, I can tell you the biggest missing feature is Continuum for the car. The competition has Android Auto and CarPlay. Why Microsoft explicitly excluded cars from their Continuum push is the biggest mystery ever in their mobile strategy. What's worse, they have zero vision for using a Microsoft device in a car. This is the #1 reason why Microsoft will NEVER succeed in mobile. Without a solution for people who drive cars, anything they ever release will be dead on arrival. End of story.

a pen enabled, always connected windows 10 device would be great in our driverless car future. Plus at build, they demoed their car vision in the keynote.

Texting and watching videos in vehicles is already prohibited and many states are pushing to ban it as well, so outside of passengers using these features while in a vehicle, I don't know if that is having a negative impact like your stating. Oh yeah, contiuum will not be allow while driving either so you will have to pullover first which many people will not do unless it's an emergency.

I believe he's asking for a car version of continuum, where continuum is the name for devices to adapt to form factors. In this case, the phone would (when connected) display a car style interface for music, navigation and calling.

That is exactly right. Just like how I use Apple CarPlay today with my iPhone.

Did You vote Trump too? If so you win, you did all the most stupid thing a stupid man can do :)

Which it's important to note that WP8.1 actually had this.

Not marketing to distracted drivers and maintaining your hands on the wheel & eyes on the road will save trillions in future litigation.

The whole point is to be less distracted than fiddling with your phone trying to play music and use maps. I use CarPlay to do this today and it is great. I can display my phone maps on the car screen, as well as my Amazon Music. Microsoft was a member of the Car Connectivity Consortium for many years, which runs the cross platform MirrorLink standard. This had similar functionality, but was only ever supported on Android phones. Microsoft never actually implemented the standard into Windows 10 Mobile, and earlier this year left the CCC. This is concrete proof that Microsoft has forever abandon people who drive cars, they have no vision for their products working with a car. This is why I switched to an iPhone, I drive a huge amount for work. It makes no sense at all that with their Continuum push, they have ignored the car. Stupidest thing they have ever done.

my guess is they're relying more on voice control first and won't focus on cars until a little later. It'll be much easier to simply ask your phone to do something than to fiddle with some other interface. personally, i'd rather that than to purchase a car based on what phone i have.

Yeah Ms is a startup with 500ppl that it can only work on 1step at a time. So voice controls for now.

Sometimes it does feel like MS has strategies of a small-scale company. Maybe Mr Nadella needs a broader pair of spectacles.

What distracts me while driving is all the billboards and advertisements to be seen when driving. That stuff should be illegal. My eyes wander from one to the next and not the road. How's that safe?

In a litigious world, It's only a matter time before claims are made about billboards but for now, some employers have been held liable for what their employee's do while driving and in other cases, sending or calling a person known to be driving can make you electronically present for what happens. The point I'm trying to get across, clocks are ticking for companies producing in-car entertainment or whatever they know could take the drivers attention off the road.

I get what your saying and i agree. I just hate ads lol. Wish we could banish them all.

I hate ads too and get a kick out of the shear size of some of the go big or go home billboards in the USA.

🤔My 950xl works just fine on my touch screen ALPINE Stereo with HDMI -USB C. I don't need nor do I want a separate program. Just want the UWP apps to scale correctly 👍🏾

🤣 if you only knew. But the fact is it works.

They are working on that with car manufacturers.

Don't car already have navigation and bluetooth for audio?

"recent news tidbits"? -- what is this about?

Microsoft has a phone in the works. Reported first by Brad Sams yesterday.

Hello Jason, I find your thoughts interesting, but somehow optimistic. I'm a MS WP fun and remain it even now, when MS in practice left the platform without tangible support. I think you're mixing vision with strategy. Yes, I agree, MS has a vision of switching to a mobile platform, because even they understood, that mobile devices are the future. But, this is not enough. Vision without a strategy remains only a very expensive attempt. Why I think MS is missing the strategy? Look of how they operate - develop a platform, aquire a device manufacturer and tried to link with their PC based products. Clear, that this won't work with teens, but business oriented or IT experts might be the right target. MS failed to compete OiS or Android, but created the most loyal group of funs. If they have a strategy, they will do all to keep this group by engaging them and talking to them. The opposite is true. MS is doing its best to get rid of those people. Next time even if they will come with a technical wonder, no one will believe them. People will accept MS Office on Android or cloud services from OiS, as they will feel secure. So, it's a nice vision, but in practice I think MS' steps will be to adapt it's solutions to Google play or Apple store.

Current MS fans are virtually irrelevant to their success. If they succeed, fans will be a very small part of that group. Plus, a possible strategy is provided in a fair amount of detail above in the article. That's more than just vision.

" I find your thoughts interesting, but somehow optimistic." Ya think?

I love your articles, always a good read, glad your here.

As always Jason, I like your insight and enthusiasm, but no matter who's in charge at MS, they seem to never learn lessons from the past; Ballmer & Gates stand trial for missing out on mobile or as they said in some of their surface vs mac commercials, "Being late to the party" We've been waiting since at least 2010 yet Sayta says becomimng one Microsot would make them nimble which would help them bring thing to market faster due to teamwork as opposed to every department being on an island so to speak. What happened to ubiquitous, nimble, and fast? There new name should be words you children use often, "SLOW POKE" because they've master that without bugs or flaws!

That was one of your best article in a long time Jason! I think it is correct. Microsoft is building something new. What it will be is only guesswork. When our old Lumia (or whatever) is ready for replacement, we probably have to replace it with a Android or iOS device, for the time beeing, while we wait for the next big thing from Microsoft. Microsoft was not satisfied to have 3th place in the mobile market. So when they release something new now, I think it will be something that most android-fan and iOS-fan will like to have. For Microsoft want to be no 1 again, also in mobile. So lets wait and see. In the meantime my Lumia 950 XL works just great. And when it no longer does, Android or iOS - here I come.

I agree. Jason was more precise and fact-driven, unlike some of his more conceptual (and long) articles.

The huge difference between MS's mobile strategy and Mount Rushmore is that Microsoft has competitive forces to contend with. Not so with Mount Rushmore. THIS is where they have failed, which is truly dismal for a company of their size and position in the computing world. They MUST move faster.

Do you think the whole "ambient computing" idea will skip the planned 1st-generation mobile PC hardware? There has been lots of talk lately about Cortana-powered devices, but it's not part of your list and it seems like the two announced so far from HP and Harmon-Kardon are separate devices. The current state of Cortana on phones hasn't changed much since the introduction in WP8.1, and honestly the experience has become laughably unstable in W10M. Amazon and Google seem to be heading in the direction of full-on conversations with their voice-powered assistants, and Apple is rumored to be working on an AI chip for a future device that could learn and do more complex tasks offline. I would love to see the "edge" computing, hinted at this year's Build conference, implemented in the next Microsoft mobile device too. Other comments here mention the lack of car integration, but having this sort of intelligent voice-powered interface would negate the need for much of this sort platform-specific support in vehicles. Why should the purchase of my next car-- or even watch, home theater system, or TV--need to revolve around my choice of phone platforms if I can talk to my phone in a natural manner and the phone can use open protocols to interface as necessary with any of those devices?

We know they are working on cortana, from build to "proactively offer skills". No doubt natural conversation is on the agenda, as MS purchased the world only AI to understand word context in conversation (like the only AI yet, to actually understand some of what is said). So fair google AI is just a clever bot. It does contexual, but it can't really go much further as a bot. Amazon is anything but natural at this point. Apples AI chip will most likely be for things like visual recognition, and audio recognition rather than for its assistant, although they have some tricks, I think apple is the one to watch as competition there, depsite their current lag - they like MS have made some intriguigin AI purchases.

Great, connecting recap Jason.

Hi Jason, First of all I enjoy reading your articles. Secondly I agree with you that Microsoft is going mobile, all of the lastest updates of W10 and hardware releases lean in that direction. I believe that the last piece of the jigsaw will be the "Surface Phone" and I'm quietly confident in the success of Nadella's vision. Thanks again for your articles. Regards

Surface, O365, Hololens, Surface Hub, etc is a continuation of Ballmer's vision, don't give Satya more credit than he deserves. For example, "What happened with the Salesforce Partnership? the only thing in all we're seeing that's Satya's is Azure, Canceling the Surface mini, writing off the Nokia D/S division, ADD toward consumers, and not putting real effort into Phones or mobile devices fast enough to this point is all Satya

Hub, HL, Surface pro, didn't happen under ballmer. One core, windows 10, didn't happen under ballmer. The one smart thing he did was codevelop the flexible OLED screen wtih samsung, and pioneer the RT/8 (although neither of those were good as they were). His purchase of the massive money bleed that was nokia was not a great idea, a partnership would have been a lot smarter. Your essentially crediting him with things he had nothing to do with, in order to maintain a hatred of the current CEO because he dumped nokia.

All well and good Jason but could I suggest that the overwhelming majority of mobiles are not in the hands of business which is what your crystal ball gazing seems to point to , at least as I interpret your article. If I am correct then all of Nadella's visionary stuff will mean a poofteenth of nothing in the market. Feel free to disagree with me but it feels like the ms vision is a bridge or two too far, just as I recall the earliest windows mobile os was. It took apple to dumb down the operation and I see something similar beginning to emerge here. What's your opinion of my interpretation?

Excellent overview, and substantiated with verifiable and credible material. Good work, Jason.

I really enjoy reading your articles. Always well thought out and full of positive energy in regards to the Windows 10 ecosystem and what the future vision is all about. I feel that some fans want that instant gratification from MS like the rest of the people who get an iPhone or galaxy phone, but Windows is much more than that, and people fail to see beyond the "right now", that in my opinion is very stagnant, same bar design, with some of the same features, they get boring after a while. And while I do love my Lumia 950XL I feel that something needs to be done to bring the Windows Phone brand to the forefront. MS are the innovators that the smartphone world needs, and right now the only one gearing up for it is MS, even if other can see it. I'm glad to know some other people out there see the bigger picture, it makes me feel a lot better.

Sorry, but I have just about zero confidence that Microsoft can execute a successful mobile strategy at this point.

I have confidence they will. But I also believe the same outcome will happen.

I agree the same outcome might happen. Why? This so called phone seems to me will be high end. All of the readers here are clamouring for this Surface phone. Unfortunately probably only about 35% will be able to afford it if not coupled with a phone plan. They will look at the price then nitpick it to death not matter how good it may be just to justify why they aren't spending money to buy it. I'm doubtful most will spend a boat load of money like iPhone users. I only say this based on previous phone speculation prices and the outcry that followed. I just don't see it happening. If it does great! But I'm doubtful.

Also add the fact that the phone will be limited release n not available across the world n we've seen that even when wp showed promise , it struggled in US

Microsoft will not be the only device manufacturer.

They will be the only device manufacturer putting any effort in unless they have a plan to excite carriers and manufacturers. A locked down, feature deficit platform isn't going to excite them.

Heck the creator of Android who doesn't have nearly the money and resource MS has can manufacture a better looking phone than what the combination of MS & Nokia did and get it on all 4 Carriers....how does that excite you???

If Microsoft released an ARM tablet or laptop it would be at a premium to avoid upsetting partners. OEM's on the other hand, have a lot more options with Qualcomm's 835 integrated features and being cheaper than Intel, can build whatever they feel the market wants at lower prices.

I'm with you. I like that Microsoft is focusing its efforts on ARM PCs because it will offer benefits to those of us who really want just one device, but I doubt we are in the majority, or even enough of the overall market to make a dent in the status quo.

Well their 2 other companies out there that will serve your mobile needs if they fail and they are supporting those other company devices.

If
1) win10.arm runs just like a smaller size win10.pc
2) win10.arm don't have its own "Available on" profile.
See no reason to fail...

Wait a minute I'll ask Microsoft if they care mwright53. Nope they don't care at all.

From the ashes rises the ......

My wife's Lumia 950 got a scratched screen today. Actually the whole top right side was shattered. First phone she has ever damaged. Facebook, photos, text, whatsapp and calls. Her needs are straightforward. So I dusted out the old Lumia 930 and I am rebuilding it for her. it is Windows 10 Mobile but now "abandonware" from Microsoft on the Lumia 930 as it flirts with reboot number 4 in 10 years. if this had happened in a few weeks I would have just bought a Nokia 6 and moved her to Android. People dont buy Windows ever. That is normal people. They get Windows on a useful device. Any Windows device with no useful apps is not going to attract customers. An ultra mobile PC will be successful due to applications. Surface devices are traditionally premium priced for the enterprise. Unless Microsoft does an about turn and heads for consumer there is no useful product for consumers in this strategy. For normal people, who crack their screen, get to the end of their phone contract or just want to upgrade there is no viable mobile device. A highly expensive Surface mobile device in late 2018 is not going to make Microsoft a mobile player. It may make it into the enterprise.

Once Qualcomm has more capable lower cost chips available manufacturers can bring lower cost devices.

I am sure that Qualcomm can do it cheaply. However the Surface brand has historically been a premium brand.

True that the Surface Brand is a premium brand, however the main point of the Surface Brand is to show the OEM's what Windows is capable of and what new form factors can be created. If Microsoft are successful this time around with the phone category then the OEM's will bring cheaper devices to market (Especially if it is running full Windows 10 or 10S).

Aledgedly Surface was to show off what was possible. The Surface Laptop is .... a laptop. It's an expensive laptop with a fluffy keyboard but OEMs are already making premium laptops. Surface can't be cheaper because it would intrude in the OEM space and just compete rather than showcase. Surface Phone can't exist for consumers unless they want to de-value the brand and kill OEM business.

they aren't trying to get people right now. i think everyone just assumes if Microsoft can't win right now that they can't win ever. Their goal is *not* going to be convincing Windows Mobile users to stay on Windows. It'll be to convert Android/iOS users over to Windows. So, as of now, if you ditch Windows for Android/iOS, it's not really affecting their long term goals. Instead of hemmoraghing money now trying to keep an insignificantly sized population from switching, they're putting their money in the future to convert folks from other camps, which would include previous Windows Mobile users.

How many articles can you write about the same subject? Sorry, but I could not bring myself to read it.

Glad your here nonetheless. I hope you change your mind. :-)

I agree with adbolleman, it's getting really redundant. What's the point? Nothing new is being discussed in each of these articles. Just click bait for ad money I guess.

Hi Dusteater, Look at it this way, one the angle of this piece was to encourage readers to take a big picture perspective and look at the contributing factors that MS is positioning for thier mobile strategy rather than sitting in discontent waiting for a disclosure of a comprehensive message from MS. The point here was to encourage proactive critical analysis of the available information (while we wait) rather than being totally reliant on MS to give us comprehensive details on in mobile strategy. Also in this piece I included the 950 intended feature and marketing strategy and how that was cancelled due to an ecosystem that was not ready, but the strategy persists as MS is now preparing the ecosystem for the intended digital notepad and PC replacement the 950 wasn't ready for. Finally, I hear your point on redundance , but I'd also like to point out that unlike what you may see elsewhere my analysis is consistent. Many other sites analysis fluctuates based on short term news or leaks. Sometimes "Windows phone is dead", at the release of "new" information, "Widows phone is alive again". That type of inconsistency is a result of a reactive and short-term perspective. What I am trying to share with the great audience we have here is not only an unwavering analysis of Microsoft's mobile strategy, but also how to look beyond the short-term incidental events that dictate the reactive content of many other sites. My view has not changed because I'm looking long-term. As you go to other sites you'll see "new" analysis because most of the time its reactive to some leaked data or anouncement that is incremental to a long term perspective. A long-term view "sees" those steps so is unchanged as they come into play. I'm just trying to help readers see a bigger picture and be less affected by the incremental steps, short-term occurrence's and reactive content you may read. Am I always right, No, and I can't see the future (that would be cool), but as we watch things unfold Microsoft's strategy is moving more in the direction of my consistent analysis than it is not. If it ends up going another way, then I will have been wrong and will write about that different outcome😉

Well i don't see it as a mobile strategy. Alot of fanboys of current mobile OS can't and won't see that Mobile OS have no future beyond its current size and form. Whereas Windows has spent years getting ready for multiple size and forms and even Holographic. When Pocket PCs/Cellular PCs hit it will take time to shift. Just as Iphone 1 took 3 years to gain any traction. But it was clear things were changing then as they will in 2018. No one wanted an Iphone. Apart from the hardcore. People were happy with their pre Iphone phones. Now look at the market. Same will happen as we ditch this old Mobile Ecosystem for the new future.

Or maybe "phones" shrink down to 3.5" screens and are hotspots that connect to other devices and peripherals that you can use to continue your experience where you are.
Tv, terminal, tablet, PC, HoloLens.

eh, you'd still want a device you can carry around that is fairly useable on its own with a built-in screen. that sweet spot is different for different people, but 3.5" would be a niche market in my opinion.

Strategy is fine, but in the mobile area I'd say that Microsoft's biggest problem was execution. Unless their next cell phone has tractor beams that it can use to clean my house and cook my dinner, I'd guess that any cute features will have a difficult time overcoming the fact that the competition is entrenched. The company didn't need to reinvent anything, it just needed to be a reliable vendor that customers could count on year after year to reliably deliver the goods - like it does in the desktop area.

Another Ward full of opinions article. I appreciate your compassion, but for months you're repeating the same thing over and over in different words. We want facts and leaks of what's to come. Not the same opinionated piece you're using as your go to. If we don't have anything new I'd rather not hear anything at all.

He needs to remind us what Satya Nadella said in 2014. And 2015. And 2016. And 2017.

"You will always have a better experience with our software, on our phones" - Satya Nadella, 2014. Fast forward to today, Android and iOS have their apps and OUR apps LOL

Hi Purian, there are a couple of things I believe you may have missed that may be helpful to you now and in the future. There are different categories for all of the articles on this (and other sites as well as traditional hardcopy media). These categories include Reviews, How-Tos, News, Editorials/Opinion pieces and others. This piece and virtually everything I've written for this site, and what my role is as part of the WC team is that of a columnist, or Editorial/Opinion writer. So when you read an Opinion piece, the content will be, well, opinions. :-) Now, going back to this piece in particular. I shared as a fan my own experiences and empathy for other fans and my realization that "news" is what we want. I also put that realization within the context that Microsoft is tight-lipped and has not divulged comprehensive details on their strategy and is not likely to spill ALL of the beans (though keep your eyes peeled) anytime soon. What I shared here is an encouragement to fans to think critically about what Microsoft is doing on a broader scope that is working toward an ultimate mobile device. We're capable of looking beyond the "absolute need" for explicit details in the absence of those details to intelligently discern the direction Microsoft is moving in mobile based on the information that is publicly available and in plain sight. This piece is not meant to provide news, but to empower fans to think a little more critically about the available information and not be so frustrated because Microsoft won't "spell it all out." Especially when we're capable of taking the information that is available, stepping back, looking at the big picture and get a picture of the mobile strategy ourselves while we wait for details. If we do that we may see what we haven't seen before and the conversation may be elevated to a whole new level.

I think what he/she is saying is that every opinion peice you author covers essentially the exact same details. We don't learn any extra information or gain any more insight into why you feel this way or why your opinion is anchored in real data. Giving users a digital hug and ensuring them Windows Phone (or something like it) isn't dead is being disingenuous. You are banking on the emotions of MS fans.

This guy deserves a cookie

Hi mase, Actually I'm not banking on emotions of the fans at all. If you look at what I wrote I am emphatically appealing to your intellects, not emotion. I identify and acknowledge (as legitimate) the emotions as something that fuels a lot of the conversations and frustrations here. I also acknowledge the frustration of the fans over Microsoft not spelling out its mobile strategy. It's a valid frustration as well from invested fans. After acknowledging those emotions I appeal to your intellects. Rather than sitting reactively in a cycle of "MICROSOFT-tell-us-something-MICROSOFT-is-silent -FANS-are-mad" I offer a perspective that sets emotion aside and brings a way of applying critical thinking to the available information to get some of the answers fans desire.
I then close the piece with a "What to watch" section highlighting many of those areas with related videos with a brief statement of how they are composite parts of the mobile strategy. I know tech sites don't typically make overt appeals to readership to change the way they look at things in this manner. Asking them to think a little more deeply about a subject and critically look at multiple variables. But I dare to be different, and for those who can see the intent here, there may be benefits to be reaped.
----------------------
Here are excerpts from the piece highlighting the core point of my appeal to our intellects and to critically think about this subject: "Loyalists might find a contemplative observance of Microsoft's investments and the collective contributions of its various teams more helpful toward revealing Microsoft's mobile strategy, than the hopeful desire for news that remains unfulfilled.
Candidly speaking, anyone curious about Microsoft's mobile strategy may be best served by divorcing the notion that Microsoft will divulge comprehensive details of that strategy anytime soon. I know not everyone is inclined to apply a discerning eye to a multitude of details and to what appear to be unrelated variables, and that's OK. But for those of you who are so disposed, read on."

Appealing to my intellect would be providing solid information to back up your opinion. Half your article is youtube videos that bring nothing new to the table nor place them in a light that gives readers that "ah ha" moment. Also, if you really think bringing UWP apps, continuum and centennial apps will lead the way to mobile relevance, you're sorely mistaken. Those don't bring apps that make sense for a phone size device. No one wants to carry a business phone and a personal phone.

Hi mase: If you look at the sequence of the piece I present an analogy that beckons readers to step back and look at all the parts simultaneously so that the big picture can be perceived. Not individual parts.
I also clearly state that the success or failure of the mobile strategy was not the focus here, but it's existence.
My opening sentence also sets the tone that I'm making a case for the existence of the strategy not whether or not it will succeed.
Now as one thinks about an "ultimate mobile device"(Nadella's words not mine) we can clearly note based on what Nadella communicated that it is supposed to do what other platforms can't or don't do. It is to differentiate. With that in mind, and a focus on asserting that MS has a mobile strategy I set the tone for readers to look where MS is investing technologically that TOGETHER🙂 not independently would combine to "form" an ultimate mobile device.
1. Continuum alone doesn't do it. But it does enable a pocketable device to become a PC, and as I pointed out in the piece, the old 950 marketing material had the motto "Leave your laptop behind." Again alone that isn't enough but combined with other investments it contributes to a synergistic cumulative affect.
2. Inking alone isn't enough, but added to system wide inking on a handheld device that can also replace a PC, again synergy.
2. Cloud and collaborative whiteboards aren't enough but combined with the ability to be a PC, system wide inking, collaborating on the go on a digital whiteboard supporte by an intelligent cloud that keeps user's experiences consistent across devices...again synergy.
4. UWP and Centennial apps aren't enough, but modenized Win32 apps that can be used when docked with monitor, keyboard and mouse or an HP Lapdock like device combined with all of the aforementioned aspects...again synergy.
5. Windows 10 S as a strategy to bring Win32 apps to UWP isn't enough alone, but as I note in the piece it is also designed to encourage other developers to bring other apps; mobile apps as well. As developers bring Win32 apps, the strategy is meant to make the Store more vibrant and more attractive to other developers not just Win32 developers. It is meant to have a derivative affect of bringing mobile apps to the ecosystem. Combined with all of the aforementioned...again synergy.
6. Cellular PCs alone are not enough but always connected devices where users frequent the Store to replenish mobile data, on always connected 2-in-1s, laptops and tablets of varying sizes configurations and dimensions positions Windows more aggressively in the mobile space where certain mobile apps may have greater appeal on an always connected device. Combined with the aforementioned... Synergy.
7.Gaming alone is not enough, but game streaming on an ultramobile PC and Microsoft's leveraging Mixer and other gaming assets add to the synergy of the aforementioned aspects of an ultimate mobile device.
8
Mixed reality alone is not enough, but since MR APIs are part of all of Windows 10 it will be interesting to see if Microsoft integrates those capabilities into its ultimate movie device. As part of all of the preceding aspects...again synergy.
9.CShell alone is not enough but when looked at within the context of the big picture, this ultramobile PC or ultimate mobile device will have the power of a Windows 10 PC. The UI however would have to adapt to how it is used. As a PC via Continuum it must be one thing, in hand as a digital notepad or phone it will have to be another.
When you look at the big picture and the disparate parts as a cohesive whole and not independent and disconnected from other components you can see how all of these together can be part of Microsoft's mobile strategy for an ultimate mobile device that is differentiated from the competition.

And if everything you said goes perfect, you'll have a phone-like device capable of running desktop apps but won't have apps the average person actually uses like snapchat.

Hi mase, You said, "And if everything you said goes perfect, you'll have a phone-like device capable of running desktop apps but won't have apps the average person actually uses like Snapchat." Now if you look at point number five of my response I said, "5. Windows 10 S as a strategy to bring Win32 apps to UWP isn't enough alone, but as I note in the piece it is also designed to encourage other developers to bring other apps; mobile apps as well. As developers bring Win32 apps, the strategy is meant to make the Store more vibrant and more attractive to other developers not just Win32 developers. It is meant to have a derivative affect of bringing mobile apps to the ecosystem. Combined with all of the aforementioned...again synergy." So if "everything I said goes perfect," as you say, it WILL😉 have the apps average people use. Now allow me to redirect you to the core of this piece. It is pointing to the existence of Microsoft's mobile strategy and how we can through critical thinking and a big picture perspective see it. It's not, as I stated in the piece, and in my previous reply pointing to its likelihood of success or failure.

Jason, while I'm a fierce user of Windows Phone for as long as you, give it a rest. You hyped up Cerulean and that didn't end well so I suggest we learn from that, graciously.

Very few people use Snapchat. Instagram has many more users mase123987

Very well said, all these different services Microsoft is developing will definitely set a potential mobile device apart from the competition once they are perfected and together in a neat piece of hardware.

yes, MS has too big picture to make smartphone market share from 40%(windows mobile 6) down to 0.1%(windows 10 mobile). Really impressive

The thing about a plan without it turning into tangible things is that it is pie in the sky. And pie in the sky in the tech world disappears in a puff of smoke.
Does MS really think that the state of mobile tech as it is now will put itself in neutral and patiently wait for MS to come up with something?
I smell Nokia....

Well said. It actually is pretty easy to see where they are headed when you look at all the pieces. The physical hardware is still a mystery though. Foldable tablet/phone with inking and e-paper back screen for reading (from their new book store)? I wonder if this thing will be like the Transformer toys.

Oh Jason, please remind us for 164x what Satya Nadella said back in the days.

We need to let Satya know that he needs to put up or shutup! If he does have a strategy, at this rate, he'll be joining Ballmer and Gates who were late to the, "Cell phone party"! He's not being ubiquitous or speedy!

That's right, put up or shut up. We've waited long enough so we at least deserve to know where it's heading.

For me, it needs Win32 apps, at least in Continuum mode, and not only Centennial converted ones, the real deal. And while we wait for that super device, could Microsoft have at least kept putting out devices just to keep users around... Try finding a Windows Phone in stores right now, feels like a treasure hunt but without hints :-)

I think UWP should expand to cover Android and IOS natively too, now that they've acquired Xamarin. If the scaling of the code can extend any sort of device, I think Microsoft's true potential in mobile can be realized.
Also they should make windows 10 ROMs available to flash on select Android devices. This would improve the enthusiast share as well as overall market share with little to no expense. It would also showcase Windows 10 on ARM once and for all.

Please, please, please... go build an *useful* application that targets two different form-factors, maintain it through couple of releases and then come back and tell us what UWP brings to the table.

...a telescope would help

This was a really well-thought-out article! Im convinced Microsoft is planning for Windows 10 ARM to be on mobile/phone with the use of Cshell, making Continuum able to run win32. With 10S they are improving the Store ecosystem. I read an article yesterday from MSpoweruser that stated something like someone within MS confirmed something is in the works, some device, but MSpoweruser called it a "reboot" and said it was unlikely it would be Windows on ARM. They said the whole point of OneCore is a shared kernel and not retrofitting Win10 onto everything. Now, the kernel part makes sense (IoT?), but I just dont buy how it wouldn't be Windows on ARM. I feel like everything is pointing in that direction. But of course, who knows! I am just excited to see what they do.

Continuum doesn't make the mobile experience of a phone any better. No one wants to carry one phone for business and one phone for everything else.

Have a shot of vodka. It will ease your mind.

What OEM's choose to do with all the integrated features built in to the 835 remains to be seen. Smaller OEM's are already selling 6, 7 & 8" " tablets and it's reasonable to expect they'll consider 835's based on price alone for future Windows devices. Sure, It's not an i5 but it certainly makes up for it many other areas. For those wanting a large phone that can do more or a laptop that can take a call, the future is bright.

Oh, something off topic. I dropped my X3 while walking. In spite of the HP rugged case it broke my screen and my rugged case. HP has no replacement screens, they told me to buy a new phone and a new case. So think ten times before you buy the X3!!!!! Instead of buying a new X3 I may just end up getting the Essential phone, once it crosses the ocean.

Check out ZTE's Passport warranty on the Axon device line, very comprehensive and included in purchase price.

Indeed ZTE Axon is way superior to any phone MS released, ever. Axon 7 is a monster with best sound on a phone, ever. And it costs half of what x3 costs.

"In 2015, Microsoft realized its immature ecosystem and developing platform features like inking, Continuum and others were not ready to make a meaningful impact (like the canceled Surface Mini and MacLaren). Thus, features were cut from the 950 family. What we see now is Microsoft maturing its ecosystem and Windows 10 features to help bring that delayed mobile vision to fruition." On one hand I agree with the features not being ready, so hold off. But, the whole OS was not ready. They developed a killer phone, and yet again, killed it off. And then released a less than perfect device with a less than perfect OS. If they hadn't been so busy axing staff, maybe they could have put the resources into releasing the phone as originally developed, with a properly working OS, even if a bit delayed. Even if it was a Note type device, with proper;y released W10, it could have cleaned up when Samsung botched the last Note release. MS is beyond frustrating. I love and hate my 950 so much I feel bi-polar. Which I'm not. I think....

I think I agree with you... or not! :-) #950XLUSER

I think one of the reason why win10m won't thrive is because...
1) devs had to cover win10, xbox and win10m, 3 profiles. 2) win10m has far fewer user base than the other phone OSes. Releasing win10.ARM (portable win10) will prob eliminate win10m... it's a good thing.
Since win10.arm and win10 are now one (huge user base!), devs only have to focus on win10 and xbox, 2 profiles. I carry Bluetooth XB1 Gamepad and SP4 (Aliwneare, depends on where I go) with me all the time (to continue my progress using XPA), now I just cannot wait to dock a win10.arm onto my gamepad! I'll prob drop Nexus once portable win10 is out... (win10 is simply more useful)

Microsoft has to convince the companies and app developers that it is worth their effort to support a third platform. Considering they tried it before with little success, I'm not sure how they expect developers and companies to jump on board now. The only possible suggestion I've heard onlie is that Microsoft has to develop a newer easier way to create apps.

win10.pc (has bigger user base) and win10.arm is... just like a win10.pc but runs on arm.
win10s and win10.arm, IOT, AR/MR, etc are all devices to push UWP... * If MS gives win10.arm a different "Available on" profile than win10... it will prob fall. But then what's the point of making win10.arm? Spending resources to create another win10m?

the time may be right for the Surface Mini to emerge. The knock on it was it didn't bring anything unique to the table - but neither does the Surface Laptop. I would more likely use a pen on an 8" formfactor than I will on a Surface Pro - that is just to damn heavy. so a 8" Notepad, that has LTE, can make phone calls but is a tablet 1st that I use as a consumption device would hit the sweetspot with me as a companion to my Surface Pro. Voice is going by the wayside through you still need it. most of my calls are over car bluetooth connections.

Loyal windows phone user...! :)

Maybe Microsoft should also look at things from the customer perspective as well. Even if they do, who would know...

The customer perspective is straightforward: "What does my carrier have and what do they push?" To be successful, Microsoft needs to get the carriers excited and onboard. If they continue to be carrier hostile, it will never work.

Q4/17 - Q2/18 ideal time to come up with well beefed Surface phone running Win10S on Arm! Cant wait. Will hold my L950 until then. 😉

Rumor now is that they are going to reboot W10M with a new UI and devices. This isn't WoA. https://www.thurrott.com/mobile/117153/microsofts-looking-reboot-mobile-...

Nothing there said it wasn't WoA.

Look at the comments. Thurrott himself says this.

Jason Ward articles remind some of that cartoon dog meme who is sipping tea in a burning room like nothing is wrong

Hi Jf Vigor.As you reread this article you see a very clear acknowledgement of how much has gone wrong with Microsift and mobile. Starting with the opening section and stressed VERY strongly in the Change of perspective section. The purpose of the piece is is to go beyond the echo chamber of mutual acknowledging of failure and ranting, ymto point out, actually help readers look analytically at multiple variables contributing to Microsoft's plans for mobile. Now, please reread this piece in the context of the growing reports about project Andromeda and the information on cellular PCs we've received and see how what I've presented here (6 months ago) is lining up.😉

Head firmly in the sand. This is like reading Crackberry at the end of it's run.

Hi omagic52. Considering what has been increasingly reported on about Project Andromeda and what you have by now seen regarding "cellular PC" perhaps you can now see how all of this is coming together. If not. Keep watching.😉12/10/17

I'm sure I'm wrong but it seems to me that MSFT's only play is the enterprise. MSFT is horrible with consumer focused products and it has a "build for enterprise and hope that the consumer pulls" attitude for everything that they have had that has been successful with the exception of the XBOX and I'm putting that one down to luck. MSFT doesn't have the fortitude to develop a consumer focused device and see it through. With the last sentence being my opinion, it seems like most people are saying the same thing about the enterprise being MSFT's only play. Jason - instead of writing a pep-talk piece, please lay out some strategy for success in the enterprise. With many companies being on a 2-5 year tech refresh, is there a demand by the enterprise to move in a different direction? This strategy must be about the needs of the enterprise because in most cases, that is all the enterprise will pay for. Sometimes they will pay for "wants" but that is the exception and not the rule. You may say "continuum" and a "one device" strategy. With many/most companies having a BYOD policy (didn't research this but most folks I know have their own mobile device and use it for work), the enterprise is already on the hook for just one device (a computer). No benefit for them and they don't have minimal worry about data plans and such. Has anyone looked at what the enterprise thinks of this. Instead of now having to handle connectivity plans for jsut the C-suite, they are going to have to worry about 10K's of employees plans. Will this be an obstacle to enterprise adoption? MSFT is coming up with some other interesting features but does the enterprise need the features that you have mentioned (Continuum, inking, etc.)?Mixed reality seems that to be a consumer focused feature. Very cool but does the enterprise need it. I would argue that besides some very niche applications, the enterprise doesn't want a gaming feature on a device that they are going to be paying for. If the enterprise doesn't know that they need this feature, what marketing (another failing of MSFTs) is MSFT going to do to boost demand for mixed reality for an account manager who is trying to make his quarterly numbers. The same for inking. Where is the enterprise clamoring for that? If they are, please let us know. And the Cloud and AI will soon be comodity items. Everyone has them. They integrate pretty well with the current eco-systems. MSFT needs to sell 100's of millions of these devices to be successful and change the paradigm of personal connectivity. 10,000 or even 100,000 people using a niche capability won't get this done. So write about cool features that you can map them out to a business case for the enterprise. If MSFT can do that for the enterprise, I can see the consumer later "pull" the business case into their personal lives.

white board is an innovative approach to colobration across the country..actually lowers carbon foot print - towards a sustainabal development

Jason, Some of the other parts of this 'Jigsaw'' is the continued presence and occasional updating of the 'paid WiFi and mobile data app that has been present in Windows 10 now for about a year. It doesn't do anything yet but it is 'connected' to a company in France that issues sims that can be used in several countries globally. My guess is that Microsoft may set themselves as an MVNO and sell this through your Microsoft account / store. With eSIMs around the corner this makes sense as these could be provisioned over the air. Additionally as this will only be data (no voice) it would allow Skype to make and receive calls. I'm here in the UK and reading quite a lot now about a lot of the mobile network operators and some land line operators moving to VoLTE, so this may make voice circuits redundant. I have also discovered that T-Mobile in the US is launching something called 'Digits' soon which again seems to be VoLTE with multi lines and the ability to manage where calls are delivered etc. It doesn't seem beyond possibility that this could be offered as a service to an eSIM device and also that Skype could have this type of functionality built in. Also I would suggest that with the T-Mobile Digits platform this would still let you have a feature phone, dumb phone or your I Phone / Galaxy device and eSIM device all using the same number. Thus you are not tied to one platform. Microsoft announced at Computex 2017 that several device partners are going to build devices with eSIMs, these could be Arm or Intel and depending on how windows configures show a 'phone' interface. They also announced that several mobile operators globally have agreed to 'Always connected devices' which is a fundamental requirement of a device connecting to a mobile network. I notice that this includes BT/EE here in the UK so hopefully they are working on something like the T-Mobile Digits product / platform. Anyway that is what I have come up with after reading your excellent articles and the other snippets of info that occasionally surface.

Thanks for the great input Didburygriz. And for the support. From the bits of information that have been reported on about Andromeda and what has been expounded on concerning connected PCs. Things look to be lining up as we've been describing.😉

No it requires MS to get off their ass and actually talk about it. We as consumers and tech industry people should NEVER have to guess and speculate on a companies future endeavours in the Mobile Space. Even 90 year old Grand Ma's know Mobile is the future of computing MS should be talking about their future plans every chance they get to in public to drum up interest and show everyone they are committed to Mobile.

People need to remember that only TWO companies are making any money AT ALL on smartphones outside of the Chinese market: Samsung and Apple (the Chinese market is the only one growing right now and the Chinese manufacturers dominate it with only Apple having any significant sales there.) Everyone else is LOSING MONEY on their smartphones.
On top of that Apple is making 75 per cent of the PROFITS on all smartphone sales WORLDWIDE (thanks to their high phone margins and AppStore lock-in at 30 per cent of ALL sales.)
Now that the Chinese manufacturers are beginning to come into the US and EU markets even those sales will begin to dry up for Samsung and Apple as they cannot match the design speed and innovation (not to mention the thin margins) that the Chinese companies are very good at.
Microsoft knows this and is happy with it because they receive 2-5 dollars per sale of any Android phone due to their patent portfolio and their sales of Office Products on both iOS and Android are very good and due to the 1995 cross-licensing agreement with Apple, they cannot be sued by Apple and Apple must allow their products to run on any Apple OS without a fee. Google pays Apple approx. 2 Billion/year to ALLOW Google software to be featured on iOS - Chrome, YouTube, Google Maps, GMail, etc.
Microsoft's profit these days comes from their Azure Cloud services and OEM Windows sales and Corporate Sales of Office and Office 365 subscriptions, Premium Support Contracts, and XBOX services/games.
There is just NO MONEY in Smartphone sales for Microsoft and it will be a dwindling percentage of the market in the next 5 years as global sales continue to decrease along the same lines as Tablet sales have shown.
The future is in Software as a Service, leveraging their Azure Cloud and Enterprise Software strength.
Any future "Mobile Device" will run more like a Chromebook does with the software residing in the the MS Cloud and only being cached locally with strong security and Enterprise Management Capabilities like Remote Control/Wipe/Security/etc.
It will look more like the "phones" in the HBO series "Westworld" than a traditional Smartphone. It will be exactly what MS says they are working towards: "Mobile Windows" that is based on ARM CPUs and has full-time LTE connectivity, Augmented-Reality functions, and work as a phone too.
They will be PREMIUM Corporate devices when they launch and the OEMs will follow along with the Consumer Devices at a later date.
They will replace Tablets and even 2-in-1s eventually as Samsung/Apple battle the Chinese Phone OEMs in a losing war on price/features. Samsung is big enough and diversified enough to survive this coming sea-change, but Apple is not. Their days of being the "innovator" died along with Steve Jobs.

Lumia 920 was the best and very successful Windows Phone love it i remember dropped it on stares at school people watch it, was shocked the phone survive without any scratch..

"Seeing Microsoft's mobile future requires " peyote?

No more white hairs? Just switch to Android or ios for lifetime peace.

Life peace? On Android? Don't you mean a year of peace because that's how long it takes for an Android phone to slow down and buggy.

Using a Windows phone will be no different than using a Windows tablet instead of an iPad. It really doesn't matter if iPad is still the top seller in tablets as the Windows 10 ecosystem is much bigger than one form factor. PS4 may outsell Xbox, but Windows 10 games will now run on PC and console. Again the ecosystem is unifying to the point where none of the individual device categories matter anymore. Being number 1 in phones or tablets or consoles will be meaningless if Microsoft is the only company that has unified all devices under the same OS and app store.

These are just waste of time articles at the end MS doesnt have anything to offer.I just switched from 640xl last week to Samsung and believe me I have zero issues.I got all the apps banking, shopping, geotagging, free books and so many gsming emulators.My life is now in peace and further Android is now extremely fast than always resuming w10mobile.Pay me back on my 640xl you Satya Nas

Most people here don't realize the stress relief they'd have if they switched over to Android now. I get it was bad in the past but a good android phone now is superior to windows phone easily. And you can even get the live tile interface

Why would I want the live tile interface? I have it now on my phone and it's the most gimmicky and useless thing ever.

Well some ppl specifically tried out windows phone because of its interface so...

I wouldn't call them a waste of time. They provide perspective to what a company that many people are interested in are doing in personal computing. And if you reread this piece now, and loom,at what has been reported im the six months since its publication, you may see how what I have presented here us coming together.😉

Nop. It requires drugs. Copious accounts of drugs.

Don't forget low income countries, where lapyops and desktops are too expensive, all in one phone + pc will attract many governments which want to reduce budget in technology for their workers

Sorry typo, it should be laptops

Given that Continuum capable phones are more expensive than five low-end laptops, this is a curious point to make.

Continuum was expensive at beginning since it was a brand new technology, Windows ARM has a lot of potential for powering machine that runs Office, has a Edge browser that runs fast and has capability to run win32 software . Where I live the tax authorities require Java client to pay your taxes, and this requirement won't change for long time, so having a starter phone which can run Windows ARM with 1GB of RAM + 16GB of storage will cost less than $200 and monitors and keyboards are not expensive so its good choice.

Good luck running Continuum on 1GB of RAM. Good luck running Java application on your Windows phone. Good luck buying something with Qualcomm 835 for $200 in the next 4-5 years. I am old enough to remember Windows-on-MIPS, Windows-on-Power and Windows-on-Alpha. All of them were capable of running stuff in emulation mode, some of it, some of the times... but I am sure it will be different this time. OTOH, I can pick up Lenovo IdeaPad 110S for $130 and some no-brand 11.6" laptop for under $100 and complement it with the feature phone for $30 or cheap Android phone for $50. The laptop, being full Windows-on-Intel, will even run whatever Java app you want and much besides. I will not need additional keyboard, mouse or monitor. And guess what? It is all available *today*.

Good luck running Continuum on 1GB of RAM. Good luck running Javs application on your Windows phone. Good luck buying something with Qualcomm 835 for $200 in the next 4-5 years. I am old enough to remember Windows-on-MIPS, Windows-on-Power and Windows-on-Alpha. All of them were capable of running stuff in emulation mode, some of it, some of the times... but I am sure it will be different this time. OTOH, I can pick up Lenovo IdeaPad 110S for $130 and some no-brand 11.6" laptop for under $100 and complement it with the feature phone for $30 or cheap Android phone for $50. The laptop, being full Windows-on-Intel, will even run whatever Java app you want and much besides. I will not need additional keyboard, mouse or monitor. And guess what? It is all available *today*.

Y wouldn't they use cheaper pc sticks than expensive continuum devices.

PC sticks cannot make phone calls, or send SMS messages which is why the potential of Windows ARM on a phone is much higher than PC sticks. BTW I don't have anything against PC sticks, I think they're great technology to power desktop PC's but I'm talking about a 2 in 1 device that makes phone calls that can also run win32 software

PC sticks *can* make phone calls and send SMS. Ever heard of Skype? It is Microsoft product.

Ever looked closely to those people? No money to feed their families but they all have a mobile.

Hey man, you should get rid of that Galaxy. NOKIA already has some Android phones in the market. They're actually coming out with a high end one by year's end....The NOKIA 9. It looks pretty nice, camera button et all in tow.

Nokia has the 3310 in the market. The Nokia 3, 5 and 6 have yet to be released. And they're all low end devices.I only buy flagships (I'll probably buy the Arte Black Nokia 6 but that's because it looks pretty, not because I intend to use it). And actually, what I've heard and seen of the Nokia 9 so far has pretty much ensured I'll be keeping the S7 for at least another year (making it a new record for a phone being used by me...specially a Samsung one). The Nokia 9 will lack pretty much all the essential features to me: excellent camera (and it won't have a dedicated camera button), wireless charging and a Black system UI or theme engine to fix it (because it runs stock Android which is the worse version of Android).

Waaaaaaaaat. You, a Sammy(the company you hated soooo much) convert with a NOKIA flagship incoming...No way Jose. You're not a true fan. You need to change your avatar. Ah yeah, like those Samsung Themes. I wish I had them. Something of my WP days. Keep reminiscing. Tis why I keep coming back to this site. You, obviously love it here since I never(rarely) see you at Android-central. But you always at WC.

My life actually feels more satisfying when I put my phone down.

All these people obsessed with their windows phone will soon see that when they inevitably switch over to another stable and supported platform

I have trust in Microsoft and I'm sure Windows ARM will attract HP, ASUS, Acer, Dell and Lenovo on bringing smartphones that run this OS and Microsoft will show the enterprise how is Pro on mobile defined.

They need to attract customers, too. I have Elite x3 and the quality of the OS is terrible, very buggy. They can keep telling themselves it's business phone, but if it fails to complete basic tasks, nobody will want it, unless they want their business go bankrupt. Bad quality is their worst problem atm, probably not having enough resources to do better.

Yeah I had an elite x3 and the experience was horrible. Cracking my screen was a blessing in disguise. I finally switched over to the galaxy and it's like my eyes have been opened

It's great that you think that Microsoft has a long term plan, but they are losing EVERYONE now. They need short term plans as well to keep what few people they have. My wife and i are close to giving up now as well. The lack of apps and "CarPlay" (or similar) is the reason. Ignoring the short term will not lead to success in the future.

You can't get the interface.
It's all icons, which everyone prefers, right?
I use both, android is unimpressive as an OS.
Apps are the only reason to use it, which is why Google fought against WP. They know the OS is garbage.

I had to reread your comment a few times, but I think you're saying what I've been saying. The Windows mobile UI works, Android is a junk OS but has the apps, and Google was afraid of Windows mobile so they fought hard to crush it. I still use a 950XL as my daily device, but I use a OnePlus 2 to play 90% of the games I'm into. Other than games, Windows has all the apps I'm interested in, but I'm also not a user that's interested in the currently trneding app.

Good on you MS. Keep talking.

With Microsoft privacy issues there is no way in hell ill ever own a mobile unit of theirs. Bad enough the data the collect let alone tie that to my mobile device. No, I hope this new enterprise into mobile falls flat. Again.

Dude, if that's your problem, you need to stop using any device that connects to the net. All companies do this for one reason or another, unfortunately. It sucks fo'sure.

what? and you think no other os collects your data like MS?

Bla bla bla, for now my core Applications are being discontinued one by one. That forces me to move to an other (worse, in my opinion) platform. The moment I have to stop using my 950XL is getting closer.

I'm sorry Jason, the ecosystem has sustained an undefinable level of damage from the complete utter disregard for the consumer space. "Enterprise users" don't provide enough monetisation incentives for developers. This is where the entire methodology is flawed, if they want to have a surface phone persay that works in variety of situations then without UWP apps it will not only have a tough sell. But the loss of consumer trust, will not be regained over night let alone over time. Why? They have burned consumers so many times, the future generations that will use these devices will not be so forgiving. It's all about mindshare, brand awareness and loyalty. Sure, asking users to look at big picture is onething. One should be asking Microsoft to do the same and understand that they are undermining their entire ecosystem by forgoing the consumer space. Nothing fuels growth like the consumer space. Until they turn around, hold the hands up and say they messed up and will start to focusing on consumers and pushing their own mobile o/s. It doesn't matter how fancy they make the backend of the infrastructure they will have lost everything.

Careful. Jason will use your post as fuel for a new article. I can see the title now "Microsoft Mobile and how they really haven't lost mind share yet"

Hahahaha, I actually like reading his articles. I just don't agree to some especially after Microsoft has decided to forego the consumer market completely. From what I've seen unless Microsoft puts substantial investments into their own mobile ecosystem, expect to see Apple resurge in the PC space (if they do start working on their own GPU) and Android annihilate them in the consumer space through brand loyalty and proliferation. Sure, Microsoft targeting the education sector is a start, but with a solid UWP ecosystem to transition them to paying customers. It won't work, why?
Simple psychology (peer pressure) the kids will want to use what their friends have etc - precisely how trends start. Without a wide base for monetisation, developers have not embraced Microsofts app ecosystem (just look at what happened in the past with windows phone). Sure, there are some successes but they are few and far between. Furthermore, until battery tech improves drastically to a point a wearable can do pretty much everything. The smartphone will be the defacto endpoint for all consumer interactivity - be it interacting with infotainment systems to work place productivity. The recent Build 2017 highlighted this natural progression. But they used iphones as endpoints.... Smh.

So...who did Windows Central talk to that gave them renewed hope in the platform? It's been doom and gloom for a while now, and now we're supposed to believe there is a silver lining. I'll believe it when I see it. I have no more blind faith to give Microsoft. I told several people in the past two weeks to stay away from Windows phones after convincing others to switch to the platform in the past.

Hi Shryx86...please review my pieces...my analysis that Windows phone was NOT dead and what Microsoft is working toward both with its ecosystem investments and likely ultramobile PC goal has been both persistent and consistent. Nothing has changed: www.windowscentral.com/author/jason-ward

Oh great, when someone asks for evidence for where he is getting his information Jason cites his own blog articles as evidence, you really think very highly of your work don't you?

Hi pericle, you might want to reread my response to the Shryx86 question. He asked "who dis WC talk to that gave us renewed hope?" My response was an indication that hadn't spoken to anyone to give me renewed hope because my message and content has been consistent. There was no need (nor ability) to provide a link to his presumed source that does not exist for a shift in (my) message or my renewed hope that did not happen. Thus I provided him with a link to my work showing him that my message has not changed but has remained consistent.😉 "Hi Shryx86...please review my pieces...my analysis that Windows phone was NOT dead and what Microsoft is working toward both with its Ecosystem investments and likely ultramobile pc goal HAS BEEN BOTH PERSISTENT AND CONSISTENT. NOTHING HAS CHANGED: www.windowscentral.com/author/jason-ward"

why not do your own research and then present it here. everybody would be happy to read it. or be critical.

I appreciate your honesty, however a new surface phone in the works, really you have to be kidding. Microsoft disastrous outcome when buying out NOKIA is well known by all and sundry. One of the most popular mobile OEM was bought for what purpose ? And then systematically destroyed by the Microsoft Corporation. Why in the hell would any business person do that. Further removing users from their own platform, as it existed then. Even loyal OEM supporters the likes of HTC had finally had enough. Microsoft had their chances when they were developing the program to allow Android Apps to run on Windows, but nothing eventuated. Look the only use current Windows phone devices have is for making phone calls. Nothing else, put simply, MICROSOFT MISSED THE BOAT. JC

there not only one boat, the seas are full of boats. sorry. :)

Windows phone is dead, Windows as a mobile computing device still has hope.

Your site and texts are among the things that make move back from a long life Apple user to be a Windows User again. I had a Nokia 530 before, but I bought a N430 to have Windows 10 Mobile, and also I am moving from the MacBook into a Surface, and loving it so far. Please keep you really good work, and nice and detailed texts.

We have seen how the Surface Pro has interrupted the traditional Laptop market. And now we see the 2 in 1 category is growing at a very healthy rate during a time of a declining market for the PC (And Tablets).
And now even the OEM's keep coming out with their own versions (Even Apple had to join the market with their iPad Pro). So it just makes sense that if Microsoft release a Surface Phone on Arm that can run full Windows 10, that it WILL become another disrupter in the tech world (Like the original iPhone).
On that point, I think I can safely say that my 950XL will (or already has) become a paper weight. However with it's continuum feature I have found my need for a PC has been reduced immensely because I pretty much use the 950XL for the majority of my needs. So if a Surface Phone comes out that can run full Windows 10 (That allows me to run Photoshop, Lightroom, Canon software), has a continuum feature for the PC experience, has an outstanding camera, can make phone calls, has inking, and has great battery life then I'M SOLD! I literally will not need another device.

Seeing Microsoft's mobile footprint requires not only a big picture but also a lot of zooming in.

The Hubble Telescope on highest magnification is needed.

what we need are large shoes.

I hope things are becoming clearer now.😉

MS have been plugging away at mobile for the last 20 years so another few months or a year will not make much difference. I just hope they have something ready for wven Oh have to replace my 950.

According to the rumors, MS is experimenting with a custom branch of W10M, and creating a new device for it. That new version would have different UI etc. On the other hand, if they're planning to bring a better version of W10M for their new device, why create the hype of WoA phones? That's not happening according to the leaks. They also said that they'd bring WoA on a 6" device... But then they also said 2 years ago that they'll make phones for 3 categories (consumers, fans and enterprise). My point is, MS is still experimenting, may abandon the new idea all together, or may not end up with the same vision as of fans. So we better wait for any official announcement before hoping further.
Because if you go with the leaks, then the upcoming device is not WoA. I just hope whatever they produce, they just keep it updated with new and exciting features like the desktop version, and not put it on life supporting like W10M while cutting features 'because of less usage' BS.

According to the rumors, MS is experimenting with a custom branch of W10M, and creating a new device for it. That new version would have different UI etc. So, if they're planning to bring a better version of W10M for their new device, why create the hype of WoA phones? That's not happening according to the leaks. Yes, they said that they'd bring WoA on a 6" device... But then they also said 2 years ago that they'll make phones for 3 categories (consumers, fans and enterprise). My point is, MS is still experimenting, may abandon the new idea all together, or may not end up with the same vision as of fans. So we better wait for any official announcement before hoping further.
Because if you go with the leaks, then the upcoming device is not WoA. I just hope whatever they produce, they just keep it updated with new and exciting features like the desktop version, and not put it on life supporting like W10M while cutting features because of the 'less usage' BS.

please don't lol anymore. its so passe!

I'm seeing a small detachable clamshell (two credit card sized screens) with a true glasses form factor AR accessory as the main display. Obviously it'll run WoA, because at the bigger screen sizes AR will provide, there's little need for touch apps.

Personally, I've never disliked Satya Nadella and his strategies so far. He's very patient and careful. He doesn't want to mess things up and he knows how things go for smartphone division of the company. I believe this guy is very, very smart enough to get things done well.

the smart phone arena is drowning in smart phones. i wonder what the competition is about now? camera? data? bezel screen? bendy phone? Microsoft are right in what they are doing - its just sad that this lovely mobile os is being let go, slowly. but I can see why - I just don't like it!

Wow, it looks like my comment was removed. I've clicked several links in multiple email notifications to view the replies from Jason Ward and some user calling themselves pericle. I'm not sure if it was removed because of that user or the very defensive response by Jason. Jason, please let me clarify. I said that Windows Central. not you specifically, has had a doom and gloom outlook on Windows mobile. Yes, after clicking the link you provided to a list of your articles I can see that, as you said, you have been consistent in your message. However, it can't be denied that Daniel and others have been quite negative recently in articles and podcasts. I take the negativity as them being honest on where the platform is currently and how Microsoft doesn't give their current users much hope for when/if Microsoft puts forth a real effort with mobile. I hope Microsoft is able to pull off their long term strategy, but to not take care of the short term to keep what little momentum was left is idiotic in my opinion. They had a 950 successor in the pipeline and decided to scrap it and won't have a device to replace it for 3 years at best. My brother wanted to come back to Windows mobile, and I suggested that he stay with iPhone for now. My mom shattered her Lumia 920's screen, and I had her upgrade to the 950. While the 950 line is great, I felt a little bad that I was keeping her in the Windows mobile ecosystem. I am a happy owner of a 950XL, but as I said in my original comment, I have run out of blind faith to give Microsoft. Actions speak louder than words, and Microsoft's actions have been pretty clear. Their words haven't been much better with the years old response of being committed to mobile. I'll stay with Windows mobile until my 950XL dies, but after that happens I'm not sure if I'll stick around or regretfully go back to iOS.

Hi shyrx86 fyi your comment is still in the feed it has not been deleted😉 Also thanks for clarifying. I'd also like to add that in my work I've been honest about the dismal state of mobile while presenting an analysis that the company has a strategy that may or may not succeed. It's worth noting that every assetion that there is a strategy and a laying out of that strategy identifying the company's desired outcomes is not an affirmation or claim that that strategy will succeed.🙂 It's like taking a student failing school who composed a recovery plan with a tutor with scheduled study times, mnemonic devices and study strategies. A goal may be set for what GPA he's targeting for the end of the semester based on expectations of quiz, test, homework and classwork performance based on the recovery plan. The tutor explains the steps and expected outcome to the parents. But only time will tell how the well laid out strategy will play out. But, the strategy is needed and needs to be articulated, detailed with expected outcomes nonetheless while acknowledging the current failing state if the student.😎

Good article and perspective. I get it. I am a long time Windows Phone user (remember Pocket PC phones? The stylus was awesome). HOWEVER, while I wait and use my Lumia 950, can I at least get some more apps. I don't know how the world of apps works, but can't Microsoft create apps for some of these companies that have only Android and iPhone versions? Many people misunderstand the app gap complaint. It's not that I need 50 calculator apps. What is missing, that kills Windows Phones, is branded apps, everything from Zillow to Sonic Drive Thru to major banks. It's not that I don't have 200 photo editing apps, it's that I can't do regular daily interactions with businesses that I frequent with my Windows Phone. If they would somehow partner with Amazon (for Kindle), McDonalds, Chase Bank, Venmo, etc., and provide free or low cost "consulting," aka development and support of UWP apps, I think it would be of great benefit to the brand, not to mention the usage and feedback benefits Microsoft would gain.

McDonald's? stay away Microsoft!

Dude, you are wasting keystrokes on these articles. Microsoft is not getting in the phone business. The ARM Windows devices may allow calling but they are looking at UWP apps driving the device which is not consumer focused. Most companies now pay for data and allow BYOD. UWP and the store are missing hundreds of mission critical business and consumer apps to ever see MS getting more than a 2% market share on Mobile. Snapchat? Amazon Prime Video, Soundcloud, Pokemon Go? AppZen, Concur, Hotel and Airlines, Citi & Chase banks are all missing. MS seems more committed to Cortana and syncing Windows 10 desktop with Android and IOS as they should be.

I think Microsoft's vision is even broader. You could already see that in the videos of Microsoft's vision from a few years ago. It's not only about the mobile device that can be your PC. With CSHELL every Windows Shell is implemented in every version of Windows 10. Your mobile device cannot only be your PC, but also your Laptop, Tablet, TV, watch and even your VR/AR device. Your mobile device can power every other device. Thanks to UWP the apps adapt to the screen size and form factor.

When Microsoft released the 950 &950XL I thought they were finally on the right path, sure they didn't have the apps or the sales but the release date was right and it was a good product. The big problem was they didn't follow though with advertisement and they didn't follow though with a new model the following year, all they had to do was upgrade a few items on the phone. i.e. new possessor, upgrade the camera. But with their failure to do so just made Microsoft fans who purchased the 950/950XL feel like Microsoft was a dead-end product. Like come on, who is going to brag about the product when it looks like it dead and if it looks like its dyeing no one is going to make apps for it.

Groove Music was a disaster
Windows Central Newsletter
Get the best of Windows Central in in your inbox, every day!
Thank you for signing up to Windows Central. You will receive a verification email shortly.
There was a problem. Please refresh the page and try again.