Why Windows 10 S, Project Centennial are critical to Continuum's success
Microsoft's CEO Satya Nadella has stressed the Continuum feature in Window Mobile's importance in relation to Microsoft's mobile strategy.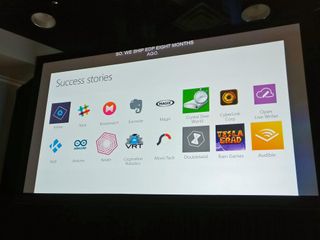 In a recent interview, he confirmed Microsoft's commitment to mobile on first-party hardware and reiterated Microsoft's vision of a phone that could be a desktop via Continuum:
My ongoing analysis is that Microsoft's anticipated Surface phone will be a telephony-enabled ultramobile PC. Focusing on its strengths, Microsoft is capitalizing on the smartphone's increasing adoption of tasks traditionally relegated to PCs but that also (in the case of iOS and Android) have OSes which cannot fully embrace the dominant Windows desktop environment that consumers and enterprises know.
Those phone-focused OSes and app models, though successful, are reaching their limits. Furthermore, the iterative advancements in these "slabs" is arguably a dead end in Apple's and Google's physical evolution of the smartphone.
These tech giants maintain desktop OSes that have different development platforms and user experiences separate from their mobile OSes. This could be a hindrance to their advancement to the desktop, even in the case of Samsung's Galaxy S8 and DeX dock.
Finally, I anticipate Microsoft's context-sensitive ultimate mobile device will transcend the stagnant decade-old rectangular slab form factor. But to be a real PC it needs to run familiar PC apps, and that's where the Universal Windows Platform (UWP), Project Centennial and Windows S come in.
UWP is foundational to Continuum
Microsoft's UWP strategy is designed to enable app development across all Windows 10 devices and provide a unified user experience.
In the case of a Continuum-enabled ultramobile PC, it also potentially provides a consistent user experience as one device "becomes" many across different personal computing scenarios.
Whether connected via Continuum to a monitor, mouse, and keyboard as a desktop, or held in a user's hand, context-conforming hardware and software with a UI supported by CShell should provide a fluid experience.
Microsoft's ultimate mobile device "will not play by the other guy's smartphone rules," says Nadella. I believe he means it will be a telephony-enabled ultramobile Windows 10 PC with Continuum that Microsoft will position in the mobile, not smartphone, space.
This strategy potentially solves for the impasse Google and Apple have reached where smartphones cannot perform the full range of PC tasks. This will be a PC with full PC and smartphone capabilities and an evolving app ecosystem.
Microsoft's Project Centennial app bridge, which helps bring Win32 apps to UWP, and Windows S are essential to this strategy.
Windows 10 S breathes life into the UWP and paves path for Surface phone
Windows S, which allows only UWP apps and is aimed at the education sector (with hopes of eventual mass adoption), gives developers a reason to use Project Centennial. The hopes for a Continuum-enabled device providing a full and modern PC experience fall apart if developers aren't convinced.
Talking Project Centennial with Microsoft's Stefan Wick
Making Win32 into UWP apps is a process that begins with the Desktop App Convertor and Project Centennial. I explained this four-step process last year.
Microsoft's Project Centennial app bridge makes sense of Win32 apps on phone
To provide greater insight, Stefan Wick, Lead Program Manager for the Windows Developer Platform Team (who also set up the deck for the Centennial Presentation on the first day of Build) was kind enough to answer a few questions.
Jason Ward: Hi Stefan, I'd just like your feedback confirming or correcting [my] understanding that Win32 apps can be made into full UWP apps.
Stefan Wick: Hi Jason, This is exactly the purpose of the Desktop Bridge: provide developers a path to make full UWP apps from their existing Win32/NET investments.
The nice thing about it, is that developers can do so gradually. They start by converting their installer to a Universal Windows app package and get the immediate benefit of modern deployment on Windows 10, through Windows Store or other distribution channels of their choice.
Next, they can now modernize their existing apps with new Win10 APIs and features thanks [to] using UWP. Overtime, they can move all their code to UWP-compliant APIs and become a full UWP.
I've gotten a couple of negative responses challenging what I presented as the purpose of the Convertor and Centennial. Here's one of the comments (edited for length):
The Desktop Bridge is more than just the converter. The converter is the first step. It is correct that it doesn't change the APIs your app is calling, and the converter won't produce a full UWP (app) for you. But it sets you up for the gradual process of modernizing and migration to full UWP (calling only UWP-compliant APIs). In some cases, the full migration can be trivial, for example for Unity games, since all Unity APIs are already supported in UWP.
In other cases where apps have a lot of dependencies on non-compliant APIs, completing the migration is more complex. However, with every update of Windows 10, we are making this process easier for developers as we keep expanding the API surface supported in UWP (both for Win32 and NET APIs).
Right, I did understand that the Converter is the first step and makes the app available in the Store, but the subsequent steps of enhancing (modernizing) and migrating are what make the app a UWP app. So that I understand, in a practical sense the purpose is to bring Win32 apps to full UWP and as of today:
Some APIs are UWP compliant, and apps that use those can undergo that complete process.
Some APIs are not yet UWP compliant, and apps that use those APIs cannot yet undergo that complete process.
If my understanding of No. 2 is correct, how long do you anticipate before UWP will support all APIs?
Regarding No. 2, if your app is calling a non-compliant APIs you can replace them with an equivalent UWP API and still go through the full process. The big example here is HWND-based UI APIs. Those are not supported in UWP, so you have to CoreWindow based UI.
So as of today, the process can be completed for any developer who wants to move his or her app from Win32 to UWP (as Microsoft broadens the base or surface of APIs covered with each update of Windows 10) because non-compliant APIs can be replaced?
Yes. In practice, depending on the app, the full journey can still be a considerable amount of work though. And UWP still has some gaps compared to Win32, where there is no equivalent API yet. With every new update of Windows 10, this will get better and easier though as we expand the API surface. It's a journey. The nice thing about the bridge is that they can start today and their app will be fully functional and shippable in the Store at all times along the way across the bridge, and they can go at their own pace.
There is no plan to support all legacy Win32 APIs in UWP. However, we strive for UWP to enable all relevant app scenarios - with modern, better APIs. Same example: HWND-based UI APIs are not something we will bring forward into UWP.
That's an interesting point. What other APIs will not be supported and what percentage of legacy Win32 APIs does that affect? Also, can you define what you mean by "relevant" app scenarios?
I don't think this can be expressed in percentage. UWP is a new app model; it is not supposed to be a superset of Win32. Win32 was invented in a time you bought software in a box and installed from disks. In today's world, Win32 has a lot of problems in terms of user confidence, privacy, battery life, etc. We don't want to bring those problems into UWP but want to provide the functionality that the user wants - and make sure the user is in control at the same time.
Win32 apps can run code at any point in time at full privileges without the user's intent, drain your battery, read your files, etc. UWP creates a much higher level of user confidence and control. Developers migrating to UWP will have to make changes to their code accordingly, to make their products better for their users.
How do developers find out if their Win32 program is one that will be supported?
Before starting a conversion, we point developers at the preparation guide on MSDN (opens in new tab).
One more thing: My view is that Centennial making Win32 apps into UWP apps, (thus) modernizing the desktop experience, is important to Microsoft's vision for Continuum. Without a modern desktop experience, the "phone as desktop" loses its appeal. Any feedback on that?
That's another good aspect, yes.
Regarding Continuum, note that the app will need to do the full conversion in order to do Continuum. Just running the converter won't get you Continuum. This is because it needs to be able to run on the phone device. And then there is Project Rome - different, but somewhat related topic that we'll talk more about at BUILD.
Wrapping up
Microsoft's ultimate mobile device vision is a long-term journey. What Wick reiterated about the multi-step process of bringing Win32 apps to UWP and the current state of unsupported APIs reinforces my assertion.
Is early 2018 to soon for Surface phone?
The fact that Win32 apps must go through the full conversion process to UWP for Continuum to be effective is a critical point. Though Wick stresses it can be done at the developer's own pace, it's a time-consuming process for some apps.
A rumored Surface phone may not motivate developers to convert their Win32 apps to UWP but the launch of Windows 10 S might. Will developers embrace Project Centennial and the full UWP conversion process? If Microsoft's vision of a phone being a desktop is to become a reality, they'll have to.
Must Read
Jason L Ward is a columnist at Windows Central. He provides unique big picture analysis of the complex world of Microsoft. Jason takes the small clues and gives you an insightful big picture perspective through storytelling that you won't find *anywhere* else. Seriously, this dude thinks outside the box. Follow him on Twitter at @JLTechWord. He's doing the "write" thing!
Thanks for reading folks! One thing to keep in mind is that various aspects Microsoft's investments contribute yo each other and are part of an overall strategy. Windows 10 S has a role in helping to build the app ecosystem if it is able to draw developers to converting thier Win32 apps beginning with Project Centennial. Also as Win32 apps begin building the store as UWPs other developers may be encouraged to bring thier apps as well the ecosystem potentially grows. The building of the ecosystem beneficially affects all devices in the Windows 10 family including an ultramobile Surface which depends on Continuum to "become" a PC. Windows 10 S and Project Centennial a critical to the success of Continuum. What are your thoughts. Let's talk!!!

Is there any hope for new features coming to our current Continuum?...before or even with WoA release?

I think when CSHELL is built into every version of Windows 10, Continuum will become obsolete.

Of course not: CShell is like Continuum for the shell (basically the desktop), it will not supersede it but complete it :-)

Hoping like hell this comes off, BUT if the current Dev apathy continues, WP in all iterations' really is dead isn't it ?
Dev apathy=not enough UWPs=no future mobile phone plan/path.
It really is do or die now.

I love the vision here, but honestly, if you are a developer, why would you invest in learning all this and coding for this. There is no phone to speak of. Every laptop and desktop will run classic W32 software, only Windows 10 PC can run UWP. Why not just keep making classic apps and ignore this? There is no indication that Windows has any mobile future. Its a desktop OS.

I agree W10S and Centennial are important and any device that runs Win32 centennial apps when docked (in addition to the UWP apps it can run natively when compiled for ARM) would be awesome - But still nobody has answered what use desktop Spotify is on a 5-6" screen? Anything over that size starts to get unpocketable but you need to go closer to 7" to run desktop apps comfortably. I don't want to go back to carrying a separate music device and I need a device I can take calls on comfortably without a headset. Despite what people seem to think a lot of business is still conducted over the phone. Obviously it will have a mobile UI/Shell when on a mobile device but that won't magically make win32 apps scale to the screen. Hopefully once apps are in the store companies start picking up on the advantages of pure UWP apps. UWP also keeps improving so I think more will see the benefits but that's also important for the future not just getting Win32 apps in and having them stay as win32 apps

Very nice article, I believe the critical element with all this is something that Microsoft is traditionally not good at...timing !

Great article and I agree that Windows 10S is a strategy to get the most important Win32 Applications converted to UWP (Store) apps. The fewer trade-offs users need to make to run 10S, the quicker the adoption rate. I personally like the idea of 10S for the improvements to security and battery life in particular.

Agreed.
Would be great if in a few years a huge amount of UWPs were available then 10S would be a viable and welcome option for a large proportion of the consumer base.
I'd have my family using it in a flash.

...and if W10S does become successful, won't it be sweet to see google bringing their products to the store.

I couldn't agree more. I really really really hope that Windows S takes off and FORCES those assclowns to right at least a UWP Chrome app. I still have little to no faith that we will ever see a proper official youtube app in any Windows Store. Their feud with Microsoft while good for business is a direct slap in consumers faces. At this point it is nothing but pure arrogance. Chrome is the bloated IE of today's browsers but if only people would open their Task Manager or Activity Monitor to see it for themselves! If only people knew the consumption that occurs in HW utilization to use Chrome enough to actually stop using it which would in turn force their hands to write a UWP Chrome App. iTunes will be a huge addition for Windows S and the Windows Store. Sure iTunes has improved on PC over the years but it is still one of the worst apps to use or support on Windows. I for one as a network admin welcome a sandboxed iTunes with open arms and would do the same for Chrome!

Hey Jason - Great article as always.. however I have to slightly disagree with your last sentence that a Surface phone may not motivate developers - hmmm - but things like smaller form factors and continuum enabled devices need to be on the market - otherwise no developer will take care to enable their apps to smaller form factor usage (simply stay in the "Enhance" section and never move to "Migrate"...

Hi Jan1409 thanks for the support😎 Notice my wording in relation to the Surface 'phone. I deliberately referred to the current state that is not motivating developers, a "Rumored Surface". As of now without confirmation to developers from MS, they are not motivated to develop for a rumored device. But I contrast that with the actual state of Windows 10 S as a confirmed target to develop toward. But all said-absolutely a smaller form factor is needed as you point out and I expect one in time. Thanks again🙂

I hope 10S will revive the tablet market for Windows. Right now the options are less than inspiring. I would like to see a 7 or 8" tablet with pen support and continuum. Preferrably a surface tablet with full Cell Phone support built in.

The tablet market was killed by large phones. I don't see it coming back. What is the point of an 8" tablet when you have a 6" phone?

I prefer a larger screen for doing web browsing, book reading, taking notes etc. I rely less and less on voice for my device. So long as it has an excellent speaker phone and good headset connection options, an 8" tablet could replace my 5.2" phone.

I'm actually thinking the same thing!

Forget the table format. That is so last century.

Yeah, the larger screen is nice, but there is a mobility trade off. I carried a Nexus 7 around for a while, but it was too uncomfortable in my pocket. Nexus 6 was a good size. If they minimize the bezels, you could almost fit a 7" screen in the same footprint.

True, and that's what I've always wanted in a mobile device.. What you're saying is totally possible.. The 1520 has a 6" screen, and the S8 has a 6.2" screen, with an overall smaller size perimeter.. I could still fit a 1520 in my pocket.. If MS, or other OEM'S, made a device the size of a 1520, but with a foldable screen, you're talking a full on medium size tablet scree.. ****, 6"+6" is 12"... That's even larger than my Surface 3. The only thing is that MS would need this device to be thin, but it's all possible with the smaller size of Qualcomm's newest chipsets... Running full Windows, or S, or whatever, continuum wouldn't even need full UWP apps to run. You would LITERALLY have enough screen space to run 32/Net apps, as is...... This is all just speculation, and dreams, on my part, but it's all possible! Seriously, that would be the ultimate mobile phone enabled pocketable PC... It would be the only one... MS has to be nuts to not be working on this... Maybe they are, maybe they aren't, but I really think they should, and I really think this could kick start the Surface brand, especially if it was marketed the right way, towards the right demographic, and marketed to death... Would you not buy that?

It doesn't quite work that way. You measure s seen size from opposite corners. Even though the GS8+ is 6.2", the screen is much smaller than a 1520 screen. The weird aspect ratio is deceiving. It has the screen area of a normal ~5.7" device. You also cannot add screen size for a folding phone. 6" is going to unfold into an ~8" device. Just imagine two 1520 screens side by side. They are much smaller than a Surface 3 and no where near the size of a Surface Pro. It would have to unfold twice. What legacy apps would be a good touch/mobile experience. I cannot think of a single one. You aren't going to be using Photoshop or CAD on a device like that. There are no mainstream legacy apps that don't already have a mobile equivalent. X86 isn't going to help the app gap.

I wouldn't say the tablet market was killed.. Maybe small tablets are not as necessary, but my 10.3" Surface is highly necessary over my smartphone.

What's the difference between a 6" phone and a 8" tablet? Two inches.

The difference is that an 8" tablet has roughly double the square inches of a 6" phone

That's a huge difference when talking about screen realastate that's less than 24" from your eyes... Are you serious asking this?... So, you don't think the 4" iPhone screen is that much smaller than the 6" 1520's screen?.... Lol. Seriously, now😂😂😂😂😂

I didn't buy a tablet because of Surface. Two in ones rule.

A Surface tablet with cell is the Surface 'device' we are all waiting for. I don't think MS needs its tablet market revived. It's doing very well. I do think that the device won't be in the form of a brick though, it will be something like a wrist band that is as wide as the HP Elite X3 with obviously foldable/bendy screen that you carry on your wrist, when folded flat can be used with touch and pen, and also will be continuum enabled so can connect to bigger screen and full keyboard. Can't wait.

"I'm sure we'll make more phones, but they will not look like phones that are there today"....what in heck does that even MEAN? I'm so tired of cryptic statements that present no real context and are so vague they are simply just a collection of words. It's like saying, "We'll still make babies, but they won't look like humans that are there today". Seriously.

According to their engineer, they mean Hololens. https://www.theverge.com/2017/5/3/15533668/microsoft-alex-kipman-phone-a...

Imagine a 6" phone that unfolds to make a 10" tablet that you can plug a keyboard like the Surface Pro keyboard, at least that us what I understood.
Imagine a device that can be a phone, a tablet, a laptop, a desktop and a Android TV style device with the Xbox UI where you can plug a Xbox controller and play light games. That would be nothing less than amazing.

I do agree! I sometimes think they want to bring back flip-phones

If he's trying to keep things quiet how else would he say it? Just give the guy a break, I think, unlike many people on these sites that he's doing a great job with MS!!!! It means that bricks/candy bars are f****king obsolete. Clear enough? He's 100% right.

Dear lord. If i hear someone say "we will make phones but not as they are today" one more time, I'm going to puke. It's like they think if they keep saying this, the. Nutella didn't lie. Once again though, this is a well written article by Jason.

WTF is with you and Nadella, Get a room you 2 I mean get a room to fight it out, because you clearly hate him to pieces.

It is the history of the cellular system. Bag phones begat button candy bars begat flip phones begat touchscreens begat ?? Nothing remains forever, the slab will give way soon.

Good article, as always. But it feels like I read always the same.

That's because we're waiting. Lol

Thank you Dave2070 Hopefully you got some greater insight from Stefan Wicks perspective.😉

Be doing even better with a super slick Surface Phone... At least, I would😎

If full Windows 10 is coming to ARM later this year, why can't they bring all of Windows 10 Mobile's features to Windows 10 and then push OEMs to add radio bands and SIM card slots into all of their devices--literally, make every future Windows 10 device a potential Windows phone. We've been waiting forever for a Surface phone. First it was going to be in 2016, then 2017, and now we're asking if 2018 is "too soon"? I do not want an Android or iOS phone, ever. If Microsoft ain't going to provide the alternative, I wish someone else would.

I think Windows on ARM will bring cellular capability, but limited to data. Via e-sim. Technically windows 10 does come with phone / messaging / people apps, so it's more on hardware makers to adopt this

Maybe if you say UWP, Continuum, Windows Mobile, Centennial, CSHell, Astoria and Windows 10S enough times they will become relevant.

I believe it's called the 'Ruby Slipper' strategy: say something enough times and repeatedly click your heels.

Good article. Appreciate the interview. Breaks the perceived silence that MS had and shows a clearer vision from them, not just speculation from well liked media such as yours 👍

Wish they would bring Gestures as it was on WP8.1 as well as Here maps/Drive

Windows maps, though not as good as here, uses here maps data. And in recent updates they've finally brought many good features like multiple stops on a route, I feel the app is growing in the right direction. I miss Gestures too!

If you have x86\ Win32 emulation on ARM then it can run Desktop Bridge apps. Microsoft will have to do that. Most companies don't have the resources to have a separate Windows 7 and Windows 10 app. I don't expect major apps to move to UWP until after Windows 7 becomes unsupported. After that, apps will upgrade or die. Most developers don't want to work on legacy technology, so if a company stays on Win32, developers will leave. This isn't like Android or IOS. Neither of those platforms had an installed base. Things move a lot slower when you deal with an installed base.

What I'm wondering is.... Let's say (in the future) MS does indeed use full blown W10 on a mobile phone hardware.. Let's say that they do, And, let's say that they let our devices load legacy applications... Could we use an antivirus app like this on our "Phones"?... I'm just saying that even with a subpar mobile app store, the possibilities of WP being rebooted once again, and finally to "proper" W10 seem more exciting to me than having Snapchat, for example. Not taking away from mobile apps, because it would be GREAT to have them as well,,,,.... But, could you imagine a mobile device that actually had terrific mobile app support, and could run legacy apps??? If MS could pull that off IDK who wouldn't go for that device... MS really needs to do all in It's power to push the UWP to success. It's possible, they just need to make it happen, at all cost.

How many flippin times has this article been written on here? We got it already.

Stefan Wick has never done a Q & A for WC to my knowledge. Nor has the position of Project Centennial and Windows S been focused on as critical to Continuum. :-)

Why can I still not cast my Lumia 950 to my Xbox One? The Wireless Display app hit Xbox preview what, well over a year ago now? As a regular consumer, why isn't the natural interaction between a Windows Phone and Xbox One an easily available feature to enjoy?

I believe that Microsoft is developing the right strategy however they have dropped the ball in teh mobile space by not releasing new hardware with the existing OS which leads to 1. A lost of market share and mindshare which will make converting users to the new platform more difficult than it needs to be. If Microsoft had just maintained their market share across the world they would have a few million people in each country who would upgrade to the new platform immediately giving other OS users the chance to see it in action and be jealous. 2. Creates an atmosphere where users are hesitant to switch to the new platform because of Microsoft's history of abandoning it's users like they did with the Zune, and Band devices. and lastly 3. The longer developers are not faced with the decision to develop for Windows phone the less likely they will be inclined to do so in the future. There are a lot of Developers who will not have developed a win32 program and only have their mobile apps so why will they want to put the effort into developing a UWP app when they already cover 99% of the market with their iOS and android apps. I like what Microsoft is doing but I think their strategy is piss poor in how they plan to gain users. It's like they believe in the mantra "If you build it they will come".