Microsoft — not Apple — is redefining the modern PC
I recently read an interesting article by respected writer and analyst Walt Mossberg, who said the PC is being redefined. I agree. But ...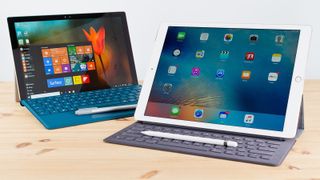 (Image credit: Windows Central)
I've described the evolving personal computing landscape in the past. To communicate an accurate picture of the modern personal computing environment and the influencing factors that have shaped it, I've acknowledged that it's impossible to ignore the impact of the iPhone.
Though smartphones existed before the iPhone, those business-focused devices were not relevant to the masses. The iPhone, with its "massive" touch screen merged the iPod, a phone and an internet device, and redefined the smartphone. Consumers loved it as much as they loved the popular iPod that primed them for a pocketable consumer-focused smartphone from Apple.
Eventually, the iPhone and the "there's-an-app-for-that" model, which made it a veritable "swiss-army mobile computing device," evolved into much more than the phone-iPod-internet device introduced by former Apple CEO Steve Jobs in 2007.
In time, Apple's introduction of the iPhone had a profound effect on the personal computing landscape. The iPhone, Android phones and to a lesser extent Windows phones — all with their supporting app ecosystems, integrated services, always-connected nature and pocketability — supplanted the traditional PC as the most used personal computers. Yes, smartphones are personal computing devices.
I agree with Mossberg that the mobile computing environment and ecosystems that shape personal computing today are influencers on what the PC will ultimately be. However, I disagree with his assessment that a significant shift to the new type of ARM-based PC that runs mobile apps will be determined by Apple.
Millions of consumers already buy laptops that use "mobile apps"
Microsoft's Universal Windows Platform (UWP) and Windows 10 laptops and 2-in-1s have already begun the process of bringing consumers to a laptop form factor that runs mobile apps, as well as traditional apps. This computing environment will be brought to ARM processors, as ARM-based Windows 10 PCs begin rolling out in several months. The change to an ARM-based system will be largely transparent to users.
What won't be transparent are the advantages of ARM-based cellular Windows 10 PCs. Among other advantages, consumers will reap the benefits of lower costs, and lighter, fan-less and more power-efficient Windows 10 PCs.
Mossberg said the following of a shift to ARM in relation to this problem:
I agree with the general assessments Mossberg puts forth. I also see the value in his conclusion that Apple, because of its vast and appealing app ecosystem, occupies an influential position. Consumer love for iOS apps may be a sufficient motivating factor for the masses to consciously and deliberately choose to use a laptop running those same mobile apps. That's if Apple can deliver a good mouse-and-keyboard productivity experience.
I put forth a similar analysis in relation to Google's position if it ever decided to merge Chrome and Android. Google's 80 percent dominance of the mobile market would be a real threat to Microsoft's 90 percent dominance in PCs if Google brought a viable desktop experience to a desktop environment.
Microsoft already invented the universal app 'wheel' Apple needs
iOS apps are optimized for a slate consumption-based experience, not a peripheral-enhanced productivity setting. Mossberg stated the following in relation to this problem:
Microsoft's Windows 10 and Universal Platform with Continuum are driving the evolution of the PC while also keeping the traditional PC around. Rather than just a clamshell laptop that runs mobile apps, which is Mossberg's vision for an evolved PC, Microsoft's strategy is more comprehensive.
Redmond saw the coming shift and created a device form factor with the Surface, a context-sensitive OS in Windows 10 and a Universal Platform that provides a common core for all device types and app development.
The research firm IDC said the following, confirming the success and adoption of Windows laptops and 2-in-1s in a recent report:
As we watch the unfolding of Microsoft's strategy with the industry's embrace of 2-in-1s, Windows 10 laptops and PCs and Windows Mixed Reality (formerly Windows Holographic), Microsoft's impact on the evolution of the PC, in all of its forms, obviously exceeds Apple's.
Technologically, Microsoft is where Mossberg hopes Apple will get
Mossberg states, "Apple … boasts 1.3 million tablet-optimized apps for the iPad, and these could presumably easily run on a small laptop with a built-in keyboard and touchscreen." He supplies the caveat "presumably" in acknowledgment of his (and all of our) uncertainty as to the viability of iOS apps running on a small laptop with a built-in keyboard (and mouse).
By contrast, we know with full certainty that Microsoft's unique UWP allows Windows Store apps to run on phones, laptops, 2-in-1s, HoloLens, Xbox, desktop PCs and any as yet to be created Windows devices. Most Windows 10 devices also run Win32 apps in conjunction with Store apps, and Windows 10 on ARM may bring that ability to phones.
What Mossberg speculates would be a technological advancement for the Apple ecosystem already exists in far greater depth and breadth as part of Microsoft's UWP. Mossberg's vision of an evolved PC is a laptop with iOS apps and only iOS apps.
Microsoft's personal computer vision is far broader than that.
Windows 10 is key to the modern PC
Though Windows 10 is only running on 400 million devices, Windows is a desktop and mobile platform. In less than two years, though far below it's one billion devices target, 400 million devices is impressive. iOS and Android have had roughly a decade to reach the billion mark those OSes achieved.
Some may argue that Windows 10 is merely an upgrade to the Windows OS that has a billion installed base. It is actually more of an evolution toward a new type of OS that retains the legacy strengths of the traditional desktop while adopting the necessary attributes of the modern, mobile personal computing environment. Universal Windows Apps, along with the coming full Windows on ARM and CShell on all types of mobile devices, help us visualize this reality.
When viewing it from that proper perspective, the unique unified desktop and mobile OS that is Windows 10 has already begun to achieve in a very real way what Mossberg anticipates will be achieved with Android and iOS: bringing a relevant "mobile" OS to a desktop clamshell form factor.
The market is buying, but may not "buy into" Microsoft's vision
The PC's transformation, based on Windows 10 2-in-1s and even laptops, has already been accepted in the market by OEMs and consumers. Mossberg's vision awaits a move from Apple to create wide acceptance for what the success of Windows 2-in-1s is already achieving: market-wide acceptance of a laptop (or 2-in-1) OS that runs mobile apps. The Windows Store on a Windows 10 desktop has thousands of universal apps that work across various form factors, including mobile.
I concede that the success of the Windows Store is not on par with Microsoft's goals. Moreover, the implementation of a Windows-based smartphone has not met commercial success. Consequently, though there are thousands of universal apps that are compatible beyond the mobility of a laptop or 2-in-1 form factor, and that work on a phone, the number is dwarfed by the number of iOS apps in the App Store.
So yes, the popularity of iOS apps, if somehow made to work as efficiently in a mouse-and-keyboard laptop form factor, would produce more of a "conscious" decision by consumers to seek out or inquire about such a device. These consumers may be motivated by a desire to use the mobile apps they're familiar with from their iPhones, on a laptop-like device.
By contrast, the universal apps that are part of Microsoft's proliferating "evolving PC" vision and that are also available to users who buy Windows 10 2-in-1s and laptops are in many cases likely just "along for the ride." Candidly speaking, these user purchases are likely less motivated by the opportunity to experience universal apps and their benefits than by the productivity legacy of Window PCs, even as manifest in modern touch-enabled laptops and 2-in-1s.
The Windows Store's underperformance is likely one of the motivating factors in Microsoft's increasingly aggressive advertising efforts in Windows 10. It needs to get users that have embraced the new OS and evolving PC form-factors to also embrace the ecosystem that they exist within. Apple, with the popularity of iOS apps, but the lack of a truly universal platform akin to the UWP, and the efficient productivity environment that Windows 10 PCs bring mobile apps, would have the exact opposite challenge.
Microsoft's impact on PC evolution is both deep and broad
Ultimately, I agree with Mossberg's conclusion from a consumer perspective. That is, if Microsoft cannot draw developers and consumers to its modern app ecosystem, Apple may be more successful in drawing consumer "attention" to the concept of a mobile-app-focused laptop. That's if Apple invests in and successfully creates an iOS-based laptop, which the famously secretive company has made no indication of doing.
I do, however, believe that Mossberg may be underestimating the industry impact Microsoft's Windows 10 and UWP has had, and is currently having, on the evolution of the PC, in the form of touch-sensitive laptops, 2-in-1s and other devices like HoloLens that run universal apps.
OEM's, consumers, businesses, and various industries have greatly embraced these "modern," evolved PCs.
As Microsoft's partners begin bringing ARM-based cellular PCs to market in several months, that impact will be even more evident than it is now. In truth, Apple's mimicry of the Surface with the iPad Pro is indicative of its reactive, or follower's role, in the PC's evolution.
The evolution is well underway. Microsoft is driving it, and its plan goes even further than Mossberg's vision of mobile apps on a laptop form factor.
Related reading:
Get the Windows Central Newsletter
All the latest news, reviews, and guides for Windows and Xbox diehards.
Jason L Ward is a columnist at Windows Central. He provides unique big picture analysis of the complex world of Microsoft. Jason takes the small clues and gives you an insightful big picture perspective through storytelling that you won't find *anywhere* else. Seriously, this dude thinks outside the box. Follow him on Twitter at @JLTechWord. He's doing the "write" thing!
Thanks for reading folks! There's no denying the impact Apple has had in shifting personal computing from a sedentary setting to a mobile landscape. That shift has mad mobile ecosystems and apps very important. The need for a the desktop productivity environment has not been eliminated, however. The move of the mobile landscape to the desktop environment is what we are seeing happenng. It is also what Mossberg has argued will be a massive shift as ARM processors come on laptop form factors and IF iOS also comes to that form factor. He argues that Apple will have the greatest impact in refining the PC. I argue that Microsoft, with Windows 10, the UWP and Continuum has already done, and is driving that evolution. PC makers and consumers have embraced Microsoft's PC vision. Apple is following. It is true however that most PC users are not using the Store apps, which if they are full UWP apps, are by nature also mobile apps. This is where Apple, with iOS on laptop may conciously win users to a laptop with a mobile app focus. So what do you think. Is Microsoft or Apple more influential to the redefinition of the PC?

Yeah, it was a great read!

Doesn't matter what MS does. Doesn't matter how great it is. Doesn't matter if they come first with innovation. Nothing that MS does matters if nobody knows about it..... MS's focus needs to be on marketing. Poor marketing is what killed WP (argue if you will), and what made Zune, Band, and many other great things MS has done obsolete.. Marketing is key. Whatever MS comes up with others emulate well, actually market it properly, and get all the credit for it.. Surface has had a good run, not complaining about that, but marketing still is a weak point at MS. They need to come with it.

Although I agree marketing was and is a big part of the problem, it's not all. Microsoft's attempts are most of the time half-hearted and incomplete. Take WP for example. How long did we scream about updates for simple things the competition had for years? It wasn't too hard to create a decent music player on WP8.1. Now look at the Windows 10 built-in Store apps. Almost all of them seem incomplete, lacking clear design guidelines and crashing as if interns are responsible for creating the most important part of Microsoft's future. For all their "expertise" in creating software, Microsoft lacks skill in creating almost any form of software related to mobile - Windows 10 Mobile being the prime example. (I don't believe it deseves to be WP 8.1's successor in any way). The Tablet Mode on Windows 10 SUCKS. Watching a video in Tablet Mode, double click on the video and watch is the window visibly resizes to smaller size and then goes back o full screen, indicaing sloppy coding.
Closeing some Win32 windows in tablet mode results in a blank screen where you can't do anything, instead of going back to the Start screen. The whole thing is incomplete, and second grade software like this will NOT challenge Apple in the long run. When Microsoft themselves decided the Windws Explorer in full screen is good enough to take care of file management even in Tablet Mode, why would anyone decide to create UWP apps for tablets and limit themselves framework-wise when they can create Win32 and target all Windows versions? This whole strategy is all patch work and will not hold up against a proper attack from either Apple or Google targeting the desktop.

Nup. Most people are creatures of habit and not likely to change unless they're really unhappy with what they've got. The iPhone was a runaway success not because of a superbowl ad but because it was compelling, which made the media go wild for it, which made early adopters buy it, which influenced all the people around them in a ripple effect, which led to it becoming so ubiquitous that average people didn't feel it was a huge risk to get on board. These days, ads are only there to scrape up the remainder who aren't reachable by viral.

By marketing you mean advertisement?

Microsoft tbh. but the process of developing UWP is still not good enough with me being a UWP app developer. also the APP usage is desktops is very low as people are still not used to the idea of using apps on desktop. if micorosft convinces people to use app on desktop, then the UWP idea would 100% be a hit

Once upon a time, long long ago I thought, "Why the heck would I ever use an app on my desktop?" Until Netflix made their app available. It is so much easier to tap on the Netflix tile instead of opening up IE, typing in www.netflix.com, signing in... If Microsoft can get the most popular services on UWP, we should see increased usage of apps on desktops.

Theyve been trying for years...

True but as Windows 10 gains ground - so will UWP. Look at myTube. A non-google UWP app that runs on phone and desktop that is much more convenient for desktop use than the web browser. Try it and see what I mean. Look at the UWP twitter app. Same app on desktop and mobile. Great to leave it say in the corner of the screen while you work.

And don't forget apps such as Readit, and Recipe Keeper Pro just to name a coyple more.

That's great you've found the app you wanted to use. Other's need a push. They need a fancy commercial with a catchy song to bring them along. They need to see someone else using it for them to make the leap. And that's the issue. There aren't too many fancy well thought out commercials playing for the masses to fall in love with. Nothing bringing them to the "water" aka windows store. And without continued presence on the tube (and not youtube) I doubt anything will change.

And it doesn't help that the Microsoft store only has one phone available when you walk into it at a huge mall in Southern California. When I walked into a Microsoft store in a busy mall in San Diego Calif they only had 1 super expensive windows phone available and when I asked the sales person about it and commented how it's easy to find iphones but Windows Phone are almost nonexistent, I got the impression that he wasn't even a Windows advocate. I mean he asked me why wasn't interested in an iPhone, it felt as if he wanted to sell me one of those. It's no wonder Microsoft is struggling, from Marketing to Storefronts it seems as if Microsoft isn't even trying. It's very sad because the majority of windows phones I have had have been great as far as hardware goes. We just need devs and MS needs to give them incentive to join.

@Dono Precisely! Microsoft is litterally wanting its own phone business to fail. I really do believe that. That's their cover to release a phone that runs Windows OS. Not the Mobile OS. But these suckers here think Microsoft is looking out for them. And if that fails then they'll just move to Android.

The big issue here is that most UWP apps do not open automatically to handle certain situations. For example, if im on a website and click on a video link, rather than opening in mytube, it opens on Edge. Same with Facebook links and twitter links. I always have to open mytube manually and search for the video I just opened on Edge because mytube doesn't open on its own

Interesting.... Perhaps Microsoft can provide an option similar to the "Set Default Program..."

W10 does have the ability though. Its "Apps for Websites" under "assiociated apps with websites" in settings.
Now when i click on a link to windows central, for example, it opens the app instead of the website. At this point, its up to the devs, I believe. YouTube.com will never do it because google but facebook already does for me.

Been using myTube on my phone since before it wa a UWP and there's no way I'd use that over a desktop website.

You can just pin the site to your start screen no? That's what my wife did with Facebook.

Exactly, just as easy as a dedicated app (and why UWP struggles on the desktop).

But not as good as a dedicated app....not even close.

Facebook app is just a very slow web-wrapper with no adblock... Website's way better.

I understand, however...pin the Netflix site to your start page next to the Netflix app and launch them both. Then tell me which is the better experience.

Launch RBC mobile website and RBC IOS app...and tell me which one is better....GOES BOTH WAYS. Again, Netflix usage is a stationary event. Getting a cheque on the go, far away from a local branch, you can deposit it right away with an app...you can't with a website. Well, you can with the IOS and Android app, not the windows mobile app, which is really just a webwrapper.

Agree, re: UWP app development. Last year I looked into developing UWP apps and eventually gave up in frustration. My biggest problem was essentially third party components that I have become used to using in .Net development, and getting them to work together in the UWP context. They all supported (at the time) various combinations of .Net "classic", .Net Core, and .Net Standard target platforms, but I never did manage to find any combination of these whereby I could compile all the projects together in the same solution and, where necessary, for projects with different target platforms to reference each other. I haven't completely abandoned the idea of UWP app development, but the development experience needs to mature a great deal more before I'll revisit it.

Agree entirely. Microsoft keeps moving the development model/sdk/api/tooling landscape. They need a prolonged period where VS and associated tools and development environment remains static so Devs feel confident in learning and getting to grips with UWP. It's already a risk due to the stores low usage, but add in Microsoft iterating it's just such a painful place to be.

Yes, they are moving it every year. Besides if you plan to make an app that you can't finish in a few month, you can't reserve the name in advance, since it is only protected one year. That my be one of the problem that so many not quite finished apps hit the store. The developer has to published finished or not befor one year. And when it is published and don't be a hit (maybe because it not really finished), then the developer looses intrest in it. Not all can afford to quit they job to work fulltime on an app. For most of us it a parttime thing. One thing I really miss when working with XAML is the ability to use % just as we do in HTML. Then it's so much easier to get things to look good on every screensizes.

What components? UI components from old .NET serve no purpose in UWP apps, and many other things have been superceded by newer language constructs (such as a lot of async calls for communicating with web servers) Purely computational components should work, and if not, it seems more like the burden is on the component manufacturers to update them rather than Microsoft.

I was using the Prism application framework, which I know has been superceeded for UWP, but also: Unity for dependency injection; NUnit (IIRC, this had been updated for .Net Standard); Rhino Mocks, which was (still is?) stuck in .Net "classic" because it uses Castle DynamicProxy, which can't be updated for UWP apps because of the lack of support for the "reflection emit" namespace; Common Service Locator; and, I'm sure, several others I can't recall at the moment. I did look at alternatives for things like mocking for unit tests, but they were either rather expensive commercial products, or, in the case of the mocking frameworks, the free components that were able to get around the "reflection emit" issue were, for me, simply inadequate. While some breaking changes are to be expected in making a change like migrating from "classic" .Net to UWP, if Microsoft really want all Windows developers to embrace the "new way of doing things" then expecting them to throw away significant portions of their existing core code because it was designed to work with components that don't (or can't) support UWP is going to deincentivise the case for bothering with a UWP version. Though many of these components aren't under the direct control of Microsoft, and who knows why many of them haven't been upgraded to .Net Standard, for example, it wouldn't hurt for Microsoft to "encourage" them to be upgraded to help boost the case for UWP app development. Besides, at a personal level, I don't really care if Microsoft or someone else made a particular component I use in my applications: if I can't get it to work in a UWP application then I'm more likely to conclude that UWP is way too much hassle and I'd be better off sticking to "classic" .Net (and yes, I am aware of the Centennial app bridge).

But honestly, what is the point of developing UWP instead of, say, WPF with "classic" .NET? We hear a lot of "it runs on phones, XBOX, HoloLens" etc. but Windows phones are nowhere to be found, XBOX is a gaming console and HoloLens is simply vaporware. You'd trade a rich set of tried and true APIs and Frameworks for...what exactly? BTW HoloLens reminds me of the original "Surface table" that excited lots of people (myself included) just to go into oblivion. Microsoft has a "vision" always in words. If you've seen any push in the direction of this vision, show me. All I've seen so far is trading of truely powerful sofware for their weak counterparts - like Windows Media Player with the "mobile" Groove Music and WP8 with W10M.
By the time HoloLens gets up and running (if it ever does) the competition is very likely to get there with something of their own, and they are in the right place too: imagine an Android augmented reality headset that runs apps just like HoloLens does; Augmented reality isn't really for content creation but mostly entertainment and collaboration and these categories are a good fit for mobile apps instead of something like Photoshop. So Google and Apple can pretty easiy release HoloLens-esque headsets and jump in the game. I'm sorry. But it seems to me that with all this fumbling of ideas Microsoft puts them on the path to oblivion in the consumer space.

If I buy a mini PC, hook it up to my TV, connect an IR airmouse, and enable tablet mode (because having multiple windows on your TV is pointless 99% of the time), does it still count as a desktop? And should I use Win32 apps instead of UWP ones along with clunky websites? You see, everything depends on the context ;)

The problem is that some devs, including fkn microsoft themselves, are ruining the appeal of apps. Why bother with say the fkn facecrook app when it's stupidly limited compared to the full website in the web browser? Why install the windows store version of OneNote that's stupidly restricts you to putting all your data in the hands of microsoft when there's the full OneNote that does a lot more and doesn't have such stupid limitation? Those are just a couple of examples, but there are many of such apps on the Windows Store that the average joe will come across, and simply choose to no longer bother with the Windows Store. Until that's fixed (perhaps with more apps converting with the Desktop bridge), won't expect this low usage problem to go anywhere...

Currently, Microsoft is at the lead in shifting the market (read tablets and ultrabooks especially). iOS apps may be more popular, but on the whole Apple will find they are quite a way off. Microsoft went through some substantial growing pains to get where it is.

I agree. Apple is currently in the phase that a lot of big companies have found themselves in throughout history; the phase where they live off their legacy. And, as we all know, living off one's legacy only gets you so far. Apple might be in big trouble if they don't find ways to renew themselves or to stop being a follower. iOS might be popular still, but the brand Apple is tarnishing, as plenty of were-hardcore-Apple-fans are shifting (back) to Microsoft for this reason. Apple's not (as) cool anymore.

I agree 100% being an old musician I can fully understand that. It's"well what have you done lately?" It's the hungry that survive. It's the innovator that wins. What is more important, Intelligence or imagination?

Intelligence or imagination? They go hand in hand! I would put it more like; There are artist and there are scientist, both which are as important too! So intelligence and imagination are needed on both sides.

If anyone is living off their legacy, it is Microsoft.

Not really. They're trying to cut off their legacy by giving deadlines for support on old things. And, Windows 8 was a perfect example of trying to get out by any means possible. A lot of people were upset, because they were also living off of a legacy. But all of this led us to the new Microsoft, which has given us Surface in various shapes and forms, Hololens, and a completely new attitude towards technology in general. That's anything BUT legacy. But whatever, you're probably still running Windows XP and think that's the pinnacle of Microsoft's ingenuity.

That is all legacy except maybe Hololens. Surface is just another laptop/PC form factor that is slightly updated for the times. It isn't any sort of revolution. Microsoft will hit the legacy wall well before Apple. It is already starting. http://www.windowscentral.com/windows-10s-global-growth-slowed-down-dram...

The point was about the decision to live off your legacy. Microsoft has decided to not do that; Apple hasn't even realized it yet...just pushing out incremental iPhone after iPhone. And if Surface is "just a form factor of PC" could you kindly explain what the original iPhone was? Was it not simply another phone "form factor"? Any difference you bring in comparing the original iPhone to the phones of its time I can respond with the difference between, say, Surface Book and a conventional laptop.

He original iPhone was a revolution. It completely changed cellular phones, the form factor and the software. It disrupted both the PC and phone market. Anything Microsoft is doing today stems from the iPhone and Android 2in1s that came first.

iPhone was a revolution??? I've been carrying touchscreen phones for work way before the iPhone came out. How is it not different than the Surface that created a whole new sector of 2-in-1s?

The iPhone completely changed the market and made smartphones mainstream. The touchscreen phones you used before the iPhone had those old crummy resistive screens and were nothing like the iPhone. Surface just added the touch interface as defined by the iPhone. It hasn't been a revolution at all. Windows sales are still dropping and even Windows 10 isn't growing when compared to Windows 7! Surface also wasn't the first 2 in 1. Detachable devices were available before the Surface came out. The Asus Transformer comes to mind, not that it was very successful though.

Oh, so Surface is an iPhone PC? I guess there's no arguing with you. But I can play your game too. The iPhone is just a Palm PDA with capacitive screen. And like we saw with the iPhone, it's about defining a new sector or sectors. And Microsoft has done that with Surface.

Again, the iPhone completely changed the market, effectively replacing PCs as well as phones. Now smartphones are selling nearly 400 million units each quarter. The iPhone was a revolution; that was a revolution. Surface made some changes to legacy PCs, but they have not sparked a revolution like iPhone did. Sales are poor and Windows is shrinking.

just quit. not because I agree with him but for your own sanity.

We are talking about "living off your legacy". For the past 10 years Apple has been practically living off of the original iPhone. You either disrupt markets or transform them. Microsoft is doing the second one because that's where they are big. Now phones is where Apple is big, but you see no transformation happening and that's the point. Apple is now where Microsoft has been for years, and that's the thing we were talking about. Regarding your analogy of Surface to "laptop with a stolen touch from Apple": Apple was not the first one to use capacitive touch, so basicaly "iPhone was a phone that stole a touchscreen from LG" if we want to argue like you do. If I want to argue the other way around: the iPhone was just an iPod with technology "stolen" from the likes of Nokia to make it a phone.
So this line of reasoning is invalid and Surface IS redefining the PC with sales of laptops dropping and hybrids gaining ground. Again, it was about living off a legacy. Microsoft's legacy is Windows. Surface is new adventure for them. Apple's legacy, as of now, is the iPhone. They have no new adventure and are living off of the iPhone sales.

And made a lot of sacrifices for the long play.

"Microsoft went through some substantial growing pains to get where it is." That is certainliy true. Let's hope they can harvest the fruits of it in the time to come.

I agree that MS has done everything right and built the superior option. My fear, however, is that developers will continue to ignore it, coding for PCs as they always have and for mobile as they currently do - until Apple does it, then they will flock to Apple's verions in droves.

This will all change soon. A phone will be a computer and a computer will be a phone and apps will because obsolete. People cry about bank apps but the banks have a mobile version. Most every site has a mobile version now. I don't use Facebook but my wife does and she just pinned the site to her start screen, why have an app sucking up space? Pretty soon you can just go to Facebook and do most anything, pay for things, send your friends money, book a flight, rent a car. Soon in the Microsoft Store you will be able to change your cell provider and manage you account. Cortana will take care of almost everything you need. Soon we may not need a phone at all. You will wear a thing on your wrist and a plug in your ear and a pair or glasses to let you see. I'm old enough to think that a smart phone is straight up Star Trek ****. We really don't know what will come out and change our lives next year. It seems Apple doesn't anymore either but Microsoft is trying at least.

Doesn't hurt to dream now does it...

I love the idea of a phone becoming a powerful extension of a PC but when I'm working on a PC, I want the big fat luxury of a PC. I want my fat version of Office Pro to crunch data for planning and analysis while being able to automatically sync the information with my phone and present it to a wide audience. That's what Microsoft is best at, productivity for the masses. Don't get me wrong though, I always pick up my phone to use an app whenever I order pizza!!

Apps and websites are not the same thing. Websites and the web itself is a broken and expensive mess. Apps, services, bots and AI are the future.

Since you are running windows moible bebochek, you would not know how awesome banking apps are compared to website pins. You can do much more with the app like deopsit checks, pay for things on the go etc. if you use your phone JUST LIKE A COMPUTER....your website pins are fine...if you are actually mobile, then....NO, mobile websites SUCK!...

Execution execution execution.
Microsoft's consumer software is sloppy and buggy. A PC will be a phone but doing what they are doing Microsoft won't be the one capturing that market.

HP bought the Palm OS and tried to launch a tablet. Even just scaling from a phone's 4.5" screen to a 10" tablet looked awful. They dumped that line a month after launch. Without the secret-foo powers of Continuum, a phone app on a laptop or a 20+ inch desktop will look ridiculous and be a waste. It takes more than a common kernel to make an app scale. The UX has to adapt to the new medium as well. Microsoft has a huge head start over Apple and Alphabet on this capability.

Devs have the option with UWP apps to have entirely different UI designs for different screen sizes and form factors, with the code behind being the same. yes, simple scaling is the default, but not the only option.

Amazing article!!! It was a great read from start to finish. I'm confident in MS's ability to lead amd bring the evolution of the PC. I've had a few people tell me to give up on MS (specially the mobile platform) but I think once a full OS is implemented on ARM, the mobile section of MS will thrive and surpass Apple and Android. I'm holding out hope for the Surface phone lol.

The problem with UWP is, although technically universal, it isn't universal. Even Microsoft won't sell me a decent Windows Phone these days so the mobile, primary, platform is missing.
Posted from an Android S7 because I dropped my 950XL and could not replace it...

My only problem with the UWP apps is that most of the ones that are meaningful to most general users (i.e. Facebook, Messenger, Twitter, Instagram) are either clunky and not coded well, not maintained, missing from the Store entirely, or lacking basic functionality that the iOS, Android, or web apps have. This is the biggest reason why people don't use UWP apps. If the apps on the Store that mattered were made well, then maybe more people would use them. The potential is massive, but devs don't use it.

For example, I usually keep the Facebook Messenger website open. For about a week I tried to use the Messenger UWP app. It disconnected my Bluetooth, took 5 minutes to load after being minimized, and lacked a button for entering normal emojis, forcing me to open the Windows touch keyboard to enter emojis. It also doesn't have a reply box in the notification, which is obviously possible *cough* Skype Preview *cough* and (I think) is there in Android 7.0. It isn't optimized for a large display at all, either. Comparing the website with the app, I found I'd rather have to refresh the website if I lose my Internet connection than wait 5 minutes for an app to load my messages.

I can imagine a lot of Apple fanboys thinking "Apple will redefine the modern MAC, not the modern PC"

I don't understand Apple fanboys--particularly the obsequious 'tech journalist' crowd. Apple hasn't done anything even remotely interesting or innovative since the iPhone launched in 2007.

Yeah since then they just got fat and lazy.

No, Jobs died and so did the creativity.

Jobs died and so did the, 'stealing'. Apple is just not as good as stealing as it was before, that's all.

iPhone 4? Siri? MacBook Air? iPad? Their Mac Pro cylinder? HiDPi displays in phones and laptops?

MacPro Cylinder is crap and Siri has been surpassed for several years.

I was talking about what Apple did innovative or interesting, especially at those points in time.

Yes, Apple did buy siri. It was available on android before they bought it. I had it on my HTC hero.

Didn't you see the apple pencil commercials? They revolutionized note taking!!! /S

To add on to what Cryio said, the iStore? The ecosystem? Also, notice how phones as of 2008 started to look like iPhones? Their current cameras are generally rated recently (since ms f'd up Nokia) as the leading or there abouts in the phone market? Also as stated, the iPad! The iPad! Believe me I'm no apple fan at all, but your ms fanboyism is utterly ridiculous

No Nokia f'd up Nokia. MS didn't save it, but it was already in trouble before they bought it

Nokia f'd up Nokia. But they did it by trusting Microsoft. It's like if you're stupid enough to have a wolf guard your sheep. You f'd up, the wolf is evil. They though "oooh a Microsoft manager, he should be good!" and gave Nokia to Elop. That was the problem.

True, but it's like being in a room with a massively wealthy person. There is always going to be people around him/her just to smell the riches. Look at Berulsconi in Italy - so wealthy, such a *uckwit who rapes the country and smiles at people while stabbing them in the back. And yet, there are many people whom still like him. Go Figure! Humans are dumb *ucks seriously.

All they came up with is the "Touch bar" lame, very lame.

Because PCs are dying. They are becoming a niche business tool. The phone in your pocket already does most everything normal people used PCs for. That will only increase going forward. PCs will become like semi trucks. Only used by professionals to get heavy work done. Apple isn't interested in that market. They will milk it for a few more years before killing Macs completely.

PC's are not dying. The old model of PC's is dying because it has served its purpose. MS has chnaged that and IS changing that.

"Because PCs are dying. They are becoming a niche business tool" LMFAO xD Bastardized ARM tablets like the toyPad are continuously experiencing double digit decline in sales ( https://is.gd/8AUZm5 ), yet you have the audacity to consider Windows PCs, which have barely ever (if at all) experienced such a sharp drop in sales, as "dying"? Such dingbat logic iSheep have...keep paroting crapple's BS post-PC era talk, there's only the post-bastardized-tablet era ( https://is.gd/ArF2oG ).

PC sales have been dropping for years now and most certainly hit double digits some quarters. Where have you been? I am no Apple fan at all, never bought a Mac or iPhone, but Apple outsells all PCs combined some quarters! http://www.forbes.com/sites/adamhartung/2016/04/15/pc-sales-in-q1-drop-m... http://www.digitaltrends.com/computing/gartner-report-pc-shipments-decli... http://www.wsj.com/articles/pc-sales-drop-to-historic-lows-1452634605 Tablets have driven it some, but phones have really taken over as the PC.

Of course PC sales are gradually dropping. People are no longer having to replace them as often due to SSD's and advancements in Memory/Processors. You shoud really try to do a little more thinking before you post.

Desktop web usage is also declining and has been surpassed by mobile. People just aren't using computers as much anymore. Mobile has replaced them for many things required by the masses. http://www.zdnet.com/article/mobile-and-tablet-internet-usage-exceeds-de...

Agreed....TOUCHBAR IS CRAP! an exuse for not having a full touchscreen.

Reminds me Apple finally implemented resize-window-from-any-corner into Mac in 2012, 2012!

Well that was a hell of a read. 👍🏻👍🏻

Thanks Akash. I'm very glad you enjoyed it! :-) Make sure you share it. ;-)

Great read.
I believe that Apple may have once been innovative, but not anymore. They simply copy others now, the iPad Pro being an embarrassing example.
The way MS is going is very interesting, I can't wait to see what happens next

They (apple), have ALWAYS copied others. But...that being said, they market their goods in a way no other company does. I agree with Jason, PC is MILES better than mac computers. Mobile is another thing. Apple has it all over MS when it comes to the mobile space. Ipad and Iphone are better true mobile devices than MS based models. It all boils down to the Apps. IF and its a big IF, MS can get the devs back, then they will be in a much better position.

I tried an iPhone 7 Plus 64GB for 3 days before sending back for a full refund and ran back to my 950XL. The whole app gap thing is true but Windows on mobile ***** all over iOS. It just has a much nicer flow to using it. It's more customisable, has a back button and hence doesn't resort to a tiny 4x4 pixel back arrow next to the cell strength indicator at the top of the screen in some instances.

Well, IMO, when it comes to mobile useage, apps are supreme. If you don't have the apps,(not talking about snapcrap, etc)...you dont have a true mobile device. I am buying a 950xl for work, for one reason....camera use and 3d builder. It works great for that.

Is that why iPad sales are dropping off?

iPad sales are dropping because the market is saturated and large phones get the same job done. PC sales are also dropping for the same reasons. Windows 10 is barely even growing in relation to other Windows versions. Phones have replaced PCs for the mainstream.

I believe everything will be brought to light after build 2017. If MS cant amaze everyone this year I'm afraid the other big two won't let their opportunity slip

That's what we said last year, and the before that, and the year before that

MS looks at the bigger picture that is why they are massive and stable and...friggin AWESOME! Apple steals, lies, and talks itself up, Android poaches, watches, confuses and annoys!

Both iPhones and Androids are MUCH better phones compared to W10M. This really needs no further argument, unless one is truly just a fanby. Right now W10M can only hope to become a copy of Android, as has no advantages over it, has left behind what made it unique, and has many disadvantages compared to Android.

Live Tiles. The fact that you can see messages on your home screen without having to open up toast notifications or your notification bar.

I can see messages on my home screen, scroll through and act on them directly. Widgets far surpass the functionality of Live Tiles.

You can't say an OS is better based on a single feature of just one section of the OS.
The rest of the OS just...sucks. Be it the bad performance on most of the phones, weird battery behavior with each update, weird lags that happen intermittently, etc. This thing certainly drops the ball on what WP was great at: speed and fluidity. Windows Phone was supposed to be fast and fluid. W10M isn't either. Work with it for 15 mins and it becomes painfully evident that it's just an experiment. Personally, Live Tiles weren't the highlight of WP for me at all. It was the whole of the design language that worked perfectly together, and Live Times were a small part of it. Now W10M doesn't really have any of that, and it still tries to be what Android is, minus the apps.

I hope they do better, but they need to get core functions right on mobile, if they ever hope a "surface phone" is going to take off. And yes, I know this is about PCs, but if they're going to tie it all together, it's all relevant. Our W10 laptop works quite well for most things. BUT since there are fewer apps available, especially compared to other apps stores, they need to get their web interface right. And I'm sorry, Edge is STILL not up to snuff on both W10 and W10M. Chrome just works. So I suppose full W10 running ARM will help, in that you can install Chrome on a "Pocket PC" that also makes calls and takes pictures. But dropping the ball in mobile is killing future business in anything other than business PCs. When they can't get the basics right, so everyone gets mad at their Windows Phone (if they've even heard of it), why are they going to buy a Windows PC? When they love their Android Phone, they're going to jump on Chrome books and Android Tablets. Honestly, I'm slowly starting to regret my Lumia 950, because of stupid little things, that should JUST WORK. Edge frequently fails to load pages on the first try, you're stuck with their texting and keyboard apps (even though they own Swiftkey, SMH), and the camera doesn't always save pictures/videos. Their failure to get the basics right, means that nobody is going to trust them with "the next big thing". I have wanted to buy a Surface Pro 4 when my Note 10.1 dies, but really, with my Lumia starting to suck, I'm rethinking that. I'm considering a new Tab 3 or a Chromebook with Active Stylus tech. On a side note, are the Surface Pro and iPad pro in the video ad the same size screen? It looks like they lined the keyboards up, instead of the screens, but it makes the Surface look tiny compared to the iPad. See, even their ad people can't get the basics right. I hope I'm wrong and Jason Ward is right. But that ~1% mobile share is not agreeing with us. And W10 may have the fastest adoption rate ever, but c'mon, they crammed it down people's throats, of course it's the fastest. They literally tricked people into installing the update in some cases. Also doesn't help their image...

At this point in time, you are better off waiting for the Surface Pro 5. And really, don't let W10M failings detract you from the Surface. As opposed to phones, Windows 10 on desktop has Microsoft's full backing.

iPad Pro is in no way a comparison to a Surface Pro. A Surface is a general purpose computer, i.e. a hybrid between tablet and laptop. The iPad Pro is nothing more than an app/content machine it is not a Mac.

I know that, my question was more in relation to the size of the devices in the ad. The general population is even dumber than me, so they're going to look at the ad and see the iPad pro looks bigger, and go, "oooh, I want the bigger one!" I looked it up, and they have a 12.9" screen model, vs the 12.3 of the Surface Pro. .6 isn't much, but the shot in the ad makes it look smaller, because it's set back farther. Advertising rule# 28940: Always put YOUR product front and center. I could be wrong on which rule number it is, but I'm pretty sure it's in their rule book somewhere. But if you're referring to me thinking of something other than a Pro 4 for my use, I assure you, I will never own an Apple product. I'd strap a feature phone to an old Zune before I bought an iPhone. I'd strap a raspberry pi and a UPS to the back of an old monitor before I bought an iPad. I may be frustrated and venting about Microsoft (yay downvotes!), with some valid points (my opinion, for what little it's worth), but I LOATHE Apple products. I told my wife that if she gets an iPhone, don't bother coming home. Well, she can come home, but I told her she's on her own for at-home tech support, because I won't touch it.

lol! I just read. Disregard the related parts of my response to your last comment.

Windows 10 isn't even growing anymore. At this rate, it will be a big failure. http://www.computerworld.com/article/3175094/windows-pcs/windows-7-share...

You might want to reconsider reconsidering surface due to lumia. They are in COMPLETELY different classes when it come to prioritization, hardware, and software. Yes I do own both. And I believe the ipad pro does have a bigger screen than the sp4. You make an interesting point in your analysis about mobile cellular pcs killing future businesses. But i think this pertains to "smartphone (as we know it today)" businesses. Even you started from the idea of Android phone than expanding to chromebook or Android tablet. What the world will learn is that this progression isn't a necessity to mobile computing. Microsoft knows they lost the smartphone battle so I believe that's the point. They know computing needs to be mobile so instead of a smartphone mobile take, they are taking a 'p.c.' mobile take. The industry killed their smartphone business already so they don't have any future smartphone business of their own to kill; only the competition's. To conclude, I believe you're correct and THAT'S the point of the endeavors being made now. You may want to wait a bit to see if a surface pro 5 is on the horizon depending on your budget. Not to say the sp4 is a bad choice. I use the sp3 and im still beyond happy with this purchase decision.

I wonder, but what i know is MS is ahead and its OS is user friendly. Wish they would bring back HERE Maps on mobile, their Map application is way way back for those who have been using Here maps, the campass doesn't work well,

Ms is ahead? I'll like the hear your explanation why? As the numbers don't lie

Yes, MS is ahead in PC, Apple has like what, 2 % market share? MacOS is a jumbled mess, that is NOT user friendly at all. MS for PC, Apple for mobile. best of both worlds.

I think that picture on the article headline explains it all. WTF would want that ugly looking screen to the right?

YEP! And that ****** "keyboard" and tacky "pen". Get over yourself Crapple. Let's distract people with a big circle building, "Oh look folks, it's a circle..."

FYI, the surface keyboard is not that MUCH better. It flexes terribly, and that "fuzzy" covering wears quickly. the pen with the surface is AWESOME compared to the "pencil" however. There is nothing PRO about the ipad Pro. Its just a bigger screen that has pen support. I like my ipad air 2 better. Again, with my surface 3 the issue was APPS. Using the surface as a computer was fine. but using it as a tablet like the ipad, the lack of content and the crappy unsupported apps that were there made me switch, just like windows mobile. No apps, no go. My dell 2 in 1 is AWESOME however.

Not to crap on your article or anything like that, but I honestly don't see why this even needs to be said. Seems pretty obviouc.

For a lot of journalists, it isn't that obvious unfortunately.

Hi Sean, check out Mossberg's article that inspired this, and you'll see why it had to be said.😉

He's always had tunnel vision, plus he's articles are never open for comments so they're essentially clickbait. At least The Verge usually opens articles for comments which can lead to some interesting conversations (and in many cases Fanatical Trolls).

There was a question / short discussion about why some articles do not have commenting. http://www.theverge.com/2017/2/15/14623994/why-does-the-verge-selectivelay-disable-comments-on-controversial It was closed the same day ;) To comment on original topic, as a household with Android phones & Windows PCs, I don't see a need for iPad-PC. If we had Macs, maybe then. Apple does not define PC in general, though it can define "PC" within Apple users. Even then, I don't think Mac users will switch to iPad-PCs.

I get that, and see what you're saying. But to me it's obvious... He's yet another fan-boy/groupie who can't see past the shiny apple logo long enough to realize what's really going on in "tech".

Hi Sean, his (Mossberg's) position is influential and many folks read his stuff need to read the "bigger picture" view I laid out here.

Awesome... I'm gonna extract few lines from this article and put them on my Facebook. It's what i also used to think about.

I agree that it is time to show everyone their vision, MS is running out of time.

Totally agree MS is pushing the tech arena lately, but is getting almost 0 credit. We can see how Apple and Google reacted to the Surface Pro line with their own Pro lines. You can also see some new AR headsets that seem to suddenly pop after the hololens was released. MS is really pushing hard for new things, but the market just doesn't see them anymore sadly. Then their lack of consistent support, and quality of support in some cases really does not help. Apple really has a solid foundation right now, and many draw comparison to MS back then, but the key difference is users like Apple vs back then it was the cool thing to poke at MS. Apple too is too big to fail, but even if they start to, they are so well liked that it's almost impossible to really topple; maybe stumble, but not fall face first. I just wish MS was consistent, delivered the hardward they envisioned. I'd still be on a WP if they probably had the hardware, but they don't right now, and the company that offers the most consistent experience for productivity for me right now is Apple, and I've slowly transitioned to them but still using MS services as a backbone, and that works just great.

I agree that MS has not always executed well enough the first time out, even when they had the lead. It's like they spend a lot of time trying to have a clear identity, then refuse to spend to share that innovation making sure that many people never know about it, until the competition copies then markets it as their own. And the people will eat that up!

This is all very nice and I agree with most of the article, but if Microsoft doesn't advertise what the Windows 10 vision is and how it works on several form factors, people will never realize all the positives laid out in this article. That is why time and time again, Apple or Google (through Samsung in the majority of cases) will always be heralded as the companies that "invented" features Microsoft already had before. When was the last time you saw a Microsoft ad showcasing Windows 10? I'm not talking about PC/Surface ads, but what Microsoft is doing with and for Windows 10. A 30 second ad of Windows on different form factors (including phone) would start to make people look and think more closely to Microsoft and maybe call out certain tech sites when they start babbling about how great feature x or y is on iOS or Android. The rare Microsoft ads I see in the UK on television are for the Cloud. I know professionals also watch TV but it doesn't showcase anything "useful" for the regular Joe. And it's not like Microsoft doesn't have some good hardware/form factors to show off: Xbox One, HoloLens, Elite X3, Surface Pro/Book. If people knew all of the above run Windows 10 (and not necessarily version x86/64, Mobile, etc) then maybe people (consumers and developers) can see one of the advantages of UWP and build/port more apps and services over. All of this of course won't mean anything if Microsoft doesn't push harder to improve the OS as a whole, instead of spending resources in helping out other platforms with apps containing more features.

A PC hals always definded a a Personal Computer and a Apple computer has always been defined as MAC. Microsoft is not refineding anything. They made a new OS that runs on more of a new form of PCs, as tech is better than 10 years ago, computers are smaller, so the MOBILE type thing can sort of been re-defined but, when it comes down to it mobile is defined as a cell phone or smartphone, Microsoft's version is a joke today, as they are not supporting it for a broad market, no promotion, no major apps, no major support on their Mobile section. Love or hate Apple, you need to thank them what they did in the market. They opened it up to more of a smart device from what were using. If you wanted a SMART device, you had a Windows Mobile/PocketPC (a pocket Windows version with the bugs) or Blackberry. Apple came with a store, and the format Microsoft has always dreamed of. Maybe Microsoft would of came up with it but, they were 5 years too late and by then, they lost. I can go deeper into this but, Microsoft is not doing anything besides making Windows compatable with current SMALLER devices. Nothing new, just a smaller package.

It is no surprise what Mossberg thinks. In his universe, the sun rises and sets in Cupertino each day. I don't believe the tech world in 2017 and forward will be "established" by any one company. There is too much disruption possible now and large tech corporations that grew to maturity in an earlier era- ie Apple and Microsoft- need to be more nimble now than they have ever been before; rethinking everything and being willing to let go of what doesn't work well anymore. Which of those two companies has behaved more like that in the past three years? This doesn't mean Microsoft will triumph over Apple (I've never bought into the fanboy view that for Apple to win, Microsoft must lose or vice versa.) because failure to spot the next disruption or a new opportunity can happen to any company, and it has happened to Microsoft before. Devices are getting more powerful and more linked with one another through the cloud and common software. I'd say the company that builds the breakthrough product that allows portable communication and nearly complete portable productivity is the one that determines the future. Which of the two appears to be moving in that direction?

You mean a bit like releasing regular updates to an OS on a quarterly basis rather than the old model of a new version every 3 years?
​MS is getting more and more friendly to everyone - open sourcing there software, developing apps and services for iOS/Android/Mac as well as Windows mean while Apple and Google are getting more and more closed in terms of their software and services - so it is them that needs to buck up their ideas. ​Want to test something on MacOS - better not want to us Virtual Machine - because nope Apple says you can't. All other OS can be installed on a VM. Apple can come talk to me again when I can install macOS on hardware of my choosing or a VM. Until that time it is not a fair comparison.

One of the most spot-on and insightful analyses I've seen on this topic. And great point about why ads are popping up all over the place in Windows 10. Even Windows fans are susceptible to the knee jerk reaction of complaining about ads even though it's a critical tool for increasing app store awareness and use.

Are microsoft really really aware of the app-gap?

If it can run full, system 32 programs, who cares about apps? If we are talking about full programs, the library offered on Windows destroys the app library of iOS.

Really? What mainstream app is only available on Windows?

If we want UWP to succeed we shouldn't deny the reality that there is an app gap. It is a real problem that should be acknowledged in order to be resolved.

Walt always thinks Apple is the only company who can innovate. Everyone has their bias, his towards Apple like this article author towards Microsoft.

Microsoft is going in the right direction, but is pretty far from where they need to be. In the public mindspace, Windows is still a desktop OS - when they want a mobile it's Android or iOS. Part of this is Microsoft's failed "Continuum" strategy in their UI - it's still the exact same UI not matter what device you're on. This is a problem because ​people don't want a desktop/start menu on their mobile device​. This is something Microsoft hasn't learned since the days of Windows CE. Windows 8 was a good start, but failed because the "Desktop Mode" should have been more Windows 10 and Windows 10 fails the tablet/moble users because it needs to be more Windows 8. The idea is a great one, they NEED to figure out that "Desktop UI" is NOT the same as "Tablet UI" is not the same as "Phone UI" (though Tablet UI and Phone UI should be much closer to each other than Desktop UI). In the end, Apple's strategy is correct for the here and now, but Microsoft's strategy will ultimatly be correct (if it grows up signifigantly in the next couple years).

I give it one year of rapid maturing. The competition is at the door.

Great article and I hope you're right. But I think you're forgetting about Brand Loyalty. Someone starting out with an iPhone or any Android phone, and who likes the OS is more likely to stay with it. Microsoft has abandoned Mobile hardware and is suffocating the life out of its own beautiful mobile OS. I can't find a Windows phone in any high street store anymore and I only know one other person who uses one. I want to stay with Windows but most people don't know it exists, much less what it can offer.

Great article. I think MS COULD be the company to do this, but it is certainly wide open at the moment.

IPad apps as they currently are on a laptop? I don't see that ever going anywhere. Android as it is would make a better laptop than IOS and the models that have released didn't sell well.

I'm interested in the possibility of running Windows 10 Pro on ARM processors. Will it be possible to run *all* Win32 bit applications on ARM 835 processor, in emulation mode? How does this relate to HP Elite X3 and the possibility to run ordinary applications on a HP server? An alternative approach... is to use an "old fashioned" solution. 30 years ago, it was possible to run X Windows terminals and remotely log in via a network. A modern solution could be:
* MS includes a Windows terminal program (similar to Teamviewer, etc.) as part of Windows 10
* It should be possible to remotely log into another Windows machine via internet or via 4G/5G phone networks; it must be possible to reach through routers, firewalls, etc.
* Assuming I have a desktop computer, job work station, home media computer, etc., and that I have all the 32 bit or 64 bit applications I need on these, it should be possible to log in from ARM based (and intel based) smartphones, tablets, laptops, or in principle any type of computer ("terminal machine"), and run the programs on my desktop, workstation, media computer, etc. ("server machine") -- remotely
* The "terminal window" should mirror the desktop on the "server" computer.
* If I have two screens on my "terminal" PC, it should be possible to run the terminal window on one screen, and run other programs on any screen.
* It should be possible to cut and paste between the "terminal" PC and the terminal window of the "server".
* If both "terminal" PC and the "server" PC sync files via OneDrive (or DropBox, or whatever), this gives transparent exchange of files. But copy and pasting may still be useful. OK... personally, I'm a little skeptical about completely depending on running programs on a remote computer -- what if internet is down (or the connection is slow), or what if there are expensive roaming fees on 4G/5G? So I certainly see the usefulness of running 32 bit (and if possible, 64 bit) applications on the smartphone/tablet/etc. (ARM processor, etc.), but a modern "terminal" program will make it possible to, in practice, run 32 bit and 64 bit programs on relatively light weight ARM processor based units. The main problem with this approach is with small screen devices such as smartphones: I'm not sure the user experience will be good with running *applications* on a small screen -- maybe a foldable screen device may make it possible to fold out a decent screen? UWP apps is something else -- they are designed to adapt to various screen sizes.

So we go a full cycle and back to RT? C-shell seriously don't matter to most. Cellar PC, a fancy name of smartphone. When was the last time you use a use a x86 program for personal use? Me photo editing is the only x86 I still use, and that I don't want/care about ARM and battery life because no battery will last a few hundred RAW convertion. I either have it plug in all the way or do it on my PC. For office use, why do I want a ARM laptop 2-1 or whatever when I can have my x86 CRM on a regular laptop? Or I can remote it from any Android/IOS/WP/PC. Wake me up when adobe/sales force/auto cad...etc make a ARM UWP. For productivity cloud is the future and cloud don't care what the front end is, it could be ios/android/wp it don't matter. There are companies that send cad project to hosting company to render and cut the time in 1/2. There are online RAW converter alreadyInot a very good one). Continuum make a alot of sense, and I don't need a full feature win10 fo it.

I think I agree with your assertion about Microsoft driving the evolution of the PC. It is a fact that Apple (and later Google with Android) broadened the scope, experience and market for personal computing. For some reason, I keep feeling like Microsoft's adherence to a Enterprise-first consumer base keeps limiting them from developing truly consumer-wowing (and consistent) user experiences: E.g. 1: Teams is an awesome product but they lock it within the enterprise (i.e. O365) ensuring that few outside of the 85 million (?) O365 users would ever go for it (so Slack slurps the "outcasts" up), making Teams seems more like a defensive move against Slack encroaching on existing (and future?) O365 users rather than a superior take. If it were a free/low-cost non-O365 (at first) tool, Teams could probably be used to draw people into the main ecosystem (see all the cool things you can get it to do with O365). E.g. 2: Windows 8/10 and the UI/UX confusions and inconsistencies (till date). Windows 10 (with a UI refresh) is good for desktop, but tablet and mobile are lighter and should have lighter UI. Touch-enabled Win 10 is not necessarily good enough as a tablet-only UI (especially in the 7-9" range). Legacy (business) makes them shoehorn different UI paradigms together, limiting the power of the Live Tile to evolve and show its superiority to other UI/UX paradigms). It's not whoever has the best designed product or innovation, it's whoever sells and blasts the goodness and uniqueness of their product early enough (and says they did it first and best) that gets noticed. Microsoft must point out the new innovations they bring to the market first. Not just to tech press but the general public. Look at the new HP ads with Christian Slater! Look at the responses. Relevant and good publicity (and that's just for printers). Microsoft will always attract only the work-related perception from consumers and the tech press as long as it always sells itself only on "productivity" (=business). That is why I like the focus on "Creativity" (a la Creative Update, etc.). I think it should be more than a one-off update name but rather a modern ethos (a sort of Productivity 2.0?) for Microsoft. The Creative Lifestyle. Maybe two marketing identities for business (productive) and consumers (creative)?

Windows 8/10 and the UI/UX confusions and inconsistencies (till date). Windows 10 (with a UI refresh) is good for desktop, but tablet and mobile are lighter and should have lighter UI. Touch-enabled Win 10 is not necessarily good enough as a tablet-only UI (especially in the 7-9" range).

So Windows 10 needs a UI refresh to be good for desktop, and is not well suited to mobile either in its current form. If that is what you're saying, I agree completely. What it looks like is that MS has designed "one UI to rule them all" that is equally mediocre on both of the platforms it's supposed to cover. It seems that a lot of the excitement over this isn't about the product as delivered, but is instead about the promise of what it might deliver in the future once the rough spots are smoothed out. Unfortunately, though, I think that the rough spots are not merely a function of as-yet incomplete development so much as a structural issue that has to do with the very nature of generalization vs. specialization. The better MS makes Windows 10 for tablets (and phones even more so), the worse it ends up being for the desktop. They can move that slider to an infinite number of positions along the "continuum" between mobile and desktop platforms, but favoring one will always mean hampering the other, and that's not just an issue of polish or fine-tuning. Ultimately, it all boils down to yet another proof of the "Jack of all trades, master of none" trope. Mobile devices and traditional PCs have differing needs, and when you try to write one UI that covers both, it's just not going to work as well on either of them as a dedicated UI for that platform-- and since we do have examples of that on desktops (Windows 7, MacOS) and mobiles (Android, iOS), the bar is going to be set as high as the perceived quality and fitness of each dedicated UI. Windows 10 falls far short of what desktop users have had for many years in terms of a polished, consistent, and visually coherent UI. It still feels confused about whether it wants to be a phone or a PC. If MS insists on going down this road, the only way I can really see it working is to have two complete UIs within Windows, and to select the one that is most appropriate according to circumstance and user preferences. Desktop PCs and traditional laptops would have the desktop UI, same as Windows always has, while mobiles would get the UWP UI. Each UI would be feature-complete by itself and optimized for its platform, so there would never be any need to muddle through on a bit of the OS that was designed for a platform other than the one then in use. Convertible/2 in 1 devices could default to the desktop UI when in laptop mode, and to the UWP UI when the keyboard/base is removed. The user, ideally, would be able to change these settings to suit his needs better, since one size rarely (if ever) fits all. When you look at it in those terms, it doesn't seem all that innovative anymore (to me at least). Including two complete UIs for two separate platforms, running on two different sets of binaries (x86 and ARM, of course) that happen to have been compiled from similar/the same source code sounds a lot like writing two distinct (though closely related) operating systems for two distinct platforms, then slapping the same name on each and caling it one product. It may not be as "gee whiz" cool in its implementation, but it would allow a no-compromise UI for each platform, and I don't think users will (or should have to) accept anything less than that.

If Mossberg turns out to be accurate it will not be i devices, but Android ones that pave that future. So very Americentric.

In b4 Apple does it better than MS. And I'm not even an apple 🍎 fan.

The future of computing and communication is the merge of both. Imagine ​a PC at the size of a Cell Phone that can power anything from doing a task like a laptop (connecting to a monitor and keyboard), to being the processor for gadgets , to becoming a personal censor for activities like driving, sporting, etc. This would really bring a new depth to the word PC. Maybe we can call it HPC for Handheld PC ​

Microsoft will do all the innovation, and they'll screw themselves and their customers with horrible implementation and abysmal product support. Apple will do none of the innovation, and come late to the party, and they'll make all the money and have all the reputation.

What Apple lacks in innovation it usually makes up for with stellar execution.

Microsoft is 95% there with the Surface Book's trackpad and keyboard (actually, 99% there on the keyboard and 90% on the trackpad). Those are the inputs that the iPad pro doesn't have, but the MacBooks do - or did, until the newest gen of MacBook Pro and the MacBook 12 inch. Those took a step back. If Microsoft can go for the win on the keyboard and trackpad, they will win a lot more converts. Cortana already runs circles around Siri (and although Google Assistant beats Cortana, Google is not in this laptop/laptop replacement contest). Why do I focus on laptop replacement, rather than "smartphones?" Because the future is computing devices, not phones. And computing devices need software, which is why iOS and Android are winning. If Microsoft can build the best computing devices (they are THIS close to doing so), the developers will follow. In other words, the best software requires people to build it, and those people prefer to work on the best hardware. Apple has squandered its multiyear lead on hardware superiority, Google isn't in that game, so it is Microsoft's for the taking.

For some users, there is a place for Windows. For some users, there is a place for Android. For some users, there is a place for macOS. For some users, there is a place for iOS. Do you platform supremacist zealots on all sides (Apple, Google, Microsoft, etc.) really only wake up to try to belittle your technocratic deity's competition in the most vacuous prose possible?

"PC makers and consumers have embraced Microsoft's PC vision."

Have they? Have they really? They're only buying what's available. Referencing a quote a record industry zealot once made to me when questioned about producers and artists' inability to record without incurring costs due to the record label pyramid beholden to the legal ASCAP/SESAC/BMI cartel that keeps him fat and warm - he said "Don't conflate spending with free will. You're eventually only going to have two terrible choices that will cost you more than you can afford but can't bring effect to the world without it." He made this comment with regard to the costs producers and artists have to incur due to the cartel instead of just playing music on the sidewalk because they love the art so much no matter where they can express themselves. What does that have to do with Microsoft's vision? If people want or need to use a computer, do PC makers and consumers really have a realistic option to

not

use Microsoft-based hardware other than using the very fragmented GNU/Linux universe on the "modern" PC or (for users) without going broke in buying Apple's underperforming, overpriced junk that Microsoft is basically endorsing by overpricing its underperforming, overpriced junk (this one's for you, Surface Book and Studio)? The only "modern" PC options people have are within the context of a virtual duopoly with little to no competition (except a trace from Linux) in meeting "modern" PC users where they are.

"Among other advantages, consumers will reap the benefits of lower costs, and lighter, fan-less and more power-efficient Windows 10 PCs."

There is no evidence whatsoever in the recent history of computing of ARM leading to any of what you are claiming "will" happen. The prices of ARM-based devices are ever increasing without merit. Most willing buyers are young and few of them have their own PC

because they don't want PCs

. They'd only be potential upgraders to still-inadequate-for-actual-computing ARM-based Windows 10 cellular devices, which will only cost more than what those young users currently have that already do more than enough.

I myself use whatever UWP apps I like on my Surface Pro 3, Alcatel Idol 4s Windows 10 mobile and if available on my Xbox One. Drudge Live, Baconit are good examples that are on all 3. I have never owned an Apple product. My wife's Macbook air 2013 version just got replaced by a more capable PC. She loves her Iphone buy prefers Windows 10 PC over her Macbook. She said she will never buy another Mac.

I just hope Apple doesn't steal Microsoft's thunder and release Mac OS for ARM, Apple would have reinvented the wheel and it will be the next best thing since sliced bread. Microsoft's work will go unnoticed, because the apple wagon will come back with fresh apples that people have never had before. My magic words for MS is AGGRESSIVE PACE and keywords Marketing, advertising, billboards, tv, radio,etc.

1st of all, why does everyone act like Apple is dominating every market? Whether it's TV, tech sites, or companies who make money evaluating the tech industry, they all act like Apple is dominating everything. This is a company that has 14% mobile marketshare and 4% PC marketshare. Just because they are worth a fortune due to using older, lesser technology while charging more for it, doesn't mean they are dominating. It just means they are making their investors happy. Secondly, Apple was never innovative and neither was Steve Jobs. They have never invented anything, they never created a "new" product. They have always taken an existing product and made it look better and usually work better. That's great but it doesn't make you innovative. And Steve Jobs wasn't anything he has been made out to be. He was an ass, a selfish jerk. He was a guy who screwed over old partners, who refused to acknowledge his own daughter was his for years. He was a guy didn't want apps on the iPhone and almost shut down the whole iPad project because ge didn't like the tone of white they were using. He was the guy who said good companies copy, great companies steal and are proud of it. Having said all that, I have zero faith in MS to do anything right at this point. Even if they do things right, they will be 2 years too late and then they will have to start over again. They have painted themselves into a corner that they will not be able to get out of. Dropping Mobile was a huge mistake. They won't survive another 10 years in the consumer space. They will be enterprise only within 5 years except for Xbox which will be sold off. They can thank a combination of incompetence and Nadella for that. It's painful to say because I love the Surface line, I love my Windows PC's and phones, I'm a huge Xbox fan, but this company is clueless, directionless and has screwed over fans so much that there is no turning back now. They will fall hard and fast in the consumer space. Cloud and Enterprise is all they will have left. It won't be Apple. It would be MS if it weren't for MS. That leaves Google. Unfortunately Google will eventually dominate this space as well.

I don't like Apple but I have huge respect for Steve Jobs. But I agree completly about this whole thing. But the sad truth is when Steve Jobs died so did apples innovation. Glad to see ms filling their shoes.

This article is sure to make Rene Ritchie butthurte...and I love it

I think MS needs to be more concerned with Android (btw I totally want a Surface!)

The iPhone already redefined the PC. Microsoft is now playing catch up. It isn't looking good at this point. Desktop PCs and laptops are becoming business machines and sales are dwindling. If Microsoft is going to redefined PCs again, they need to get on with it.

I totally agree with your analysis Jason and if Apple and Google are not working on this for years in secret, they have lost out already.
Also, we should not forget that the architecture of Windows is that of a full fledged operating system. I don't thing that Android and iOS can match that in the near future, not to mention the UWP development paradigm and tools.

Google has been doing this same thing for years. Android runs on more form factors than Windows. I don't see Microsoft's AR/VR, TV or wearables platform. Android has all that as well as phone, PC, IOT and tablet. Apps have even been able to scale to the screen size since Honeycomb. Microsoft is actually behind, especially when you take into account their ability to sell Windows devices other than laptops.

So basically this Mossberg guy is an Apple fan, you can tell for his bias. I think he's utterly clueless.


We were at 400 million in December. I've upgraded 50 PC's at work since then. We have to be at 500 million by now!

Microsoft hasn't released any new official figures yet but I expect them to do so at build next month!

I like Microsoft's vision. I find it more emowering and "cooler" than Apple's vision of the PC. But I think its going to break my heart when Apple makes its "iOS" laptop/Chromebook rival and it gains greater traction than Microsoft by the sheer weight of Apple's mass appeal. To me, it'll feel like progress getting held back yet again.

Google is already doing this with Chromebooks bringing chrome os and Android together. Also possibly working on Andromeda which may be their desktop os.

I think it will be interesting to see what Microsoft, Apple, and Google does over the next few years. Each have their own challenges when it comes to redefining the modern PC. For Microsoft it's the legacy of the PC. Not just with developers ignoring the UWP but having to cater Windows to legacy desktop users. Apple's challenge is the money. They make money from selling hardware. Tim Cook keeps his job by increasing shareholder value. They have a strong interest in keeping the iPad as a third device and not trully challenging the Mac. It's why they emphasized hardware accessories with the iPad Pro and not so much the software. Google lacks the focus to lead this, imo. They have done little, imo, to make Android or apps tablet friendly. I really like the Chromebook concept but I don't think they will push that enough to really compete with what Microsoft is doing.

This won't work. Microsoft and Nadella are not interested in Windows 10 and UWP. No resources are being invested here. And effectively nobody uses UWP apps on desktops and laptops (they are primitive and extremely buggy). See EDGE market share as an example. And Microsof is zero in IOT And in cars. And in mobile space. And even Cortana is outdated and sees no development efforts behind it for years. There IS a potential, but MS will leave consumer space for Google and Apple and will move to the server side of things.

Jason - excellent article and spot on. I'm sorry, but for many of us 30+ year veterans (how's that for getting around the old folks label) Mr. Mossberg will forever be the Apple acolyte that Steve jobs would tell things to that he wouldn't even trust with his own family. Everything appears through an Apple lens for him. I'm not saying he is necessarily wrong, as he is on to something with the transition to touch screen mobile devices, but like the current Apple leader, can't get past the toaster+refrigerator metaphor.

I though that Microsoft was on the right track, until I started to work and try to program the new Universal App, but I was wrong. Microsoft did it again by creating a sub-set of xaml that is not compatible with the old wpf. This means that everything you have done is not gonna work again. Microsoft ask why programmer are not going to the store and make new app, well stop changing everything around, just change the hardware that is compatible with Win32, not trying to re-invent the whell, all the time. Imagine a mobile hardware that can use all your existing app win32 or x64, and that you can use app phone to work on this device, so there is no need anymore to change everything or ask entreprise to redo all their apps or try to move them to the clouds, or web. I have so much more that I can say, but I will stop here...

I think he is missing something huge - virtual screen technology. The move to computing devices with scalable holographic projection type displays controlled by gestures and speech is where the tech will go.....

iOS on large screen devices is a joke. Instagram on my mom's iPad is nothing more than a blown up version of the iPhone app. If Apple want to actually succeed at making an iOS style laptop they're going to have to go through the same evolution that Microsoft is going through right now, first, convincing developers to make apps that actually scale correctly for the new form factor, and second, adding enough features that it would actually be a practical device. As far as I'm concerned, Microsoft still have their foot in the door to this market.

With 10 still in a flux state improving with every update it is only a matter of time before the store apps will improve. Right now the consumer drives the iOS and Android platforms in the mobile environment but when mobile in Windows is fully implemented then it may not completely catch up but I believe will gain some ground on the others. They too are now being forced to rethink what they are doing because of Microsoft and Windows 10. While what they have is nice to use I still don't like the appearance of their start screens or the lack of flexibility they do not have that Windows does in mobile. If Satya had been in charge of Microsoft 2 years earlier we would be talking a much different mobile platform already. The mobile platform would be a much larger share of the market than it is now.

"A matter of time"...yes. It's been "a matter of time" for years now.

This is all great, but lets get on with it. I have been waiting for a new Microsoft Mobile device for some time now. The HP is nice, but I'd like ot see the new Surface mobile I keep reading about. What's taking so long, my Nokia 1520 is getting old and needs to be replaced!!!

Maybe Microsoft needs to stop calling them apps and go back to calling them programs. Before iPhone, I never heard anyone say "I just got this new computer app." It was always the word "program." It may seem silly, but "app" sounds mobile and weak and "program" sounds powerful. Maybe call the Windows Store the "Windows Software Store" "app" became the buzzword after iPhone took off. Now everyone associates apps with mobile. Seeing as how MS is marrying the mobile side and desktop side with things like Continuum, maybe they need to think about word associations and the mentality behind them. Maybe just switching to the terms "software" and "program" will put the power of Windows back in people's minds, regardless of form factor.

The genie is out of the bottle. People have tasted a world not dominated by Microsoft and it's working for them. Microsoft missed the boat when they failed to challenge Chrome on the desktop and iOS and then Android in the mobile device sphere. These two operating systems have wrested a whole generation away from Microsoft's sphere of influence. Chrome's success with HTML 5 on the desktop has allowed a whole generation to become platform agnostic. And, it's also taken a substantial chunk out of previous generations. Web services are where the <30 crowd is at, and, the operating system that gives access to those services is irrelevant. You can just as easily run Chrome on a stripped down single purpose Linux OS as you can on a full blown Windows OS and still get 100% of the experience. You can easily switch between Mac OS X, Windows, Android and iOS because the experience is mediated by HTML 5! PS App is the new program. I now on the verge of needing bifocals and I have a hard time keeping app and program straight. People who aren't techies don't know the difference. To them an app is a program. Besides, app is a good short form for application. To me application is program that the user uses to perform tasks. A program is simply a piece of compiled code. It could be part of the OS or part of an application but does not in and of itself directly useful to the user.

Funny... I'm oldschool enough to remember that once, Bill Gates thought that the future for MS was entertainment content! I also agree that MS will define the future of PC computing for some time to come. Apple, by contrast, went the route of non-stop upgrades and rollouts for the generations they assume will always have no issue paying $500 plus for a fancy communications device, every year. Their hardware vision is pure marketing. Meanwhile, as fun as it is, the world has changed, security wise, and now not even Apple owners are safe from hackers and virus infections. In addition, inb my mind, the continuing safe state of Cloud Computing remains viable as long as the servers can keep moving constantly to avoid detection. I still prefer to store my own data on a local drive. I can secure it myself, and shut it down overnight, etc. But then, I come out of a DIY culture and distrust anything I can't take-apart, fix and reassemble. I've built our home and business systems since the i286, and appreciate the more affordable, egalitarian approach to operating systems and hardware design that MS has given the PC World. MS has had several misfires, like most companies, but they manage to rise again, as have some of the underdog hardware manufacturers like AMD (my own preferred processor, BTW...). I think Windows will be running on all kinds of machines for a long time to come.

Jason Ward, the Universal Windows Platform evangelist. The first article by Jason Ward was a breath of fresh air. The second was interesting. The third left me with deja vu. The fourth and fifth seemed so similar to one and two that I lost interest. By number seven the only thing left is that I'm impressed by the editors' ability to write clickbait headlines.

Hi Ed glad you're still here. Hopefully as you read the piece you saw the section where I elaborated on the failure of (UWA) Store apps to be embraced by consumers and developers. If you failed to read it, you will find it under the subtitle, "The market is buying, but may not "buy into" Microsoft's vision. Also the piece isn't "about" the UWP, but about Microsoft's impact on the redefinition of the PC. As such the rebuttal to Mossberg's article (this piece) necessitated the addressing of the UWP as part of the narrative. To intentionally exclude that would have painted an incomplete picture. Again, glad you're still here.👍🏿

Congratulations and thank you. You eloquently rebutted my unfair post. Now I am compelled to read your article properly :). +1

I doubt microsoft even knows what "modern" means since windows is obviously going backwards since 2012, in 2017 windows is nothing more than an adware/spyware platform full of useless mobile apps that are horribly inferior to just about anything out there. Good ideas never require force and yet now microsoft is forcing updates to be dwnloaded over metered connections in the latest fast ring build.

Fast ring == early beta. Might change in shipping product - perhaps based on your feedback here.

Microsoft isn't interested in feedback unless it goes along with their own agenda.

I used to re-arrange StartMenu everytime I reinstall a Windows <- grew lazy.
Hates messy desktop and taskbar.
Eventually, I wrote my own StartScreen back in the day so that I can callout the interface, type a few word and hit enter (or mouse click on the icon) to open whatever I want anywhere anytime. And now it's there by default. I'd say Win10 better than any past ones.
Only downside... is that I wish the UWP apps can be as keyboard-user-friendly as win32 applications.

Can someone recommend a Grocery List and a Cooking Recipe App that Sync/BackUP between a W10M and W10 device using either OneDrive or NO inbetween storage solution at all? For a Grocery List App I'm using ClearNote on my W10M device as it has a REALLY nice and simple Swipe/Pinch Metro Interface but it sadly doesn't come with a Sync option so I can't just add something to it on my PC and then move out for scavenging with my Phone.
For the longest time I've also been using the paid CookMe PRO App, which does come with OneDrive Sync/BackUP capability, but recently they literally started extorting me to buy more into the App because of server costs before they'd restore my OneDrive backup - Like what server costs? My recipes are on OneDrive! There shouldn't be any server costs involved for which I'm not already paying >:|

The idea behind UWP is good, but there are no real Windows phones or tablets, I doubt many people really want to put many of these apps on their Xbox and the Halo is basically nonexistent. I have both a Windows 10 and Apple iPad (and laptop). The UWP apps I've tried are close to worthless. They are missing functionality and don't run well. Most of the iPad apps are full functionality (though the Microsoft office suite is missing some). The Surface is a nice idea but basically is just a nice lightweight laptop. Trying to use as a tablet just doesn't work. I think Apple will find the same thing when they try and sell the large iPads. The main problem with iPad is no mouse. Trying to do any serious writing is just too difficult with you have to try and use your finger to move the cursor.

uwp apps are not just for tablet I think. facebook, messenger, vlc, etc works fine on any Windows computer. A store front to find softwares, clean install, update, cloud sync, clean uninstall? Convenient for my parents.

What Google does:
Put mobile apps on Laptops and hope that developers will optimize them. What Microsoft does:
Tell developers that they have to build apps which run on all types of devices. What Apple does:
Nothing

apple is nothing more than consuming device. u cant be productive on their ****** tablets and iphones.

Im way more productive on my iphone than I ever was using my 1020. I can deposit cheques for my business, take square payments, take automatic bookings through square, use my thermal IR camera to test the temps of machines I am working on, tune different machines using apps available on IOS that are no where to be seen on W10/M, I can even unlock the board room for meetings using JUST MY PHONE. So that theory of the MS fanboy is down the ******* now too is it not? I can do up invoiving, Spreadsheets etc...just as I can on my windows computer and have them sync together thanks to office on IOS. MORE PRODUCTIVE THAN WINDOWS ***** Phones!

Well... tell me it's productive if iOS can run Adobe, 3dsMax, Unreal, Visual Studio, Havok, etc.
Also, both iOS and Mac are not keyboard-user-friendly. Moving pointing devices here and there, click, click, click... isn't faster than a few shotcut keys.