With all the excitement over Windows on ARM, don't forget about Google's Andromeda
The excitement over full Windows 10 on ARM reminds me of Google's Andromeda.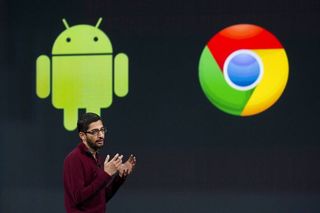 Windows 10 on ARM will bring Microsoft's unified OS to streamlined and power-efficient, always-connected tablets and 2-in-1s: "cellular PCs." The ultra-mobile Surface, and partner phones, which I have consistently argued would be positioned as PCs, will follow. Full Windows on Intel and ARM-based PCs from the Surface Studio, HoloLens, tablets, eventually phones and more, will bring the full benefits of the Universal Windows Platform to virtually all form factors. This will be the realization of Microsoft's "Windows Everywhere" vision.
It is this point that reminds me of Google's Andromeda. Andromeda is the code name for a merged Android and Chrome OS. The rumors of such a merger are not new as this excerpt from a 2015 Wall Street Journal article reveals:
Path to Andromeda (or Lost in Space)
Google's VP for Android, Chrome OS and Chromecast, Hiroshi Lockhiemer later clarified the company's OS vision:, "While we've been working on ways to bring together the best of both operating systems, there's no plan to phase out Chrome OS."
In May of this year Google announced that the Google Play Store was coming to Chrome. This brought 1.5 million Android apps to Chrome OS and a select list of Chromebooks.
An update on Andromeda was one of the most anticipated, yet unfulfilled, rumors leading up to Google's Oct 2016 Pixel Event. Still, Google is laser-focused on making the world's most popular mobile OS, Android, and associated ecosystem the most popular on all form factors.
With Andromeda, this phone, tablet, TV and Watch OS could become a viable desktop OS. If successful it would be a realization of Google's "Android Everywhere" vision.
Then there was one
Android claims over 80% of the world's smartphone market. Apple's high-end hardware focused strategy assures Cupertino 90% of the hardware profits, even as Android dominates the user count. Google is more interested in looping users into its ecosystem of products and services, not hardware, and their free OS and hardware partner strategy helped achieve that goal.
The success of this strategy is reflected in the fact that the absence of Google apps and services from the Windows Store has hindered adoption of Microsoft's mobile platform. Google dominates the mobile landscape, and they're looking to enlarge their territory.
Affordable Chromebooks strategically targeted at the education and businesses sectors have positioned Google for a desktop play. (ARM-based PCs will be Microsoft's affordable counter-punch). Though a tiny part of the global PC market, Chromebooks are popular in schools and small businesses in the US. For example, my sister-in-law bought her son a Chromebook because (among other reasons) he uses one in school. Android apps on Chrome will likely make Chromebooks more popular. Most smartphone users use Google's ecosystem of services and Android app, after all, and will therefore find a desktop representation of that ecosystem very familiar.
Chrome OS is directly distributed from Google, circumventing the fragmentation and update issues that have plagued Android phones. It could eventually bring Android to the desktop in a similar "as-a-service" model akin to Microsoft's "Windows as a Service." Furthermore, a Continuum-like function, which we already see with the Superbook could become a universal platform feature of Andromeda. This would make Android phones "Windows Mobile like 3-in-1s", with the added benefit of a robust mobile app ecosystem.
Microsoft's Windows 10 on ARM could enable up to 16 million legacy apps for mobile. However, even when converted to UWP apps with Centennial (Microsoft's ultimate plan for legacy apps) they have limited appeal on a small screen. Projecting those apps to a large screen with Continuum is key to a user reaping the full value of that advancement. Conversely, mobile apps, of which Android has no shortage, are the norm on phones and are slowly increasing in popularity on the growing 2-in-1 PC segment. Andromeda could make Android a bigger player in that growing 2-in-1 segment and personal computing overall.
An uneasy truce
The fact that 90% of PC users use Windows and 80% of smartphone users use Android means many of these users are the same people. Simply put, Microsoft and Google are sharing a user base, albeit from their respective positions of strength — for now. Microsoft's Window 10 companion app and Redmond's efforts to bridge Windows functionality with Android (and iOS, to the extent the platform allows) is Microsoft's acknowledgment of its PC forte and Google's strength in mobile.
The goals of Microsoft's "Windows Everywhere" vision and Google's "Android Everywhere" vision are to win users to the full breadth of each firms' respective ecosystems and family of devices. Ultimately, a universal platform from each of these companies will offer users a fluid, cloud-based continuity between a PC and mobile environment. Microsoft's UWP puts Redmond much closer to this goal than Google.
The Achilles heel in Microsoft's Universal Platform strategy is its weak position in mobile and poor developer support for Modern apps. Conversely, with Andromeda yet to arrive with an optimized Android desktop experience, Google is weak on that form factor and Microsoft's desktop users are currently safe from Google.
Google's aggressive Chromebook push is evidence that if/when Andromeda becomes a reality Mountain View will not remain content sharing its Android phone users with Microsoft as desktop PC users. Though a difficult prize to acquire, Google's eyes are set on Microsoft's 1.5-billion-strong entrenched desktop PC base.
So as Microsoft moves Windows 10 to ARM and eventually phone, smartphone users' growing familiarity with Android and Google's ecosystem, the huge number of available Android apps, and Andromeda on Chrome OS are Google's path toward being a major player in the desktop space.
Get the Windows Central Newsletter
All the latest news, reviews, and guides for Windows and Xbox diehards.
Jason L Ward is a columnist at Windows Central. He provides unique big picture analysis of the complex world of Microsoft. Jason takes the small clues and gives you an insightful big picture perspective through storytelling that you won't find *anywhere* else. Seriously, this dude thinks outside the box. Follow him on Twitter at @JLTechWord. He's doing the "write" thing!