How to sync notifications between Android and Windows 10 using Cortana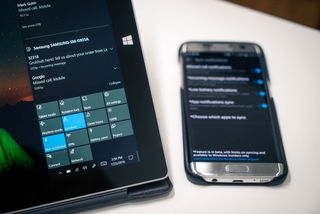 Microsoft isn't forcing you to use a Windows Phone device if you want to see notifications from your phone on your Windows 10 PC. It's also possible with an Android phone, with the help of Cortana. We'll show you how it's done using the Samsung Galaxy S7 edge as an example.
On Android, download and install the Cortana app from the Google Play store

(opens in new tab)

.
Using the Cortana app on the Android phone, tap the hamburger menu on the top left corner and select Settings.
Tap Sync Notifications and enable the notifications you'd like to see on your Windows 10 PC.
You can turn on all the notifications by selecting missed call notifications, incoming message notifications, low battery notifications, and app notifications.
If you enable app notifications sync, you can customize which apps to sync. This is useful in controlling the number of notifications you receive. For example, if you already have a Twitter app on your PC, you probably don't want to receive your phone's Twitter notifications on your PC. During setup, the Android device will ask permission to give notification access to Cortana.
The notifications show up on your Windows 10 PC with your phone's name in the header. Missed calls and incoming message notifications are also actionable. A default message that says "I'll get back to you soon," can be quickly sent from within Action Center, but you can also edit it to make it more personal. You can also reply to your incoming messages from your PC.
How do you like this feature? Will you be syncing notifications between a Windows 10 PC and an Android phone? Let us know in the comments!
Cortana for Android is still US only isn't it? I've read the article but don't think it mentions it.

Yes. But one of the good things about Android is that you can pretty easily circumvent that by sideloading the apk ;)

Last week I sideloaded the Skype Preview app on my Lumia. So.

Ditto. I recently installed Cortana via APK sideload right after I read this. Posted via the Windows Central App for Android

I read somewhere that it works everywhere unlike region locked Windows version.

it works everywhere, but it's not available everywhere. like the Windows's Cortana, that always worked just fine outside the official regions, but you had to lie your region and mess up your other services to have it.
in case of Android, you just have to install an unofficial apk. or be a beta tester, like me, because logic doesn't apply and then you can install it from the Play Store.

Change region to US and let me see your thoughts. Posted via the Windows Central App for Android

You must have some special powers to "see [my] thoughts". I hope you don't.

Unlike? You mean like. Windows RS Insider builds have the region unlocked for quit some time now. And everyone will have region unlocked Cortana coming Anniversary Update. Now I get it why you make bad troll posts. Try harder. Be at least an educated troll ;)

Use xda labs to download cortana, it will also give u info about latest update, when it arrives.

Yes. I live in Brazil and Cortana is not available here yet...not officially. Posted via the Windows Central App for Android

Use some kind like APKMirror to find Cortana app, and install it. Mine did install it recently by sideloading it. Posted via the Windows Central App for Android

Does this syncing allow replying to text messages?

Yep. Can reply to messages.

That's great. How about on Windows 10 phones?

I wouldn't expect to see that anytime soon on a Windows Phone if it isn't already available.

It is available, has been for months on the Inside Ring just like with Android. Please don't assume things.

Not on Windows Phone. Those rings you mention are only on Windows 10. Please be careful with terminology.

Actually, I've been doing this for years using Windows phone... Long before Cortana. Works fine in windows 10 mobile with hands free Bluetooth device like your car, too.

How are you achieving this?

It's there in Fast and Slow rings.

You can reply to SMS using Cortana on Windows 10 AU and a Windows 10 Mobile device.

Is this available in IOS?

No. Android allows Cortina (and other apps) to interact with the OS on a deeper level than iOS does.

I hope in future it will be made available

That would require Apple to change how much access third part apps have to the system. So yeah, it's not going to happen.

I bet we do see small changes in the near future with Apple. They are having issues keeping up these days.

Is it available only for windows insider

It would be, but non-insiders get it starting at Aug. 2

Setup insider on your machine and choose "Release Candidate Ring" and you'll get the release version now.

It doesn't allow syncing across multiple phones right now, correct? I'd really like that to work as I've got my work/pokephone(a Nexus 5x) and my personal phone(a Lumia 950XL).

At first glance I thought that was Ativ S...damn...

Why I don't see Settings and also no 'Hey Cortana' on 950XL (Release Preview)? Surprisingly it s available and working very well on my Note 5!!! Both phones and myself are in same region so why its not working on 950XL?

Oh well... I see no more advantages of having windows on mobile comparing to other OSs... Lets just see what the surface phone will be all about, and than consider if staying with winM is viable...

Trying using Cortana as a third-party app on Android and you'll quickly realize the experience is better on Windows 10 Mobile. You need to do a deeper analysis. Simply saying Android|Cortana and Windows Phone|Cortana leaves a lot of details missing that changes things. I have Cortana on Android and the iPhone and I barely use either because it's an app you have to launch. It's like me asking do you use the Google Search app on Windows 10? Probably not, because it's weak.

One new feature of the upcoming Android 7.0 update is an Assistant framework. So, if your phone runs 7.0 or later, you can select a default assistant app just like you can for launchers or SMS clients. If an assistant app like Cortana is set as the default assistant, users can open it by holding down the home button just like they can now with Google Now or S-Voice. I *think* that'll also allow for "Hey Cortana" unlock on 7.0 and up, but can't test this yet because Cortana doesn't work on the 7.0 preview. Saying something is "just an app" on Android is a bit of a misnomer because of the available frameworks. My third party launcher is "just an app", but I never see the launcher my phone shipped with. The Windows Central app is "just an app", but if I click a link to a Windows Central article, it will open in the app instead of the browser. TLDR: If your device is updated to Android 7.0, you will be able to set Cortana as the default assistant app and it will be just as integrated as it is on W10M.

If your device is updated to Android 7.0

Well, that's a big if.

OEM's are getting better about their update speeds, things just get held up by the carriers. That's not an excuse, just the reality of the situation.

Notifications already working on my Lumia. Out of Cortana region. Nothing needed to configure :)

Like I said. Works out of the box. You just need Insider Build. I'm running the latest (Fast Insider Build) on Lumia 950 and PC. I found out by surprise a couple of weeks a go: I got a notification on my PC that my phone received a Whatsapp message. Everyone will get it coming Anniversary Update. Expected next week.

Oh, this is very good to hear. So they actually hard coded it on W10M as they promised. I'm happy now :D My phone is already on fast ring but my PC never was, so I didn't know this.

Cortana simply crashes every time I open it oh well. Posted via the Windows Central App for Android

Another feature that's completely tied to Cortana and thus is unavailable to major parts of the world. Although English, Spanish, French or German is used as a second language in many regions, this does not mean PCs and phones are configured for those second languages. It's not without a reason that we use and prefer a primary language. I think it's about time Cortana starts to learn to understand Dutch and many other languages that are used by millions of Windows users as their primary language. Come on Microsoft! It would be great if the occasion of the Windows 10 Anniversary was taken as the milestone to show more global thinking when developing new features.
Now your frustrating a huge audience by teasing features that can't be used.

LET'S KEEP IT WINDOWS CENTRAL GUYS.

Great let's not see these phones here.

This is about how to see your phone notifications IN WINDOWS.

Android notifications will be covered at adroidcentral

So you want half of this article here with a link to the other half lying in android central...? Now that's jst silly... :D

Lol could be interesting.
I actually like that idea.

This sounds like a great feature on paper, but on reality I don't see much use from this. Most of my notifications come through either Facebook or Gmail, which I can already get on my desktop through either the website or the Facebook and Mail apps. Still great to see it.

I tried syncing my notifications and it corrupted my camera. Only way to fix it was uninstall Cortana. Using Galaxy S7 on AT&T. Posted via the Windows Central App for Android

similar issue here, can't record video while cortana is installed, receive message "recording has failed". Video recording restored upon removal of Cortana

The way to fix that is to turn off "Hey Cortana" on your phone I think.

Android? What about the iOS version?

Sure seems to suck the juice from my battery. Nexus 6 running Android Nougat.

I now have no reason to own a windows phone so goodbye 640 and hello whatever the next big screen nexus is.

Thanks for the article. It was extremely helpful! I just love this service and look forward to using it daily.

This is, by far, my favorite feature of Windows 10. I love not needing to pick up my phone when I hear the text message jingles, and I'm already on my laptop or tablet. Sounds lazy, I know, but it's so convenient.

Seems this could be doable with an iOS device and a bluetooth connection to a computer. iOS does allow messenging to push to and from via bluetooth. Many new cars today allow this via their in-dash systems and a bluetooth connection to the phone.

well there is No need of Official Support of Cortana in your Country to Access SYNC Notifications Feature all you need to do is download cortana beta apk and sign in using microsoft account and Turn this Feature on :) i am using it india app Shows Cortana Not Supported in India But SYNC notification Works ;) Have a look at video i made to explain this Thing ;) https://www.youtube.com/watch?v=2vDzj7Zs3zs

Issue with Android 7.1.1 on Pixel XL. It doesn't give me the option to sync from the stock messenger app. It doesn't even appear on the list of apps.

I'm seeing the same issue on Galaxy S7 Edge running Android version 6.0.1. I'm using Google Messenger as my messenger app, and it doesn't appear in Cortana's "App notifications sync" list (and I don't receive my text notifications on Windows 10). I am able to send texts via Cortana on Windows 10 via sync, and they do show up in the message history on Google Messenger on the S7.
Windows Central Newsletter
Thank you for signing up to Windows Central. You will receive a verification email shortly.
There was a problem. Please refresh the page and try again.