The truth about Apple's new iPad ads, Microsoft Surface and Windows
By Jason Ward last updated
Apple is poised to refresh its not-as-popular-as-they-used-to-be iPad tablets.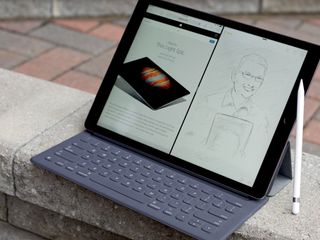 Decreased popularity notwithstanding, there's no arguing that Apple has made many technologies introduced by other companies into commercial successes. For instance, Microsoft beat Apple to market with a smartphone platform, but Apple beat Microsoft's mobile efforts to a pulp with the success of the iPhone. Early Windows tablets preceded Apple's 2010 iPad to market by years. However, Apple more than made up for its late entry, as the iPad defined the tablet computer for both consumers and businesses, and year after year outsold most other tablet manufacturers.
In 2017 the iPad is still successful but declining share and consumers' choices of alternative devices indicate that its influence is not what it used to be. A barrage of recently-released iPad ads ahead of the tablets spring refresh suggests that Cupertino recognizes the threat its competition poses. Apple is, therefore, trying to position the iPad as a superior choice to Microsoft's evolving vision for mobility and the PC.
Unlike the Mac-versus-PC ads of years past, however, this attempt by Apple may not be as impactful as the company hopes.
You see, Microsoft is cool now. Windows 10 has an appealing set of evolving features such as Paint 3D, Windows Holographic and Xbox game streaming.
Furthermore, the Surface Studio with the Creators Update (seen in the video above) appeals to Apple's previous target audience: creatives. And Surface inspired 2-in-1s from partners including HP, Lenovo, Dell and Samsung are simply amazing devices that are saturating the market.
Is the iPad untouchable?
Even the blockbuster success of Cupertino's hallowed hardware can't remain untouched by the progress of technology and consumer behavior. As the smartphone got bigger and more powerful, consumers began moving activity previously relegated to their tablets over to their increasingly capable and always connected smartphones, or "phablets." The iPad started taking a hit. Even Apple's own iPhone Plus is guilty of cannibalizing iPad sales.
Competition and innovation offered another blow to Apple's tablet. The sleeping giant that was Microsoft seems to have shaken off the dust and some of the lethargy that has kept it a step behind others in recent years. After two failed attempts, the Surface Pro 3 finally changed the game for Microsoft as well as the concept of a tablet for the industry. Today's 2-in-1s have been embraced by Microsoft partners, and more importantly consumers, and have therefore been emulated by its rivals.
Apple execs who previously scoffed at the idea of a tablet that is also a laptop have not only embraced the idea but have introduced their take on it as if it's an original thought. But that's what Apple (and honestly most companies) does. Apple's success in smartphones and initial success in tablets was the result of its consistently applied strategy of taking what others have pioneered, refining it, marketing it to the max, and thereby winning mindshare and the market.
With the evolution of the tablet toward 2-in-1s and greater productivity, thanks to Microsoft, Apple has seen the need to recast the iPad's image away from a strictly slate-shaped consumption device to a productivity device where a keyboard, an eraser-less pencil and Microsoft services such as Office are increasingly important.
Let's take a look at the defensive positioning of the iPad as Apple executes a proactive, ad-driven offensive against Windows 10 2-in-1s and the ARM-based cellular PCs coming later this year.
No PC viruses on iPad, but other dangers may lurk
This first ad highlights the fact that the iPad, which is not a PC, does not get PC viruses. The claim states the obvious but is also somewhat misleading. The spirit of the message is that the iPad Pro is safe from external threats such as malicious code. Given the sandboxed nature of iOS, the system is admittedly very secure, but history reveals that even its walled garden is prone to unwanted weeds.
In 2015 300 apps were purged from the App Store due to an infection that allowed hackers to send fake alerts and steal passwords. Though iOS is relatively secure this was not the only compromise the platform suffered during the years. No, iOS does not get PC viruses, but consumers should still be wary of potential threats that may compromise their systems.
Furthermore, consumers should be aware of Microsoft's current strategy to make Windows even more secure. Redmond's Universal Windows Platform (UWP) strategy allows developers to convert existing x86 Win32 programs to full UWP Store apps via project Centennial. Developers are also encouraged to convert iOS and web apps to Store apps via the other app Bridges and to bring new apps directly to the UWP. Like iOS apps, Store apps are inherently more secure and sandboxed against malicious code.
Finally, Windows 10 Cloud, a version of Windows which will likely be found on many tablets and 2-in-1s, will allow users to permit only the more secure Store apps, excluding Win32 apps (unless converted to UWP via Project Centennial) from the OS.
Better than a computer? Really?
In the new iPad ad, the narrator responds that the iPad Pro isn't a computer when the consumer claims that the iPad isn't even close to being a computer. The narrator proceeds to claim that the iPad Pro is better than a computer. These are odd assertions given that just six months ago, in August 2016, Apple released the following ad claiming the iPad Pro is indeed a computer:
The narrator states:
Clearly, Apple has pivoted regarding its iPad Pro computer claims. Frankly, in response to the question, the ad's narrator leaves us with, the "it's-a-computer" claims are easily challenged, as seen in this rebuttal from Microsoft:
Apple's original "it's-a-computer" messaging left too much room for comparisons to actual computers where the iPad ultimately fell short. For instance, the iPad Pro does not have micro-SD expansion slots or USB ports. These are two basic features consumers are accustomed to having as part of their computers.
Surface did it first, and Surface does it better
Furthermore, though iOS now has split screen capabilities, the extent to which one can use multiple Windows simultaneously as one can on a Windows computer cannot be facilitated on an iPad Pro. Additionally, this tablet-that-used-to-be-called-a-computer doesn't even support a mouse or trackpad.
Moreover, the 2016 iPad Pro ad touting a keyboard that gets out of the way and a screen that can be touched and written on, debuted in the wake of the successful fourth-generation Surface, a four-year-old line of Microsoft 2-in-1s Apple is clearly emulating. The Surface, which introduced all of those features four years earlier, actually succeeded in inspiring a market deluge of 2-in-1s. Apple clearly wants the iPad to benefit from the success of this Microsoft-inspired category.
Finally, though Apple bragged about the ability to write on the iPad's screen, inking is a deeply integrated feature of Windows 10. Users can write on sticky notes and an assortment of other apps and workspaces, and even on web pages. Unlike the $99 Apple Pencil (opens in new tab), the Surface Pen has an eraser and (valued at $59) is included with the Surface.
Don't hunt for Wi-Fi, cellular PCs cometh
The above ad highlights the iPad Pro's very convenient, always connected LTE feature (on the higher priced model). Though infrequently implemented, integrated LTE connectivity is not without precedence in Windows PCs and tablets (though attaching high-speed peripherals is also an option). That's about to change. Microsoft recently announced that full Windows 10 is coming to ARM-based Qualcomm processors. This innovation sets the stage for always-connected, lightweight, power-efficient cellular PCs in the form of laptops, tablets and 2-in-1s.
Its manufacturing partners will begin bringing these devices to market later this year. Consumers will be able to purchase cellular data for these devices directly from the Microsoft Store.
Apple, which is certainly aware of this potential market deluge of cellular PCs, saw a need to highlight the LTE connectivity in the higher-end iPad Pro. You can't blame the company. Cellular PCs are a threat to the iPad Pro. Windows Chief Terry Myerson elaborates in the video below:
Cellular PCs will have the full power and versatility of Windows 10 PCs. Microsoft demonstrated Windows on ARM's ability to support intensive processes such as gaming, full Office and Photoshop. Moreover, Qualcomm's Executive Vice President Christiano Armon foresees high-performance and high-efficiency, all-day computing with these new devices. Rich multimedia, GB-level LTE 5G speeds, and best-in-class Wi-Fi are also expected on these highly portable, fanless devices per Armon.
When he addressed the manufacturers at WinHEC 2016 Armon advised them that the ecosystems they've established in smartphones could be leveraged to benefit cellular PC investments. He further expressed that Qualcomm's and Microsoft's cellular PC goals are to redefine computing devices. Given that statement, it will be interesting to see if these partnerships eventually lead to telephony-enabled ultramobile PCs.
If not, consumers looking for an always connected productivity tablet should still be aware that the full power and versatility of Windows PCs will be arriving on lightweight, power-efficient ARM-based devices later this year.
They needn't settle for the tablet-that-used-to-be-called-a-computer. But if they want to, Microsoft has a presence on iOS.
Do more with Word
The above ad highlights the fact that Word and Microsoft Office are the industry's standards for productivity. The consumer in this ad, like most consumers, wants Microsoft Office regardless of the platform they use. Apple conceded this point by not highlighting its iWorks productivity suite in the ad nor during the introduction of the iPad Pro on stage in 2015.
Corporate Vice President for Microsoft Office Kirk Koenigsbaur was actually called on stage at that Apple event to demonstrate Office on the iPad, as seen in the video below:
Of course, Windows PCs have both the Mobile versions of Office, as well as the full-feature version. Moreover, just as with the iPad version, users can draw on Word on a PC. In line with Microsoft CEO Satya Nadella's "best on Windows" vision, Microsoft's Devices Chief Panos Panay said, in relation to the Surface Pro 4, "There's no product on the planet that runs Office and OneNote as well as this product."
In a long-awaited step to "modernizing" its Office Suite, Microsoft is expected to convert the Office Suite to Store apps this year. This will bring with it the benefits inherent to Universal Windows apps.
Speaking of apps, I would be disingenuous if I didn't mention the advantage the iPad has in this area.
Tim Cook stated, "The iPad is the clearest expression of our vision for the future of personal computing. A simple multi-touch piece of glass that instantly transforms into virtually anything that you want it to be." That's a great vision, and the App Store has the apps to support it. The Windows Store has about 600,000 touch-friendly apps. The App Store has more than twice that number.
Still, per Microsoft's Panay, UWP has the critical support from developers of apps such as Lightroom, Photoshop, Illustrator, DrawBoard, Bitwig and StaffPad (among others), as he expounds on in the video below:
Microsoft Surface, 2-in-1s have iPad on the defensive
It's clear from Apple's new ads that the company is marketing the device-that-used-to-market-itself, from a defensive position. This uncharacteristic approach contrasts Cupertino's more recent campaigns that focus on what an Apple product is or does rather than taking subtle digs at the competition through thinly-veiled comparisons.
If Apple were pitting itself against the old stodgy Microsoft, these ads might have a greater impact.
But this is the Microsoft that puts the power to create and manipulate 3D objects in the hands of children and adults.
This is the Microsoft that is leading the industry in mixed reality with its Windows Holographic platform and HoloLens.
This is the Microsoft that brought streaming Xbox gaming to PCs and VR.
This is no longer the Microsoft of boring, beige desktop PCs. This is the Microsoft that gave the world the category-defining Surface, Surface Book and Surface Studio. The Surface Book video below still gets me. It's just so cool.
Maybe Apple would have been better served not to take digs at Microsoft and Windows PCs in its new iPad ads. Everybody knows (or should know) it's not a good idea to pick a fight with the cool kid.
Follow the story
Jason L Ward is a columnist at Windows Central. He provides unique big picture analysis of the complex world of Microsoft. Jason takes the small clues and gives you an insightful big picture perspective through storytelling that you won't find *anywhere* else. Seriously, this dude thinks outside the box. Follow him on Twitter at @JLTechWord. He's doing the "write" thing!
Thanks for reading folks! We can't argue with Apple impact in defining both the consumer smartphone or the tablet space. Microsoft though it's "phone" efforts leave much to ne desired, their "retaliation" in the tablet space has led to much be be admired as even competitors a re mimic9 thier category-defining🙂 Apple's new iPad pro ads, I feel take shots at the PC and Windows which doesn't take into account the transformation Microsoft has undergone and the change that Windows 10 and the Surface has brought to the industry that Microsoft partners have taken advantage of. As this piece points out, there a many very visible holes in Apple's iPad ad barrage. Apple may have been wiser to remain consistent with a marketing approach that focused on the iPad and iOS rather than making comparisons that may be outdated, inaccurate or clearly misleading. If you folks know of anyone trying to decide between an iPad or PC, or just anyone you feel could benefit from this information in as a counterbalance to Apple's marketing machine, share this piece liberally. So what are your thoughts folks? LET'S TALK!!!

I don't know anyone trying to decide between an iPad and a PC or Mac. They don't have the same use case, especially in business. It is like comparing a Ford Ranger to an F250. They are not cross shopped. If you are looking at F250s, the Ranger isn't a consideration. Even if Ford made a Ranger Pro, it still wouldn't be comparable, it would still be a Ranger with slightly more utility. The iPad Pro isn't a professional device no matter what Apple thinks. It does not compete with the Surface or Macs. As you mention in the article, it competes more with the iPhone+ and other phablets. Maybe someday in the future it will become a PC replacement, but I don't see it today.

If Apple really wanted to try and get a "PC Replacement" they lack a serious part. You cannot upgrade Macs with state of the art hardware to do a major thing Windows can.....Hardcore Gaming.

Agreed, however Apple seems to be or seemed to be selling their iPad Pro as a desktop replacement hoping the sheep will come.

The Ranger/F250 cross-shopping analogy is on point. I wish I could upvote your post even more.

Quite solid indeed, however wouldn't the F250/Chevy S-10 or Chevy Colorado work better in this case? You know, different companies?

Yeah, I don't know that Ford even makes the Ranger anymore.

Not currently. Coming back for MY19.

They absolutely still make the Ford Ranger. Just not sold in the US.

Ford doesn't want to lose that F150 #1 selling pickup in US by cannibalizing sales with a new Ranger.

They stopped selling the Ranger because the small pickup market dried up. GM brought the Colorado and Canyon out and the sales have been doing quite well. Ford is bringing back the Ranger next year to get a product in the market to compete with GM, Toyota, and Nissan.

I know people who will ONLY buy Apple, so the iPad Pro is a professional device for them.

I know those people as well. They have MacBook Pros and their iPad is for simple tasks like surfing or media consumption.

I'm feeling this too. No one is deciding between an iPad or a full laptop. The comparison doesn't work. Sure an iPad Pro can do some of the things a full PC can... but it's not a full PC. It never will be without ports, memory card readers, a proper file system and the ability to multitask more than a tiny stripe of a select app along the corner of the screen etc. Apple can position the iPad as a PC device however they want but it's incredibly misleading. If anything this just highlights the fact that Microsoft has probably made the right decision by traveling the hard parth earlier, profiting by ending up on the superior path down the line. By pushing Windows Phone to the side and focusing on making Windows 10 universal everywhere (then making it compatible with ARM) they've positioned themselves to conquer multiple formats... and it finally works. The vision is slowly coming together. Unless Apple is able to create an environment that can match Windows same-but-different versatility across multiple form factors they're going to find themselves playing the unfortunate game of catch-up for several years to come. As Microsoft's shown this path takes years to travel, not months. Even Google is at least taking the threat seriously and working on Fuschia as future alternative. Apple is reacting like a stick in the mud. I love my iPhone, and I honestly feel it's the one thing Apple has got just right, but time is going to pass it by. Sooner rather than later from the looks of it :(

It hasn't been proven that an all-in-one OS is the best approach. Microsoft is betting on that idea and Google has been working toward a similar future, but it isn't a guaranteed success. There is an argument to be made for targeted systems.

I think in Microsoft's vision of one OS the idea of a targeted system is thrown out of the window (pun intended), in this vision it wouldn't matter if you were looking at any size screen or no screen at all, touch or non, the OS would fit that space and your needs. The only limit would effectively be how you use your devices. for example, if you still think that your phone is only supposed to make phone calls and text messages (that's all you'll use it for), and if you only use your tablet to watch some videos and read books (that's all you'll use it for) but in Microsoft vision there is no phone, tablet or PC... there is just a 5in - ∞ space to work, play and communicate.

I was expecting a toaster/refrigerator part

I actually thought about adding that line. 🙂

I love your articles Jason

Agreed, probably my favorite writer on WC.

Thanks for the support Dradzk!😎👍🏿

In response to an earlier article I saw someone comment that all of Jason Ward's articles beat the same drum. I dismissed it. Now I can't. They really are all variations on a theme. Two things stand out as odd in the first half of the article: "Microsoft is cool now" Huh? Since when? Perhaps to you but I would guage "cool" as perceived by the youth of today and they certainly are not flocking to the hallowed halls of Microsoft. iOS and Android have them locked up (I've polled the teenagers and twentysomethings I worked with) and in a way that must unsettle Microsoft. The portable OSes are locking these future adults into a Google-Apple universe. People on iPhones are invested in the iOS ecosystem. Messages, files, photos, contacts, everything is seamlessly transferred between iOS devices. Google is working on creating a similar experience for Android. Microsoft has lost that entire demographic, and, it's going to take something more than a touch screen running Windows to fix that. 2. "Apple's success in smartphones and initial success in tablets was the result of its consistently applied strategy of taking what others have pioneered, refining it, marketing it to the max, and thereby winning mindshare and the market" Yes, they are masters of taking ideas and bringing them to market, but, it's not their marketing that's key. Its the usability of the devices that they produce that make the difference. iPhone became a hit because it worked. It "just worked". Charge the battery. Insert the SIM card. Turn it on. Take pictures, make phone calls, run applications on a portable screen. No special training required. In fact, it was so simple, no instructions were necessary. The simplicity was what made it revolutionary. I now am largely a Windows user, yet, I still see the difference that Apple's approach to user interfaces makes. Their focus is on simple power. That's what Apple's market niche has been. They've also cultivated a premium reputation--that is marketing, yes (insofar as you can call a pricing strategy marketing). But, it's not the reason iPad and iPhone succeeded. They succeeded on the strength of what they offered and what the competition did not offer. PS I must commend Jason for writing clickbait. He's good at it.

"[Apple's] focus is on simple power" They look at what people need to do 90% of the time and make sure that the best defaults and best behaviours are chosen. For the remaining 10% they focus their efforts on providing access to the most useful of the obscure features, or, provide a way to access the obscurity. Microsoft's approach has been subtly different. They focus their efforts on giving people access to 95% of what they do but don't particularly worry about choosing the best defaults or giving the best software experience. And, they completely drop the ball on the remaining 5%. Now, that's how I would sum up their historical approach to OS (paradoxically they were perceived as giving users lots of flexibility in their software when they actually made it very hard to make useful changes while Apple was perceived as the mickey mouse OS (I'm talking 2000-2010) but in fact Apple's OS allowed users to make any change they wanted). Microsoft has been changing gears, but, largely because they're now on the defensive after having botched Windows 8. Their reputation was heavily damaged by their introduction of a good tablet OS for the wrong paradigm. Now, with Windows 10 they've done the opposite (it's like they can't learn from past mistakes). Now they've taken the desktop OS and put it on the tablet. In many ways Apple has been wise to keep their tablet OS separate from the desktop OS. The paradigms are profoundly different. What's interesting about all of this that Apple still is the dominant tablet OS, despite the fact that they're not a software company. Their $$$ come from hardware sales, not software sales. Though, it's also interesting to see Microsoft enter the hardware market. They lost lots of $$$ on XBox, the Zune was a compete flop. Even the Surface wasn't particularly hot. Hopefully this all keeps going. No one manufacturer should own the roost. What I'd love to see is Windows lose more marketshare to Apple (or to another desktop OS) but I don't see that happening. The desktop paradigm has had its day and future developments will come from the mobile sphere and luckily there is no one dominant player in that sphere anymore.

From a user persective the debate is completelydifernet from the tech or enterprise user 1. pricing. Apple is looking at the high-end user and the dick who wants to spend money he/she doesn't have to tech he/she doesn't need. You would be hard pressed to find an Android device that can't do the same as a iphone for half the cash. WP made the mistake of not targeting their devices correctly. I have used the three, and as a phone WP is still the best experience. Live tiles is a killer. The notification systems on iphone and Android are horrible and the constant update on Android drives me crazy. They still haven't got beyond the win3.11 screen icon system! 2. Usability. The walled-garden obssession will ultimately be Apple's downfall. They won't be able attract people outsde their bubble by the refusal to engage with existing tech. The average joe wants to use what he has now, the idea of having to buy bluetooth headphones when he can't use the supermarket ones he has now is a bummer. Apple dispise him. He is not their avatar. USBsticks, sd cards, etc. Apple: "What are they?" 3. Data: Most people have small data plans because data is still expensive. Apple's strategy is you be online saving and storing on the cloud, which costs data. Pictures and apps are ever larger. Unless there is a leap in the memory capactiy on Apple devices, people will fill up their storage very quickly. Have a look at how many iphones/ipads are the 16gb version. It will ultimately drive them to a system that offers them external storage upgrades, probably Android. 4. Sales. A simple internet search debunks the dominate sales pitch. https://www.statista.com/statistics/276635/market-share-held-by-tablet-v... http://www.iclarified.com/images/news/54990/262162/262162-640.jpg There are thousands of examples. The computer space today is not thanks to Apple, but to companies like MS or Google who have looked at the average consumer, not one with more money than sense. Bill Gates said, he wanted to see a PC in every house and make computers systems the grandad could use. That was never Apple's idea.

Hi Ed to your first point,
1. The accusation in the other piece was that I write about Windows phone and the strategy around that too much. To which I supplied this link: www.windowscentral.com/author/jason-ward where you will find an assortment of articles cover topics from Quantum computing. Hardware strategies, Cortana, AI and bots, interviews with MS employees and much more.
2. To your second point you pasted an excerpt from what I wrote, "Apple's success in mobile and initial success in tablets was a result of its consistently applied strategy of taking what other companies pioneered, **refining it**, marketing it to the max and thereby winning mindshare and the market."
You then focus your commentary on one clause of the entire phrase that I wrote to which I attributed their success "marketing it to the max." To be fair you copied and pasted much more than that single clause, so it seems you either missed that each clause in that statement had value as to what I considered to be strengths Apple brought to the table that engendered thier success:
1. Copying,
2. Refining
3. Marketing
Or you had a particular perspective you hoped to push forward and intentionally ignored the full context of what I put forth. I'm inclined to believe it was the former and not the latter.🙂
1. I feel that Apple's allowing others to pioneer and make the mistakes, something I've stated in another article is a strong part of their strategy. It saves them resources AND negative press and market perception because they don't make the public missteps' more pioneering company's endure.
2. They then ***refine***, the part you overlooked, where they take the technology and tailor it for the market. You described in detail what I surmised in that statement. So we do not disagree. Maybe you read past that part so fast you didn't catch the gist of what I was saying.🙂
3. Then of course they market what they've copied(not in all instances but for the sake of this discussion), and refined.
To your accusation that I write clickbait, you couldn't be more wrong. An author of clickbait articles has little or no concern as to the content of what he submits to readers, it's not thoughtful, insightful and offers no alternative view to what may be the prevailing or popular perspective because he/she is simply seeking clicks.
You may not agree with my thesis, but I think any objective and honest reader would be hard pressed to claim my work is not thoughtful, or insightful or does not offer original perspective that may not be consistent with what most others write. I write with a sincere passion and integrity to communicate a perspective. Reread each word of this and other articles, look at the content and claims, the choice and placement of each picture, video, gif and quote.
If I cared only for the click, I would not spend the time, energy and effort to present not only waht I assert is thoughtful content, but the presentation of that content would not be thoughtfully laid out.
I challenge you to do a search on "new iPad ads" in Bing or Google and compare how I have covered and analyzed the subject compared to others. How many others went beyond simple commentary on the videos and challenged Apple's claims in the depth I did and then went beyond and brought in the larger context of cellular PCs, Microsoft's innovative investments that make it a more compelling company than it was years ago. How many incorporated the implications of the UWP and Window 10 Cloud, and more.
When you find that few or any covered it in the depth in which I did nor articulated nor presented in the scope and manner in which I did you may not come back and admit that my work is not clickbait, but internally I believe you will, if you're honest, acknowledge that it clearly is not. Thanks for remaining a reader.
So before you go and do the "new iPad ads" search read this again so this article is fresh in your mind as you compare it to what you find. 🙂

A reputation for well thought out content = click bait that works! Keep it up Jason.

Jason, WC would not be my primary source for my favorite platform without your well-thought and carefully researched articles. Loved the series you did on Windows Phone is not dead, the visionary articles on Microsoft's plans for the next several years, and articles like this that remind us why we love Windows. Thank you so much

Thanks dalydose and Zachary🙂

Apple is good at separation of money from stupid people. They are good at selling expensive things that break easy and making anyone stupid enough to buy their products have to spend more money on apps (which is where Apple now makes most of it's money) after buying their over priced phones. Kids don't know anymore what is cool, they have to be told. What made Apple cool back when was the use of their computers by pros. Back when you needed a recording program Apple was the one to go to, but now it's not so. If you are recording music or art Apple is the last thing you need. It's artist that defined cool and that who Microsoft is now going after. Apple is trying to build a flock.

This is true. Most of the smaller film makers that I know have switched to Windows based products. With business, Microsoft has a lock on legacy companies as they will want their data to be transferred with the least fuss as and when they change OS, Server etc.

Hey Jason! Great article, I really liked it. I've been following this site a lot recently. In fact your article got me to register in order to share my thoughts. I agree with A LOT of what you wrote...but I really wanted to share something. Surface products aren't great. I had a Surface Book with the Nvidia 940m GPU for about a year. Here is why the prodcut didn't satisfy me: The screen. Ok, yes...it is a beautiful and perfectly functional screen don't get me wrong. But it is SO REFLECTIVE I could use it as a bathroom mirror (Just like the Surface Studio screen). The colors are just beyond what most LCD panels offer...but be it at airports or any place other outdoors the experience was terrible because of its reflectivity. The aspect ratio. It's AMAZING, seriously...3:2 is just incredibly useful and makes it for me the best one for laptops. Yes it had the problem of inbalance because of how top heavy this makes it but while annoying I didn't mind it much. The problem with it for me was that it made any gaming experience terrible. Ok maybe it was the driver's fault...but for the full year the thing would crash from trying to play games like Bastion or Binding of Isaac...not exactly demanding titles. And most other games like Overwatch would always have some problem with how they display the image, it just didn't like right. The exterior design. For the most part perfect, brilliant selection of ports. Except...why would you put the headphone jack on the top right corner of the screen instead of the bottom. Makes NO SENSE, you end up with your headphones' cord getting in the way BIG TIME, try to picture it. How can a product be under development by such a prominent company yet get something so baffingly simple WRONG? Software. Lots of trouble often with how the resolution of 3000 x 2000 scales programs. I don't think any excuse can be valid here given the great job Apple has done here with its retina Macbooks in MacOS. But I have to admit, Windows 10 gets A LOT right. I don't think I have to elaborate on that in this site :) . Often enough you would get into a mess when trying to use it as a tablet. Not exactly Microsoft's fault since Hearthstone isn't a UWP app but proves that it is a terrible tablet when out of that ecosystem. Surface Pen. I don't get it...why is it acclaimed by some? It's terrible, it just never felt great to me. To the point past the first week I took the battery out of the pen and store it in the box. Other issues. There were 2 occasions when the Surface overheated to the point it hurt to the touch. The worrisome part is I was doing NOTHING in both accasions, I simply found it burning hot in the morning when pulling it out of my backpack. Other good things. The battery life was amazing, on par or beyond any Macbook. When I could game without facing crashes or image oddities it did a fairly decent job at it. Windows 10 is much better than I credit it, I know I already touched on this but I'm doubling on it here, it is GOOOOOOOD <3 In the end...I thought it was a "kinda good" device. The thing is...you deserve a GREAT device when paying $1,900.00 . I think most people are much better off getting any iPad (if they want a tablet) and/or whatever regular laptop they prefer as I never got any enjoyment out of the Surface Book's tablet experience. I'm sorry for writing a rant review...but I wanted to explain in detail why I think Surface devices aren't great.The funny thing is most people think Macbooks are overpriced and lesser. They are overpriced...but I've never had a complaint with any of my Macbooks other than "it can't play that Windows-only game" but that's what I got a desktop gaming PC for. I think people who don't need applications only found in Windows or Mac and also don't need a big amount of local storage are much better off with the iPad Pro. Not because it is or isn't a computer, but because it can accomplish the tasks most computer users want to without getting in the way. Keep up the good work Jason! I look forward to read more articles from you :) Out of place comments I just wanted to share x) : I think the best laptop for my needs is the Dell XPS 15 non-touch :3 but I use a Macbook Pro 2016 non-Touch Bar because it is lighter. I don't have an iPad but I tried a long time ago the iPad Mini and the iPad 4th Gen, long story short...I just didn't "get" them, as in...they could never fulfill any significant purpose so I sold them; not that I bought them for any, I just bought them as toys xD . But I think I will give the next iPad Pros a shot, I'm really looking forward to those!! Also, I think the Touch Bar is stupid and pointless x3

This is the same reason Surface phone wont be great in first iteration and then fan boys will say wait until 3rd iteration

I have a Surface Pro 3 & it's a great device. I was a huge MS fan & I've been doing IT work for years (Haven't stopped just yet)
I even gave up my iPhone of the past & had a time where I had a Nokia 920 & later a 1520. Windows on phone, was OK. Partly because they really haven't supported the OS & so neither did many developers or companies - Like many stores have at least an app for iOS. I eventually went back to the iPhone & have enjoyed it ever since...Plus it shares many of the same apps as the iPad. The Surface & the iPad 'cross paths' in use case scenarios more than ever. The Surface has definitely gotten the attention of Apple. Mac OS will not replace Windows when it comes to a touch friendly OS. I'm necessarily sure which approach is going to work better for the mass of users (Consumer & Business) I don't think I would buy a Mac in place of Windows...But iOS...Just maybe I would (Or have) I've learned that when someone says they want a "Productivity Device" or they want to be "Productive" that it's more of a relative description than a rigid one. Like what is productivity to you may be much more complex than what I consider productivity & vice versa. I no longer initially tell people to get a machine that uses Windows. I'm more likely to now ask, what are you going to use it for? And I'm more prone to suggest Apple. I still come to this site & I'm hopeful that MS will continue down it's path to trying to be "All things to all men" I believe that they will be more successful in the future & I'm quite impressed with their hardware concepts. I believe they are ahead of Apple on many fronts. They have lost me as a customer after many loyal years. I'm still open to switching or investing into some of their products again. I don't mainly use the iPad for media consumption. I mainly use MS Office...Specifically Word & OneNote. I also can easily edit video, audio, pdf's & images. My Surface Pro, although I think it's a nice piece of hardware, regularly generates enough heat to turn the fan on frequently. I enjoyed using Windows 8 & 10. I understood that this was an evolution (Growing pains) in how their OS would operate. 10 was nicer looking & fixed some of the things that 8 didn't do so great at. I gave it a solid chance on mulitple computers....For several years. Using it regularly on the Surface, a HP latop, & a Gateway desktop. I think I've given it a solid try. I have been adverse to using Apple & Andriod products in the past as well. I definitely consider Apple quite expensive. MS didn't have answers to account problems I had. I saw many users having the same issues, so it's not just me. Some of this comes down to user needs & what you enjoy using (Eye candy too!) I prefer a device that is designed for touch first, then keyboard & mouse second. In my opinion the Surface is a laptop trying to be a tablet as well hence "2 in 1" or "hybrid". The iPad is NOW a tablet trying to add laptop type features/functionality to it. iOS is much more touch friendly than Windows 10. I believe iOS has a lot more capability that they could add to it. Unfortunately, I've had Windows 10 crash mulitple times on multiple devices. Over & over again. Windows is becoming much more forceful & pushy than in the past (Even forcing updates). The iPad Pro is a great device & iOS is smooth as butter most of the time. The battery lasts a long time & is ready to run instantly. I never even heard the fan turn on-on the iPad... :) Just kidding. I heard it regularly on the Surface though. OK, OK...I understand that it's not necessarily the hardware used in the Surface as much as it's the OS. I do miss the mouse sometimes. I did buy a keyboard clam case for the iPad which easily seperates or folds over - Much like the Surface does. I love the pencil, although an eraser would be nice, I don't know how much I even used it on my Surface - Maybe occasionally. Yes, I've had to buy a thumbdrive that can connect to a lightening port as well as a regular USB, but honestly, I hardly use it. My thumbdrive I use on my iPad works on my iPhone also, truly a great benefit that my Surface didn't have. (Without getting an adpater also) I don't really play games on it, so that is irrelevant to me. Although it doesn't have native access to the file system, iOS has taken a different approach to this. There are a few times that I need all of the advanced features in Office nowadays, although some would be very nice & I have some workarounds that I wouldn't need to use on my Surface Pro. As someone said, "Microsoft is cool again"...Well, yes indeed it now is trying to innovate & I think it's great. Sorry, I want something that fills my needs for the most part & works fluidely. Neither device, Surface nor iPad, is absolutely perfect at all things. Both have their strengths & weaknesses What I will say...My needs in my life now are different then what they used to be. And that definitely affects what fills your needs. By the way...Great Article!!!...Keep them coming!

There are a slew of Android tablets but none really as simple as an iPad, that's the iPads selling point. But storage and price are an issue both on unit and payable cloud storage. Surface units, well those have lots of copies, Samsung, Lenovo, dell, hp... Name the windows manufacturer and they have a Windows 2 in 1. Now imitation is the best form of flattery is it not, some have tried to copy the iPads size but not its simple OS. So when it comes to Windows we know what were gonna get and it's ubiquity is it's selling point. IOS and OSX are somewhat limited due to being apple, let the surface/windows line dominate and teach apple a lesson. Now make me a mini surface with LTE.

One word for Apple : DirectX

Microsoft has indeed been on a roll of late. We just need them to use that same secret sauce on a mobile device. Windows on arm anyone???

Are they on a roll? http://news.softpedia.com/news/microsoft-indirectly-confirms-windows-10-...

Not everyone likes change.. windows 10 is not growing because people are on windows 7 still. The media fed them a story and people bought it. windows 10 is awesome. sometimes you've gotta think,not just blindly listen to the media!

that's exactly what people are doing, Think! not listen to MS crap lies about this pathetic OS.

Really??? "Yet remains the fastest-growing OS in Microsoft history" http://www.computerworld.com/article/2988572/microsoft-windows/windows-10-growth-slows-but-breaks-100m-device-mark.html

Check the date of that article...

mainly because it was forced onto computers and offered free, otherwise no sane man would choose this crap OS. I use it everyday at work and every day I am amazed about how dumb it is and how pathetic MS has become. Low quality, broken KB updates, crashes, lags, SSD performance issues even on high priced SSDs. So, windows 10 is nothing but meeehhh...an Os tested by insiders because MS was to cheap to work with professional testers thanks to Nadella.

I have used both an iPad and a Surface and the Surface is by far the best. The reasons I say this is because first of all, iPad uses a different OS than Apple Mac computers, iOS doesn't let you get rid of junk built into the OS that you cannot use, heck you can't even get rid of the icons for their stuff. iPads have outdated hardware compared to what Surface offers, you can actually load up World of Warcraft on a Surface and play it just like you are on a laptop/desktop. You can have an entire desktop computer that is easier to carry than a laptop. However, Surface and iPad both are the same as far as price goes, they're both way too expensive. My thought on iPad Pro ads and this is what I thought when I saw the commercial. If it was the other way around and Microsoft was Apple and Apple was Microsoft, there would be a ton of lawsuits being as the iPad Pro is virtually just a complete copy of the Surface with Apple logo stamped on it. I have been using Windows Phone for several years and I have had iPhone and Android, the only real drawback to Windows phone is the severe lack of apps, other than this, Windows Phone blows away the competition. The other severe con to Windows phone which applies to Windows 10 in general, stop making updates eat up so much space! Blizzard Entertainment, the maker of World of Warcraft a few years ago they cleaned up the WoW game files to reduce space, this was done with a game patch (game will be 13 years old this year), I really don't understand why this similar thing cannot be done with Windows Updates, especially with the amount of 32 gb laptops on the market. The whole virus and malware debate is simple. Why is it that Windows is always the main target? That is because the majority of Apple products are not used for financial institutions, businesses, or any other productivity with a financial gain. Apple products are not immune to these threats, they are just not worth it to the average hacker as financial gain is typically their motive behind doing this. If Apple dominated this market like Microsoft does, it would be a total reversal of what is getting hacked.

"iPad Pro is virtually just a complete copy of the Surface with Apple logo stamped on it" Really ?.. So did MS invented third party keybaod or a stylus ?. Can you explain how iPad Pro is a copy of Surface? "Windows Phone blows away the competition" How ? MS Surface brought nothing new to the table also Surface is good at nothing. Simply gives you a bit of everything. Third party keyboards and stylus are available for iPad from day one. It's clear that you are a MS fanboy.

"So did MS invented third party keybaod or a stylus ?" No, they actually invented 1st party keyboard and stylus. "MS Surface brought nothing new to the table also Surface is good at nothing. Simply gives you a bit of everything." Funny you say that. Same thing was said about the first iPhone by those who opposed it. I know, I was one of them.


These ads by Apple were simply annoying and misleading to me. No pc viruses? Really Apple... it's not a pc

you should have read all the negative twitter reply

Apple are forgetting the unpatched and unprotected XP PC that was used to load the software onto iPods which, coincidentally, loaded a Windows virus onto the iPods. So yes, their products can't get PC viruses but they can act as a trojan horse for them.

I think the coolest feature that set Windows 10 apart in 2-1 is desktop/tablet not including a better GPU CPU combo.

I think the best part about all this is how Apple disabled on all of the videos the comment section. Just shows they are scared and can't take the hint.

eraser-less pencil LOL :D :D

Glad you liked that. It was my little dig😉 Lol

I can't even see how Apple are not embarrassed to advertise the iPad Pro as a PC... No mouse support, no USB or other connectors, no external storage (USB or MicroSD), very limited OS (they can say what they want, it's the same OS from other iPads and iPhones). All external connections have to go through the proprietary Apple connecter which forces to buy adaptors... Android is much more a PC than iOS, though a lot of Android devices are limited by not having external storage enabled like the Nexus series, but if these are enabled, Android is great. Add a clipon keyboard and mouse and it feels almost like a PC, less limited than iOS but still more limited than Windows. Try a Chuwi tablet with clipon keyboard... dual-boot Windows 10 and Android 5.1 running on Atom x5. Battery life is not extraordinary but acceptable, I just love the concept. Windows 10 runs OK on Atom x5 with 4GB RAM, but Android just flies like crazy with that much RAM!

I did they are hysterical
Also comments are disabled on the YouTube version of the ads. Coincidence? I think not

And still Apple beats Microsoft in sales of iPads vm Surface Pro regardless of "Decreased popularity". I am Microsoft fan and tried to switch to Surface 3 as soon as it was released. It took me 3 days to understand that as a consumer product it sucks, so I returned back to iPad. I have Windows 10 tablet (Dell Venue Pro 8), but I still cannot use it. Windows 10 is great!? Are you kidding me? On any touch enabled devices it as bad as Windows 7. So may be it will be great to start thinking without fanaticism about Microsoft and accept reality?

Hey Ray Adams, To your first point about iPad vs Surface sales alone, that is largely irrelevant in that just as Macs for the past few decades have been contrasted to Windows PCs (MS first party hardware was both nonexistent and inconsequential) since it the Windows OS defining the type of PC that is the measure.
So it is with tablets...the measure for any real purposes from Microsoft's and industry perspective is what is the growth, and share of Windows tablets.

Although I liked the Surface 3 when I had it the performance could be better. I liked the size and weight in a tablet with FULL Windows on it. I also had the Dell Venue Pro 8 and can say that it was extremely underpowered. The thing came with Windows 8 and from my finding does not have the resources to run Windows 10 smoothly. But here's the thing. Just for kicks, I was able to install and play League of Legends on both with a keyboard and mouse attached. Can an iPad do that? The reality is, you had a bad experience because you chose two low powered devices to try out Windows 10 or you are too used to your iPad and couldn't adjust to a different OS.

Tablet experience is a joke no matter what windows device you have! As a pc, yes, the SP is great, but as a tablet it sucks big time because of the mediocre implementation in the OS of this mode.

I use iPad for relaxing, surfing internet , facebook and so on. Not for productivity. For that, I have very poweful desktop PC and laptop with Win10/MacOS on it. MacBook Pro :) I need MacOS because I write apps for ios too. I wanted Surface 3, probably to replace iPad and to find out what could be done to improve ecosystem (by writing new apps), unfortunately even existings apps are too bad comparing to the iOs (or even Android) version, so I decided to stick with iPad for what I use it.

This article deserves a thumbs up for linking one of Lisa's reviews.

"this is lisa"
Lisa is the best.

Owning a SP3 and an 9.7 iPad Pro, I can see how easy it is to criticize these add. The SP3 is an amazing device, but can't really be a full touch device that an iPad can be. I love using my SP3 for full computer experiences. I use it a lot to IT stuff, troubleshoot, and I even travel with it as a sole machine. It has that diversity that the iPad Pro does not. The iPad Pro has a much better Pencil (if you buy it). I use it because it has much more reliable touch apps. The apps, like YouTube apps for Windows 10 are just buggy. I can use the browser, but the touch interface is just easier to navigate. I have a lot of trouble using Chrome and scrolling through YouTube. Drawing, sketching, mockups and stuff are great with the iPad Pro. Plus reading books are much easier on an iPad. To call it a PC would be a very big exagguration, but it has it's purpose, more than you may think. But if you expect to use the iPad like a PC, you're mostly out of luck.

"Microsoft is cool now." Only to Windows fanboys. Outside of that, Windows is tolerated by people who have to use it at work. A whole generation has grown up knowing that Windows is that thing that crashes all the time, and even the help desk doesn't know how to fix it. Millenials have been BSD'd to death. I'm not really a Windows hater or Apple or Android lover, but to think that the general pubic thinks windows is cool is ludicrous.

While what you said is indeed true, I think he was referring to the old stigma that Apple was the hip one and Microsoft is the geeky business guy in a suit. One thing you don't hear from the general public often anymore which used to be said all the time is that Windows is only for work which honestly has never been true but it was how Windows used to be seen by those who only used it in the office. It's all about marketing and image.

It's funny how everyone likes to mention BSoD's with Windows when I have not experienced one in my 16 years at work. I have received a few at home, but nothing in the last 5-6 years.

I'm good friends with an Apple fan boy and even he said Microsoft is cool again, though he's still only buying Apple products.

I think people who have seen the tech recently think they're cool again. Whether thats enough for them to switch from Apple or Android is another thing entirely. I know many people who are sick of Apple and dont want to get a new iPhone for their next phone, but also dont want to switch ecosystems. Its slowly changing..

I have to agree on the helpdesk thing. Those incompetent idiots have ZERO tech knowledge, ZERO. Calling MS helpdesk is a total waste of time, better of finding a solution on a google search...

Biggest failure with the Surface is for the price it sells for, you could buy an equivalent Android tablet with bluetooth KB and mouse **twice over**. Or one tablet *AND* a PC. The functionality would be all the same anyway (or even better if you wiped the PC and loaded Mint on it)

Microsoft plan from the very beginning was to market the Surface line as high end, innovative devices using quality components with a quality build. The OEM's would then fill out the rest from low to high. With all of the 2-1 devices I'm seeing in the market, it looks like the plan is working.

Quality components that they spent over a year getting the WiFi working right on (SP3).

or trying to fix dozens of bugs for moths for the surface book after launching it mostly broken..yeah I know what you mean...MS's quality

It would seem to me...WiFi would've been one of the most important things to have working right away, right out of the door. I'm not commenting on whether it is incredibly easy technically. But it's like a given that your WiFi works right away when you release a product of this nature. Basically any mobile device should be. Especially for a device that costs this much.

I don't think you appreciate the value of a high price point. Not everybody is bargain hunting.

no, the biggest failure with the surface is lack of apps. I had 2 surface 3's and sold them because No apps we use, and the keyboards were very janky. Our new dell 2 in 1s are much better as computers, and our ipads are much better as true tablets. MS is close, but not quite there! start pushing developers MS!

Ask them teachers who insist on Showbie, book creator and the like! Its apps, apps,...., no wonder kids can't write 3 sentences by hand without a break.

Those crapple commercials are just dumb!! Its the type of commecial donald trump would use!! LOL

I thought (and I could be very wrong here) that apples stance on adding touch to the macbooks is that they feel its an ergonomic problem to reach over/past the keybord to touch the screen. If that's the case, why is it ok for the ipad "pro"?

I think they're going back on their word. I remember a statement they made a while back about Stylus/Pen/Pencil. How a finger is "best".

Always wondered that myself

Apple copies and Apple backpedals! You do remmember iPhones never were going to be bigger than 3.5"? Or iPads never were going to be smaller than 12"? Or the 'Stylus, who needs a stylus when you have touch'? Way back to Apple would never use PC processors, like Intel? Apple has always been about higher profits selling lower spec devices and PC, yes Personal Computers!

I think it is strategy. As Jason mentions, they wait for everyone else to go through the learning curve than they bring it out hype-marketed as "We did it!" a biit like a cuckoo. A good example of this is the screen size of their phones. Slagged off big screens until they brought one out and then it was natural! Apple are too-selfcentered capitalist to admit others have done something well. That is why they are always small marketshare but with very loyal customers. In reality, MS and Apple work in two different spaces. They shouldn't even be compared. It sounds a bit childish at this point.

Fantastic article, I should say!
Congratulations Jason L Ward, the most clear, easy to understand, direct and objective article I've ever read concerning these two platforms. Cheers from Portugal!

Thanks so much Joaoalbuquerque!😎

Impactful is not a word and it makes you sound like a moron.

And what does it do for you, claiming that an actual word is not a word?

Well, we found that guy. Oh, and impactful is a word. Try verifying your assumptions before looking like a donkey..
https://www.merriam-webster.com/thesaurus/impactful

Actually, Darth, impactful is a word.😉 From Dictionary.com: impactful
[im-pakt-fuh
adjective
1.
having or manifesting a great impact or effect:
After the senator's impactful speech, her bill passed. If in the future you feel I or anyone else has used a word improperly or made some other error my advice is to communicate your correction in a kind manner.🙂👍🏿 There's no need to use words like "moron." There have been times readers alerted me to an error I made, and I appreciated the heads up and made the correction.🙂 We're all human, so in that regard we're all on the same team. There's no need to use tone or language that tears down. Building one another up is a far more rewarding endeavor.😎

People who proclaim that a word they clearly understood the meaning of "isn't a word" don't understand how language works.

I bought a Surface Pro 3 recently and love it! I bought a MacBook Pro(13 inch, retina display) about 6 months ago for garageband primarily. I wanted to try some recording software on the Surface Pro 3. Bought Reaper for $60, pretty amazing. I'm so ready to sell the MacBook. Compared to the Surface, it's boring, to me. There's so much you can do on a Surface! Love it for the pen and drawing... Just amazing! I showed a neighbor the Surface, she's a big Apple user. She goes, oh that's like the new Apple blah blah blah. I told her, no, this was first! She looked stunned!
To me, but what you like, what you can afford (!) And what you'll use the most. Great article!

I had a surface 3 pro and it was alright, even with the overheating/throttling. I never really found myself ever using tablet mode or the pen or even the touch screen once I'd gotten over the playing phase, so I do agree with Apple that desktop class OSS need a different arrangement, and I don't actually find windows 10 very touch friendly: the pen integration was dialled down a notch too from windows 8.1 which the device shipped with. Of course having the ability to do all this is nice and if my use case was different, e.g. Artwork creation, I could use the device in this way although there were lots of issues with dpi of menus etc and the pen didn't fully integrate with photoshop cs6 the last time I tried to use it. Anyway I now have a MacBook Pro with touchbar and am loving it despite the hate wave that you seem to see online. I would say I'm more productive with it mainly because of the proper keyboard and the lovely big touch pad with gestures which I sorely missed on the sp3. I feel that MS have the wind in their sails at the moment as they are doing some interesting stuff, even if usability and ergonomics might take a back seat.

Right on Jason! The tablets had been on TV since the original Star Trek, also Next Generation and DS9. And while not pioneered by Apple, at least Steve Jobs had the foresight to see them as a toy that people would like to use. But there's an aspect to Apple products in general, other than plagiarism, that I found out about the hard way myself... Quality, or more specifically, durability! I've had 4 Apple products in the past. The first one lasted 7 months, the warranty replacement, 8 months. At that point, I stopped buying Apple, period. The 3rd one was given to me, and lasted 11 months. Its replacement under warranty, a refurb (read: used) lasted one week; even though it had a 90 day warranty, I didn't bother. I tossed it. So even though Apple is adept at using others' ideas, that is not their only shortcoming. So my wish is to see the Surface (on which I am writing this), in all its incarnations, emerging as the leader!

It's a shame that Apple is killing off the MacBook with the lack of ports. My Mac is 5 years old and starting to show signs of dying. I am looking at replacing it with the HP Spectre X360. The current MacBook Pro on offer does not have the necessary features to be practical.

The issue is - Apple has FAR better marketing and Microsoft is offering services. Why not use an Ipad for business? It has Office - abotu 90% of your needs are met for work. Our place of work, the CEO and rest of managemetn got Iphones and Ipads - because they wanted them. Not because they were better. Apple has good marketing at home, and I think they want the same experience for work. It would not surprise me if Apple dominates this market, and MS caters to them. Continuum for Apple...watch for it soon...?

Continuum for Apple? I hope you're not being serious.

Continuum for Apple? How?

compuet I would have to say that continuum is amazing and MS is on to something great. I have no sources beyond lots of observation with regular users (consumers), from an IT view. That continuum isn't much of a desired feature. Business world?...Maybe so. Regular consumers aren't really looking for that at all. Even many government entities wouldn't want it now. Government is big business too! I think Apple is right about utilizing the abilities that their tablet and phone have is the right idea. Many people want the power and flexibility of Windows computers, but they don't want WP at all.

Don't worry about him Jason, too many others value your writing.

Microsoft is "cool now"? What planet are you living on?

The planet where change is constant, and people who used to think apple was the coolest company are starting to come around and realize they aren't all that special.. even getting sick of them
And people who used to think MS was all about boring and viruses are now seeing cool hardeware with a good OS and thinking "hmm, maybe next time"

MS may be cool with their surface pro line, now the surface studio which is an outstanding piece of hardware but that's it. The OS is still full of bugs, tablet experience on any windows device sucks big time and their app store, you know for tablet mode, for touch, is a ghost town.

my thoughts. 1) Ipad pro is a rip off product. a powerful tablet that could only use apps from the apple store. currently not many powerful apps that would use the full potential of the hardware. Screen Snap is a feature that was introduced on the surface RT. so copying others and acting like you have invented a new thing is very dumb 2) Surface wins

Microsoft is cool again. How long before the Apple fan boys notice?

Now don't feed the trolls and give us the Surface Cellular! 😁

To all the haters - watch and learn.
Great article Jason..

Cool... but Edge in Tablet Mode on my Surface just crashed 3 times trying to open this website. I love my SP3, SP4 and Yoga... but I still struggle recommending it to people for now.

The embedded looped videos in this blog post are making the WC app crash on my Lumia, no other article does. Plus, they are quite distracting while trying to read your article. Pictures would do just as fine.

The YouTube videos took some time to load, they were a black squares for about a minute or so but the gifs (I'm pretty sure those things are gifs) didn't cause any issues for me (viewing this on the WC app on a Lumia 830)

Wow! Great read, Jason. Actually, a joy to read. Very well written and reasoned. Thanks!

Fake news are the ads, period.

Really loved Lisa's review and the point that Apple claims the iPad can replace a computer. Case in point: My mom is trying to download some audio recordings from Google drive URL links to save to Dropbox so my sister on the other side of the world can listen to the files on her iPad. Well guess what? There seems to be now way to actually save the Google Drive files other than just listening to them in the Safari browser. Or maybe there is, but apparently the iPad is not intuitive enough for a geek like me to figure out how to do it. I got my mom to get her Windows 7 laptop out that she hardly uses because of her iPad and in several minutes had everything downloaded and saved to Dropbox. The truth is, you just can't do much with an iPad. If she had a Windows tablet, it would have been done in a jiffy without booting up another device to fill in the holes of an iPad.

No, the ipad is not a computer, but it is something that windows 10 fails to be: a proper tablet! Tablet mode on Windows 10 is a joke, a terrible attempt. No windows so called tablets can match the performance, battery life and quality of the ipad. And as for the SPs, those are very good as ultrabooks, but not as tablets because NO APPS!! because again, tablet mode on windows SUCKS!

Really? I use it daily. It's perfectly fine. Faster and a joy to use compared to IOS. Let's face it Ipad sales have dropped fast. And true 2in1 tablets are selling like hit cakes. There's a reason Samsung and Porche Design and many others are building Windows 10 2in1s.

I realise that this is a Windows site so this comment might not be particularly well received, but I don't get on well with Windows 10 in tablet mode either. I have a Samsung Android tablet that - as a tablet - is just brilliant. Anything based on iOS is IMO a poor 3rd place. Apple's ads are teeth-gratingly pathetic.

Fans will buy everything with an apple logo on it because they're in love with the logo itself. However I'm afraid this is going to change and as a Windows user I wouldn't like this to happen because strong competition is always for consumer's benefit. On the other hand if apple will be forced to reduce their prices, Microsoft will follow and this is also a good thing!

Apple fan here. At one point, I was a very active and vocal windows enthusiast. I at one point even came to like windows 8, I even traded my old iPhone 4s for a new Lumia 980 ( I think that's what it was anyway). But then, Apple released the iPhone 5s with iOS 7, and while you could argue that I was lulled by Apple's marketing (and you could be right), that is not why I stuck around. The windows phone experience was okay (not bad) and I even managed to look past the (at the time) lack of apps, but it left me wanting more. So, I switched, and I enjoyed it. Not because it was the best, but because it did what I wanted it to, but more importantly, to me, I never ran into any problems with it. I would also like to add that, just because a software/hardware company isn't doing exactly what you want them to currently, it doesn't mean they are not working on some other really cool things, some you may not even be aware of. Not packing 3gbs of ram, or not have one type of screen over another, is hardly a good reason to abandon the entire ecosystem. I know it's hard to empathize with other people's experiences, especially when the are counterintuitive to your prejudices, but try to remember we are just human.

TBH, this entire debate is pointless until Apple make macOS touch enabled and show it installed it on an iPad. Until then, the iPad is just a phablet that can run the same apps your iPhone can!

"You see, Microsoft is cool now"

This type of thing is not something that needs to be said to convince readers. Normally, when someone says something so delusional, I'd sarcastically ask to partake in that which that someone has smoked, inhaled, or ingested. That is not the case in this instance. No matter who makes them,

the tablet form factor is cool

(Microsoft is not) and (usually) more affordable than a laptop. People still aren't buying Microsoft's affordable phones, PC laptop sales are on a downward trend despite Windows 10, and, in typical Microsoft fashion, the Surface Book and Pro were late to the competition. Microsoft is not cool - it's just another option in a field derived from the laptop category that a company with Microsoft's resources can obviously insert itself into via it's convergence "vision" that is half-baked at best and counterproductive at worst. Religion is a sin. Please go to rehab.

Hi jdgtl you can disagree with a person without becoming rude or insulting. It is both simply right and reflective of good character🙂 To your point there are many measures by which one might consider "coolness". One is the relevance and the impact one has in and across the industry. Microsoft is in many areas, and all of them are not in as dismal shape as "phone." Microsoft's Windows holograph platform, Windows Holographic, is leading the industry in what many analysts, industry watchers, futurists, technology leaders and other companies see as the future of computing. A number of company's have built VR headsets that work with Windows 10 and Windows Holographic. This is an area that is connecting with mainstream gaming that is evolving and moving steadily into the VR environment. Many people think that's pretty cool. Paint 3D, and the 3D scanning app MS demoed in the gif at the end of my piece, enables children and adults to scan, manipulate and edit 3D objects. As a matter of fact Terry Myerson pointed out in interview that MS investment in the Creators Update toward 3D computing was MS following the next generation, children, who he acknowledged are comfortable using various tools, akin to CAD, at a young age that he didn't first use until walking into college. If you watch the event where theumy introduced Paint 🎨 3D you see many children very comfortably and enthusiastically using these tools and sharing thier content which was another focus Myerson addressed was key to these investments. That too, following the technological strengths and direction in which the younger, future generation of leaders and programmers, many would say is cool. Though not yet mainstream taking that 3D content creation further and interacting with it as we saw onstage via HoloLens, placing it in the "real world." is pretty cool. So is shopping via Edge with Hololens, plucking the stool from the webpage and placing it in your room to see how it would look, we saw this on stage as well, and it was cool. Taking a virtual tour via Hololens, ...well you get it. XBOX is one of the leading game consoles and with the UWP shares the same core as Windows 10 PC. Being able to stream an Xbox game to a PC in anothe room, I'd say gamers think that's cool. Also the gamers who done a VR head set and stream an Xbox game there would likely agree, that's cool. Now to those who like making and saving money, those guys running multimillion dollar company's and have terabytes upon terabyte's worth of data to store, and computing that they offload to the cloud, Microsoft 2nd place Azure Cloud ☁ is probably pretty cool to them, as well as the investors in Microsoft who see Microsoft bringing in great revenue due to thier Cloud success. Them you have PC manufactures, like those demoing thier wares at MWC. They, seem to have been greatly inspired, not by what their competition was doing per se, but by what Microsoft did with Surface in that they are following Microsoft's Surface lead in building all kind of, dare I say, "cool" 2-in-1s. It's kind of cool how when other PC segments were on the downturn, Surface inspired 2-in-1s were the only growing segment. Pretty cool. This whole follow MS Surface model is kind of like how the kids in school follow the "cool kid" doing what they do. MS and I'm sure the industry thinks this whole 2-in-1 category is pretty cool. As a matter of fact, cool😎 Apple, even seems to think what Microsoft is doing with Surface is cool: IPad Pro.😉 Even Apple's audience of "creatives" who have been feeling kind of ignored by Apple seem intrigues by the Surface Studio. To them its pretty cool and rings of something Apple should be doing but the company doing the cool thing Apple's creatives wanted Apple to do is Microsoft. That's pretty cool. No company's perfect, and there are plenty of uncool things about MS, but they have taken a leading position in many areas that are affecting the industry on a "platform level" directing things on a large scale level. And despite poor performers such as mobile, thier making money and lots of it. It's amazing even how Surface is now a billion dollar business. So maybe you don't agree with me that Microsoft is cool now, relative to its old stodgy almost IBM image, but its transforming and making a mark in VR, AR, mixed-reality, gaming, Xbox 🎮sreaming Surface-inspired 2-in-1s, 3D computing HoloLens, and even Azure 💵, and more...and there are many people who think that's pretty cool.

You said all that and still haven't proven Microsoft to actually be "cool". P.S. Apple failed Innovation 101 a long time ago and it's clear imitation of the Surface Pro does not make Microsoft cool, it makes Apple weak.

Well jdgtl, since like most things considered cool, "cool", in truth is subjective. Proving a subjective opinion is inherently impossible. What I did offer, however, is objectively observer areas of innovation (Mixed reality/AR/VR/3D computing), technological leadership (Hololens/Windows Holographic/Gaming/Inspired explosion of 2-in-1s), growth (Surface is now billion dollar business), cloud processing Azure(number two in sector), etc. They are not following, but leading in many area. Some people think this type of leadership is in an industry is cool, some don't. Without any label it is growth beyond their stagnate state and growth beyond the impact of the DOJ judgement with left them in fear, broken and walking on eggshells. Under Nadella, and after some time the culture is slowly changing, as the interview I did with Chris Pratley, Mike Tholfsen and Chris Yu revealed,where they can take chances now without fearing failure, but see things as a learning experience if it doesn't work. This has made them a much more daring company, that is leading in innovation and much less of a follower. They are not what they were, stodgy, and all business. Like cool kids, they're setting the tome for some things Mixed reality, 2-in-1s, cloud computing, Unified Windows Platform, etc...and that's a good thing.😎

You're a talented writer. I can see you making a persuasive impact if focused on productive directions. I don't opine to say you should not be excited about technological advancements (assuming that what you are excited about actually manifests to be true advancement and no human obsolescence), but I am saying your subjectivity appears to go very religious very quickly with little to no objectivity in favor of Microsoft's unsolicited vision. Your subjectivity is written as fact in your writing. That is troubling to read every week where readers' valuable time is being filled with everything but clarity - Since Microsoft provides little to no clarity, Microsoft patriots provide their subjectivity as a surrogate to Microsoft's non-responsive messaging. That is inappropriate.

"What I did offer, however, is objectively observer areas of innovation (Mixed reality/AR/VR/3D computing), technological leadership (Hololens/Windows Holographic/Gaming/Inspired explosion of 2-in-1s), growth (Surface is now billion dollar business), cloud processing Azure(number two in sector), etc. … Like cool kids, they're setting the tome for some things Mixed reality, 2-in-1s, cloud computing, Unified Windows Platform, etc."

• If

the "entrancement" agenda of

diluted

reality and the recent "advancements" of personal computing in general is considered an "objective observer area", sure, call anything you'd like "innovative" to subjectively frame it as being "innovation". The mermaid routines by strippers are entrancing, too. "Innovative", yes? Delusional reality is not new and Microsoft is not setting the tone there - it's catching up and doing so in a way that is unaffordable to users in sunk costs, especially when planned obsolescence rears its ugly head.

•

The 2-in-1 segment is not exploding. It's "growth" is cannablizing the ultrabook segment and the incumbent traditional laptop segment where users still get the best bang for their hard-earned wages. These aren't new buyers in the market - the market share that 2-in-1s have acquired are recycled from other form factors' market shares. Consequently, the 2-in-1 segment will soon become saturated while offering increasingly limited computing experiences with weaker components, quicker planned obsolescence, fewer ways to fix your own damn hardware (Sony, Microsoft Lobby Against Right To Repair Bills (Yet Refuse To Talk About It)), piss poor ergonomics, and, in Windows 10's case, a still weak tablet UI that hasn't really improved since Windows 8.1.

•

Cloud computing is of limited use due to it being … well … cloud - you're limited by having to always be connected to the internet. In my

subjective

opinion, you should only be connected to the internet for when you actually need it, otherwise, aimlessly remaining connected to it is almost like being part of The Borg except for still having, for now, your own thought processes driving part of what's going on until AI is pushed more by governments to be a more reliable source of truth than rugged sagacity (as Obama already started to on his way out) that can't be captured in algorithms.

•

UWP is not a competitive advantage

for users

(there's that concept Microsoft hates, again) unless developers make it one - they haven't. - sent from a Windows device

Apple is cool. They've just been all marketing Hype since the day they attacked IBM. They're living off legacy now from people who refuse to see the truth. For whatever reason Apple users are the biggest marketers for a product company I have ever seen. Even before the iPhone, if you worked a tech job, there was always 2 or 3 people at your job who couldn't quit telling you how Apple's crap didn't stink. Windows 10 was free for a year. Of course it wasn't going to spark sales. It's rare a single product changes the direction of a market that has existed for decades. And tablets haven't been cool for years. People don't talk about tablets like they do phones. Heck phones are starting to become just the thing people buy. I think if people experience things like Halo-Lens they will see some coolness. Plus, Coolness is just another phony concept. Cool is whatever the public tells you cool is. All it takes is some rapper rapping about a particular brand of jeans that was never popular in urban areas, and now all the sudden that brand is cool. A lot of what made iPhone cool was all the hype surronding it and and the fact the people who had one pushed it as this thing they had that everyone else couldn't get Religion? You mean like the way people have worshipped Apple for about 15 years now

"Religion? You mean like the way people have worshipped Apple for about 15 years now"

Yes. That is what I mean. I have the same disdain for Apple (even more, maybe). But it's more serious than that. Apple

and

Microsoft are like Democrats and Republicans (diluted reality by politics) - two wings on the same bird executing (through planned "differentiation") DARPA initiatives under millions of layers of marketing and hype to make sure things that can reach a critical mass do reach that critical mass to deploy plans that are set to make the precariat obsolete and further insulate the .01% (through diluted reality by technology, apps, etc). The layers you have to pull back to figure out what is happening are formidable, but the .01% has been at this kind of thing since at least the 1880's.

This was a nice article. Too often I find myself in discussions with coworkers, friends and family about the fact that I like Microsoft. They all still see it as the old and bussiness focused company. But if they don't take the time to see what Microsoft is changing into, how can their view ever change? Okay Apple has nice products, they launched the smartphone hype and tablet hype. But now they should at least admit that Microsoft is more inovative. But instead they just try to ditch them. Same as I said with the discussions, they always say Android and Apple are better and laugh when I say they should not forget Windows. But I will be happy when the day come and they have to admit Microsoft has a great momentum now...

Thanks Kevin! Yeah there are a lot of people who don't know about the innovations MS are leading and the impact it is having in the world of computing. Hey, share this article with your friends...maybe it will give something more to think about.😉

If microsoft had the apps for the surface and phone, I would be 100% in. when/if that time ever comes, I am back!

It's exciting to see how much they have been innovating. I look forward to what they will do in the future. I was very excited about the Surface Pro & Windows 10. They are definitely innovating more than Apple by far!! This is a good time because it is triggering a lot of competition & drives even more innovation between at least Microsoft & Apple. I believe that we will see some more great products come from them both. Truly, the last few years have been the beginning of some big change...Kinda like a new season in computing in how they're used by the user, devices capabilties, & wonderful GUI's. If they don't admit MS has a lot of momentum & is innovating more than them then they have a disease called "self-deceit"

Apple is always apple. I guess they will not change the way they attacks rival...

You can't compare this to Microsoft and iPhone. iPhone was a product going completely in a different direction than everyone else. Microsoft and others probably could have taken off, but none of them thought hand touch would be a big deal because they were so business focused. iPad is not iPhone. iPhone introduced something to add to what iPod was and what other smart phones weren't trying to do. iPad was just something to piggyback off the success if iPod and iPhone. It was just an exentsion of something else. Now with devices like Surface and phablets, iPad is losing steam. It doesn't serve a special need. It's even trying to copy Surface. Its basically for people who either don't want a big phone or they just want to do what they can do on their phone on a bigger screen. The one thing that will keep it having success is that Windows users are so screwy. They rush out to get iPhones and iPads, but they're dumbfounded by the idea of a Windows device that's just a tablet. It doesn't make sense to them to have a device that doesn't do everything their computer does. Apple is all about marketing and it's sheep who would buy and promote a terd if they sold it. They'll buy Apple if it goes into the manure business. The iPad will continue to be popular as long as Microsoft has thier head of their ass when it comes to truly investing in UWP. They need to be investing in UWP like they did in Bing, Surface, and XBox. The Surface line will make a lot of money and sell moderate units, but people are going to buy iPad because it's the only thing you can buy. Android tablets completely suck. And there is nothing quick, simple, and with enough apps on the Windows side.

There's an iPad Pro ad that isn't included in this article as it was only released recently called No more printing. Like that is a feature as you can do that on any device, whether you can print or not, you don't need an iPad Pro for that.
When a company resorts to something their device CAN'T and is totally unable to do anyway, and markets it as a feature, then it shows they are desperate.

I grow weary of these Microsoft vs. Apple campaigns. Everyone should focus on what they like in an OS. This childish "better than my enemy" is getting old and disrupts the joy of any chosen device. One day things will shift again, and Microsoft will be the old boring behemoth again - and then again this will change and Apple will be going a bit down again. Ask yourself this: Does it really matter what everyone else is using, as long as you like the device you are using now?
Windows Central Newsletter
Get the best of Windows Central in in your inbox, every day!
Thank you for signing up to Windows Central. You will receive a verification email shortly.
There was a problem. Please refresh the page and try again.