The truth about Apple's new iPad ads, Microsoft Surface and Windows
Apple is poised to refresh its not-as-popular-as-they-used-to-be iPad tablets.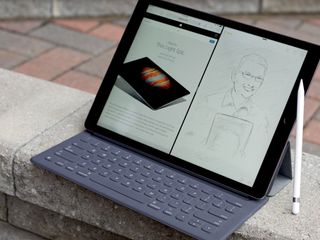 Decreased popularity notwithstanding, there's no arguing that Apple has made many technologies introduced by other companies into commercial successes. For instance, Microsoft beat Apple to market with a smartphone platform, but Apple beat Microsoft's mobile efforts to a pulp with the success of the iPhone. Early Windows tablets preceded Apple's 2010 iPad to market by years. However, Apple more than made up for its late entry, as the iPad defined the tablet computer for both consumers and businesses, and year after year outsold most other tablet manufacturers.
In 2017 the iPad is still successful but declining share and consumers' choices of alternative devices indicate that its influence is not what it used to be. A barrage of recently-released iPad ads ahead of the tablets spring refresh suggests that Cupertino recognizes the threat its competition poses. Apple is, therefore, trying to position the iPad as a superior choice to Microsoft's evolving vision for mobility and the PC.
Unlike the Mac-versus-PC ads of years past, however, this attempt by Apple may not be as impactful as the company hopes.
You see, Microsoft is cool now. Windows 10 has an appealing set of evolving features such as Paint 3D, Windows Holographic and Xbox game streaming.
Furthermore, the Surface Studio with the Creators Update (seen in the video above) appeals to Apple's previous target audience: creatives. And Surface inspired 2-in-1s from partners including HP, Lenovo, Dell and Samsung are simply amazing devices that are saturating the market.
Is the iPad untouchable?
Even the blockbuster success of Cupertino's hallowed hardware can't remain untouched by the progress of technology and consumer behavior. As the smartphone got bigger and more powerful, consumers began moving activity previously relegated to their tablets over to their increasingly capable and always connected smartphones, or "phablets." The iPad started taking a hit. Even Apple's own iPhone Plus is guilty of cannibalizing iPad sales.
Competition and innovation offered another blow to Apple's tablet. The sleeping giant that was Microsoft seems to have shaken off the dust and some of the lethargy that has kept it a step behind others in recent years. After two failed attempts, the Surface Pro 3 finally changed the game for Microsoft as well as the concept of a tablet for the industry. Today's 2-in-1s have been embraced by Microsoft partners, and more importantly consumers, and have therefore been emulated by its rivals.
Apple execs who previously scoffed at the idea of a tablet that is also a laptop have not only embraced the idea but have introduced their take on it as if it's an original thought. But that's what Apple (and honestly most companies) does. Apple's success in smartphones and initial success in tablets was the result of its consistently applied strategy of taking what others have pioneered, refining it, marketing it to the max, and thereby winning mindshare and the market.
With the evolution of the tablet toward 2-in-1s and greater productivity, thanks to Microsoft, Apple has seen the need to recast the iPad's image away from a strictly slate-shaped consumption device to a productivity device where a keyboard, an eraser-less pencil and Microsoft services such as Office are increasingly important.
Let's take a look at the defensive positioning of the iPad as Apple executes a proactive, ad-driven offensive against Windows 10 2-in-1s and the ARM-based cellular PCs coming later this year.
No PC viruses on iPad, but other dangers may lurk
This first ad highlights the fact that the iPad, which is not a PC, does not get PC viruses. The claim states the obvious but is also somewhat misleading. The spirit of the message is that the iPad Pro is safe from external threats such as malicious code. Given the sandboxed nature of iOS, the system is admittedly very secure, but history reveals that even its walled garden is prone to unwanted weeds.
In 2015 300 apps were purged from the App Store due to an infection that allowed hackers to send fake alerts and steal passwords. Though iOS is relatively secure this was not the only compromise the platform suffered during the years. No, iOS does not get PC viruses, but consumers should still be wary of potential threats that may compromise their systems.
Furthermore, consumers should be aware of Microsoft's current strategy to make Windows even more secure. Redmond's Universal Windows Platform (UWP) strategy allows developers to convert existing x86 Win32 programs to full UWP Store apps via project Centennial. Developers are also encouraged to convert iOS and web apps to Store apps via the other app Bridges and to bring new apps directly to the UWP. Like iOS apps, Store apps are inherently more secure and sandboxed against malicious code.
Finally, Windows 10 Cloud, a version of Windows which will likely be found on many tablets and 2-in-1s, will allow users to permit only the more secure Store apps, excluding Win32 apps (unless converted to UWP via Project Centennial) from the OS.
Better than a computer? Really?
In the new iPad ad, the narrator responds that the iPad Pro isn't a computer when the consumer claims that the iPad isn't even close to being a computer. The narrator proceeds to claim that the iPad Pro is better than a computer. These are odd assertions given that just six months ago, in August 2016, Apple released the following ad claiming the iPad Pro is indeed a computer:
The narrator states:
Clearly, Apple has pivoted regarding its iPad Pro computer claims. Frankly, in response to the question, the ad's narrator leaves us with, the "it's-a-computer" claims are easily challenged, as seen in this rebuttal from Microsoft:
Apple's original "it's-a-computer" messaging left too much room for comparisons to actual computers where the iPad ultimately fell short. For instance, the iPad Pro does not have micro-SD expansion slots or USB ports. These are two basic features consumers are accustomed to having as part of their computers.
Surface did it first, and Surface does it better
Furthermore, though iOS now has split screen capabilities, the extent to which one can use multiple Windows simultaneously as one can on a Windows computer cannot be facilitated on an iPad Pro. Additionally, this tablet-that-used-to-be-called-a-computer doesn't even support a mouse or trackpad.
Moreover, the 2016 iPad Pro ad touting a keyboard that gets out of the way and a screen that can be touched and written on, debuted in the wake of the successful fourth-generation Surface, a four-year-old line of Microsoft 2-in-1s Apple is clearly emulating. The Surface, which introduced all of those features four years earlier, actually succeeded in inspiring a market deluge of 2-in-1s. Apple clearly wants the iPad to benefit from the success of this Microsoft-inspired category.
Finally, though Apple bragged about the ability to write on the iPad's screen, inking is a deeply integrated feature of Windows 10. Users can write on sticky notes and an assortment of other apps and workspaces, and even on web pages. Unlike the $99 Apple Pencil, the Surface Pen has an eraser and (valued at $59) is included with the Surface.
Don't hunt for Wi-Fi, cellular PCs cometh
The above ad highlights the iPad Pro's very convenient, always connected LTE feature (on the higher priced model). Though infrequently implemented, integrated LTE connectivity is not without precedence in Windows PCs and tablets (though attaching high-speed peripherals is also an option). That's about to change. Microsoft recently announced that full Windows 10 is coming to ARM-based Qualcomm processors. This innovation sets the stage for always-connected, lightweight, power-efficient cellular PCs in the form of laptops, tablets and 2-in-1s.
Its manufacturing partners will begin bringing these devices to market later this year. Consumers will be able to purchase cellular data for these devices directly from the Microsoft Store.
Apple, which is certainly aware of this potential market deluge of cellular PCs, saw a need to highlight the LTE connectivity in the higher-end iPad Pro. You can't blame the company. Cellular PCs are a threat to the iPad Pro. Windows Chief Terry Myerson elaborates in the video below:
Cellular PCs will have the full power and versatility of Windows 10 PCs. Microsoft demonstrated Windows on ARM's ability to support intensive processes such as gaming, full Office and Photoshop. Moreover, Qualcomm's Executive Vice President Christiano Armon foresees high-performance and high-efficiency, all-day computing with these new devices. Rich multimedia, GB-level LTE 5G speeds, and best-in-class Wi-Fi are also expected on these highly portable, fanless devices per Armon.
When he addressed the manufacturers at WinHEC 2016 Armon advised them that the ecosystems they've established in smartphones could be leveraged to benefit cellular PC investments. He further expressed that Qualcomm's and Microsoft's cellular PC goals are to redefine computing devices. Given that statement, it will be interesting to see if these partnerships eventually lead to telephony-enabled ultramobile PCs.
If not, consumers looking for an always connected productivity tablet should still be aware that the full power and versatility of Windows PCs will be arriving on lightweight, power-efficient ARM-based devices later this year.
They needn't settle for the tablet-that-used-to-be-called-a-computer. But if they want to, Microsoft has a presence on iOS.
Do more with Word
The above ad highlights the fact that Word and Microsoft Office are the industry's standards for productivity. The consumer in this ad, like most consumers, wants Microsoft Office regardless of the platform they use. Apple conceded this point by not highlighting its iWorks productivity suite in the ad nor during the introduction of the iPad Pro on stage in 2015.
Corporate Vice President for Microsoft Office Kirk Koenigsbaur was actually called on stage at that Apple event to demonstrate Office on the iPad, as seen in the video below:
Of course, Windows PCs have both the Mobile versions of Office, as well as the full-feature version. Moreover, just as with the iPad version, users can draw on Word on a PC. In line with Microsoft CEO Satya Nadella's "best on Windows" vision, Microsoft's Devices Chief Panos Panay said, in relation to the Surface Pro 4, "There's no product on the planet that runs Office and OneNote as well as this product."
In a long-awaited step to "modernizing" its Office Suite, Microsoft is expected to convert the Office Suite to Store apps this year. This will bring with it the benefits inherent to Universal Windows apps.
Speaking of apps, I would be disingenuous if I didn't mention the advantage the iPad has in this area.
Tim Cook stated, "The iPad is the clearest expression of our vision for the future of personal computing. A simple multi-touch piece of glass that instantly transforms into virtually anything that you want it to be." That's a great vision, and the App Store has the apps to support it. The Windows Store has about 600,000 touch-friendly apps. The App Store has more than twice that number.
Still, per Microsoft's Panay, UWP has the critical support from developers of apps such as Lightroom, Photoshop, Illustrator, DrawBoard, Bitwig and StaffPad (among others), as he expounds on in the video below:
Microsoft Surface, 2-in-1s have iPad on the defensive
It's clear from Apple's new ads that the company is marketing the device-that-used-to-market-itself, from a defensive position. This uncharacteristic approach contrasts Cupertino's more recent campaigns that focus on what an Apple product is or does rather than taking subtle digs at the competition through thinly-veiled comparisons.
If Apple were pitting itself against the old stodgy Microsoft, these ads might have a greater impact.
But this is the Microsoft that puts the power to create and manipulate 3D objects in the hands of children and adults.
This is the Microsoft that is leading the industry in mixed reality with its Windows Holographic platform and HoloLens.
This is the Microsoft that brought streaming Xbox gaming to PCs and VR.
This is no longer the Microsoft of boring, beige desktop PCs. This is the Microsoft that gave the world the category-defining Surface, Surface Book and Surface Studio. The Surface Book video below still gets me. It's just so cool.
Maybe Apple would have been better served not to take digs at Microsoft and Windows PCs in its new iPad ads. Everybody knows (or should know) it's not a good idea to pick a fight with the cool kid.
Follow the story
Get the Windows Central Newsletter
All the latest news, reviews, and guides for Windows and Xbox diehards.
Jason L Ward is a columnist at Windows Central. He provides unique big picture analysis of the complex world of Microsoft. Jason takes the small clues and gives you an insightful big picture perspective through storytelling that you won't find *anywhere* else. Seriously, this dude thinks outside the box. Follow him on Twitter at @JLTechWord. He's doing the "write" thing!