Apple may be building augmented reality glasses; Should Microsoft worry?
Rumor has it that Apple is working on augmented reality glasses that may debut in 2018.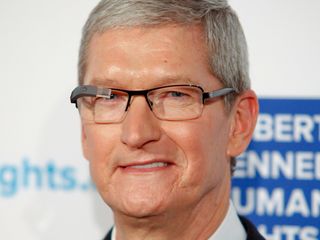 By then Microsoft's high-profile, untethered, AR wearable computer, HoloLens, will be three years old. Microsoft's earlier arrival to the market, however, is no guarantee that Redmond's answer to AR will win over Cupertino's much later arrival.
Microsoft was first to tablets and smartphones after all, and we know how that turned out. Still, Redmond seems to have learned a lesson or two from its former lax approach to hardware that resulted in the company being beaten at its own game on more than one occasion.
With HoloLens Microsoft has taken a strategically calculated approach to the market by introducing it to specific industries and for specific use cases. This tailored approach has garnered passionate developer support for Windows Holographic. Moreover, Microsoft's nurturing of partner relationships to bring HoloLens-like hardware to market will further help Microsoft's ecosystem become the industry's platform for mix-reality (the continuum from augmented to virtual reality).
With such a strategically comprehensive approach and an undeniable lead, does Microsoft have anything to fear from a potential AR headset from Apple? Candidly speaking: yes.
Apple is as Apple does
Apple's CEO Tim Cook had the following to say of AR this Summer:
Apple employs a strategic approach to the market that helps the company minimize financial and perception risks that more daring company's like Google and Microsoft may incur.
Cupertino often makes minor (relatively speaking) investments in a field while it watches and learns from the successes and failures of companies that make heavier and earlier investments in an unproven area.
Others test the viability of new technology in the market, allowing Apple to then glean what works while avoiding what doesn't. Mark Gurman of Bloomberg recently stated this strategy this way:
Apple is a consumer company. Before it invests deeply in a technology, it must see a path to bringing that tech directly to the mass consumer market in a consumer-friendly form. With sixty-percent of its revenue coming from the iPhone, in a saturated market, Apple is under pressure to diversify, but must do so with minimal risk.
If a company builds an AR headset and that company isn't Apple, did it happen?
Cupertino lacks the breadth of products, services and infrastructure that Microsoft has as a consumer and enterprise platform company. Redmond has been able to take advantage of its deep-reaching relationships as the default computing platform in the enterprise to take the long road to the consumer space by refining and proving HoloLens and Windows Holographic in the private sector.
If reports are true Apple's AR glasses will work in concert with the ever-popular iPhone, much like the Apple Watch does today. When we consider history and the fact that the iPhone is still seen by many in the industry and the media as the industry's standard, Microsoft's mindshare with AR could be in jeopardy. Particularly in the ever-important consumer space.
Historically, an accessory, like the Watch, that treats the iPhone as a hub for a user's digital experiences receives profound media coverage and a tremendous marketing push from Apple. Apple Watch news saturated both tech and mainstream media mainstreaming the idea of a smartwatch for non-techies. If history's any indication of what may occur with Apple branded AR glasses, the resulting phenomenon may propel Apple's AR efforts to the forefront of not only tech but also mainstream news.
Conversely, as profound an accomplishment as the self-contained, wearable holographic computer HoloLens is, few non-techies know it exists. Furthermore, with a first-party consumer-facing version not expected until about 2020 per Microsoft's CEO Satya Nadella, Apple's simpler, iPhone-dependent AR glasses may reach consumers two years before HoloLens does. Granted, Microsoft partners may bring a consumer-facing AR headset to market before or around the same time as Apple's rumored time frame. It is unlikely, however, they will get the type of mindshare-grabbing marketing or media coverage Apple's efforts will engender.
Four Eyes
There was a time when glasses were considered unfashionable. Now people with 20/20 vision wear non-prescription lenses to look chic.
HoloLens is a full Windows 10 computer that can be worn comfortably on one's head. That's a tremendous engineering feat, but no one will be walking around publically sporting those sci-fi-looking goggle computers.
We've no idea how Apple's AR glasses will look. We do know that it will likely be iPhone-dependent, Apple is obsessive about the aesthetic beauty of its hardware and Cupertino's goal is to bring AR to the consumer market in a user-friendly form. Simply put, they'll be something Joe Consumer would wear.
Apple's massive developer ecosystem will also likely ensure practical everyday uses early on. Furthermore, because a person's personal phone often becomes their business phone via BYOD, the iPhone has a dominant presence in the enterprise. Thus, the iPhone may become Apple's portal for AR into the enterprise and with that a corresponding proliferation of industry-specific iOS AR apps.
The popularity of the iPhone, BYOD and likely aesthetically pleasing AR glasses may be positioning Apple's AR strategy to threaten HoloLen's budding enterprise presence.
Still ahead of the game
Microsoft's mixed-reality strategy is not only more comprehensive than Apple's, but it's already here. Now. HoloLens and Windows Holographic are in the hands of developers and is in use in various industries. Moreover, Microsoft's cognitive services such as facial recognition and vision APIs are more advanced than Apple's current facial recognition implementations in its camera app.
These technologies, in addition to the 3D scanning tech demoed at Microsoft's Oct 26th event, will likely find a way into a number of augmented reality scenarios.
Still, the iPhone's dual camera system and Apple's purchase of Metaio and PrimeSense may point to a future evolution of AR within iOS. No matter how far ahead Redmond may be, like the hare who lost the race to the tortoise, I think Microsoft has learned not to sleep on its lead.
Related Must Read:
Live Photos, 3D Touch & Universal Apps: Apple hijacks Microsoft's lingo
Get the Windows Central Newsletter
All the latest news, reviews, and guides for Windows and Xbox diehards.
Jason L Ward is a columnist at Windows Central. He provides unique big picture analysis of the complex world of Microsoft. Jason takes the small clues and gives you an insightful big picture perspective through storytelling that you won't find *anywhere* else. Seriously, this dude thinks outside the box. Follow him on Twitter at @JLTechWord. He's doing the "write" thing!