A "HoloLens" for everyone; Microsoft is democratizing HoloLens tech
When Microsoft introduced the untethered holographic computer that is the HoloLens nearly two years ago, everybody wanted one.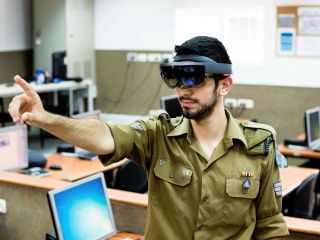 Of course, at the time no one could get one. The hardware was unfinished, and the tools in Windows Holographic, a new component of Windows 10, which would allow developers to build holographic apps had yet to be to be released.
But even then I knew that HoloLens and Windows Holographic would have a profound impact on Microsoft and the future of personal computing. Developer's adoption of the platform and manufacturer partnerships for HoloLens-like wearable computers are core to Microsoft's vision. Microsoft fellow Alex Kipman explains:
As partners have emulated the Surface with affordable 2-in-1s, Microsoft's goal is to foster an explosion of untethered wearable holographic computers for everyone!
A new perspective
Bringing Holographic computing to the masses isn't as easy as a "show the world today and change the world tomorrow" strategy. The hardware, the platform and the way we think about personal computing requires a systematic, deliberate and strategic shift. This takes time.
When Microsoft introduced HoloLens it seemed like a science fiction fantasy to onlookers. "Could this untethered wearable computer projecting holograms into the user's world be real?" Moreover, could it really be "uncool" Microsoft, that is presenting this artifact from the future? The answer to both questions was: Yes.
HoloLens and Windows Holographic not only took the industry by surprise, but the ambition it represents as a bold new personal computing platform have many proclaiming Redmond as innovative in a way that Apple and Google are not. Apple's Tim Cook recently acknowledged the importance of augmented reality (Apple is rumored to be working on their own AR headset) and Google has made investments in the mysterious Magic Leap — are they playing catch-up?
The industry is still wrapping its heads around the implications and potential of Microsoft's holographic platform. Furthermore, developers are challenging their imaginations with its boundary-crossing nature. Potential hardware partners are, no doubt, entertaining strategies that will help bring wearable holographic computers to the masses.
A long road to the masses
Microsoft wants to get holographic computing right. They want Windows Holographic to be the industry's platform for this new way of computing. That's one of the reasons "holographic APIs are enabled inside every Windows 10 build." Moreover, Microsoft wants hardware partners to manufacture holographic computers patterned after the $3000 aspirational HoloLens.
Thus, to build an infrastructure of support, Microsoft has engaged in a tempered approach to the market. Redmond has demonstrated the efficacy of the technology first in specific industries and with specific use cases before launching haphazardly to the masses.
The progress in education, science and other sectors reflect Redmond's dedication to the platform. Though a first-party consumer version is still at least three to four years away according to Microsoft's CEO Satya Nadella, Windows Holographic is inching into the mainstream via Virtual Reality.
HP, ASUS, Lenovo, Acer and Dell have recently committed to bringing affordable VR headsets, which use elements of Windows Holographic, to market. Starting at $299 these headsets and partnerships represent both the adoption of Microsoft's holographic platform by manufacturers and a possible progression of these partnerships toward HoloLens-like AR headsets.
At $3000 the price is not right
A $3000 HoloLens, like the $3000 Surface Studio, is not accessible to most people. In fact, Redmond's aspirational first-party devices are not meant to be.
They're intended to inspire manufacturing partners to emulate the synergy of software and hardware exemplified on first-party hardware.
The success of 2-in-1s and the introduction of the Surface Studio-Like PC from Dell so soon after the Studio's debut are good signs manufacturers recognize Redmond's Windows 10 device family vision.
Windows Chief Terry Myerson is excited to see this vision realized at WinHEC in relation to helping manufacturers bring HoloLens-like PCs to the masses:
Microsoft's holographic computing vision is on a path to becoming reality.
From virtual dream to reality
Kipman had this to say of Windows Holographic:
The combination of developer's passion for the software and the coming democratization of the hardware may bring Microsoft's holographic personal computing vision to fruition.
It'll be interesting to see if partners will bring wearable holographic PCs to consumers ahead of Microsoft's self-imposed first-party timetable of about 2020.
Alcatel introduced the consumer-focused Windows Mobile Idol 4S though Microsoft's Windows Mobile vision is enterprise-focused after all. Microsoft's partners have their own strategies for the Windows platforms. A consumer-focused HoloLens-like PC just might be at the fore-front of a manufacturers personal computing strategy.
Would you buy an affordable third-party holographic PC if one debuted in the near future?
Related reading:
What Hololens means for Microsoft and the future of personal computing
Get the Windows Central Newsletter
All the latest news, reviews, and guides for Windows and Xbox diehards.
Jason L Ward is a columnist at Windows Central. He provides unique big picture analysis of the complex world of Microsoft. Jason takes the small clues and gives you an insightful big picture perspective through storytelling that you won't find *anywhere* else. Seriously, this dude thinks outside the box. Follow him on Twitter at @JLTechWord. He's doing the "write" thing!