How to stream Xbox One games to Windows 10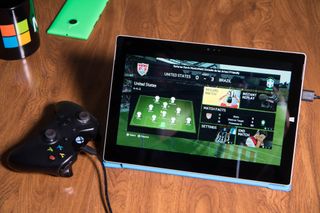 Want to play your Xbox One games outside of the living room? It's possible thanks to Windows 10 as long as you're in the same network as your Xbox One. It's really simple. Watch our quick how-to video to see how it works on our Surface Pro 3 running Windows 10.
Enable game streaming on your Xbox One. Go to Settings > Preferences and check Allow game streaming to other devices.
Launch the Xbox app on your Windows 10 PC and tap or click Connect on the left pane.
Select your console from the list and tap or click Connect.
Attach your Xbox One controller to your Windows 10 machine via a USB cable.
Tap or click Stream.
That's it! We still prefer to play on bigger screens but it's nice to know that we have the option to play our Xbox games in the backyard without taking our console away from the living room.
While you're streaming, there's a toolbar on top with a few options. You can click the Xbox logo to go home, turn on or off the microphone, and stop the stream.
The hamburger button shows an overlay with network bandwidth statics that can be very useful to troubleshoot your stream. Perhaps the most interesting setting is found in the last button, which lets you to change the bandwidth speed of the stream.
Do you think Xbox One streaming is an awesome feature on Windows 10? Will you be using it frequently? Let us know in the comments! Need more Windows 10 guides like this one? Check out our Windows 10 help, tips and tricks page.
This article was originally published in June, 2015. It has been updated in July, 2015 with video.
Windows Central Newsletter
Get the best of Windows Central in in your inbox, every day!
Is Xbox one preview still by invite only? I was certain I was part of the preview group, but it appears I am not or can't find where I can confirm otherwise. Thanks!

Sadly yes, If i can get in i will invite you in too

Just send me the gamertag that i invite you both...

Any chance I can get an invite?

Could you please invite me too? (shatt11)

Could you please invite me? Gamertag: timenathan3238

Please send me an invite, Ireally want to tet this out with Windows 10 gamertag - Traukaluth063

mind sending me one? its xboxwatchtvvvvv (thats 5 V's at the end lol)

Mind sending me one also? XboxWatchTVvvvv (5 v's total at the end)

Please add gamer tag RetiredRecon to the list when you have time please!

I know it's a long shot, but would definitely love an invite as well (with plans to pay it forward at least a few times). Tag is: nyarsulik

Same here invite me and I will do the same for others gamertag JCerna

Is it too late? GT: Bhuddds

An invite over here would be nice: rivallights :)

If it's still possible I would likely have an invitation :-) my gamertag is toufensen. Best regards Renaud.

Still possible to get an invite? Please add me, GT: PRistiharju

Any chance i could get an invite?
My gt : thehamsterboom Thanks in advance if possible.. If not thanks anyway

Any chance I can get an invite too? (game tag: AykisLeFou) Thanks

Cyruz20022 please send me an invite

Any chance you could help me out too? GT: FiftyF

My gamertag is MPedron, please invite me

me too please GT: Schubiduu17

Please send me an invite too! :) gamertag: Dr Brocoli

can i have one please??? b4ist42012 thank you

gills4premkc please add me to xbox one preview, thank you in advance

Man oh man, I want to play! Please?! Weasel Header

Would you kindly invite me? I would be very greatful and would gladly help others. GT: ziden

GamerTag = GodOrMortal Please Send Me A Preview Invite I am Currently In 5 Beta Programs Including Windows Insider Preview I JUst Need It For Xbox One Please Send Invite

hey Guidoncio,I've requested invites and have been unsuccessful in getting one..could you please help me out? thanks in advance!

Guidonvio you are awesome if you can get me in. Gt is CelticDraigon

if you could send me an invite that would be amazing. I can return the favor with a demonoid invite. GT:JonHeDoesIt

Oh boy that's a lot of gamertags. And fyi streaming is out of the preview. Available for everyone.

don't know if this is too late but any chance you could invite me ( PrestoDeer58446 )

I'd love an invite too if any more are available. Thank you so much for your time. GT: bigbaldpapa

Can anyone sent me an invitation? GT: nuciear fat man

Brotato Baggins is my gamertag please invite me

Go to the fucking forums!

Streaming is out of the preview now ...available for everyone.

Or if your dumb enough you can buy an invite from eBay. They had loads on there but I tweeted out a link to @xboxsupport1 and hopefully they can get them taken down somehow

Can invite me? Gamer tag: Webnoi

why would I want low end graphics to a PC? I want PC graphics to the XBOX!!!!. You're doing it backwards.

You're missing the point my friend. If you play PC games, you're probably not the market for this feature (like me). But, if you play console and parents want the TV in the living room for movie night... Or multiplayer... Or you cant be in the living room at night (for those that still have that model family/use)... Etc... Console gamers that may want to play console games elsewhere out of necessity or convenience. These people are the market.

That's exactly it. My wife likes to watch her shows at a certain time in the living room. Now I take my laptop to the room and play destiny :D

I was hoping it would work this way, unfortunately, at least from my experience, it does not. all it does is mirror what you are doing on the xbox. Wish it could know you are streaming a game and let another person watch TV at the same time. Maybe in a later update. Lets hope.

I was hoping for the same thing. I just rewired my setup so the TV is not going through the Xbox any more to allow for this.

So you've already got it working? The game streaming? If so, how is it, and does it lag or require much bandwith??? Please reply quick!!!

Yes, it is working for me. Barely works over wifi. Works fine when plugged in. Seems to be between 9-14 Mbps.

@Shane, you need to upgrade your WiFi.

Lol. Not sure what I'd upgrade it to since I have two WRT1900AC's. I'll have to pinpoint the bottleneck.

Tell dad to buy you another console and hook it up to the black and white telefunken tv in the basement. Microsoft stopped developing media center to focus on this nonsense.
Buying a PC for this is a slur to companies like Autodesk who build apps that build the world literally.

I didn't buy a computer to stream to it, but am I happy that I can use my computer to play Forza while my wife watches TV, yes I am. And it will be easier to mount my steering wheel to my office desk. This may not be your thing, but alot of people are going to like it.

unfortunately in this early iteration there is no dual use... all you get to do is stream to a PC or use the Xbox One. Microsoft please at least allow simultaneous TV viewing on Xbox and game streaming to a PC

Just use an hdmi spitter to allow either watching TV directly from the cable box or through the xbox one. Monoprice has them for under $40.

Agree with captblaze. Unless allows TV at least, this is COMPLETELY USELESS for a family.
You honestly might as well move your Xbox One from the living room to a study of bedroom. So much for the TV, TV, TV! at launch.
My wife can't be messing with splitters and the like, plus it handles all the infrared to the cabinet, plus what when we want Netflix etc?
It's infuriating given the machine can snap and multitask two uses.
This Windows 10 'feature' was MASSIVELY MISREPRESENTED by Microsoft, and having waited expectantly for it for months our family is seriously NOT HAPPY!

Oh boo boo. So you bought an Xbox for the sole purpose of this streaming? Yea... Right...

Microsoft stopped developing media center to focus on this nonsense.
Buying a PC for this is a slur to companies like Autodesk who build apps that build the world literally

I have no clue what this means.

Microsoft has stopped developing media center because there was never much of a market for it. It was used by a niche group. They tried selling media center PC and home theater PC and they never caught on. I understand that it is really useful for people in that niche group, but if they aren't making any money on it and it doesn't support sales of any of your main products, you eventually have to stop developement.

Not a market for it? Wrong. No marketing for it. Anytime anyone comes over and sees my Media Center setup, they both didn't know you could do this or that it existed in the first place. The next question is how can they do this. Prior to Ceton there weren't great extender or tuner options. Post Ceton, there wasn't commitment from Microsoft, and with 8.1 the noisy 360 was the only extender you could use. It's failure falls at the hands of Microsoft, they more or less sabotaged their own product.

You can blame cable labs for making a dead end drm standard

Right on, Ray. To all you fools that just don't get it, my wife likes to watch reality shows at night. I do not. I then get on my laptop and do various things, while chatting with the wife. I can now play my One on my laptop, in addition to Spotifying, browsing web,etc. It's not rocket science! ....or is it? Hmmmm....

Those are all perfect use cases. But I'm all in with my XBOX One controling my TV, Cable Box and piping it all via HDMI through my reciever for a full sound experiance along with my Kinect (I have not used a remote to turn on or off these devices in a year [looking forward to replacing "XBox On" with "Hey Cortona, turn me on" ]). If I'm watching TV (which would be through the XBox and OnGuide), my guess is if someone else wanted to play on their laptop, that dual funtionaitly is not there - that would be multitasking the XBOX vs. Mirroring the XBOX. This use case is only if you use the multiple inputs on your TV, where Video 1 is TV and Video 2 is XBox. In my case I'm only using one HDMI In to the TV. Good thing I live alone and never have guests.

You can always split the out HDMI from the cable box into two so one goes into the Xbox One passthrough and one goes straight into the TV. Then you can switch inputs if someone else wants to watch tv and someone else wants to play. There is the OneGuide on the Smartglass/Xbox app which you could use as a guide. It won't be the same experience but for now I assume it could hold you over.

He did not miss the point. Its a plus feature, but sadly useless. They should stream to mobile phones, that would be the right feature. Some support for mounting mobile phone on the controller and you can play everywhere in your house.

wife and family will often usurp the family room .. this feature is ideal for me and others like me

What we want is the ability for the wife to watch say Netflix and for me to stream a game at the same time sadly when you stream it takes over the xbox

Why are you so simple minded? I could totally play high end PC games on my Surface, right?

You only complain... but only because this isn't useful to you it's backwards? lol.... you can't even use your brain a little to think this could open alot of things, from streaming from one place to a different one of the world, and also to be able to play xbox games on small devices like phones without needing to worry about the graphocs. Of course it's not even released so we don't know the future, but I am sure this is just the start, not the end. but yeah it's useless and backwards, oh Microsoft is clueless /s why don't you connect your PC to your tv if you want PC graphics on your living room? oh yeah because you are a complainer who doesn't know what you are talking about.

you mean you doing it wrong :D

Do you need to be in same network to stream The xbox one to pc?

Yes, you have to be in the same network. Thanks,

or at least make your device think it's on the same network...

No you don't. You can VPN to the network as well. Imagine sitting in a hotel room somewhere and still able to access and play your library of games at home.

Yes, I would love to play... chess ... on my XBox from a hotel room somewhere using VPN.

While that is a possibility technically, it probably won't work for most people because... 1) Most people don't have a VPN capable router, know how to set up a VPN, or even know what a VPN is. 2) A remote VPN connection in most cases will introduce enough latency to be an issue in most high paced games. 3) Hotel room WiFi usually has such crappy bandwidth that even video streaming YouTube (which is buffered) is a bad experience. I'm not saying it can't be done and I'm going to try it myself for sure, but the average person out there is going to want to stick to their local network.

And a lot of people at home don't have 10mbps upload speeds, so even if your hotel has speedy internet, your home network won't keep up.

Wow, can't wait to try this!!!!

Probably going to throw a 200GB hdd in my tower and install windows 10 on it tonight to try this out. Where is the best place to find an ISO with the most current build?

Microsoft. Personally, I wouldn't go messing around with ISOs from non-official sources. But that's just me. Even if MS has only ISO for an older build at least you know it's 100% legit and can update from there.

The Windows Insider website.

Don't forget you have to have an invite to install the preview for xbone to make this work.

This is different then then Preview Dashboard?

Don't forget its on the public build now

I was able to stream to my Toshiba Encore 2 Write. Although the Windows 10 build was buggy (and not optimized for Bay Trail), the stream worked flawlessly. The only issue really is the fact that you're just mirroring what's on your Xbox, the console doesn't let you multi-task with streams. Ultimately, the best solution is going to have to be cloud streaming to the PC... Posted via the Windows Central App for Android

This is my point right now this makes no sense especially if you use the Xbox as your input one like they want

Multimedia is taking a back seat, the focus is now on Games, Games, Games.

I already streamed to my Asus laptop. And it is great I am streaming over 2.4Ghz band and it runs perfect. I'll try a 5Ghz band later. But the only thing is that there is a small controller input delay.

I would be soooo happy if you would invite me to the XBOX Preview too :D! My Gamertag: TortuousSplash

Please vote for this idea: https://xbox.uservoice.com/forums/282539-xbox-on-windows-10/suggestions/...

Totally impossible idea... Just buy a gaming laptop and play your game with hifi there.

Ignorant post... The topic is about streaming, not new gaming PC's. Yes a person could do what you suggested but your tone implies they are stupid for wanting to use this cool new feature. I have tried it and love it. It's much easier to hook my projector up to the laptop and play my Xbox that way. Ohhh, there's an idea. Next time you want to post turn to your buddy and say, "Will I seem like an idiot if I if I post this?"... If he says yes, step away from the keyboard.

Can you still use the xbox to watch Netflix or youtube while streaming to win10 device? That way my kid can watch Netflix in the living room while I play in my office :D

Nope. It just mirrors your Xbox One screen, for now at least. Posted via the Windows Central App for Android

It would be great to at least have the TV available, but who knows what tomorrow will bring.

I would assume that you can do that if you are not using the XBox to control all media to your TV. There should be nothing preventing me from streaming from my XBox to my PC while my wife uses the Apple TV (which is connected to a reciever and not the XBox) to watch TV.

Actually I haven't tried that bit its very possible that when you switch inputs it will cut off the hdcp and this cit the signal

@kwajr. Streaming data would be going through WiFi / Ethernet not HDMI. This is basically how remote desktop works.

Nope, you can't do two things, so since my TV is through my XBone, the kids can't watch TV while I game. I'm hoping that comes though, since the XBone can game and do TV at the same time already.

@tk-093, yes you can providing your not running everything through the X1. So in your case - you would not be able to. I have been able to mirror the x1 on my laptop running Windows 10 in VM and the HDMI cable was unplugged after logging in (I'm using a 3 way switch and I'm on cable short, it's easier to unplug the x1 and put the x1 hdmi cable into the three way switch). Everything I'd hardwired by Cat7 cables to a cheap 10/100 switch (which i will replace with a gigabit one later) even my laptop

Someone already tried to do this with the Xbox app on a phone?

Tried it yesterday. Just wish I can stream a game to my tablet and someone else watch cable on the tv

Can you invite me to the Xbox preview - gamertag - theflew?

Put W10 on a surface pro 2 yesterday. It will connect to my XBone and it says it is streaming, but the stream never comes through. The XBone app just sits on my SP2 screen dimmed. If I try to do someting on my XBone it tells me I can't until I stop the stream, so it THINKS it's streaming..... Will mess with it more tonight.

Same thing is happening to me trying to stream to a Surface Pro 2. I can select a game to stream from the app and it'll start on the console, but the actual stream never comes through. The screen stays dimmed with the options to go fullscreen and exit the stream.

If I figure it out, I'll post it here....

I work on this featrue! If you're having trouble make sure to report bad feedback at the end of the session!

Thanks, Quinn! I did exactly that! Have not had a chance to mess with it more, but I will continue to do that for my next attempt.

Having same issue here - can connect to the Xbox fine but when I start the stream it's just dimmed and nothing comes through. Have tried lots of things including latest graphics drivers and am on the latest build. Any luck??

I had the same problem. Needed to update to the latest Xbox app on windows 10. Open the Xbox store beta and update your app and it should work.

So, can you watch tv on your computer if your cable box is hooked up to the Xbox?

Nope. TV is blocked. Netflix and hulu may be too. I haven't checked.

I believe you get an error indicating that the current app (TV in this case) is not supported for streaming.

Yes that worked for me today when I tested it. For Netflix I got an error, but not for the TV app.

epic fail since you can't use the xbox for something else at the same time like watching tv.

Since it's all still beta, I think it's a little early to use 'epic fail,' which is generally overused anyway. Besides, not everybody runs their TV through their XBox anyway.

Yea its crazy how even though a lot of people already find it good and useful it's a fail because it doesn't fulfill someone's needs fully.... Sigh...

Someone show me streaming from Xbox and watching a different input on the tv
I know when i switch inputs if I switch back quickly I know the signal is cut

Epic Fail! Seriously? Get outside sum one buddy...what exactly do you want?

So, this may be a dumb question. But, does this mean you can play a game on the Xbox while someone else plays the same game with you via a PC? Kind of a remote multiplayer? I thought this was the purpose of this feature. But, I've not been able to find this spelled out anywhere.

Because of hardware constrain, you can only play one game at a time and it only streams what you see in your TV to your Windows 10 PC, it's not a display extender. I know what you mean and I would also like that feature. The purpose of the feature is to free up the TV for other people watch something else, but not using Xbox One. Imagine a family where parents want to watch CNN at the same time the kid wants to play games, well now they an option where people don't have to fight over the TV. Thanks

Thank you, Mauro. I figured it would be just one game/app at a time. I was just hoping you could do multiplayer with one person on the Xbox and the other on the PC. So many games for Xbox support multiplayer. But, only over Xbox Live. Makes it pretty hard to game with other family members.

Some games will be cross platform multiplayer with xbox one and windows 10 but that's different than this.

Although Microsoft has said that with local multiplayer it will be able to send the second player's view to a Windows 10 device instead of doing the split screen.

Source of that statement?

"...but not using Xbox One."

That is the key statement. Sad for the setup where that TV connection that the parents want to watch CNN via is utilizing the HDMI passthrough on the Xbox One. Have to upset the whole configuration of one's entertainment center to accomodate the game streaming feature and lose features like voice command and OneGuide for TV in the process.

This is going to be AWESOME! Now I don't have fight for the big TV when I want to game. I'll just be in my corner streaming to my SP3.

Hello all Someone can send me an invite for xbox preview program. Thanks! Gametags:Cheniiipan

I recently had to sell my tv for a move, but I was wondering, would I be able to boot into my XBOX, and stream to my computer?

You would need to get in the xbox to turn on streaming the first time. Wasn't on by default.

Btw that like selling a gun bit keeping the bullets The Xbox is useless with out the tv The tv is not useless with out the xbox

A VPN would be better but I used Splashtop remote desktop client (with controller support) from my work to connect to my Desktop at home and was playing my xbox at my desk. A little lag. But good enough to play farm sim 2015!!!!

Could someone invite me to the xbox1 preview program?

I don't see the value of this feature.

Ummm I can now pause a game when tired then resume in bed or on the couch.

With Microsoft's focus to make the Xbox One the singular point of media entertainment in one's living room, it is quite disapointing to know that I will not be able to utilize the HDMI passthrough for watching/controlling TV while I stream a game elsewhere. I have no intention of implimenting a sad workaround by re-cabling my cable feed directly to the TV to make this possible, I then loose my OneGuide and voice comands. Under this current configuration, I don't see streaming a game from the Xbox to anything worhtwhile, it still makes the display I am freeing up unavailable for anything else. I am really trying to understand the point of this. I am utilizing all the video passthrough / media streaming / gaming functions that the X1 is boasted to be perfect for - Under what circumstances does game streaming actually provide a benefit to those that do use the system the way it was intended?

Well, it's summer time and say you want to enjoy the great weather while still playing your Xbox games... or you can play in your bedroom or any other room in the house without having to cart your Xbox to another room. Essentially, it gives you the freedom to enjoy your Xbox One (and compatible 360) games wherever there's a computer in your house.

I already have 30 some other consoles in my Office, and an X360 in my bedroom, and if I'm going to go outside, I will go to enjoy the outdoors. Game streaming may enable a semblance of freedom, but in reality it is just making it easier to chain you to the system wherever you go in your home. And with that you have to give up other features to make the primary display you use with the X1 functional for other activities when streaming is happening.

its first release of the code. give them time to figure it out and get it working first before expecting new final code features.

Here, man. Stop complaining and picking at small faults. http://www.monoprice.com/Category?c_id=101&cp_id=10113&cs_id=1011301

Why would I want to add a hardware bandage work around a software issue? Additionally, this certainly doesn't address the functionality reduction - no OneGuide or voice commands. Splitting the connection to allow access either way, while functional, is neither practical or desired. It would be an expensive and unsightly addition. Also, providing "solutions" like this makes it clear that you missed the point of my question. I was not looking for a solution, and I was not arbitrarily complaining, I was looking for explanation on how game streaming would be of benefit when it doesn't actually allow one to use the primary display connected to the Xbox One when one has their system configured to utilize the media features that the Xbox One boasts having. I'm all for game streaming, If I did use it, it would be to free up the TV for my wife to use, so it would be imperative that existing TV functionality be available. I understand that this is a first public release of the feature, and additional functionality may be made available in the future. In its current state, while interesting, the game streaming feature is not the brilliant addition to the system that people are making it out to be - it has the potential to be brilliant.

It's optional, so even though you don't want to make use of it in its current state, many people see it as a big benefit, all you have to do is look at lots of the other comments if you want to see how it's useful to other people. Many examples have already been given!
Hopefully at some point in the future it will allow non games stuff to be run on tv, until then it's not for you, but many people it is.

I use the component output in my cable box to get an HD signal on a second TV. Once set up I lose nothing and gain the ability to watch the TV when Xbox is gaming. You can even get component to HDMI adaptors if your TV doesn't have the right inputs. Piece if cake and you sacrifice nothing. Think out of the box a bit and you will find all kinds of ways to do what you want. If your wife can't be bothered with changing inputs well then you have bigger problems, get a smarter wife. (Next complainer...its your turn.)

Sounds brilliant cant wait for this to be released. I wonder if I could stream one game while the xbox is playing films or tv?

Currently not, but I'm hoping they add that. Since the XBox can display TV and a game at the same time it should be possible. I wonder if they need the Windows 10 update on the XBone to make some of those things work better?

This works great, got it working on my hp stream 7. See my YouTube channel Daniel Sherlock Posted via the Windows Central App for Android

First, I should get an Xbox One

Can we use the XBOX One Wireless controller or should we get a wired controller and connect to PC to play??

Both methods work fine. My first go on it was with the controller connected wirelessly direct to the Xbox One, which worked perfectly for me.

I'm going to setup my second Xbox one just for this!!!

Is Anyone willing to send an invite to the Xbox one preview program? I'd really appreciate it. I hate missing out on stuff like this. I got into the 360 preview back in the day but was denied the new one

Does the Xbox app have to be fullscreen while streaming or can it be windowed?

I can't get this to work. Everything is fine on the XB1 side. However, the Xbox app on Windows 10 (build 10130) won't update. It's stuck in version 5.5.20022.0000 - I went to the store beta and it always gives me the option to install the app. I do thinking it would update it but it never does. Bummer.

My gamer tag is techchef86 if anyone is willing to invite me to the preview program

Tried it last night on my SP3 and while video was buttery smooth, audio did not work at all. I'm going to try troubleshooting this tonight, but just wondering if anyone else had this issue?

Just tried it last night with the official release of Windows 10 on a Surface Pro 3. No audio as well. Did you find a fix for it?

gamertag: shatt11 please invite me to preview

I would LOVE an invite to the preview program if anyone is feeling generous!
GT: bbilley91

Looking for the elusive invite to this preview. Someone please hook me up. XboxWatchTVvvvv

looking good. hope they fix the tv thing so it works in the final product. so someone can watch tv while you game.

If anyone is kind enough to invite me my Gamertag is "Hnic29" Thanks

can someone send me an inviter to xbox preview account to gamertag alphakennywon

I'm guessing the answer is no...but should it be possible to watch tv through the Xbox while a game is streamed to a PC?

If anyone is able to invite me to the Xbox Preview Porgram I'd be greatly appreciative. My Gamer tag is: B1G ACH (Thats the "number one" in 'big' not an "i" ) Thanks!

My gamer tag is urqs if anyone is willing to invite me to the preview program, thank you.

Please can I get a preview invite? GT is ProdigiousDemon Thanks

Is anyone still looking for invita for the Xbox preview? Have a couple of invites if any of you guys wants them...

yes im still looking my username for xbox live is dark ork

Gamertag: cyruz20022 can I get an invite please anyone??

Invite Aleistor666 aswell please if anyone has the time, i would be very grateful :)

Please, please invite: MindsEye2020 Thank you in advance!!!

If you could please invite ne CRC Ironhead 3 Thank You Thank You

or CRC Ironhead really want to try this Please and Thank You

Just download windows 10... It's not in the program.

I would be extremely grateful if someone would in the program would send me a invite. Gamer tag is jbrown9100

No invites needed download windows 10 .....

Would be very grateful if someone could invite me please. Many thanks ROBBYDSOMKING1

No invites needed. Download Windows 10

Is Streaming not restricted on the Xbox One side to those running preview?

no. Windows 10 launches in days.

Thanks for the article. Just want to inform all folks who live outside US that Xbox One is a great media Player. If you want to access Netflix and other streaming stations on your Xbox One you can use UnoTelly as I do to get around the geo block.

This also lags your games due to the dns routing through the states.. I'll stick with fast online games and play Netflix on a smart TV of I wanted to do that!

Send me an invite please XxKOSTANUKESxX

I hear invites are closed. Invite yourself. Just need windows 10 and an Xbox

Hope streaming can expand to ps4 and Wii U!

Hopefully not!!! Another reason people should buy an Xbox!

Don't see how this could ever happen... If you want to stream PS4 though I think you've been able to do it for a while using a "PlayStation TV" It's not as cool as streaming to ANY Windows 10 PC or anything...but pretty sure its possible (I don't have a PS4 so never tried it)

Tried this on my HP Stream 7 and it worked great! Not sure I would do it a lot since the screen is so small. But still really neat!

Tried with Halo:MCC and the graphics are blurry. Posted via the Windows Central App for Android

Try setting quality to high

My streaming is very lagging, and that's with about 20mbs internet.

Has nothing to do with internet. .. only the quality of your network...

You on Wi-Fi or Ethernet? Wi-Fi streaming trends to lag like crazy even on the best networks.

"Bandwidth Statics" are absolutely essential! Lol

Ill use it more. When I get an hdmi spliter to split the tv so she can watch as I play. I don't want to give up Xbox control of my tv when I want to use it...

I picked up a Stream Mini 200 and I'll be using its HDMI to stream Xbox to my living room. :)

My goal, stream to Surface pro 3 in living room, micracast to flat screen, Netflix!!

how is your streaming so smooth? mine is TOO LAGGY and has awful quality (even on low) and disconnects very often. (Surface Pro 2)

Drop the quality and go to a wired network

Someone pls help me out. I have installed win 10 on pc via iso and the screen looks cropped on both sides and its displaying 70% on the screen and remaining 15 on left n right are empty spaces. Please help me out on how to make the resolution to full screen occupancy.

Try looking for an "Auto" button on your monitor in case it's a monitor issue (less likely) And double check your graphics driver in Device Manager, to make sure it's not using the Microsoft Basic Display device drivers

It is showing 1280 resolution. Not able to set the high resolution as 1280 is the max value showing

It's cool to be able to plug into any large TV elsewhere in the house as well as playing on the Surface itself. Not sure what the minimum hardware is that's needed for decoding the stream...but potentially you could have an affordable device attached to every TV in your house ready to stream anytime you want.

This will work well for me, when my son is asleep, I can play games from his xb1 (which is in his bedroom) on my pc downstairs. Will it work with a 360 controller though? That would be very useful.

Tried it out with dragon age inquisition to my SP3, worked great. Like other's, I want to be able to use Xbox and TV same time. I'll get a splitter for a workaround but hopefully they put in the functionality.

You don't need the beta version of xbox it works with the current firmware. I can stream games without xbox beta firmware

You need to be friends with who invites you to get into preview, so follow me on live gt ziplobthud and send a message. I send out 5-10 invites each week, people who message me with their add guarantees an invite

I'm lost, this just work's on my xbox and windows 10 laptop. I'm not in any preview groups for Xbox at all just windows 10 insider and it works really well, just a tiny bit of lag but that's using wireless, very impressed

It's no longer in preview. It's open to everyone.

someone bookmark this for me for july 29. thanks

so this is different from xbox one smartglass?

Correct. This requires both Windows 10 and the new Xbox app for Windows 10.

Still waiting on wether its going to allow us to stream games to our pc while the family watch tv on the xbox one in the living room. Are there plans for this in the future?

Unplug your HDMI passthrough. You don't need to worry about it then. I know it's not ideal but it's a relatively easy workaround.

I want to get an hdmi splitter. This way I csn watch tv on either device.

Interesting feature but I just bought a couple of xbones for the guest bedrooms, so no streaming required. I've also got a 4k telly and a pc connected to it so I think I'm covered and won't need this feature -I've actually got a wired network as the home is very large and walls are all solid so WiFi is squiffy - good for those that need it though!

Don't need an invite for this to work.

Ive seen it reported that you have to connect your controller to the pc/laptop/tablet. I haven't seen it mentioned but you can use your wireless controllers just fine. Maybe most already know this, just thought I would mention.

everyone asking for invites don't need to be, game streaming is out of beta

What about lag? And streaming online multiplayer games? If there isnt much lag then PC can be the true home for all games.

I can also send invites. Just drop me a message on XBL: a n 2 h o n e. .. No spaces. Prevent myself from being Google'd ;)

Still requires a controller? No thanks. Keyboard/mouse support, or I'm not wasting a dime on Xbox games.

my genius application of this feature.... We have an xbox one w/ kinect in each of our conference rooms at work. We use it for skype and lync/skype meetings. Works great for this purpose but in reality, they are used infrequently - maybe twice a week on average.. I just added my profile to the one near my office updated it to the preview and run win 10 on my office desktop computer. when I need to work out some frustrations, I remotely turn on the console and play some of my games. Great way to break up an otherwise stressful day of work.

Hello. I have a problem which I'm unable to resolve. This problem is that on the Xbox app, I don't have a button on the left region which reads "Connect". This therefore means that I cannot even attempt to connect my Xbox One to the PC. I'm not sure if this is because the app is a version behind or something to that nature. (The version is 5.6.17000.00000). If someone has a solution to this problem I'd like to know as soon as possible. Thanks!

Just tested it out with a round of Destiny. Works well but definitely not as crisp of a picture. I was able to play using my wired 360 controller too so no changing controllers necessary. I will be using this feature during times like when my GF is watching TV and I want to play a game etc

One issue though, I found that the Xbox one controller needs to be in range of the console for the streaming to work. I connected my PC to a monitor at the other end of the house, further than the 9.1 meters from my Xbox One, and the controller would not work. When I moved within range then it worked. Seems a bit daft that you have to plug it in but it still connects wirelessly to the console.

How do u play the games you bought on disc

This is good to hear! Just want to inform all folks who live outside US that Xbox 360 is a great media Player. If you want to access Netflix and other streaming stations on your Xbox360 / Xbox One, you can use UnoTelly as I do to get around the geo block.

Even better, you can play Xbox One games from anywhere with Internet! http://kinkeadtech.com/2015/07/how-to-stream-xbox-one-to-windows-10-from...

streaming is a good thing. but still there will be limitations for some games such as those using the kinect or if the publisher does not want his game uses this mode. Only the controller will be usable and not the mouse. ______________________________________________
galaxy note 4 avec abonnement galaxy note 3 acheter

My PC can't find my Xbox One... It says I need to tpe in it's IP address... But when I type it in... It says it's unable to find it... Wtf... -x-;
Windows Central Newsletter
Thank you for signing up to Windows Central. You will receive a verification email shortly.
There was a problem. Please refresh the page and try again.