Satya Nadella on future Windows phones: 'I'm sure we'll make more'
In a recent interview, Satya Nadella reiterated Microsoft's hardware strategy for Windows on phones.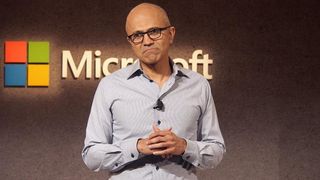 If you're reading this, you're probably aware that Microsoft has "retrenched" in the mobile hardware space, laying off thousands of engineers it acquired when it purchased Nokia back in 2014.
With Windows 10 Mobile shifted to a "feature2" development branch, away from the main Redstone 3 branch, you'd be forgiven for wondering whether Windows has a future on phones at all. Well, Satya Nadella thinks it will.
In an interview with Marketplace.org (via MSPU), Microsoft CEO Satya Nadella reiterated the company's strategy for future phone hardware.
It's widely expected that Microsoft will leverage the Surface brand in any future phone device, as hinted at by Nadella's above comments. Any future phone from Microsoft has to be disruptive to be noticed, in a world where Redmond has thoroughly earned its reputation for a barren app store.
Windows 10 S, revealed alongside yesterday's Surface Laptop joins Xamarin, Project Centennial and various other initiatives Microsoft are deploying to drive interest both from developers and consumers in the Windows 10 Store, which will be crucial if and when Microsoft decides to re-enter the phone market.
Windows Central Newsletter
Get the best of Windows Central in in your inbox, every day!
Jez Corden a Managing Editor at Windows Central, focusing primarily on all things Xbox and gaming. Jez is known for breaking exclusive news and analysis as relates to the Microsoft ecosystem while being powered by caffeine. Follow on Twitter @JezCorden and listen to his Xbox Two podcast, all about, you guessed it, Xbox!
😲 how Lucky we are , smile at least give fans wide smile

It's good to know there will be more phone devices running windows at some point. But a blow to fans to know there will be no Microsoft phone to upgrade to for 950 and 950 XL users. I'd say the next thing to wait for (other than to see what happens with Redstone 3) is to see whether HP go ahead with a new Elite X3, I would imagine they have some sort of inside-knowledge on what is happening and wouldn't push ahead with a new phone if there was doubt in their mind.

If you want a "phone" go to HP, Lenovo, WileyFox or WhartonBrooks. If you want a "mobile device" wait for what Panos thinks that should be.

And if your on Verizon, get an iPhone or Android.

If you're on any carrier in Canada get an iPhone or Android device because no one carries W10M devices, and if you manage to make it to the Microsoft store in Toronto there is 1 W10M device hidden at the back of the store on a shelf. In other words, might as well jump ship, as much as I hate saying it. W10M as we know it now is dead. What Microsoft turns it into will be it's replacement.

Or, you can order an unlocked phone online and make your carrier use it. Which I did and is easy.

Most unlocked phones are GSM and don't work on Verizon or Sprint in the US.

An exception is the ZTE Axon 7 which is unlocked and runs beautifully on Verizon. I bought one, took the nano sim out of my Lumia Icon, popped it in and voila.

The problem is that Verizon--the largest carrier in the U.S.--uses CDMA, not GSM, and no knew Windows phone since the Lumia 735 has had CDMA capabilities. Anyone on Verizon hasn't been able to buy a flagship Windows phone since the Icon launched more than 3 years ago. As for switching carriers, it's not an easy option for most people, whether it be business contracts for enterprises or consumers engulfed in family plans (which would require getting the entire family to switch or, leaving the plan and paying exorbitant increases in monthly rates).

Glad to know we don't have such issues here in India. We never have to worry about our carrier while deciding which phone to buy, Android or windows or iPhone. Moreover we prefer dual SIM phones for the same reason so that we can use two Sims from two operators with two different plans like one company giving better 4g data such as Reliance jio and other company giving better talktime/coverage such as Airtel. But iphones and Google pixels won't let you do that since they are single SIM device.

Hopefully, once Verizon Wireless gets its next generation network into production and closes off the existing CDMA network, Windows mobile OEMs will start to produce devices for interested VZW users. The devices could be made available through vendors like Best Buy and Microsoft for those of us who don't want to endure VZW sales associates trying to discourage you from buying a Windows mobile device. Sadly, Verizon Wireless is still a year or two away from completing the new network.

Don't the carriers compete for clients in the US? I thought it was the nation of free markets? What about virtual operators? CDMA is oldtech, pones are not locked in Europe anymore because there are no subsidies. I don't see what the problem is unless US phone companies still run a monopoly business.

This is what I've done for years. Here in Australia we were always lagging behind in what comes to our shores. I used to buy a device every 6mths to find what I wanted in a phone. Up till the Lumia 1020 (which had an untimely exit), my new 1520 actually stopped my compulsory purchasing every 6mths or sooner. I had that phone for ages, then got my 950XL and still have it today. All you need to do is to check the 3G/4G band that your carrier uses and buy accordingly. Easy. Plus you don't need to pay for the phone ongoing.

There's a third option. Leave big red.

Tried to leave Big Red for T-Mobile over winter, their coverage isn't good enough. Lack of Windows phones on Verizon is the primary reason I've never owned one. Won't switch to an inferior network to use a phone that lacks the apps I like.

Depends on where you live I guess.

AT&T is the only real alternative.

AT&T needs to change their horrendous customer service issues..Contacting the Better Business Bureau was my only solution with them. Beware if you have anything to do with AT&T.

Tweet @TMobile and give them your zip code. I did and just a few months later I had blanket 700MHz 4G LTE coverage. Not sure if it was all due to my tweeting, but I let them know there was a problem and it was fixed.

You mean there is still people on Verizon?

This is exactly what my line of thinking is. When you really think about it, we don't really use mobile phones as phones anymore. We use them as mini computers that can make a call if need be. Why not have a more flexible device that could just a make the occasional call?

Sure but these things still need to fit in our pocket, and for the average consumer needs the apps they are used to; People here forget way too often that they are not the average user. I'm not saying more mobile computing devices won't be successful, there is definitely potential in business particularly.

That's why I think the 'pocket display' is more important than 'pocket PC' for Surface mobile device to succeed. The foldable screen would be the crucial component of Surface Mobile. It would provide adequate screen real estate to run W10 and web apps (or progressive web apps). The web apps (progressive web apps specifically) could be the solution for the app-gap problem the WP has. All the services will be available instantly via web apps. My credit union will never release a WP app, but it has a superb web app I can use. I would much rather use the Amazon web app than the WP version. The dual screens can give you a 8" display and the triple screens would give you a 10" display. The foldable screen would change everything for Windows mobile.

Actually, I'm referring to the average user. The average mobile phone users don't even spend 1/3 of their device usage time on phone calls. My observation is that most people spend their smart "phone" time holding the device in front of them with their thumb(s) in action.
The heavy talkers have now become the exception.

That's true, and that is where phablets were good because you could make the occasional call, however had a much bigger real estate screen for the main functions for the smartphone user from reading sites, articles, editing photos, sharing, keeping up to date with their calendar, making/taking/watching videos, etc. But the large footprint to hold such a useful screen size desired by few and thought 'ridiculously big' by a good portion of smartphone users, especially when you watch someone with a phablet take a call and this behemoth of a device gets placed to your ear... just looks funny. I had a 1520 and loved it, but I received a lot of comments on the size of it. Now if the ultimate device would enter the field either using folding tech or scroll tech, perhaps even an earpiece that docks within the device (taking it out to place on the ear to talk, if desired), with BT/OTA connection with a monitor/peripherals to use Continuum without plugging it in, this device would have a lot going for it.

We have. It's called mobile smartphones. (And they are not running Windows anymore.)

WhartonBrooks. Good luck with that.. You will have better luck getting a phone signed by jesus.

so all 950/xl or HPx3 users will be f* in the ass I hope all 3 phones will be sold at max retail price 99USD, with a dead OS.. its not worth any cent more

Wait...So does this mean that the rumored Surface phone is dead?

lol... MS never spoke about it. and he's clear on which path hes company is following, 2-1 are now a main thing for MS and smartphones clearly NOT. they are also going to concentrate on making quality apps for iOS and android.

My guess is that all of those phones will continue to work even after Microsoft finally decides which way they are going with mobile.

Why Pappale? How is this bad news? I got my 950XL a year ago and I'm saving up for the next flagship. I didn't think I'd have the 950XL forever. Surely it will last another year. Maybe the 4 Continuum docks I bought for $34 each will work with the next device, who knows. I don't see how this is bad? Who cares what the OS is, as long as its Microsoft and it syncs with our i7's running Creators and the Microsoft Cloud.

HP will indeed be comming with a new X3, a PRO for sure an Elite not know at the moment.
The pro will have a little less specs and also be cheaper (and the camera would be better/faster)

There IS an upgrade path for 950/XL users: Samsung Galaxy S8/+. Seriously, if it wasn't a great device, why is Microsoft selling it at their stores? Why did they have a "Microsoft Edition" of the S8/+? When you think about it, it has everything that Lumia phones have had for years: wireless charging, high-quality cameras with OIS, beautiful design, always on display (glance screen), micro SD card support, iris scanner.... this phone is literally a marriage of the 1520 & 950 XL.

But seriously I don't want a HoloLens-like or VR phone. I want just want a solid candy bar form factor.

Whatever they release needs to work and feel like a phone when it's being used as a phone - Just being innovative isn't enough. People don't buy tech based on which is the most innovative or has the newest ideas. Like you, many will want to replace their phone with another phone and probably from the same company - Just having something new and different won't make people start buying a new windows device over the new iPhone

Yes, unless some [like myself] really are looking forward to finally have a true PC in their pockets, instead of a phone. The phones on the market today are [for me at least] nothing more that a bridge that fills the gap until that ultimate device arrives. And when it does, I will be one of the first ones to buy one.

Sure but isn't the reason people say W10M has failed is because nobody uses it? If only the WP fans (or a % of them) end up buying the new device then it's in the same boat isn't it? Plus the app gap (which is no issue for me personally) will be the same or worse with the new device anyway. A 5-6" screen needs a phone UI still and apps need to look good on it and scale correctly (I.e need to be UWP rather than older desktop apps)

"isn't the reason people say W10M has failed is because nobody uses it" - Sure. That is why that new device will most likely run W10S instead of W10M. Surface Laptop w/W10S paves the way for that. "app gap (which is no issue for me personally) will be the same or worse with the new device anyway" - not really, since it runs W10S, not W10M. "A 5-6" screen needs a phone UI still and apps need to look good on it and scale correctly" - MS is surely aware of that and is preparing for that. "I.e need to be UWP rather than older desktop apps" - That is rather obvious.

Windows 10 S is normal Windows, just restricted to the Store. When it first leaked as Windows 10 Cloud, a guy managed to circumvent the restriction within a day. Full Windows on a phone doesn't make sense. People are moving away from complicated devices like computers to simple, streamlined ones like phones and tablets. Putting a full-blown desktop OS on a phone would be a major bag of hurt.

If you haven't followed the development of Windows 10 (RS3/CShell), then it does indeed make no sense.
I'm sorry, but I strongly disagree to everything you just said. The reason I sold my (top if the line) iPad Air 2 was its limiting use-case (the iPad Pro being no different whatsoever). I will never buy another iPad or any other tablet for that matter, unless it can act as a full-blown PC (=Surface Pro) as well. For some, a simple, fool-proof OS/tablet/phone might be the way to go. Not for me. In fact, the day Apple announced the iPhone together with the App Store, I really hated the idea. Why? Because now, we have thousands of (mostly useless) apps for tasks that actually the OS (or bots?) should do for us. That is why the "lack of apps" never bothered me, nor do I even care. Full-blown programs that are actually useful? Now that is a completely different story. And those programs will never run on a phone OS, be it W10M, iOS or Android. That is why I am so happy to see Microsoft taking the lead here and I am very looking forward to the Surface Phone whenever it is released.

But C-Shell can not suddenly make a traditional desktop app (even if it's packaged for the store) suddenly display correctly on a 5-6" screen, it can only make the shell display correctly on those devices - It gets it to a single OS but doesn't suddenly make older apps suitable for a phone size screen (UWP does do this of course, so apps still needed)

no, and nobody said so either. But when you run it on a big screen trough continuum...

@ronaldlangley - "The reason I sold my (top if the line) iPad Air 2 was its limiting use-case (the iPad Pro being no different whatsoever). I will never buy another iPad or any other tablet for that matter, unless it can act as a full-blown PC (=Surface Pro) as well" That is the exact reason I left the iPad in the dust, and it is the exact reason a lot of the former iPad users at work rarely use them any longer. The thing is a magnificent device, but it's in a box. Believe me, the app fad will slowly go away. Companies would be foolish to keep a development team for mobile app development for some of this simple stuff. Retire the app and point the users to the website. Some of the simple tools should be baked into the OS.

99% of the work I do on my phone uses the built in apps - I need a PC for my "real work" which is writing code a lot of the time. I couldn't live on an iPad or similar device full time - Some people like Sinofsky are really pushing the benefits of an iPad Pro but that's because his job mostly involves creating documents, sending emails etc. For a lot of jobs and businesses an iPad pro won't cut it

I use Quickbooks, as I believe millions of people do everyday. I run a business. I am often in my vehicle. Would love to leave the laptop behind. Too big and clunky to work with in a car/work van. But would love to use quickbboks on my phone. But what does Intuit do? Ignore the win32 program and put all their resources into a subscription based, cloud based, inferior product. To me all this means is that Quickbooks is now just a web page. Thanks a bunch Intuit. I would love for Microosft to resurect Money as a UWP that I can deploy to my windows 10 laptop, SP4, SP3, and 950 to give me greater control over my accounting. I would also like to think BofA would sync effortlessly with my accounting system. But no. What do we have? Nadelle saying we will make sure all our programs work on iOS and Android.

Is the data format from MS Money an open format? If there was demand I'm sure somebody would build an app like that, but it would still need to run on Android and iOS too I think - You'd also exclude people on

exactly,why would i want full blown desktop on my phone, perfect continuum and get developers to do apps

Even if it can run a Win32 app from the store (Like Spotify will work on Windows 10S) that isn't going to work well on a 5-6" screen

I like to think of it this way. CShell will enable full Windows 10 (or S, or whatever) to scale down to a W10M-like interface, where we can use apps on the 5-6" screen. If we need to run any centennial apps like Spotify, we just unfold/expand the thing (or whatever it's going to do) enabled by Continuum to give us the bigger display and access to full programs/apps on the go. I suppose a flaw with this plan is that you might not want a tablet-sized device playing Spotify or whatever in your car, on the train, etc. Just my two cents.

You still have the app gap with W10S. The main apps that non W10M user use just aren't there. Without those apps you are not going to get people to migrate, so you are still only going to get W10M users. Thus Microsoft will still have sub 1% marketshare. Sure they may pick of a buisness user or 2, who don't use many consumer apps on their mobile device. But the rest of the consumer world will probalby stick with the mobile platform that provides them with the apps they want and use.

Could you please name a few must-have apps that non-W10M users use? Thanks.

W10m doesn't have my banking apps. Web isnt a user friendly replacement especially coz mobile sites for now are less functional then apps and u may blame the devs but the fact remains that apps are popular. It doesnt have foodpanda, again i can order from web but app is more functional it has tracking built in a feature not available on web. A bunch of cab apps, like grab taxi for ex. A lot of corporate and company apps. Mall apps. My metro(train) app. And a hell lot of others which have no replacement.

All depends on the individual. I have a UWP banking app but if I didn't that would be a big negative

Web isnt a user friendly replacement especially coz mobile sites for now are less functional then apps and u may blame the devs but the fact remains that apps are popular.

That's not true. Websites are more robust than every and there's a slow push towards web apps. The one area where you see a much bigger emphasis on standalone apps is social media, but even there it's not universal. Banking websites offer all the functionality you could possibly need from them and often offer more functionality than their mobile apps. However, user experience continues to be less than ideal on mobile for a variety of reasons and good mobile apps generally offer a smoother user experience. So there are compelling reasons why consumers continue to favor mobile apps by a large margin. But less functionality is definitely not one of those reasons.

And why would you use the mobile sites if you can use the full-blown websites on your WP browser?

Yeah, I have Bank of America in Continuum, love it. The nearest bank is 40 miles away, so its nice to be able to deposit checks with the camera.

Following the crowd isn't always a very good idea.

The S8 is not a Windows PC, but it is a true PC in your pocket.

Does it run Photoshop? No. Does it run full Office? No. There you have it. Therefore, the S8 is NOT a true PC. BTW: The point is not how fast a Surface Phone (or any other phone) could run those app, but whether it can run them or not. Speed will increase as ARM CPUs are getting faster and faster. Nevertheless, the SD820 in the demo ran acceptably in my opinion. And an SD835 will run even better. And that is just the beginning.

S8 is definitely not a true PC. Other than the apps being windowed I honestly don't think its better than Continuum

So, you're saying that the desktop I have to my left running Linux Mint isn't a "true PC" because it doesn't run Photoshop or full Office? If you can 1) Hook your device up to a keyboard, mouse, and external monitor, 2) Run a WIMP interface, 3) Install applications from any source, and 4) Override default applications with user-installed ones, then you are running a PC. The S8 is a full-on PC. It is not a Windows PC, that is true, but "Runs Windows" is not the definition of a PC. And, for sure, Continuum is not a PC because you can't do 2-4.

I did not mean that. The capabilities of the OS and the programs (Photoshop/GIMP, Office/LibreOffice) that run on the device define a PC. And in that regards iOS and Android are way behind W10(S).

GIMP and LibreOffice don't run on Dex becuase they haven't been ported, yet. But any Linux app should run just fine in Dex with very few modifications. And since Samsung is the #1 maker of mobile phones, those apps probably will be ported in pretty good time. Dex is not a fully mature platform yet, but it's already much closer to maturity than Continuum. Think of it as a new PC platform with Android compatibility. So yeah, it's missing some apps and functionality. Which means that it has a little ways to go to be fully fleshed out, but it is a PC. If you think it isn't, you have to be able to define what the line between a PC and Dex actually is. And it isn't app availability. A system running OS2 is a PC, but it runs hardly any apps! And furthermore, there are already a great number of things you can do on Dex that you can't do on Windows...like access any of the thousands of Android/iOS only apps that it can run (some well, some badly, but it can run them!).

Discussing definitions is pointless. But I can't do my work on iOS, Android or linux for that matter. A mobile device running W10 with x86 support would by my definition be a full pc once connected trough continuum, the S8 is not there. But neither is Windows. What happens in the future remains to be seen, but Microsoft is by far the one closest to achieving this goal. If they don't deside to pull the plug now that is.

Not really, it is a phone running the most insecure PHONE os out there. Android is nothing but a phone OS, it has failed on tablets.

Tablets failed for everyone. It just doesn't make much sense when you have a large phone that is with you all the time. 2 in 1s are not tablets either. They are laptops and are used as laptops. Windows tablets aren't successful and neither are iPads.

Android is a Linux distribution, and Linux as proven that it is the OS for everything.

Word.. Linux rules them all.... Heck it's even in win10 and in azure 😂😂😂😂✌✌😎

I just bought an Android tablet, love it. Great for zooming through lots of work email. You Tube is good on it. Babbel is on it and not on my Lumia 640 or 928. I'm slowly drifting back to the idea of the right tool for the job. A real camera, not a phone camera costing $700 that I throw away every 2 years, a phone for calls, a tablet or lap top for light work/entertainment, a desktop for real work.

Completely disagree. No more a PC than the Chromebook.

To me, there is no point in upgrading phones at this point. They are all based on apps and all apps run on every phone, so why upgrade (I'm talking about Android and iOS). If Microsoft can provide a true pc in your pocket (even if it only runs win32 apps while docked), that would be a true differentiator. Switching to that would give me the major apps that I do use as well as access to a full browser, macro enabled spreadsheets, and other legacy software my company will not give up on. This would really help me stay productive no matter where I am and would change the way people think about phones. One last thing Microsoft needs to drive. They need to push being able to go away from carriers. Imagine being able to dump your cellphone company and just buy data as you use it from any carrier through the app store. For me, this would be an enormous game changer. Cord cutters love A la carte (or however you spell it). This would be that, but for phones. Could help Microsoft become "cool" again.

I agree with most of that, but you and me are not the average person. The average person loves getting a shiny new phone every 2 years, or even more frequently now with carriers offering annual phone upgrades or separate finance plans for the handset - If the main issue of W10M was that nobody uses it and there aren't enough apps then those issues will still stand - As much as me or you can see the benefits and innovation the average person just doesn't buy tech based solely on that they'll buy based on what they know and love - I'd love a device like the kind you mention even if it would never realistically be suitable for me and my specific job

@ Dan Harris, you're so wrong, if it was true, peoples will still using a Nokia Dumb Phone, lol. Smartphone will die anyway, the new device that will take it place will be a Mobile Device with Phone Call Function, less and less peoples are using their smartphone to make phone call now and Microsoft is aware of that situation, looking into the futur, it's what will make their futur Mobile Devices shine. So yes the phones as we know it, is going to die, the futur of these devices will look like more a small computer and it's exciting, as a Microsoft supporter i'm happy to see them heading that way.

I think you miss my point though, people using iPhone won't flock to this new device just because it's different. They probably will when Apple does something similar though

Well, nothing is eternal, before the iPhone arrived there were no iPhone users you might recall, it can go in the opposite direction pretty quickly with all the users swapping once every 2 years....

At the same time, we live in a different world these days. Brand loyalty to tech firms was never this strong amongst the average person back when the iPhone launched

All the tech friendly ppl out here use pcs and looking for a replacement so will take the surface phone. Ppl using w10m who are used to app gap will take the surface phone. Ppl who switched due to app gap or are happy with their current ecosystems wont come as they dont need a pc. A pc os with a barren store is of no use to them.

I'm thinking of buying a dumb phone. Small, cheap, sturdy, long battery life. And a camera - lasts more than two years, takes great photos, telephoto. And a tablet, for reading on the train and in bed, on a trip, on a plane. And a desktop for getting stuff done and where I need a nice big screen such as looking at maps while planning a trip. "Different horses for different courses" I think is the phrase.

But if a foldable surface mobile device could do all of this in the same package...?

While you are indeed right to some degree ...sometimes the consumer doesn't know what they want until it's brought to the table. Before the touchscreen smartphones took over, people were into the very small phones with keypads ..even the n95 was considered "big" ...Touch screen devices had existed for long but no one realized they needed them until Apple brought the iPhone with a better way to use the touch screen. Same applies to the Surface Pro. The irony with both these products, is, an MS's Ballmer laughed at the thought of an iPhone and Tim Cook (Apple) laughed at the idea of a 2-in-1, claiming MS was trying to create a fridge with a toaster ...both products turned out to be successful and a nightmare for the other. ...the moral of the story is, sometimes even tech leaders don't know what we want/need.

Was Surface really a success? Windows sales are still dropping, the app gap is widening and Windows is no longer the most used platform. Surface Pros did well individually, but they didn't really turn the platform around.

Windows is still on 85 - 90 percent of all PC/laptops/ workstations/2-1 devices. Mixing the smartphone Os with desktop OS only makes sense if the functionality is equal. For sure it is not so do not reproduce the Google "we are the most used platform" blabla as it is fake. In the corporate world the amount of Surface pros replacing iPads is breathtaking!

Sure it is fake. Android has been outselling Windows 4:1 for years. It was only a matter of time before it surpassed them in useage as well. Windows will be strong in enterprise for quite a while. That is a niche market though, the consumer market is much bigger. Microsoft has lost all momentum there. How long until corporate use declines as well?

Apples and pears... If you ever had a need for a PC, chances are a smartphone won't be able to cover your needs.

A few years back I deployed atleast 400 new iPads in our enterprice every year. It was cool, everyone needed one. Then, after some time everyone realised they didn't actually use it to produce any value at all. Three years ago I deployed four iPads, the last two years I've deployed zero. Instead our employees have moved to Windows 10 (through 8) and touch enabled tablets, 2 in 1, convertibles and ordinary laptops.

" Windows is still on 85 - 90 percent of all PC/laptops/ workstations/2-1 devices. ".... Till suddenly one day Android "for intel desktops" that does not NEED a net connection is sprung.... And it can seamlessly intergrate with, well, the phone you have in your pocket....
Then the proverbial would have hit the proverbial in Redmond...
Nokia all over. The irony will be heavy.

Oh look, Bleached is here posting/trolling on a Microsoft article, who would have though of it. BTW, there are tons of 2n1s out there now, Microsoft just showed the other OEMs how to think outside the box, something apple is failing at and google has never done.

2 in 1s were around well before the Surface devices, there were quite a few available including popular ones running Android like the transformer. Microsoft hasn't​ innovated in decades. There is a reason they are so far behind. As PCs become niche, so does Microsoft. Apple certainly innovated. The iPhone is easily the biggest innovation and product of the last decade. Everyone has been copying it. They will be able to ride that train for quite a while. Google innovated by giving manufacturers a strong platform that they have full control over. Those manufacturers took that platform and ran with it. Today it is easily the most distributed OS and is available on form factors from laptops to toasters. Microsoft hasn't done anything for years except chase Google and Apple.

Google innovated, but not in the way most people think. Google turned the whole idea of software upsidedown by giving it away to consumers and making corporations pay for people to use it. Their innovation was to apply the TV model to tech. Google sells users. How many people think they are "Google customers" when, in fact, they have never paid a cent to Google? They're not customers, they're the product, and that's the innovation.

Surface pro, Surface Book, Surface Studio, HoloLens, Azure, Office 365 (subscription model copied by Adobe). In less than 4 years more innovative products than Apple + Google together.the last 10 year... Here on planet earth we do call that an achievement unless your "Microsoft hasn't done anything "is newspeak for The Empire is kicking a.s.s. ......

Mmmm 2 in 1 have been around since Windows XP.

Certainly not a game-changer like the iPhone was, but the idea definitely has merit.

I agree. The "success" of the Surface is greatly overstated. Windows is essentially dead as a consumer platform and probably has <10 years of life left as a major platform in the enterprise.

Yep, 40% of the gaming consoles is on Xbox running Windows. All of those being played in corporate board rooms- being a non- consumer platform....

MS has sold about 30 million XBones. Let's generously assume most of those are still in use, so there's maybe 25 million XBones being used out there. Without looking up the exact number, my understanding is that there are around a billion Android devices in use. That gives the XBone approximately 0% market share.

Ikea has sold screws in the hundreds of billions, so Android have 0% of the market compared to Ikea? You're comparing completely separate products; the salesnumber of one compared to the others is irrelevant.

"Windows is essentially dead as a consumer platform" I think that's overstating things by quite some margin. I don't know anybody, colleagues, friends or relatives who have stopped using a PC or Laptop using Windows 10 entirely. They all have smartphones and some have ipads too for simple computing and web browsing tasks but none have decided that they can live without a proper windows based device of one kind or another.

New form factor will be a triangle or cube

Nope, I think new form factor will be like "amoeba" :D

I think it will be a matchbox that will unfold 3 times.

That is true as well. Even if they bring the new mobile device next year, there will still be smartphones and should have had at least one alternative in each market. Don't want to make smartphones yourself, then work with your closest OEM on both camera and OS so the people remember you do mobile as well

I'm thinking it'll be a flip or a phone that can detach in some way. Think of the video posted years ago.

Question is: do you know?

I'm holding out for a phone like on Westworld. My 950 should be good for a few years more, at least as long as the digital ID app is still working. It's a real must here in Sweden.

This phone will just be for business! Microsoft makes surface for other manufacturers.. Other manufacturers will make it but with Android in it!

You could at least have a Windows phone that runs Android, with Android apps, but prioritizes MS apps and integration and is not called Samsung (but Surface or LG Windows Focus, etc.). Then slowly port the Android apps to UWP over time (to the W10 S market), THEN reintroduce the same phone running Windows mobile, also prioritizing MS apps and intergration, but now with a store full of good UWP apps. Sell both at the same time.

Basically, he's saying they arent making any more phones.


He looks like Grumpy Cat. Must have the calendar.

I thought that photo was saying "Awwww ... did I ruin your Windows Phone dreams when I killed off McLaren? So, so sorry ... not sorry".

Hmm so he's confirmed no more Windows Phones that are phones in the traditional sense - I think that means no replacement for the Lumia line.

This only means that if you want a Windows Phone now as a replqacement for your lumia you can buy one directly from OEM's like HP. Or you should wait until the day Microsofts Surface Team is ready with the two in one for phones. A surface phone will be reality one day. Windows 10 has to evole a litlle bit more. hang on. Or enjoy MS software on other platforms.

They've already said no more Lumias.

WOW...the fanboys here are dense....You are just getting that there will be no lumia replacements NOW???????? Really? they have said that for over a year.....once they shitcanned the entire mobile devices division of MS that was pretty well stated then.....FACEPALM!

This is cruel joke. Fans are waiting for phones NOW. Idol and Elite X3 are not available everywhere.

The HP Elite X3 are available in the same place they were at release. The Microsoft Store and the HP Store.

I'd consider the next HP Elite X3 to replace my Lumia 950, but not if I feel as though the phone will lose access to updates within 1 year. Ideally I want a phone to last 2 years w/ updates where possible and will keep it longer if I can (Because why waste money when the phone market in general is so boring and stagnant of innovation). I want to keep my 950 through 2018 but the USB-C port is damaged so I may have to replace it sooner than expected - Man can't live on QI charging alone

It won't lose access to updates within a year or two you mean?

Nope. Microsoft has guaranteed 24 months of support to all mobiles running Windows 10.

What does "support" mean? New icons? Merely an increase in version number? You could argue the phones haven't been supported for the last year due to the lack of new features and anything even remotely new coming to the platform.

It means support. More than Android but less than iOS.

Creators Update was nothing. Google pushes bigger updates through Play Services to every phone, not to mention the feature packed annual Android updates. Windows phones will not receive any meaningful updates. It is dead. He is quite clear about that. Why would they continue meaningful updates to a platform they are not making devices for?

Haha, yeah... "Every phone" and Android in the same sentence... High credibility there.

Google updates every phone every ~6 weeks through Google Play Services. That is why current apps are compatible with devices as old as Gingerbread. They only recently dropped support for Gingerbread. Android version updates don't really matter these days. You don't see Microsoft supporting devices that old.

They do security patches to some phones... Microsoft does that every four weeks. Android hasn't had a big update in years and most phones don't get them any way.

When was the last time Microsoft updated the Lumia 900? Google just updated the Galaxy S3 a couple weeks ago. It still supports current apps along with any phone running Gingerbread or newer. Good luck running WP8 apps on the L900, let alone UWP. How long will L950 still be compatible with UWP? One year, maybe two? Any Android phone you buy today will continue to be supported through Play Services and will receive new apps for several years. You can't say that about Windows phones. They drop you every few years and they drop you hard.

Google does not update phones (well, except Pixel and Nexus phones), they update the Android base. It is up to manufacturers to use that base to update their version of Android. This rather free hand in forking Android is one of the biggest reasons OEMs dove into it.

Are you serious? Google's public statement is support for an OS for 18 months. That's it. Google does security updates, so do MS and Apple. Android apps are compatible for a while because they don't use all the new capabilities of the new OS. One of the tenets of Linux, on which Android is based is that when you add new capability, you don't deprecate the old, so old stuff tends to continue to work. Android follows that to a point. Old Android phones also don't get upgraded as often so the apps on them continue to work. Android OEMs aren't supporting old devices any better than MS is. Some old devices just continue to work. Heck I have PPCs with Windows Mobile on them from 2000 that continue to work.

It won't lose support, but it won't get access to all the features of the W10 on ARM future since MS already said win32 will require an SD835

I imagine SD835 will be very old by the time there is a phone on the market with a phone UI and WIn32 emulation when docked, but I do think that will arrive.

Really??? I love QI charging! It's probably why my USB-C port is still in great condition.

I prefer the speed of wired and any QI charger I've tried in the car (even expensive ones) struggle to charge if I'm using sat nav and playing music over Bluetooth on my 950

Long tern use of USB port is a real issue and needs consideration. I have had problems there as well as others. Wireless interface with other devices or cloud transfers are helpful. If your device doesn't have magnetic charging built in you can find really inexpensive wireless adaptors online that can do the same thing.

Its not available in many countries. Not available in 2 of the biggest markets after US.

Strange because it's available in Greece 🤔

BH Photo & Video sell the x3

Not her in Norway. It's almmost impossible to get a Windows mobil unite enywere. Only hope is that a store has one left on a stand or forgotten in the warhous.

HP website or amazon.co.uk or amazon.de

Microsoft selling s8 android mobile through store, then why can't sell Windows Mobile by hp , Alcatel or any other wp(:?

They do sell the Elite X3 don't they? Online they definitely do and I'm pretty sure the Elite X3 is the other phone they have in stores in the US etc.

The MS store in Miami in fact sell the X3 and...... a S8. The girl give me a smile when I asked for another model that runs Win....

The MS in San Francisco took L950 & L950xl off shelf a few months ago. The only phones on display is HP elite x3 and Samsung gs8. The Galaxy phones are not loaded with MS software for legal reasons!

So no benefits for Microsoft

I think the more important question is when?

Never anything definite from this guy what's so hard about saying we will next year or whatever the plan is.

Because I guess he doesn't really have a plan as such, just a future "idea"...

"We make phones now" - This is technically not correct as they aren't as far as we know working on any new phones, and he even confirms later that they won't "look like phones that are there today" I can't see the cellular PC as a phone coming anytime until later in 2018, they need to get that right in the PC form factor first and they already confirmed that's what is coming later in 2017, not a phone running WoA

I think it is correct if they, as far as they know, are working on phones.

True, we wouldn't know until an announcement or solid leak (Like the Surface Laptop leak that was clearly genuine) The fact he said they won't look like current phones though suggests whatever they are working on isn't going to release any time soon. I'm happy with my 950, the apps it runs, the hardware and everything else personally so I'm keeping it for now - The fact the USB-C port is damaged is inconveniencing me though and if that continues I'll have to look at something else. The Elite X3 would be interesting to consider but not in the current market (Price doesn't bother me, but the general feeling around W10M makes me think it's a time to keep your existing W10M device but definitely not to buy a new one for £700)

Exactly. Until then, they've continually said they have something in the works.

Open the phone and replace the usb-c port....shouldn't be that difficult...

I've got not idea how to open the Lumias but assumed they'd be sealed pretty tight? Might give it a go myself or just wipe it and drop it off to a local phone repair shop. With anything non-iPhone I never know whether to trust them, seems like a lot learn everything there is to know about iPhone but not much else. Are all USB-C connected created equal, or are some not as good as others? I want to retain the standard charging times the phone provides etc.

"what's so hard about saying we will next year or whatever the plan is" Standard procedure in every company: announce their plans far ahead and the competition will catch up faster than if they announced their products when they were already finished. Project Scorpio is a rare exception to the rule solely because PS4 Pro was already in the pipeline to be released last year and they had to ensure their fans that they'd have a product to compete with it, just not as soon.

Until then they should still push Windows 10 Mobile to at least have a presence in the market, be it by supporting other manufacturers such as Whartonbrooks or releasing one last Lumia to ease the wait of many people who still use Windows 10 Mobile and are in need of an update

Not sure, because we don't want another Lumia 900 - Marketed and sold to people and then months later it's announced there will no longer be updates for it

The last Lumia flagship still gets updates right. But I get what you're trying to say that it'll be a bummer if it doesn't support Windows 10 on ARM, but I think fans would know what they're getting into, cause only die hard fans that are in tune with what is going on will go buy any such device if they do release one.

The last Lumia flagship still gets updates right. But I get what you're trying to say that it'll be a bummer if it doesn't support Windows 10 on ARM, but I think fans would know what they're getting into, cause only die hard fans that are in tune with what is going on will go buy any such device if they do release one.

Win on Arm is not for the small screen. Watch for the SnapDragon releases... Maybe a modified SD 835? About phones: What's wrong with the HP Elite x3???

Nothing wrong with it, it's not easily available everywhere. If they had distributed them through the same channels as the Lumia's then yeah

It also feels slower than 950/XL. I Think the firmware is not up to par. Nice phone but should work much better

The Elite x3 is too big for me.

oh come on with that joke wharton Brooks...

I agree it doesn't have the specs that many want, but nothing wrong with having options right

It isn't an option. It will never be made.

I don't think they are going to waste their time at this point because in it's current state (lack of apps), it will just turn off people who are leaving android and give them a bad taste. There really is no reason to leave android except for W10M's security and awesome UI. Other than that there is no incentive.

But it'd be something for those who are looking to upgrade their current hardware who are still using Windows 10 Mobile

But upgrade the hardware for what reason? The current hardware can power any of the apps on the market just fine. What will new hardware *really* accomplish other than a waste of resources? I'm pretty sure that's why there are so few on the market now. They probably have a deal with HP simply to take care of enterprise since the needs are different.

I agree that the current hardware is great and ample enough, some people just want to get a new phone as many people contacts come to an end so there should be a device that they can upgrade to at least until they come out with the next big thing, or if they're not going to release newer hardware, just put some more 950, 950 XL in the market

I recently bought two 950XL MS batteries now that winter is coming for the next several months :-)

But that look he is showing in the picture.....can't be so sure

It could get some market traction I guess. But using this example at the day when after 5 years of trying to sell many different things you have finally found that plain old laptop is a good stuff to prove that it was bright to stop plain phones competition... I am not sure if it is irony or humor.

We have to wait and see what happens with W10M, but I'm interested in what Terry Myerson said about them not being able to afford to just exit phones and return later - He said it himself at the time they can't afford to just drop out of phones. Anything that will realistically replace that iPhone or Windows Phone in your pocket needs to work as a phone, look like a phone when it's being used as one and that means having a phone UI as part of Windows 10 - They can't just duck out of phones completely for 12-24 months if they want to develop the future Mobile UI as part of the insider programme. They'll need some sort of device out there. I really don't think many people are going to buy a new Windows Phone from HP or others unless they see MS releasing something too; Without that commitment from them directly everybody is going to assume Windows on Phones is dead (I care about Windows being on phones, more than I care about W10M but I'll need a phone running Windows to replace my 950 eventually, in 2018)

Nice. At least now we have confirmation of the play people could have read into MS's plans - expand notebook and tablet share, increase LTE compatibility, bring in more cross-platform including console, encourage the heck out of developers where possible AND THEN, make a play for the mobile market using something like their patented flexble oled screen display.

It sounds good in theory, but realistically any device they release will take a pounding in the tech media if there are even tiny issues, because it's MS. Centennial is the easiest way to get a PC app in the store, and probably how most missing big name apps will come to the store, rather than getting UWP re-writes. They will still end up with the same app situation (possibly worse if they completely drop out of phones for 12-24 months). Whilst they are doing this, people are still buying iPhones, and people don't switch phones easily (Look at how many are holding onto W10M for dear life even, it's even more so with iPhone). One of the reasons Buffet was interested in Apple is the fact that people (especially younger people) don't let go of their platform very easily - When they replace their iPhone most will blindly buy the next iPhone and an innovative device with flexible/dual screens will be a great tech achievement but most people will wait until Apple or Samsung do something similar a few years later.

Samsung will be first with a flexible display. How does Microsoft beat the premier display manufacturer to having a flexible display? Rumor is Samsung will have a limited release of one this year.

I honestly don't care who's the first to market. Microsoft just needs to give us something!

Please let us know when Microsoft starts to 'encourage the heck out of developers' .

Windows Central app is going bad. Assigning profile pics to others. Am I the only one seeing this?

Happens to me as well. I thought it was my crappy internet that wouldn't load them properly

I'm seeing my profile picture on your reply Khalid.. Strange..?

I'm seeing them alright right now 😁

No, I see it too occasionally.

Agreed, it happens on my L650 and SP4 frequently

It did the exact same for me yesterday (like half of the people looked like Jez Corden lol 😂), but now it seems fine. But what isn't fine is that it still turns off notifications every second or third time I open it 😕

This has been going on for at least two weeks now. Windows central app is leaking and staining profile photos. Hope the developer is working on it...

Nutella looks like Jeff dunham's walter puppet in that photo! ha ha

Nutella's face looks like he's having constipation. Haha!

He is probably sad because he did not managed to evacuate all users from using windows mobile...what a disappointment, or because he is worried that less fans will mean less guinea pig insiders to do the testing and he will then have to hire testers...tztztz...

This guy is the reason why 950/XL was dropped from many markets , and those two phones are most used & feature packed Windows phones out there

Which isnt saying alot because many Windows phones prior haven't been any of those things.

Well if you actually wanted to purchase a windows based phone in the UK from a carrier as an upgrade you would be out of luck. The only way you can get one today is to find one yourself. Technically not a bad thing as you will be better off but as the majority of UK phone users use the upgrade route to move to the next phone I would suggest whatever they do they are now locked out of the current cycle and as such are effectively dead in the UK.

It's true most people go the upgrade route as a form of finance on the phone (Same thing that makes that upgrade to the newest iPhone such a "no-brainer" for many people) I'm not bothered so much as I prefer to buy outright, as you say you end up better off. I don't have a problem paying £600-£700 for a phone either, but right now I wouldn't spend that on a W10M device. If W10M was a stock I'd say hold what you have if you can, but don't buy any more until the future is more certain.

r u guaranty ur stay at ms ??

Oh man! Your English is so bad. What are you trying to convey?

how sure u r that , i'm man ? lol maybe a person whom talking and writing 13 languages . & @ least I do talk a lots of languages not like u smarty naughty mouth with one or max one n half native lang . lol ended and anything u gonna reply means u talking to ur self . ignoring will be my score lol .

All your base are belong to us.

'I'm sure' 'i think'... He is just daydreaming. Nothing going on there for mobile fans that sees any daylight in 2017.

Nutella is clueless as far as mobile and has his head up in the cloud (yes pun..) .. He also has his arms up his shareholders behinds and they do not want to see anything but safety.. The most risk averse company in tech today.. I give you Microsoft.

I give you Apple. My friend just got the iPhone7. Looks like an iPhone3 with fingerprint scanner and without earphone plugs. Just isn't made slow yet with new iOS 'upgrades'. He's sending it back now...

I think I live on a different plant... in less than 4 years Surface Pro, Surface Studio, Surface Laptop, HoloLens, acquisition of LinkedIn, Minecraft, XboxOne.... I would love to be that risk averse to do that in 4 years

I think they will just drop the Lumia brand and continue making WP just called Surface.
Not giving up just yet.

Lumia as a brand is just stupid to keep. It's old hat, time to go. Nobody should care about it as it's time to move on. It belongs with Nokia. I couldn't care less about it. I want MS to find their own image and style - of which they will!

You are spot on brother!! The Surface branded phone is coming. We all need to have patience. Microsoft won't give up just yet.
Kill off Lumia its a stupid name and bring on Surface 🙂

I have absolutely zero confidence in Nadella's ability to orchestrate any kind of turnaround for Windows Phone. By giving every single one of Microsoft's good proprietary apps to Android and iOS they have removed any reason for new users to switch to the platform.

yeah right, who on earth would be stupid enough to believe this guy anymore :)) I feel disgusted every time this one talks. Lies, lies, lies.

They MUST MAKE TV COMMERCIALS!! its only way to make more change :)

Same problem with AMD. In a society where everyone is an idiot and nobody uses common sense, you need to advertise. Insane that neither Windows Phone nor AMD had any commercials. The only Windows Phone I remember seeing a commercial for was my 1020, that's all well and good but I bet anyone that went to the store because of a commercial found out that it was $300 on contract and they said, why would I spend that? What you see with Microsoft is a prime example of a company existing for the sole purpose of existing. They don't make passion products anymore, or things that consumers want, ever decision is made to drive the shareholder's profit, while that's a great business strategy it makes it impossible to be a "fan" of their company.

It was a lot of 'corporate speak' meant to soothe investors, but it didn't say anything new that we haven't heard before. Yes, at some point down the road, when Microsoft develops a disruptive technology they feel can be competitive in mobile, they'll make more phones, which 'won't look like phones'. Or something. In the near term, their current mobile platform is in dire straits, that they're obviously EOL-ing.

Microsft didn't purchase Nokia.

After all the things Nadella said about mobile I'd be stupid to believe him one more time. MS blew it and they know it. It's a shame they can't admit it and just carry on feeding fans with empty promises. Oh, and regarding all those OEMs. There are TWO that matter - HP and Alcatel. Alcatel isn't available in the EU, and HP is business-oriented and ridiculously expensive. Oh, and there are no new devices in sight. So please tell us more about those phones that will be so spectacular.

Well, that's the thing: if you parse his comments, he's not really saying or committing to anything. Just that at some me point in the future when they feel thy have something genuinely disruptive (2 years? 5 years? 10 years?) they'll make more mobile devices. But they won't like phones as we know them today. Well, thanks, but while we wait for that Minority Report-like future, they're focusing on Office and cloud subscriptions.

MS didn't fail. They realised the current form factor is going nowhere. They are creating something new and better, and don't tell me you don't want new and different because that would make you a 100 year old that's stuck in the past. Smart phones are so last century, just saying smart phones is an oxymoron. Embrace what is coming. Be patient. Make do with whatever is available now. Use the internet to find a phone to fill in.

What form factor and input method do you think will replace today's slab displays? You have an easy and fun input method combined with a display in the most efficient package. How is Microsoft going to improve on that? The current smartphone form factor became so popular because it is so good. It will be at least a decade before something more compelling is released if ever.

".......form factor became so popular because it is so good. It will be at least a decade before something more compelling is released if ever" ... they said something similar in September 1908 about horses and carriages until Mr. F. started to produce the model- T Do not try to solve the future with yesterday's mindset....

The form of today's phones isn't like the horse and buggy of 1908. It is going to be tough for Microsoft to improve upon, especially with a mindset where it must be running Windows. The candy bar slab form factor is really good. Again I ask, what could Microsoft do to improve upon it? Implant a chip in your brain that overlays an interface directly into your vision and is controlled with your mind? A physical device that fits into your pocket is just about perfect today. They will become thinner and faster but not much else can be improved upon other than software. The smartphone market has become a bit stagnant because there isn't much you can do better. The technology just isn't here yet and it will quite a while before it is. Folding technology doesn't change that form, it just makes it a bit more modular.

I think that's where phones will go for the time being. Modular form factors that can be switched to larger screens for PC-like experiences.

Really? I would believe that two years ago, but now? Most Windows Mobile fans have already left the platform, because it's not viable. Most devs have left - for the same reason. Even if MS will produce something groundbreaking with their record of abandoning products I'm not sure anyone will trust them again.

I love the Satya "Frowny guy, talking to an entitled wussy" Nadella pic

Good luck with that! By the time MS releases this product there will be no ecosystem left. This guy is the worst communicator ever, give us something tangible so we know were we stand.

He did, you just didn't want to hear it. Windows phones are dead. They may make something similar in the future, but it won't be a phone. They have no plans to make traditional smartphones. You will be waiting years for something else. He was quite clear.

Well, I'm sticking with my 950 XL for now. As long as it still works, I will be fine. Although, I've been playing around with a cheap Android phone. I've found a Windows 10 Mobile launcher to see if I had to, could I make an Android at least look like a Windows 10 Mobile devices. The one app I've found is called Launcher 10. It's probably the closest one would get to having a Windows 10 Mobile like experience on Android. It has transparent tiles, you can make folders, it swipes to the left to reveal the app list. What it doesn't do is have live tiles and you have to actually launch the app and keep it open to continue the experience going. Launcher 10 does a really good job of emulating Windows 10 Mobile, all things considered. Just thought I would mention this, for anyone that may want to try it out, if moving to Android and want to satisfy those nostalgic moments, only. If you are a true fan of Windows 10 Mobile, this app will only depress you, if you try to use it to replace the Android UI. I'm not a big fan of Android, except for the fact that any app you want is there. Otherwise, not so much. But, I can honestly say that I would prefer it over the emulator as my regular UI.

I'm sticking with my 950 as well. If someone can give me the full experience of Win10 on Android, I'll be more than happy to switch. I hat to set up a couple of my family members on an Android and iphone recently and hated the very brief moment with it.

You can get a Live Tile similar experience with it if you pay for it. It'll show the gallery, contacts and some more as W10M. For all other apps it'll integrate the notifications from each app into their respective Live Tile.

Good to know, if I ever decide to move to Android.

i highly believe that we will see Phones in 2 ways ''students'' and those that want it all on their phone. affordable and competitive priced high ends, and maybe in another way than we expect phones to be.

So new devices are coming, they'll be phones, but not as we know the. No guarantee of success though, but I am looking forward to having a viable alternative to Android. Well actually I am looking forward to having a Windows device I can carry with my Android phone.

Why can't this guy ever just give a straight, solid answer on what's going on with Windows phones? Always these cutesy, non-committal 'future idea' answers that continue to unfairly leave fans/customers speculating and wondering if they should throw in the towel and jump to Android/iPhone. Knock it off, Satya...customers who have held on this long deserve more than this and wondering if you know WTH you're doing.

By focusing on some future point in time, very likely when he's no longer CEO of Microsoft, and not committing to what they have now, he's very obviously signaling that Windows 10 Mobile is a dead end. I mean, they're selling an Android flagship in the *Microsoft* store. I don't know how much more of a clearer signal people need. They'll never say "it's dead" outright as it would probably violate contract agreements they have with vendors.

Because he is a lying POS.

Lying? He straight up said they will never make more phones in the current form. What more do you want him to say?

First off, everyone knows the word game he already played a year ago. Deny that was lying all you want, the majority of us now know the game he was playing. And in "current form" is just another extension of his word game bullshit. That line can mean anything and he is hoping people take it in whatever form gets them to dump more money behind products and OS he has no intention of backing. Some of you people love living in the dark.

He did exactly what he said. He concentrated on mobile and cloud. Thinking he meant Windows Mobile is your mistake. He didn't say Windows Mobile. Welcome to corporate speak! At this point you should know how to interpret it. Windows Mobile is dead and they may make a new device in the future if they think they have something revolutionary. Don't hold your breath in the meantime.

No. Your mistake is thinking i based my belief that he was supporting Mobile based on his use of the term "mobile". My belief that he was fully backing their Mobile devices is when he took my $700 in exchange for a Mobile device with the word "Microsoft" stamped right on it. Nice try though.

Wow. You should go outside and meditate for a while.

Truth is? There's no real reason for me to get a new phone (of the Windows variety at least) if it's just a basic spec upgrade. As long as they support the Lumia 950/XL for a while longer, I'll be content with it. I'd love to try out a mid range device with a Snapdragon 650/652 and bigger battery, but it's not needed at the moment.

I'm confused. Win10m is going away...with a future we hoped would be full Win10 everywhere...but now Win10s will be a new, locked down slim version. So have they just repeated the RT issue and created two versions again, and once more sold the previous adopters up the river?

No, it's not a slim/lite version. It's full Windows 10 that is locked to the Windows Store. That will be the only way you can download apps. Otherwise, it works exactly the same as the version we currently know. The idea is to make it more secure. So, if schools or business wanted a particular app on Windows 10 S, it will need to be published through the Windows 10 Store. Now, my only question now is, will this mean that developers will not have to pay to submit apps to the Windows 10 Store? If MS is doing this for the purpose of school and businesses, I don't necessarily see companies like Google publishing Chrome to the Windows Store. This is the browser of choice for many students, especially. It could be that MS and Google may be playing nice to some degree, since they seem to have hashed out some differences, but that's just on big name company. What about companies that develop apps that schools depend on. Will they be willing to publish to the Windows Store? I'm assuming...well, hoping, that MS has a plan for this.

There's a failsafe, it can be opened to full windows if the support doesn't show up

I think next phone will run windows 10S

Thank you so much for disappointing me again and again. After 15 years of using your mobile operating systems I am leaving to the fruit company. I actually do not like their products much, but I like them far more than the alternative: Google. So why am I leaving? I believed in Windows Mobile, but after disappointing me (and millions of other users) constantly I cannot believe in anything you tell us about mobile any longer. Good bye.

App Gap. No Win Mobile or Surface phone will succeed without closing that gap.

They should allow Windows mobile to run Bluestacks.

They tried Android in one of the preview programs, it worked pretty good... but, they killed it off. The concept was Windows Phone running Android apps..

There's no point.
I've been trying to explain that since 2013 but some authors here at WC are too dumb (or too stubborn) to understand that.

LMAO. And this lying pile of garbage continues his game. Anyone that thinks this guy is good for Microsoft has lost their mind.

Shouldn't you be out burning crosses on someones lawn somewhere?

Ummm....why in all hell would I do that?

What he said is that they'll only make phones again IF there's a way to make them more than a phone. In other words, they'd need a massive category shift in the mobile world, a **** that isn't coming anytime soon.
While they wait for that miracle (which doesn't even assure Microsoft would be successful then) they're focusing on Android and iOS. The author of the article was clearly unable to comprehend all of that.

Exactly. When I read the quotes, its seems physical mobile phones are not in the pipeline, unless an OEM fancies a go, but other than that, nothing is coming. And I guess that could rule out a surface phone, at least, a surface alternative to a candy bar phone. He clearly is not interested unless a device category comes along where MS can be near the beginning of the trend, not chasing it. They have given up on the phone market in its current form.

Looks like Panos Panay has run out of ideas.

Looks like Panos Panay is being hand-cuffed by this a******.

Actually, I have no doubt that the Surface team could make stunning flagship hardware, they're on top form. It'll just run software the market clearly doesn't want and it won't get anywhere, regardless of how nice it'd be, there'd be little appeal without something revolutionary.

The software would be ready if they dumped this Dona S. dead-beat already.

I don't think Dona is the one pulling all of these strings.

She has become his minion at this point. Give her some over-all's and goggles....she already has the stupid facial expressions down.

I've got to say, missionsparta, your comments are so amusing to read. Bless. There's more to life than Windows, by the way. Try going outside, or taking up a hobby. I recommend knitting.

Thank you. I go on at 9pm every Wednesday and weekends.

I'm not gonna lie and not ashamed to admit, you played that well. I'll let you have that.

Thank you. At this point, you know who, took a lot of money from many of us knowing he wasn't going to back the product...the only thing I can do is make snarky remarks. Makes me feel a tiny bit better...but id rather have either my money back or a real attempt at pushing Windows mobile.

he said 2 in 1..so its official?

"I'm sure we'll make more phones" Wow. Incredibly weak, showing no commitment to any sort of meaningful presence and market share in the mobile market. Maybe it's too early for that, given that they have no products and a market share approaching 0. Falling further behind every single day. I'm not impressed.

At this point I don't know what MS are thinking regarding Mobile. They seem to be doubling down on where they know they have a clear footing, the desktop space. With targetting education, they're carving a new segment in an area they know they have a clear chance of success.
But to disregard the mobile space as they again seem to be doing is foolish. Their belief in a future technology is naïve, to say the least. Mobile is here right now, and by waiting for a future that may never come, they risk becoming obsolete. Look at IBM for evidence of that.
I've been pondering recently and I don't think Windows on ARM makes sense on a small form factor like a phone. Companies might adopt it, but hardly. Think about it: most users don't care for PC's anymore, so having Continuum would be pointless. Businesses would require hardware with more oomph than what you can do in something that's pocketable, so they'd consider a normal laptop/desktop. Windows on ARM makes sense on low-end, cheap tablet devices and laptops, similar to the edu devices MS mentioned yesterday. If they can emulate Win32 apps acceptably, they can be pushed onto emerging markets and schools/students.
As for Mobile? Like I said, I don't know, and I feel MS doesn't either.

I dont think that even ms will put Windows on ARM on phone. It will be on tabs or mini tabs. Only a few handful ppl believe in the unicorn that is surface phone. MS has given hints that it will not be a phone.

Given that there won't be any more Lumia devices, and that all the ex-Nokia engineers are long gone, I'm wondering what happens to the Pureview imaging technology licensing and the arrangement with the Carl Zeiss corporation. Clearly Microsoft isn't building a traditional phone anytime in the near future, so they won't be paying for exclusive Pureview imaging tech licenses any longer. Are the rights reverting to Nokia? Are they free to arrange tie ups with say, Samsung, LG or others?

That's a very good question.
I was wondering the same.
One of the few things I miss from all the Lumias I had is the camera.
I know iPhones have a good camera, I know many high-end Android devices have a good camera, but the Carl Zeiss/PureView technology is superb, and it would be great to see more devices using it.

It may be interesting subject matter for a piece on this site by Zac or Daniel: I've read that when Microsoft bought Nokia's mobile division, they arranged an exclusive license for the Pureview-with- Zeiss-lens technology, for a period of time. Now that Microsoft is out of the phone hardware business, what happens to that exclusive license? We know that every single one of the ex-Nokia imaging folks have left or been layed off (one of those ex-Nokians was hired away by Apple). Does Nokia now get to license it out again, to the highest bidder? To HTC, Samsung, LG, Huawei or even Cupertino? Cue up that digital rolodex and do some 'journalism-ing'; get people on the phone and pick their brain. It's something along the lines of what the folks over at The Verge would do, so might as well beat them to it, and get the chance to make some news.

"We make phones today"... http://www.windowscentral.com/microsoft-lumia-dead-thats-not-news

Wow, someone needs to use a fact checker for this guy... They stopped making/selling thier own phones, and they did not create the 2-in-1. Dell and HP had 2-in-1's well before the surface was a glimmer in Microsofts eye, MS may have made the 2-in-1 a mainstream device, but they did not create it. This really makes me question everything this guy says now....

I don't understand peoples saying they want a Windows Phone and every time there's an article about it, most of them start to criticize how Windows Phone is ****, how Nadella is bad, how they can't find a Windows Phone outside the US, how they don't have support for their 3 or 4 years old Windows Phone, it's really funny and a boring conversation. If you don't understand yet, Windows Phone is DEAD, have a life, move on, go to buy yourself and iPhone or an Android Phone, it's OK. For others, the futur looks cool, a small computer in your pocket and if you need to make call, just do it. Need to work on a bigger screen? Plug it in the Dock and enjoy. Need to have a conversation with your girlfriend, see her face, use your small computer camera and you will see her right there on your desk or bed, lol. Want to play Forza 3 with your friend, go to your account and Voila. This is a far more exciting futur than having a stupid smartphone...

love your insight, but when in India!

Galaxy S8 isn't available in India?

That is how I use my Lumia 950 XL already... ☺

Just build them through action if really committed.
Don't need to continue to speak motherhood statements.

Let's see what comes first. Avatar 2 or MS phone.

Trump's second presidency

I bet on MS Phone, lol. Avatar 2 is set to be ready on 2020, no? Anyway great things take time...

Even if they work on new device it won't be successful until they revisit availability plans. It's a joke to open MS Store website and don't see anything except small portion of not available accessories.

Satya's comments are both something and nothing. It's the same non-committal, understated, ambiguous language we've become accustomed to. I'm not sure Microsoft can afford to wait for the next big thing - mobile is deeply personal and people will be happily stuck and entrenched on whatever platform they are on now. By the time Microsoft gets its act together (again), there'll be no eagerly awaiting fans or willing/engaged consumers left. There's wasteland of old WP7-8.1 style apps that don't work on PC and very few quality UWP apps, that won't change easily. No devs will care to port or create for Windows anymore. No OEMs will have the guts to produce any more mobile devices with such luke-warm support being shown to them in the meantime. People have been burned too many times and this latest statement does nothing to quell the exodus to other platforms or stop the resentment, hurt and sense of constant betrayal during the last 7 years. Even an apology would have gone much further than what we've got.

"I'm sure we will make more phones"! Seriously? The CEO of Microsoft says it like he doesn't know what he has planned with the mobile devision of the company. I don't know. I'm just annoyed with his way forward with Windows Phone. I preferred the slow but steady progress forward before him but then again I never had to run one of the world's largest tech companies.

So what he said was that they will make phones again...when they know how to redefine the category. It's impossible to redefine anything without new tech available. Foldable screens are still years away, so Surface Phone is not coming any time soon. Time to get that S8.

Foldable displays won't change anything. It will still be the same form, Android and iOS will still have the best experience.

Nice fan boy concept and far from reality

You're awesome. Couldn't agree more.

At this point trust is broken

There you have it, no more Windows Phones unless HP produces, because Wharton won't make it. Also Nadella has an iPhone so there is no reason the rest of us shouldn't follow suit. Enough of this 3rd class citizen experience. I have a flagship, so it's a blow to me

"I'm sure we'll make more phones." That is the most weak ass commitment that I have ever heard from a corporate head. It means nothing for those few of us that are still left.

They will maintain Windows 10 mobile in the coming 2-3 years. Guess Surface Phone, if any, will come earliest in 2018. Microsoft need to make sure Windows Store is ready for such an ultimate mobile device - ready in the sense that major productivity apps are there. They would position such a device as a productivity first mobile device. Windows 10 Mobile will become truly dead after 2-3 years when Surface Phone is unveiled. In the long run, Microsoft would only keep one version of Windows 10. Windows 10 S should be potentially the OS of any future phone device. Microsoft need to act fast to make sure Windows Store has enough quality desktop-class apps. They need to make sure Windows Store apps will be enough for 90% of users, and make sure users would not complain Win10S because there favourite win32 apps are not available in the store. If Win10S fails, they most probably would give up releasing Surface Phone.

Who is believing him? isn't him the same man that in 2015 said MSFT would build phones for bussiness, fans and budget ? Isn't him the same man that in 2016 said MSFT would build phones if the OEMs didn't ? Isn't him the same man that shouted "mobile first, cloud first" ?

Mobile first clouds first is not just phones. It also means surface books and tabs. It means more than just phones.

The same man that said UWP was going to help WM get all kinds of apps. The UWP showed his commitment to WM. 🙄

"So when you say we'll make more phones, I'm sure we'll make more phones, but they will not look like phones that are there today." SO THERE ARE NO NEW PHONES FROM MICROSOFT

It means Google and Apple will sure follow the same line, and there won't be a phone form like today inthe near future. Call it a phone or a different name, things are changing. We all have to see this fact

I would wonder about the current phone support.

I have been very patient for the past two years and am now sporting an Android device. I will no longer hold out or hope for a new phone any time soon. I know there are still a couple good WP's out there: the 950XL, HP X3, and the idol 4S, but I can't bring myself to spend that kind of money on a phone I'm not if the OS will be support much longer. If and when it ever happens that the UWP begins to suceed and MS anounces a firm and strong plan, at that time I might take a look. As of now I have no hope or desire to continue to hold on to "it's coming soon." I really like my Alcatel idol Pro 3. Great speakers, looks and feels good in the hand, and for a mid range phone runs just fine for me. Oh I'm not a big app user. I have about 10 apps I use and no more. I will however be going to AT&T this weekend to look at the LG G6. I mean why not it's only $360 on the Next program. 24 payments of $15 sounds OK. If the external speaker is decent I'm more then likely going to pull the trigger. I use the external speaker a lot when on a call. Maybe I should or could use my Bluetooth ear piece more or the something else when at home or in the office. Farewell WP it's been fun, maybe we'll meet again some day. I do use and like the MS apps, Arrow Launcher, and Next Lock Screen on Android.

@ satya it seems you are still sleeping. You dont make any new phones "TODAY" and your OEMS left you except from 2-3 (they were supposed to be 13-15 manufacturers for phones) How about you start making some phones and flow the market so that the new category of your dream phone has some ground

Lumia phones are still up to buy on the Microsoft Store. If my Lumia 950 XL should die in 2 years time I would buy one again. Before that it is within warranty. I always knew that Microsoft would make new mobile software and technology. Also at least four companies offer a windows 10 mobile right now. Today I got the most awesome update for my win 10 mobile. And all my apps are constantly updated so it would appear that Microsoft mobile strategy IS not so dead after all 😉 Written and sent from my Lumia 950 XL
Oh I even got technical support from a third part company on my Lumia 950 XL once and it was awesome 😊

All this and yet...they now have a market share that is almost imperceptible. What a strategy.

Strategies do not mean that you will succeed. Many smart phone companies have tried and failed. Microsoft did enter this mobile phone market very late.

otha avan motta mandaila aani edthu adingada baadu paya

Just b'cos others won't understand, it's unprofessional to use unparliamentary words.

Maybe he/she/it has been kidnapped and their mouth is gagged.

People scared to buy from MS because of uncertainty. MS killed their products every two three years.

Oh really?
Windows OS: 32 years strong.
Office: 27 years
Xbox brand: 16 years.

No, the point is about the Windows Phone platform and its failed reboots.

OP wasn't specific. Just a blanket statement about MS. Still not true for WP/WM either...so far.

So you don't remember the first reboot in 2010 from WM6.5 to WP7 where there was no upgrade for devices and no direct migration path for user data. Microsoft also introduced the WP7 Silverlight app model. Second reboot from WP7.5 to 8.0 also left behind all existing devices at the time and moved the app development to a new unified Windows 8 model. Third reboot to Windows 10 was barely even announced by Microsoft who dropped support for a lot of phones that had previously been promised an upgrade path and then made it unintuitive to achieve using an Upgrade Advisor app that they didn't advertise with the general public. They rebooted the app model once again with UWP, merged the Stores, added then took away the Android porting tool (Project Astoria). The latest update to W10M CU has killed off what's left of the bulk of the original Windows Phone 8.1 device users who have no official upgrade path and in some markets/carriers, no replacement devices available either. Is that enough reboots for you?

Dude, that's called 'evolution' 😉

NO thats called killing your mobile platform. my iphone 4 can still download current apps from the app store....windows 7, SOL, windows 8, mainly SOL. 6.5 SOL...so no it's not called evolution...its called having no ******* idea what you are doing.

The article is talking about the phone, of course I am commenting on phone. Common sense

Common sense is something that is lacking in the world of a windows mobile/phone/mobile on devices smaller than 7" or whatever its called this week fanboy's life!

The cynic in me needs to do some math. "I'm sure we'll make more (Windows Phone)" + Glum Nadella Look Pic = Not so promising future.

Things I don't trust: Anything they say about mobile.

Whatever the next thing is, Apple and Google will be there too, with all of their developers. Microsoft has lost the mobile software battle so they better reinvent the whole thing.

Blah, Blah are you Microsoft fans ready to buy another phone and be struck out a third time :), I like my iPhone -- Nadella

Or I can just keep using my 950.

That would be the fourth or fifth time.

Hope that surface phone come late 2017 or at least very early 2018...

Ok this is important cause these are the official words from the ceo of microsoft. So now it's time to relax, wait and see what kind of phone will be there. Up to that point buy a great HP Elite X3 or 950 XL. Use continuum and enjoy the great camera quality.

Why is there so much confusion over the Surface Laptop reveal? People don't know that you can upgrade for free to Windows 10 Pro and they are already calling Windows 10 S s**t. Was the advantages of Windows 10 S not explained to the crowd? And the media is calling the Surface Laptop a Chromebook competitor. That's not true, right? Windows 10 S is the Chrome OS competitor. Speaking of which, why put Windows 10 S on a laptop? Wouldn't it make more sense to put it on a tablet? I know Microsoft wants to push their Store and everything but...

It's being compared to the Chromebook because Windows 10S offers the same advantages and disadvantages.

OK I need to say this, its totally off topic but: Nadella looks so sad in the picture for this article.

Welcome to about 260 comments ago.

" . So when you say we'll make more phones, I'm sure we'll make more phones, but they will not look like phones that are there today." I don't know, usually people would then call it something else .

This clown! Nadella just stop, man. No one believes you! I have a cracked 950xl. I have no phone to go to, bruh!

Alcantara surface phone in the pipeline for 2018 Q2 😂when w10m is dead and buried but like jesus rising from the death with windows 10 SF operating system. You got 3 versions, including Ral 6503 commodore blue, retailing from 1000$-1600$, 4gb-6gb ram. 😂😂😂 Have jumped ages until then, sorry😂😂

"I'm sure we'll make more." Boy, if that isn't a message of non-committment. And he would like developers to flock to windows - what a disaster.

'I'm sure we'll make more' So, the equivelent to, "Yeah, honey, I'll get the garage cleaned up one day. Don't worry."

More of his BS, Windows mobile/phone users don't beleive a word of hid crap anymore.

This guy needs to be fired. by the time they deside to make more Windows phones he will have a harder time selling the because everyone will have moved one to other platforms. Windows phone is dead, its time to move on, unfortunate but true.

Mr.Nadela statements don't seem to be anchored into present reality. He says "We make phones". To what is he referring? Wasn't the Lumia line canceled?
He says "We have OEM that make phones. We have HP and others." Last time I checked there was HP, Alcatel and I think Acer. And their products aren't available world wide.
He says they will make phones that might not look like the present days phones. That's very interesting but also very uncommitting statement.
I'm sorry but the only thing that might be taken into consideration from this entire interview is his commitment to bring top of the class cloud services to Android and IOS. The rest are just empty promises.

https://youtu.be/4xf_aN1Velc
Check the video from 4'59". Maybe this is how cshell will work.

Well after last nights 'creative update' my trusty Lumia 640 LTE no longer want to run my No. 1 App - Barclays Banking! Brilliant, well done MSFT. Barclays tell me they are working on a fix, will wait and see if one is forthcoming otherwise bye bye MSFT for good. W10M may have few apps, a slow and ponderous OS - the new update seriously slows down the Settings pages for instance. The Edge Browser now has 2pt font size and attempts to adjust the system Display Text size just messes up the start screen tiles. So either accept miniscule browser fonts or giant start screen. It is just this lack of basic useability that has been the death of Windows Phone and given MSFT inablity to design & implement a half decent OS any future phone would have to be amazingly good to use.

A lot of people are like Me they do not like working with smart phone screens. They are too small and will eventually hurt your eyesight if you use them too much as a PC. A Dual screen "Surface Mini" Tablet with a built in Windows 10 mobile smart phone Plus a digtal Pen and a blue tooth headset to send and reciecve voice phone calls is device that wont be for everyone but those who have one will LOVE IT and may never buy a smart phone again because they have bigger easier to use screen to work with. I Think enough people will buy them on a world wide basis for Microsaoft to make a profit off of selling them. they will probaly come in an intel ful windows Version and an ARMS CPU version that has a Built in Windows smart phone and will also run Win32 Desktop PC programs which number in the millions. who cares about apps when you have millions desktop programs to use.

You might even be able to run Bluestacks too.

All aboard the Surface Phone hype train

Blah, blah, corporate speak, blah, blah.
Go buy Android and iPhone. There, I translated it for you. :) Hey Microsoft, stop talking and start doing. Stop dragging this out! Show us a plan!

He's sure they will? He's the boss. Will they or will they not?

Mr Nadella acts more like a politican than the CEO of a huge company,too many words to say nothing regarding phone,"I am sure we'll make more phones", when will that be Mr Nadella?This year? 2018? when?

There seem to be too many pictures of Satya Nadella making this "I don't know, sorry" face

"I'm sure we'll make more phones" That statement is completely the opposite of "We will make more phones", never mind the purposeful ambiguity intended. If the CEO cannot make a definitive statement then anything else he says is BS and only meant as PR. "but they will not look like phones that are there today." Ok. When those phones that "will not look like phones that are there today" come out will they last as long as the current Microsoft phones? Less? Three years max? Maybe only six months? A year? Who can possibly tell? Sorry but I've lost all faith because MS has left me hanging too many times. I expect they will leave us hanging again. Well, they will leave someone hanging, just not me. I'm done.

He doesn't know until they create a device they feel will be competitive. He wants to release a phone like device, but can't say for sure that they will be able to come up with something compelling. The only thing he is sure of is they will not make any more smartphones as they are understood today.

I guess its time to fire up the jitterbug till things settle down and we have a more definitve direction

Basically Microsoft wants to stop making phone and the next step is let the OEM making that part and Microsoft will only focus on software and maybe doing the first line that includes the surface line (computer and phone devices). It was I understand.

Windows phone is dead and sure Satya knows it is dead. At what point does he just say it? Also why does he not just say what everyone knows?

Since they only made $5 milion last quarter from WP, it would be simple to say "Windows Phone is dead." It would be no big surprise and no one would fault him for it. The writing in on the wall. The fact that he didn't say it, must mean Microsoft has something in the works at least. He may just be tight lipped about what their plans are.

IMO I think the reason he can't ouright say it, is that they likely promised both HP and Alcatel support of the OS for a period of time (2 years? 3?) Saying "it's dead, Jim", would violate that, and foster ill will with one of their top PC OEMs. They dont want another Verizon-Kin scenario that left the carrier holding the bag, filled with unsellable devices.

I hope it has android, so they can not abandon it like WP

It is not about the Store itself, but about those top 10 wished for apps being the best amongst platforms, which currently is not the case. Who cares about 1 million apps, just non sense.

I'm sorry, but that's what they said about Cortana. Now Cortana is somewhat better than most other assistants, but it just seems outclassed by Alexa now.

Stop hyping up Continuum. It is no where near the killer feature you think it is. It was prematurely released.

Have a massage for you MSFT. #@&% you with your mobile policy. With previous app gap we now have devices gap and future android or iOS prospective 🤢🙊 Thank you.

I wonder if there "was" a phone that was destined to be the surface phone (I don't mean the McLaren) but like the Surface Mini got shelved quite late on and MS have gone back to the drawing board for something better. If they don't announce some kind of phone like device soon even the die hard fans and devs will start abandoning in their droves

I really hope Microsoft gives us the option to choose between a foldable or a compact phone (in other words, make two devices)... I don't see myself needing a foldable device.

I think the next windows phone will be W10SM.

"No one before us thought of 2-in-1s"
But the Surface is a tablet.. not a 2-in-1, which OEMs like HP, Dell, Fujitsu had done before Microsoft.
This guy thinks he's the next Steve jobs with his 1% marketshare and taking credit for things his company didn't create.

"No one before us thought of 2-in-1s" ... I'm looking at the bluetooth folio keyboard I have on my Gen 1 iPad, and I'd beg to differ.

Actually, I also have a Compaq iPaq here from circa 2000, with both a fold-out Targus keyboard *and* a light-projection keyboard ... and both of those would like to argue against the 2-in-1 point as well.

With statements like this he should be a politican not CEO. Just a politician.

With empty statements like this he should be a politican not CEO. Just a politician.

"We make phones today, ...." That should have prompted the question, and what phones would that be exactly?

Hahaha. Mobile first right...... Hey Nadela tell me a joke

Stick a fork in it, Windows 10 phone/mobile is done. You have heard it from the boss. So quit your ******** and go buy an iPhone or a droid if you want a new smartphone.

And yet major companies are either ditching or failing to hop on board with Windows UWP development. I think they are dumb for abandoning Windows entirely like that,

Why not just give a straight forward answer? Either you are or your not, very simple.

LOL at you fanboys losing it over almost a sentence of mention. He's probably just saying it for something to say. If you really think something is coming your way, you need a reality check. Move on. MSFT's days on mobile are over, read into Nadellas words some more, that's pretty much what he just admitted.

Yes! Thank you Satya! I will keep my 950XL and keep saving for the next flagship. My advice to other Windows phone people. If you are using ANY Windows Phone that doesn't do Continuum, you have an outdated device. get rid of it. If you have kids or a wife, the only exception would be a Lumia 650 from Cricket for $49. We need to trim down the number of different devices out there. Second, start saving for the next flagship.

I still have faith, MS would not just turn their back on the mobile phone market after all the work they put into it. My theory still remains, MS will ditch the Lumia name and bring in a new Phone called the Surface phone which we all already know about, then make sure Windows is actually universal and works on all platforms.

He specifically said it would not look like phones today. I would not expect anything that looks like a rectangle slab.

I don't get much excitement from this statement, in fact none at all. All that he has said is, "I'm sure we'll make more phones". going into very granular level of arguing, I would say words like "I'm sure" and "we'll" tell things two things to me. First, it is not 100% certain and hence the word 'sure' and secondly it will be sometime in future and hence the 'will'. Had he said we are developing something right now and will relase it soon (or in 2018) then that would have been a news.right now its nothing for me. If anything this definitely means that he has not shelved the plans for mobiles as of now, which again is no assurance given MS's history

According to their CEO, the next MS phone will be a work of fiction!

Its a plot so please don't buy a ndroid please

deja vu, same comments that were written on Crackberry, without the apps not going to happen

Did, natela kill windows phone?
For what, making him rich & his life achievement & rising income with whatever is best for him?
He is in the same boat with Marissa Mayer, bringing down Yahoo and walk away with much more millions & billions in his pocket and walk free !!!

[quote]...we picked a very specific area to focus on which is management, security, and this one particular feature that we have called Continuum...[/quote] BWA HAHAHAHAHAHAHAHAHAHAHAHAHAHAHAHAHA *GASP* AAAHAHHAHAHAHAHAHAHAHAHAHAHAHAHAHAHAHAHA Yes, I literally laughed out loud at that comment. I do actually use Continuum, and if this is what they call focus, W10M is truly DEAD.

Folks the 2 patents Microsoft got for a foldable Tablet, Dual screen mini tablet plus the fact MS CEO Nadella say Microsoft will make phone that does not look like any on the market today reinforces my belief that Microsoft will make a Mini tablet/Smart phone with a foldable screen or a mini tablet/Smart phone with dual screens. If it uses an ARMS CPU it could also run the NEW microsoft Windows 10 on ARMS software and be capable of running full Desktop PC win 32 programs and maybe even run Windows 10 store apps and Windows 10 store win 32 desktop PC programs

Doesn't that still look like a phone from today? This is what he is alluding to: https://www.google.com/amp/www.theverge.com/platform/amp/2017/5/3/155336...

They should license out their camera tech to people like HP at little or no-cost IMO. That's the only thing is X3 is lacking (Yes, it's for business where it's not as important but many of us with a business want a single device for home and work)

Yeah, because the camera is what holds the X3 back! It isn't the plastic build, dead platform or massive price!

The price isn't that high. Less than the equivalent iPhone 7plus and includes the desk dock. People complaining about the price is annoying as hell when it costs as much as similar phones. If you don't like W10M though it shouldn't matter to you honestly

They will not release smartphone. They are imagining about a new device category.

I agree fully with what I understand Satya is saying here. That the future of windows is in small 2 in one devices with build in communication capacities that also function as a full workstation when supplied with peripherals. Win32 on windows phone 10 is obviously the last of the critical steps in that direction. Let IPhones and Androids fight for the toy marked and let microsoft continue to deliver soft and hardware for professionals and power users. By the way, My Lumia 950 has all the apps I need on a phone, it lacks nothing. The only thing I miss is to be able to install win32 apps on it and a cpu that runs them smoothly so I can finally ditch my stationary. Hope they give up windows S though, that is the same crap as the Android /IPhone toy infrastructure. MS won't win in that market, that train has left the station a long, long time ago.

I don't see where he said anything like that at all. Such a device would still look like a phone from today. According to their engineer, they expect Hololens to replace the smartphone. https://www.google.com/amp/www.theverge.com/platform/amp/2017/5/3/155336... This doesn't look like a phone. This is what Satya is talking about.

I went from my 820 to my 950 because of W10. My wife from 535 to 735. I"ll probably "hang in there" till "Surface" comes along. Just feeling a bit abused thats all.

I won't easily buy one again. I have learnt my lesson.
But - how is it clever to buy Nokia when it is the biggest mobile phone maker on the planet.... and then shut it down.
That alone should disqualify you from making these sort of predictions.
You had it. You blew it.

I know what he did last summer. DESTROYED windows phone!
I still hate him! Satya, please resign okay?
We all hate you!

It kills me how few companies bother to make apps for windows phones. If some enthusiast can cobble together an app that uses 3rd party APIs there is zero excuse for a company to not have an app for their product on every platform. They kill the platform by not having an app for it and I can only speak for myself but I won't support a company that needs an app to function but chooses not to develop for windows. I'll go somewhere else.

Why should they develop an app for Microsoft and not Blackberry or WebOS or Tizen? What makes Microsoft so special? Are you upset that developers don't support Linux, Mac or ChromeOS with their apps? Why is Microsoft entitled to receiving apps and they are not?

It's certainly encouraging to hear! Especially for those of us dying for any news of a Surface Phone. i think the latest strategy is good. Having a strong presence in the classroom is huge. And Windows 10 S is great. Hopefully it really helps drive the App Store

For those struggling with the decision to leave W10 mobile eco, this is your cue. With no first party devices due out (soon), there is no reason to expect W10M to be a priority at any consumer important level. I'm a former user of nearly every W7-10 mobile device made. From the petite Samsung Focus to the 1520 and 950. All great phones. I was also a regularly (read: always) a member of the preview programs. Unfortunately, when my last phone bit the dust, I decided it was time to just see what is going on with other devices. As I've shared before, that included trying a Samsung S7 and now an iPhone 7. Neither were revolutionary, but they both were pretty svelte and well supported. The important take away for me is a) I realized that W10M is in my future when the right device/support comes along - I really miss it, b) app support is actually important to me after all - I realized that with how easy it is for me to bank, pay for things, and control my home automation systems, etc. I never wanted to acknowledge the convenience of having the right app for something you do regularly. Perhaps all *my* use requirements are necessary functions, but if I noticed them then they are probably minimally required to be competitive (if you considered all other aspects equal). For those that play MMOs, it would be like a super fun game with very little to no actual end game/ veteran content. Now is the time to experiment! I still return daily to Windows Central to soak up all the MS goodness there is available. You can, too. For no reallly good reason, I am excited about the prospect of a mobile PC/ phone. I don't use the phone as a phone (much). It reminds me of the good old PocketPC, etc, days. :)

Windows 10 mobile phone will be a "Mini" Surface Hub interface powered by Universal apps running Windows 10 S OS. Project Neon will be a redesign language for show us an universal design to apps. Together they will make for us a true mobile computer.

his response is UNACCEPTABLE

hes lying. Groove isn't availably on the ipad unless you use the mobile ios version and even then its so obviously not a ipad app. and well groove doesn't read the sd card on my Samsung s7 edge so me like many millions more who use the s7 sd card for their entire music collection are left out in the cold. But then there no separate calender app wwhich means I now use googles android calender along with play but my desktop is on microsftrs, I hate this defragmented issue with windows. yeh outlook has a calender in it but its not the same when you want your calender separately. Microsft doesn't even let desktop users open the new tabs to your default home page and micropsft wonder why edge still isn't doing well. I'm thkful he didn't term a mobile phone as a pdesktop too as a new device category. Hp and very few others have not a made a phone sutable for me and even if they were they aren't available from service providers to get on contract and discounted.

The solution to WP is to give Free service and data plans for 2 years on the "Microsoft Network" using otner networks behind the scenes. You'll get some takers that way and establish a foothold.

could somebody explain to me how android and ios is so much better then windows phone.

Right after I explain to you how Beta was actually far superior to VHS.

Satya Nadella on future Windows phones: 'I'm sure we'll make more' Making them isn't the problem, it's getting developers to support them with mainstream Apps, and getting the necessary support from Microsoft, if they showed half the support they do for Android phones, the Windows Mobile would second to none. How can you own almost all the Android patents and NOT use them for your own product??? Trying to make Microsoft or Windows Mobile different from everyone else isn't working, maybe if the Jackasses at Microsoft put the Starbuck's down and actually do some work, they'll get more done.

One big change required in the current smartphone market is "I want to carry a small phone in pocket with a large display when I want to use it" If the above issue can be solved... It will be the best device people would need.

Way to go Satya . Windows10 mobile is the best mobile OS on the planet .

What a F'N jerk. You pretty much kill of the Microsoft phone devices. You upset a LOT of customers by pretty much flipping a switch that "we are not going after the consumer market" From a growing (slowly) phone that disapeard off the planet BECAUSE OF Microsoft's choices. I lot of us put good money into Microsoft PDA/phones over the years, I was one of the orginal HPC owners, to PocketPC, to Windows Mobile, to WIndows Phone, now back to Windows 10 Mobile. 8 Windows Phone models through out the years, 6 different PDA models. Thousands of dollars invested in a product that Microsoft pretty much gave up on. Windows was a great Phone OS but, I feel completely screwed by Microsoft... and after all this, Microsoft thinks when they make a NEW device that people are going to come running ? Not going to happen.. A lot of people feel this way on the NET, do some reading on other sites besides a "Windows fanboy site". This CEO is a joke if you like Mobile devices and it was all his choice that was the DOOM for WIndows Phone.

"Redmond has thoroughly earned its reputation for a barren app store." over 700,000 apps the last time I looked.... people do have a very strange definition of barren. Just how many apps do you need?

We just need the apps that dont exist. Online banking, home security, proper diet trackers... Its all well and good to push out sh@tty apps that teenagers use but I am still far behind my wife who left Windows phone platform and went back to Driod. MS needs to focus on the Application space and get the real world funtional apps onto win10!! The platform itself IMO is far superior to anything out there, no need to retool the OS.. Fix the app pool!!!!

I am just thinking Snapchat, Facebook Messenger which support calls and videocalls. mobile banking that works fast like android /IOS

What about 8 Zip Surface Edition app on the Store says in description about Surface Phone?

Nadella has an uphill battle after everything he has done to abandon his customer base and make excuses. I have been a huge Microsoft fan for years but it would take more than a Hero device to win me back. They would have to show commitment and that they listen to their fans.
Windows Central Newsletter
Thank you for signing up to Windows Central. You will receive a verification email shortly.
There was a problem. Please refresh the page and try again.