How Microsoft could ensure 'Surface phone' success
Microsoft's CEO Satya Nadella arrested the attention of tech pundits and Windows phone fans last year when he promised a Microsoft branded "ultimate mobile device."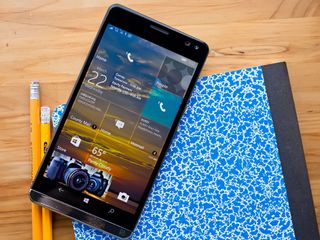 The statement followed an earlier claim by Nadella that Microsoft is not bringing another smartphone to market and will not follow competitors' smartphone rules. He is targeting a device that is "beyond the curve in mobile."
What that device will be and what strategy Microsoft will execute to ensure its success amidst a myriad of challenges are still mysteries. But that doesn't stop us from speculating based on the information that is available.
The challenge is massive and the approach multi-faceted
Nadella's promises evoked both anticipation and reservation among Windows phone fans, tech pundits, critics and Microsoft's manufacturing partners. But why would anyone reserve excitement when hearing such a claim from the man at Microsoft's helm?
Microsoft has a consistent history of failure in the smartphone space, which is virtually synonymous (for now) with the mobile space for which he is planning an ultimate mobile device. From Pocket PC to Window Mobile to Windows Phone and Window 10 Mobile, Microsoft's Windows-on-phone vision has never had significant consumer success.
Given the app gap and uninspiring developer and OEM support, it's difficult for many tech watchers to see how even an ultimate mobile device from Microsoft will succeed in the smartphone space where it has consistently failed.
What Android phone and iPhone users need to know about Windows phone
The fact that Microsoft is not targeting the smartphone space, but the mobile space, is one of the fundamental perception issues and challenges Microsoft must address as it executes its ultimate-mobile-device strategy.
If nothing else Microsoft has been very clear and consistent with its cryptic messaging that the company is "committed to mobile," not smartphones. Thus, the ultimate-mobile-device strategy must be broader than simply plopping a new device into a preexisting market segment.
Here are four things I feel Microsoft's ultimate-mobile-device strategy must address, either directly or indirectly, as the company positions itself for success in the mobile space:
Getting mobile hardware into consumers hands.
Differentiating between the smartphone and mobile space.
Winning OEM partners to a new device category.
Closing the app gap and garnering developer support.
These aren't trivial challenges, but I believe (and hope) that Microsoft's leadership and engineers are working on an ultimate-mobile-device strategy (not just a device) that takes these variables into account.
Getting devices to consumers requires an understanding of why they buy
This is Microsoft's greatest challenge, yet it is the most critical component of an ultimate mobile device strategy. Microsoft must get the device into the hands of users.
Given that most consumers who purchase a smartphone are influenced by family and friends, anything that looks like just another smartphone from Microsoft would likely be ignored.
One factor that motivates a consumer's smartphone purchase is the accompanying app ecosystem. Thus, any Windows-based mobile device, even if it is not categorically a smartphone, will suffer from the same app gap legacy and rejection Microsoft's previous mobile efforts have endured.
These challenges necessitate an ultimate-mobile-device strategy that does not "lead" with a smartphone form factor and is not propelled by an app ecosystem.
Microsoft and Qualcomm introduce cellular PCs.
Consumers and businesses will need to want this device for reasons other than what motivates users to buy smartphones. Still, once in users' hands it must be capable of fundamental "smartphone" functions.
Tapping into a different motivation to get mobile devices to users
Current data from research firm IDC reveals Microsoft's continued and projected success with 2-in-1s and laptops with increasingly mobile form factors:
Windows 10 on ARM: Microsoft's ultimate mobile device vision comes into focus
Thus, my vision of an ultimate mobile device is a composite device that "presents" as a full Windows 10 2-in-1. This apparent, smaller "Surface Book-like" device would actually be a shell or HP Lap Dock-like peripheral that houses the actual mobile device in the base or keyboard section of this dock.
What's on the inside matters
My vision of an ultramobile Surface PC that will power the peripheral via Continuum (and wirelessly project to the detached screen when docked) will be a pocketable Window 10 on ARM cellular PC with telephony via eSIM. Whether this ultramobile PC portion of the composite device has the foldable form factor patents suggest is inconsequential (though desired by fans).
The point is that this ultimate mobile device will be positioned, in part, as a Windows 10 2-in-1 PC via the Lap Dock-like peripheral. As such, it will target users who are in the market for what IDC reports is a successful and growing device form factor.
Windows 10 on ARM via emulation.
The ultramobile Surface PC portion of this device would be positioned as a phablet-sized Continuum-powered Windows 10 mini-tablet, which would also function as a phone.
Microsoft's Project Centennial app bridge makes sense of Win32 apps on phone
The "phone" aspects would not be the leading marketing message, however, since the target market would be 2-in-1 or laptop consumers looking for a mobility-focused productivity device (not smartphone consumers).
This strategy strategically places a Windows-on-mobile device that is capable of being a phone into the hands of consumers.
iPhone and Android phone users may not be inclined to ditch their phones for the phone aspects of this device (yet), but they may experiment with it or use it as a backup phone.
My ultimate mobile device strategy does not lead with a smartphone form factor, is not propelled by an app ecosystem, and as a 2-in-1 PC, it may be wanted by consumers and businesses for reasons other than those that motivate users to buy smartphones.
This is my speculative vision of how to get an ultimate mobile device to users.
How can Microsoft differentiate between smartphone and mobile?
Due to the dominance and mobility of smartphones as the most used personal computers, the smartphone and mobile spaces are seen as synonymous. Microsoft's ultimate mobile device strategy messaging must differentiate between the two.
The composite device that I described fits into two mobile categories. Laptops and 2-in-1s are powerful productivity PCs that have the mobility a desktop PC lacks (the docked device). Smartphones, due to their pocketable and always connected nature, have what can be defined as ultimate mobility (the device undocked).
Surface phone should be much more than just a 'phone'
The device vision I've described is simply a progression of the HP Elite x3 and Lap Dock vision Microsoft had a hand in developing. Rather than a Windows 10 Mobile phone (3-in-1) that only connects externally to a Lap Dock, I envision a full Windows 10 on ARM (smartphone-sized) cellular PC that can also be fully inserted into a Lap Dock-like peripheral (as well as connect to other screens and PCs via Continuum).
This concept of a composite device that has the mobility and productivity of a 2-in-1 when docked, and the ultimate mobility of a handheld device when undocked, would help businesses and consumers broaden their perception of what a mobile device is.
Winning OEM partners to a new device category
Many OEMs have little faith in Microsoft as the provider of a smartphone platform. The smartphone space is saturated, and there's little room for growth or profitability. Android claims most of the market's volume, while Apple claims most of its profits. Still, a presence in a space whose underpinnings are cellular connectivity, ARM and telephony is important.
Smartphones are dead: Evolve or die, Microsoft's ultramobile PC strategy
Though the overall PC space has seen year-over-year declines, 2-in-1s and mobile-focused laptops are predicted by IDC to continue to grow. An ultimate mobile device that is a merger of a device whose foundations are cellular connectivity, ARM and telephony with that of a popular productivity-focused PC form factor may be embraced by manufacturers.
It would allow OEMs to ride the success of a popular PC category while entering, without directly competing, in the cellular and telephony space. As a new category, early entry into this space may also be seen as strategically advantageous by some manufacturers, as well as a way to diversify product portfolios.
Closing the app gap and garnering developer support
The success of Microsoft's mobile vision ultimately rests on its ecosystem. The composite ultimate-mobile-device strategy that I presented has the appeal of a full Windows 10 2-in-1 that can be productively utilized without mobile apps. It also has, however, the ultramobile PC component that, though capable of running full Widows 10 apps with CShell when undocked, mobile apps are far more practical, relevant and, frankly, required.
What my vision potentially achieves is the circumvention of the need for a robust ecosystem before consumers purchase a Microsoft Windows-powered mobile device.
They will have bought it motivated by other reasons. Of course, sooner than later Microsoft would need to add value to the (more app-dependent) ultramobile PC undocked portion of this device via an improving ecosystem. An unprecedented effort to win developers and bridge the app gap must therefore simultaneously accompany the introduction of an ultimate mobile device.
If successful, this Trojan Horse strategy will potentially put millions of mobile devices in consumers' and businesses' hands that Microsoft can send updates and advertisements to (as it does now with Windows 10), drawing users attention to apps and features that are being progressively added to the ecosystem.
Such an ultimate mobile device strategy, could in time make the ultramobile PC portion of the composite device a more relevant mobile alternative to a user's iPhone or Android phone.
What's your ultimate-mobile-device strategy vision?
My idea of an ultimate-mobile-device strategy is admittedly quite detailed, but it is just one among thousands of possibilities. What is your ultimate-mobile-device vision? How would you get mobile hardware into consumers' hands? How would you attempt to close the app gap and garner developer support?
Sound off in comments! We'd love to hear your thoughts.
I also wrote:
With 'Surface phone,' will Microsoft learn from its past marketing mistakes?
If Microsoft doesn't kill at BUILD 2017 the Surface phone is dead on arrival
This is what has to happen first in order for a Surface phone to succeed
Get the Windows Central Newsletter
All the latest news, reviews, and guides for Windows and Xbox diehards.
Jason L Ward is a columnist at Windows Central. He provides unique big picture analysis of the complex world of Microsoft. Jason takes the small clues and gives you an insightful big picture perspective through storytelling that you won't find *anywhere* else. Seriously, this dude thinks outside the box. Follow him on Twitter at @JLTechWord. He's doing the "write" thing!