With just 1% market share, why would anybody make Windows phones?
Microsoft is retrenched, Windows' mobile market share has drastically declined, and the fan base is increasingly frustrated.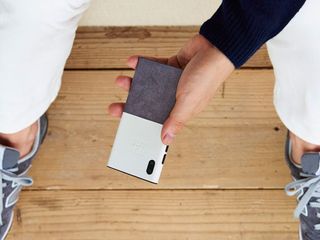 However, despite a poor consumer response to the Windows Phone platform over the years, persistently negative outlooks by the media and justifiably frustrated voices from fans, a growing number of OEMs are investing in the platform. Many people who have been along for the ups and downs, shifts in the platform and broken continuity may be asking, "why?"
Why would OEMs choose Windows 10 Mobile when:
…the market is saturated to the point that the entrenched leaders are striving to find areas of profitability?
…many smartphone users are locked into their ecosystems of choice?
…the developer community has shown little consistent support for the modern Windows ecosystem of Store apps?
Well, just as Noah built an ark on dry ground, it may be that OEMs are placing their confidence in a solution that is preparing for what's coming rather than trying to meet present conditions that are on the verge of a shift.
Change is inevitable
We have moved further into a personal computing world where most people in developed regions have a smartphone; intelligent cloud computing manages our experiences and our phones have become in form and function, our computers.
If in 2006 someone had told us that in less than a decade a seismic shift would occur in personal computing where phones would dominate our social interactions, we may have scorned that person for such a preposterous prediction. To believe in a future where our collective heads would be bowed perpetually toward a 5-inch touch screen pocket computer, from the perspective of a flip phone-dominated world — a world where smartphones were clunky and the rare tool of business executives — would have seemed unlikely.
Yet, in less than ten years that shift has occurred.
As quickly and comprehensively as we have gone from a smartphone being the tech toy for geeks and business types, to the essential hub of our digital lives, the next shift may be just as unexpected and complete. One thing is sure, especially in technology: nothing stays the same. Satya Nadella said this of the current smartphone paradigm:
I think it is this vision of the next bend in the curve that may be winning some OEMs to Windows 10 Mobile. Those critics whose eyes are squarely on the present may cry, "Surely, OEMs must know Redmond's rocky history, see the diminishing market share and recognize the ever visible app quantity and quality disparity between the Windows store and the app stores of rival platforms." I concede it is certain they do. But it is also certain that Microsoft is selling something different in a market where PC sales are declining and smartphone sales, supported by an outdated warehouse of apps model, are stagnating.
Seeing beyond the desert
OEM partners, have recognized the value of Windows 10 Mobile devices that are supported by a Universal Windows Platform and Continuum and that offers a solution to the challenges facing both PC and phone manufacturers.
From the perspective that things are the way they are and will remain that way, an investment in Windows 10 Mobile may indeed seem foolish. However, a forward-looking view at the direction toward convergence (at least in part) that the smartphone and PC industries are headed paints a different picture. This meeting of PC and phone technology, driven by increasingly complex mobile computing, user behavior and digital experiences managed by an intelligent cloud, highlights the strengths that Microsoft brings to this potential future scenario.
Microsoft ranks second in Cloud technology, has inspired an industry explosion of context sensitive 2-in-1 computers, pioneered the first unified platform which provides consistent development and UI experiences across devices. Additionally, to date, Microsoft, with Continuum, is the only company that provides a platform-wide solution of turning a mobile phone experience into a desktop PC experience. These are appealing core strengths to both PC and phone OEMs who are finding it increasingly difficult to differentiate from competitors and profit in individual, PC or phone, markets that are now saturated.
For some OEMs, the phone as a PC that a Windows 10 Mobile phone promises, is an early investment in what they may see as a potential growth market. Thus, some OEMs have embraced high-end Windows 10 Mobile devices that support Continuum.
Still, other OEMs find it difficult to compete in a low-end space saturated with cheap Android smartphones. For these manufacturers, an investment in affordable Windows 10 Mobile devices is a means to offer differentiation and options to consumers looking for an affordable device. This at least helps to get the platform into the market the Redmond's key differentiator, Continuum, is not part of the offering.
Finally, some OEMs offer a diversified portfolio with both a high-end Continuum supported phone as well as a budget device.
Pioneering a future-focused platform
As a community of users and observers, there are many views regarding the merits of Microsoft's mobile prospects even with the support of a growing number of OEM partners. In Microsoft and the duo user part V we briefly looked at 13 OEMs that are bringing 17 Windows 10 Phones to the market. Though many may find it hard to reconcile, these OEMs likely see the future of their mobile strategy tied, at least in part, to a platform that they feel is best equipped for the future.
Now that we know why manufacturers may be choosing Windows 10 Mobile lets take a brief look at these 13 OEM partners and the 17 devices in question.
Acer
Based out of Taiwan, Acer's been in the PC game for a long time, so a Windows phone seems like a natural fit. Their Jade Primo was the first Windows 10 Mobile phone announced with support for Continuum, and Acer has built an ecosystem of accessories around the feature that position it more like a PC than a phone.
Alcatel
Alcatel has produced numerous low-end Android phones (and a few higher-end ones), but they only recently embraced Windows 10 Mobile. They produce two Windows 10 devices — the Fierce XL phone (which does not support Continuum) and the Pixie 3 LTE tablet — and are working on a higher-end Pro phone. Alcatel's design, marketing, and price have traditionally targeted younger "millennial" customers. Alcatel's Chief Marketing Officer, Dan Dery articulated it this way:
Coship
Coship is a China-based PC manufacture who first announced a partnership with Microsoft for Window 10 Mobile during Mobile World Congress 2015. China, of course, is one of the world's largest markets for smartphones. Coship's support with both the affordable Moly X1 and the Continuum supported Moly PcPhone W6 allows this PC manufacturer to bring a differentiated product portfolio to a saturated market.
Covia
Covia is a Japan-based smartphone manufacturer that has recently embraced Microsoft's mobile vision. The Breeze X5 is the company's affordable Windows 10 phone that is set to compete with a growing number of other Windows phones introduced in the region. The Breeze which cost's ¥24,800 (about $226) does not support Continuum, but with Microsoft's withdrawal of first-party phones from the low-end it is a budget-friendly alternative to a low-cost Android phone.
Cube
Cube is a China-based manufacturer who is not new to making devices inspired by Microsoft's Windows 10 family of devices. The company has already introduced a Surface-inspired 2-in-1: the Cube i9. The company is now reported to have a nearly seven-inch Windows 10 Mobile phone in the works. It will be interesting to see how this tablet-sized phone running Continuum, thus capable of being a phone, tablet and PC will be positioned and received in the market.
Freetel
Freetel is a Japan-based smartphone manufacturer that offers a range of Android smartphones. The Katana 01 and Katana 02 are the company's first foray into the Windows ecosystem. These affordable Windows phones, which do not support Continuum, are likely a reflection of the company's attempt to expand its portfolio beyond a very competitive Android space. Unlike many of the smaller manufacturers who seem content with their regional reach, Freetel has global ambitions with the intention of reaching more than 20 countries.
Funker
Funker is a Spanish manufacturer who is bringing two Windows 10 Mobile devices to the market. Funker is in a unique position as the only Spanish manufacturer of Windows 10 Mobile phones. The Funker W5.5 Pro and the larger, better specced, Continuum-supported Funker 6.0 Pro 2 look to offer a good representation of the platform in that market.
HP
HP is an American corporation with a global footprint in PC, printer and enterprise products and services. The high-end HP Elite x3 is their second attempt in the smartphone space; Windows 10 with UWP and Continuum offers a strategic advantage they didn't have during their ill-fated webOS venture. HP's experience in bringing PC and IT solutions to businesses large and small around the world will help to create a platform and IT solution around the HP Elite x3.
Lenovo
China-based Lenovo is one of the world's most recognized brands in personal computing. They acquired IBM's personal computing business in 2005 and Motorola Mobility from Google in 2014, and they're already the largest smartphone vendor in Mainland China. The Softbank 503 LV is a mid-range Windows 10 Mobile phone without Continuum and is the product of a collaboration between Lenovo and Softbank. Lenovo's strong globally recognized brand may help to position this device favorably in the market.
Mouse Computer
Like a growing number of PC manufacturers, the Japan-based Mouse computer has made investments in the smartphone space. The mid-range Madosma is the company's first Windows 10 Mobile device. Though it does not support Continuum it is yet another Windows 10 Mobile phone in the Japanese market which should provoke competition and innovation.
Nuans
Nuans is a Japan-based company that seeks to bring a new experience to the smartphone with the Continuum-supporting Nuans Neo. They present themselves as bringing "The answer to a comfortable digital life." Nuans creatively "side-stepped" the software customization limitations of Windows 10 Mobile by allowing broad customization of the hardware with an assortment of interchangeable casings. If this proves to be a popular feature (though a poor Kickstarter response suggests otherwise), other OEMs may mimic the solution.
VAIO
VAIO is a Japan-based manufacturer of personal computers. The Phone Biz is the company's first Windows 10 Mobile phone, and its svelte high-end design and specs with Continuum support make the phone an appealing complement to the company's portfolio of personal computers. Sadly this beautiful device won't be making its way to the US.
Yamada Denki
Yamada-Denki is one of Japan's largest consumer electronics retail chains. The company will likely leverage this position to provide exposure for the Every Phone, the company's affordable Windows 10 Mobile phone. This device does not support Continuum but offers yet another Windows phone option to consumers in the region.
Wrap Up
The mobile component of Microsoft's Universal Windows Platform has a rigorous and uphill battle ahead of it. Not only because of its entrenched competitors and the flawed "more is better" approach to apps, but also because Microsoft is approaching the personal computing industry with a holistic solution which requires a change in perception of the industry of consumers and developers, followed by their acceptance of what the UWP offers.
And changing minds is not easy.
Additionally, Window 10 Mobile is enduring growing pains and its initial lack of polish on expensive devices like the 950 and 950 XL, and the expected frustrations with Insider preview builds have left many faithful fans with a sour taste in their mouths (but then, they're the ones that decided to install beta software). Many argue that Windows 10 Mobile is not yet ready for prime time. Thirteen OEM partners have placed their bets on the hope that it is. Naturally, the hope of the platform cannot rest on a mere 13 partners and a maturing OS.
It is reasonable to assume that as Microsoft has left a vacuum in the Windows phone space with its retreat to offering only aspirational high-end devices and that potential partners are weighing their options and evaluating the software. Many OEMs who did not jump on board in the first year of Microsoft's new platform may find a more mature platform in the Red Stone 2 Windows 10 Mobile update, and with that a better investment.
Finally, it's worth noting that many of the 13 OEMs we've looked at here are offering their devices to consumers. This is a positive manifestation of Microsoft's strategy, through partnerships, to developing a presence in the consumer space. Contrary to popular opinion Microsoft has not abandoned the consumer. Their undog position simply requires a strategic return to the space through partnerships and the enterprise.
So what do you think? Are these OEMs a foreshadowing of more OEMs to come, or are they the swan song of a dying platform? Do any of these phones appeal to you or are you waiting to see what Microsoft brings to the table in a possible Surface Phone?
Let us know what you think — sound off in comments and on Twitter.
Get the Windows Central Newsletter
All the latest news, reviews, and guides for Windows and Xbox diehards.
Jason L Ward is a columnist at Windows Central. He provides unique big picture analysis of the complex world of Microsoft. Jason takes the small clues and gives you an insightful big picture perspective through storytelling that you won't find *anywhere* else. Seriously, this dude thinks outside the box. Follow him on Twitter at @JLTechWord. He's doing the "write" thing!