Mouse Computer unveils MADOSMA Windows Phone for Japanese market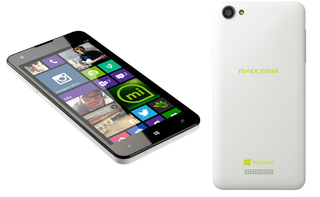 Microsoft has many challenges in the mobile world, and one of them is cracking the Japanese market. Previously, the company had a few offerings and partnerships, specifically with Toshiba for Windows Phone 7 (the Toshiba-Fujitsu IS12T from 2012). Since then, the OS has floundered there even worse than in the US.
Now, Mouse Computer, a Japanese PC OEM, who has some significant presence in the region, is detailing their new Windows Phone. Named MADOSMA (Mado = window in Japanese. Sma = Smartphone) the device sports some decent mid-range specifications.
Mouse Computer MADOSMA
Swipe to scroll horizontally
| Category | Features |
| --- | --- |
| Operating System | Windows Phone 8.1 Update |
| CPU | Qualcomm Snapdragon 410 MSM8916 at 1.2 GHz |
| Storage / RAM | 8GB / 1GB |
| Expansion | micro SD |
| Battery | 2300 mAh |
| Display | 5-inch 1280 x 720 IPS |
| Size | 142.8x70.4x8.4mm |
| Weight | 125g |
| Bands | WCDMA: BAND1/8/19(6) / LTE: BAND1/3/19 (CAT4) / micro SIM |
Overall, the phone looks to share many of the same features as white-label phones like the BLU Win HD LTE. In fact, another Japanese company named Freetel is releasing a rebranded Win HD LTE sometime this summer. This release would mark at least two new Windows Phone for the Japanese market, hopefully boosting the 1% MIcrosoft market share in that country.
Mouse Computer and Microsoft had previously announced a partnership nearly two months ago. However, no word on exact pricing or availability has been announced.
Source: Mouse-jp.com; Big thanks to lifelower for the tip!
Daniel Rubino is the Editor-in-chief of Windows Central, head reviewer, podcast co-host, and analyst. He has been here covering Microsoft since 2007 when this site was called WMExperts (and later Windows Phone Central). His interests include Windows, Microsoft Surface, laptops, next-gen computing, and for some reason, watches. Before all this tech stuff, he worked on a Ph.D. in linguistics and ran the projectors at movie theaters, which has done absolutely nothing for his career.
One minute, one second after the article was published...

Your bucket list is complete, congrats

Here's your lollipop ----O

No thanks, have it yourself...

Chillax dude...was kinda joking ;)

8gb stinks. I'd say low end, not mid range.

In Immortan joes words...."MEDIOCRE"

Why can't these Chinese/Japanese OEMs build some killer spec windows phone at a cheap price like they do everyday for android?

Because they will actually sell the android ones making a profit....

Easier to pirate with Android.

Because not even Microsoft is doing that.

Sounds like "Mad Osama" O_O

More market for windows phone..

I was waiting for this to happen!!! =}

Great, but the name should be Smado or Sumado. This would imply directly in the Japanese sense of reading and japanizing English words that it is indeed "smart" phone, with windows and powerful like sumo wrestler. That's it!

Good, I wish all these low-end-mid-range system really levels up the market share of wp overall, and I hope that when a flagship comes from MS, wp has already a stable market base & Plz don't be disappointing!

I've just started studying in Japan and I'm just switched from a black 1020 to an orange Lumia 930; one particular reason is to turn people's eyes lol

Enathithu? Kosa kosa nu oru peru.. Yuck

Matata potato petete kuruku!

I speak Japanese too: Yamaha, Suzuki, Toyota...

Me too... Arigatou gozaimasu!

Adapaavi makka. Inga yaarukum puriyala pola

Adhu Tamizh nu theriyum :)

This thread is so funny, people mistaking Tamil for Japanese and both sides posting their own comments. Keep it up :D:P

Japan is a Windows country in the PC side... Hopefully after Windows 10, Japan will become a "full Windows" country :p

*dreams*
Good to have them.

Man imagine how excited that 1% is

If only we were the "other" 1%...

1%. More exclusive than 2% gangs.

Not a bad looking phone, except for the charging port appears to be at the top.

Lumia 830 had it on the top left :/

BLU's Win line has that as well.

WP lacks of a good maps and navigation aplication in Japan. HERE doesnt have Japan maps. Does anybody knows an app with dowloadable japan maps?

Pretty much my concerns as well. Bing/here maps are abysmal for the region and I have no clue as to why they can't simply license the maps from zenrin and co like everyone else does...

Why bother to license it when you have 0.0001% of the marketplace?

Why bother to try if no ones buys, but no one buys when you don't bother to try.

I'm going to Tokyo this weekend and am going to have to revive my old iPhone to use it for maps. What really boggles my mind is that Bing maps on PC has Japan, but WP doesn't. Of course I can't access Bing via the browser. First world problems.

if you carrry a Surface around, that will work. but there is no Bing Map app for WP that actually use Bing Map data.

I used Gmaps Pro, but when i was in Osaka, i was trying to find a large, well known bookstore. I used gmaps to search...no dice. i typed in the address...nothing popped up. I had somebody share the address via email and clicked on it....nothing. so then i just wrote it down and gave the address to a cab driver. after going to the bookstore, i went to Yodobashi and bought a Xperia Z3 Tablet Compact and just used Google Maps. But even then, because of ap data licensing, you can't download Japan data to *any* device. WP is a non-entity in japan, which is too bad because MS was pushing the SP3 really hard there. i hope it comes back.

This is Awesome! Cool name, Cool device!

This device looks much better than all other phones with similiar specs. Whats the difference? screen quality? i can't understand

Thickness part is my take. They did a really good job with the design.

I always thought the Japanese were 5 years ahead from the rest of the world. 1gb ram only?

1 GB RAM is all you need in the world of Windows for a mid-range phone. Why make it more expensive with 2 GB? Seriously, the OS is minimalistic and responsive.

Agreed. 1GB RAM is enough for Windows phones.

The Japanese are 5 years ahead for flip phone technology. If I remember correctly, features phones still rule the land over there. Bit of a shame since I wouldn't have minded a very nice flip phone.

Nice to see manufacturers move away from SD400 & embrace 410

I'm interested in seeing ANY windows phones down here in Japan. Been seeing a good number of Sony/AQUOS(?)/Apple iphone 6's (a few with cracked screens). Lumia flagship with good camera damnit!!!

I swear once WPC does write an article on a new high-end, there's gonna be 500 comments after the first two minutes

Yeah, we've been waiting for a couple of years... :\

That actually looks pretty nice! :)

Also heard that Fujitsu is experimenting with a x86 based windows phone!

I'm also waiting for a Fujitsu flagship phone. They have great tech and patents that can be used with Windows phone. Hope they do it.

this phone is so powerful it froze my tab when I wanted to see the article, it looks nice, I like the colors! it sucks it's only for japanese people. but it doesn't have bad specs for sure. just the average-good we should expect on WP, the ones that work good and will make the OS run fine

Why do they always keep RAM in the same group as storage?

Because they are both forms of computer memory.

GPUs and CPUs are both processors anyway.

Better than L540 I guess.. What u say..?

Not holding my breath. No carrier presently has a Windows Phone, so to say the OS is floundering in the market is really overstating things. Softbank really wanted to sell me a new iPhone when my wife upgraded hers. They know I am still on 3G, but not that I have sliced my iPhone SIM to use essentially in an illegal phone. I would definitely welcome this, and simply getting this phone so I can become legal and get the proper SIM for my 930 would be great.

A pragmatic phone for a rather competitive market. Let's hope it sees a bit of success, though I doubt it'll do much to push WP's market share up.

Microsoft should bring there surface phone concept design to high-end flagship lumia..

The forums are full of that debate, lol. But MS did nail a reputation for quality with the surface branding. It really could be the key to get the public to take notice to a flagship phone.

Wow this is really good news. I actually like the look of the phone. Here's to hoping a beautiful, high-end Windows phone comes out of Japan in the near future. I'm really glad there are going to be (at least for now) a couple choices for the Japanese market. Rock on Microsoft!

I gotta say, that lime green Windows logo on the white case looks pretty trippy.

I wish more Windows spartphones were slim like this one!!

off topic. I just received 8.1 update 2 or GDR2 to in my lumia 830 :D

good job more windows phone more Windows Gadget

Market it with anime girl mascots. It will sell like hotcakes. Or even better, change Cortana to Japanese girl name and make her call "Goshujin-sama" and there will be lines waiting outside of phone shops on its day of release...

5 ​ inch screen , 2300 mah battery , 8GB,125 grams. Dream device! ​ ​ ​

Just get Kancolle to run on it over there.

That's great.I wonder if it would be sold only in Japan or world wide

Where's the lanyard loop for adding charms?
Windows Central Newsletter
Thank you for signing up to Windows Central. You will receive a verification email shortly.
There was a problem. Please refresh the page and try again.