Funker reportedly set to launch the W6.0 Pro 2 with Continuum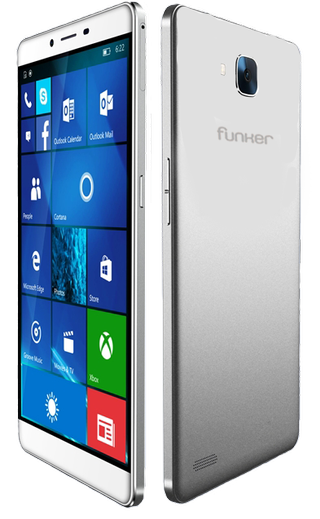 Funker launched the W5.5 Pro earlier this year with Windows 10 Mobile on-board, and now the company is reportedly looking to follow-up with the W6.0 Pro 2 and Continuum. This new handset is believed to sport a Snapdragon 617 processor, 6-inch display (hence the name), 3GB of RAM and 32GB of internal storage.
All these impressive specifications are backed by a large 3900mAh battery and you'll hopefully be able to deploy the 5MP front-facing or 13MP main shooter to capture those awesome moments. Reports also suggest there will be 4G LTE support, as well as the ability to take advantage of Microsoft Continuum.
No word on pricing or availability, unfortunately.
Rich Edmonds is Senior Editor of PC hardware at Windows Central, covering everything related to PC components and NAS. He's been involved in technology for more than a decade and knows a thing or two about the magic inside a PC chassis. You can follow him over on Twitter at @RichEdmonds.
When is the HP Elite coming out?

It comes in June according to GSM Arena. But CNet only says"this summer". Posted with the Windows Central app for Windows 10 on Lumia 535

I believed it was coming in July as it needed things that are added with Redstone.

And Redstone for phones will probably be ready in the fall

Because once again, Windows Phone/Mobile is not a priority. Satya's tagline should read "Cloud First, mobile...err, uh, LOOK! A SQUIRREL!"

I think so too. Posted with the Windows Central app for Windows 10 on Lumia 535

I think I saw somewhere mention it would be around August or September, but definitely after official release of Anniversary updates (AKA redstone) which should be last day of July. so time fits.

I really want to know as well..since I think the HP Elite X3 will be my first jump into the Windows 10 Mobile pool.

Never. Limited sales if even that. Not released to consumers.

All our current leasing laptops are from HP, I hope they'll bundle X3 there at some point.

You're so bad a trolling, and facts

August this year, and only for corporations.
But there is a chance that it's going to be much later then August.
Any guess is as good as mine.
But August was the unofficial launch date.

And whatever happened to the Acer Jade Primo? One picture at a time -- LG V10

Just not on this side (United States) of the world....

Well don't they do reviews in other countries? Haven't found one single review on YouTube. The whole thing is skeptical and no coverage about it on Windows Central either. One picture at a time -- LG V10

Two reviews here.
http://store.orange.com/za/mobile-phones/sim-free-phones/acer-liquid-jad... I bought the 950xl but in hindsight I might have gone with jade.
Like 950xl but the screen becomes blueGreen when you tilt it.

You can hardly count those as reviews. It's been months and information has been scarce. Very skeptical. Also if anything I would expect an in depth review here. There hasn't even been an unboxing. This is the issue I have with all these devices being announced/released. We hear about them once and that's it. The HP Elite X3 is one of the only few devices that will be different and that's more aimed at businesses. One picture at a time -- LG V10

Thanks guys. But you know what...I am kind of tired of waiting. First I was waiting on the 950XL which arrived late was an aesthetic disaster with a buggy OS to boot and now have been waiting on this HP Elite X3 which HP doesn't seem to want to market properly or sell to everyday users. I fear that I will they end up waiting on the Surface Phone which shows no real signs of coming out anytime soon. It is really sad as I loved Nokia devices, I like the Microsoft OS concept. The strategy realignment by MS shows that they are cutting their loses and running for the hills, despite whatever positive spin that the guys at Windows Central want to put on it. So, the time has come I need to go out there and get on with my life, lol and get a phone that works, looks good and has all the apps I need. Farewell.

sometime summer but from what I saw, it's probably not going to hit the consumer market unless it is demanded enough. HP sounded llike they were only interested in bulk corporate orders but who know, maybe they'll still sell them on their site or something

أنها تبدو جميلة، ولكن أنا لست سعيداً مع السلطة مقابل وحدة التخزين. عدد كبير جداً لقطات الشاشة العرضية.

Wish they make it available worldwide. With MS exiting some markets, it would be a good push by OEM to support WP.

Organisations should spend some more time in naming their products. I mean what sort of name is "Funker"??

That must be an appropriate way to say Fu*ker Posted from Windows Central for Windows 10

I would get it, just because of the name.... plus it's Win10, which to me works lovely (Lumia 930 atm)

Tank will be a cool name for a Windows smartphone...

It means 'radio operator' in German. Still not the best way to name your Product :)

That is the company name if i am not wrong... And what eballack said... It is German for radio operator.

Ja! Und mit diesem Handy, du wirdst zu ein Funker sein! :-)

Not reported but betting on 1080p

What's in a name. I think it's not bad. Especially for people from Europe/Germany

I actually like the design on this thing.. And love that there is still love for the platform.. Hope they keep it all going till w10 reaches a state not far from android/ios.. A complete, stable and feature rich windows 10 mobile would be my dream.. Hoping it is not only gonna be a dream.. :)

Mine too i can imagine wm10 with upto thousands of universal quality app it will kill those two competitive platforms hope this dream comes true..

Your dream Will come true for sure

I think we will be seeing much more of these soon as it introduces a new hardware line up to the market.

I like the design of the phone, but not the name. If it was pretty light i would consider it for a replacement for my 930.

The render is funny, it shows the same edge of the phone on both back and front view... yet on the view with the front, there is what I assume is the power button and SIM tray, and on the view with the back cover, there are volume rockers.

That's a funky design concept =D

I'm still waiting for a Sony Xperia W :D With W10M of course. Man, that is my dream phone :D

On the image above the phone has a power button when looked at from the front and volume keys when looked at from the rear :S

It's apparently a Spanish brand licensing the Coship Moly PCPhone...

It should be mentioned that it is just a rebrand of http://www.molypcphone.com

Soo when will Continuum come to Lumia 930? I think that's enough.

never since snapdragon 800 doesn't support it .

I am just happy for the fact that manufacture are starting to adopt and making windows phones, it will give other os challenges when consumers adopt and give option to people instead of just ios and droid

What manufacturers? So far we have only seen a few devices announced by small players that are not widely marketing or selling them. There are no large Windows phone releases coming or even announced. The platform is effectively dead. Posted via the Windows Central App for Android

If this is priced around 200$ and available in Europe. I may go for it. The battery capacity persuaded me :P

Hey if they priced it right I might one of this

I like it but doubt it will be available in my country :(

Am I the only one who noticed that the same side of the phone has different button arrangements? Or does the image on the right actually indicates that the presumably volume control buttons are for the right side of the phone?

No! There are two above and those who didn't comment ;P

I love Windows Phone but I don't know who would buy this.

I would if I get it in my country Posted from windows central for windows 10 mobile

Can we get a comparison between Continuum performance between Snapdragon 808, 810 and 617? when the Lumia 950 XL came out you guys said it was much snappier than the 950, which makes me worry about all these SD617 phones popping up becuase i fear the performance will be subpar

Have any 617 phones actually been released? Posted via the Windows Central App for Android

I would definitely purchase this phone if I liked it and the price was right per its specifications. As others commented on the name the name doesn't bother me. Popularity contests are for the fan boys. Pathetic!

beautiful phone hope to see this kind of phone in Iran
Windows Central Newsletter
Thank you for signing up to Windows Central. You will receive a verification email shortly.
There was a problem. Please refresh the page and try again.