The long-term effects of Microsoft's low-end mobile push
The next billion. We've heard a lot about them. Particularly regarding Microsoft's and Google's attempts to reach developing markets with low-cost smartphones.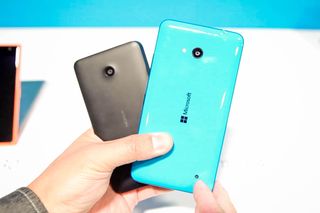 It was a race to the bottom as Google's Android One strategy and Microsoft's low-end Lumias vied for mobile market share.
Microsoft's faithful fans watched Redmond claim and desperately grasp the 3% share they held by way of this low-end approach. A strategy that necessitated a nearly two-year absence from the high-end space.
Redmond has now entered the next phase in Nadella's long-term mobile strategy. The low-end push is ended. High-end Windows Phones, the Lumia 950/XL, are hitting the market. Redmond's mobile strategy is now deliberately focused on fans and enterprise users. Clearly the low-end push had the benefit of getting Microsoft's mobile OS and its complement of Microsoft services in as many hands as possible.
But what other effects might this low-end push have had on the Windows Phone ecosystem in the long run? Particularly since many consumers of low-end Windows Phones weren't looking for a Windows Phone when they bought into Microsoft's ecosystem. Most of these buyers were likely just looking for a phone that they could afford, and a cheap Windows Phone happened to be available.
How does this particular reality regarding the largest portion of Windows Phone users, value phone consumers, affect the loyalty of that segment? (Windows Phone fans are a small minority of Windows Phone users.) And how does Microsoft's mobile strategy address the challenges their large low-end base may present?
Patterns of loyalty
Ericson recently released their Q3 2015 mobility report. This report revealed interesting data about the switching patterns of smartphone users. As most enthusiasts and even the regular Joe know, most people are fairly loyal to their smartphone platform of choice. Anecdotal experiences with friends, family, co-workers and strangers in comment sections of blog posts bear this out. Interestingly enough, empirical data from Ericsson's Q3 2015 report corroborate our experiential knowledge.
It probably comes as no surprise that 80% of iPhone and Android users are loyal to their respective platforms when they upgrade to a new device. What may be surprising is that Ericsson's report yield's that a mere 20% of Windows Phone users were loyal to the platform when they upgraded to a new device. Ouch.
Now at first blush that information may seem shocking. Keep in mind, however, that this report is reviewing data gleaned from a period when there was no new flagship Windows Phone available to which Windows Phone users could upgrade. Also, if this information seems to conflict with the perceptions of some of you Windows Phone fans who may assert, "Most Windows Phone users I know are loyal," please keep in mind that context is key.
As tech savvy, blog reading Windows Phone fans your engagement with other Windows Phone users is likely primarily with like-minded fans in blog comment sections, forums and on social media. Thus you, like myself, are likely to hear of more Windows Phone users that do remain with the ecosystem. This unique subculture in which we exist can color our perception of the larger industry if we are not careful to step back and view the industry objectively.
Consequently, unlike iPhone and Android users the Windows Phone fan base is a tiny sub-culture of the platform rather than representative of the mainstream user base.
The devil is in the details
Let's take a closer look at Ericsson's numbers. (I promise not to bore you). Specifically speaking, 82% of Android and 73% of iPhone owners are loyal to their respective platforms. Conversely, as mentioned above only 20% of Windows Phone fans are loyal to the platform. The data show that 60% of Window Phone fans defect to Android while 15% defect to the iPhone. According to Ericcson here are the monthly switching rates between platforms.
Android users:
Upgrade to a new Android device 1.7%/mo.
0.3% switch to iPhone
0.7% switch to Windows Phone
iPhone users:
Upgrade to a new iPhone 1.1%/mo.
0.4% switch to Android
No data presented for switching to Windows Phone
Windows Phone users:
Upgrade to a new Windows Phone 0.6 %/mo.
0.4% switch to iOS
1.7% switch to Android
The above numbers represent normal market conditions. Of course, Apple's yearly launches of its flagship smartphones are seemingly a cultural event on a global scale that has an undeniable effect on the market.
Those users loyal to Android drops from 82% to 76% while defectors to the iPhone doubles from 0.3% to 0.6%.
Individuals loyal to the iPhone jumps from 73% to 93%. Yes, iPhone users upgrading to the newest device increased to 4.5% from 1.1%. Conversely, those defecting to Android dropped from 0.4% to 0.3%
Windows Phone users have also been affected by Apple's pull. After the September launch of the new iPhone, Windows Phone users who defect to the iPhone doubles to 0.8% from 0.4%. Defectors to Android remained at 1.7% while 0.6% stayed committed to Windows Phone.
This data presents us with a sobering view of Windows Phone's position in the industry that we have likely perceived but never quantified. The numbers are a glaring testimony that the majority of Windows Phone users are not loyal to the platform. They are not fans. The question is, why?
If they pay, they stay
Microsoft's low-end hardware push lasted a couple of years and put millions of budget smartphones into the hands of consumers who likely had no pre-existing commitment to Microsoft's mobile ecosystem.
Sadly, based upon the Ericsson report, one of the expected outcomes of the low-end push, users who buy into and subsequently upgrade within the ecosystem, is highly unlikely to happen.
Apparently a consumer's investment in higher-end hardware is an indicator that he/she will likely have a long-term commitment to the platform into which he/she has bought. This is bad news for Microsoft whose user base is comprised primarily of consumers of low-end hardware courtesy of the low-end push.
Apple's strategy to avoid the low-end and position its smartphones as expensive high-end devices not only allows the company to reap over 90% of the industries profits, but it also ensures that the vast majority of iPhone users will remain iPhone users. Loyalty.
Low was the only way to go
So was Microsoft's low-end push a mistake? No, I don't believe so. As a temporary strategy for a "late comer", who was building a new OS around a single core, with entrenched rivals ruling the space, it was necessary.
All attempts to establish a relevant market presence with high-end Lumia's failed. Microsoft needed market visibility for its mobile OS and services. Building large numbers (though not large share) by way of the low-end was the most effective way to accomplish that goal. The industry and consumers needed to know that Microsoft had a mobile play. Redmond's cross-platform app strategy complemented this low-end strategy of building the Microsoft mobile brand.
Sadly, the inherent lack of commitment to a platform consumers of low-end phones have in conjunction with a lack of high-end Windows Phones for nearly two years, has contributed to some Windows Phone defectors.
Microsoft's shrinking slice of the pie
Sometimes when I do a big clean up in my home, the process can look counter-productive. As I'm pulling things out and moving things around the situation may look worse than it did before I started. But when the process is over, the result is pretty much what I set out to accomplish.
Satya Nadella, Microsoft CEO and Chris Capossela, Microsoft's Chief Marketing Officer, have made clear that Microsoft's focus is primarily Windows fans and the enterprise. As such they have committed to producing two devices per year for these segments. They have also pulled out of markets that they were not succeeding in effectively retreating from the mass market. They've now retrenched intent on serving the targets mentioned above.
Gartner's Q3 2015 report is reflective of Microsoft's shift into this phase of Nadella's strategy. Microsoft's market share for the quarter was a mere 1.7%. In the same period where there was a drop in Windows Phone sales, and no high-end Windows Phone in the market, Apple, Samsung and other Android OEMs have continued their dominance of the market. Both industry-leading mobile operating systems iOS and Android have continued to grow with iOS growing 21% above market average and Android gaining 1.4 percentage points YOY.
Additionally, there was, 3.7% growth in worldwide mobile phone sales totaling nearly 478 million units. Emerging markets, a space Microsoft had found some success in also grew during this quarter. Windows Phone, due in large part to Microsoft's intentional withdrawal from areas of the market were not beneficiaries' of any of this growth.
Aiming high
As I mentioned in Microsoft is Committed to Windows Phone, Capossela is asserting the high-end segments, fans, and enterprise, are the areas upon which Microsoft is focused. This strategy makes sense when you consider the effects high-end devices have on a consumer's loyalty as mentioned above. Microsoft is trying to maintain/create Windows Phone fans.
By committing to delivering high-end devices to fans and enterprise on a regular basis, Microsoft ensures that there is an upgrade path for Windows Phone users. This may temper the defection rate of the low-end Windows Phone consumers while maintaining the commitment of the fan. As noted a user's investment in a high-end device increases the likelihood of long-term commitment to a platform.
Additionally, Microsoft is hoping that Windows 10 and the Universal Windows Platform will, in the long run, convert users to Windows Phone as those users come to love Windows 10 on PC. That will take time. For now, however, Microsoft is retrenched and focused on building its core.
Microsoft CFO Amy Hood put it this way,
Wrap up
As the Windows Phone story evolves, the chapter of the lack of high-end devices and an apparent obsession with the low-end (according to some) is ended. Redmond's current strategy is also addressing the negative effects of the low-end push.
As with all stories each turn of the page brings progress. We are still at the "conflict" stage of the tale, however, as we enter 2016 and rest our hopes on the App Bridges to bring resolution to the app gap problem. If developers choose to utilize these tools to bring popular mobile apps to Windows, the next phase of a likely phone/tablet converged device – the anticipated "Surface "Phone" will likely change the game.
Get the Windows Central Newsletter
All the latest news, reviews, and guides for Windows and Xbox diehards.
Jason L Ward is a columnist at Windows Central. He provides unique big picture analysis of the complex world of Microsoft. Jason takes the small clues and gives you an insightful big picture perspective through storytelling that you won't find *anywhere* else. Seriously, this dude thinks outside the box. Follow him on Twitter at @JLTechWord. He's doing the "write" thing!