Meet the SoftBank 503LV, a new Windows 10 Mobile phone from Lenovo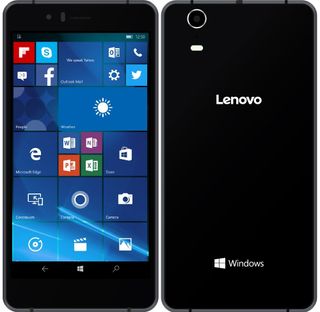 Say hello to the SoftBank 503LV, a new Windows 10 Mobile handset manufactured by Lenovo for Japan. Set to go on sale later this year or early 2017, the manufacturer has teamed up with operator SoftBank to launch a new smartphone running Microsoft's mobile OS.
As covered by Mobilissimo.ro, for specifications we have a 5-inch 720p display, octa-core 1.5GHz Snapdragon 617, 32GB of internal storage, 4G LTE, Bluetooth 4.0, and a 2250mAh battery. In terms of cameras, there's an 8MP shooter on the rear with a 5MP selfie capturer on the front.
Pricing hasn't been announced yet and we'll hopefully have a more accurate time frame as we draw closer to launch.
Windows Central Newsletter
Get the best of Windows Central in in your inbox, every day!
Rich Edmonds was formerly a Senior Editor of PC hardware at Windows Central, covering everything related to PC components and NAS. He's been involved in technology for more than a decade and knows a thing or two about the magic inside a PC chassis. You can follow him on Twitter at @RichEdmonds.
Seems nice if priced correctly. RAM?

It has 3GB RAM and it supports Continuum. Interesting midrange phone, but it all depends on pricing indeed.

Will be great if Lenovo launches multiple high/mid/low range WM handsets globally. Launching just one device without much market push, support and global availability and then calling the device to be a failure and the OS as dead is one area that these OEM partners need to work upon amd MS must ensure that!

I think Microsoft isn't pushing mobile that much now because this last year there's been so much work on getting Windows 10 as an ecosystem for PC, mobile and Xbox to work seamlessly. You can really notice how much W10M has become better since its release. I think after RS1 it sort of out of beta and ready for more OEMs to use it. Microsoft is said to push mobile more after RS1, so who knows we hear more about new Windows phones at the October event.

And because they have said they want the OEM's to run with it. They have pretty my much said they will take a minimal role in hardware for windows mobile so the OEM's can take on a larger role and not fell like they are competing against Microsoft. Now they just need to get the OEM's to do it. Personally, in hoping Samsung gets back in to the windows mobile arena,even if it's releasing a game,y phone running windows.

Yeah,looking forward to a Samsung windows phone.

its understanable that we are not seeing alot of devices coming, see HP is holding the release untill September so that RS1 is fully available, we are definitely see more Win10M devices late 2016 or early 2017. im holding on to my 1520, who knows we get phones even better than Elite X3, which is my current goal for the replacement of my 1520. i'd like to see a SAMSUNG Galaxy with windows, Samsung Ativ S10 :P

MS only cares about enterprise for WM now, very clearly they have moved on from the consumer phone market

I agree.....they specifically stated the 950's were purely for the fans looking for a new flag-ship.....whether or not they will release a surface phone remains to be seen....however if they get traction within enterprise it keeps the platform viable for now. At-least this is the way I see it, long term I guess they are positioning themselves for a consumer re-launch, however a lot of this is speculation.

MS stated this, many moons ago, and people berated them for saying it!!!

People will berate MS no matter what they do.

I only ever use Continnum over Miracast, and I can't see myself ever using it any other way. It is horrible. Is this sucktitude a product of low RAM? If so, how much RAM, I wonder, is needed before Continuum becomes usable?

So....you use Continuum over Miracast, which has possible issues with latency due to being wireless, and additional factors such as which miracast device you are using and any wireless intereference (walls, other equipment) and you say you can't see yourself using Continuum any other way, aka, wired or docked (if I understand you correctly)...where there aren't ANY of the issues that happen with wireless...and you call Continuum horrible? The issue could be your miracast setup among other factors. Continuum works fantastically well via Miracast for me with the original Microsoft Wireless Display Adaptor, Screen Beam Mini 2, Amazon Fire TV and works amazingly well when wired via the Microsoft Display Dock or via an HDMI to USB Type-C adaptor when using my Lumia 950 and Lumia 950XL. Maybe it's just my setup that works well but I have used Continuum wirelessly at home, at work, in my photo studio, at hotels, on varios campuses and I have yet to see an instance of where it wasn't usable beyond bad connection/interference. Continuum is definitely usable but your usage may vary depending on the hardware you are using.

It works flawlessly over cable so don't blame ram but blame WiFi although it's usable at home wirelessly also... Just sayin'

If they can get it in hand for $75 tops then they may have a winner.

Continuum has been reported from the OUTSET to perform poorly over Miracast. I use it via the dock and it is fine. Maybe that's why MS produced the dock???? You cant throw mud at something when it wasn't really designed for that function.

What I want to know is, why do these companies give such terrible names to their devices? "Sofbank 503LV", really? God, that's atrocious.

Lol yea they should really get some catchy names for these phones Posted via the Windows Central App for Android

Not bad Lenovo, not bad :D A solid midranger.

It does not sounda like mid range phone..I think it may be between high and mid range... Posted via the Windows Central App for Android

It's in the upper half of midrangers I think.

It depends ;) Looking from Windows phone (where SD400 is firmly midrange), it is upper midrange. Looking from Android, it is just another well under 300€ phone. At least it is not another SD2xx device, though camera could be better and sales should have started months ago.

I would agree it's a mid range with the 8MP camera. Continuum makes it more upper range but a mid range with a decent processor and some memory should be able to do Continuum. And if Continuum is to get some traction it really needs to be available in all but the low end phones.

This could be the 'Surface Phone'.

No way. Surface is known for the top of the line specs in its category. So no.

What do you know (known!) about Surface phone?

you will proably get 618 sox with 2 gb ram and 2900 mah battery with 5.5 hd screen as surface phone is anythign the way the MS are desigining their phones is to go by!

Still nothing constructive to add then.....

Looks okay. Would be great to see a flagship from Lenovo.

Snapdragon 617... So it should be able to handle Continuum. ☺

but..i wonder why snap 800 can't

Because its a very old generation processor

but its more powerfull than 617

The processor doesn't have the power to run 2 concurrent displays. The 800 can run a miracast of the main display but not two independent displays. https://www.qualcomm.com/products/snapdragon/processors/comparison

It may be more 'powerful' but the architecture of the chip is a hangover from 'older' generations. The 6xx handle processes in a different way, a more efficient way and have the ability to perform more processes simultaneously. Lower number doesn't always mean lower spec. If that were true, the 1520 would be streets ahead of a 950/xl

this is what im waiting for,thanks! i didnt judged about numbers. im about benchmark results :)

You spelled "When in India wrong".

Yea, it should spelled, "Why in Japan?" What is the Windows 10 Mobile market share in Japan? .5% or something? Why not other countries?

Hmmm, yeah, good question, wondering the same...

Because japanese carriers seem to be interested in a third platform. Half of the new WX phones are in Japan for that reason, probably.

Yup but surely they are going to release it in India that's why .

Simple,no scope in India... biggest reason is language...OS is still not fully customised with regional languages. All app name are still in English,not other regional languages... except keyboard everything is in English. Posted via the Windows Central App for Android

Also because price. India seems to be in bed with phones that race to the bottom in terms of price.

Maybe its because earnings aren't particularly high? Maybe they aren't as materialistic and are just happy to have something on the market. As for languages, that is always going to be an issue. You could drive 50 miles and hear something different! Still love the place though.....

You are right.. Posted via the Windows Central App for Android

I hope they donot launch any phone till OS become complete... incomplete OS will definitely REDUCE goodwill of the company . SINCE INDIA is developing economy, goodwill will play a important role in sale.. price is not concern because we will see few new windows phone by MICROMAX and INTEX. But 1st MICROSOFT NEED TO COMPLETE ITS OS..... Posted via the Windows Central App for Android

There's Hindi and Bangla too if I'm not mistaken

I wonder why they always choose such retarded names for Windows devices?

forget names, runs smooth like butter

How about the Lenovo Butter and the Lenovo Butter Smooth XL for the 5.5" version? They could make a Qi charger called the Lenovo Butter Dish. Lol.

The Lenovo I Can't Believe It's Not Butter. So buttery smooth, in context, you'll need a good dentist due to Gorilla Glass 5.

You lost me at "The". I had been trying to make sense out of that for a while before I figured it wasn't meant to be made sense out of.

One should be named Sparta. We could all hold up our phones and yell THIS IS SPARTA!

*points* "Now this is a dead OS" "THIS.IS.SPARTAA!"

Here is my dream midrange windows phone Snapdragon 652 FHD ips screen with 400+ ppi corning glass protection 3GB ram Dual sim LTE 32 gb with expandable memory 4000 mah battery Finger print sensor At 200 - 230 $ and you will get my attention otherwise im prety happy with The KING [lumia 640]

LOL. 3GB RAM 4000mah Battery with fingerprint sensor for 200$. DREAM ON buddy.

There are already phones in that range in android for xiaomi! IF only they had win 10 rom for it would be great! Lenovo makes great spec phones for android at a very affordable price just look at Lenovo K4 or viobe 5, even their 110$ android phones have 4000 mah battery so surely its not wishful thinking unless the oems are told by microsoft to suck at specs to maintain the mediocrity over all!

keep dreaming about that midrange phone

Essentially you'll want a Xiaomi Redmi Note 3 with W10M. It just doesn't have expandable memory and it has a SD 650, but it is even cheaper if you look at the right places. Just hope they'll release a W10M ROM..

I was just about to say that. I have xiaomi Redmi note 3 and it's a dream of the phone for that money. Pitty there is not win version but using Microsoft luncher and some services and I am feeling like at home. Posted via the Windows Central App for Android

The Note 3 does have expandable memory.. And yes, it is an amazing device..

Ah yes you're right! I just remembered Xiaomi saying they didn't believe in expandable memory but apparently they do now. You really do get a lot for your money with this phone

Yo man Xiaomi Note 3 got expandable memory, check your fact :)

Yup exactly my thoughts too but it doesnt seem to be happenign soon like for mi4i

Actually a 720p Amoled clear black display, 2gb ram,16gb storage and expendable, 3000mah battery and a Lumia 830/640xl camera would be a decent (more price realistic) midranger

Why on earth would anyone dream about a midrange phone?

because they'd like to buy a new phone every year without having to change their annual vacation destination from Maldives to India or something.

Because some ppl live in a fcked conutry (or they don't need that strong hardware) where the flagship phones costs more than 2 monthly income (or 1 monthly). I am stil using my old 920 and i cant afford a newer one (950, 650 is not an option beacuse the lack of QI charging). All i want is a lumia 830 grade phone with 2 gigs of ram. Maybe a with a s650 or s652 chip. But it looks like i am asking too much...

Lol. Actually, not even worth a lol. The screen would probably cost that.

Not really if you check oput lenovos various offerings you will know they make great specs for cheap!

Interesting but why such a far off release date

So that Microsoft gets more time to fix bugs of phone.. Posted via the Windows Central App for Android

When in South Pole? :( I can't wait!....

You spelled "When in India wrong". ;)

After realising on moon and sun

:( such a long wait. I assume of course they will be delivered to the sun only at night.

My brother they don't care about we naija i love Microsoft Phone well well using Lumia 640 lte

SoftBank? That sounds infinitely cooler than Lumia, Galaxy or Nexus.

Softbank is the name of the Japanese carrier so we wont see that outside of Japan :)

Thanks, I didn't know.. Please downvote me if you haven't yet.

I haven't done that and I really dont understand why I would.....? Didn't mean anything bad with my post...

Cam is little bit... mehh..

I knew there'd be one....

For Japan? Latest Kantar numbers show that Japan now has 0.1% market share for WP.


Yes. Why Japan? So many phones being released in Japan where the market share is so tiny.

MS paid Lenovo to make some mockups and PowerPoints. This phone if ever actually released will be a total failure yet Mastermind can say that new strategy is working and OEMs are coming on board.

Yea my first thought was Japan again? what's up? I wonder how Nuans and Sony biz are doing

Will never see it in South Africa.
Wishing they can bring it.

That battery is gonna go down faster than the stock market post brexit.

This is exactly the sort of phone Microsoft needs to add ro its lineup in the US. Not everyone will be able to afford a Surface phone.

I'd like to believe it's not but all the info given points otherwise

lenovo will launch a kickstarter to see if we want it global ;)

Seems like Android OEMs are switching to Windows 10 Mobile in Japan to try and break iOS's dominance there (it's one of the few markets where appel still is the market leader in both sales and revenue) BTW there must be some corporate opportunity for Windows 10 Mobile with so many PC OEMs making continuum powered windows 10 based smartphones (they can't all have had flawed market research and/or used the wrong focus groups) I'm really excited to see where Windows 10 Mobile is in a couple of years! Posted via the Windows Central App for Android

Yeah, it's exciting. This is happening!

I love the design, and the specs. It might be my next recommendation phone for windows 10 mobile

Slightly off topic: In May I was in Japan and visited Yodobashi Camera (one of the biggest electronics stores in Akihabara, Tokyo) and they had a lonely VAIO Phone Biz (similar specs). I wanted to test Continuum since it was on display with a monitor, keyboard+mouse and guess what... it was for demonstration purposes only. There was no way for me to actually try the biggest selling point of a Windows phone. When a good-looking phone like the VAIO Phone Biz is presented in such a (bad) way, I see no reason why would anyone be attracted to buy this Lenovo phone. Price? Maybe... I seriously doubt it, though. In my opinion this phone is dead-on-arrival, or at least in Japan.

Thanks for this, I was just wondering about this phone in a post higher up.

Battery of 2250mah, what a serious joke.

maybe it's of a higher voltage? xD

Nice to see that most new midrange w10m phones support Continuum.

Basically this could have been the Lumia 850.

this, plus a pureview camera

Considering my 950XL w/ an 810 CPU handles Contiuum *adequately*, I have no desire to see what a phone with lower specs will act like with it. And what the hell is with 720p screens on these? The other Japenese one that you can customize has the same midrange specs as well.... I think I will wait until the HP Elite x3 phone comes out, and if that doesn't do it, I will hold out until next year.

Well 720P and the lower size 2250 mah battery may compliment each other for a decent battery life. Though it really depends on how power efficient the 617 is. Plus there are overheating issues with that SoC on some phones (Moto G4).

Qualcomm seems to have an overheating problem overall. I don't know why OEMs insist on using snapdragons. Posted via the Windows Central App for Android

I grind on the 820 hard with a LG g5 and notice no overheating. The phones gets warm quick charging.

Probably to keep costs down. Better specs attract more expense, so I guess something has to give

Wonder if this may find it's way to Softbank owned Sprint.

Is anybody still on Sprint? Much less Windows phone users?

Softbank used to own majority of Supercell. Don't think this will be pushed too much..

Nice to see OEMs joining.

Now these are the specs we talking about and not the horde of similar processor (sd400 like) phones, but please where are oled displays?

If this had a 5.5 FHD display I would jump at it.

unfortunately jumping at japan won't get you there. there's an ocean to cross.

Looks better than lumia 650

So is there a chance this will come to Sprint in the US? Considering Softbank owns Sprint?

All these phone with on-screen buttons looks like DUMB. Even my LG G3 sucks with these stupids buttons.

Yes, perfect! Let's continue to flog a dead horse. The latest Kantar numbers on WM are nothing short of embarrassing. I have no idea what MS does in mobile at this point.

Why are you still posting here?

There must be SOME reason MS are still continuing with it. The Japanese must have some reason for offering OEM devices. Now MS has backed away from producing mobile devices, the OS, specifically Redstone, has raced along in development. Why would HP get involved? Why would Acer get involved? Why is it all these market share percentages, which can be manipulated, show a 'downturn' and yet OEM's see something in it? If W10M is so embarrassing, then say why instead of throwing numbers out from a company that probably have vested interests / cosy relationships with other software providers, and use their products. I bet the use W10 PC though....

Don't worry yourself about what Microsoft is doing in mobile. Worry about your smartphone os Posted via the Windows Central App for Android

Who says now that windows mobile is dead?

Pretty much a non starter phone.

I like the specs and would like to know if it'll be available in Brazil. Lenovo must use a good strategy here, due to the low platform popularity - the Moto G4 plus, with similar hardware, except for the 5.5" display, battery and camera, is about US$ 450,00.

and the name, oh, where are the marketing people?

I feel sorry for who put thumbs down. Brazil has great market potential - that's so true tha Apple assemble iPhones and iPads here for internal market. Every one knows Apple devices (and prices) are premium (even more in Brazil), and people here buy it. So, why is Microsoft and other OEM vendors push this market away? I want to support platform, I have a Surface 3 bought in Orlando, I have a Dell XPS 14, 1 Lumia 830 and 1 Lumia 640 XL - all to keep seamless integration on Windows 10. But I also have an iPhone 5S, an iPad 3 and 2 Macbooks, just in case (I also have a Moto G3). Anyway, and want to enthusiasm people around me, but we need solid platform and devices with good specs and prices. That's my point of view.

Will be great for Pokémon Go.

It's another OEM, and another comments thread for all those who wish to be led along by their noses. Lemmings springs to mind. These OEM's must see something to even bother going through the R&D. There must be a gap they are looking to exploit, especially when Redstone comes online. It's a very good OS, and the continued integration with the PC build will lead to something along the lines of the surface phone.

These Japan release phones have so far sold none in Japan and then ended up in Kickstarter. Well perhaps this time it goes better.

Very sleek, I love the phone already

Later this year OR early 2017. That's a scary statement considering the disappearing act of the Acer Jade Primo. Can't wait to hear about a phone ACTUALLY being released. One I can go and feel and test out for myself. Too many mythical devices on Windows 10 Mobile. One picture at a time -- LG V10

Good W10 os.because W10 os not success in only 1st party hardware (Lumia) need more 3d party hardware.

Hope Apple follows Mastermind lead to success.

Looks like a good phone. I can buy one, if launchs globally

Yay!!! Now ASUS and Dell and their journey to the light side will be complete!

Yea, mid range phone.... Not for me...but, shocking new OEMs are making WIndows 10 Mobile devices. With all the doom in the news as apps go lately, I figured less OEMS would be makiing phones. Neat anyway about it..

Will it Support continuum and windows hello

It will support Continuum..but not Windows Hello

What's up with Japan nowadays with windows 10 mobile phones.

in terms of specs it is better than the Vibe K4 note, which is sold more as an entry level device. Since they will hardly be paying for the OS to Microsoft, I expect the pricing to be only marginally more than the K4 Note. So my guess would be in the range of $250 to $300. If this is the pricing, I will surely rue the fact that only Japan seems to be getting the OEM windows phones. even at $300, if this phone runs continum, has 32GB internal memory and 3 GB RAM, it is only marginally poorer than the 950 in terms of specs. But if it is priced almost 50% cheaper, this will surely sell a lot more than the 950. So Lenovo, in case you read this, there is an opportunity for you to get some sales and gather a significant windows phone market share (even if the pie itself is small). Please launch it at other markets too.

Phones with bezels this thick should not even be released period. It's 2016 for pete's sake.

Alone the fact that it's the smallest mid-range windows mobile device makes it interesitng. Still to big, i'd prefer 4,7" or less.

A trip to japan, anyone? They have been getting alot of windows phones and that is a good thing of course.

Looks very nice. Have any more colors? GOLD? PLEASE, give us gold!
Windows Central Newsletter
Thank you for signing up to Windows Central. You will receive a verification email shortly.
There was a problem. Please refresh the page and try again.