Windows Phone isn't dead, Part V: How Alcatel fits into the Windows ecosystem
Teamwork makes the dream work. For Microsoft, this is more than just a clever cliché.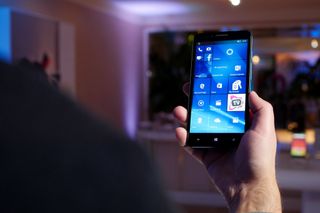 As I shared in Part IV: A future of partnerships, when Microsoft founders Bill Gates, and Paul Allen dreamed of putting a PC in every home and on every desk they achieved this goal by working with partners who embraced their vision. Dozens of partnerships and 1.5 billion PCs later, Microsoft is now a globally recognized force that has shaped the world's personal computing experiences.
In 2016 personal computing has shifted from the traditional PC to the smartphone. The smartphone is, for all intents and purposes, a "personal computer" that has become a mainstay in the pockets of the masses since Apple's introduction of the iPhone in 2007. With smartphones now the primary personal computer in the consumer space and an increasingly important presence in the enterprise, Microsoft is attempting to ensure its continued relevance, if not dominance, in the personal computing space.
They are doing this through the Cloud, cross platform apps, and partnerships. Each of these areas is relevant to Microsoft's personal computing play. Partnerships for the company's phone strategy, therefore, must be considered within this context.
We delved into OEM collaborations from Microsoft's perspective in the last installment of this series. We will look deeper into this aspect of Microsoft's strategy to remain relevant in the space it pioneered as we get Alcatel's, an OEM, perspective of Microsoft's Universal Windows Platform and the value it brings to Alcatel's corporate strategy.
Before we hear from Alcatel, let's briefly review the context in which Microsoft's mobile platform exists within Microsoft's personal computing strategy and where OEM's will fit in that picture.
Setting the stage
With a cloud-first, mobile-first focus Redmond has ensured that its presence thoroughly permeates every aspect of personal computing. Through Azure's cloud-based resources Microsoft provides a platform for a vast range of computing support. Azure is used by hundreds of enterprise customers, provides a back-end for cross-platform apps, supports a host of productivity tools and much more.
Additionally, through an aggressive provisioning of cross-platform apps, with the support of the Phone companion app for Windows 10, Microsoft is ensuring that its software like Cortana, Office and others have an increasingly pervasive presence on competing hardware.
To some, Microsoft's planting of stakes throughout various points in the industry may appear to be a counter-intuitive investment in other platforms. For Microsoft, however, whose historical focus has always been personal computing, these moves are just Redmond's evolving to remain a dominant presence in the space (that has transcended the PC) where it both pioneered and carved out its success. As Windows once represented the platform for personal computing, Microsoft is positioning itself, through Windows 10, the Cloud and cross-platforms apps as the brand as a "platform" for personal computing platforms.
Thus, ensuring that the company has a presence wherever personal computing is occurring, including on mobile platforms like iOS and Android, is key.
The efforts mentioned above to ensure a widespread personal computing presence in no way precludes Microsoft's investment in its own platform. Windows 10 as the industry's first and only Universal Platform is Redmond's move to provide a platform that is optimized for consumers to experience across any form factor, developers to build apps for all devices types and partners to provide a range of devices that utilize the strengths of the platform's flexibility.
This point brings us to the core of this piece. In part IV, Microsoft gave us their perspective on how they are working with partners to bring Windows 10 Mobile to the masses. In this piece we will hear from Alcatel, who is seemingly one of Microsoft's most invested partners, to get a perspective of the value they see in Windows 10 and their goals for its implementation in their current and future portfolio of devices.
A little about Alcatel
Alcatel made their first phone back in 1998. They have since grown into an aggressive force in the smartphone industry. The company has produced a range of devices including a host of smartphones powered by Android. We have seen Alcatel's most recent embrace of Windows with the affordable Fierce XL and the 8-inch LTE-enabled Pixie 3 tablet both running on Window 10 Mobile.
In addition to the Windows devices that Alcatel is bringing to the table, one of the greatest assets to the collaboration I see between Alcatel and Microsoft is the company's expressed target audience being Millennials. Of course, Millennials also referred to as Generation Y, are the demographic that was born between 1980 and 2000. These young people are a group that has a significant influence on determining what's "cool," thus what's "in," in tech. Furthermore, their tastes in technology will invariably shape what is used in the workplace as these young people begin to bring their personal preferences to that environment. Microsoft needs to reach this demographic and Alcatel's focus on them, I believe, has the potential of playing an important role in helping Redmond bring Windows phone to young people and thereby to the masses.
In their mission to reach Millennials Alcatel recently changed its name from Alcatel OneTouch to the simpler Alcatel we've been utilizing in this piece. Here's how the company articulated this move:
Alcatel's Chief Marketing Officer, Dan Dery, gives further context to the company's mission to reach Millennials:
Alcatel tells their side
In the last piece, Microsoft gave us a broad perspective on how the firm is working with OEMs to push Windows phone. In this piece, we have the privilege of hearing directly from one of these OEMs. Alcatel's VP of Marketing and Communications in North America, Jon Maron brings us a brief inside look at how Alcatel sees its partnership with Microsoft.
Jon joined Alcatel in October of 2015 and supervises all efforts for product marketing, communication and the brand for Alcatel. He also works on global initiatives with the international business teams. His contributions to this conversation will help round out our view of Microsoft's efforts to bring Windows phones to the masses. Let's dive in now as Jon gives us an OEM's perspective of using Microsoft's Universal Windows Platform on Alcatel's portfolio of devices.
Jason L Ward, Windows Central: What is it about Windows 10 that influenced your choice of that platform over Android?
Jon Maron, Alcatel: For us it isn't about choosing Windows 10 over Android. We've been very open about our commitment to OS diversity. Working with Microsoft to bring Windows 10 powered mobile devices to market is our fulfillment of that commitment, allowing us to reach and serve different consumers that have differing mobile needs outside of Android; or even iOS for that matter.
Ward: What segment of the market is your primary focus? The consumer or enterprise space?
Maron: Both. That's what makes the Windows 10 platform so fantastic – general consumers and enterprise users alike can benefit from the seamless Office anywhere experience and other Windows 10 features that make this ecosystem so promising.
Ward: The Fierce XL is an affordable device which costs less than $150 on T-Mobile. Is the affordable space where you see the greatest opportunity?
Maron: Our product portfolio has always focused on accessibility – and with that comes affordability - but we recognize different users have different wants and needs in their mobile devices. So like our wider device portfolio, we'll support Windows 10 Mobile smartphones at the affordable entry-level, as well as at the superphone performance range.
Ward: How many carriers have you partnered with?
Maron: Today, our current Windows 10 Mobile carrier partner is T-Mobile, but you will also see unlocked Windows 10 devices from us later this year.
Ward: Do you anticipate introducing a high-end device in the future? If so what is your time frame?
Maron: Yes, we will launch a Windows 10 Mobile superphone in 2016.
Ward: The 8" Pixie 3 is a Windows 10 Mobile LTE device that dances the line between a phone and tablet. Will Alcatel pursue making a device that is deliberately positioned as a "phone", tablet and PC?
Maron: With the flexibility of the Windows 10 platform, there's always that possibility. Stay tuned.
One more thing
We could not confirm the specs for Alcatel's upcoming "superphone." It is worth noting, however, that we recently ran a story reporting on the following unconfirmed specs of the Idol Pro 4 "superphone":
64GB of storage
4GB of RAM
22MP rear camera and
10MP front-facing camera.
Snapdragon 820 processor
Full HD 6-inch display
Up to 2K resolution
Additionally, a recent post by MSPoweruser reports that the Idol Pro 4 will be branded the Idol 4S with Windows 10. If this "superphone", whatever it will ultimately be dubbed, does indeed boast all of the above specs it, along with the HP Elite X3, may be early harbingers of high-end OEM Windows 10 flagships to come.
Analysis
Microsoft's strategy to gain the support of OEM partners to propel its mobile OS into the mainstream seems to have been wholly embraced by Alcatel. The company's strategy to offer a range of Windows 10 devices including both affordable and high-end phones, as well as an LTE enabled tablet reveals the company's intent to provide an ecosystem of Windows 10 devices from which both enterprise and consumers can benefit.
Additionally by providing smartphones along multiple tiers Alcatel ensures that consumers of its affordable Window phones, such as the Fierce XL, will have an upgrade path to a high-end device within the company's portfolio once the Idol Pro, "superphone" is available.
Jon was also very clear in his acknowledging of the flexibility of Windows 10 on various devices. It will be interesting to see how Alcatel implements the platform across a growing range of devices that straddle the line between form factors as the 8" LTE enabled Pixie 3 does.
Finally, Alcatel's apparent dedication to the platform, combined with their focus on Millennials is essential to bringing Windows phones to young people and thereby the broader consumer space. This emphasis on Millennials adds a much-needed balance to Microsoft's strategy to reach a broad market. The current perception of Microsoft's mobile effort's has begun to adopt the flavor of its pre-Windows Phone, business-focused image.
To some, the Lumia 950 and 950 XL evoke a "getting down to business" sentiment rather than the "powerful and fun" aura the iPhone and Galaxy devices seem to elicit. If Alcatel is successful with attaching an image to Windows phones that appeal to young people, the effect could transcend Alcatel's devices and positively affect the platform as a whole.
Of course, other OEMs who have already embraced the platform and those yet to come will share the burden of carrying that message if their efforts are also targeted at the consumer space.
Wrap up
This growing list of OEM partners will see Windows Mobile, just like PCs, soon represented in the industry more by OEMs than by Microsoft's first-party offerings. This transition is the intent behind Microsoft's strategy. Consumers currently view laptops, PCs, and 2-in-1s by HP, Dell and others as alternatives to Microsoft's first-party Surface and Surface Book. "Phones" and other devices that take advantage of the flexibility of Windows 10 Mobile (like the Pixie 3 and work as a phone), made by OEM partners will also be viable alternatives to Microsoft's first-party "phones."
It's time for fans to embrace that what we have grown accustomed to is a changing reality. Microsoft's first-party phones will no longer dominant the Windows phone space. OEMs like Alcatel will be leading the charge, and that's a good thing.
A big thanks to Alcatel and Jon Maron for all of their help with this piece!
Get the Windows Central Newsletter
All the latest news, reviews, and guides for Windows and Xbox diehards.
Jason L Ward is a columnist at Windows Central. He provides unique big picture analysis of the complex world of Microsoft. Jason takes the small clues and gives you an insightful big picture perspective through storytelling that you won't find *anywhere* else. Seriously, this dude thinks outside the box. Follow him on Twitter at @JLTechWord. He's doing the "write" thing!