Windows Phone isn't dead, Part V: How Alcatel fits into the Windows ecosystem
Teamwork makes the dream work. For Microsoft, this is more than just a clever cliché.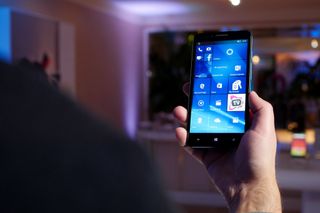 As I shared in Part IV: A future of partnerships, when Microsoft founders Bill Gates, and Paul Allen dreamed of putting a PC in every home and on every desk they achieved this goal by working with partners who embraced their vision. Dozens of partnerships and 1.5 billion PCs later, Microsoft is now a globally recognized force that has shaped the world's personal computing experiences.
In 2016 personal computing has shifted from the traditional PC to the smartphone. The smartphone is, for all intents and purposes, a "personal computer" that has become a mainstay in the pockets of the masses since Apple's introduction of the iPhone in 2007. With smartphones now the primary personal computer in the consumer space and an increasingly important presence in the enterprise, Microsoft is attempting to ensure its continued relevance, if not dominance, in the personal computing space.
They are doing this through the Cloud, cross platform apps, and partnerships. Each of these areas is relevant to Microsoft's personal computing play. Partnerships for the company's phone strategy, therefore, must be considered within this context.
We delved into OEM collaborations from Microsoft's perspective in the last installment of this series. We will look deeper into this aspect of Microsoft's strategy to remain relevant in the space it pioneered as we get Alcatel's, an OEM, perspective of Microsoft's Universal Windows Platform and the value it brings to Alcatel's corporate strategy.
Before we hear from Alcatel, let's briefly review the context in which Microsoft's mobile platform exists within Microsoft's personal computing strategy and where OEM's will fit in that picture.
Setting the stage
With a cloud-first, mobile-first focus Redmond has ensured that its presence thoroughly permeates every aspect of personal computing. Through Azure's cloud-based resources Microsoft provides a platform for a vast range of computing support. Azure is used by hundreds of enterprise customers, provides a back-end for cross-platform apps, supports a host of productivity tools and much more.
Additionally, through an aggressive provisioning of cross-platform apps, with the support of the Phone companion app for Windows 10, Microsoft is ensuring that its software like Cortana, Office and others have an increasingly pervasive presence on competing hardware.
To some, Microsoft's planting of stakes throughout various points in the industry may appear to be a counter-intuitive investment in other platforms. For Microsoft, however, whose historical focus has always been personal computing, these moves are just Redmond's evolving to remain a dominant presence in the space (that has transcended the PC) where it both pioneered and carved out its success. As Windows once represented the platform for personal computing, Microsoft is positioning itself, through Windows 10, the Cloud and cross-platforms apps as the brand as a "platform" for personal computing platforms.
Thus, ensuring that the company has a presence wherever personal computing is occurring, including on mobile platforms like iOS and Android, is key.
The efforts mentioned above to ensure a widespread personal computing presence in no way precludes Microsoft's investment in its own platform. Windows 10 as the industry's first and only Universal Platform is Redmond's move to provide a platform that is optimized for consumers to experience across any form factor, developers to build apps for all devices types and partners to provide a range of devices that utilize the strengths of the platform's flexibility.
This point brings us to the core of this piece. In part IV, Microsoft gave us their perspective on how they are working with partners to bring Windows 10 Mobile to the masses. In this piece we will hear from Alcatel, who is seemingly one of Microsoft's most invested partners, to get a perspective of the value they see in Windows 10 and their goals for its implementation in their current and future portfolio of devices.
A little about Alcatel
Alcatel made their first phone back in 1998. They have since grown into an aggressive force in the smartphone industry. The company has produced a range of devices including a host of smartphones powered by Android. We have seen Alcatel's most recent embrace of Windows with the affordable Fierce XL and the 8-inch LTE-enabled Pixie 3 tablet both running on Window 10 Mobile.
In addition to the Windows devices that Alcatel is bringing to the table, one of the greatest assets to the collaboration I see between Alcatel and Microsoft is the company's expressed target audience being Millennials. Of course, Millennials also referred to as Generation Y, are the demographic that was born between 1980 and 2000. These young people are a group that has a significant influence on determining what's "cool," thus what's "in," in tech. Furthermore, their tastes in technology will invariably shape what is used in the workplace as these young people begin to bring their personal preferences to that environment. Microsoft needs to reach this demographic and Alcatel's focus on them, I believe, has the potential of playing an important role in helping Redmond bring Windows phone to young people and thereby to the masses.
In their mission to reach Millennials Alcatel recently changed its name from Alcatel OneTouch to the simpler Alcatel we've been utilizing in this piece. Here's how the company articulated this move:
Alcatel's Chief Marketing Officer, Dan Dery, gives further context to the company's mission to reach Millennials:
Alcatel tells their side
In the last piece, Microsoft gave us a broad perspective on how the firm is working with OEMs to push Windows phone. In this piece, we have the privilege of hearing directly from one of these OEMs. Alcatel's VP of Marketing and Communications in North America, Jon Maron brings us a brief inside look at how Alcatel sees its partnership with Microsoft.
Jon joined Alcatel in October of 2015 and supervises all efforts for product marketing, communication and the brand for Alcatel. He also works on global initiatives with the international business teams. His contributions to this conversation will help round out our view of Microsoft's efforts to bring Windows phones to the masses. Let's dive in now as Jon gives us an OEM's perspective of using Microsoft's Universal Windows Platform on Alcatel's portfolio of devices.
Jason L Ward, Windows Central: What is it about Windows 10 that influenced your choice of that platform over Android?
Jon Maron, Alcatel: For us it isn't about choosing Windows 10 over Android. We've been very open about our commitment to OS diversity. Working with Microsoft to bring Windows 10 powered mobile devices to market is our fulfillment of that commitment, allowing us to reach and serve different consumers that have differing mobile needs outside of Android; or even iOS for that matter.
Ward: What segment of the market is your primary focus? The consumer or enterprise space?
Maron: Both. That's what makes the Windows 10 platform so fantastic – general consumers and enterprise users alike can benefit from the seamless Office anywhere experience and other Windows 10 features that make this ecosystem so promising.
Ward: The Fierce XL is an affordable device which costs less than $150 on T-Mobile. Is the affordable space where you see the greatest opportunity?
Maron: Our product portfolio has always focused on accessibility – and with that comes affordability - but we recognize different users have different wants and needs in their mobile devices. So like our wider device portfolio, we'll support Windows 10 Mobile smartphones at the affordable entry-level, as well as at the superphone performance range.
Ward: How many carriers have you partnered with?
Maron: Today, our current Windows 10 Mobile carrier partner is T-Mobile, but you will also see unlocked Windows 10 devices from us later this year.
Ward: Do you anticipate introducing a high-end device in the future? If so what is your time frame?
Maron: Yes, we will launch a Windows 10 Mobile superphone in 2016.
Ward: The 8" Pixie 3 is a Windows 10 Mobile LTE device that dances the line between a phone and tablet. Will Alcatel pursue making a device that is deliberately positioned as a "phone", tablet and PC?
Maron: With the flexibility of the Windows 10 platform, there's always that possibility. Stay tuned.
One more thing
We could not confirm the specs for Alcatel's upcoming "superphone." It is worth noting, however, that we recently ran a story reporting on the following unconfirmed specs of the Idol Pro 4 "superphone":
64GB of storage
4GB of RAM
22MP rear camera and
10MP front-facing camera.
Snapdragon 820 processor
Full HD 6-inch display
Up to 2K resolution
Additionally, a recent post by MSPoweruser reports that the Idol Pro 4 will be branded the Idol 4S with Windows 10. If this "superphone", whatever it will ultimately be dubbed, does indeed boast all of the above specs it, along with the HP Elite X3, may be early harbingers of high-end OEM Windows 10 flagships to come.
Analysis
Microsoft's strategy to gain the support of OEM partners to propel its mobile OS into the mainstream seems to have been wholly embraced by Alcatel. The company's strategy to offer a range of Windows 10 devices including both affordable and high-end phones, as well as an LTE enabled tablet reveals the company's intent to provide an ecosystem of Windows 10 devices from which both enterprise and consumers can benefit.
Additionally by providing smartphones along multiple tiers Alcatel ensures that consumers of its affordable Window phones, such as the Fierce XL, will have an upgrade path to a high-end device within the company's portfolio once the Idol Pro, "superphone" is available.
Jon was also very clear in his acknowledging of the flexibility of Windows 10 on various devices. It will be interesting to see how Alcatel implements the platform across a growing range of devices that straddle the line between form factors as the 8" LTE enabled Pixie 3 does.
Finally, Alcatel's apparent dedication to the platform, combined with their focus on Millennials is essential to bringing Windows phones to young people and thereby the broader consumer space. This emphasis on Millennials adds a much-needed balance to Microsoft's strategy to reach a broad market. The current perception of Microsoft's mobile effort's has begun to adopt the flavor of its pre-Windows Phone, business-focused image.
To some, the Lumia 950 and 950 XL evoke a "getting down to business" sentiment rather than the "powerful and fun" aura the iPhone and Galaxy devices seem to elicit. If Alcatel is successful with attaching an image to Windows phones that appeal to young people, the effect could transcend Alcatel's devices and positively affect the platform as a whole.
Of course, other OEMs who have already embraced the platform and those yet to come will share the burden of carrying that message if their efforts are also targeted at the consumer space.
Wrap up
This growing list of OEM partners will see Windows Mobile, just like PCs, soon represented in the industry more by OEMs than by Microsoft's first-party offerings. This transition is the intent behind Microsoft's strategy. Consumers currently view laptops, PCs, and 2-in-1s by HP, Dell and others as alternatives to Microsoft's first-party Surface and Surface Book. "Phones" and other devices that take advantage of the flexibility of Windows 10 Mobile (like the Pixie 3 and work as a phone), made by OEM partners will also be viable alternatives to Microsoft's first-party "phones."
It's time for fans to embrace that what we have grown accustomed to is a changing reality. Microsoft's first-party phones will no longer dominant the Windows phone space. OEMs like Alcatel will be leading the charge, and that's a good thing.
A big thanks to Alcatel and Jon Maron for all of their help with this piece!
Jason L Ward is a columnist at Windows Central. He provides unique big picture analysis of the complex world of Microsoft. Jason takes the small clues and gives you an insightful big picture perspective through storytelling that you won't find *anywhere* else. Seriously, this dude thinks outside the box. Follow him on Twitter at @JLTechWord. He's doing the "write" thing!
As usual folks thanks for reading! OEMs are taking a much more dominant role in the Windows Mobile space. Alcatel's seems very committed and with their focus on young people they add needed balance to Microsoft approach. So what are your thoughts? Agree? Disagree? LET'S TALK!!!

@wps81 Thanks! Glad you enjoyed it!

Windows 10 mobile - the burning platform. New Symbian.

Thanx Jason. Well WP is alive, but the devices that bears WP are pretty much dead: With the new upgrade wave, the majority of phone holders have been left in the dark (and I'm talking about actual figures as published in Windows Central).
I do understand that an upgrade to a newer phone is inevitable, but an upgrade that alienates the majority of WP holders isn't a smart move

Well said Mohammad .!!! Accurate words to depict how many users feel on the win10 thing .!! There ain't no upgrade to current hardware we have .!! We want to upgrade and not update our phones with low processor units .!! Great said :) microsoft ain't havin and also no other brand having a midranger to upgrade to .!

I understand your frustration, but it might be time to leave the past behind. Anyone with half a brain should have known better than to believe the win 10 promise.As fast as phones come and go these days you have to be a little flexible. Grab a new phone, on whatever platform, and move along and enjoy it.

MS abandoned wp7.8 devices. Abandoned majority of wp8.1 devices. How long will W10M survive?

Apple have just released their latest phone.....the SE and it does not have 3D Touch.....which is their latest and greatest innovation. That's their latest phone and the WP not getting W10 are years old - just placing this situation in perspective - if the most expensive phone in the world misses out on 3D touch then 2-3 year old phones not getting an upgrade may not be what everyone wants but there is also a time to upgrade, Also, the latest Android software release Marshmellow is on less than 4% of phones to date - so Microsoft are already doing better than this.

But those Android phones will continue to be supported with new apps and app updates. Windows Phones that were left behind are completely abandoned. Microsoft's new apps are nor compatible and any new apps coming out will not be either. Posted via the Windows Central App for Android

I bought a Lumia 640 so I could try out WM10 while waiting for my Lumia 928 to get the upgrade. All the news and apps on WM10 meant nothing to me without being able to see them and try them out. Now I'm shut out of WM10 apparently. Phones are expensive and my Lumia 928 is in perfect condition. Since carriers are dropping phone subsidies I'll be hanging on to my semi obsolete Lumia 928 until it dies, at which point my wife and I will problem leave MS mobile. I have a Windws 7 phone, a Lumia 928 and a Surface RT so I've been burnt by MS pretty much every time I've bought in. Even my 640 with WM 10 is failing to synch my user calendar, though it will synch any other less important calendar. I'll check back in a few years and see how MW is doing, until then there is little reason for me to keep up with news that I can't use.

How are you "shut out"? W10 is available on the 640 - a great phone - and on the old 928 and other 920 series phones. The 920 series may not get the official upgrade advisor release, but it's running on the S4 processor, that's going on 5 years old at this point, right? Sure, MS could make W10 available for phones of that age, but how would that compromise the experience of folks who own newer phones, or people who spent their money to upgrade?

Nice try Jeddic. And thoughful reply. But I fear you are wasting your time with the folks thata feel "personaly" insulted. I don't get it either though. I'm someone who firmly believes that I determine whether I can have what I want or not. If I had a phone that didn't "make the list", I would just run the insider build on it, or grab a new phone that does "officially" run W10M. I'm nobodys victim. Just not my nature. We live in remarkable times. Our choices are seemingly endless!

New apps and app updates are up to the devs, doesn't have anything to do with the OS update at all. Also, haven't you seen the stream of new UWP apps on Windows 10 recently? via Windows Central app for Windows 10

I think you'll find Apple know how many people are making use of 3d touch and found that nobody gives a toss about it. Every iphone user I know how has it don't make use of it. So am sure they removed it to drive down costs

A good point if it were true. Apple are advertising 3D Touch a lot In the UK and on a worldwide basis that must cost $millions. Perhaps you could contact Tim and advise him Apple have got it wrong and are wasting those $millions. As are the developers upgrading there apps to work on 3D Touch. The reason it's not included on the SE is to save costs, as you recognise, along with no SD card or Amoled screen etc.

Drive down costs? Those phones don't come cheap because apple doesn't want to let them hit the shelves cheap. They'd rather drive up costs in an outrageous fashion for no good reason. Posted via the Windows Central App for Android

Kitkat is still very well supported and everything works with it. On my HTC 8X I won't be able to get the new bank of America app... Posted via the Windows Central App for Android

3D touch is a gimmick. Posted via the Windows Central App for Android

You mean 8.0? via Windows Central app for Windows 10

We half-brained dimwits are willing to leave the past behind and also the platform. Behind.

They have still let the older devices be on insiders for atleast till redstone officially launched, and imo, using the .164 on insider and official update is no diffrent, other than official update makes the phone eligible to be redstone insider, so ppl shud go along the insider and get the newer phones, i mean using 920 for four years and expect msft to support the device for another 4 years is kind of dumb. What if they didnt even let these phone run insider from the begining , they gave the phone another year and half which i think is more than enough,!!

Of course peopel eventually need a new phone. The problem is, right now, for a whole lot of people the ONLY choice is leave W10M, because there are no W10M phones compatible with their carrier.

even if the devices aren't officially supported as long as they are running .164 they are running the latest and greatest. Now I do understand that NOTeveryone will be able to follow the instructions of the Windows Insider sign up, but these are the same people that don't care thier phone isn't getting Win10P. This argument is somewhat mute. Are you just upset that you don't have the word "OFFICIAL" in your version of .164?

MS didn't release .164 for lower end devices officially because of a reason, and that reason is that .164 is not optimized for lower end devices. And there are inevitable issues in the stability when using this build as an insider...
..
I have been an insider from the beginning itself. And my test devices which are not in the official upgrade list has several issues... MS should have somehow optimized the OS for older devices even if they can't provide the full features of W10M.. All we want is the new universal store..
..
W10M .164 freezes in my test device at least 2 times a day and only a hard reboot can solve it.. So opting for insider build is suicidal since MS have no plans to solve those bugs..
..
So for me , your point is the muted one..

The term YMMV is very appropriate here... my 920 and 520 have been running with .164 un-official and I don't have ANY problems at all... I do understand your issues, don't get me wrong, I've been testing Redmond build on my 950 XL and have been having a horrible time with it, but i also see people with nothing but great things about it... soooo YMMV is very apt.

My Lumia 920 runs W10M better than my 950 XL runs Redstone... although I can't complain a lot about the 950 XL since it is doing fine.

What is your test device?

Sorry to burst your bubble but .164 was released (shipped) on a low-end device. The Fierce XL. It took a few hours on release day but I put .171 to get rid of that abortion of a build.

The HTC 8x gets this? Posted via the Windows Central App for Android

Please share the figures where was said that most of the people willing to upgrade can't, and I chose my words carefully.

actually, WP is dead. this is one moment when i agree with andro-ios-fans, whining about WP death for years. WP is dead, long live the W10M :D

Jason, I appreciate your articles. They make a lot of sense, but I personally am not unless by the phones released by Alcatel and would not buy it. It's time for OEM's including Microsoft to step up their game design wise. While I love the removable battery and SD card, the plastic design just does stands up against the completion iPhone, Galaxy, or even the HTC M9. The only phone that interested me right now is the new H. It's like
The one companies listening to the average consumers are Samsung and Apple. Microsoft have let others come along and execute the curves screen first seen on the Lumia 800 better. P phone have become fashion and status symbols now, do I think it's time to join the club. Posted via Windows Central app for Windows 10!
Proudly rocking my Lumia 1520!

OMG......you are 100% correct here with regards to deesign. There was an originality and uniqueness to the Nokia designs and that has disappeared. I believe design affects sales, from the phone to the OS and I do not see any uniqueness, sleekness or wow-ness with these same old plastic designs.

650 looks really nice. Just waiting for a price drop.

yea, 100%, dont forget the elgance of the Lumia 930' screen. compared to the Samsung and Apple flagship of its time

I 100% disagree. Metal is a bad idea for a device using wireless connections ... Glass is not resistant enough and you'll see fingerprints. So only options i see is Plastics oder Leather.

Disagree. Why? It doesn't matter how many OEM will produce windows 10 devices - it matters how many users USE windows 10 mobile. And with 1,7% market share and last disappointment from more than 50% of all that 1,7%, that will NOT receive windows 10, as was promised in the beginning, the loyalty will drop dramatically. Windows 10 mobile devices can be produced, but who at the end will buy them? I'm one of the people that will jump the ship. Just waiting to see P9 or iPhone7. I'm sick and tired to wait for something NEAR to stable release. Last one, that will be made official, .164 is disaster on my L640LTE. I checked the performance on 950's - little faster because of the hardware, but software is $hit - lagging and resumming - even crashing Edge most of the time. I'm tired. And the real question is - How many of this current 1,7% market share will do the same like me?

If you think about it, most of the people leaving windows because they are not getting the update (officially) are people who would have left anyway and just needed an excuse. Their phones are (most of them, obviously, I'm talking about statistics) old so even if they received the update, they would have upgraded to another phone before the end of the year. Add to this that they can still get the official w10m build with the insider app if they want and you should understand that we are only losing people that would have left anyway.

You're totally not right. Why? I'm using window phone since last 4 years. I was very satisfied, despite huge waiting for Denim update. Finally it came. Windows 8.1 was very friendly and stable. Smooth. But we wait too long for new features and functionality. Shortcuts top, messed settings etc. Then was announced windows 10 mobile. Wow.
And it came - in ALPHA. Now, even on 950's - best windows phone hardware, the OS is still in early BETA. Design inconsistencies everywhere. Slow, lagging, resuming and even crashing.
I've waited too long. I'll not buy 950's not just because of the ugly design. They are not worth the money with w10m inside. What else to buy? With such OS. No, thank you.
I'm leaving, because I'm forced - forced by MSFT incompetence to finish w10m for sooo long.

Responding to a logical reasoning on numbers with a single example doesn't add much to the discussion. I'm sure we are leaving some people like you behind, never said 100% of the people not receving the upgrade would have left anyway. (p.s. the 950 does not work as bad as you describe it, try to keep it real). For every person ranting about the w10 upgrade there are at least 100 ranting about their ****** android upgrade experience, it's normal :)

You miss the point again. It is not just the upgrade. The whole windows 10 mobile is crap. And do not trying to convince me that works well on 950's - look at your Edge - how often it crashes, or loading pages slow, or ceep reloading the page? Normal light apps like WhatsApp are RESUMING, LAGGING etc. I can continue all day, but my point is prooved - it is far from finished for normal usage - and do not put this "windows as a service" crap. I need usable OS - not to lagg even on phone dialer! And logic like this - "..we are leaving some people like you behind ​" is the biggest problem. We were 1,7% from the whole market - and in beginning of April you will see numbers for Q1 like 0,something market share. Who will bother to code apps for OS with such bunch of users - so called "die hard fans"? Basta.

So your point is "proved" by your experience? I have a 950, Edge not crashing since a lot of builds, sometimes page load is slow but my experience is comparable to my android firends, whatsapp is a bit slower than it should but we all know that it is because it is a VERY old app, write a whats app app with 10 API or even 8.1 native api and it will be superfast (so it's not OS related). I and thousands of people are using it as a daily driver so it can be considered an usable OS. The logic that is "the biggest problem" is normal and is like that in every environment, the only problem in the windows community is that it is full of frustrated people (maybe rightly so).

I'm sorry, but the people complaining about low e end devices not getting the upgrade should either purchase a Lumia 640 ($29.99) or use the next/jump plans offered by many carriers today. Posted via Windows Central app for Windows 10!
Proudly rocking my Lumia 1520!

Lumia 640 with windows 10 mobile is disaster. I have it and istalled .164, Rest the device and fresh install all my apps - try to use microsoft app called phone dialer - slow, slow, slow. Can't even catch up with my fingers. Stop complaining OEM for OLD apps. Even MSFT apps work slow on Lumia 640LTE - try Outlook, People... Not to mention to run games - Solitaire for example. Stop worshiping Microsoft and face the truth - w10m is far from finished to be a daily driver at least for devices like L640. I know that from my personal experiance.

Lol worship? Maybe try and understand that you bad experience does not apply to all 640 users?

You might need a hard reset? We have about 40 Lumia 640's running .164. (We use them as throw away hand held devices to run our corporate Universal app(s). I'll admit they are no speed demon, when compared to the 950's and 1520's we have deployed, but they are a fantastic platform for this new ecosystem. Crazy amazing value. If they were presenting themselves as you describe yours, we would NOT deploy them. Would ccreate too much heat on the IT department.

You are totally right on this.. The 8.1 and older apps do lag a bit on windows 10 other than that everything works super smooth as it should on all the supported devices even from the 535 which is the weakest of the bunch. Posted via the Windows Central App for Android

Edge is working smooth - try www.gsmarena.com, www.phonearena.com etc. And you call that smooth?!? Try Chrome on Android or Safari on iOS and then understand what smooth is all about.

Both smooth except for phone arena hamburger menu

What phone do you have? My Lumia 920 isn't having issues since November 2015 on W10M although I do agree that pages load slow on Edge but I can't determine how big is the impact from the network performance.

Lumia 640LTE - CPU and GPU is much faster than yours, so do not tell me that your is running without issues. How about slow lock screen, slow phone dialer, Edge loading and crashing? Or you just stairing at your device?

i dont see nothing prooved, as 1520 has not seen a single crash, resume or loading on said applications, infact on any application. i cant believe a phone better than 1520 does that, i can prove by posting a video, but then why shud i bother for someone who is just trolling.

Windows 10 mobile runs perfectly on my 1520 and I have plenty of friends with the 950XL that say the same. The only issue my friend has is having to hold the 950XL at a certain position for windows hello to work. Posted via Windows Central app for Windows 10!
Proudly rocking my Lumia 1520!

HAHA! Yea, I setup "Hello" every once in a while to see if it has improved with my old-geezer glasses on. Alas, I disable it again. :) I can punch in my 4 digit code much faster and without causing those around me to ask "what are you looking at on your phone that makes you make those funny faces?" And I agree with you on the mighty 1520! It can take everything .164 throws at it!

I think the issue is that the camera is on the right edge. Center your eyes in it and it is much faster at recognizing you. Go back to setting up Hello again and note the angle you have to hold the phone to see both eyes on the screen. Now that I have that figured out I'm recognized from much farther away and much quicker.

I have a Lumia 820 - and no issue since the January update of Win10M.

"If you think about it, most of the people leaving windows because they are not getting the update (officially) are people who would have left anyway and just needed an excuse." That assumption is totally wrong. I am an owner of Windows Phone since WP7. I loved the idea, design and features. Microsoft screwed me by not getting 8.0. I couldn't forget that backstabbing. Years later by One Core, Microsoft killed it's superb and unique features and went Android. Now, MS does the backstabbing again. So not only my OS 8.1 is being killed, but 10 evolves the way I don't like. But F that. Let's get a new phone. Being used to 920/1020 I don't see any replacement. So what mobile to buy? Why to stay? Here Maps are gone. Replacement (Maps) is US centric and available in Insider! Why?! Everything MS does these days is just a mess. Cuties like losing earned space on OneDrive I don't even comment. So do tell me ONE valid argument, what to get and why to stay. And I will. Thanks to Microsoft I have even better apps on iOS/Android than on native platform. Microsoft is full of porting apps and yet I am stuck with that crappy Mail app. While exAccompli app is light years ahead. So?

10 evolves in a way you don't like, so you have your answer already, try something else. I have friends with android, iphones and Lumias, I look at their phones and I don't like them, if I liked their phones I would switch without thinking. I like the start menu, app list with a swipe, action center, organized options, screen and camera and look of my red and gold 950. Cost me a reasonable 500€ on day one. Those are my reasons.

I just wanted to explain the point of view and dillema I have. I bet I am not the only one having it. Anyway, good for you. I understand your point of view, but I need somehow a lot more than a look. Like working Bluetooth to connect my phone with my car. I can't even do that now. 950XL in my country is for (roughly) 600. Paying this amount for barely functional phone is way too much. Colleague of mine has one. He uses low cost Android and waits to get a stable build to fix his issues. If it won't come in next 1-2 builds, mobile will be gone for good.

You said give me reasons, that was my answer...anyway... My car does not have bluetooth but two friends of mine (1520 and 950) have had some problems with some build and car BT but now they said it works fine.

My 2015 GMC sierra's Bluetooth works fine with my 1520, 830, and 640 running WM10. My son also drive an 06 Equinox
With a pioneer after market radio that I had put in for him that ties into the auto's speaker system via Bluetooth and his Lumia 640 running WM10 works just fine. Posted via Windows Central app for Windows 10!
Proudly rocking my Lumia 1520!

My IS250&LS600h (both 2010) have troubles to connect with my Lumia 920. It either connects for up to a minute and then disconnects or it does not connect at all. Reboot of the mobile gives another clean try-fail attempt.