Alcatel OneTouch announces the Pixi 3, an 8-inch Windows 10 Mobile tablet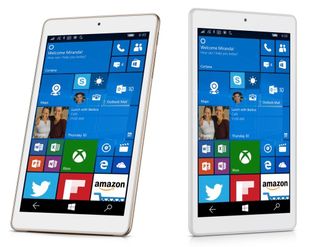 This morning at CES 2016 Alcatel OneTouch has announced the new Pixi 3 8-inch tablet running Windows 10 Mobile with full support for 4G LTE. The tablet utilizes the Snapdragon 210 processor letting users get a full tablet experience anywhere they go letting them check email, send SMS messages, use Skype and leverage the growing Windows 10 Store for apps and games.
The Pixi 3 with Windows 10 Mobile will retail for $199 and should be available sometime in April in Europe and Latin America. No immediate plans for a U.S. release have been announced, but the company is considering expanding the launch based on feedback from consumers.
Alcatel OneTouch Pixi 3 with Windows 10 Mobile
8-inch IPS WXGA (1280 x 800) TFT 5 point multi-touch display
209 x 124.9 x 8.3 mm
Windows 10 Mobile build 10586.29 with support for direct OS updates from Microsoft
Micro SIM: GSM 850/900/1800/1900; UMTS 900/2100 MHz; LTE B1/3/7/8/20
CPU: Quad Core 1.3 GHz Snapdragon 210 (MSM8909)
Wifi 802.11 b/g/n, Wi-Fi Direct, Bluetooth 4.1
5MP rear camera; 2MP front-facing
8GB internal storage with microSD card support
1GB RAM
4060 mAh battery
Voice call enabled, GPS
Micro USB connector
Headphone jack
$199 street price
Windows Central will have a more in-depth look at the Pixi 3 from Alcatel OneTouch shortly, including more details about the hardware and a video hands-on. For now, you can read the press release from Alcatel OneTouch below.
ALCATEL ONETOUCH Launches PIXI 3 8-inch Tablet with Windows 10 at CES
CES, LAS VEGAS, January 5, 2016 – ALCATEL ONETOUCH announces the brand's first tablet to offer the Windows 10 Mobile operating system. The PIXI 3 8-inch tablet will be available with the Windows 10 Mobile operating system and features 4G LTE for fast browsing.
"With Windows 10, PIXI 3 (8) offers a tablet-friendly Start screen," said Vittorio Di Mauro, General Manager of Smart Connectivity at ALCATEL ONETOUCH. "Users can also personalize their devices the way they like with the PIXI 3's dedicated line of accessories."
All the Feature Users Want
PIXI 3 (8) offers Qualcomm chipset driving 4G LTE connectivity. It is perfect for fast downloading and smooth browsing. The PIXI 3 (8) also offers all the features users want: easy apps management through multiple windows and desktops; voice-call-enablement; GPS; front and rear cameras; and a quad-core processor.
A Range of Accessories
The PIXI 3 (8) has a range of accessories for users to customize their devices according to their tastes and needs. The removable Color Skin covers come in three bright colors, and the Stand Flip Case allows users to prop up the tablet for easy viewing on a desktop or counter.
PIXI 3 (8) comes in three colors: white, gold and volcano black. In addition to the Windows 10 Mobile operating system, the tablet is also available with the newly updated Android 5.0 Lollipop. It will first be available in Europe and Latin America in April 2016.
http://www.alcatelonetouch.com/global-en/
About ALCATEL ONETOUCH
ALCATEL ONETOUCH is a brand within TCL Communication, an international multicultural company which designs, develops and markets globally a growing range of mobile and Internet devices. TCL Communication is a public company listed on the Hong Kong Stock Exchange (2618.HK) and part of TCL Corporation, one of the largest consumer electronics companies in the world.
For more information, please visit www.alcatelonetouch.com.
Windows Central Newsletter
Get the best of Windows Central in in your inbox, every day!
Daniel Rubino is the Editor-in-chief of Windows Central, head reviewer, podcast co-host, and analyst. He has been covering Microsoft since 2007 when this site was called WMExperts (and later Windows Phone Central). His interests include Windows, laptops, next-gen computing, and for some reason, watches. Before all this tech stuff, he worked on a Ph.D. in linguistics, watched people sleep (for medical purposes!), and ran the projectors at movie theaters because it was fun.
Windows 10 Mobile is just starting to get meaningful ;)

I think it's a bit overpriced for what it is. Maybe it's the telephony components in it that are raising the price.

Overpriced? I thought it was proved nicely. Hmmmm.

$199 is overpriced? Are you serious? A tablet that has LTE support? I guess they should just hand it to you for free. Better yet, they should pay you to get it.

1GB ram and 1280x720?? Ha ha. For 200 - 250USD (if you are lucky) you can get a nice made in China tablet Chuvi, Onda or Teclast with LTE and 2GB ram and 32GB eMMC with W10PRO

And it will be with the worst possible build quallity and with old, probably outdated parts.
Oh and it will have terrible battery life, sure it is a nice deal.

It has the same hardware you'd expect in a Lumia 5XX/6XX device that you can regularly see under $100. Posted via the Note 4/Nexus 7 (2013)/Lumia 1020/Lumia 2520

That's true, for the price, it wouldn't be bad to pick one up as a backup or to try and see what the experience would be like, but I wouldn't consider one for my main driver until it had specs comparable to a flagship phone like the 950 in all respects such as ram, camera (front and back), screen etc. Would it cost a lot, sure but that's why it would be a flagship offering alongside of the Pixi 3.

Guy is right it is over priced, we are not sure it is becuase the phone chip or not. You can get NVIDIA 8" SHIELD 16GB Tablet K1 for 199 in USA, which has better screen with better resoution, quadcore cpu, 2 GB ram.... I would have loved to get NVidia spec and better camera event price was 299.

i bought my cube i7 Stylus with 64GB SSD + stylus + Intel Core M + 4GB ram for just 260USD!!! Today, you can get the Xiaomi MI Pad 2 for just 259USD http://www.aliexpress.com/store/product/---/102802_32574456510.html

Why use a mobile OS when you can use the full Windows 10 on an 8 inch tablet?

Some of us want an 8" mobile Os you know

some apps like WhatsApp can't be installed on PC...

But neither can WhatsApp be installed on Tablets...which this is.

How do you know? Have you tried to do it on a Windows 10 Mobile tablet? I don't think any exist yet, right? I would assume it would work. It would be exactly like a Windows 10 Mobile phone, right? With LTE you would have a phone number, so you could set it up with that number.

'Cause there's still no official WhatsApp for iPad LTE nor Android LTE tablets...don't expect it to be different with Windows LTE tablets. Also, the Surface 3 has an LTE Variant, still doesn't have access to WhatsApp. I just don't see any benefits in Windows 10 Mobile over the full Windows 10 Tablet mode as of now...besides taking up a fraction of space. I guess that's the major benefit; tollerating 8GB miniature storage devices like this...which is a joke storage capacity. 32GB should be the minimum. The full Windows 10 with WimBoot would still take only a fraction of that storage. 16GB is already too little on an iPhone, now we're getting Windows 10 Tablets with half that? Feels like a huge downgrade and still the price is similar to that of the the Dell Venue 8 Pro, which runs the full Windows.

But doesn't this tablet use a mobile OS much like Lumia phones, ergo allowing it to install WhatsApp? I bet they aren't gonna change anything in the OS just to make it different from phones. It's gonna make it hard for them to filter the store apps. But, it's just my two cents, I may be wrong. Anyway, I agree with you about the Dell Venue 8 Pro which you can get for a much cheaper price nowadays. But there may be some advantage to using a mobile OS compared to a full OS. I still miss my Surface 2's snappiness, compared to Surface 3.

Mind please... It runs windows 10 mobile OS, Same like Lumia ones.

Yeah, and Android is the Same on the Nexus 6P as it is on the Nexus 7, so is iOS the same on the iPhone as it is on the iPad XL...there's still no WhatsApp for the LTE tabs. If the WhatsApp devs at facecrook change that and make it available to every LTE device, then devices like the Dell Venue 8 Pro or Surface 3 LTE with full Windows would easily utilize it and do a whole lot more.

This is a phone, it has a sim, you can receiver call. Only thing it is missing is ear-piece, so, you have to put on speaker.

Because mobile OS is much nicer for a smaller tablet. Ever try using full blown Windows on a smaller device? You can't click on the icons they are so small.

This WIndows 10 mobile is just the Tablet Mode of the full Windows 10. You'll only use the Desktop mode when docked to a monitor...why limit yourself to just bastardized apps?

From the pics, that isn't tablet mode...but just mobile.

Only difference is the alignment of the buttons and tiles, and the taskbar is at the top of the screen by default. https://cdn0.vox-cdn.com/thumbor/-8OZ1OtH_sgx8ouw2kkvujcqiPg=/cdn0.vox-cdn.com/uploads/chorus_asset/file/3915200/Screenshot__57_.0.png With the full Windows 10, you still gain access to the touch friendly Windows Store apps, taskbar can be moved to whichever side of the screen you want, and better yet, you have the Task View multitasking cpabilities when in Tablet Mode...don't see a button for that in the article image, but maybe it appears in landscape.

This is running Windows 10 Mobile (According to the article) so it's the phone operating system on a tablet sized device - There's a lot of differences between Tablet Mode and Windows 10 Mobile. Most noticeable is snapping two apps, which you can't do in Windows 10 Mobile at the moment. Maybe it's different on these new small tablets running W10M, but I've not seen any detailed videos on how the Mobile OS runs on Tablets. They are interesting though

Isn't that what tablet mode is supposed to offer? Seems this is going to suffer the same fate as previous RT tablets as the apps are still not there.

This would be able to access any app that is in the phone store which is more than what RT could do. RT was neither desktop or mobile. W10M is basically RT 2.0.

Yeah, and speaking of RT, wonder why Microsoft couldn't make this an update to their Surface RT and Surface 2 tablets with an on-off switch for the Tablet Mode like the full Windows 10...this is also locked down to the Windows Store and would just be disappointment like Windows RT.

I really think this is pretty cool by man, that processor. Throw a 410 in there or something and I would buy a few of these foe myself and others. But a 210 seems like it might hold this thing back a little too much. Pretty cool tho.

I am quite intrigued by these tablets running Windows 10 Mobile, and I really want to try one out. I think ideally Windows 10 Mobile needs to pick up the ability to snap two apps side by side both on devices like this, and in Continuum on devices that support it. If iOS can do it then Windows 10 Mobile should pick up that at some point.

"with support for direct OS updates from Microsoft" makes a lot of sense!! Thank you!

$199 HAHAHA.. this Tablet will be a joke!! I'd rather buy OnePlus X. The maker of this tablet should just resign RIGHT NOW!!

Some people want a tablet, not a phone.. It's like saying I'd rather buy a PC instead of a laptop...

Except this I literally just an XL Phone, doesn't offer much of the benefits of the Tablet form-factor, especially as it's lacking a Digitizer Pen, and devices like the Dell Venu 8 Pro are similar priced yet do a whole lot more.

This would be interesting to scope out.

Make it in a 7" version and I'll get one. Just a tad too big Posted via the Windows Central App for Android

Those LTE band make no sense for Latin America, so presumably the Latin American version will support radically different bands (and ones far more useful for Canada and the U.S.).

Now in the Forums: http://forums.windowscentral.com/alcatel-onetouch-pixi-3/409256-all-geni...

I already emailed Alcatel. They better release this in the U.S. as well. Why EU and LATAM, but not U.S.?
This is "the" device I was looking for, to get rid of my iPad mini. I may even stop carrying my cell with me all the time with this thing on me.
Would need bigger pockets, though...
Windows Central Newsletter
Thank you for signing up to Windows Central. You will receive a verification email shortly.
There was a problem. Please refresh the page and try again.